Tutorials
Joomla and WordPress Tutorials from experts.
As an owner of a blog or a website, you have to manage your site and may want to avoid the using of forbidden words or phrases.
Fatema T. Zuhora
WordPress
Tutorials
In this 21st century, eCommerce has been becoming a booming industry all over the world.
Fatema T. Zuhora
WordPress
Tutorials
Broken links refer the links on your website that directs or points your visitors to a page or a file that no longer exists. It is also known as dead links.
Fatema T. Zuhora
WordPress
Tutorials
WordPress shortcodes introduced in its early version 2.5 before about six years ago and since that time, shortcodes are used to increase the functionality of WordPress.
Fatema T. Zuhora
WordPress
Tutorials
Those who are searching for how to create a portfolio website here is your easiest solution to create a portfolio website for free. Nowadays, cr...
Shams Sumon
Tutorials
Do you know over 1.45 Billion people travel in the single year of 2018? By the year, the growth of international tourists will be between 3% and 4%, c...
Shifat Jaman
Tutorials
How to install Joomla is a frequently asked question from new users of Joomla. Though it is very easy to install, sometimes, it becomes a nightmare fo...
Shams Sumon
Tutorials
"If your business is not on the Internet, then your business will be out of business."- A famous quote by Bill Gates. It does make scenes that interne...
Shifat Jaman
Tutorials
Translating your website into several languages will increase your audience notably.Adding the multilingual functionality to your Joomla site is just a few instinctive steps away. Let me do it even easier for you.This tutorial is going to show you how to configure a multi-language Joomla site. To perform this you need to go through the following steps:1. Install a new language2. Create a new content language with new parameters3. Enable Language Filter plugin4. Setting up Language Switcher module5. Create menu for every installed language6. Create menu module7. Multilingual articles## Step 1: Install a new languageAt first, let's add the language files for the desired language we want to use as the second language on our site.So, log in to your Joomla admin panel. Now, to install the language pack you need to navigate to Extensions -> Languages.In the screen that opens, select "Install Languages".

Another screen will be opened, tick on your desired language pack and click "Install" button.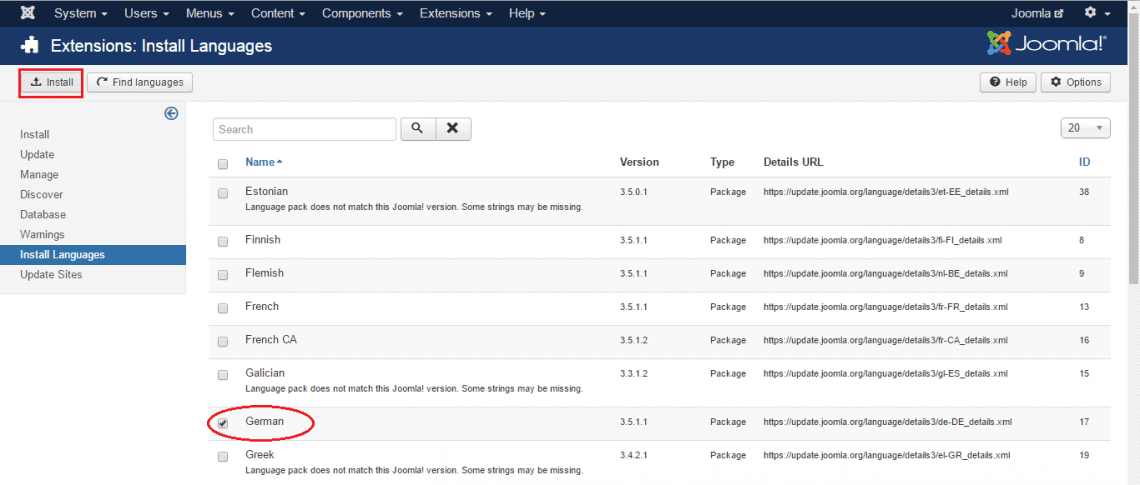 You will see your installed language packs in Extensions -> Languages -> Installed.## Step 2: Make a new content language with new parametersThe next step is to originate a content language.Although you have already installed a second language, still you need to add the appropriate information for this languages.In this step, you need to navigate to Extensions -> Languages -> Content Languages.

You will see here, the default content language, to add a new content language click the "New" button from the top menu.

A new screen will open, insert the required information according to the selected language.Look at the image below. There are five required fields.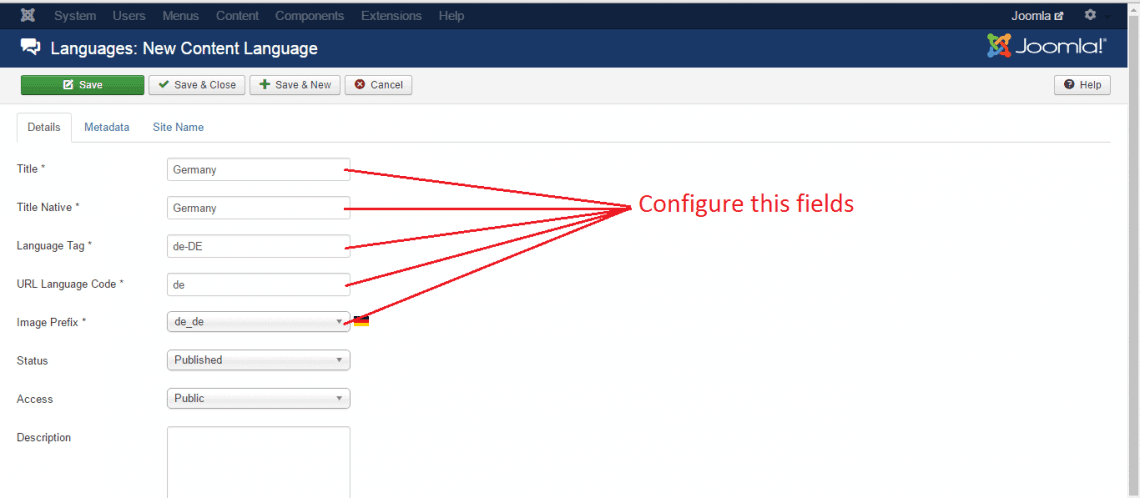 Title: This fields for language name that will display in the Joomla backend that you can assign a specific language for your articles, modules or other items.Title Native: Here you insert the original language name which will display in the language manager and the list of content languages.Language Tag: The language tag consists of the language code. If you are not sure about it, you can find it next to the language name in the list of installed languages at the language manager section.URL Language Code: This is the code that will appear in the URL. For example, here I insert "de" hence, the URL will like this when I select Germany as the desired language. www.example.com/index.php/de/Image Prefix: This is the language code. Joomla uses this code to display the country flag images enabling the visitors to select a site language.

## Step 3: Enable Language Filter pluginThe language filter plugin enables the CMS to recognize the different installed languages and display only the content relevant to the current language.Just navigate to Extensions -> Plugins and search for the "Language Filter" Plugin and enable it.Also, enable the "Language Code" plugin. This plugin installed with the Joomla engine by default.


## Step 4: Setting up Language Switcher moduleYou will also have to add a menu module to display the language list on your site.Navigate to Extensions -> Modules, a new window will open. Click "New" and select "Language Switcher" from the list.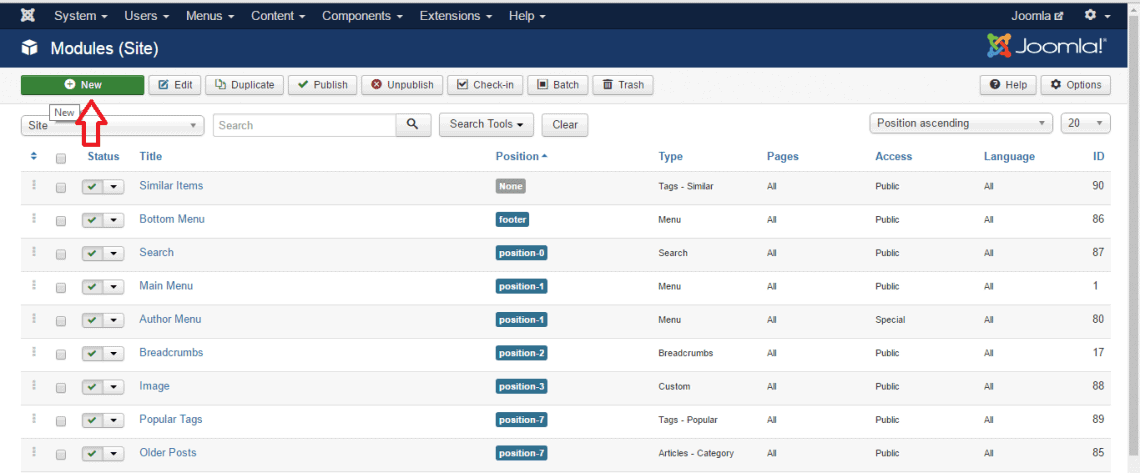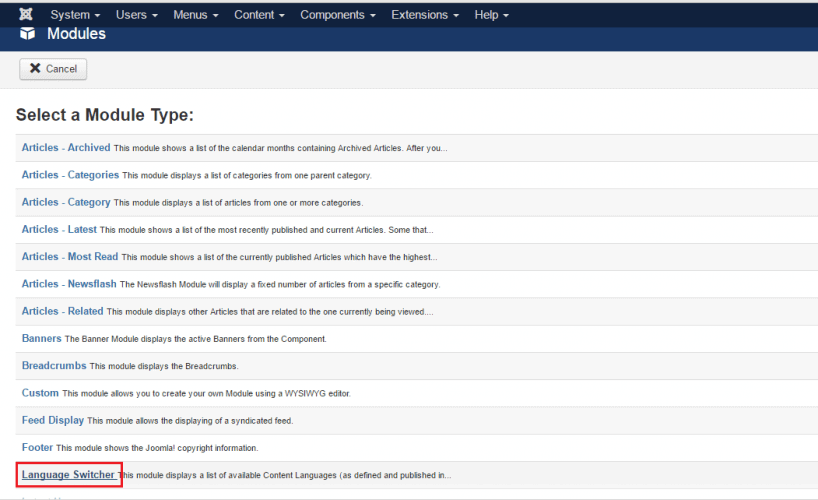 It will open an editing window.Insert the title as it is required, though you have an option on hand to display the title or hide.Set the position where the switcher module will visible and set the switcher status as public.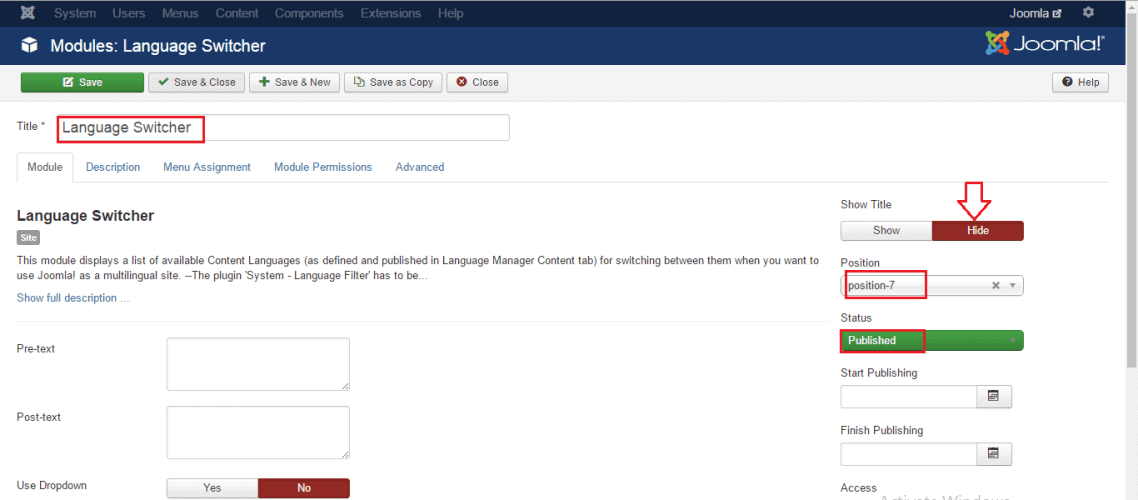 Look at the image below. A language switcher section is visible on the right sidebar.

## Step 5: Create menu for every installed languageYou will need to create menus for each content language to display multilingual content on your site.To perform so navigate to Menus -> Manage -> Add new Menu.

After that insert the "Title" and "Menu Type" and hit the save button.Do the same process for every content language that you wish to display on your site.

You will find all your created menus in Menus -> Manage later and also edit them.

So now you need to add items in each menu, the easiest way to perform is to open your main menu then select any item and then hit the "Batch" button top of the page.

In this process, we are going to copy all the menu items from the main menu to each menu.A popup will open, you need to set the language to which you are going to copy the item and select the menu to where you want to copy this.Check copy from radio button and press "Process". Once it was done, do that for each one.

Now you have a menu for every language and several items on it.You can open each menu one by one, make an item to default page and edit them. ## Step 6: Create menu moduleJust navigate Extensions -> Modules then select a menu from the list.In the module section, set position for selected menu.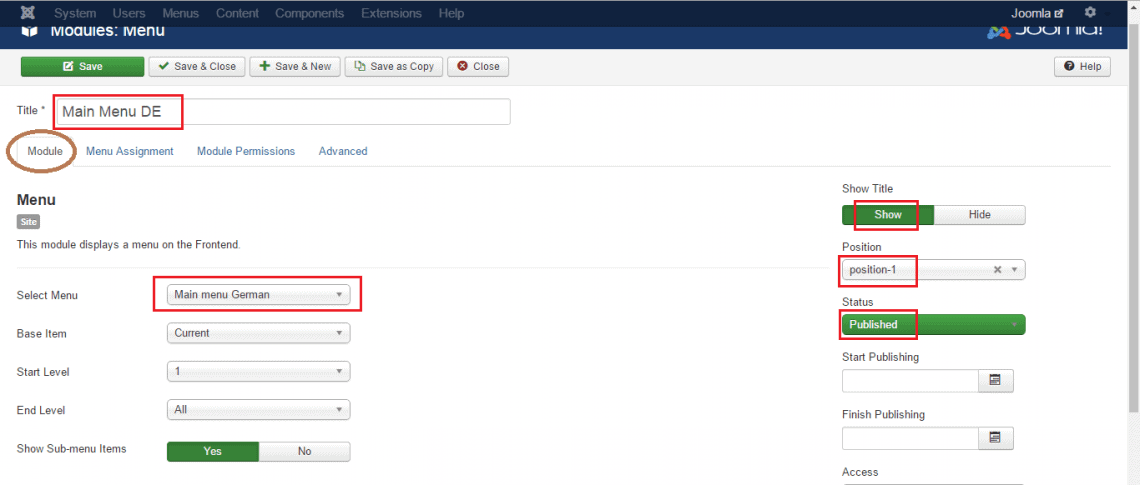 In advanced section, insert "nav-pills" in the menu class suffix field.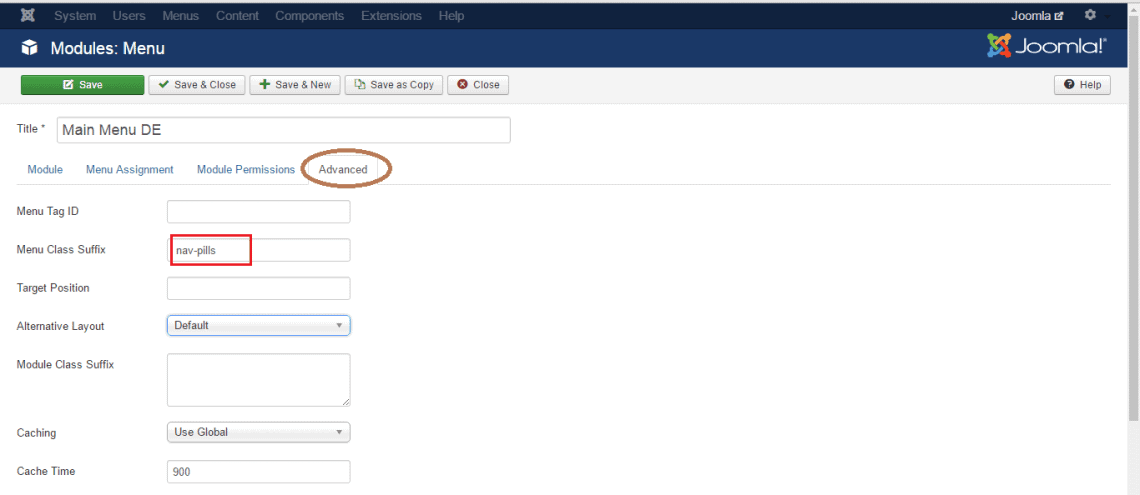 And then in menu assignment section, select "Only on the pages selected" option.It will display only the items which you want to show in your menubar.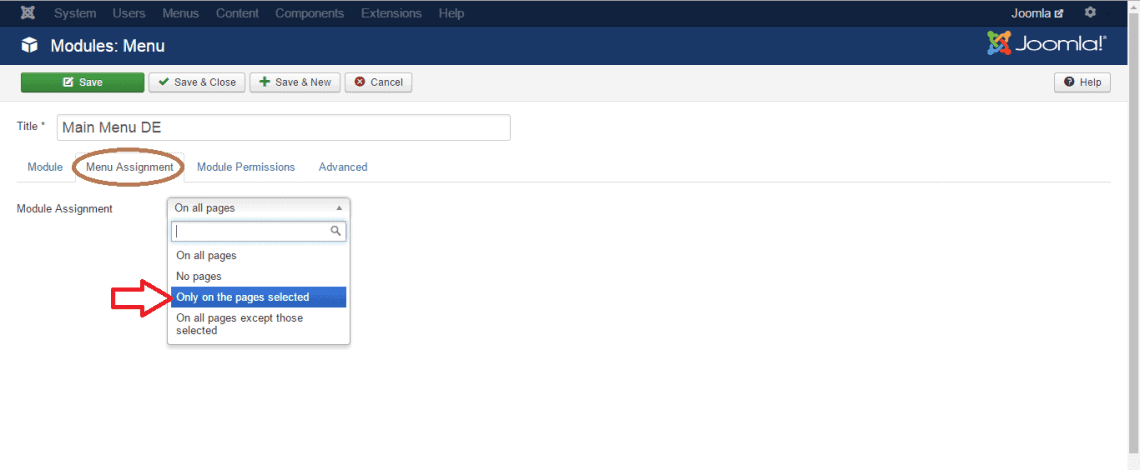 So, uncheck the other languages menu items.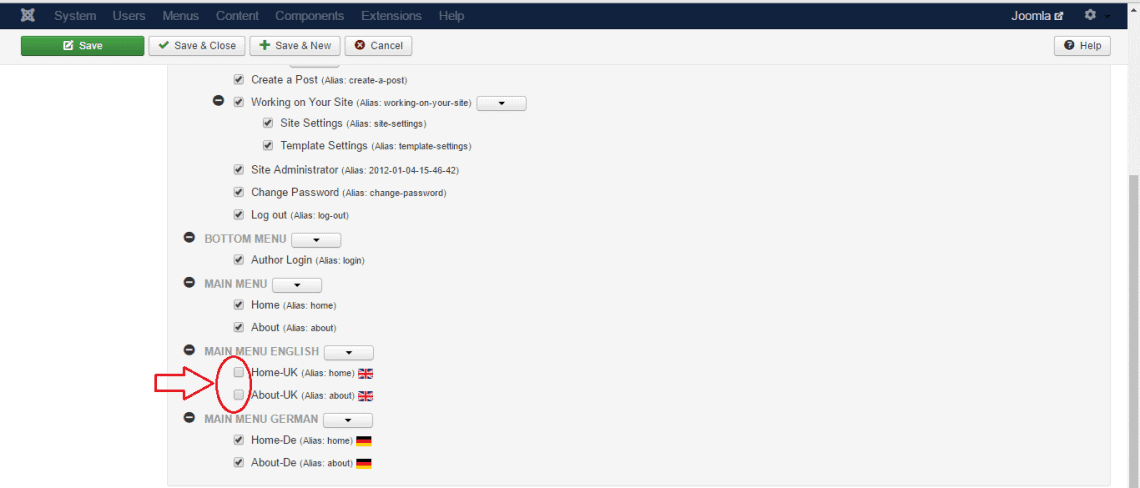 ## Step 7: Multilingual articlesLet's create a multilingual article to see how it works.Create a new post, set the language of the post in the content section.Make a copy of this post or make more copy as you want. Set different languages for each post.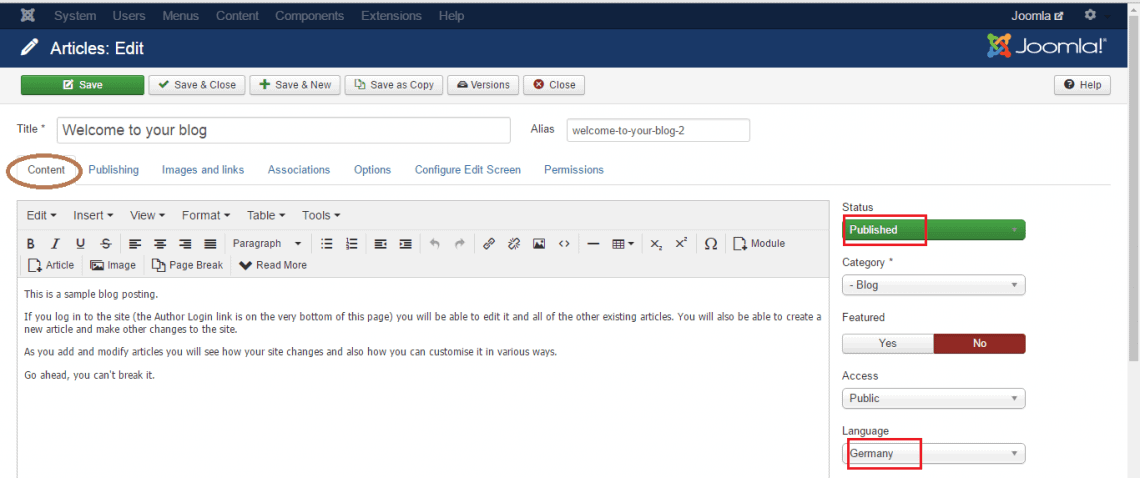 And now again edit the post, go the "Associations" section, associate the post with the copy of this post.Save and close it.As a result, when you click a flag it will change both the menu and the articles to the desired language.

Look at the image below, how I associate the posts to each other.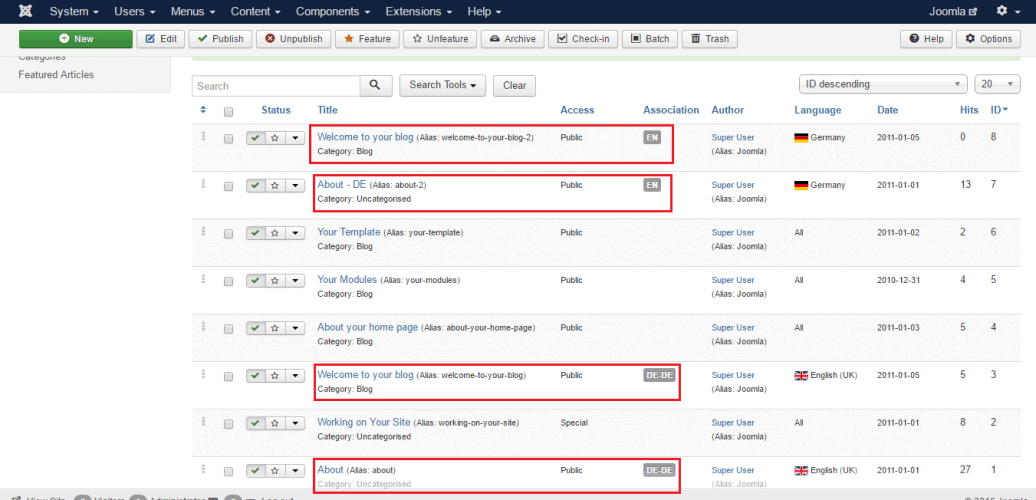 So, we are at the finishing stage. Just take a look how it works.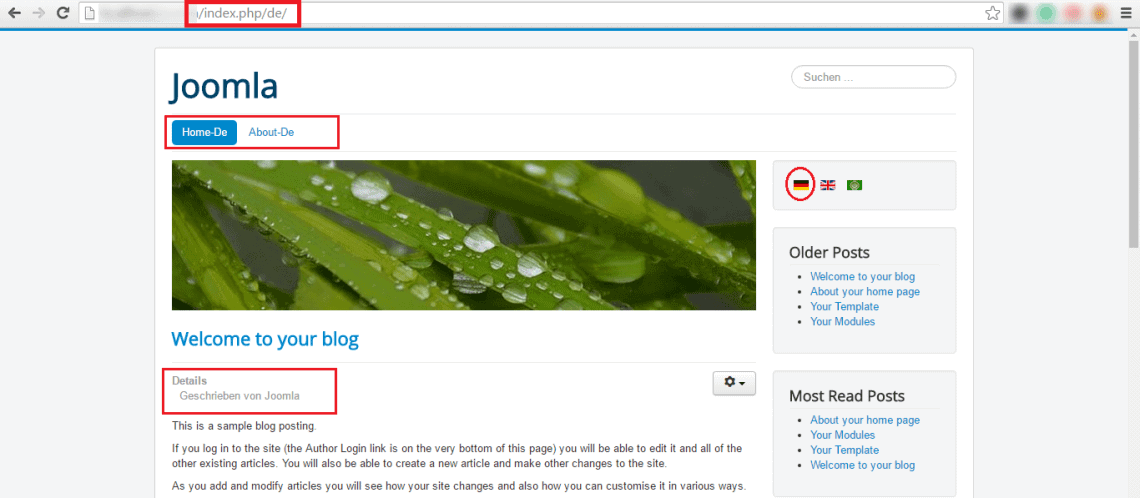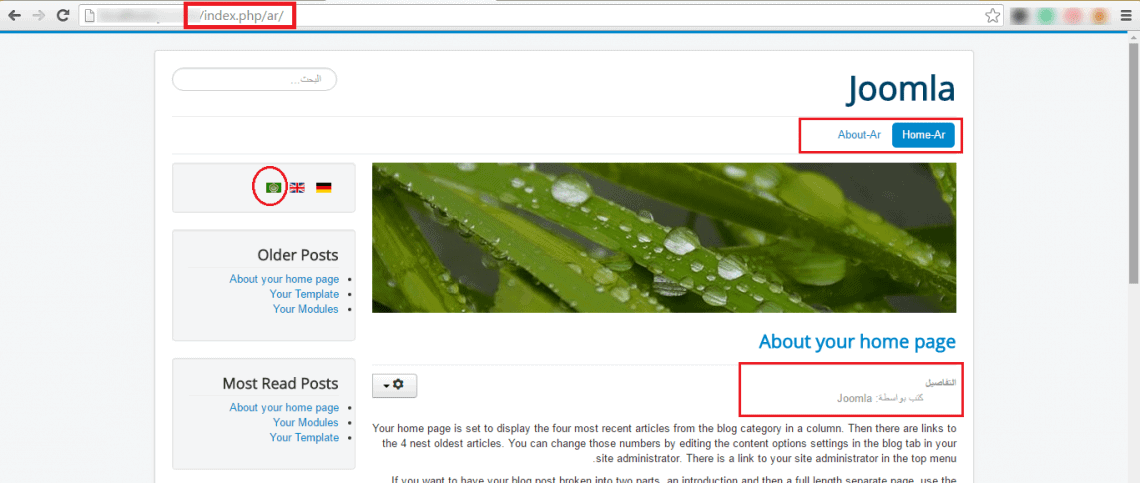 # Make this process easier with an extension:In the first section, I talk about the manual process.Now here, in the second section, I'll show you how to create a multilingual website using an extension.In our previous article we discussed about Neno translation extension for joomla and today I am going to use the another popular extensions JA Multilingual Component.It's free Joomla multi-language translation extension.This extension is light in weight but robust at speed. To boost up your multilingual website, it will do almost everything what you need.Let's see how it works through the following steps:1. Download JA Multilingual Component2. Component Installation3. Translate Language## Step 1: Download JA Multilingual ComponentAt the beginning stage, you need to download JA Multilingual Component from their official site.It is free of cost. To download this extension, you need to create an account on their site because they don't admit to providing their service to non-users.## Step 2: Component InstallationNavigate Extensions -> Manage -> Install.

In the new window that opened, you will see a file upload option.Just point to your download file and hit Upload & Install button. After a few seconds, the extension will successfully install.

## Step 3: Translate LanguageNavigate Components -> JA Multilingual.

Here you see a notification that asks to configures authenticate API (Application Programming Interface) to translate the site.Just press the Options from the top. Insert the API key and save and close the current window.


You can install languages as you want and then press Translate All to do all tasks immediately. Wait a few moments until it is done.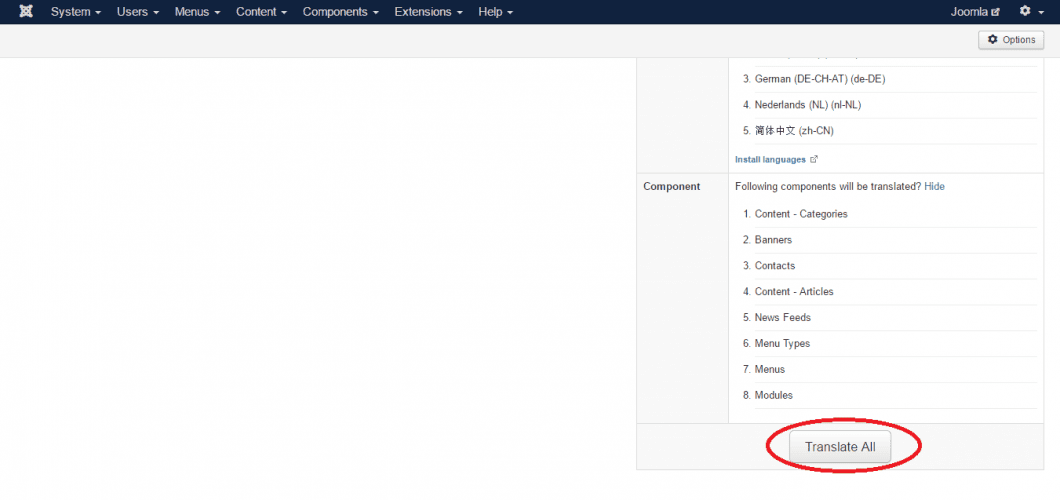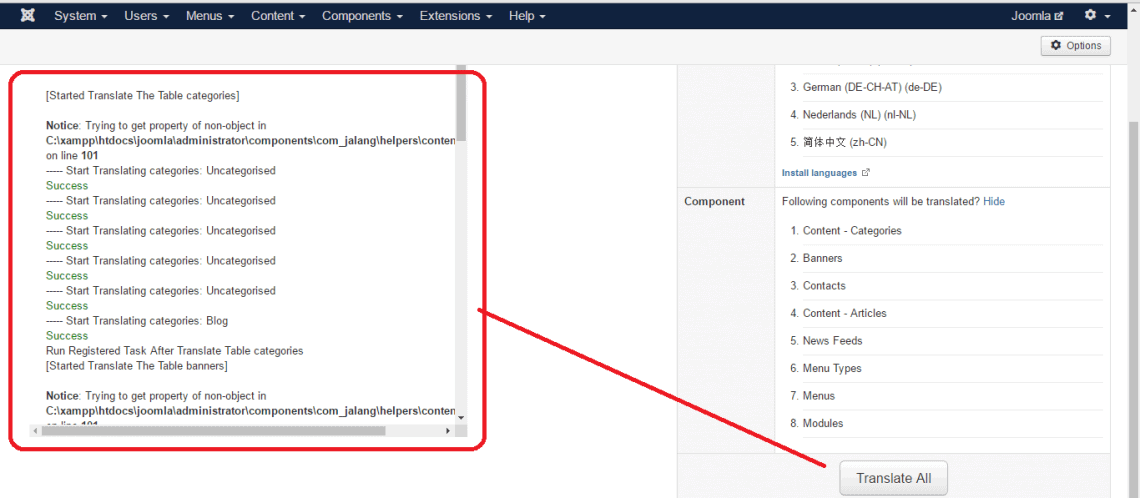 Take a look how it works.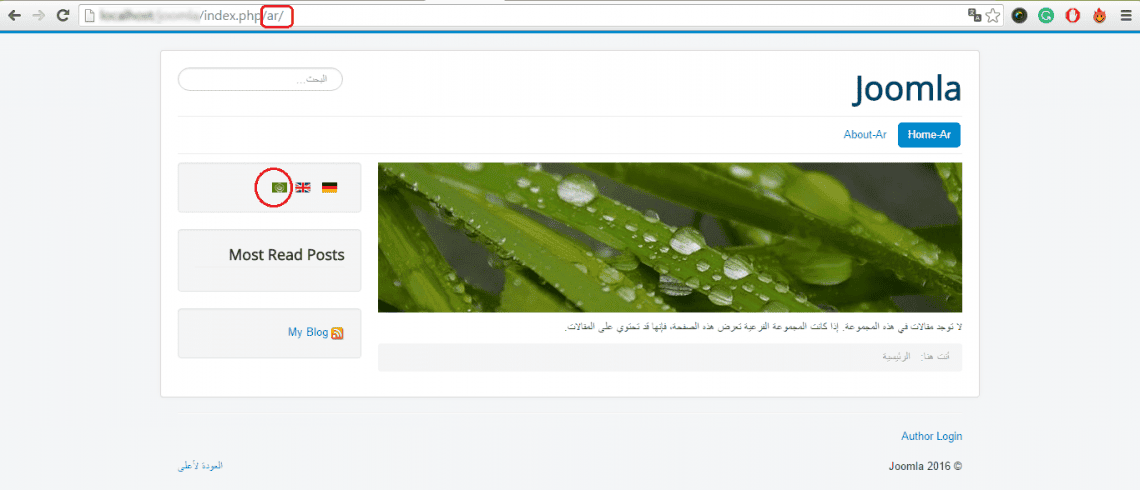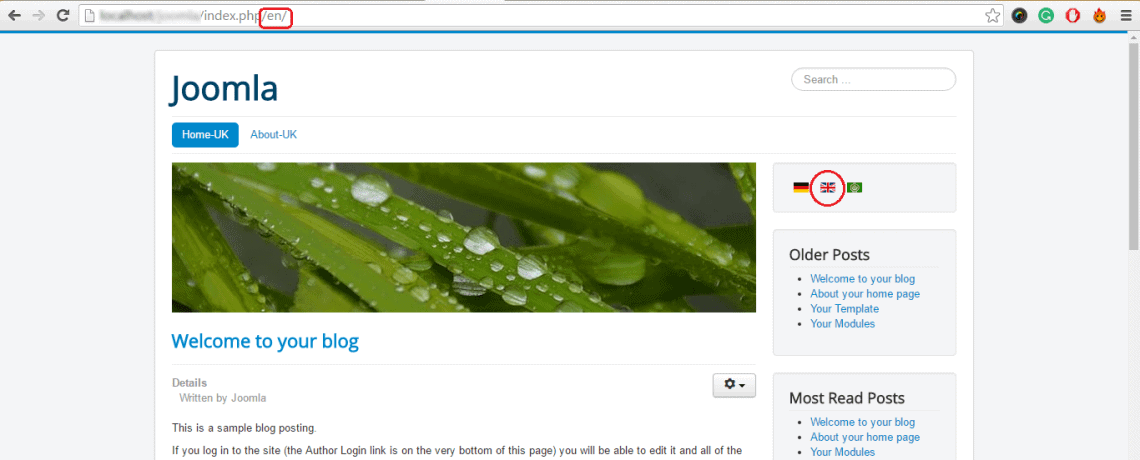 ### Final WordsHope you enjoyed this tutorial, and now you can create a multilingual site using Joomla. Let us know about your further query and share your opinion.
Fatema T. Zuhora
Joomla
Tutorials
More popularity your Joomla website gains, more security concern you'll be. Hackers or bad guys are always searching one way or others to hack your website and use it for their purpose. Mostly for DDoS attack using your host/network.Joomla! as a CMS is very powerful and secure, but often times we made it vulnerable by ourselves. Besides the popularity, more and more individuals and businesses of all sizes start to rely on this open source CMS and get their products and services through the online.In fact, more than 2.5 percent of websites are now running on a Joomla CMS. The latest research by SUCURI reveals that - Joomla is the second largest CMS downloaded over 68 million times and the second infected website platform.The bad guys or hackers may try all kinds of hacking methods to attack your site or bring down your site. These range from remote file inclusion to cross-site scripting to the ever-popular SQL injection.As the admin, you have the responsibility to ensuring your Joomla site is properly patched, updated and secure.A properly configured instance of Joomla CMS on a properly configured server is about as secure as any other off-the-shelf solution.In today's post, I am going to discuss the best practices to secure a Joomla website. Let's dig into it!## Best Practices to Secure Your Joomla Website### Use the Latest Version of Joomla & ExtensionsWebsite owners don't upgrade or maybe forget to upgrade to the latest version in most of the times, which creates a significant risk.Almost in every release, Joomla has fixed some security issues. So if you don't upgrade to the latest version means you are keeping some vulnerability on your website.### Use Strong Password for Secure Administrator LoginIn most cases, people leave the default administrator account as the user name to "admin" and a silly password which is easily guessable and creates the biggest risk.If you are keeping the default "admin" and a guessable password, you subconsciously helping the hacker in their job.### Delete Unwanted & Unsecured ExtensionsJoomla is open source CMS and as an administrator, you may install many modules or extensions to try out new functionality in your site.It's good to improve the functionality, but the bad thing is when you install a low-quality extension that will create flaws in your site.So, delete the extensions, which you are not going to use.### Take Backup RegularlyBackup is the life-saving process. In case of, when things go wrong, backup is probably one of the quickest and best way to restore your online business operations.You should host your website in a reliable hosting company like SiteGround, who provides a good backup plan. Along with hosting backup, you may use an extension like Akeeba backup.### Monitor your Joomla SiteIf your website goes down or defaced then how do you know?Use the StatusCake tool which monitors your website and notifies you through the email, slack or SMS when if website is not reachable.This is a free tool and you can take necessary actions immediately if needed.### Use a Powerful Security ExtensionsUse a powerful extension that can fight against spam, known vulnerabilities, and known attacks like brute force attack, SQL Injections.There are many and security extensions available for Joomla in the Joomla extensions directory. Amongst them, R Antispam, Incapsula, and Security Check are best and effective ones. You may use one from these.### Implement Two-Factor AuthenticationTwo-Factor Authentication is an extra security layer that requires not only a username and password from the user but also require something that only, and only, that user has on them.It will be a piece of information only the user should know or have immediately to hand such as a physical token or a random generated OTP (One Time Password).OTP is a six numeric digit code that generated by cryptographic functions in a short interval. Even if the hacker will get your Joomla administrator username and password, they would still require the OTP to logged in the system.If you want to enable the Two-Factor Authentication, it requires Joomla 3.2.0 or higher version.#### The steps to enable Two-Factor Authentication: Step 1: Login to the administration panel Step 2: Click on Components >> Post-installation Messages Step 3: Click on Enable two-factor authentication Step 4: Install a Google Authenticator compatible client for your device### Use SSL CertificationUse SSL certificate on your site and force Joomla into SSL mode.Before enable SSL mode be sure that you have configured SSL certificate for your site's domain, or you will not be able to enable this feature.When you use an SSL certificate on your website, it will encrypt the user's username and password before sent to your server over the internet.Read our blog post to know - How To Enable SSL On Joomla Website?## Last WordsIf you follow these steps, the chances to be hacked your Joomla website is decreased and your site will be more secure than past. And you'll be able to recover your site quickly than ever if it will be hacked.I hope this helps you! Share your tips with us if those are not listed here.
Fatema T. Zuhora
Joomla
Tutorials