#1 Drag & Drop Joomla Website Builder
Create stunning web pages in a matter of minutes without writing code or hiring a designer. Be smart and save time with highly intuitive next generation page builder for Joomla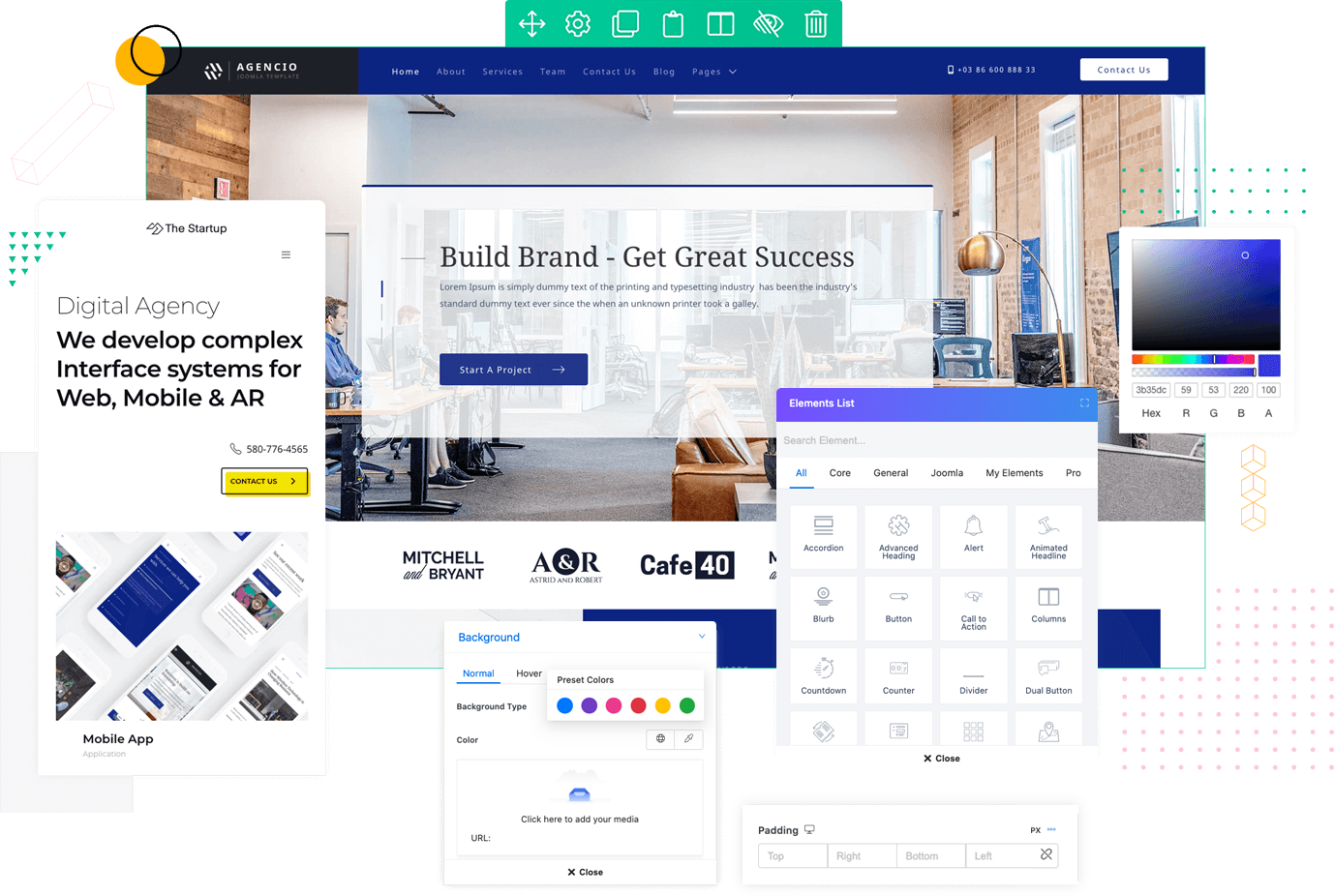 Powerful Live Editing
End the frustration of guesswork and working with outdated tools. Build your website visually without losing speed.
Pixel-Perfect Design
From colors to typography, spacing to positioning; customize every bit of your design and layout with responsive control.
Endless Possibilities
With more than 40 versatile trendy elements and 100+ template designs there is nothing you can't build with Quix.
Everything you need to create a pixel perfect website
Give your website a whole new look with a unique online presence. Quix includes all the necessary features and settings to fine-tune your website; It's like nothing you have seen before.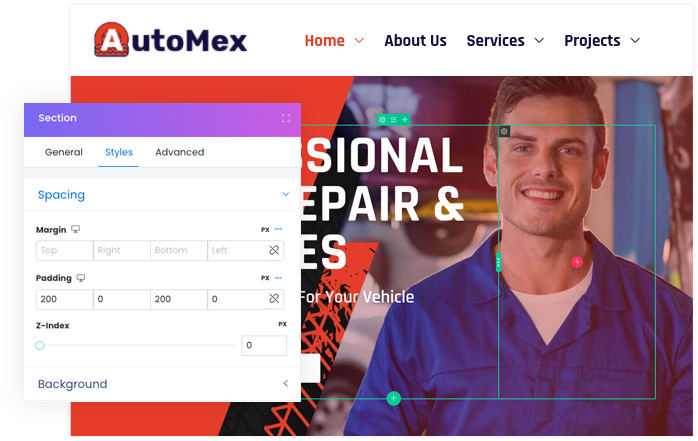 Real Time Editing
Design your page in real-time and see the results instantly. Level up your editing process and apply any changes over the design to see the differences right in front of you.
Responsive Design
Build 100% responsive designs for desktop, mobile, and tablet. Easily preview and customize layouts for any screen resolutions just inside the builder interface of Quix.
Very intuitive Handling with a lot of elements and possibilities. Excellent and quick support. Before purchasing the pro license I've tested other builders, but this fits for my needs best.

Maria Schramm
Joomla User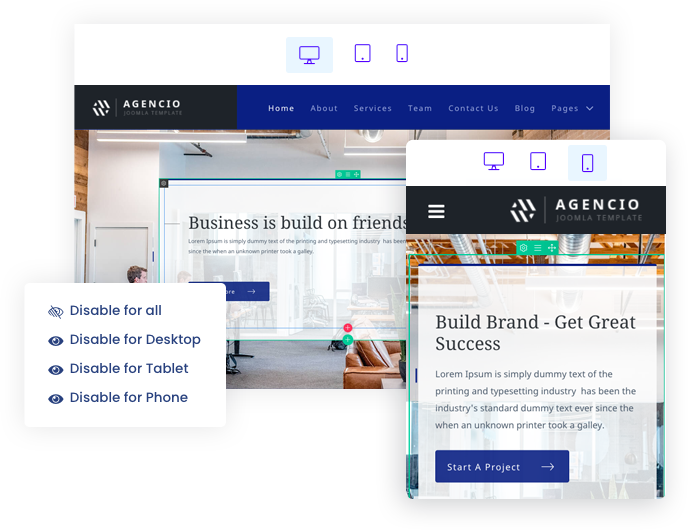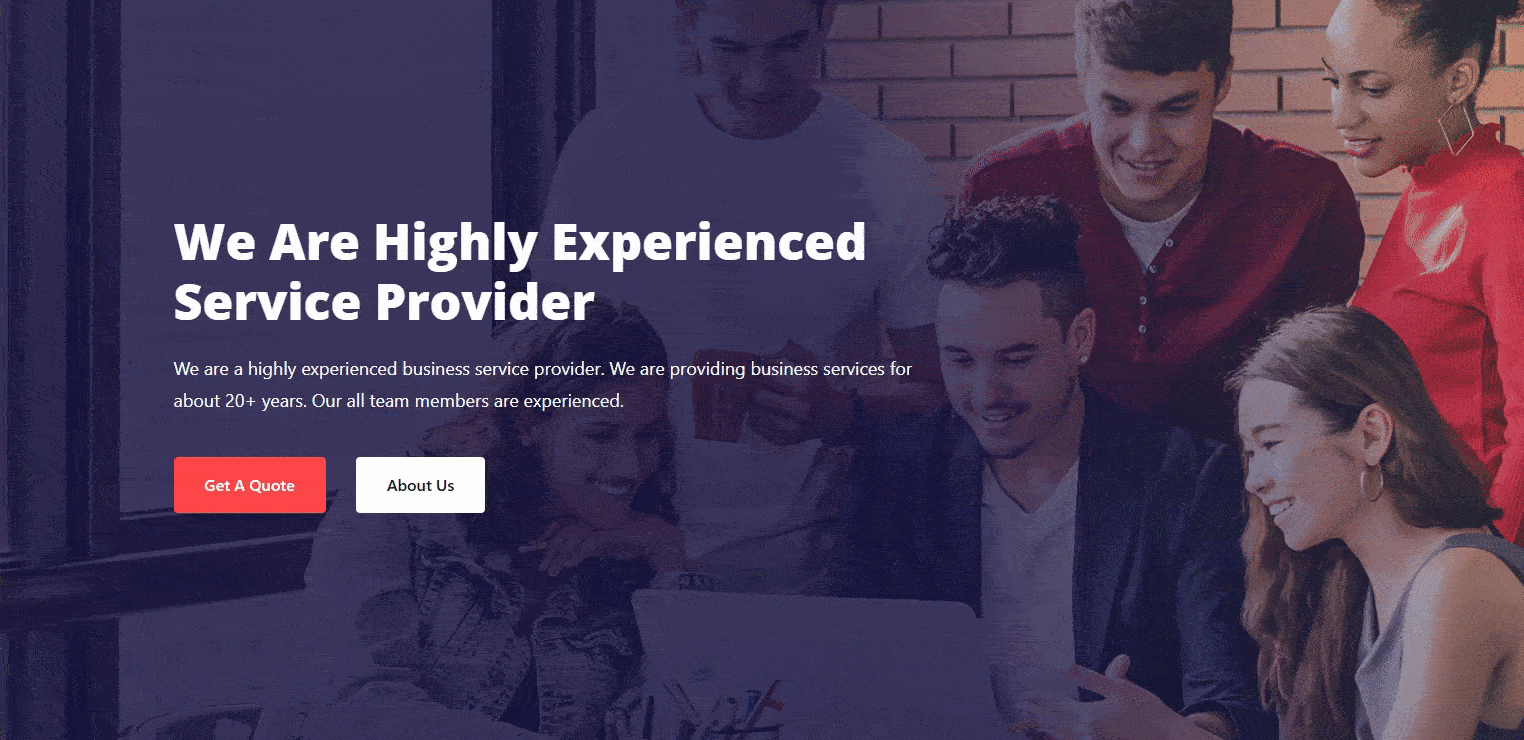 Flexible Layout Engine
Take full control over your design process and enjoy the maximum flexibility of layout options. Change layouts and styling on the fly from column resize, nested columns to duplicate columns.
Colors & Typography Control
Give your pages that designer touch and improve the way it looks with versatile colors and typography options. Pick from 1000+ Google fonts, use customizable color pallets with dynamic color values all in one place.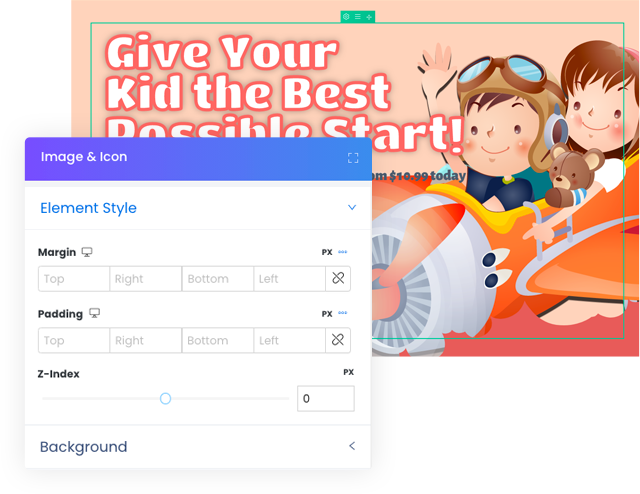 Margins & Padding
Create complex layouts with overlapping sections just by adjusting the pixels in any direction you want to—no need to write extra code for Margin and Padding at all.
I purchased a license for the QUIX extension from themexpert, and I must say that I am very happy and feel it was worth every penny. My website never looked better and SEO is better than ever thanks to it. The technical support is 5 stars, they respond clearly to requests and they have a lot of patience with me. I am 100% satisfied.

Scroll Animations
Put some extra kick factor to your site and bring your designs to life with Quix's smooth scroll animation. Choose your tasteful animation types and apply them the way you can imagine.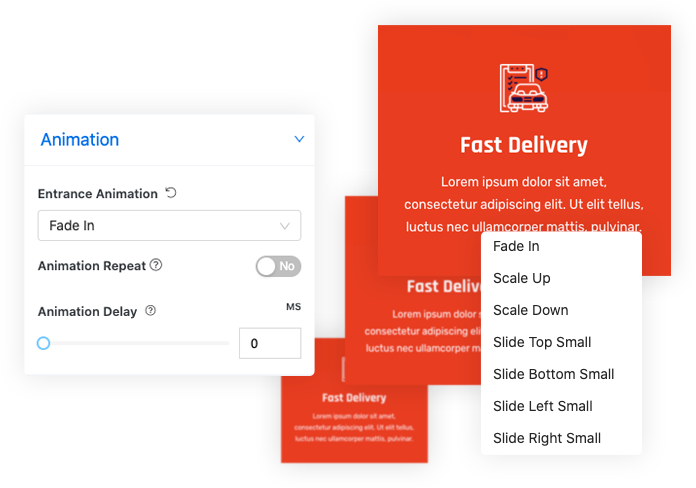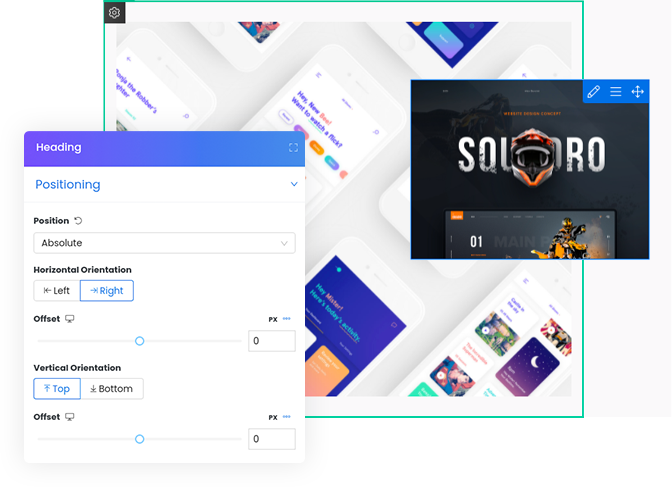 Custom Positioning
Enjoy the design freedom over your layout design with the custom positioning options of Quix. Apply responsive custom positioning from absolute on the desktop to static on mobile devices.
Display Conditions
Set the conditions that determine where your template layout appears throughout your site, along with specific permissions for each page, and ensure seamless browsing from start to finish!
ThemeXpert! The name of that company is well chosen! Their page builder is absolutely amazing! You can create any pages you want! It is well documented! Their website is well done with lots of videos. Most of all, their support is excellent. They will really try to help you when your're stuck. A+ for me!!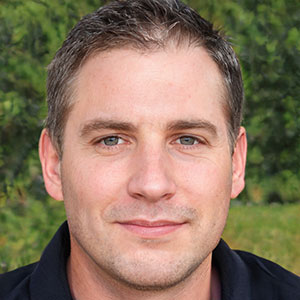 Kenneth
Joomla Professional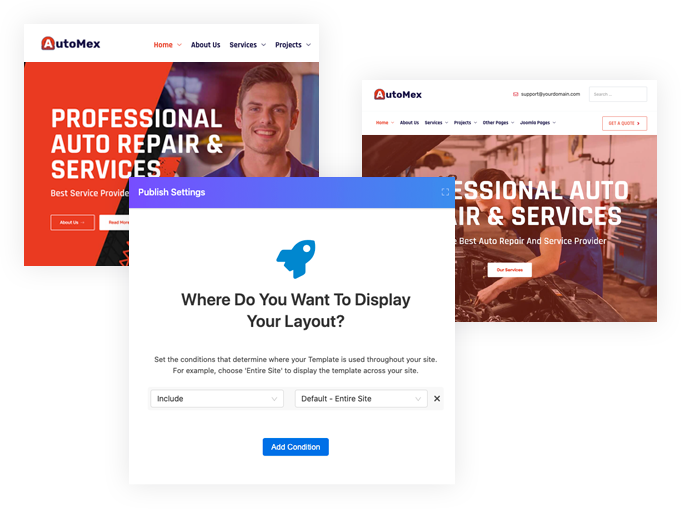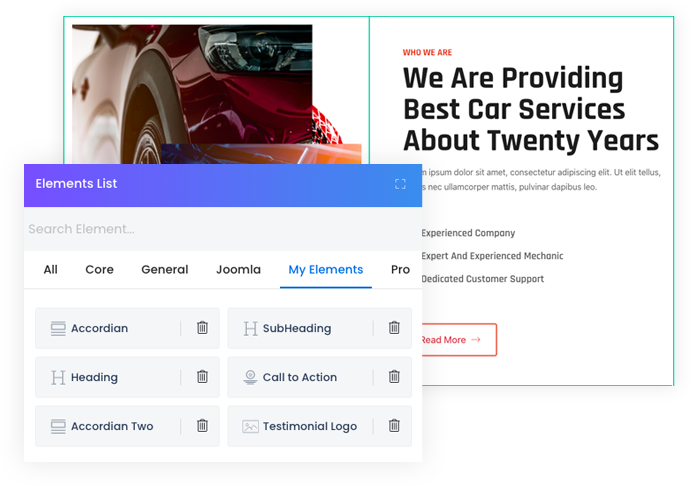 Global Elements
Save your favorite elements and reuse them anytime on any page from one convenient place. Reduce time over searching elements over and over and bring productivity with ease.
Endless possibilities with powerful elements
Enjoy the utmost possibilities with 40+ modern and powerful trendy elements. From the header button to the Joomla module, you will get every possible option to fine-tune your website with Quix.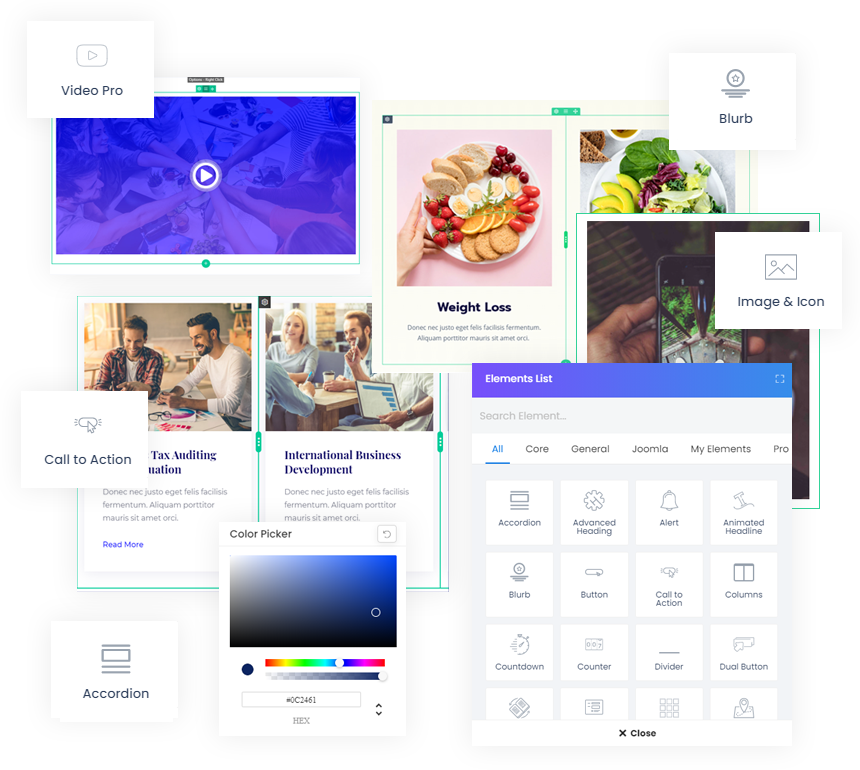 The future of Joomla WYSIWYG
Get the power of WYSIWYG editors without losing control over your Joomla website. Stop spending hours on building sites from scratch instead, use Quix. Building websites in Joomla has never been this satisfying.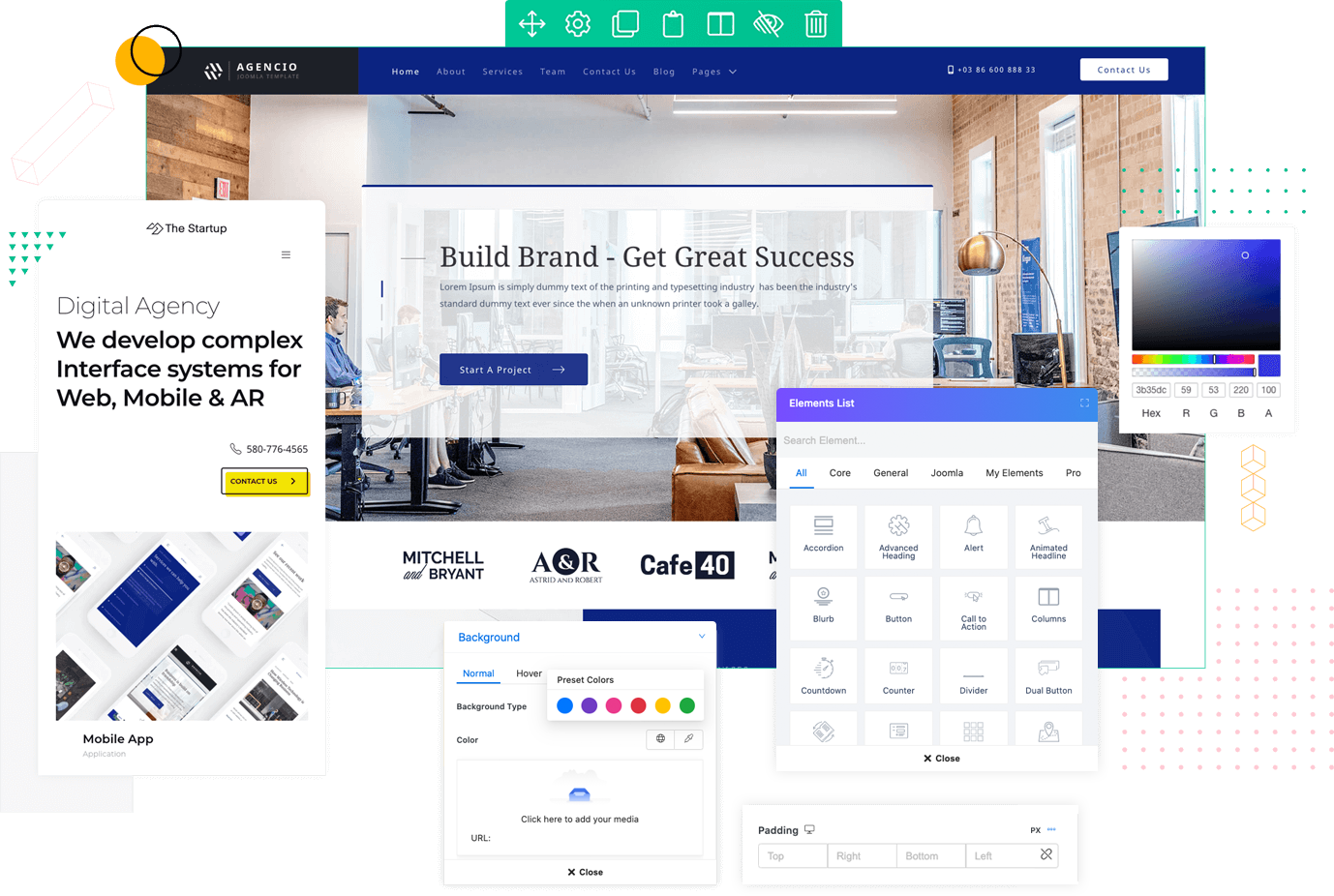 Auto Save
Your work is continuously saved and backed up automatically. No need to click the save button again and again.
Revision History
Use the revision history where your entire page creation process is saved and easily re-trace anytime, anything.
Quick Copy/Paste
Forget the export/import; simply copy any complex layouts or elements and paste them on your desired positions.
Undo & Redo
Apply quick undo or redo if there happens to be any inaccuracy. Quix is best for its instant capabilities.
Custom CSS Control
Get more personalized and customized look by adding custom CSS to any section, column, element, or page.
Inline Text Editing
Text editing and styling are even more intuitive with the inline text editing feature. Editing your content has never been this satisfying.
Custom Icon library
Use Quix's extensive custom icon library with handcrafted vector icons that are infinitely scalable and expandable.
Unit system
Quix's substantial unit system includes everything from PX, EM to %. Everything to give you a conducive experience.
JCE Editor
Copy any section, column or widget, then paste it anywhere in the page. You can also copy-paste across different pages.
The complete Joomla design system is here. Enjoy the vibrant colors, clean spacing, and loads of new features to create websites you're proud of. Be creative and have fun!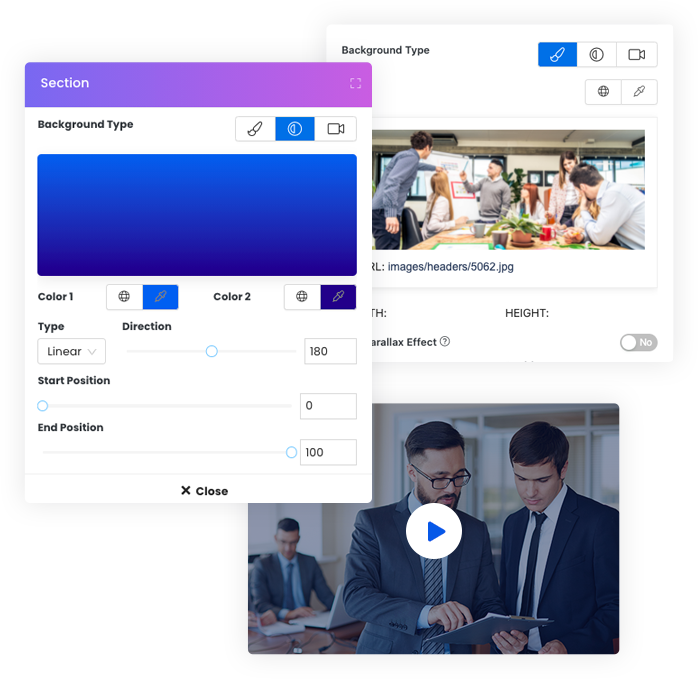 Background Images, Colors, Gradients, & Videos
Play with the background of your site and stand out from others. Apply custom background colors, gradients, images, and videos to any element and improve the way your site looks.
Shape Dividers
Expand on your website design with 22+ different customizable shape dividers. Add striking shapes to separate sections or divide rows and columns for a more engaging, creative site layout.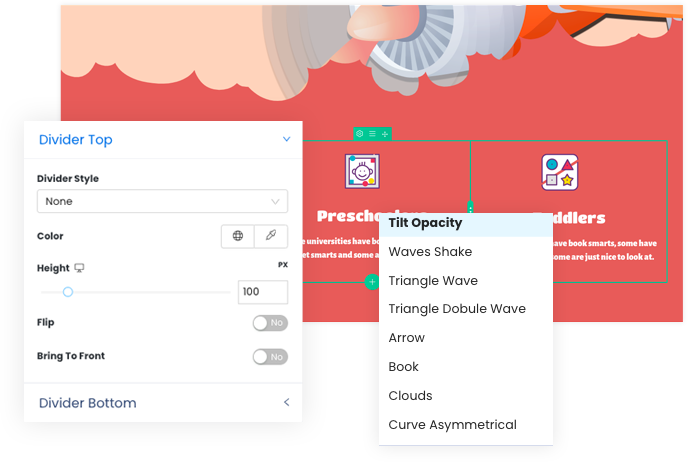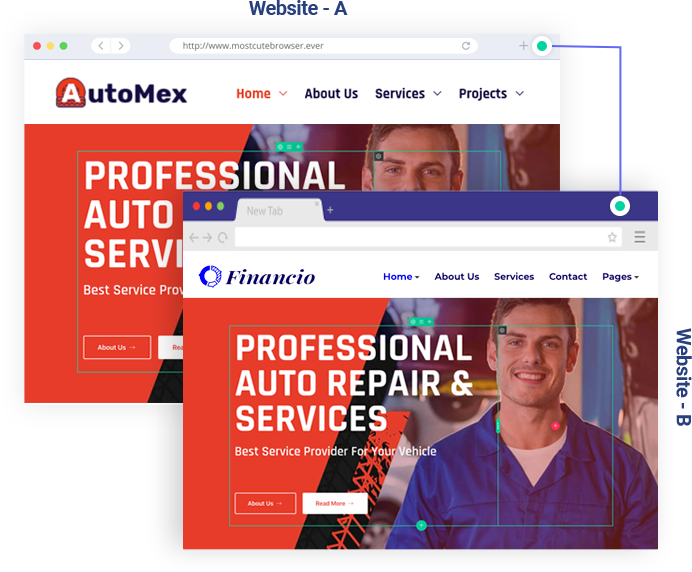 Live Copy & Paste form One Site to Another
Imagine being able to copy and paste any design you want from one site directly into the other without exporting or importing. The live copy will allow you to copy your local changes and apply them on a live website.
Excellent products. Especially outstanding support!
The team are always there to help with any issue might exist. Highly recommended! Thanx again for the support.
Apostolos Giannas
Developer
Drag & Drop media manager
Simple yet powerful first-of-its-kind Drag & Drop media manager for Joomla! Quix Media Manager is your best friend when it comes to managing media files and folders all in one place.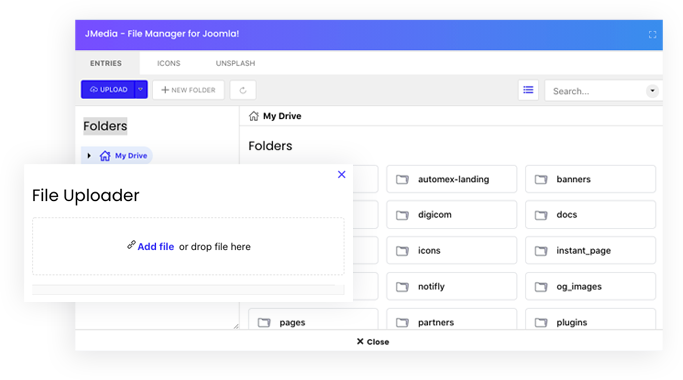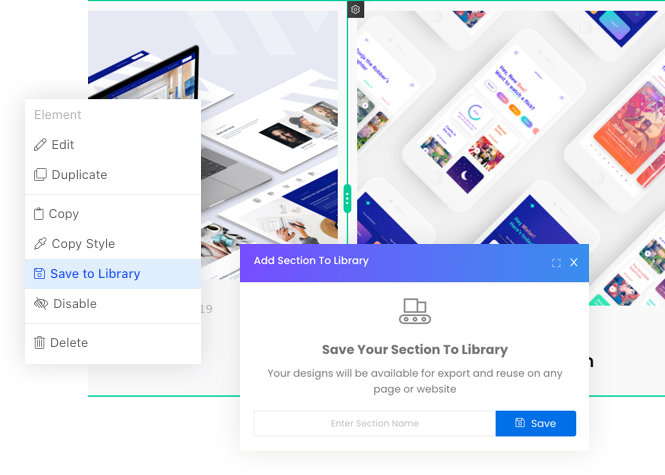 Save & Reuse everything
Forget the repetitive work and bring productivity over your website design process. Save and reuse any page to your library and use the template anywhere you want in Quix.
Design a website you're proud of
Experience full creative control over your website with Quix's Website Builder.