The Most Advanced
Responsive First Website Builder For Joomla! In The World.
Build anything, simple to complex with drag & drop layout builder. No coding required.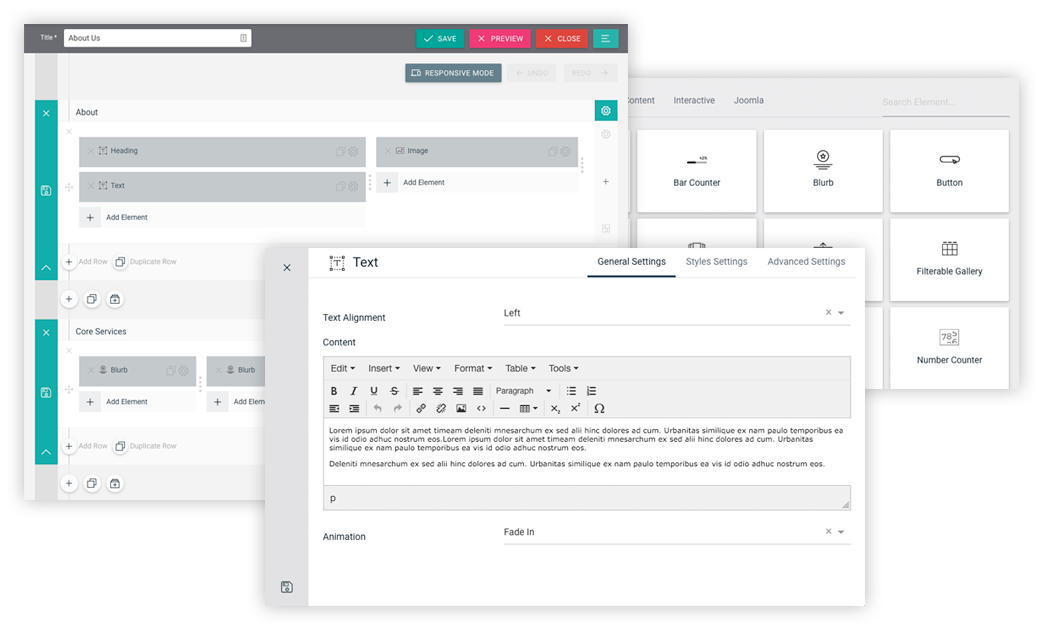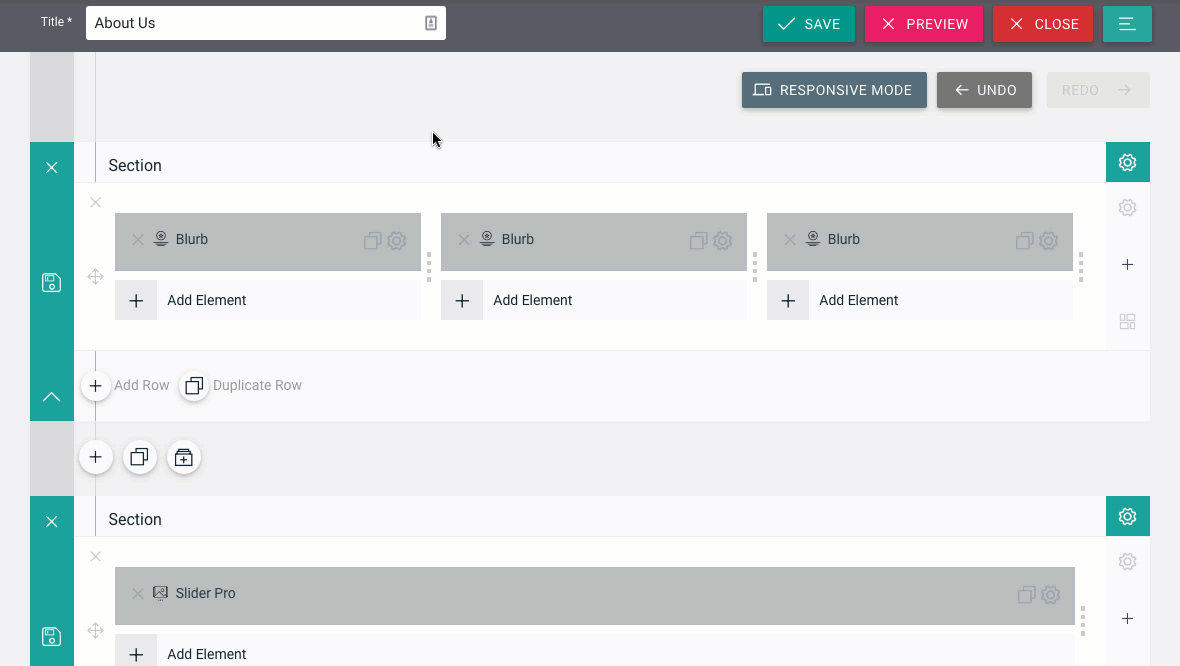 Drag & Drop Layout Building With Endless Possibilities
Take control of your page layout with the most advanced page builder in the market. Manage everything from one place with simple drag & drop interface. There is nothing you can't build with Quix.
Responsive Design Gets a Whole Lot Faster
Make your website responsive in minutes. Quix has been honed and refined to the point where it will make a profound difference to the way you build responsive website.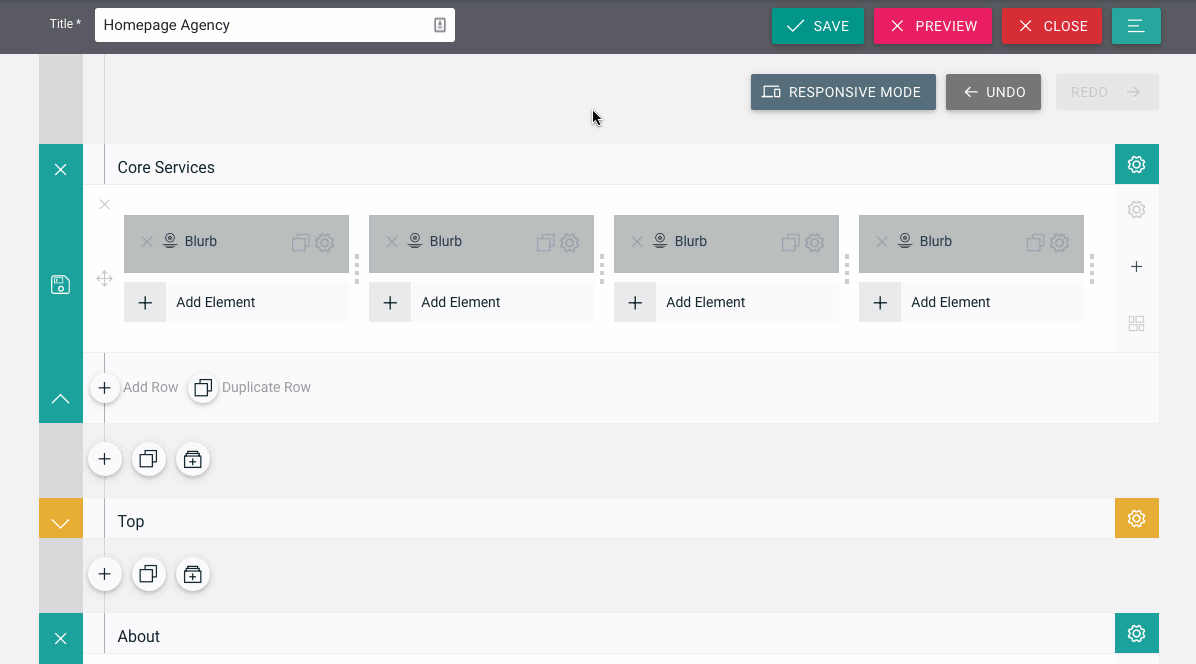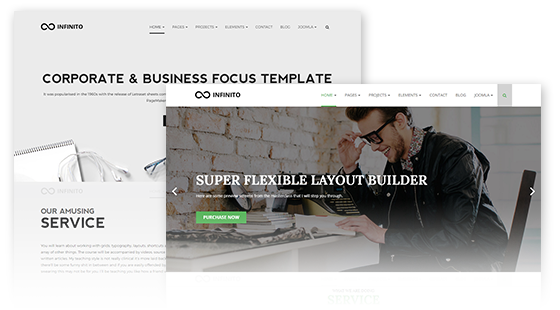 Boosts Page Load Speeds By Up To 300%
Performance is not just an afterthought, we created Quix with performance in mind. With advanced caching mechanism and powerful rendering engine we made sure your website load faster than your competitor.
Works With Every Framework & Template Out-Of-The-Box
Quix is compatible with any template or framework and can be used to create beautiful and fluid layouts inside the component area or article of any size and shape.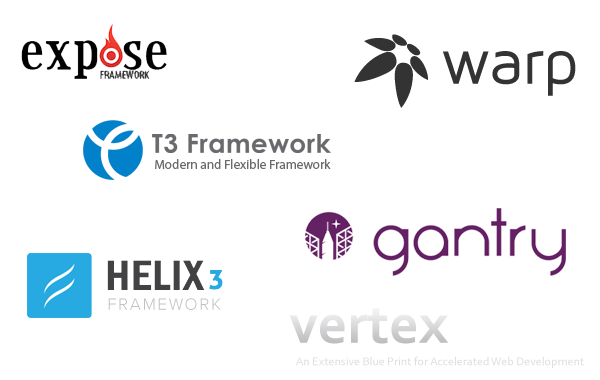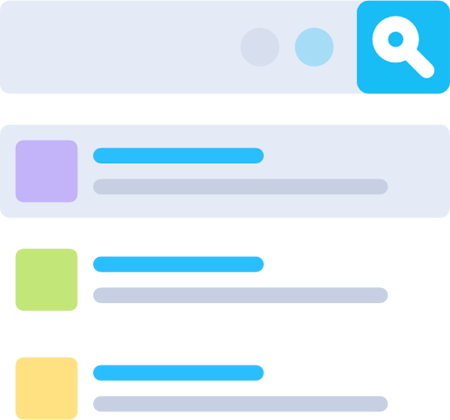 Joomla Search Indexed 
Quix pages are indexed by Joomla smart search and you can see instant search result when you use any keyword used in Quix pages in your search module.
The Future of Joomla! Website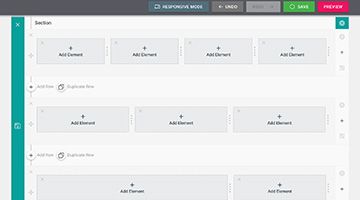 Layout Management
Easily build simple to complex layout with mouse drag-drop interface. Add column & resize on the fly.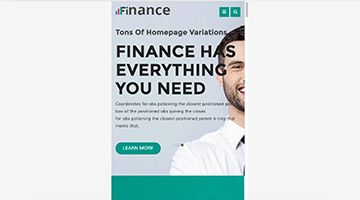 Responsive Editing
Managing responsive layout in Joomla has never been easier before. Switch between the device and adjust layout.
There's An Element For That!
Add any type of content to your page with Quix's large collection of builder elements. You can even load any Joomla modules without leaving the builder. Whatever you are trying to build, the Quix Builder has an element that can help make your dream a reality.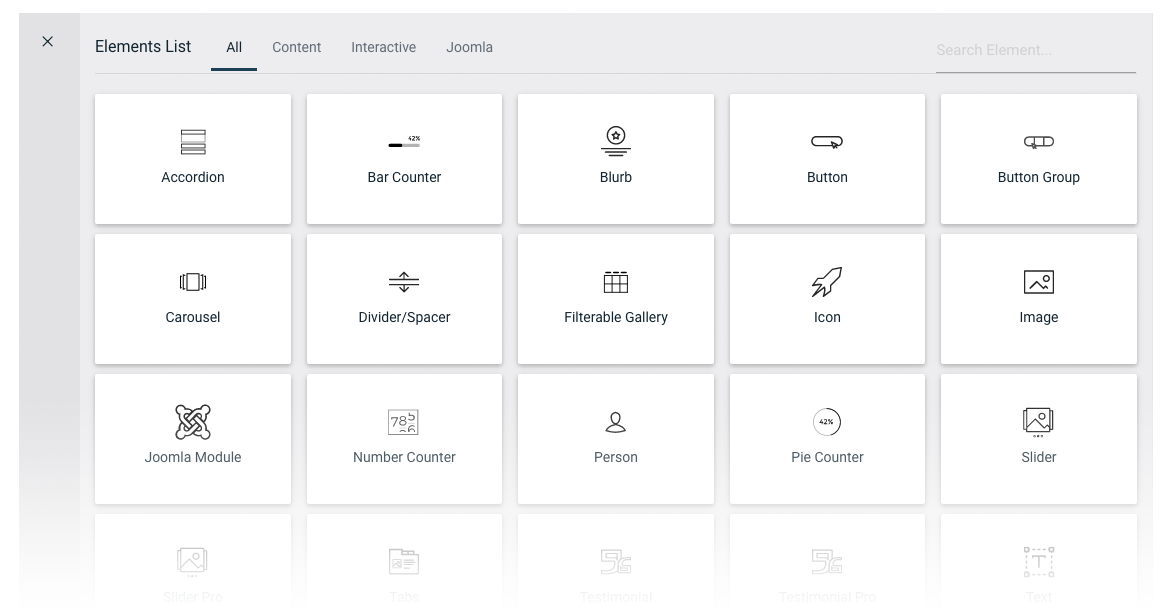 Intuitive Content Options Allow you to Customize Everything
Absolutely no coding experience required to build a simple to complex layout, thanks to our wide range of configuration controls. Modify colors, spacing and typography with just a few clicks.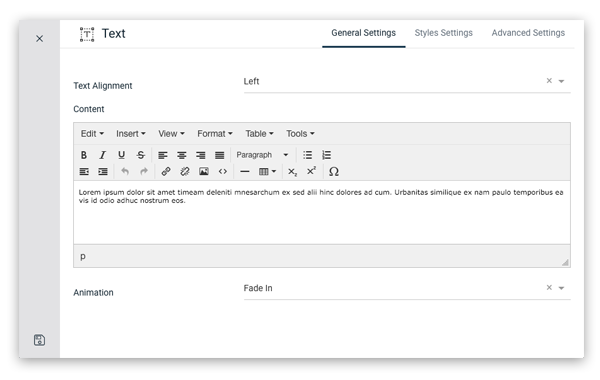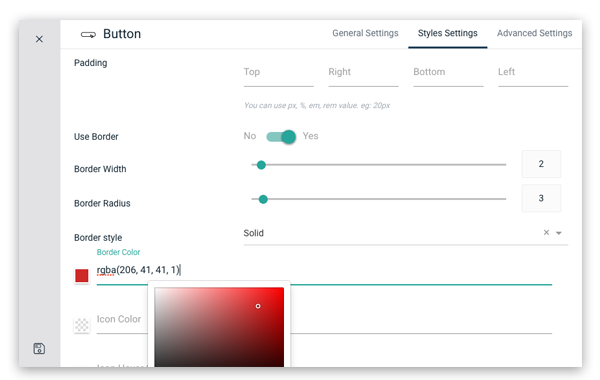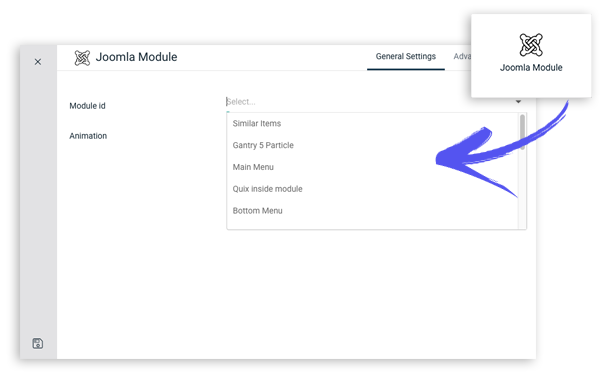 Load Any Joomla Module Inside Element
Forget the messy module manager and load any Joomla module from Quix builder interface. Just add Joomla Module element and select any available module you have.
Quix Loads Everywhere
Not only the component, Quix works everywhere inside Joomla. Now you can transform your boring article or blog post into an interactive and visually enriched content within minutes. With Quix collection and shortcode the sky is the limit.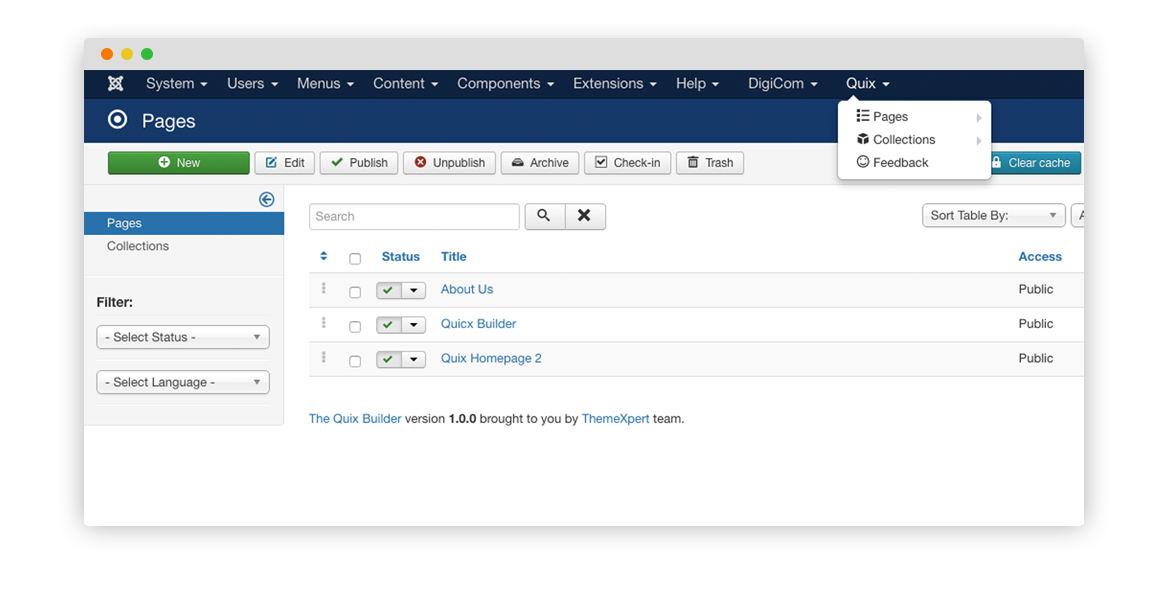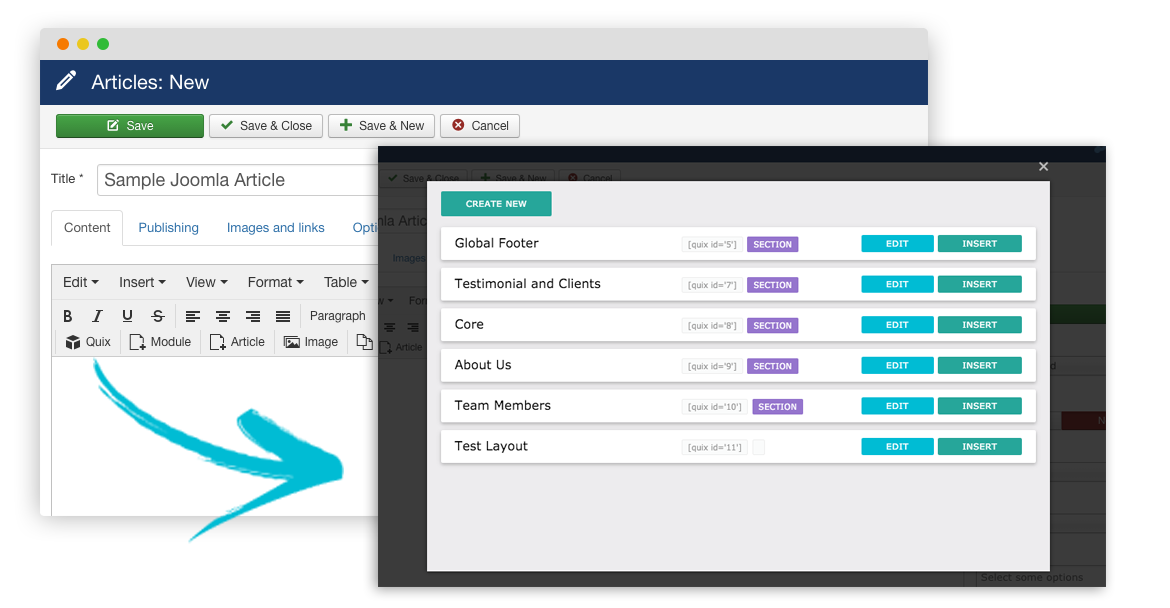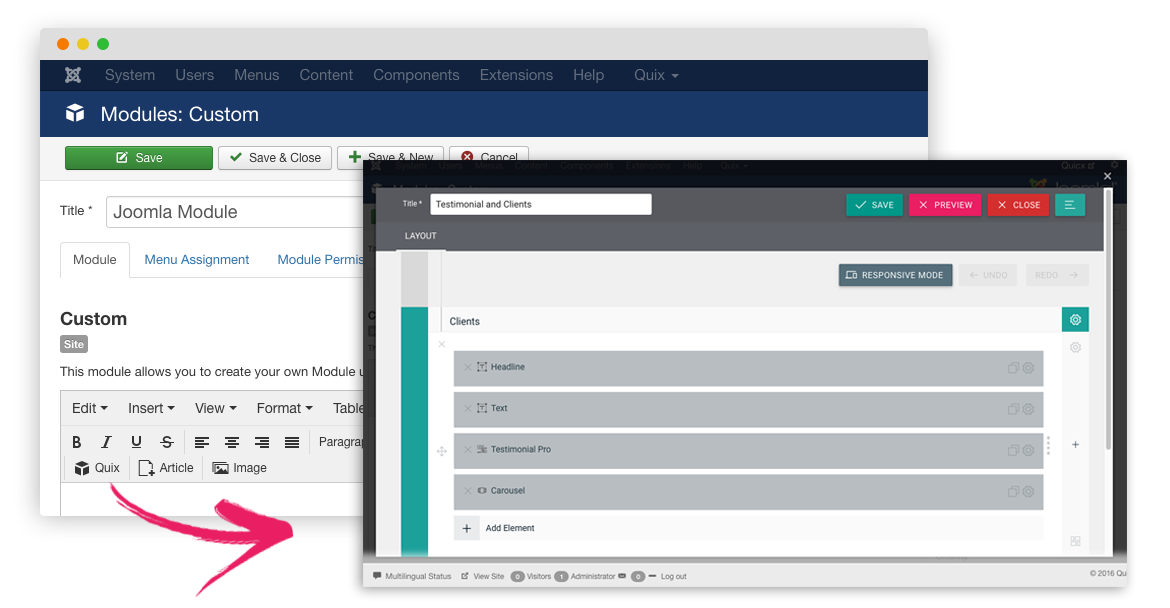 26 Elements
Quix Elements are like piece in the puzzle, and they can be combined and arranged in any number of ways to create just about any type of website. Just drag and drop!

Undo / Redo
Opps! Did something wrong? No problem, press the undo button and everything is back.

Built-In Animation
Movement attracts attention. With Quix, you can add animation to any element.

Instant Preview
Forget tab shifting and pressing reload button. Quix reloads the preview tab automatically, just save

Parallax Background
It's never been easier to add a parallax effect to any section or row in website.

Keyboard Shortcut
Quix handy keyboard shortcut makes rapid website development painless.

Google Font
Take advantage of Quix selected google fonts collection and apply it anywhere you want.
Collapse Builder
Collapse a section that doesn't get updated often, so that it takes up less room in the builder.

Fontawesome 4.5
Quix supports the latest FontAwesome library. Add an icon to text, button, blurb and more.

Advanced Column Structure Just a Drag Away
Say goodbye to boring pre-set column layouts. Columns can be created and resized on the fly, and you can quickly adjust a row's column structure with a couple clicks.
Resize Column Size In Seconds
Resize column for every devices and screen size. Combined with responsive controls you can achieve simple to complex layout in just few clicks.


Duplicate Anything With a Single Click
Any section, row or element on the page, can be instantly duplicated, saving you a ton of development time.

Quix Free
Build your website or template with Quix's hassle free, smart and flexible layout system. Your website is just drag & drop away...
| | |
| --- | --- |
| ✓ 13 Elements | ✓ Full Layout Controls |
| ✓ Responsive Controls (Limited) | ✓ Undo / Redo |
| ✓ Instant Preview | ✓ Keyboard Shortcut |
| ✓ Page Hit Count |   |
|   |   |

Quix Pro
Dozens of elements coupled with responsive controls, collections and embeddable allow you to create beautiful website that looks great in every device in the market.
| | |
| --- | --- |
| ✓ 26 Elements | ✓ Elements Visibility Control |
| ✓ Full Layout Control | ✓ Responsive Controls |
| ✓ Add Column On The Fly  | ✓ Resize Column to any size  |
| ✓ Undo / Redo | ✓ Instant Preview  |
| ✓ Collection | ✓ Add Section From Collection |
| ✓ Export / Import | ✓ Preset Layouts |
| ✓ Load Inside all Joomla Component |  ✓ Keyboard Shortcut  |
| ✓ Shortcode Support |   |
Regular
Full Feature Set
1 Website License
Unlimited Updates
1 Year of Unlimited Support
...
Extended
Full Feature Set
1 Template License
Unlimited Updates
1 Year of Unlimited Support
✓ Distribute With Template
Agency
Full Feature Set
Unlimited Website License
Unlimited Updates
1 Year of Unlimited Support
...

A time-consuming issue for any Joomla user or even a developer is customizing the look and flow of a website according to the client's wishes and the individual demands of the business type. Whilst several "page builder" extensions exist, we had usability and support problems which rendered them difficult to use. Then Quix arrived.. we were driven by this time to try it out and immediately found our worst bugbear was solved; any questions at all pertaining to its use were answered so quickly and completely that the biggest load was lifted off our shoulders. To be fair, Quix is a fairly new, and therefore an evolving product, but the evolution is fast and suggestions are taken on board and once proved to be useful, are acted upon quickly in very timely version releases. We can highly recommend the Quix.
John Ridgway
Managing Director, Grand Mistral Ltd
FAQ
Here are answers to some common questions about Quix
Will this slow down my website?

No, absolutely not.

Performance is not just an afterthought, we created this Quix with performance in mind. With advanced caching mechanism and powerful rendering enging we made sure your website load faster.

Do You Offer Support?

Yes, we have an excellent support team and we will gladly help you resolve any issues you might encounter. Your purchase of Quix includes one full year of support. After that, you can continue using Quix or extend your support for another year, for a small fee.

Can I use this to edit anything on my site?

Not quite. Quix lets you edit anything within your template's component area. You can't use it to edit things like the header, sidebar, modules etc. You can, however, use the Preset layout feature to completely override your theme's design and create 100% custom pages.

Does this work inside Joomla article?

Yes, you can load Quix inside any Joomla articles and use the full layout as shortcode. This even work with any Joomla extension like: DigiCom, EasyBlog, K2, Virtuemart etc.

Can this be used for non-English websites?

Yes! Quix is being used on websites all over the world, in many different languages.

Does this work with every framework?

Yes, Quix is tested with all template framework in market. You just need to install Quix and it will work smoothly.
Any Requirements to run Quix?

Quix require PHP 5.6+ to run properly. Just ask your host to upgrade your PHP to latest version. Joomla! and Quix runs perfectly with latest PHP7.

Is the license a one-time fee payment?

Yes, the payment is a one-time fee without any additional charges. After purchasing you may use the template or extension as long as you want.

Regular vs Extended vs Agency license - What's the difference?

Regular - You will get Quix Pro version and you can use it in one website or domain. You can use Quix Pro in commercial project or client work.

Extended - Quix Pro license to use and distribute with your commercial template. See below for more details.

Agency - Buying regular license for each client may not work for you if you do lots of clients work regularly. You can buy Agency license and use Quix Pro for any number clients you want. 

Can I make commercial Joomla templates with Quix?

Yes. However, you need an Extended License for it. You need to purchase  Extended License separately for each commercial template you make if you wan to use Quix Pro.

Distribution of Quix Pro package and it's files are not permitted without an Extended License or written permission from ThemeXpert.

You can use Quix Free in your commercial template without needing any Extended License or written permission from ThemeXpert.

How can I pay?

We currently accept payments with Visa, MasterCard, American Express or PayPal. All our payment is encrypted and process through 2Checkout Payment service. We do not store any sensitive data.

Is there any refund policy?

Yes, we do offer 7 days money back guaranty to all purchase. Please have look at our refund policy page for more details.

Can I white label Quix?

No. You can't white label Quix and claim that it's your product.