Today we are so excited to release Quix 2.6; it's been a couple of months, we are working our ass off to release this revolutionary version of Quix th...
Shams Sumon
Quix
Hey there! After a couple of weeks later, we are back again with another impactful update of Joomla page builder - Quix . This update is exceptionally...
Shams Sumon
Quix
As we are dedicated to making Quix unstoppable and more user-friendly, we have brought some changes in our current version. We have added new fu...
Shams Sumon
Quix
Its the beginning of another new month and here we are in front of you with another exciting feature for Quix. We call it Quix Optimize because it wil...
Uzzal Raz Bongshi
Quix
​Quix Page Builder has changed the way of Joomla web development. From the very beginning of its invention, we have continued to bring mind-blowing fe...
Shams Sumon
Quix
Today we are extremely excited to release the brand new SEO feature for Quix. With this new SEO feature, you can analyze your web page seo performance...
Uzzal Raz Bongshi
Quix
After several months of hard work, I'm pleased to announce Quix 1.3. Our goal is to help you build website faster, and with Quix's blocks, it's now 2x faster than before.This version brings you an enhanced SEO settings that make it easier for users to recognize your official site and reach the information you provide more quickly when they search.## Blocks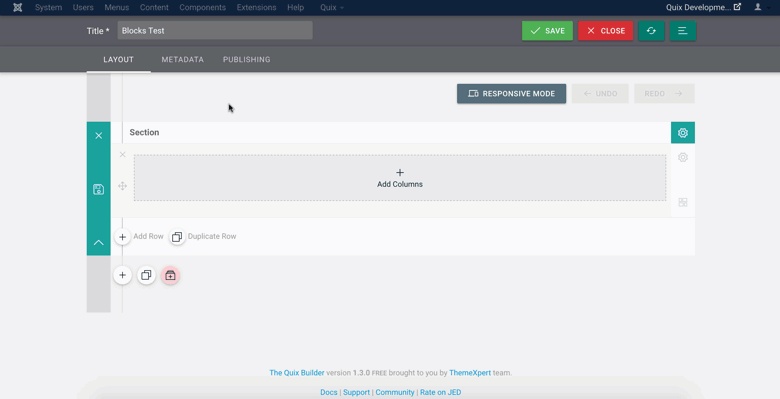 With Quix's pre-made blocks, you can instantly create any section or entire layout. Everything is visual, and you will get what you see on blocks image. Blocks are two types:- Section Block : Contain only one section with multiple rows and elements.- Layout Block : Contain multiple sections with the combination of rows and elements.We will be adding more blocks every week, and you can see them without updating or downloading anything. Blocks list refresh once an hour.## Collection > LibraryCollection is now called Library for a clear understanding of its use. Users often get confused about the name and based on your feedbacks we renamed it. Everything remain same and you won't loose any date.## Enhanced SEO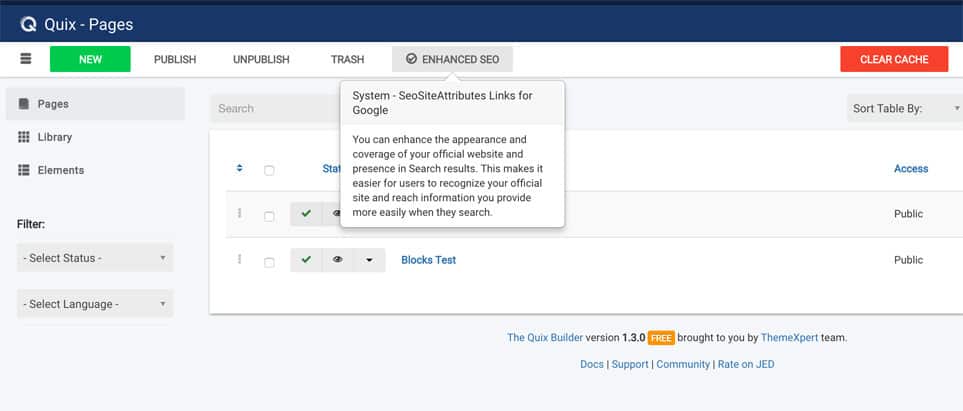 We are serious about SEO and Quix is the first page-builder that allow indexing its page content to Joomla search. Quix's HTML markups are also very semantic and friendly to search engine.We are enhancing SEO capabilities by adding Google site attribute markup. Google offers a variety of ways to help you provide key business details so that they show up for users in Search results.Add your business and marketing details like location, contact information, logo and social media links. Google will show them in their search results and knowledge graph card.## CSS OptimizationAll the CSS files are now minified and cached for better performance. Before 1.3, page styles were on page header but now its cached on file and no more nasty HTML header in Quix.## Chart Elements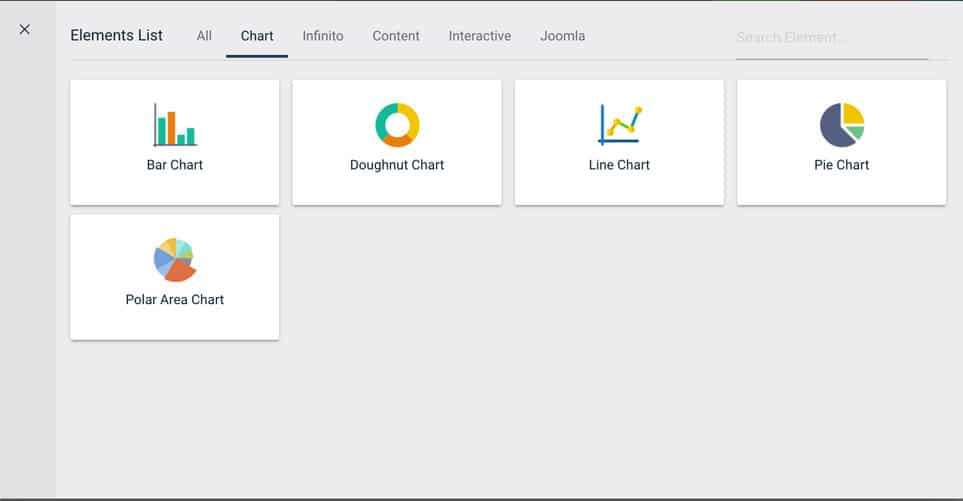 You can show statistics or survey data using 5 brand new chart elements. From simple bar chart to complex polar chart can be done using chart elements. Powered by the powerful Chart.js library.## Improvements and Fixs- ACL fix for Pages and Collection- Asset caching system- Admin styling- Library page improved with search- Toolbar menu updated- Text element update- Compatibility fix for 3pd templates- Admin icon fix- Router update- Font warning fix- Popover style fix- And many more...
Parvez Akther
Quix
Our mission is to provide you a full-fledged Joomla page builder that will help you to develop your site in a faster and easier way. Therefore we are ...
Abu Huraira Bin Aman
Quix
A few years earlier, when we first launched Quix Joomla page builder, we got a huge positive response. Quix classic builder made its remark in the Joo...
Shamima Nasrin
Quix
"Why should I use it??? What does it have that other page builder doesn't? Why should I even give it a try?" Most of us think like this before taking ...
Shamima Nasrin
Quix