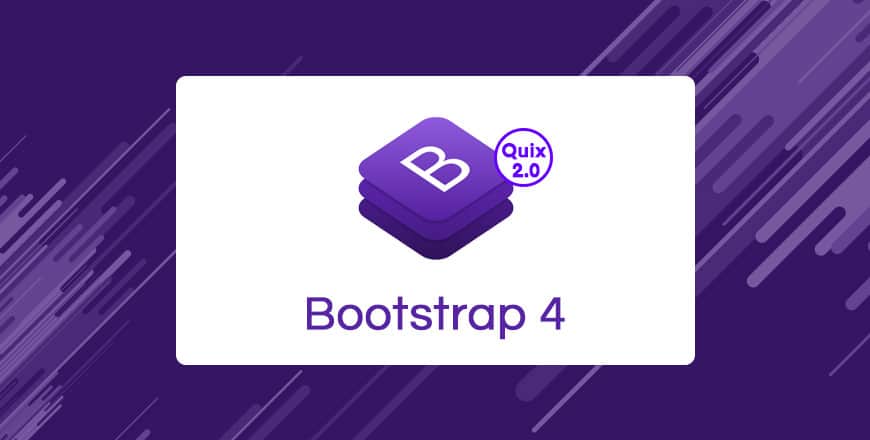 Quix Joomla Page Builder is much more upgraded and sorted than it was ever before. Cause now Bootstrap 4 has been included in Quix making Quix page builder unstoppable.
Today I'll talk about the Layout System of Quix. Earlier, we used Bootstrap 3 for layout system. It consists the basics of HTML, CSS, and JavaScript. The preprocessor of Bootstrap 3 is LESS which is written in JavaScript. The popularity of LESS among developers is 13.4%. It uses 4 grid tiers and they are xs(phones), sm(tablets), md(desktops) and lg(larger desktops). And many more things.
You might have got a question, "What's the need of moving to Bootstrap 4?" Right?
Why lack behind when you can work with latest features of Bootstrap. Latest version of Bootstrap is Bootstrap 4. It has new components, more flexibility, and more responsiveness. It supports the latest, stable release of all major browsers and platform except Internet Explorer 9.
Bootstrap 4 offers many new flexible features and it appeared to be the better than the best. So, not delaying further we used Bootstrap 4 for Quix 2.0 page builder.
Reason behind migration to BS4
As you know, bootstrap is the world's most popular framework for building responsive, mobile-first sites, and applications. It has high quality HTML, CSS, and JavaScript to make any project easier than ever.
Bootstrap includes a powerful mobile-first flexbox grid system for building layouts of all shapes and sizes. It is based on a 12 column layout and has 5 tiers i.e. xs (extra small), sm (small), md (medium), lg (large) & xl (extra large) breakpoints. Now, these breakpoints are fixed as the pixels are specified. These breakpoints make sure not to break the websites as the changes appear in different devices. Now you don't have to worry about fitting to the screen. It will adjust by default.
Moreover, we choose Bootstrap 4 over Bootstrap 3 for these reasons:
Popularity
Flexibility
Responsiveness
Let's get into a little bit deep. Shall we?
1) Popularity
Bootstrap 4 got its popularity just after arrival. A Bootstrap team made a survey in Tweeter about Bootstrap 4 and they got a very high response. Most of the developers loved it because of its exclusive features.
Around 3.5% of the entire internet uses Bootstrap. Because of its flexbox, form control, appearance & look, mobile-first, and most importantly, the migration from BS3 to BS4 is really very simple.
2) Flexibility
Bootstrap 4 is way more flexible than ever.
The Grid System consists of 3 main parts. Container, Row, and Columns. A fixed container is set by default. Inside the container, rows are set and all you need to do is set the column. And moreover, you can change the size of columns just the way you want.
3) Responsiveness
When it comes to BS4 nothing can beat its responsiveness.
The Grid system consists of 5 grid tiers. The 12 column layout is developed with percentage which makes the drag and drop more easy and smooth. The 12 columns are not a must. You can use 2,3,4,6, and max 12. You can set different column numbers for different devices and make the websites more flexible in display screen of any device. It can adjust from extra small to extra large device screens.
Now that's what I call a revolution…