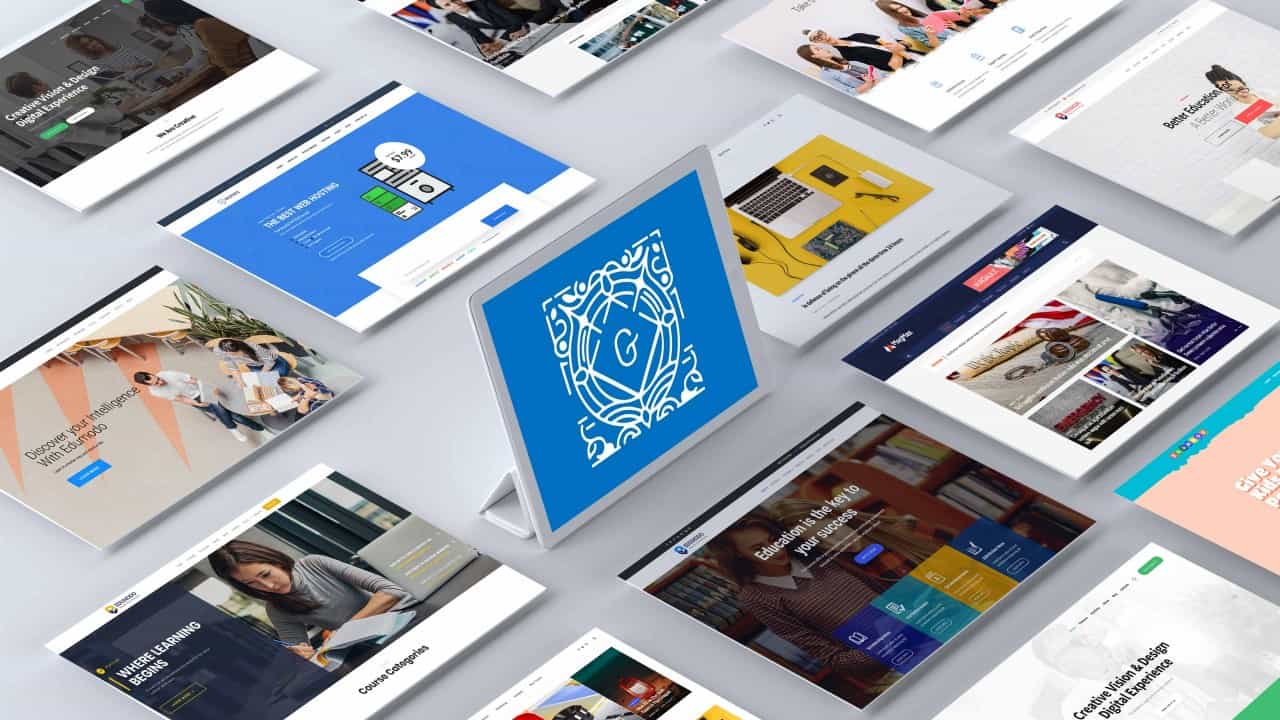 Developers always come with new tools and features to amaze us, and this time they have arrived with Gutenberg WordPress editor. Gutenberg is similar to other visual content editor and made to give an opportunity to experience enjoyable and simple web design creations.
Gutenberg comes with a number of blocks, which you can use by simply dragging around the page. It is a magnificent choice for content creation as it comes with intuitive drag and drop interface for all users. Today we will provide you with a list of premium WordPress themes that come with the compatibility of Gutenberg editor and other premium plugins.
Let's check out these themes.
Are you are looking for a theme which will help you to develop an excellent website fully dedicated to teaching, learning, & selling? Well, then Edumodo can be your greatest ally. With edumodo you can manage your courses and students very easily, as it comes with the support of the three most popular LMS. These are LearnPress, Sensei, & LearnDash, you can choose any of this lms you prefer.
Edumodo comes with all the latest features and functionalities. The developer team is always ready to include the latest functionalities and therefore Gutenberg is supported with this theme.
3 Most Popular LMS
Yes, you heard right. Edumodo comes with 3 most popular LMS support. Choose one that you prefer to work with or previously you have worked with. You can easily create, manage and sell courses with Edumodo. If you do not like to use any LMS, you can use the default course management system of Edumodo named "TXCOURSE".
Enroll new student or remove student is just one click away. Your students will be able to see their progress and will also be able to study by themselves. The most interesting feature of Edumodo is you can sell your courses as products, and also physical goods.
Edumodo lets you schedule and grade quizzes automatically. All you need is a little configuration and you are done. Rest will be autonomously managed by Edumodo.
Currently there are 10 + layouts come with Edumodo, more are in the way. These layouts include - University v1, LearPress v1, Sensei, LernDash, University v2, LearnPress v2, Language School, RTL, Fitness Trainer, and Kindergarten.
Each of these layouts are built for a specific purpose. You can build any kind of school, college, university, kindergarten, language school and any educational institute site with Edumodo. Choose one layout and import the entire layout with a single click.
RTL & Multilingual Ready
Every inch of Edumodo is entirely mobile responsive and can adapt perfectly to any sized display. Besides responsiveness Edumodo also comes with RTL & Multilingual, that means you can give any language support to your website. Give your international users a home feeling with RTL & multilingual option.
Amazing Performance with a dedicated support team

​
Not only with beauty but Edumodo also assures the performance of the site. All the codes are written in Edumodo are fully optimized, no vague codes are used in it. Besides Edumodo is fully SEO optimized you don't need to work much for getting your site ranked.
If you ever face any trouble just knock at the support team of Edumodo. They are always ready to solve your problem and help you.
MagMax is one of the best themes for developing news, magazine and blog sites. It comes with the compatibility of Gutenberg and all the latest features. It will help you to create a straightforward website within the shortest time.
5 Elegant Layouts With Unlimited Blocks
​
There are a total of 5 elegant layouts that come with Magmax. Each of these layouts allows you to create a unique site within a single click. These layouts include classic, fashion, sports, tech, news week and default layout.
When you create your site with any of this layout, you are not limited only with it. There are a huge collection of blocks come with MagMax. You can insert any blocks at anywhere you want, use them according to your need.
SEO & Speed Optimized
Magmax comes with amp support, therefore your site will be instantly loaded on devices. No matter which devices your users use, your site will be loaded within a blink of eyes. Besides, to boost the performance, highly clean codes are used in MagMax. All the codes of Magmax are written by the developers with 9 years of experience.
SEO helps you to stay on top of the search result, for this reason, MagMax comes with SEO optimization. You will be always one step ahead of your competitors.
Megamenu & Multiple Post Formats
Megamenu helps your client to jump at specific content very easily and faster. It's entirely up to you to arrange it with multiple columns. Your clients will be able to browse specific section quickly with help of mega menu.
In earlier, creating different types of the post was might be difficult, but now its no more a reason for anxiousness. You can define your preferred post type with Magmax theme. Your website and everything is under your control.
If you're looking for a hosting theme then Hostzine would be the perfect choice for you. With a clean design, responsive by nature and integrated WHMCS, Hostzine is the perfect theme to build hosting a website with. It comes with drag & drop Elementor page builder and an array of homepages, pre-set pages and much more.
Hostzine is compatible with plugins, frameworks and other add-ons. Moreover, it supports almost every browser including IE11, Firefox, Safari, Opera, Chrome, and Edge.
Nowadays, everyone wants their site to be SEO friendly. No one wants to fall behind. Hostzine cares for its client in the same way. That's the reason the developers made it SEO optimized. Hostzine follows Digital Marketing discipline and has growing visibility in non-paid search engine results.
SEO helps your site to rank up in Google search. And since Hostzine is SEO optimized theme, you don't have to worry about ranking up. It will do its work in that field.
Plugins make the working system more flexible adding additional features to the template. It's no use to work on a template if that does not support any plugin. That's where Hostzine makes it easy to work with. As reported it supports Gravity Forms 1.9.x, WooCommerce 3.2.x, WooCommerce 3.1.x, and Bootstrap 3.x plugins. And it is compatible with other frameworks too.
This is a smart world and everyone uses a smartphone. What's the use if your site does not show up on the mobile screen? Not everyone likes to surf in desktop or laptop, right? To overcome this problem, the developers ingested mobile responsive feature to it. This allows Hostzine to act in accordance with the size of the mobile screen.
The mega menus will be adjusted, the demo contents will response in a step by manner. Overall, you don't have to worry at all. This elegant template will do half of your job. All you need to do is, select the desired demo, edit the contents and make it available for your visitors.
Deviox is a very trendy and stylish multi-purpose business WordPress theme that comes with a fresh, clean design. You will be able to create a dazzling business site by yourself within minutes. This theme is entirely optimized for such plugins as MailChimp, Revolution Slider, Essential Grid and other add-ons.
Entirely Mobile Optimized
Deviox comes with mobile responsiveness, your developed business website will be visible in every small device. You do not need to work hard for and make your site responsive separately as the Deviox do it for you. The desktop site comes with swipe effect in all scrollable section. This swipe effect is also supported in mobile devices.
This theme uses most popular "Revolution Slider", so you don't need to worry about page breaking. Develop in the way you like in the shortest time and relax in the rest of time.
With the Deviox theme you get ThemeREX Addons plugin absolutly at no price. You can maximize the features of this theme with this additional add-ons. One of the great feature of this ThemeREX addon is, it lets you build header and footer. It will take only a few clicks to create and customize your header and footer.
Deviox comes with the full compatibility of WPBakery Page builder, you will be able to build any sections in quickest time. You do not need to write any line of code to develop your website, only drag and drop is enough to develop the site you want.
Deviox theme is developed by ThemeREX and comes with an awesome support team. They are ready all the time to provide you support. If you ever face any problem just knock their support and they will solve your problem as soon as possible.
This theme also comes with proper documentation, so at first you can check out the documentation and then ask for support.
If you are a professional dentist or want to develop a site which is dedicated to dental or any other medical services than ProDent is the best choice for you. This theme aims to showcase your skills in the best light.
Prodent comes with one click demo import option, therefore you don't have worry about importing demo. Just single mouse click and a few moments will be enough to import an entire demo. It's a very easy process, after installing the theme and required plugins all you have to do is select the demo and click the import button.
If a website is not same on different devices then that website is not responsive. But your site made with Prodent will look exact same on each and every device, no matter how small or big that is. From top to bottom, everything of the layout is optimized for mobile devices.
Even the sliders of Prodent is also responsive as the sliders are made with Revolution slider. All scrollable sections support the swipe effect. Your site will look amazing on mobile devices.
Easy Customizability
This theme comes with easy customizability options, there is no hard procedure or settings involved in this theme. You can easily configure this theme in no time and if you need any kind of help you can check its documentation or knock the development team at any time.
In Prodent, the integrated html code meets the best SEO approaches. It will be very much easier to rank your website in the search result. Every code of this theme is written by the expert developers and optimized in a way to provide you with the best performance for your website.