10 Best VPN Services in 2022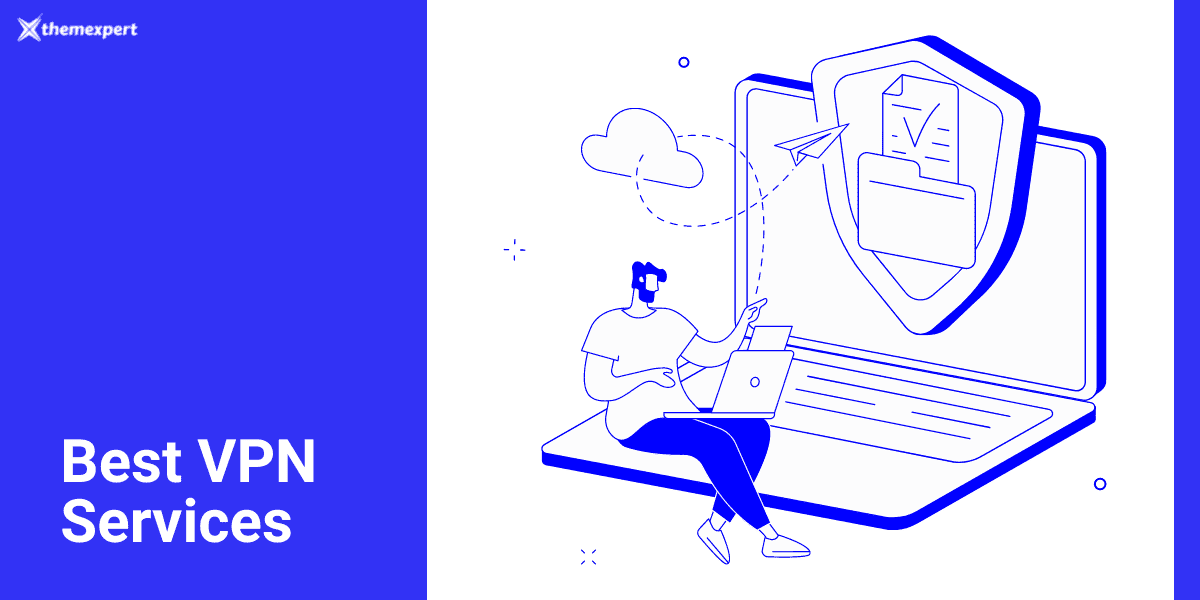 How many of you faced a problem with Netflix streaming? Or PUBG gameplay? And the other fear of Data and Privacy security? Well, these problems can be solved by VPNs.
31% of all people who use the internet have used a VPN. More than 56% of all VPN users go to Netflix each month and experience surfing well.
Today, nearly a third of internet users use a VPN for privacy, smooth stream from anywhere, visiting foreign websites, smooth gameplay, and secure sensitive business information over a secure connection.
But with hundreds of VPNs available on the market, finding the best one is challenging. Don't worry; we're here to help!
This article will tell you about the 10 Best VPN Services in 2022.
What is a VPN?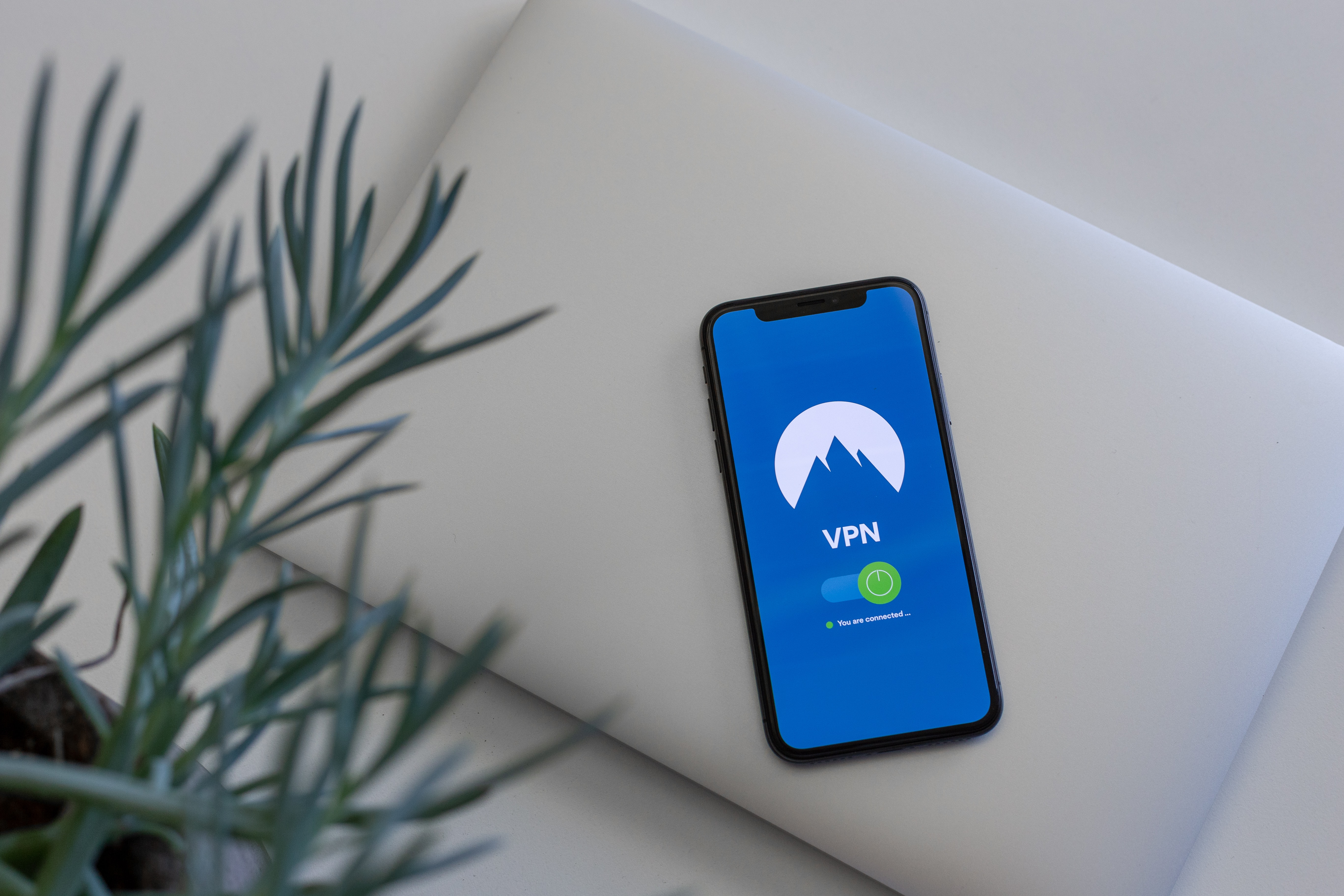 VPN stands for "Virtual Private Network," which is a service that secures your online privacy and internet connection. It turns your data into an encrypted tunnel, hides your IP address to protect your online identity, and lets you use public Wi-Fi hotspots safely.
Now that you know what is VPN and how it works, here is a little secret that we are always excited to learn!
Generally, a VPN encrypts the connection between your device and the internet, protecting your browsing activity and any data that originates from your device and flows to the internet. VPNs prevent your ISP from identifying the websites you visit and keep the sites you visit from knowing where you are unless you log in to them.
This encrypted connection provides an additional layer of security on public Wi-Fi networks, which is crucial if you send or receive sensitive data over the internet.
Types of VPN Services
The two primary types of VPNs are described in more detail below.
Remote Access VPN
Remote Access VPNs are the most prevalent type of VPN right now. These connect users to a server in another country that is far away. They let you use their network to browse the Internet and encrypt the data you send and receive. It can connect geographically distant offices through the internet to provide secure communication Most paid VPN services are built on top of this foundation.
Home users, or private VPN users, mostly use VPN services to get around their region's internet restrictions and access blocked websites. Users who care about security on the Internet also use VPN services to improve their security and privacy on the Internet. VPNs for remote access are easy to use and set up.
But the biggest problem with this method is that the apps you use are rarely hosted from the main office. Most businesses use software-as-a-service (SaaS) solutions, which are always hosted elsewhere and operate colossal data centers. So, setting up a VPN for remote access might not be the best idea since data would have to go from users' devices to the central hub, to the data center, and back. So this could not only cause significant bottlenecks and slow down the network.
This solution can be good for certain self-hosted apps or sensitive documents that you don't want to be hosted anywhere else. But it's important to remember that you should plan based on how many people will use them. You'll need more powerful hardware the more of them you have.
Site-to-site VPN
A Site-to-Site VPN is often used by large companies when multiple users in different places need to access shared resources. It can connect offices in other parts of the world through the internet to make secure communication possible. Companies with branches in various locations use site-to-site VPNs to connect the networks of one branch to another.
Since this VPN connection depends on routers talking to each other, one router has to be the client, and the other has to be the VPN server. These routers can only communicate with each other after both of them have been verified.
If your users want to connect from home, this won't help you much. Administrators don't usually let connections from networks they don't control because it's safer. In fact, they are giving up accessibility for security.
On the plus side, it is one of the least expensive ways to connect different networks into a single intranet. Every device can work as if it's on the same local area network. This makes it easier to share data and harder for people from the outside to spy on it.
Reasons Why You Need a VPN
To put it simply, VPNs are now as important for security as antivirus and malware protection. Check out why we believe you should need a VPN.
Safety and Security
People use VPNs for safety, which is the first and most important reason. It lets you send and receive data between your device and the host site through an encrypted tunnel. It will be much harder to keep yourself safe from unwanted threats while surfing the web.
But you are entirely safe and secure if you are under the hood with a VPN. This makes it impossible for anyone to spy on your data. Even your internet service provider (ISP) can't see your information or track what you do online.
With VPN, everything you do on the internet, whether for fun or to share important files and information, is encrypted from start to finish. So You can access any site anytime free of headache.
Improve your Anonymity Accent
People choose to use a VPN for another critical reason: it protects and retains your anonymity. What you do on the Internet is legal, but many people don't like what you do. If you know that someone is watching you, it might make you feel uneasy.
So, your identity will be safe if you use VPN. There are a lot of VPN services that promise to give complete anonymity. You have the right to stay anonymous on the Internet, whether you're at home or on a crowded subway.
Breaking Geo-Restrictions
There are many ways to have fun and learn things on the internet, but not everyone can access these things. Most of the content on the internet is geo-restricted. This means that the content is only available to people who live in certain parts of the world. People from other parts of the world can't get to it.
Here, the VPN lets you get around this problem by giving you access to hundreds or even thousands of servers in other places. You can access the internet as if you were in any part of the world with just the click of a button.
Data Privacy From Your Government
Even though many ISPs, apps, and internet data hubs say they don't sell your browsing history to governments, it still ends up in their hands, even in the U.S.
Since 2013, when Edward Snowden first revealed that Verizon was selling the NSA users' internet and phone data, Americans have become more aware of the different ways the government surveys and collects their information. As a result of the Snowden leaks and the anger that followed, several laws were passed to stop the government from spying on people.
Therefore, sometimes we are hearing about data breaches on Facebook, Twitter, Tiktok, etc. In January of this year, according to the New York Times, the Defense Intelligence Agency evaded a rule that required government agencies to acquire warrants before ordering phone companies to hand over user data by paying third-party data brokers for the same data.
As a solution, you can use VPN to get to the information and services you need without security systems knowing. The data is encrypted, which means that everything you do online is private and you don't need to worry about the government getting access to your data.
Stay safe when you shop and travel
Today, you can buy everything online. From ticket to shopping, it's just a matter of a snap. If you see "HTTPS" or a lock icon in your browser's address bar, it means that the site has security measures to protect your personal information and credit card information.
In addition, you will find out the price difference for people from different countries. This could be a purse, shoes, a new car, or even a hotel room. The same goes for flights.
You can use VPN servers from different countries to shop in online stores and check flight prices to get around this. This will make it easier for you to get the best deals at the best prices. Even though it may take some time and make you tired, you can save a lot of money.
Ease your fears about using public Wi-Fi
Free Wi-Fi hotspots make it easy to stay connected no matter where you are, but what do you risk when you log on? Here is a quote from an FBI staff operations specialist that explains why using public Wi-Fi is bad for your security.
"Using public Wi-Fi to connect to the Internet is simple and easy. This is risky, though, because you can't control how safe a public Wi-Fi network is."
It's tempting to use public Wi-Fi. This is especially true if you are away from your home town and state or live in a place where private internet access costs a lot. VPN can help you in these situations because it gives you a safe tunnel for your online activities and hides your identity when you use public Wi-Fi.
10 Best VPN Services in 2022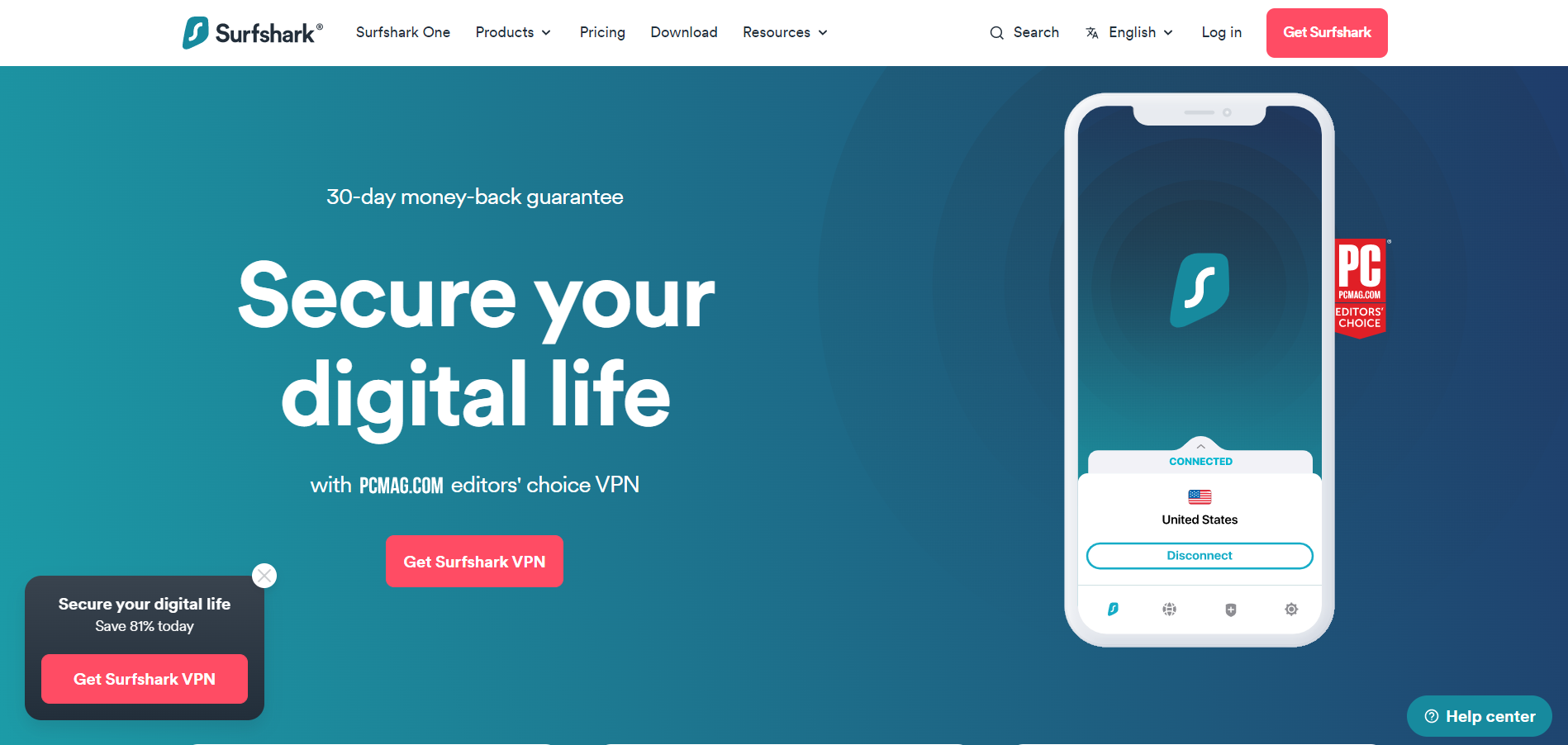 Surfshark is a good option for people who want to sign up for one of the best VPN services without spending too much. They are giving you a great deal here, but don't just look at the money... There is so much more to Surfshark.
With more than 3,200 servers in 65+ countries, Surfshark One's VPN is impressive on its own. The platform lets you connect as many devices as you want at once and has top speeds of up to 790 Mbps. With support for a large number of devices and a growing number of advanced features, such as a kill switch, split tunneling, and standard AES-256 encryption, as well as extra features like MultiHop and Nexus, this VPN is a great choice.
With Surfshark VPN, we got a different IP address on the connection. This makes it harder to track us, but we could also keep the same IP address if we wanted to. It also lets you stream Netflix and download files from torrent sites. Surfshark One also monitors the dark web, which sends alerts when a user's information is found online.
Best For: Best affordable VPN
Pros Cons
Pros

Cons

Very affordable on a two-year subscription plan
7-day free trial available via mobile
Streams Netflix, HBO Max, and more
GPS spoofing setting on Android app
Unlimited device connections
Advanced features and extra settings
Get additional Ad blocker

No free version
No free SOCKS5 proxy
Kill switch not enabled by default




Pricing
| | |
| --- | --- |
| Plan | Pricing/Month |
| 1 Month Pack | $12.95 |
| 12 Month Pack | $3.99 |
| 24 Month Pack | $2.49 |
NordVPN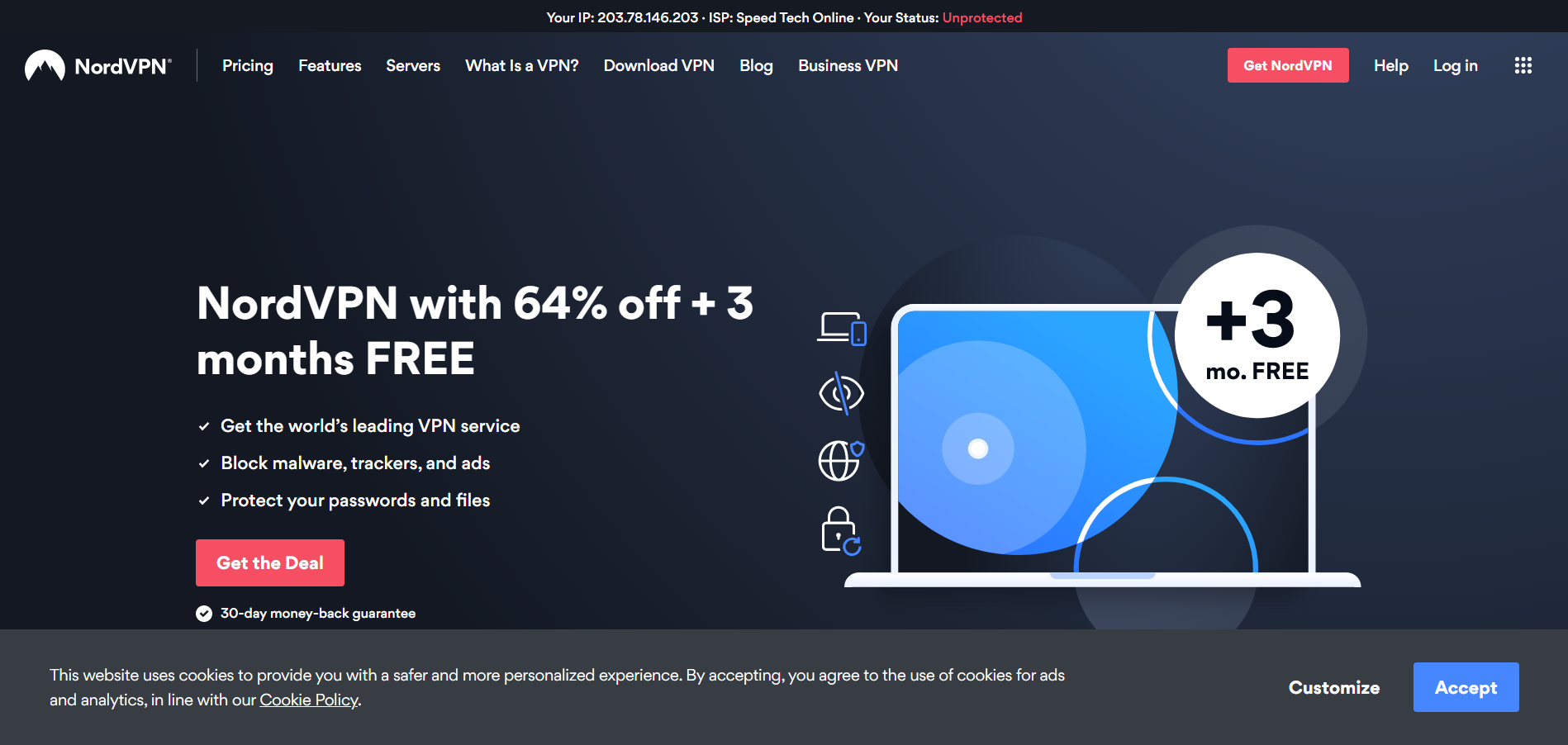 Nord VPN is one of the best VPNs on the market because it balances speed, security, and entertainment. You'll get the best security features, like AES-256 encryption (military-grade encryption), the OpenVPN protocol, and its own NordLynx protocol.
Additionally, NordVPN blocks annoying ads, trackers, and websites known to be harmful. With multihop, users' connections go through several encrypted tunnels to keep them safe. Plus, NordVPN has strict rules about maintaining logs. Whether you want to avoid government spying or just regular hackers, NordVPN can shield you from anything.
Best For: Best VPN for Security
Pros Cons
Pros

Cons

Fast connections with no bandwidth limits
Unmatched browsing security with no activity logging
Supports split tunneling
24/7 customer support
Accepts cryptocurrency payments
Excellent for streaming and torrenting
Ad blocker and safe browsing features

No free plan
No router app
Poor malware-blocking results
Firestick app doesn't work well with Netflix




Pricing
| | |
| --- | --- |
| Plan | Pricing/Month |
| Complete | $5.29 |
| Plus | $3.99 |
| Standard | $3.09 |
Note: If you buy for 2 years, you'll get 3 months for free.
ExpressVPN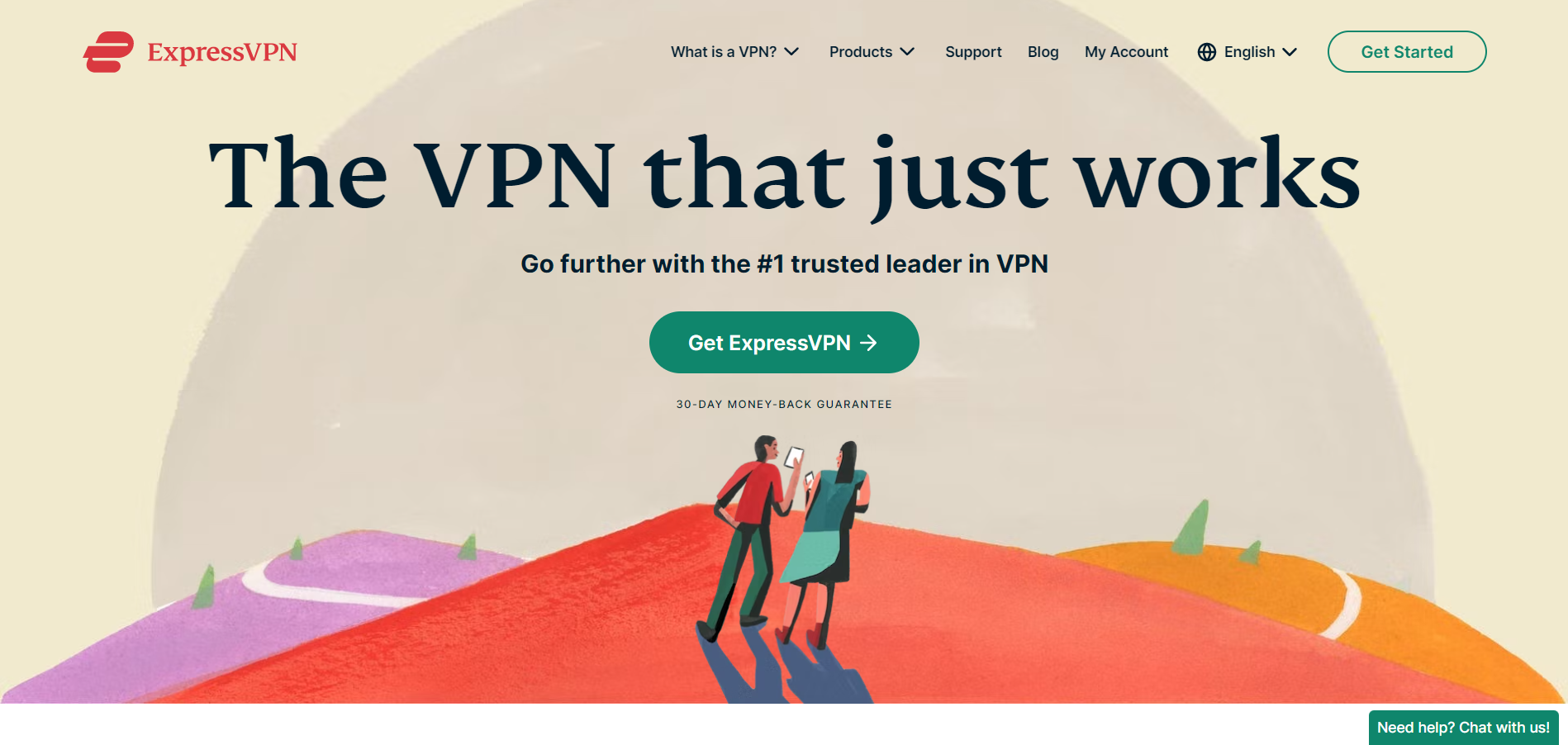 ExpressVPN is the fastest VPN we've tested in 2022, and it did excellent in all of our tests. It is fast, very safe, and works well on all devices, including PC, iOS, and Android. Its home screen has a single button that lets you connect quickly to the city closest to you and fastest.
ExpressVPN has an IP address checker, two leak testers, and a password generator that are all built-in. On the other hand, its security and privacy tools, account and settings options, and help page are all kept under a simple three-bar icon in the top left corner of the screen. And it would be best if you looked into them.
Best For: Best VPN for Streaming
Pros Cons
Pros

Cons

Excellent browser apps for Chrome, Firefox, and Edge
Servers in 94 countries
Desktop, mobile, and gaming console apps
Supports split tunneling
No data retention laws
Strong on encryption and unblocking
Expert 24/7 live customer support
Network lock kill switch

Very expensive pricing
Limited to 5 simultaneous connections
No multi-hop connections





Pricing
| | |
| --- | --- |
| Plan | Pricing/Month |
| 1 Month Pack | $12.95 |
| 6 Month Pack | $6.67 |
| 12 Month Pack | $9.99 |
Note: 30-day money-back guarantee.
IPVanish
A big plus for IPVanish is that it gives users fun, and complete control over their security, speed, and devices. This makes it a great client for people who want to learn how a VPN works behind the scenes. The platform stands out because it has 4 different VPN encryption protocols, including the very fast WireGuard protocol.
IPVanish is an app for tech tweakers who want precise control over their mobile internet traffic. It has a lot of switches that let you control things like the kill switch, split tunneling, VPN protocol, and LAN connection allowance. IPVanish is a good choice if you want to make fine-tuned adjustments to your VPN connection.
Best For: Best VPN for Firestick
Pros Cons
Pros

Cons

4 encryption protocols are available
Unlimited simultaneous connections
Ultra-fast speeds with WireGuard protocol
Customizable kill switch
DNS leak protection
Free SOCKS5 proxy
Secure cloud storage solution available
Unlimited number of connections

More complex than other VPN platforms
Desktop apps have some usability issues but WireGuard protocol has made Windows considerably faster.
Below-part OpenVPN speeds




Pricing
| | |
| --- | --- |
| Plan | Pricing/Month |
| Yearly Plan | $3.33 |
| Quarterly Plan | $4.44 |
| Monthly Plan | $10.99 |
CyberGhost VPN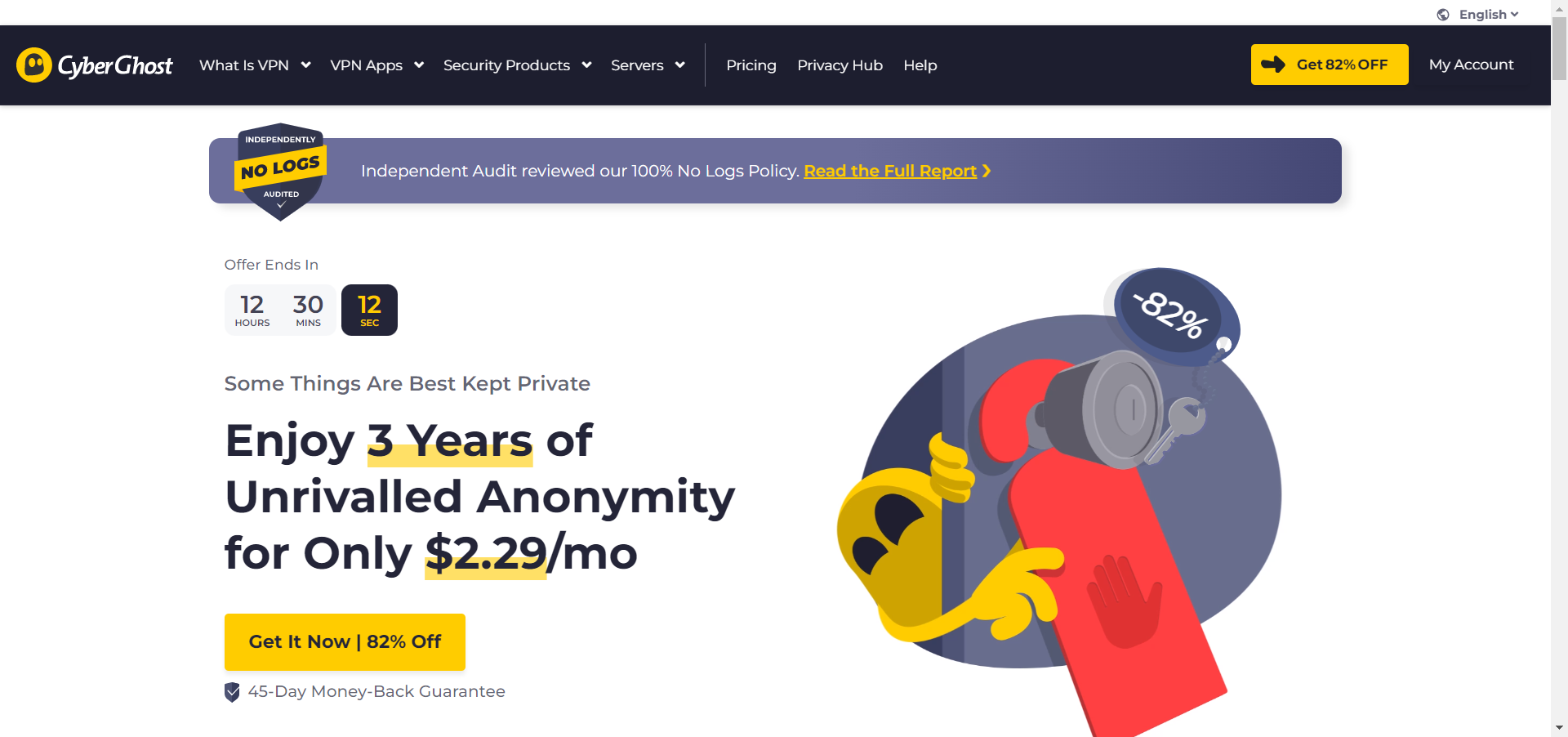 CyberGhost has been in the VPN business for over a decade and has grown into a top-notch service with a robust set of features, including some very unusual extras. For example, the company has a powerful network of 7,000 and 8,000 servers, most of which can handle torrents. This network is spread across an impressive 90+ countries. There are apps for Windows, Mac, iOS, Android, Linux, Amazon Fire TV, and other smart TVs. You can also set it up on game consoles that support Smart DNS.
On the other hand, CyberGhost is still faster than Norton Secure VPN and uses less of our devices' processing power. It also has split tunneling in its Windows client, and its servers are neatly divided into NoSpy servers, torrenting servers, streaming servers, and servers that work best with a fixed IP address. CyberGhost doesn't limit the amount of data you can use; you can switch servers as much as you want, and plans that last a year or more comes with a 45-day money-back guarantee.
Best For: Best VPN Free Trial
Pros Cons
Pros

Cons

Large, well-distributed server fleet
Allows up to seven simultaneous connections
Several add-ons, including antivirus
Outstanding speed test scores
Great for streamers
8,800 servers across 91 countries
Smart DNS tool for increased device compatibility

No third-party audit
Confusing privacy policies
Split tunneling available for Android only
Static IP addresses
Potentially annoying device limit scheme
Doesn't work in China, Turkey or the UAE
Incompatible with Chromebooks





Pricing
| | |
| --- | --- |
| Plan | Pricing/Month |
| 1 Month Pack | $12.99 |
| 1 Year Pack | $4.29 |
| 2 Year Pack | $3.25 |
| 3 Years + 3 Months | $2.29 |
Private Internet Access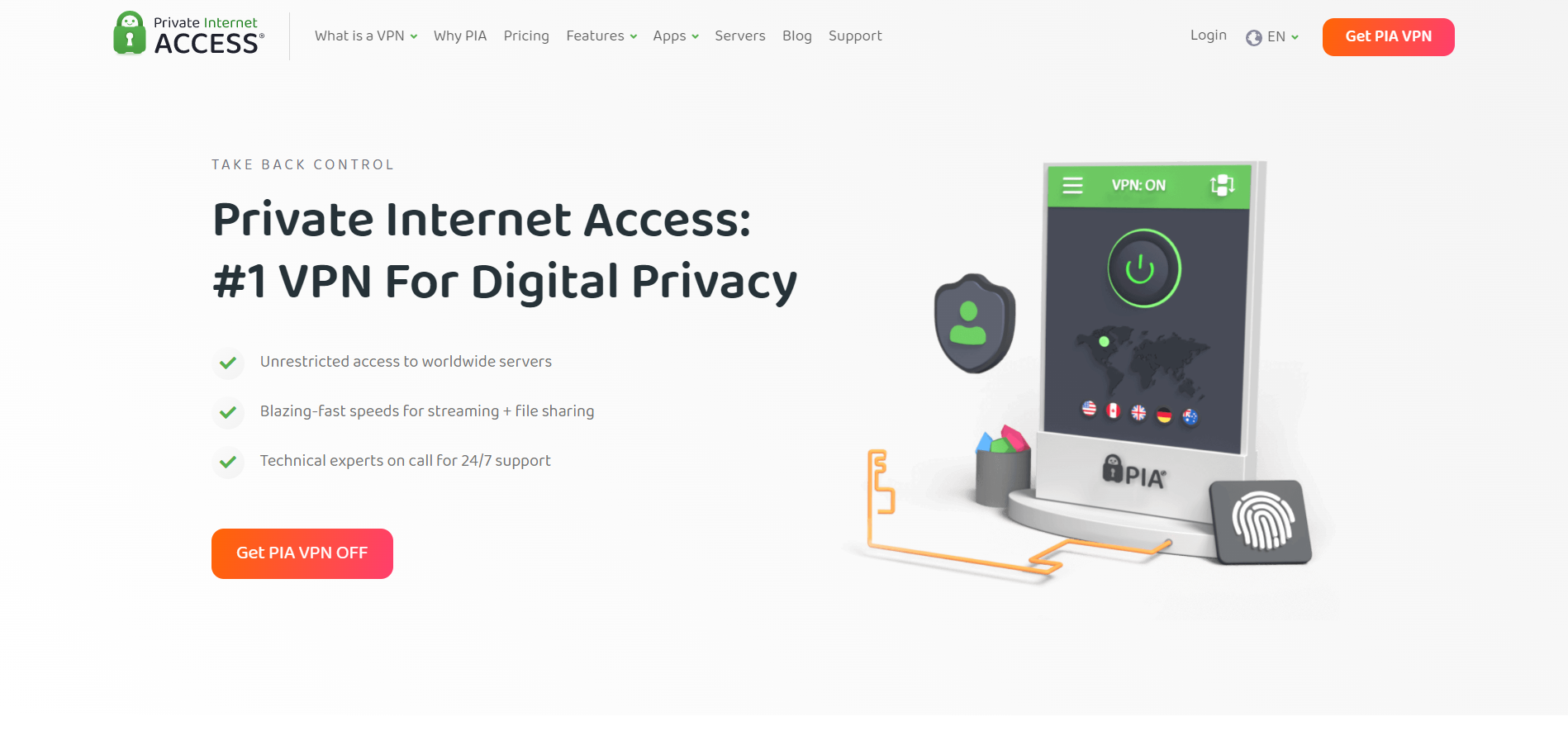 The VPN service Private Internet Access is all about privacy, as the name suggests. It has a strict no-logging policy, DNS leak protection, and an IP kill switch, among other features. Users can also change their IP address or make their connection through multiple servers that making it harder to track them.
So, choosing a VPN based on price can be a bad idea since the cheapest ones often cut corners in significant ways to get those big numbers. But Private Internet Access, or PIA for short, is an unusual case. It manages to offer meager prices without lowering the quality of what is otherwise a very high-end service. Plus, the app works well. It can be changed in many ways, which is excellent for VPN pros, but it's also easy for beginners.
Best For: Best VPN for Torrenting
Pros Cons
Pros

Cons

Excellent privacy features
Can be used on any compatible router
35,000 servers in 78 countries
Split tunneling and multi-hop
10 simultaneous connections
Numerous server locations
Completed third-party audit
24/7 customer support

Modest connection speeds
No free version
Split tunneling unavailable for iPhones
Below average WireGuard speeds




Pricing
| | |
| --- | --- |
| Plan | Pricing/Month |
| 1 Month Pack | $11.95 |
| 1 Year Pack | $3.33 |
| 3 Years + 3 Months | $2.03 |
PureVPN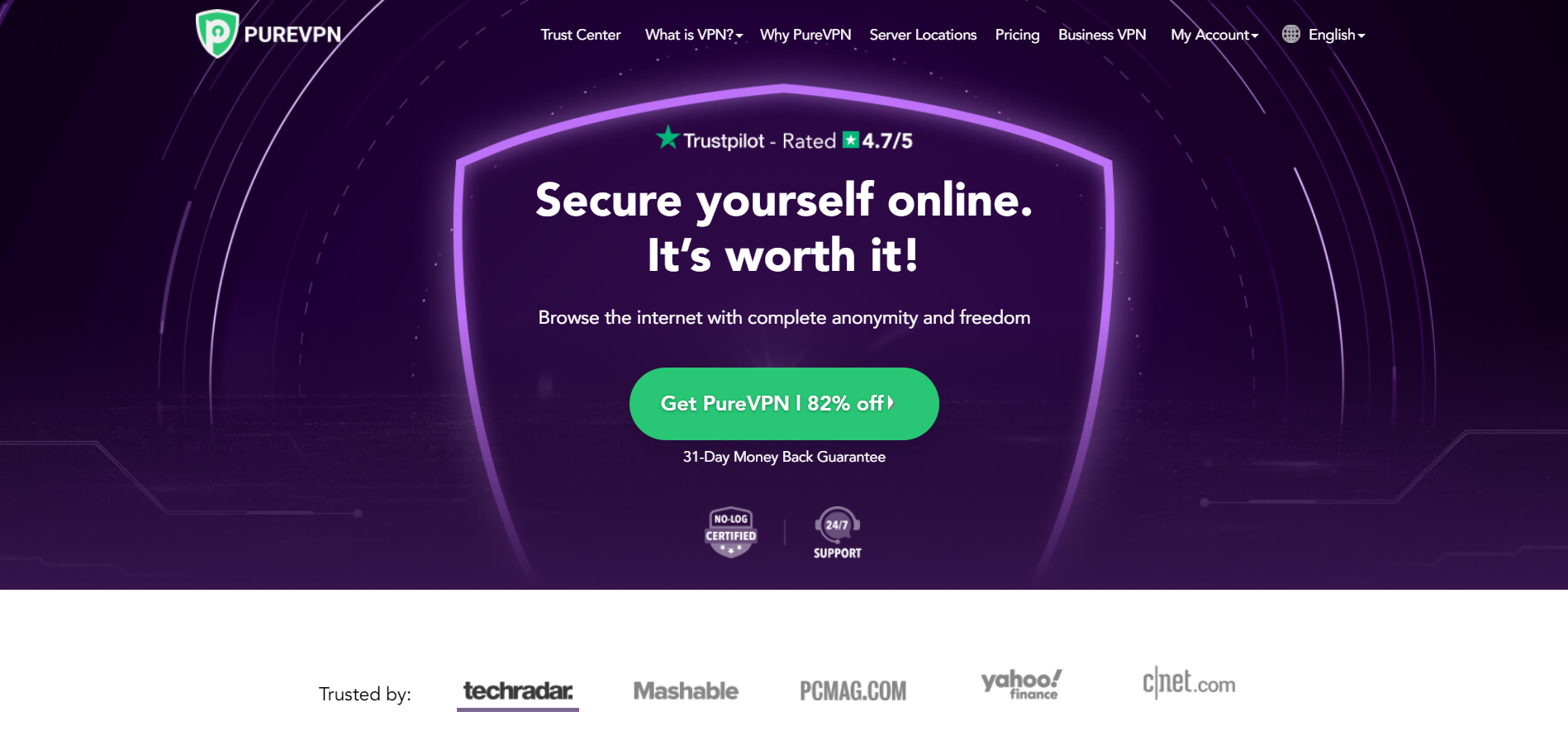 PureVPN is an experienced provider offering a stack of features for some of the lowest prices. It lets you connect ten devices simultaneously, like computers, phones, and smart TVs. This means that your whole family can use PureVPN without running into annoying device limits.
An audit has confirmed that PureVPN doesn't keep any logs, which is a good sign. Performance is a strong point, as PureVPN can do twice as fast as some of its competitors. And it can be very cheap. Sometimes, special deals offer coverage for five years for less than $100.
Best For: Best VPN for Travel
Pros Cons
Pros

Cons

Excellent encryption
No DNS leaks
Supports torrenting
Split tunneling on Android
Port forwarding
AES-256 encryption
OpenVPN protocol
Over 6,500 servers in more than 78 countries

Limited Linux app
Connection issues
No free version
Torrenting doesn't always work
Static IP addresses





Pricing
| | |
| --- | --- |
| Plan | Pricing/Month |
| 1 Month Pack | $10.95 |
| 12 Months Pack | $3.24 |
| 24+3 Months Pack | $1.99 |
Hotspot Sheild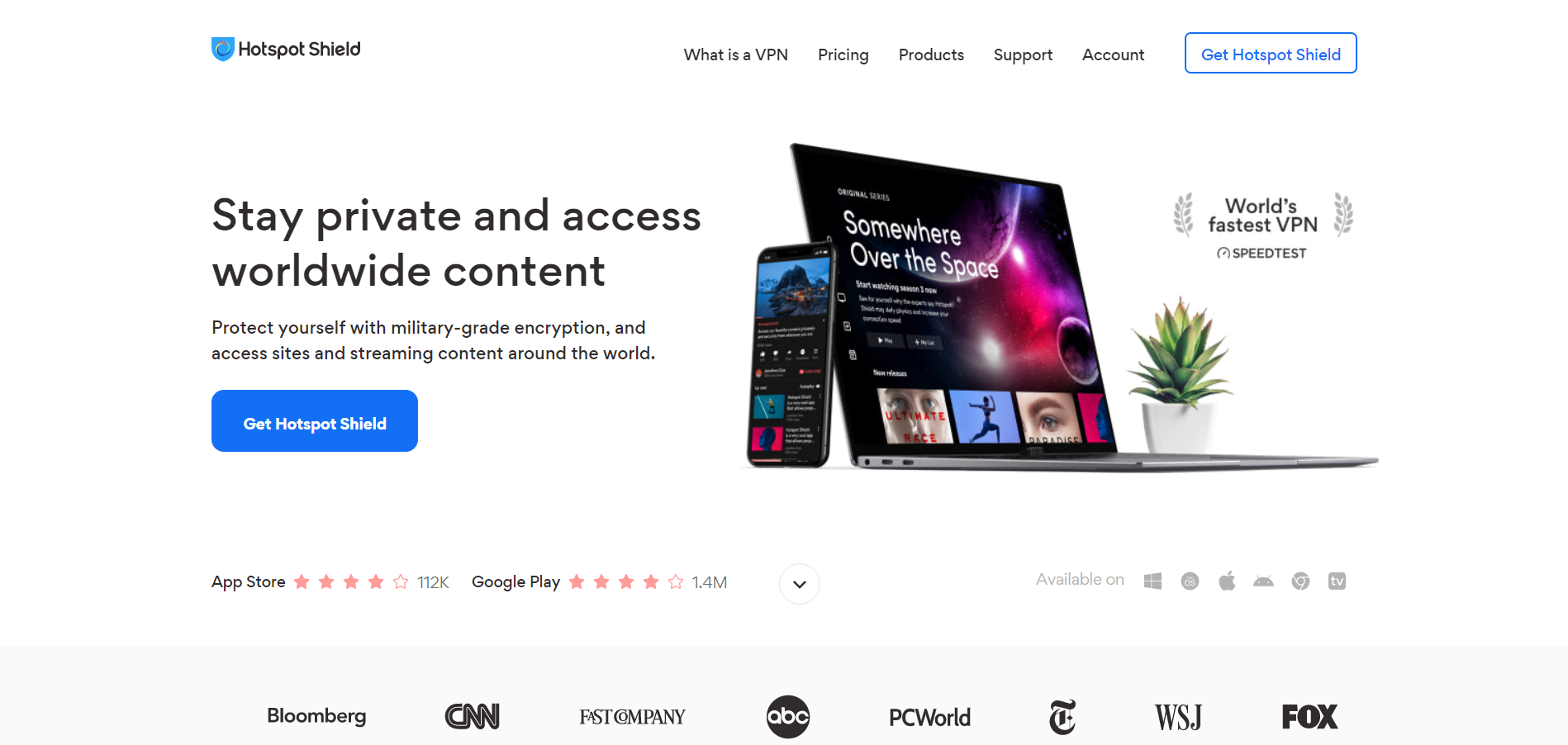 Hotspot Shield is a big-name provider with a capable service that doesn't score in every area but still has plenty of welcome touches you won't often see elsewhere. The company's network has a fairly average of 1,800+ servers, but they're well distributed across 80+ countries and 115 cities. P2P is supported everywhere and blocking malicious and phishing sites are thrown in.
However, it's fast enough for streaming, and users may change server locations to avoid geofences.
Best For: Best Free VPN for Android
Pros Cons
Pros

Cons

Family plan for up to 5 users
Servers in 80+ countries
7-day free trial
Netflix & Torrenting access

Max 5 simultaneous connections per user
Unresponsive customer support
Keeps IP address
Below-par speeds
Still no security audit




Pricing
| | |
| --- | --- |
| Plan | Pricing/Month |
| Basic | Free |
| Premium | $12.99 |
| Premium Family | $19.99 |
Atlas VPN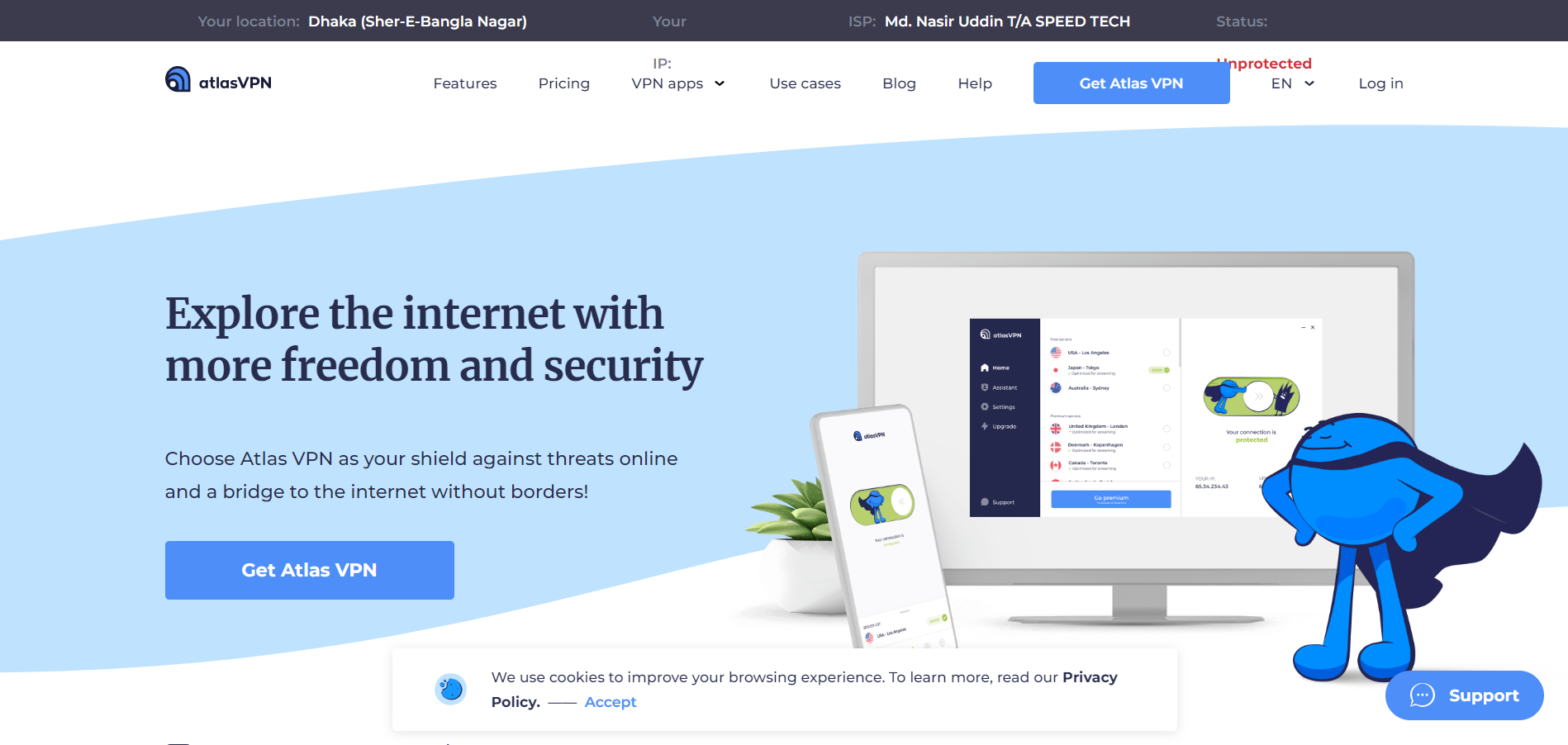 Atlas VPN is a relatively new service, but its working style is impressive. It has a number of important privacy features built in. There are no logs of what users do on the internet, and the platform has protection against DNS leaks and an IP kill switch. Atlas VPN lets users change their IP address or route their connection through multiple servers to hide their identity even more.
When the WireGuard encryption protocol is used, Atlas VPN can connect at speeds of up to 680 Mbps in the US. There are also more protocols, such as the widely used IKEv2 protocol. Atlas VPN also supports split tunneling and comes with an ad blocker that stops trackers from following users around the internet.
Best For: Best VPN for Windows Devices
Pros Cons
Pros

Cons

Includes WireGuard encryption protocol
Route connections across multiple servers
Live chat support
Torrenting-friendly
Web filters
Data breach monitor
Best server locator

Only 35 locations
Doesn't support OpenVPN




Pricing
| | |
| --- | --- |
| Plan | Pricing/Month |
| 1 Month Pack | $10.99 |
| 1 Year Pack | $3.29 |
| 3 Year Pack | $1.99 |
VyprVPN
VyprVPN is our top choice for users who want to stream movies and shows from Netflix, Hulu, Disney+, and other services. This VPN has many apps that work specifically with smart TVs, home WiFi routers, and even Roku devices. Users can have up to 5 connections at the same time, which is enough for busy households where several people are streaming video at the same time.
On the other hand, VyprVPN has more than 200,000 IP addresses and 700+ servers in more than 70 countries worldwide. They use AES 256-bit encryption and let users switch between servers and protocols as much as they want without limits.
But they provide Chameleon technology. In this protocol, VyprVPN scrambles your metadata so that it can't be seen with deep packet inspection, but it's still fast and light.
Best For: Best Private VPN Against Censorship
Pros Cons
Pros

Cons

Unlimited high-speed bandwidth
70+ server locations
Chameleon protocol
5 Simultaneous connections
No activity or usage logs
Fast customer support
VyprDNS
Self-owned servers

Fewer servers than bigger competitors
Connection times can be a little slow
Max 5 simultaneous connections




Pricing
| | |
| --- | --- |
| Plan | Pricing/Month |
| 1 Month Pack | $15 |
| 12 Month Pack | $8.33 |
Expert Guide: How Do I Choose the Best VPN?
Before you start looking for the best VPN, you should think about why you need one and how much you're willing to pay. There are a lot of VPNs to choose from, but these two things will help you find one with the right mix of speed, security, and price. But there are also a few important things you should think about when looking for the best VPN.
Must have strong security and privacy features.
Find a VPN with good speeds
Choose a VPN with reliable servers.
Torrent-friendly.
Easy to use and set up
Find a VPN with multi-device support.
Knowledgeable, responsive customer service.
Payment methods & money-back guarantee.
Wrapping Up
We know how hard it is to narrow down all the VPN options and choose just one. We've compiled a list of the best 10 VPN services based on security, service, price, and features.
To ensure that your sensitive and private information is safe, secure, and anonymous online, we rated Surfshark VPN first. But some of its neighbors do just as good a job. We've covered a lot of ground, but we're sure that this list will help you figure out what's most important to you and your business and help you to narrow down with other options.
Who's this article for? Who will be reading this article?
Business owners & General people
Customers of VPN
Who wants to keep their data & privacy secure
Who wanted to know the best VPN services
What are the underlying reasons why they are reading this article?
They want to know the best VPN on the market along with its feature, pros & cons
Goal of the article:
Explain how VPN helps to improve surfing anonymously & enjoying entertainment without fear of data loss.
Explain the possible solution if one wants to use VPN
Recommendation of top 10 VPN services.
Help the user make a decision about which solution to choose
Questions in the reader's mind:
Why should I use VPN?
Is that complex to find out on the internet?
What else needs to know before purchasing a VPN?