How to Run a Successful Remote SaaS Operations Team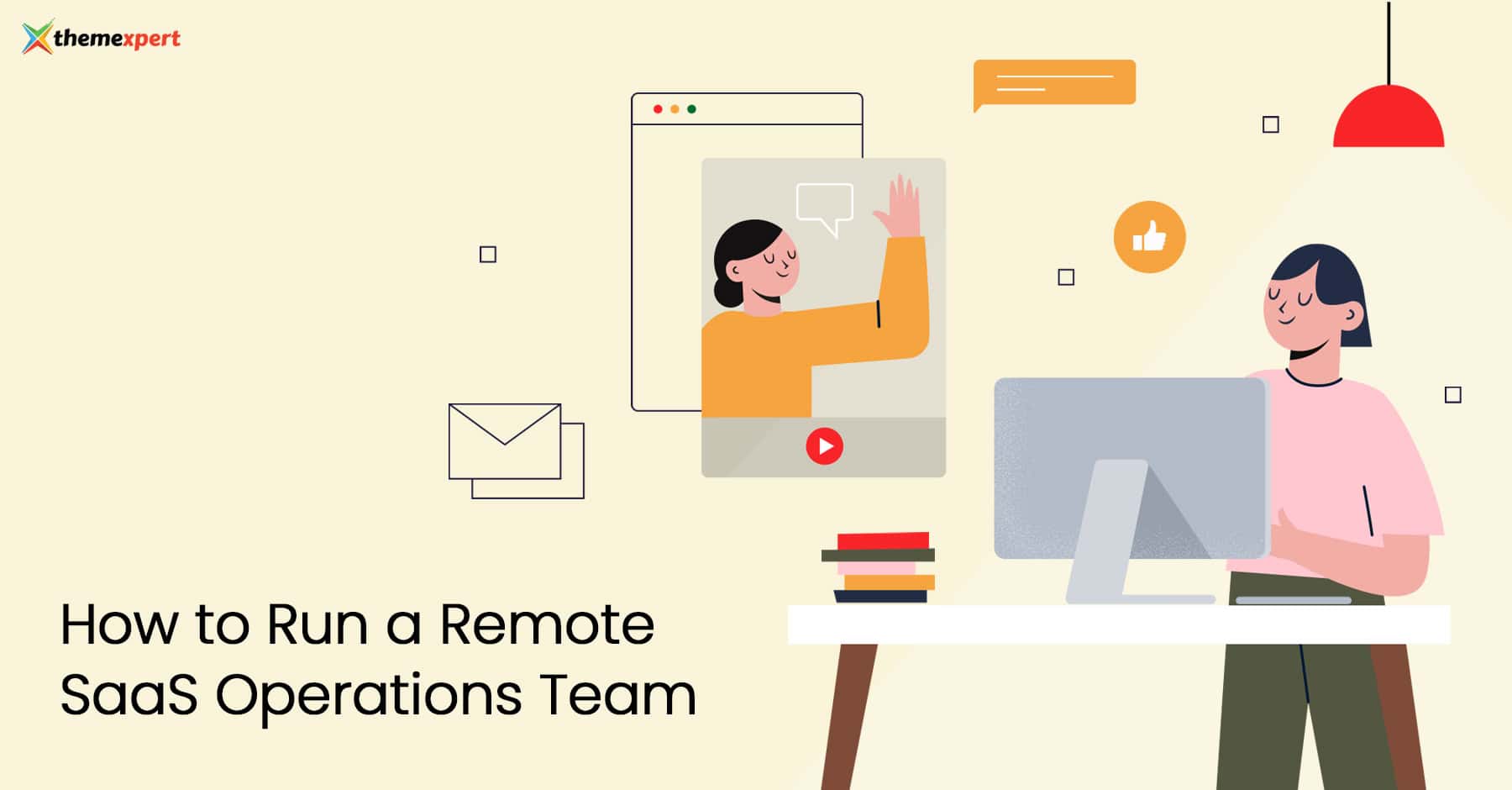 According to a survey by FlexJobs, remote employment has increased by 91% in the last ten years. Due to the COVID-19 pandemic, remote work (including remote IT operations) has got a whole new level of importance. New businesses are now developed with long-term implications for the workplace structure.
One of these approaches focuses on how tech companies maintain SaaS apps. SaaS Ops refers to how SaaS applications are managed and secured through centralized and automated activity, resulting in reduced friction, enhanced collaboration, and a better user experience.
But there are still some challenges during remote operations which are worth knowing to avoid being involved in it. In this blog, we will look into how to build and run a successful remote SaaS operations team.
Read More: 17 Best Remote Work Tools to Manage Your Remote Customer Happiness Team
Issues while building a successful SaaS Ops team
While working remotely, the working environment changes completely. The place, equipment, team spirit, and much more. So, here are some challenging issues that can disturb the process of building a successful SaaS Operations team.
Availability of the tools
SaaS companies provide technical support and appropriate infrastructure, but working remotely means being unable to use the special infrastructure and tools for the SaaS working environment. If you have remote teams working in rural areas, the lack of sufficient infrastructure might be challenging, since companies will need to invest in reliable electricity and Internet speed.
Attrition rates among remote SaaS Ops teams may be significant if they feel cut off from the main office. While COVID-19 has caused the challenge and video collaboration solutions have helped to bridge the gap, inspiring and engaging dispersed teams can be tough in some cases. A good way for companies to solve this obstacle is by calculating the eNPS and understanding whether employees are completely satisfied or not.
Hiring the right employees
Finding and hiring proper professionals to build a remote team across different countries is challenging. There are just not as many people with the needed abilities in certain geographic areas. So it's difficult to find in distance an employee appropriate to the open position requirements, skilled with professional qualifications, and matching with the team spirit.
How to run a successful remote SaaS Ops team
Having a remote SaaS Ops team for remote work can be challenging as there can be communication issues, gaps with infrastructure, dispensed staff, and others. But following some efficient methods, it would be possible to keep the team connected and productive.
Provide technical support
SaaS sphere works are highly connected to different technical equipment that Operations teams need while working. And especially if they are working remotely, there can be an issue of technical support if the company doesn't provide appropriate technical support to each employee starting from the fastest communication channels to the laptops and PCs with strong parameters.
They need technical equipment to work without any deviation or disturbance, and it will make the working process more effective. The unconventional part is while the team is switching to work remotely, the company should follow the whole procedure of bringing all the "package" of technical equipment to the "home office" or from wherever the employee is going to work.
If the team needs a competitor analysis tool, the company should provide them with appropriate tools for an effective process in terms of every aspect of the work.
When you don't have enough access to get more specialists, you'll have to build your own. Assign mentors to help new employees get started on the job, or keep doing social media management for finding new talents. Moreover, you can create a system for training people in specific job responsibilities, and also improve their professional skills.
Traditional, institutionalized training approaches can be more successful for employees and less expensive. Employees can organize their learning process together by encouraging each other to improve their professional skills and develop new ones.
Another option is that employees with more experience can train new ones and explore their professional talents. Besides that, they can also listen to different educational online podcasts or read professional research related to their working topic.
Self-help and the never-ending educational process in the workplace may increase the chances of exploring new talents in a team. It's important to organize training for new hires and discuss monolithic architectures and other software development methods and share helpful tips that will increase their productivity.
Change the mindset of the team
There has never been a time in history when there was such a significant increase in the number of remote employees working. Remote teams provide access to a worldwide talent pool, everlasting assistance, and productivity, whether their companies sell services online or products in the market.
Nowadays, it is completely possible to organize the work of teams if the necessary tools, technology, and processes are combined. Additionally, options such as call center noise reduction and integration of more efficient tools will help make team collaborations even more productive.
In such conditions, the mindset and the corporate culture are important, especially while working remotely when there are fewer conditions to concentrate on or to stay motivated. Create communication channels like SMS platforms with your team to always keep in touch while also hosting meetings via Zoom alternatives to discuss every issue together. Organize fun activities, game plays, puzzle challenges, etc to keep your team motivated.
Changing the mind of the team, providing them with all the necessary tools, equipment, communication, and ability to express an opinion, the mindset will change the whole atmosphere by making it more efficient and productive for working.
Use automation to reach your goals
Especially in SaaS operations teams, working remotely can cause many technical issues and a lack of appropriate equipment can disturb the normal working process. So integrating IT automation into your working processes will help build more productive working environments in your company and make all the operations easier. When it comes to design, for example, you can use a logo creator to automate and simplify the process of creating a logo. Same goes for other daily tasks.
Automation processes will help your company reach goals in a short period and in a more effective way. If you're using email as a means of communication, the DMARC setup will check your email deliverability and prevents web phishing. Your employees will only benefit from that process. It will also allow your team members to improve their professional skills and learn more about technological world updates to integrate them into their working environment.
Motivation is a moving force in almost every sphere of life. So motivating your remote team and uniting them all around your brand slogan is crucial since being separated from the team can make them feel a lack of motivation. There are many ways to motivate your team daily. It can be a special gift for the best employee of the month, setting up rituals and following them and many other ways.
From time to time employees need to be refreshed. Employee training can occasionally be a good idea to motivate your employees and strengthen their professional skills at the same time. Especially when they work remotely, they might lose the feeling of the working environment or stay in the same place without even needing to refresh their knowledge. So motivation has an impact on the quality of work and the level of productivity.
Conclusion
This guide is created to help you build and run a successful remote SaaS Ops team. It will help you understand the issues that you may face while building a remote team and how to overcome them. By providing the Operations team with all the necessary tools and working conditions you will be able to build and run a successful team even while working remotely.