7 Best Social Media Management Tools of 2023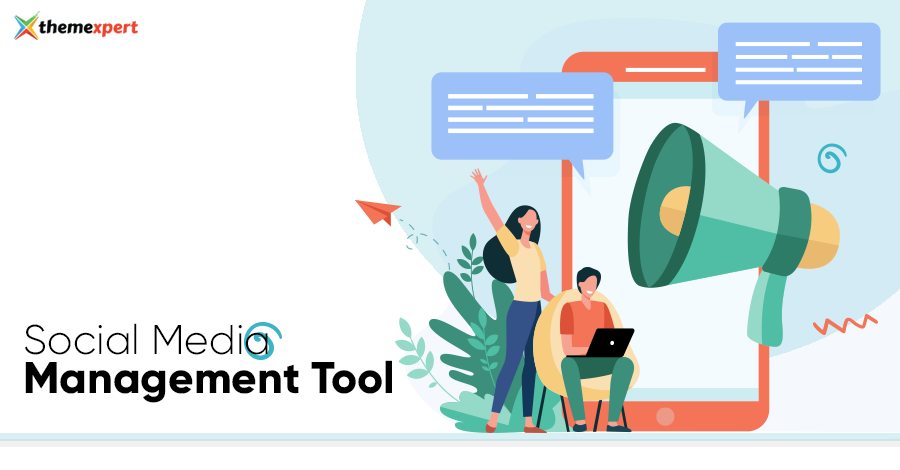 Does your business manage multiple social media accounts? Are you tired of logging into those just to post or schedule your post?
No matter how you look at it, managing social media requires the right tools and a good marketing strategy. We are not going to get you involved with all the technical marking stuff instead give you a perfect solution for your trouble.
In this article, we will be giving you a tour of the best social media management tools of 2021.
Let's see which one is actually made for your needs.
Read more: 7 Best Social Media Marketing Tools for Small Business
Why Social Media Management Tool?
Social media is a worldwide phenomenon and it's constantly increasing as the world population grows. According to the reports of Smart Insights, as of 27th January 2021, more than half of the world now uses social media.
Even day by day new and media channels are slowly and actively traversing into social media platforms. According to the worldwide survey, 82% of the people say they watch news through social media posts. The number and statistics are quite alarming.

Social media platforms allow you to market your brand openly to the public or share your updates with your customers. But there are a lot of social media platforms and handling them all at once without the right tools can be indeed a nightmare.
We have arranged a list of some of the most standout features to help you recognize exactly what you are looking for.
Publishing and Scheduling:

Just like we said, posting something on multiple platforms is quite a hassle. So for software to have publishing and scheduling with minimal clicks is the one you should look for.

Unified Social Inbox:

Customers often choose to communicate through the means they feel most comfortable. As a result, multiple customers can contact you through multiple platforms, so a unified social inbox is rather important for efficiency.

Social Monitoring:

Monitoring your brand's reputation throughout the social platforms is important in order to know what your customers think. You can also use it for keyword monitoring.

Campaign Tracking: Track your posts, ads, target audiences, etc., and optimize your marketing strategy according to it.
Competitor Analysis:

Track and compare with your competitor in real-time with the help of social analytics and reporting.
There are also other features that can also be considered important but it will totally depend on your business and marketing strategy.
The Best Social Media Management Tool
There is a lot of social media management software out there, but we personally handpicked 7 of the very best social media tools for you.
Below we have provided a very detailed description of them all.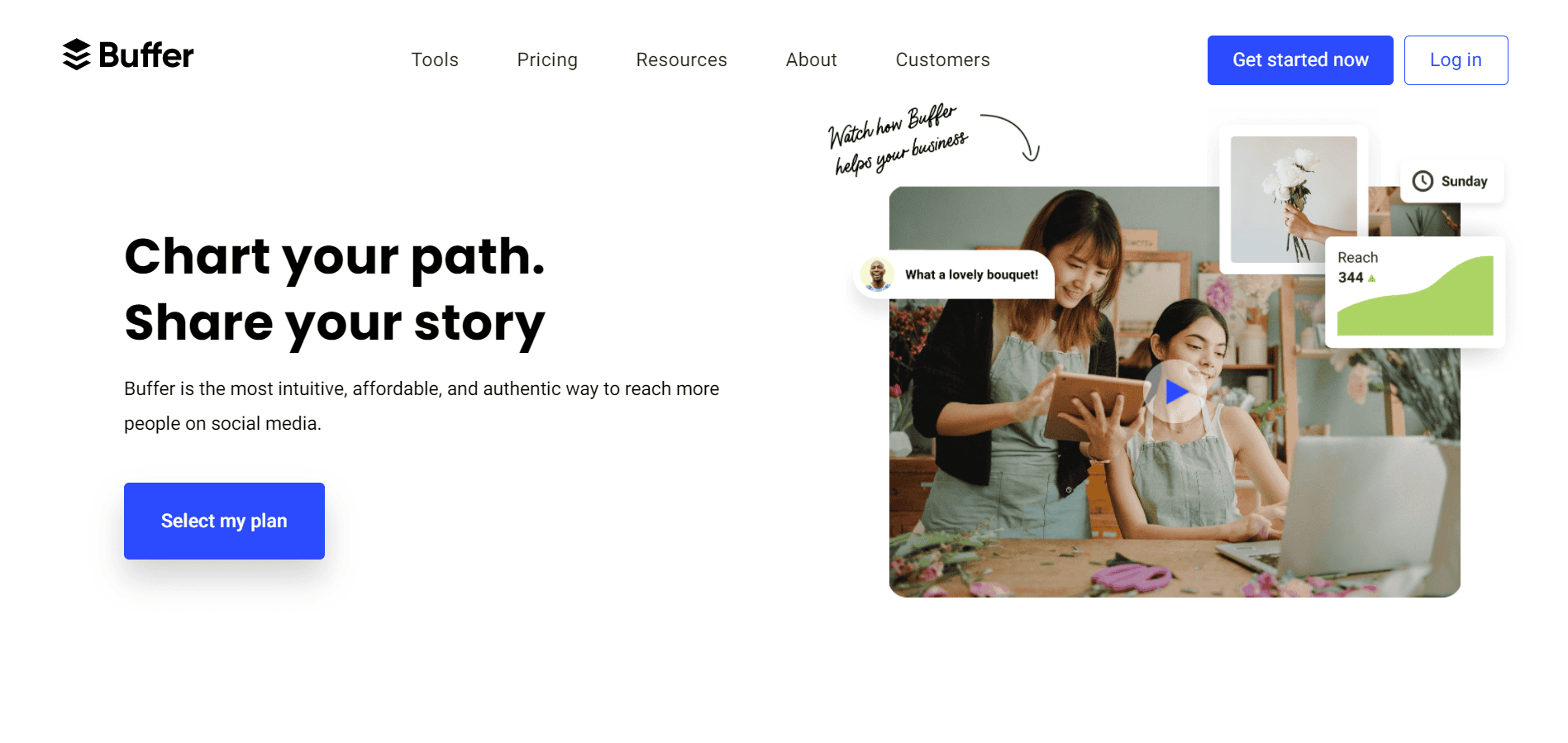 Buffer is a social media management tool for both web and mobile, which helps you to manage multiple social accounts at once. Buffer is full of amazing features that will definitely help you out without a doubt.
From adding posts on the buffer website to sharing posts with the Buffer browser extension, this social media tool got you covered. You can also share any image or any highlighted text with Buffer very easily.
Reason to Buy
Clean User Interface:

A clean and simple interface means easy to understand which results in fewer mistakes. These will eventually cost you less time and make your workflow more efficient.

Post Everywhere:

Buffer can connect with most of the social media platforms out there, helping you post without logging in everywhere again and again.

Built-in Analytics:

When it comes to business, analytics is important and the buffer knows it. The built-in analytics is very precise and informative, and helps you understand it very easily.

Buffer App:

Most of the social media management tools don't have an app. Whereas the mobile app of buffer takes social media management to a whole different level. This app makes management on the go very easy.
Integrations
Zapier

IFTTT

Integromat

Automate.io

WordPress

Microsoft

Feedly

Pocket

CrowdRiff

Scoop.it

Paper.li

CoSchedule

Quuu

Upflow

RiteKit

Bulk.ly

Nelio Content

Pixlee

Gather

SocialBee

Hiplay

HeyOrca

Cloud Campaign

Design Huddle

PicMonkey

Planable

Cronycle

Evergreen Content Poster

Gain
Pricing
Free: Manage up to 3 channels with basic publishing tools.
Essentials: Annually $5 per channel per month, with an add-on of team pack. The essential package has a 14-day free trial and you will also get 2 months free if you choose an annual subscription.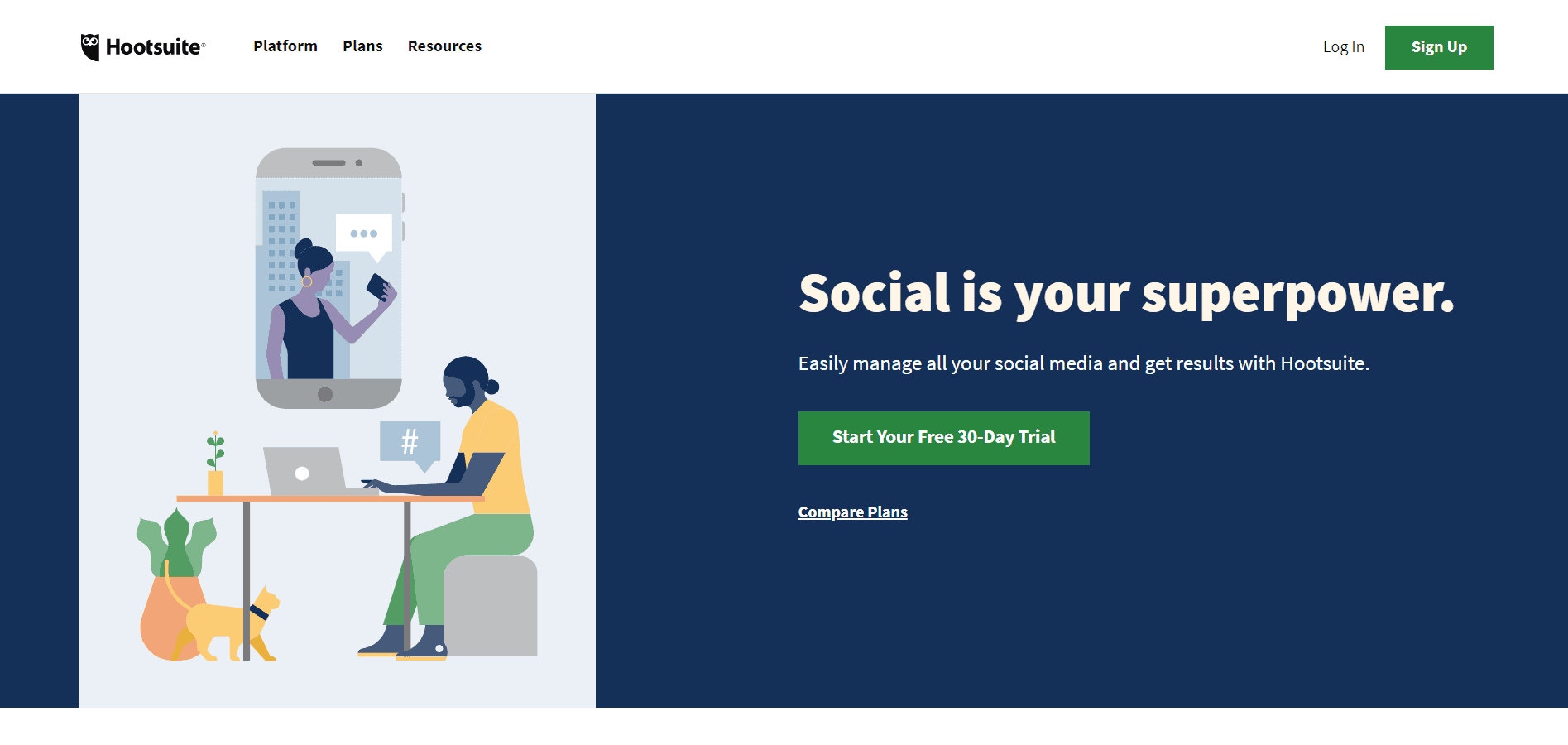 In terms of managing all socials in one place, Hootsuite is one to look out for. From creating or scheduling posts to analyze results, it got your back.
Plan any future or upcoming campaigns in the built-in content calendar of this social media management platform. The interactive dashboard brings all the messages into one screen.
You will also be able to respond and share the messages with your teammates with just a single click.
Reason to buy
Multi-Steam Monitoring:

Hootsuite provides you the flexibility to manage and observe multiple social streams in one place. Which obviously saves a lot of time and makes workflow very efficient.

Cross-Platform Goodness: Outside running an errand but need to check feeds on your business? Hootsuite got you covered. Hootsuite offers mobile apps for both iOS and Android so that you can check feeds anytime.
This is not all, the web app of this social media manager easily works on Mac OSX, Windows, and Linux.
Free Email Reports: Just in case, if you are using only Hootsuite as your social management tool, then weekly analytics reports will come in handy.
The weekly reports are delivered by email (usually sent each Monday), and will provide an attached PDF and a link of dynamic reports on their web app.
Cross-Post on Google+ Page: Google+, the social layer of Google has proven to be important for business. Not only it helps with SEO, but it will help you reach various customers with their amazing features like Communities and Hangouts.
HootSuite is probably the one and only software that allows you to post on a Google+ business page.
Integrations
Panoramiq Insights

Google My Business

HubSpot

AEM Assets for Hootsuite

Adobe Stock

Magento Facebook Product Catalog Synchronization

AEM Livefyre for Hootsuite

Airtable

Shopview for Spotify

Canva

Zendesk Pro

Adview

Channelview Insights

oneclick.bio

Panoramiq Watch

Panoramiq Multiview

Instagram Grid

Salesforce Enterprise Integration

Shopview for BigCommerce

Airtable Automations

Shopview for Magento

Shopview for Woocommercve

Google My Business - Business Messages

Social Hub by Springbot
Pricing
Professional: $19 per month, for 1 user and 10 social accounts.
Team: $99 per month, for 3 users and 20 social accounts.
Business: $599 per month, for 5 users and 35 social accounts.
Team: For unlimited users and 50 social accounts. As this is a custom solution so you have to contact them for pricing.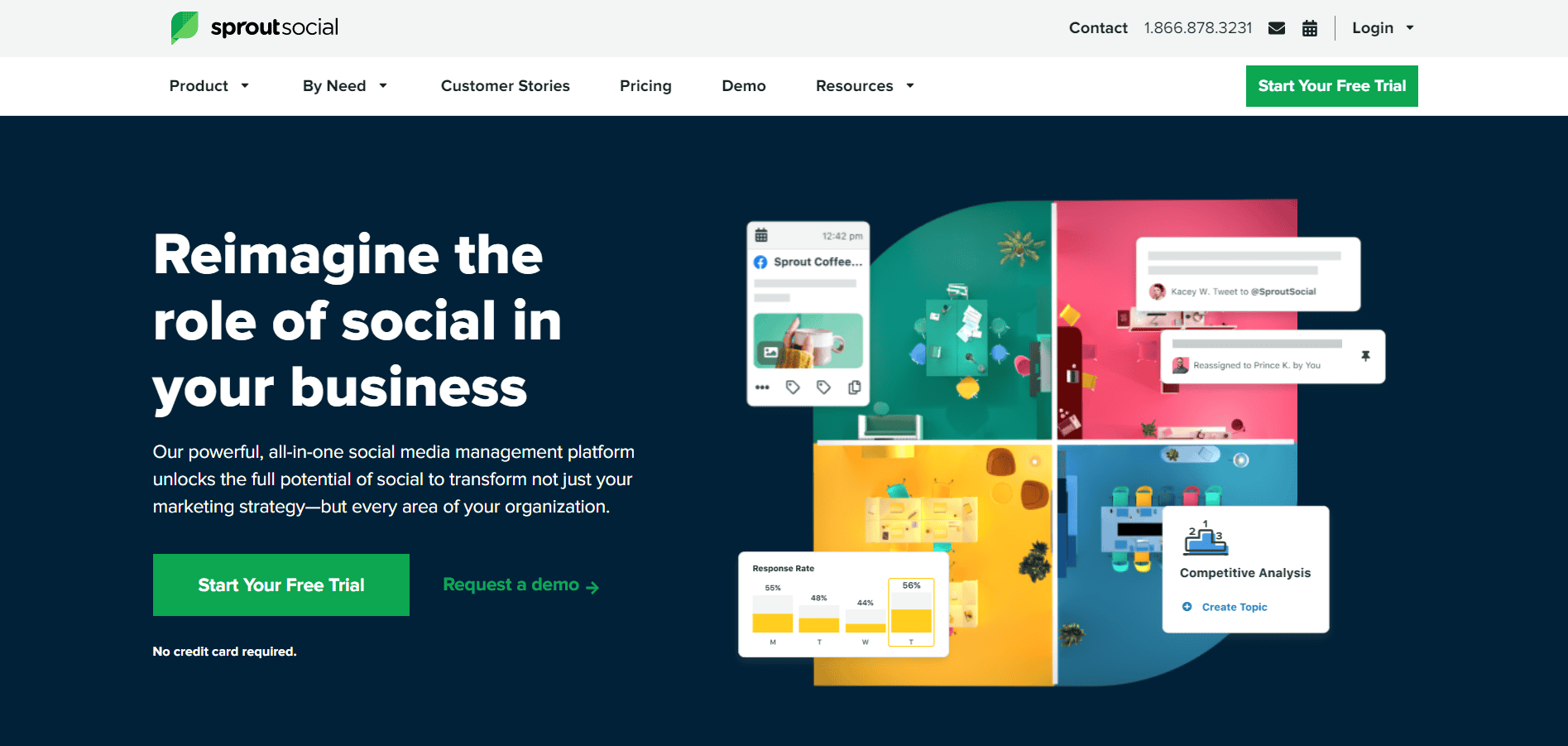 Sprout Social is software full of incredible features, help users connect easily to their social platforms all at once. The streamlined flow of messages makes it very to keep track of progress.
Talking about progress, sprout social also provides an excellent report across all platforms.
The feature that makes it more unique is its smart search, which saves the keyword search and keeps on updating. So that you can go back and engage in those stuff without any trouble.
Reason to buy
Save Drafts to Keep Track:

Ever felt a sudden urge to post something but it is not the right time? Sprout Social lets you save those urges as a draft so that you can just simply post those thoughts when the time comes.

You can also schedule content from the draft and it posts automatically.
Loyal Followers:

Sprout social brings the information of all your top and loyal followers on a single page. Helps you recognize fully what your customer base is.

Manage Customers:

View information of any customer by simply clicking on their avatar. You can add notes or let your co-workers know how to engage with any particular customer.

Organize and share News:

Read and share news content from your dashboard by simply connecting Google reader into Sprout Social's RSS feature.
Integrations
Facebook

Instagram

Twitter

LinkedIn

Pinterest

Youtube

Google My Business

TripAdvisor

Glassdoor

Google's Business Messages

Reddit

Spotify

SalesForce

Microsoft Dynamics 365

Zendesk

HubSpot

Slack

Dropbox

Google Drive

Bitly

Feedly

Canva
Pricing
Standard: $89 per user per month, billed annually for 5 social profiles.
Professional: $149 per user per month, billed annually for 10 social profiles.
Advanced: $249 per user per month, billed annually for 10 social profiles.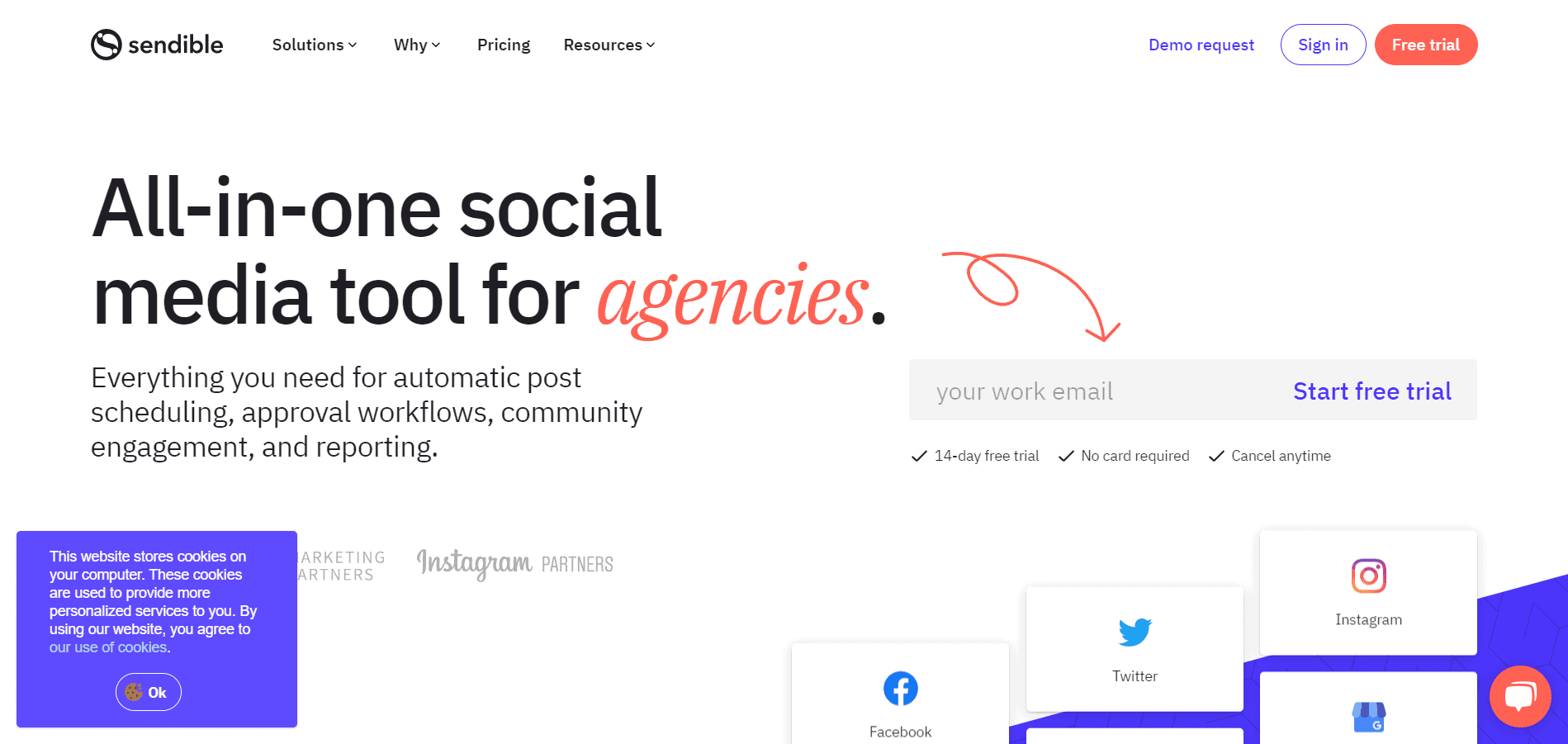 A social media management tool such as Sendible has a lot of features that can help you with your social media accounts. Some features really stand out and are beyond the basics.
The most amazing feature of Sendible is its recommendation tool without a doubt. All you have to do is search by a topic and it will provide you a never-ending trending article, all available to share.
You can also schedule to post this article at a later time.
Sendible allows you to auto-reply and auto-retweet on Twitter. It will monitor certain keywords according to your wish and post a reply or retweet whenever necessary.
Reason to buy
Social Inbox:

Sendible analyzes all your social media profiles and looks out for new posts, comments, and other kinds of activities, and unifies them in one inbox. You can also prioritize any inbox if you find it necessary.

Publish Posts:

Posting any social content on multiple sites has never been easier. Post anything on all of your social media accounts from a single window and a very simplistic interface.

Content Suggestions:

The content suggestions of Sendible are very convenient. It allows you to search trending articles according to your search. You can share and schedule posts for any trending article. You will also be able to save any topic with ease.

Advanced Reporting:

Sendible offers unique ways to provide reports. You can easily check the reports from their "Reports Hub". if you find it hard to understand, then you can change the period, layout, or even add or delete modules from your report.
Integrations
Facebook

Twitter

Instagram

Facebook Ads

LinkedIn

Google My Business

YouTube

Pinterest

WordPress

WordPress.com

Google Chrome Extension

Client Connect Widget

Content Suggestions

RSS Feed Importer

Canva

Google Analytics

Dropbox

Google Drive
Pricing
Creator: $29 per month (monthly), includes 1 user and 6 social profiles.
Traction: $89 per month (monthly), includes 4 users and 24 social profiles.
Scale: $199 per month (monthly), includes 7 users and 49 social profiles with 14 custom reports.
Expansion: $399 per month (monthly), includes 15 users and 105 social profiles with 45 custom reports.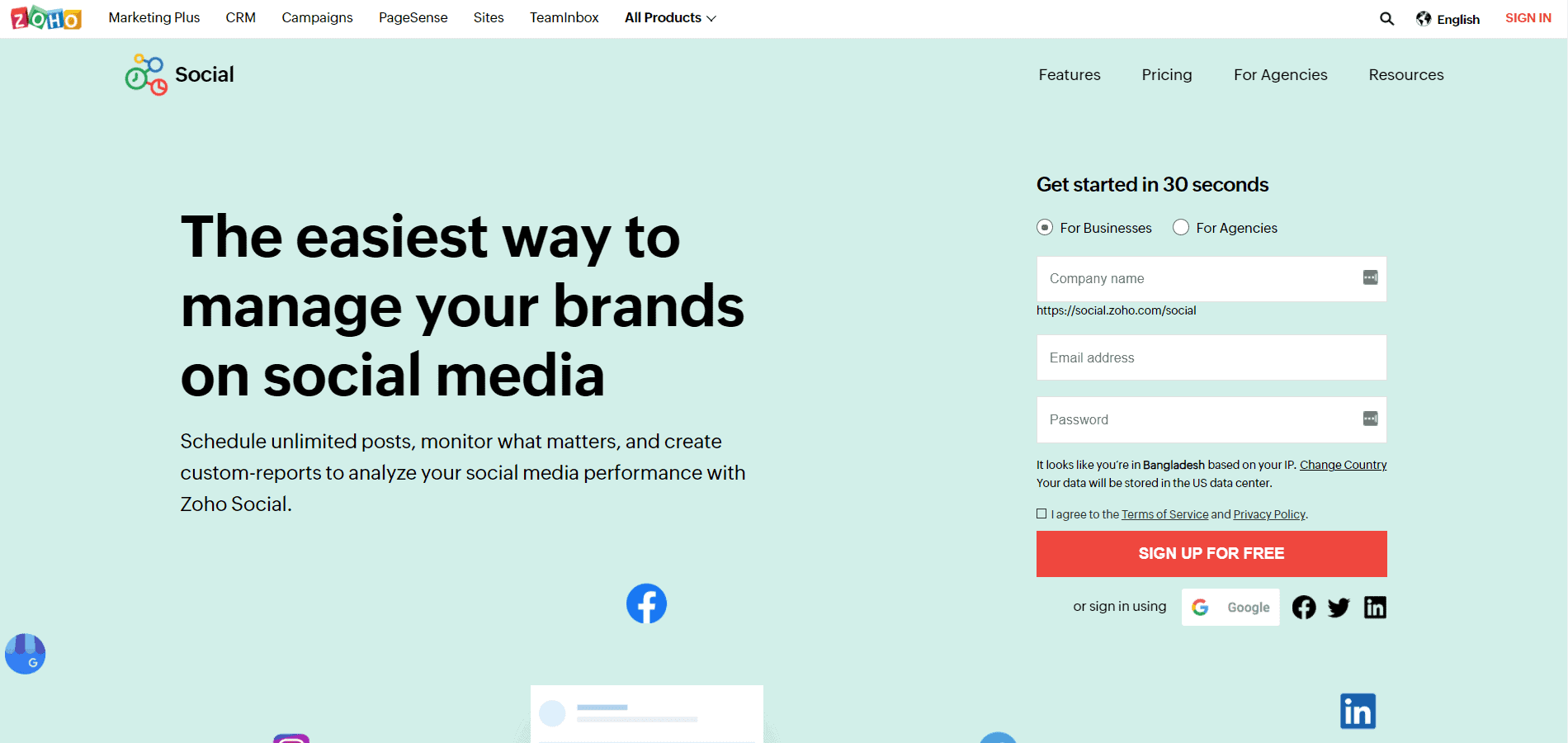 Zoho Social is one of the best social media management tools that will help with your social network more than you know. The most standout features of it are obviously their Social Listening and Social Insights.
The Social Listen feature of Zoho Social listens and learns from the customer from the various social networks with your business. It includes specific keywords, hashtags, reviews, etc.
Social insights come in very handy in case of analyzing and monitoring individual posts. You will be able to check factors like posting and engagement very easily with a dedicated brand health analysis on the home screen.
Reason to buy
Interface:

No matter what tool you get, nobody is a fan of confusing interfaces. Zoho Social offers a very convenient and user-friendly interface. Their interface can be very easily understood even by the most non-tech-savvy person.

Social Monitoring:

This feature is very important if you want to know what your customers or followers think about your brand. With the help of Social Monitoring, taking effective decisions will be much easier.

Smooth CRM:

When it comes to management, collaboration is the key. Discuss any sort of idea with your co-workers. You will also be able to share specific posts, trends, strategy and much more.
Integrations
Instagram

Facebook

Twitter

LinkedIn

Schedule

Calendar

Monitoring Dashboard

Analytics
Pricing
For Businesses
Standard:

$15 per month, includes 7 channels and 1 team member.

Professional:

$40 per month, includes 7 channels and 1 team member.

Premium:

$65 per month, includes 8 channels and 3 team members.
For Agencies
Agency:

$320 per month, includes 80 channels and 5 team members.

Agency Plus:

$460 per month, includes 160 channels and 5 team members.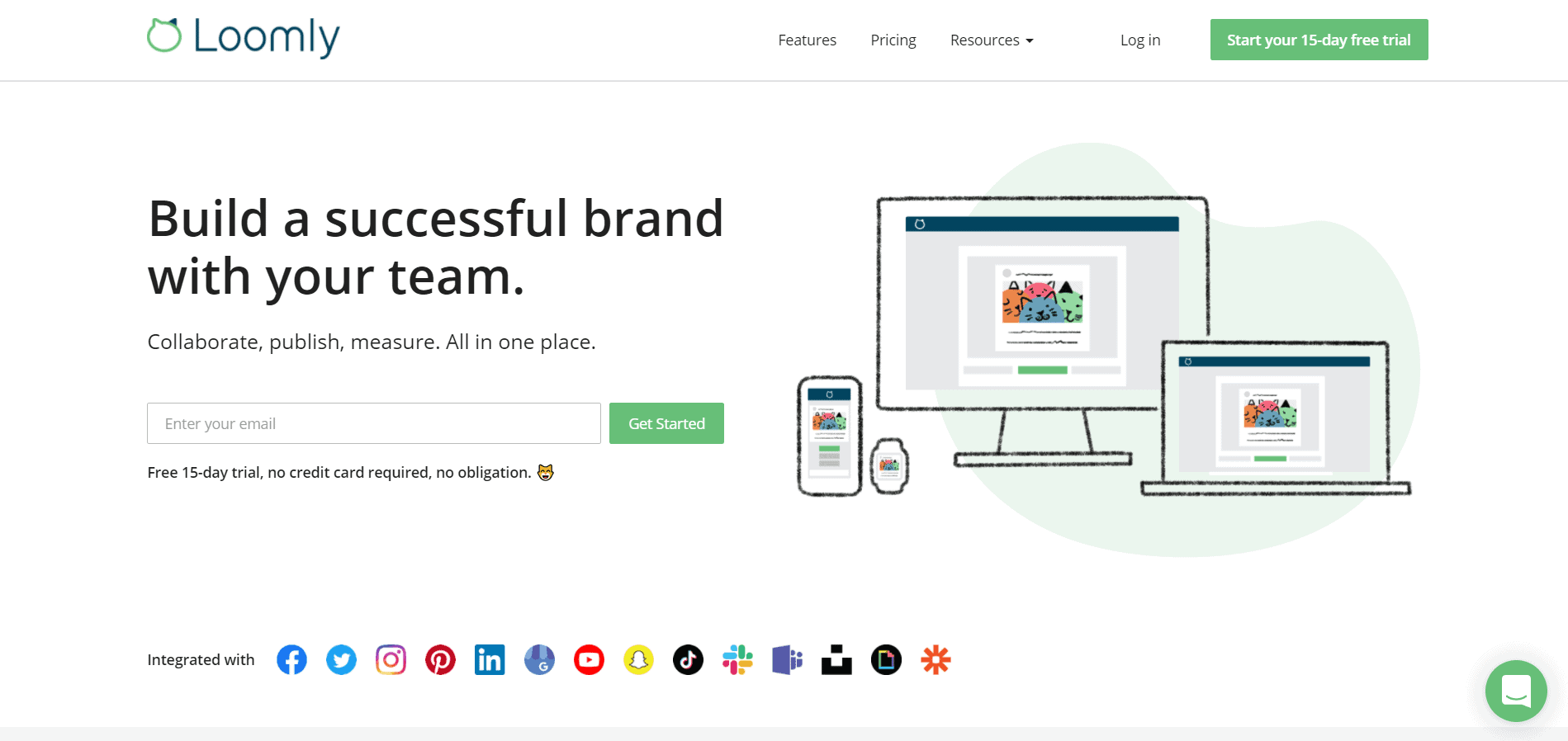 Loomly, one of the best social media schedulers, helps in management, composing, and unlimited scheduling posts. You can manage all your social media content and will also be able to get an alert every time any changes or updates have been made.
The single dashboard interface for organizing social media performance is one of the most efficient features of Loomly. This provides a more seamless workflow and organizes or schedules any type of post.
Loomly is very efficient for all sorts of business types, from small to enterprise. The streamlined workflow ensures a more coordinated and time-efficient working procedure.
Reason to buy
Schedule Posting:

It is very important to have a social media scheduler. And makes your job easier. You can just write or create a post beforehand and post it very easily. Loomly also supports Buffer for the management of post-scheduling.

Cross-Platform:

Different social media has different layouts, likewise the same post will not look the same way on every social platform. Loomly recognizes this issue and provides a cross-platform preview so that you can see what your post may look like.

Post Optimization:

Thanks to the very helpful monitoring and analytics of Loomly, you will be able to see which post is doing good and which post is not. Based on that information you can easily optimize any post according to your liking.
Integrations
Instagram for Business

Buffer

Instagram

Asana

WordPress

Slack

Google Calendar

Google Sheets

monday.com

Google Drive

Airtable

Feedly

Facebook Pages

Trello

ClickUp

Pocket

Instagram Custom Audiences

Gmail

LinkedIn

Tumblr

Basecamp 3

Twitter

AWS Lambda

Reddit

And Many More...
Pricing
Base: $34 per month, includes 2 users and 10 accounts.
Standard: $76 per month, includes 6 users and 20 accounts.
Advanced: $159 per month, includes 16 users and 35 accounts.
Premium: $332 per month, includes 26 users and 50 accounts.
Enterprise: Includes 27+ users and 51+ accounts. You have to request the price on their website.

A free trial of 15-days is available for all packages.
Social Pilot was originally created to compete with Buffer and Hootsuite directly. The ease of use and features of this tool made it grow tremendously over the years.
With the support of all the major social networks, Social Pilot is one of the best social media management tools.
Social Pilot is a great place to share content and social media strategy with co-workers. It also allows other users to collaborate on your social media profiles. You can also appoint roles and create a hierarchy level.
Social Pilot has URL shortener integrations such as Bitly, Google's link shortener, and many others. These not only help you shorten all your future links but also track the click rate.
Reason to buy
Bulk Schedule:

This is one of the most convenient features without a doubt. This feature of Social Pilot can post hundreds of social media content very easily. This not only saves time but is also beneficial for managing brands.

Social Media Calendar:

In the world of social media management tools, a calendar is quite a rare sight. But Social Pilot provides you one, where each date shows the number of posts scheduled based on your planning.

Content Suggestion:

The content suggestion feature help you find relevant and interesting content according to your needs. There are a lot of categories for you to choose from and with the help of RSS feeds integration you can easily share it.

Analytics:

The analytics will provide you insight based on your social media performance which will allow you to make better decisions. You can also access third-party analytics from other social networks but you have to use them within the tool.
Integrations
Zapler.com

Snlp.ly

Rebrandly.com

Bitly.com

Feedly.com

Canva

Box

Android App

iOS App

Firefox Extension

Chrome Extension
Pricing
Agency: $150 per month, includes 75 accounts and 10 users.
Studio: $100 per month, includes 50 accounts and 5 users.
Small Team: $50 per month, includes 25 accounts and 3 users.
Professional: $30 per month, includes 10 accounts and 1 user.
A free trial of 14-days is available for all packages.
Wrapping Up
So, What is the best social media management tool?
Honestly, speaking there is none. There will always be faults in the best tools.
More importantly, you have to determine which one is more suitable for your business. You have to consider the integrations and obviously the prices. Some of them offer free trials which you can definitely try to learn the tool.
You also look out for certain flags. Some tools are best for teams and agencies, while others are perfect for small businesses or startups. No matter what you get, always go for the value for money.
Think about what you are getting after paying what amount of money. Nobody wants to pay more and get less, that's not good for business. This is the place where the free trials truly shine.
Social media management tools are important to increase traffic. We have provided the tools which are best in the market and have a huge number of satisfied customers.
So choosing any of those above tools will help you and your business tremendously.