7 Best Landing Page Builder Software Tools of 2022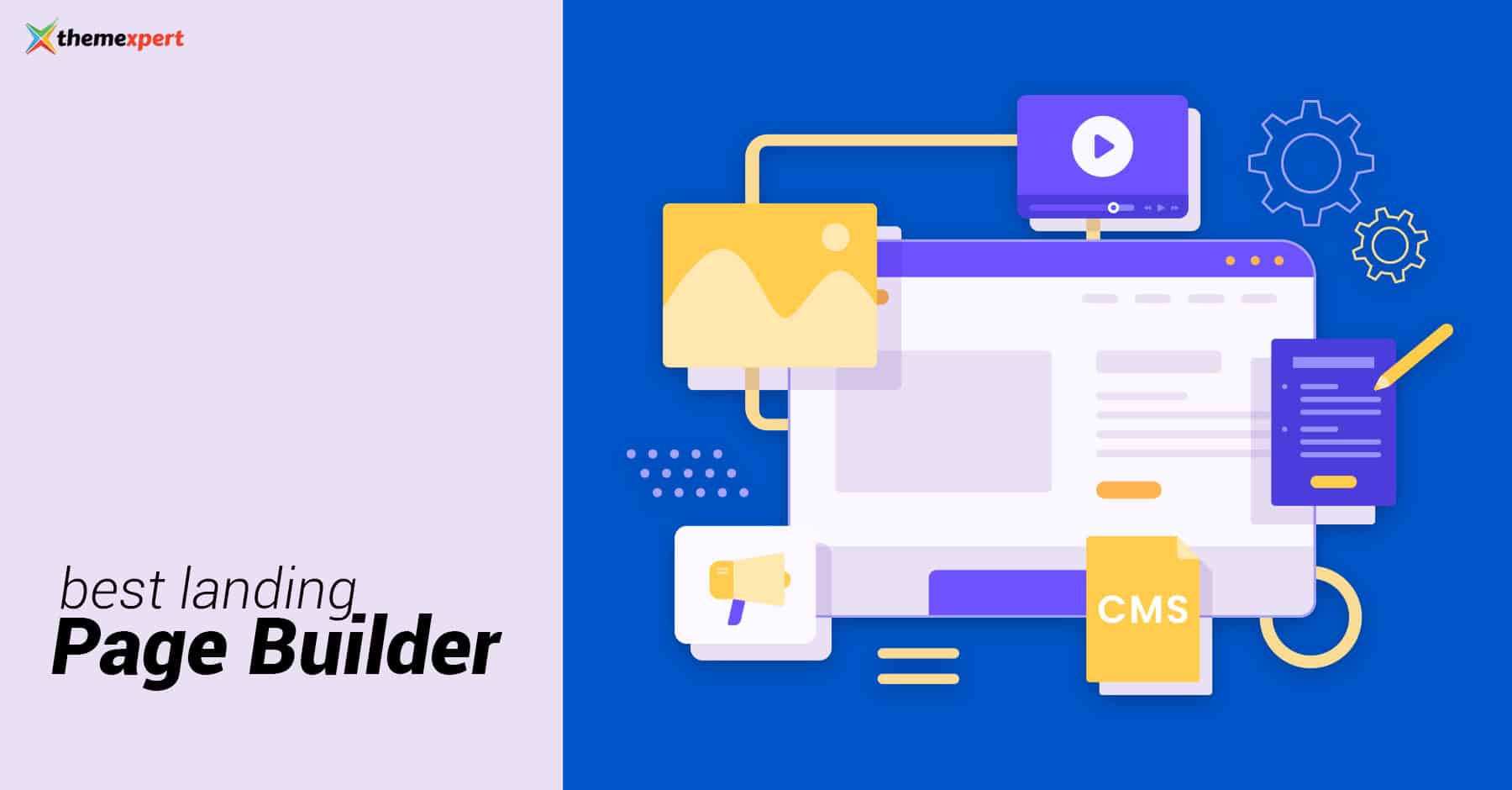 If you are up to creating your website or a landing page for your business, this article contains complete information about the best landing page builders in the market.
If you are up to creating your website or a landing page for your business, this article contains complete information about the best landing page builders in the market.
Before heading into the details, let's quickly understand the landing page and the importance of a landing page builder.
Landing pages are single-page websites to convert a potential visitor into a successful conversion. It includes information about your product and sections that can engage your customers and make them trust your product. For instance, elements of a landing page are:
Headlines
Product description
Images/Videos
Customer testimonials
Customer logos
Service features
CTA
Numerous website landing page builders can help you build amazing landing pages for a higher conversion rate.
Best Landing Page Builder: At a Glance
Tool

Best Features

Pricing

Quix

QuixRank - SEO tool
Code-Free Joomla Page Builder
Free version
Online Testing
Developer friendly
30+ Elements
600+ Google Fonts
2000+ SVG Icons
100+ Templates and Layouts
Stock Photos
Personalization
Well Optimized for Website Performance
Frontend Builder (visual builder)
Backend Builder (classic builder)

Annual Plans

Quix PRO for $49
Mini Agency for $97
Agency for $174

Lifetime Plans

Quix PRO for $199
Mini Agency for $259
Agency for $454

Unbounce

AI-based page builder
Smart Builder
Smart Copy
Smart Traffic
Conversion Intelligence
Classic Features
Various Templates

LAUNCH for $90 monthly
OPTIMIZE for $135 monthly
ACCELERATE for $225 monthly
Avail 10% discount for yearly payment

Leadpages

Code-free environment
Optimized marketing campaigns
A/B testing
Data analytics
Data dots
Real-time conversion tips

PRO for $99 per month
STANDARD for $49 per month

Landingi

300+ landing page templates
Drag and Drop interface
Customization
Flexibility
Responsive pages
A/B testing
Sales funnel
Custom code

CORE for $29 monthly
CREATE for $65 monthly
AUTOMATE for $89 monthly
AGENCY for $109 monthly

Instapage

Built-in collaboration
Instant page load
500+ Templates
Thor Render Engine technology
Drag and drop
Pixel precision design
Personalization

BUILDING for $299 monthly
CONVERTING at customized pricing

Get Response

A/B Testing
Integration with various software
SEO optimization
Customization
Drag and drop
Data analysis
Mobile responsive templates

BASIC for $15 monthly and 1000 contacts
PLUS for $49 monthly and 1000 contacts
PROFESSIONAL for $99 monthly and 1000 contacts
(Discount available on yearly and 2-yearly payment options)

Swipe Pages

Drag and drop interface
High-speed landing pages
Customization with multi-screen editing
Personalization
Responsive designs
Integration of 3rd party applications

STARTUP for $29 per month
Marketer for $59 per month
Agency for $119 per month
40% discount with annual payment
Why Should You Consider a Landing Page Builder?
According to a research paper writing service UK, saving time should be the utmost priority of a business owner. Using page builders, you can save time and money and leverage the following benefits.
No need for coding
Drag and drop options
Customize tables, charts, shapes
Free of cost stock images
Hundreds of ready-to-go templates
Mobile-friendly designs
Even if you are a beginner, you can easily create a landing page using these builders.
What Are the Best Landing Page Builders?
There are so many page builders available in the market. However, you need to be very careful while opting for any of them. We have gathered some of the best page builders for you. Let's have a quick look at their features and pricing plans.
Quix is the best free landing page builder that provides you with a drag and drop interface to create your page. It is easy to use; even beginners can use it without hesitation as there is no need for coding. Moreover, no need to think about designing, just select a suitable theme, get started with it, and build your awesome page. Let's quickly look at some of the best features of Quix Joomla Page Builder.
Best features of Quix
Quix comes with a free version for users who are willing to make a basic page for their website. You can easily download it from here. Further, it has a pro version that includes numerous features and adds value to your page-building skills.
If you just want to try Quix, you can test it online without downloading.
It is designed for all, considering beginner's level, freelancers, and professional agencies.
It provides you with an opportunity to create a pixel-perfect design without writing a single line code.
It serves you with an unrivaled SEO feature, QuixRank. It can help you create SEO-friendly pages even if you are a beginner.
Google now ranks websites for how they are being coded; hence Quix is extendable and follows the latest coding standards.
It provides you with hundreds of elements to eliminate your need for Joomla extensions.
It offers you thousands of stock photos, along with Google standardized fonts and SVG icons.
Quix page builder is a personalized platform that shows content according to the user's interest.
Most importantly, it optimizes your website for better performance, increasing the website's loading speed.
Pros of Quix
With more than 8 million downloads and 2 million customers, there are several advantages of downloading Quix.
Offer you image optimization
Customizable shape dividers
Supports all Joomla template
User-friendly interface
Best Media Manager for Joomla
Updates on a daily and weekly basis
Quix is among the most amazing page builders with no such limitations.
Pricing of Quix
The landing page builder software offers you a yearly and lifetime subscription with three different packages.
QUIX PRO for $49 annually
MINI AGENCY for $97 annually
AGENCY for $174 annually
Claiming to increase your ROI by 30%, Unbounce is the next page builder in this list. It uses AI algorithms to analyze and optimize your pages for higher conversions, better leads, and smart marketing.
It can create high converting, mobile-friendly campaigns by using Smart Builder.
Smart Copy tool allows you to generate content for your brand with just a few clicks. If you are facing difficulty while deciding how long should an abstract be, you can use such tools to create content.
Leverages AI with Smart Traffic tools to send visitors to the most appropriate pages.
Provides you with design assistant, style guide, builder grid, SVG images, A/B testing, built-in Google fonts, etc.
Unbounce is more directed towards conversions rather than focusing on their core that is page building. Although it provides a user-friendly interface to build a website, having too many options can be a bit challenging for a beginner to leverage.
Unbounce has three packages including:
LAUNCH for $90 monthly
OPTIMIZE for $135 monthly
ACCELERATE for $225 monthly
You can avail of a 10% discount for the yearly subscription.
Leadpages is also among the best landing page builders, which is focused on converting your click into clients. It is an easy-to-use designed platform that can help you create your email lists along with website pages.
Leadpages offers you code-free website building opportunities.
It serves you with optimized marketing campaigns, a/b testing, real-time conversions, analytics, etc.
Built-in checkouts with recurring payment options. Hence no need for manual pricing.
Unlimited publishing with Leadpages along with several free templates to build your landing page.
It comes with two different packages with monthly and yearly payment modes.
PRO for $99 per month
STANDARD for $49 per month
You can get a discounted price if you buy a yearly package.
Created specifically for business owners, marketing experts, and agencies, Landingi is also on our list for the best free landing page builder.
It offers flexibility to their customers so that they can adjust the tool according to their needs.
Provides 300+ landing page templates and more than a hundred pop-up templates.
Customizable color palettes, fonts, designs, shapes, etc.
You can easily integrate already using tools with Landingi.
It is also good for integrators, resellers and affiliates.
Can be used for PPC Ads, lead generation and email marketing.
Has a drag-and-drop interface.
Provides you with an opportunity to create a sales funnel, perform a/b testing, optimize landing pages and create custom codes.
It has four different plans for payment.
CORE for $29 monthly
CREATE for $65 monthly
AUTOMATE for $89 monthly
AGENCY for $109 monthly
You can save a two-month payment if you opt for the yearly mode.
With a great user experience, AMP, Instablocks, built-in collaborations, and more than 500+ templates, over 4 million landing pages have been created on Instapage.
It offers you more than 500 layouts. All of them are customizable according to different industry needs and requirements.
Instapage focuses on delivering an unparalleled mobile experience with built-in AMP support.
It has Thor Render Engine technology which can optimize your website's page speed.
With easy to use interface, it offers a drag and drop builder where you can create high-converting pages.
It also has a pixel-precision design feature to ensure proper branding.
You can also scale your pages with one click globally with reusable page blocks.
Offers 1:1 ad-to-page personalization.
Instapage has two variants of pricing plans for its customers.
BUILDING plan comes in $299 per month, and the price is reduced to $199 per month if you pay for a complete year.
CONVERTING plan is a unique customer-centric plan based on what features you want to avail of.
It is a simplified tool where you can create pages, send an email, and automate your marketing with the marketing automation tool. With Get Response, you can create unlimited websites and landing pages to generate money with your online business.
Comes with a free option, where no credit card is required to create one landing page and with a limit of 500 contacts for email marketing and 1000 visitors.
You can further upgrade your plan to create more landing pages and avail of premium features.
Variety of templates to design your website according to your niche.
Provides you with so many options to promote your pages, webinars, events, etc.
Offer 200 plus ready-made templates, and all of them are mobile responsive.
It has a built-in editor for customized options.
Drag and drop interface with free stock images and gifs to enhance your designs.
You can craft custom landing pages to optimize them for SEO.
Data analysis to track your website's performance.
Integration with Google Analytics, Google Tag Manager, Facebook Pixel and more.
You can build multiple versions of your landing page to perform A/B testing.
It has three plans for payment.
BASIC for $15 monthly and 1000 contacts
PLUS for $49 monthly and 1000 contacts
PROFESSIONAL for $99 monthly and 1000 contacts
The amount will be changed for an increased number of contacts. Moreover, you can avail 18% discount if you pay the amount yearly and a 30% discount for two years' payment at once.
Swipe Pages, also referred to as the best landing page builder for ROI driven marketers, provides you with several features, including:
Offer AMP (accelerated mobile pages) technology to cater to Google's mobile-first indexing.
Low bounce rate as the website loading time is less than 2 seconds.
Drag and drop interface so it can be easy for beginners as well to use Swipe Pages.
Offers multi-screen editing with 25 plus modules.
Integration for 3rd party applications and personalized options.
Swipes Pages offer three payment plans.
STARTUP for $29 per month
Marketer for $59 per month
Agency for $119 per month
You can avail 40% discount with the annual payment option.
Wrapping Up
A landing page builder is a great tool if you want to create a single-page website for conversion purposes. It allows you to create a landing page according to your niche and needs. You can avail free options from different page builders to create a single page and then further advance your package to create more pages or a complete website. While choosing the best free landing page builder from the list given, it is essential to analyze your needs and skills.