Introducing QuixRank - The Future of Joomla SEO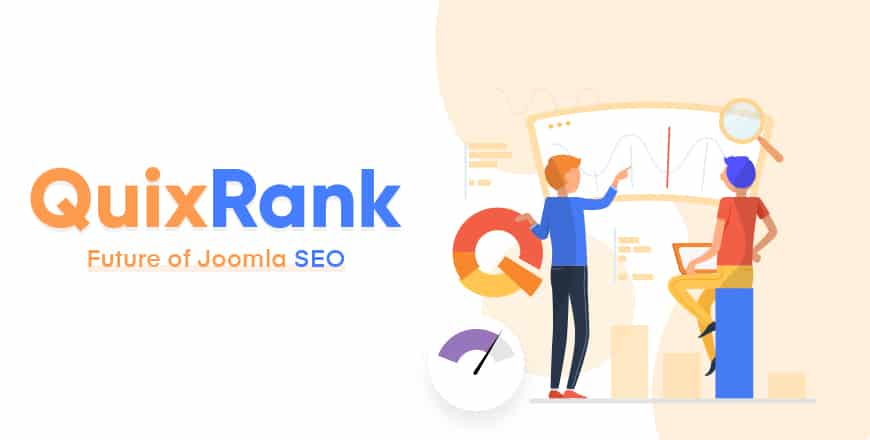 Today we are extremely excited to release the brand new SEO feature for Quix. With this new SEO feature, you can analyze your web page seo performance...
Today we are extremely excited to release the brand new SEO feature for Quix. With this new SEO feature, you can analyze your web page seo performance, optimize it for better search engine ranking. Our SEO feature is unique and incredibly easy to use. You can check and optimize your page seo without leaving the visual builder.
With our guided SEO tool, no need to be or hire any SEO experts. Now you can get more visitors from Google, Bing and any other search engine by following Quix SEO suggestions. Checkout our in-depth guide for Joomla SEO
Enter your primary keyword and check your SEO score real-time. Your page title and meta description are key factors in improving your website's search engine presence and click-through rate. With new SEO tool, you'll be guided to create best title and meta description.
Forget the guesswork and see it live, how your user will see the search result in Google. You can customize the result realtime without touching a single line of code.
Combined with 30+ assessment rules, Quix will make sure that your page is properly optimized for search engine ranking. Quix utilizes Yoast assessment checker that is, proven, powerful and up-to-date. Some of the major assessments are:
Internal linking is very important for your site. Both search engines and users use links to navigate through your site and search the content they want to find.
This assessment will give you score for internal links within your content. Moreover, adding internal links will allow search engines to find out the type and value of your content. The more links your page has the more important it will be to search engines.
Outbound links are those links which refer to another site from yours. This assessment will check if you have any outbound links in your content.
Outbound links help one site to relate with other and helps to found easily by users & search engines. By helping each other a little we will be able to connect the dots of the web. This will allow Google to increase the authority of your site.
​This assessment checks whether your page has focus keyword and whether it is too short or long. Google likes long tail keywords rather than short ones. Posit, "page builder" is a small keyword with two words and "best free page builders" is a keyword(longtail) with 4 words.
As the first keyword is already available in the second keyword and it's a long tail keyword, Google will give more value to the second one. It will help you to boost your SEO. It is wise to use long tail keyword but if it doesn't go with your content then you can use short ones.
Length of Meta Description
The meta description is very much important for two reasons - 1. Increasing ranking, 2. Increasing click-through rate. The more good meta description you have, the more your traffic increase.
In meta description, you can put as much as the character you want. Then what is the need to maintain the length?
Actually, if you put more than 140-155 characters, extra characters will be cut up automatically. If you put less than 140 characters, your meta description might not attract any users.
Therefore it is important to maintain the ideal length of the meta description.
The length of your post's SEO title is checked with this assessment. When people search in any search engine they see the results with a matched title and description. This title is called SEO title.
This title needs to be ideal(60-70 characters) in width and contain the focus keyword. The more optimized the title the more quickly this post will rank higher in the specific search term. Title catches the eyesight of the users and when they are attracted they will click through your page.
Function Words in Keyphrase
Function words in keyphrase assessment checks, whether your text consists of keyphrase and warns you if there is not. For example, you might get distracted while typing your keyphrase and you only entered "the" instead of "the best page builder". Quix SEO option will warn you that, the keyphrase choice of yours is suboptimal.
Including Focus Keyword in Introduction
The first paragraph of your content is the key location for both your search engines and users. It grabs the attention of your users and Google also considers this as an important one. The focus keyword in the first paragraph gives specific clues about your article to search engines.
Sometimes Google uses the first paragraph of your content as the meta description of your page. This assessment makes sure to use the focus keyword in the introduction. Make sure your content introduction reflects accurately what's it about and include the focus keyword there.
Balancing Keyword Distribution
You have heard about the focus keyword. The ranking of your post depends pretty much on it. Google uses focus keyword to understand about your post, you have to put the keyword throughout the text in a balanced way. This will help you to rank your page for a specific term.
Quix SEO's this assessment will tell you whether the keyword is distributed throughout the text. Green signal means, distributed correctly and read signal for wrong distribution. You will be able to see all your specific keyword with a single click in this assessment. Then you can increase or decrease the density of the keyword.
The image alt attribute is also known as alt tag or alt text. It shows the description text of the image. Probably you have heard a saying "a picture is worth a thousand words", your article will become a lot more attractive to viewers with images.
But how google will read it? If you add an alt text to the image just describing in a few words, any search engine will be able to easily read it. It will improve the ranking of your image search. That's why it is important to add an alt tag to images.
To rank well in the search engines, a blog post should contain at least 300 words. Long posts will get easily ranked rather than short posts. From posts more than 1000 words, search engines get more clues to determine what the text is about.
This assessment will make sure that you write the minimum content and will give you a green, yellow or red signal.
Add Knowledge Graph Metadata
Knowledge graph fetches the necessary information from your webpage and presents them in a beautiful way. With Quix's enhanced SEO plugin, you can provide all information in one place so your website rank for more keywords and command a larger area in the search result page.
We hope that this brand new feature will ease your workflow and save your money. In future updates, we will enhance this feature much more. Don't forget to tell about your experience and thoughts, just express it all in the comment box.