The First SEO Steps after You've Set Up a New Website in 2022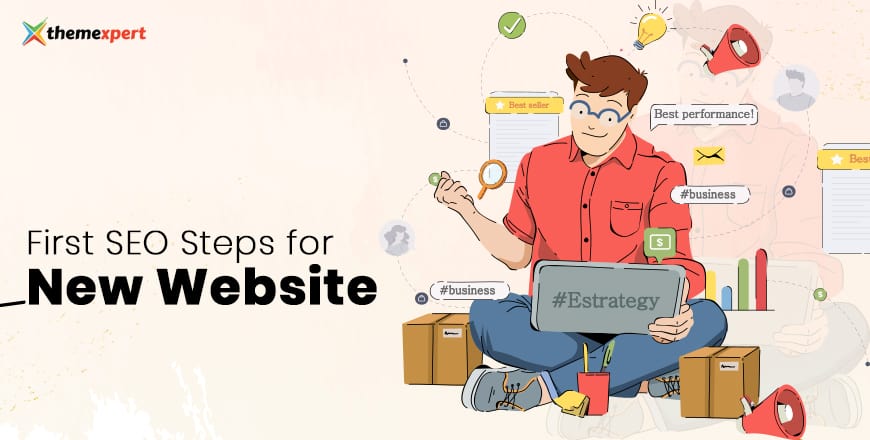 Global business is shifting online and you need to set shop there as well or you will be shunted into oblivion. Websites are the new avenues for digital marketing and you will do well to have one. Branding a website allows you a strong presence online and better search engine recognition besides creating brand awareness. Setting up the website is only the first step towards usability.
Go beyond design and address pertinent issues that will give intended service online and better traffic. Online tools like WordPress and Joomla have simplified web creation for beginners with excellent themes and plugins. However, here are the first SEO steps after you've set up a new website.
1. The Magic of Domain Name
You may have started with this, but since you have not yet launched your new website, it is worth revisiting. The right domain name that is easy to recognize and easy to recall is priceless for SEO on Google. And without a good SEO performance, your message will rarely reach your target audience. It will only stay at the bottom of SERP.
Choose a name that gives your brand a strong identity and, at the same time, one that can be worked into the keyword and content creation strategy. When brainstorming business name ideas, it's important to find a name that not only captures the essence of your brand and gives it a strong identity but also seamlessly integrates with your keyword and content creation strategy.
This way, you can create a cohesive and effective online presence that resonates with your target audience. Make sure you get this right the first time to avoid the inconvenience and downtime caused by redirection should you change the name in the future.
2. Review Website Architecture
Google search engines work efficiently with websites that have simple structures for easy indexing. Address the linking structures to ensure search engines access all pages on your website to reach inner categories and products. WordPress plugins and themes are a free resource that you can use to optimize your new website architecture.
Perfecting architecture at this early stage will allow you space and time to concentrate on content and keyword research as your site grows. The excellent architecture ensures great visibility and high traffic that will rank your site well. Your site visitors also prefer organized easy to navigate pages that flow seamlessly for a less taxing user experience.
3. Optimize Loading Speeds
Ranking on search engines depends on loading times. A factor to consider when optimizing Joomla website load times is the mobile platform. It has been noted that on average, mobile site visitors will drop a page that does not load within three seconds and several such failed attempts will pull down your site ranking.
Remember, you are using the website to promote your brand and products through digital marketing, and dropped pages equal to lost opportunities, especially on the mobile platform that is accessible to people at all times. You cannot afford to have lousy speeds and the best way to avoid this is to choose your web hosting service provider with care.
4. Keyword Research
Before embarking on the next step that is content creation, you must first do serious keyword research. All future content and information conveyed through the website will depend on powerful and relevant keywords for visibility.
Choose keywords with search intent in mind. Simply put, keywords should retrieve target content easily, fast, and without ambiguity.
This is especially crucial in digital marketing, where precise product information is valuable to convert online prospects into sales. In your research, look for keywords that relate to not only your brand but also those that are familiar to your audience and customize this to fit your content. There are multiple online tools you can use to get this right and remember to use appropriate density for easy reading.
Relevant and quality content is what will attract and retain traffic to your website. So right at the beginning, put in place a solid content management system to drive your content plan. You can choose an open-source CMS platform like Joomla to create your website and manage content efficiently.
Along the way, the use of pictures will be integral to your website content and it will be necessary to learn photo editing skills to get this right. Ensure that you feed your side a constant flow of content to generate web activity for good metrics. While at it, remember to create content that is SEO-friendly and relevant to your target audience. Also, use additional local SEO guides, follow industry leaders, and learn trending topics. There are various tailored services for local SEO but these are just the tip of the iceberg!
6. Optimize URLs for Efficiency
A perfect URL is vital for search engine optimization as it carries information on location, content page identifiers, purpose, and intended audience. It, therefore, follows that the design of functional URLs must all these attributes to lend vibrancy to your website.

Design your URLs around your keywords for faster indexing and use readable characters with hyphens for easy pick up by search engines.
Of key importance in recent times and the future is the inclusion of mobile URLs to your sitemaps to increase site ranking from mobile searches. Use root folders to manage your top content in the URLs and keep this simple using keyword, and location on site.
7. Include the Mobile Platform
With more handheld mobile devices than conventional computers and laptops in use, it pays to align your website with mobile browsing. Google has reset its algorithms to include mobile browsing in its traffic ranking. Provide page designs that can fit smartphone interfaces seamlessly for superior user experience and enhanced traffic.

People have their smartphones on them all the time everywhere and they are the first devices to use when searching for any information.
You want to take a piece of this large traffic, so design a mobile-friendly website with less or no bounce incidents. A large percentage of online searches, inquiries, and shopping is done from smartphones making it a very important component to the business.
8. Set Up Your Analytics and Tracking Console
You have reviewed all elements of your website and are ready to launch. However, it is a good idea to install some oversight tools for monitoring and tracking of key performance indicators. You need to have analytics to understand critical data comprising organic traffic and links.

Google Analytics and Search Console are especially suitable for this purpose and will generate information you can use for the optimization of key elements as you correct emerging mistakes.

To get Google Analytics by MonsterInsights, for example, use the corresponding plugin code if you build the website on WordPress. Sound management of a website is key to business growth and having real-time insights is critical to interventions and improvements.
Conclusion
Getting a new website to prominence does not happen overnight and takes time to break into the established brand category. Start by optimizing your pages and content to attract traffic as you rise gradually. If you got all aspects right at the beginning, sustaining the campaign becomes easy with faster growth, and soon, increased traffic translates to customers.
Author Bio:
Leon Collier is a blogger from the UK who is currently working for
professional paper writers
, an online service that provides college papers, thesis, and dissertation writing services to students. He writes on a wide variety of topics that include business, self-development, marketing, and economics. He loves reading novels and playing tabletop games on Saturday with his friends. Follow him on Twitter
@LeonCollier12.