Sell Digital Product with Joomla!
With DigiCom you can sell any kind of digital product in Joomla! without worring about download, reporting and subscription management. DigiCom combines all necessary features in one place and take the pain out of creating eCommerce site with Joomla!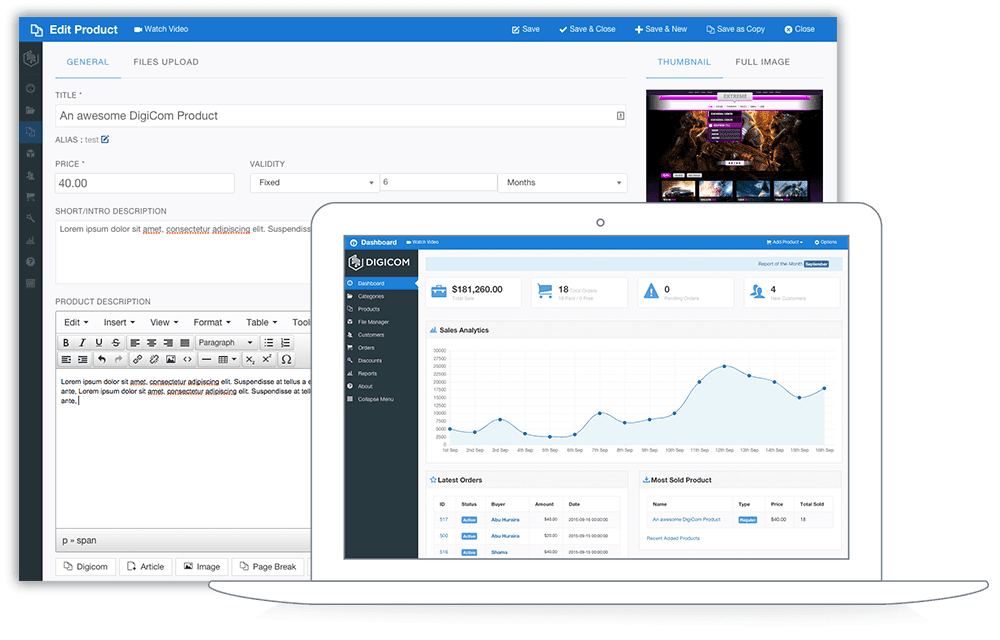 Single and Bundle Selling
Selling a single product is simple, but selling bundle of products is now even more simpler

Powerful Reporting
From sales through to download of products, DigiCom record every interaction

Download Management
Powerful download manager helps you manage your file seamlessly

Highly Extensible
Addons based architecture allows you to extend and make feature rich extension
All the key features you need to get started
Sell any digital product in Joomla!
Sell Music
If you are musician or want to take your music store online. DigiCom is perfect choice for selling your music securely.
Themes & Plugins
Themes and plugin author, you can now sell your product with powerful license management system and release system
eBooks and PUBs
Sell books, ePub and other publication online easily with DigiCom Joomla eCommerce extension.
Games
You are a playa, ahaa keep playing buddy. Because more you play, more I sell. Selling games has never been more fun, it's like using Cheat-Codes and the levels are over
Yes, all of these features are included in DigiCom!

Payment Integration
Supports all popular payment gateway such as; Paypal, Stripe, 2Checkout and more...

Access Control
Configure your store access control and permission and protect it from un-authorized access.

Drag & Drop Manage
Powerful file manager allow you to drag files from your computer and manage them all in one place.

Order Management
Manage and change orders from one place with extensive order management control.

Seamless Checkout
Distraction free & conversion focused checkout system allow your customers to pay with peace.

Email Management
Customize your automated store emails with the design and language you want.

Discount Management
Run sales and promotions by offering coupon codes that save customers money.

Customers Management
Learn more about your customers and their shopping habits. Find their contact info and order history.

Powerful Search
Google style search allow you to find anything and everything in no minutes
Build your store, your way