10 Best Helpdesk Software of 2023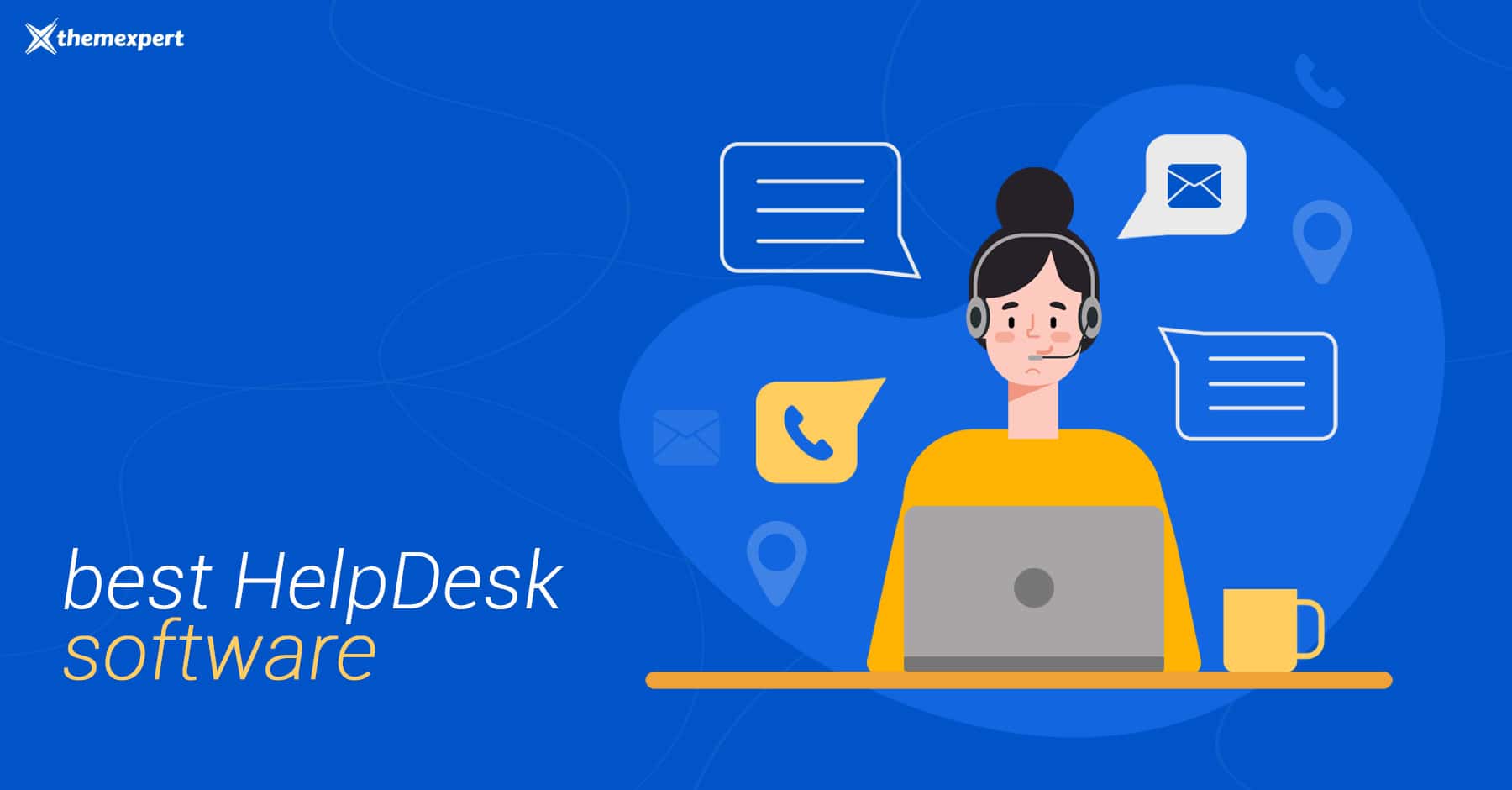 For any business to flow efficiently, automation is one of the key factors. It increases effectiveness, reduces response time, and eliminates the chances of error. A helpdesk support software can help make this automation and management better than ever.
Wondering what helpdesk software is? Well, in this blog, we understand that and do a countdown of the 10 best helpdesk software of 2022.
So, let's dive right in!
Read also: 7 Best Free Customer Service Software For Small Business & Startup
Best Helpdesk Software: At a Glance
Software
Key Features
Pricing
Best For

ThriveDesk

Shared Inbox

Live Chat Assistant

Knowledge Base

Reporting

Community

Woocommerce Support

Email Signatures

Starter: $6 per month per user if billed annually. $8 per month per user if billed monthly

Small Businesses & SaaS Startup

Zendesk

Flexible ticket management
Multi-channel support
Mobile support with native iPhone, iPad, and Android apps
Robust reporting and advanced analytics

Support Team: $19 per agent, per month if billed annually
Support Professional: $49 per agent, per month if billed annually
Support Enterprise: $99 per month if billed annually

Enterprise

Freshdesk

Support across channels

Team inbox

Intelligent ticket assignment

Chatbot powered by Freddy AI

Free: For getting started
Growth: $15 per month, billed annually
Pro: $49 per month, billed annually
Enterprise: $79 per month, billed annually

Enterprise

Zoho Desk

Manage tickets in one place
Contextual AI
Live Chat
Knowledge base
CRM integration

Free: 3 Free Agents
Standard: $14 per month billed annually
Professional: $23 per month billed annually
Enterprise: $40 per month billed annually
For sales-focused teams
Hiver

Shared inbox management

Powerful automation

Gmail based customer service

Deep insight reporting

Lite $15 per User per Month
Pro: $39 per User per Month
Elite: $59 per User per Month
For small businesses.

Help Scout

Knowledge base

Instant answers with Beacon

Looks like a normal email

Optimized for search

Collaborate with teammates

Standard: $20 per User per Month
Plus: $35 per User per Month
Company: On contact

Small & Large Company

HappyFox

Email Ticketing

Knowledge Base

Community Forums

Help Desk Reporting

Help Desk Automation

Mighty: $29 per month
Fantastic: $49 per month
Enterprise: $69 per month
Enterprise Plus: $89 per month

Businesses of all Sizes

Wrike

Self-service automation

Ticket automation

Asset management

Complete reporting

Free: Free
Professional: per user per month
Business: $24.80 per user per month
Enterprise: $40 per user per month

Marketing agency
SysAid

Access Controls/Permissions
Self-Service Automation
Ticket Automation
Analytics

On contact

Businesses of all Sizes

OneDesk

Help desk and ticketing software
Knowledge base
Live chat support
Email integration

Basic: $9 per user per month

Businesses of all Sizes
What is a Help Desk Software?
A help desk software is a one-stop solution platform to tackle all your internal and external issues in your eCommerce business. It will allow you to solve your customer support tickets as soon as possible and provide your customers with a plethora of other support tools.
It is difficult for both customers and employees to anticipate what problems can arise and when. Hence, help desk software provides appropriate help as and when needed and ensures minimum downtime.
A good help desk software can ensure customer satisfaction and greatly streamline the daily operations of your business without having to invest hefty amounts in hiring and training human resources.
Different Categories of Help Desk Software
Helpdesk software comes in different categories. On the basis of your requirement, you can choose either of them for your business.
Cloud-based helpdesk software is a SaaS application combined with web and desktop-based applications. They can be cloud-based and be locally hosted through a vendor's server. You can simply install the application or log into the vendor's website to access all the features. Cloud-based helpdesk software is straightforward to set up and user-friendly.
Also known as, on-premises help desk software, it is licensed proprietary software that you will have to purchase. After successfully purchasing it, you will host the help desk on your server. They are not easy to use, and you might require a well-equipped IT team to set it up.
Big businesses and enterprises have to use enterprise help desk software to access all the advanced features that small help desk software does not offer. Usually, enterprise helpdesk software is customizable according to the company's requirements.
Open-source helpdesk software allows developers to access its source code and modify it according to the needs of the business and the employee team. A professional IT team can easily change and enhance the features. However, it is a hefty investment and can take months to install and configure.
What are the Important Help Desk Software Features to Look for?
An efficient help desk software will strengthen your customer relationships and help your business in a variety of other ways. Therefore, it is crucial to study help desk software closely before deciding which category of helpdesk software you want to integrate with.
Furthermore, it should also suit the requirements of your business.
Important features to look for:
Self-service management
Reporting and analytics
Customer relationship management
Customer satisfaction
Ticketing management
Dashboard features
Collaboration support
Benefits of Using Help Desk Software
Some of the key benefits of using help desk software are:
Centralized ticketing
Automated updating for agents and customers
Remote access
Vast and diverse knowledge base
Automate manual and time-consuming tasks
Regular feedback and survey features
Data analysis and reporting
Performance measurement
Revenue growth
Organize and store customer data
Top 10 Help Desk Software of 2022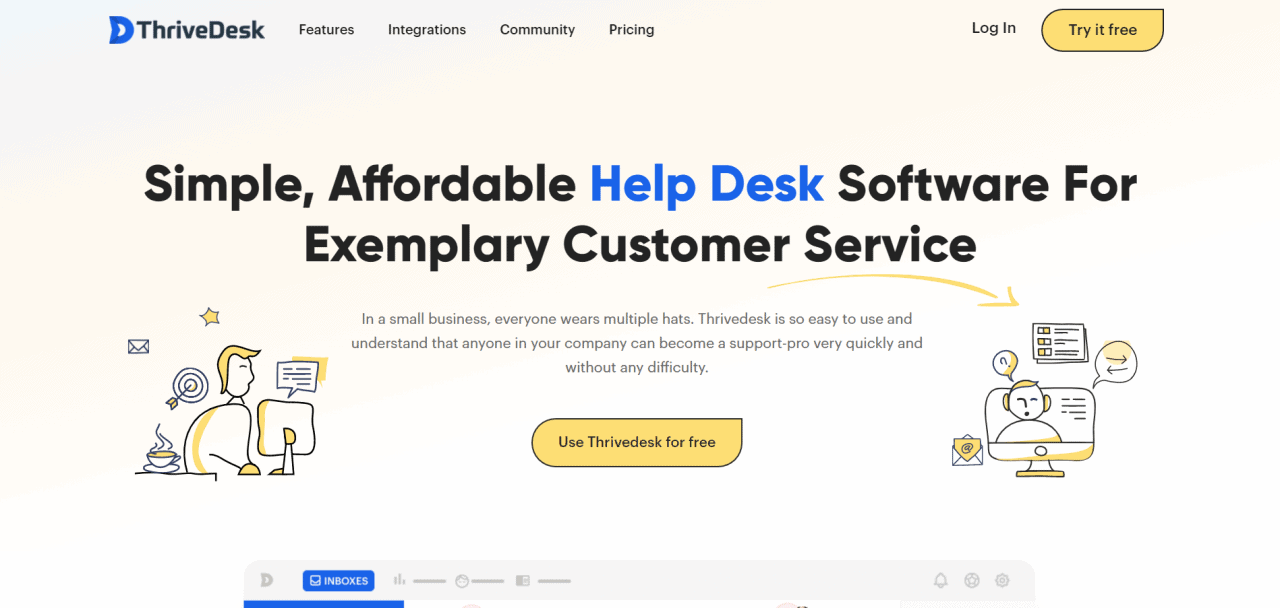 ThriveDesk is the best helpdesk software that resonates with the fact that in a small business everyone wears multiple hats. If you are a small business and want your team to collaborate successfully week after week and keep your customers satisfied, ThriveDesk is the solution to all your problems. It is affordable, extremely user-friendly, and will easily fit into the day-to-day routine of your business.
Top features
The live chat feature will allow your business to provide your customers with humanly customer support. Even if your team is busy, the AI-powered chatbot will continue interacting with customers. You can also use their WordPress chat plugin that can be easily integrated into your eCommerce sites.
Access the shared inbox feature for finding all your customer interactions in one place. A shared inbox is a common inbox for customer queries, tickets, chat, emails, social media messages, etc.
To get more done with ThriveDesk, integrate all your essential tools to facilitate smooth operations. Some tools you can incorporate are WordPress, Slack, Fluent CRM, Pabbly, etc.
It is a platform that contains numerous questions and their answers. With the instant self-service knowledge base software, users can find answers to common questions just by typing a few words.
ThriveDesk let you instantly connect to WooCommerce and let your agents track customers with seamless order history.
Drive user engagement and increase customer lifetime value by enabling your customers to come together, connect, and collaborate on ideas, discussions, and projects.
Pricing
ThriveDesk is apparently a customer service software that provides Shared Inbox, Live Chat, Reporting, Community, Knowledge Base, and WooCommerce Integration all-inclusive at a single price.
Starter: $25/month for up to 5 users
Pro: $99/month for up to unlimited users
Why Use ThriveDesk Help Desk Software?
If you want to communicate with your customers smoothly, then ThriveDesk will provide excellent services. It has been designed specifically for eCommerce stores, WordPress theme businesses, and Bootstrapped SaaS start-ups.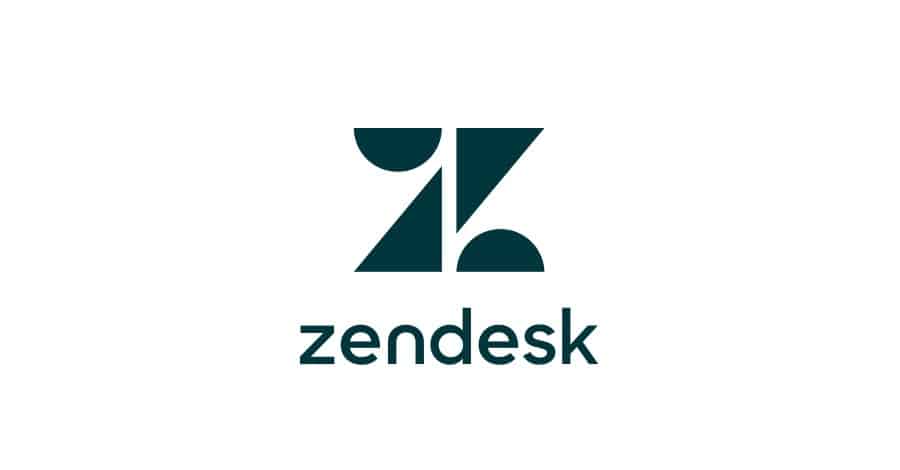 Zendesk customer service software is built to improve customer service across various channels simultaneously like email, live chat, and social messaging apps like WhatsApp, Facebook, etc. Its unified workspace and dashboard feature will boost agent efficiency and make it easier to track, prioritize, and respond to pressing tasks. Additionally, with more than 160,000 customers across the globe, Zendesk offers support in over 60 languages.
Read also: 10+ Best Zendesk Alternatives Customer Service Software on 2022
Top Features
To help you make an informed choice, Zendesk calculates your ROI with Zendesk for you. You have to provide them with some basic details like industry type, webform volume, etc., and it will do the rest for you.
To streamline the day-to-day activities of your eCommerce store, Zendesk allows app integrations across various categories like eCommerce and CRM, Telephony and SMS, Email and social media, etc.
The smart and highly intuitive AI-powered bots will always be on duty and work in great tandem with your agents. They are easy to set up and answer customer queries in minutes with just a few clicks.
Pricing
| | |
| --- | --- |
| Plan | Pricing |
| Suite Team | $49 |
| Suite Growth | $79 |
| Suite Professional | $99 |
Why Use Zendesk Help Desk Software?
If you are constantly onboarding new agents and desire a quick and easy adoption, Zendesk is the answer to your problem. Its user-friendliness will allow your new agents to understand the software easily and seamlessly follow its integrations and operations.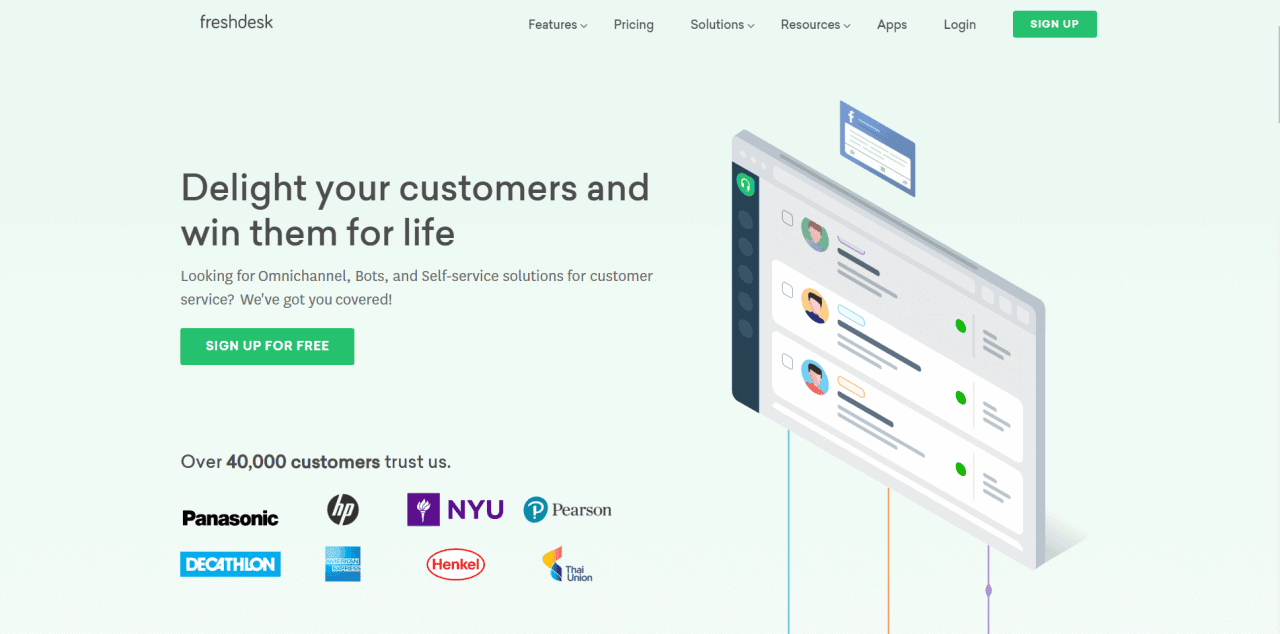 Freshdesk is another best help desk software suitable for all kinds of businesses. If you are looking to save all your tickets across a unified channel, then Freshdesk can do that for you. It has a considerable customer base of more than 50,000 businesses through its advanced features like call monitoring, summary reports, content creation, etc.
Read also: 10+ Best Freshdesk Alternatives for Customer Support In 2022
Top features
The AI-powered automation will allow you to streamline your workflow easily by eliminating repetitive manual tasks. The automatons will enable you to run your business on autopilot by doing ticket sorting, ticket assignment, etc.
Freshdesk understands how important it is to safeguard your data without having to constantly worry about cross-border security checks. It is a globally secure platform by default SSL certificate all your Freshdesk accounts.
Multiple Channel Integration
This help desk solution is compatible to integrate information from multiple channels like phone, email, chat, and social media.
Pricing
| | |
| --- | --- |
| Plans | Pricing/Month |
| Free | $0 |
| Growth | $15 |
| Pro | $49 |
| Enterprise | $79 |
Why Use Freshdesk Help Desk Software?
If you want to skyrocket the speed of your customer support service and keep them delighted effortlessly then Freshdesk is the absolute best choice for you.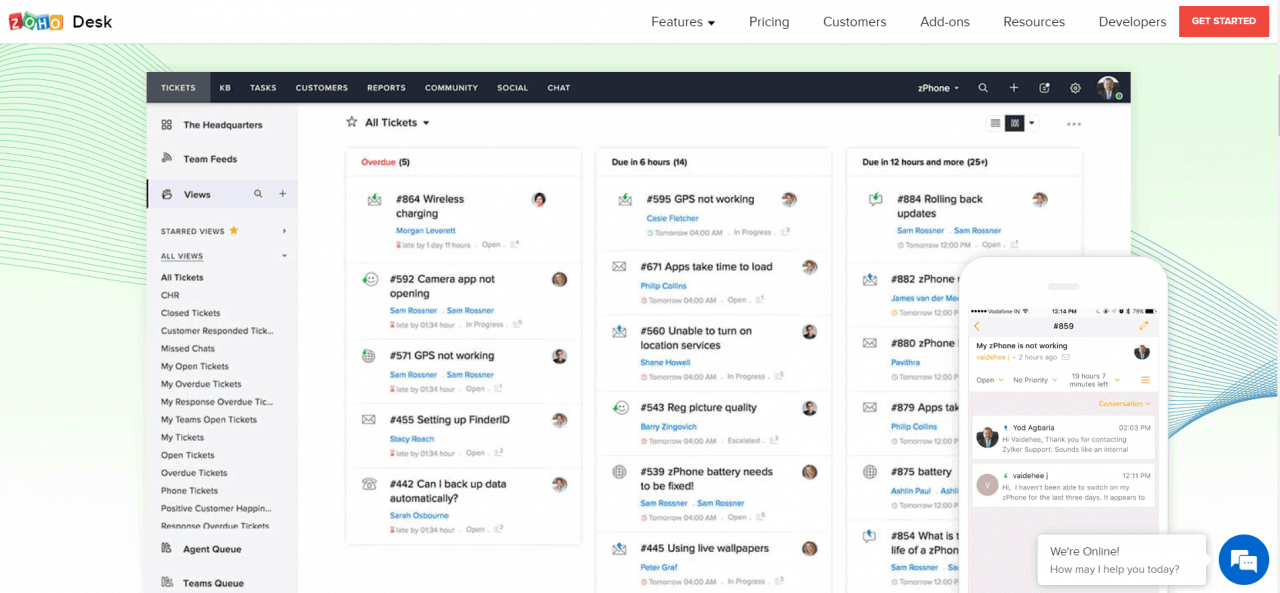 Zoho Desk can help you manage your customer interaction and support across various channels simultaneously. It will also allow you to direct complex problems toward customer care agents as and when needed. It is priced minimally but it comes with a learning curve. However, if you have an experienced IT team at your disposal, they will manage their way around it swiftly.
Top features
Zoho Desk has redesigned the traditional phone call customer service according to cloud-based help desk software. You can further use their Interactive Voice Response to man the hotline number in case your agents are busy.
Zoho Desk also offers a live chat feature along with various other customer communication channels. You can embed the live chat app with chat widgets to help your customers with what they are looking for.
To allow you to extend your business, Zoho Desk offers various app integrations. You can also embed interactive marketplace and platform widgets into the Zoho Desk interface.
Pricing
| | | |
| --- | --- | --- |
| Plan | Pricing/Month (Billed Monthly) | Pricing/Month (Billed Annually) |
| Free | $0 | $0 |
| Standard | $20 | $14 |
| Professional | $35 | $23 |
| Enterprise | $50 | $40 |
Why Use Zoho Desk Help Desk Software?
If you want maximum customizing options at an affordable price, then Zoho Desk is an appropriate choice for you. You can change every element of the dashboard, right down to the HTML code used.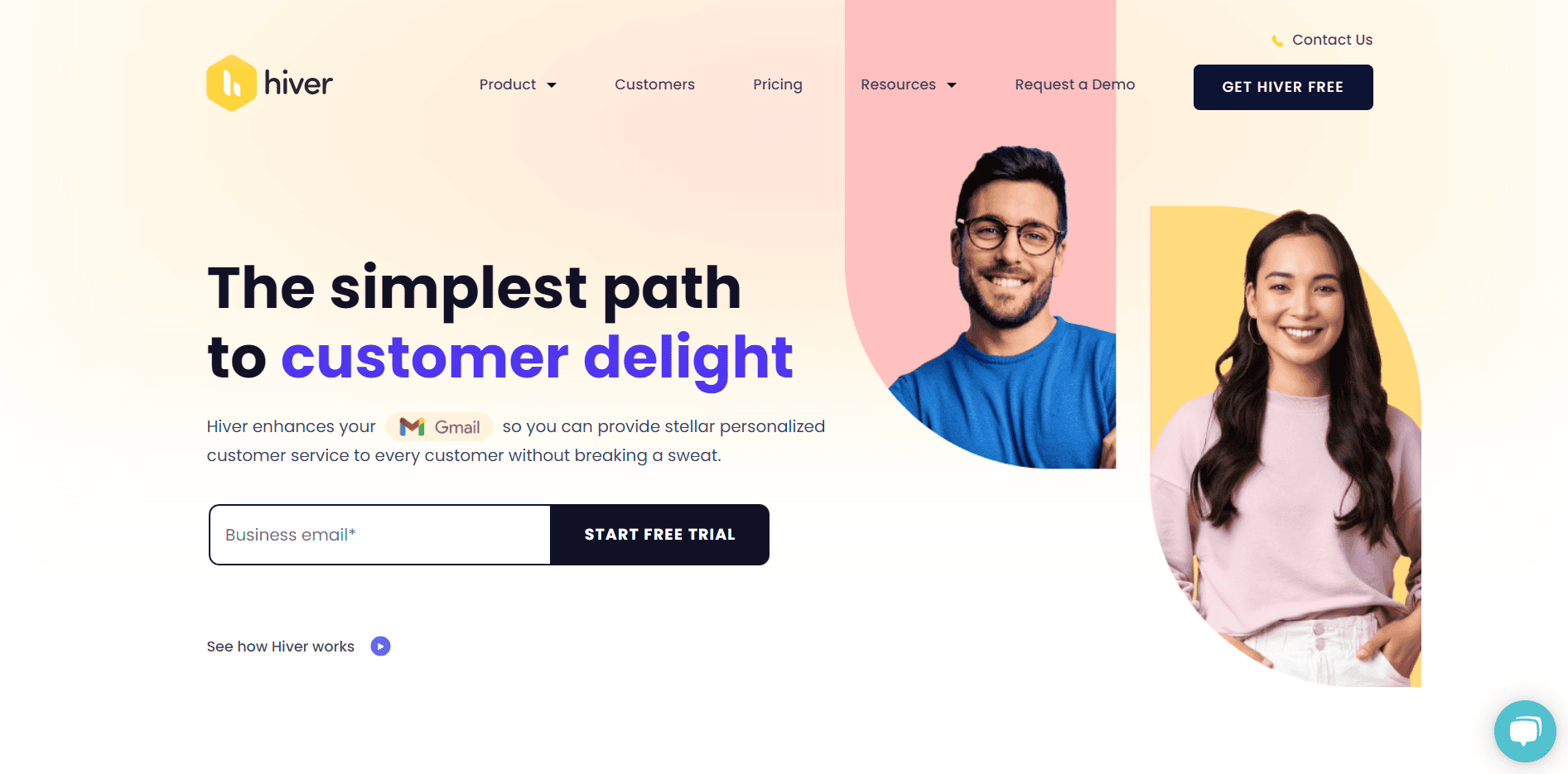 Hiver is one of the few help desk software which can integrate with Gmail and provide your remarkable customer service support. It is trusted by over 1500 companies globally like NYU, Flexport, Samsara, Funding Circle, etc. Its powerful features will provide you best customer relations, high performance, and best usability.
Top Features
Service level agreement management will ensure that you do not miss any message from your customers and diligently deliver what you promised them. SLA monitoring will help you prioritize your customer communication as well as define business hours for each of your inboxes.
In big enterprises, it often happens that two or more employees begin working on the same ticket. With collision alerts, hiver saves the precious time of your employees and prevents customers from getting numerous clashing replies at the same time.
Pricing
| | | |
| --- | --- | --- |
| Plan | Pricing/Month (Billed Monthly) | Pricing/Month (Billed Annually) |
| Lite | $15 | $12 |
| Growth | $29 | $24 |
| Pro | $47 | $37 |
| Elite | $69 | $57 |
Why Use Hiver Help Desk Software?
If you prefer working in tandem with google workspace, then hiver can suit all your requirements. It is affordable and its advanced features will allow you to streamline your eCommerce store just like any other help desk software.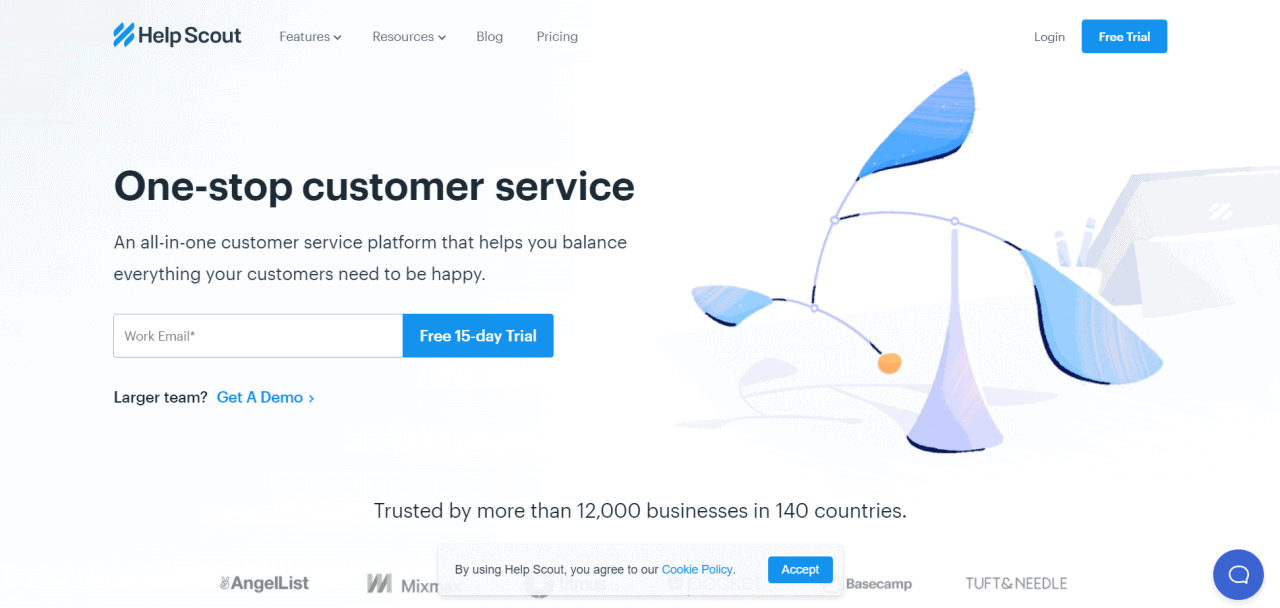 Help Scout has more than 12,000 trusted global customers like OkCupid, Yeti, Spindrift, Trello, etc. Its highly intuitive features will allow you to respond to your customers in less than a minute. The live chat service will not only help your customers in real-time but guide them towards the relevant article in the knowledge base.
Read also: 8 Best Help Scout Alternatives to Choose As a Helpdesk Software
Top features
To help you reduce your customer ticket volume substantially, Help Scout offers a vast and diverse knowledge base. In the knowledge base, you can add as many articles as you want with various features like fonts, tables, videos, hyperlinks, etc.
If you want to automate repetitive manual tasks, you can easily do that by using the workflow feature. You can make customizable workflows to serve customers better and meet SLA requirements.
Pricing
| | | |
| --- | --- | --- |
| Plan | Pricing/Month (Billed Monthly) | Pricing/Month (Billed Annually) |
| Standard | $25 | $20 |
| Plus | $40 | $35 |
| Company | Annual Billing Only | $60 |
Why Use Help Scout Help Desk Software?
If you want your employees to collaborate in real-time while working, you should go ahead with Help Scout. Its features like private notes, tagging, and assignments will help your employees work in tandem with each other.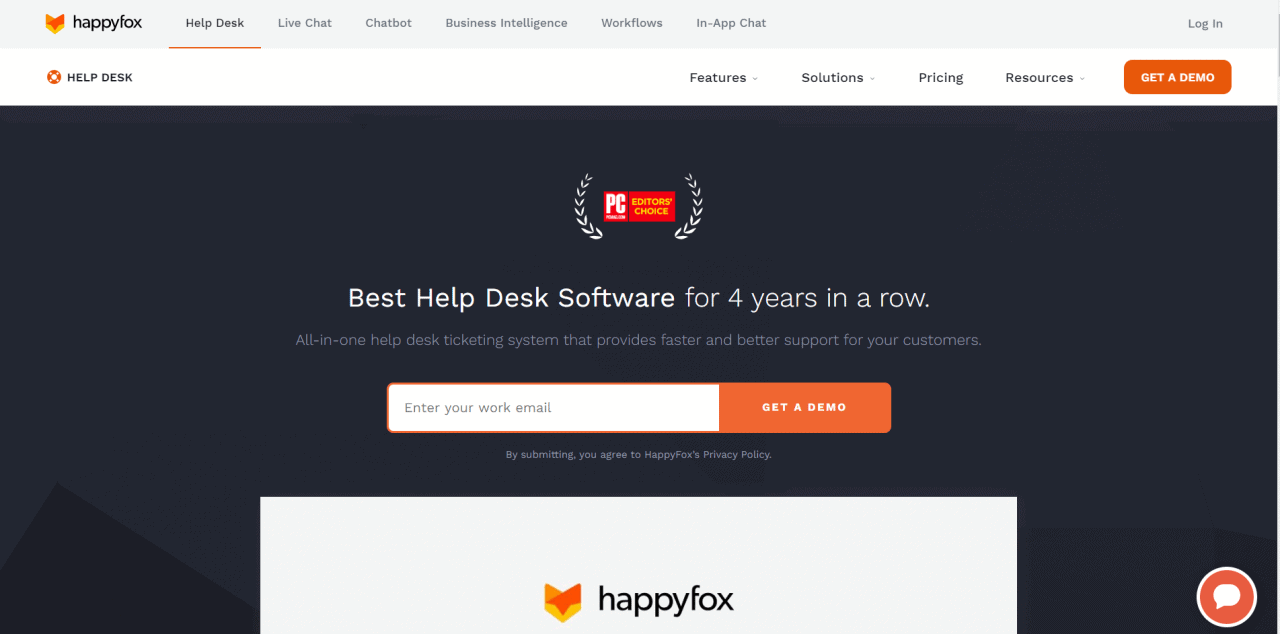 If you are looking for best-in-class ticket management help desk software, then Happy Fox is highly suitable for you. It is priced slightly higher than its other competitors but is one of the most comprehensive help desk solutions. It will allow you to operate with a single unified channel for all your customer tickets. You can save valuable time switching between numerous tabs for several aspects like social media, internal communication, live chat, etc.
Top features
It allows customers to submit tickets through various channels using their phones or laptop. Customers can also use self-service portals to find a solution to their simpler problems.
Happy Fox offers V2 modular reporting capabilities which also allows you to export your reports in any format you like, Excel, CSV, Pdf, etc.
Pricing
| | | |
| --- | --- | --- |
| Plan | Pricing/Month (Billed Monthly) | Pricing/Month (Billed Annually) |
| Mighty | $39 | $29 |
| Fantastic | $59 | $49 |
| Enterprise | $79 | $69 |
| Enterprise Plus | $99 | $89 |
Why Use Happyfox Help Desk Software?
If you want in-depth reporting and data analysis along with detailed visual representation, you can go ahead with Happy Fox. It is also highly customizable and intuitive.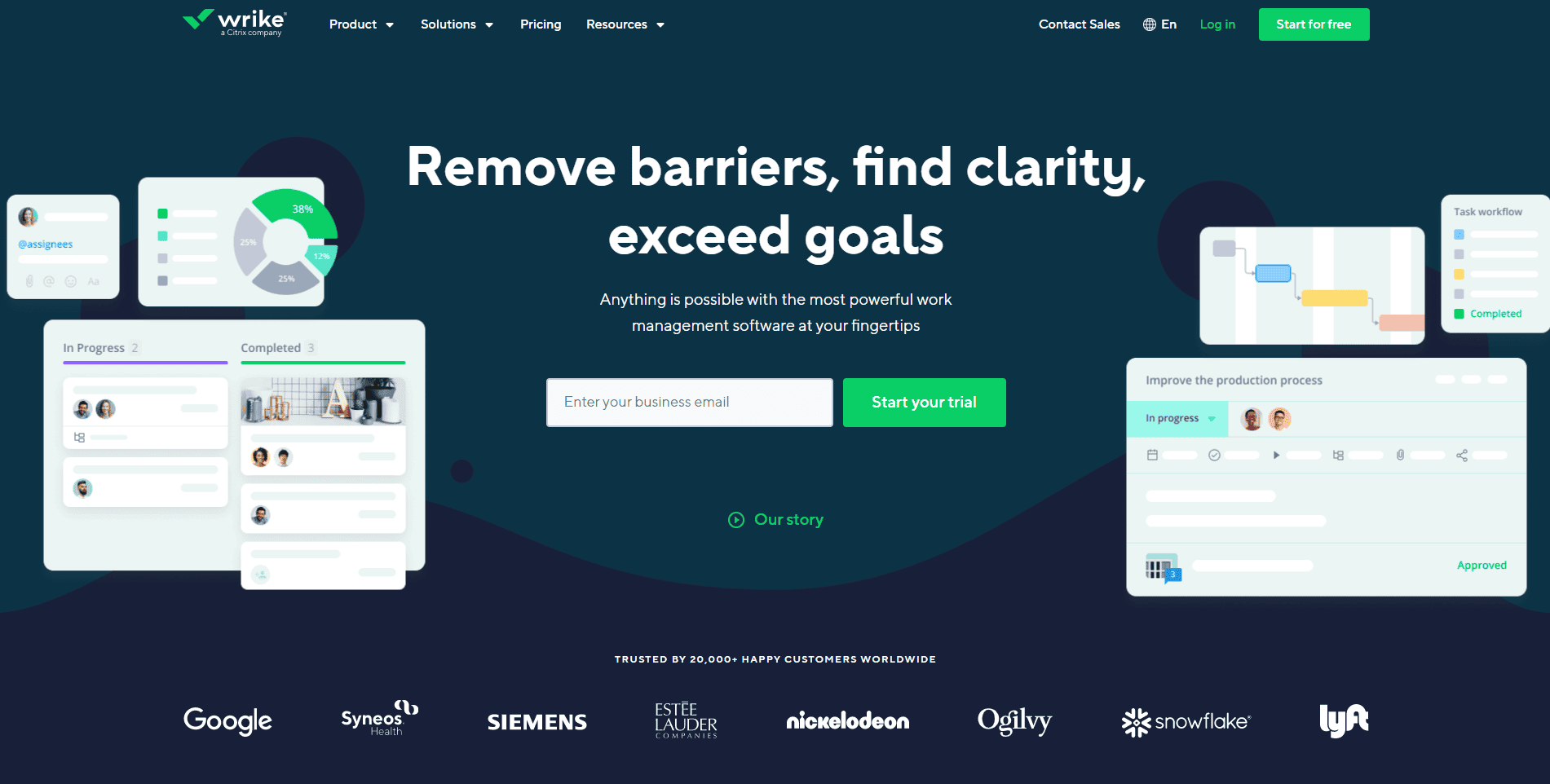 If you are looking for help desk software that can provide great customer support service along with the best project management software, then Wrike is an appropriate platform for you. Wrike is available in the market in various versions, to be matched with your company size and type. It is highly affordable and offers great collaboration features like a user-friendly dashboard, enterprise-grade functionality, real-time reporting, etc.
Top features
With Wrike, you can make custom request forms depending on the needs of your customers. The various customizing options available allow you to create them quickly and seamlessly. Additionally, you can make forms not only for your customers but also for your employees.
It is a highly efficient project management platform and allows you to collaborate with your team in real-time using features like a live stream, private messaging, etc. You can also centralize conversations to ensure high transparency and work ethics amongst employees.
Department Specific Solutions
This help desk software is very versatile and offers solutions across all the departments like IT, design, finance, content creation, etc.
Pricing
| | |
| --- | --- |
| Plan | Pricing/Month |
| Free | $0 |
| Professional | $9.80 |
| Business | $24.80 |
| Enterprise | Contact Sales |
Why Use Wrike Help Desk Software?
If you are a marketing agency or professional service provider, you will be able to greatly benefit from Wrike's versatile team collaboration features.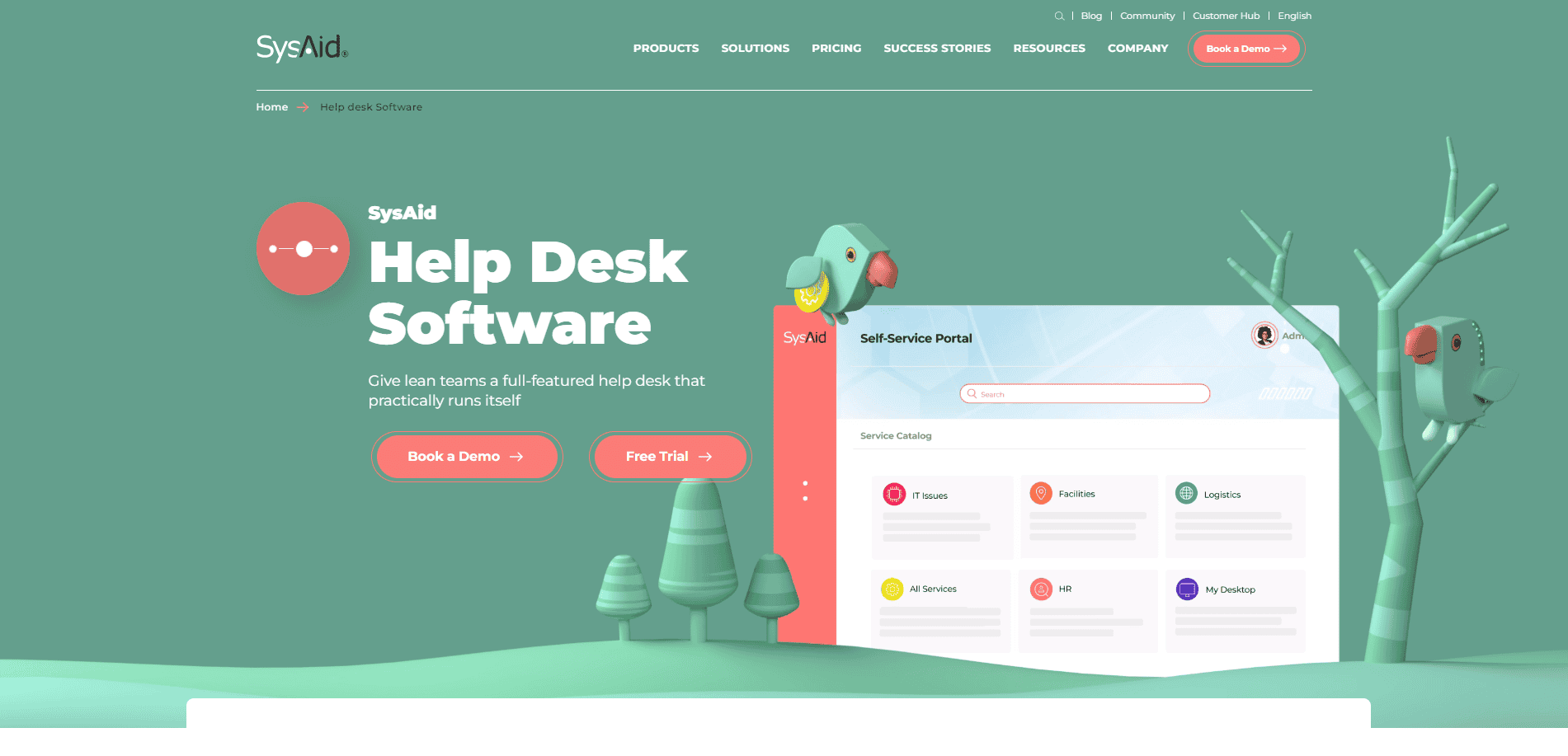 SysAid is known to take care of customer experience, agent productivity, task automation, analytics, and ticket resolution all at once. The Omni channels are easy to work with and can be customized according to the needs of your eCommerce business. Its extra features like activity tracking, assent life cycle management, configuration management, etc. will leave a positive impact on your business.
Top features
The service automation feature at SysAid uses artificial intelligence to automate all your crucial tasks seamlessly. The ticket automation feature will reduce your ticket load magically along with boosting your agent productivity.
Asset management will allow you to keep all your data and record in one place and access them as and when needed through a click or two.
Why Use SysAid Help Desk Software?
If you are looking for help desk software with exceptional IT service functionality, then SysAid is an appropriate choice for you.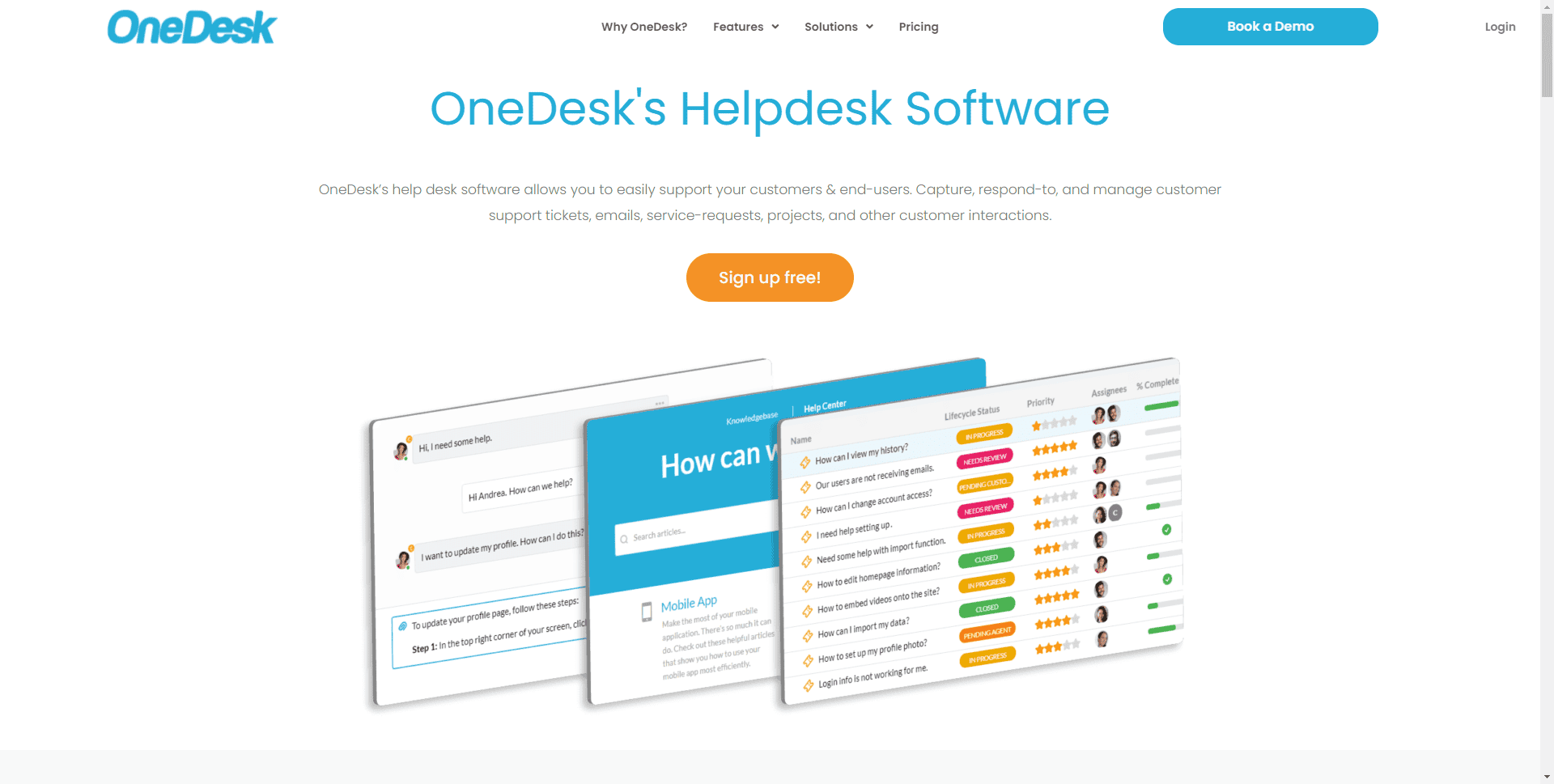 OneDesk is a help desk software that will provide you exceptional customer support service along with project management support. The unified dashboard will allow all the members of the project to work in one place. It is also highly affordable, easy to use, highly customizable, and configurable.
Top features
Are you constantly traveling and want to manage your business through your mobile phone? OneDesk mobile app is mobile-friendly and will allow you access to all the features on the go.
Customer Friendly Platforms
To allow your customers to interact with you freely, you can deploy numerous customer-friendly platforms through OneDesk like live chat, knowledge management, customer portal, web forms, etc.
To facilitate day to day functioning of your business and to make your life easier, OneDesk offers numerous integrations like WordPress, zapier, Joomla, Microsoft teams, etc.
Pricing
| | |
| --- | --- |
| Price/Month (Billed Monthly) | Price/Month (Billed Annually) |
| $11 | $9 |
Why Use OneDesk Help Desk Software?
If you are a small-sized business and looking for highly affordable help desk software, OneDesk can meet all your requirements efficiently.
Conclusion
So, there you go folks, these are some of the best helpdesk software we have handpicked. All these come in different prices, have various integrations, and are ideal for small to medium businesses. However, we advise you to research more before you make a final decision. For more such informational blogs, check out our other blogs.