9 Best Web Analytics Tools For Professionals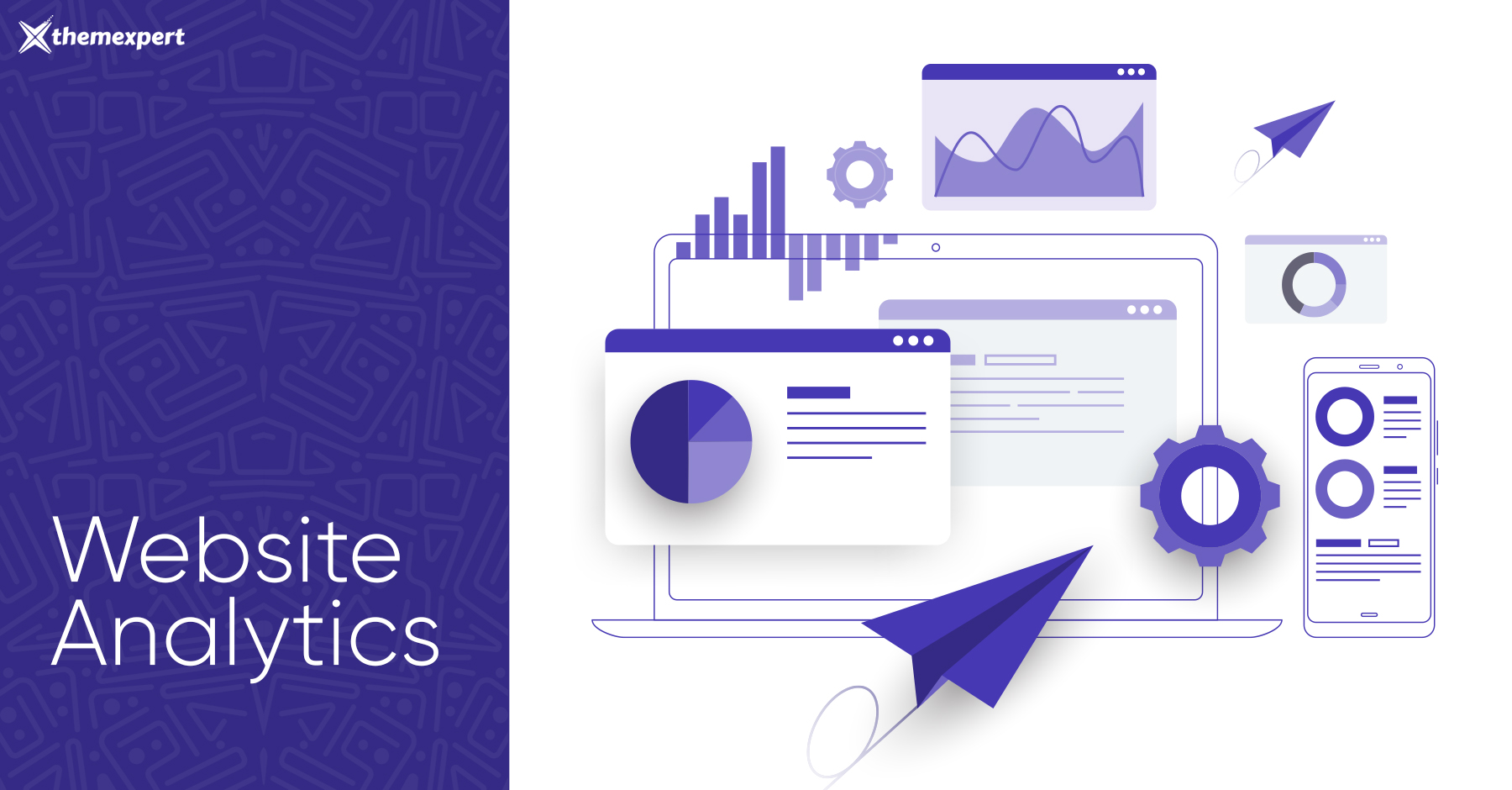 When it comes to website analytics tools, you probably heard of Google Analytics, a free and robust analytics tool used by millions of people. However, there are plenty of Google Analytics alternative tools that can either replace or expand what you are using now.
In this blog, we will talk about 10 privacy-focused web analytics tools available in 2022 along with their features, pricing, and use cases.
Let's see who is on the list then.
What is Web Analytics?
Simply defined, web analytics is the collection and measurement of website data to understand user behavior. Typically, web analytics tools can track and report user activity on any website component including webpages, landing pages, and online forms.
These reports ultimately enable you to understand,
How many online visitors are browsing a website?
How many web pages do they visit during each browsing session?
How long do they stay engaged on each webpage?
Which are the most frequent web pages that are visited?
Which are the most successful sources that are driving traffic to your website?
Why Use Web Analytics Tools?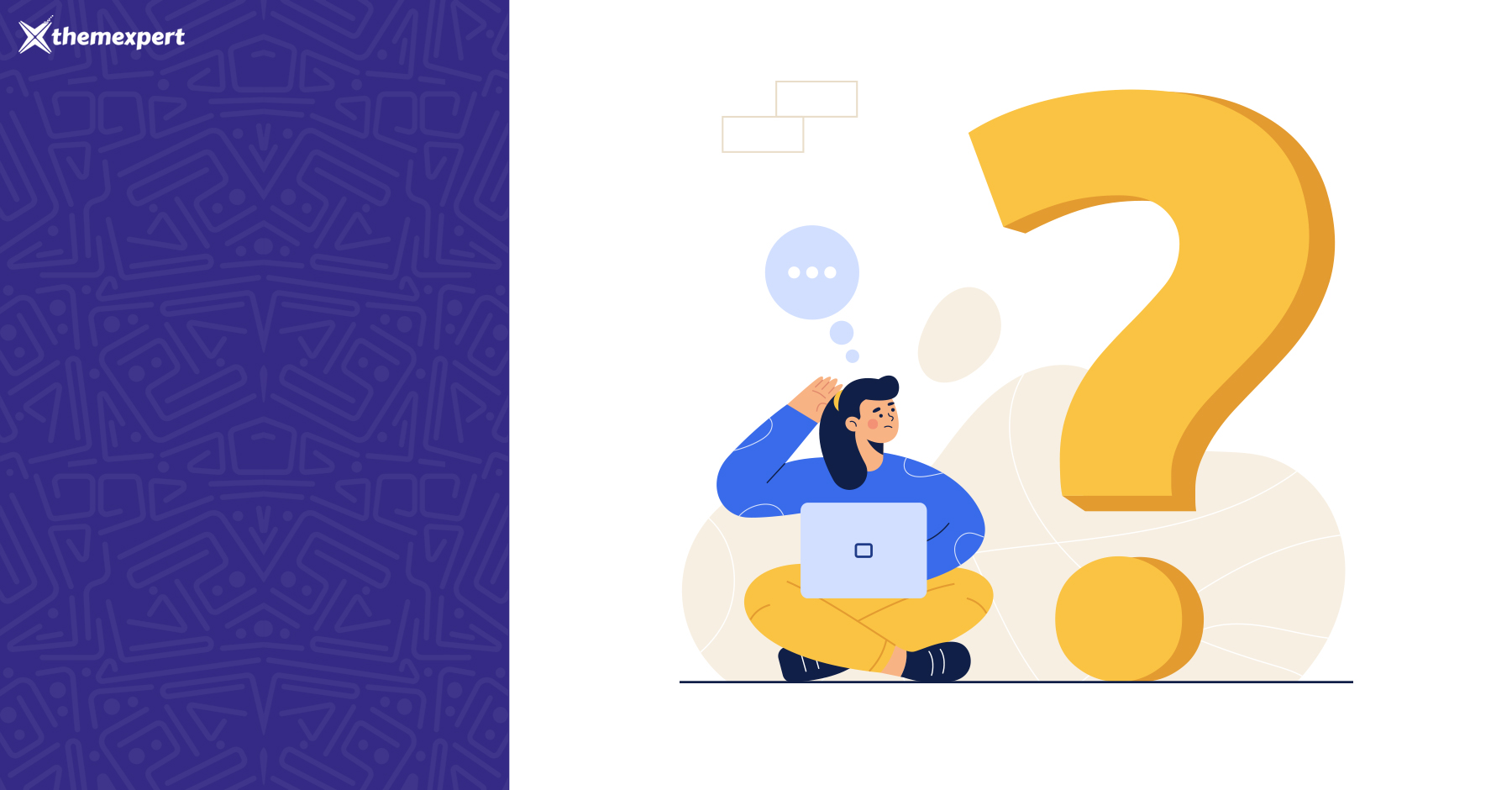 The main idea of using analytics tools is to make website analysis easier. Web analytics tool plays a vital role in discovering how websites are performing, and what to improve. These tools can provide deep insights to track down your customer behavior and make more informed decisions about your website to strengthen its performance.
So, what else?
Use valuable data insights to create an improved user experience with the brand.
Track the overall effectiveness of any online marketing campaign.
Personalize the website for regular customers.
Predict which products (or services) are most likely to be purchased by its consumer base.
Create a consistent brand experience across all customer touchpoints and devices.
Increase product sales, brand loyalty, and business revenues by extracting the right data insights.
What Are The Best Analytics Tools?
Let us look at the 10 best web analytics tools in 2022 that are designed for business professionals.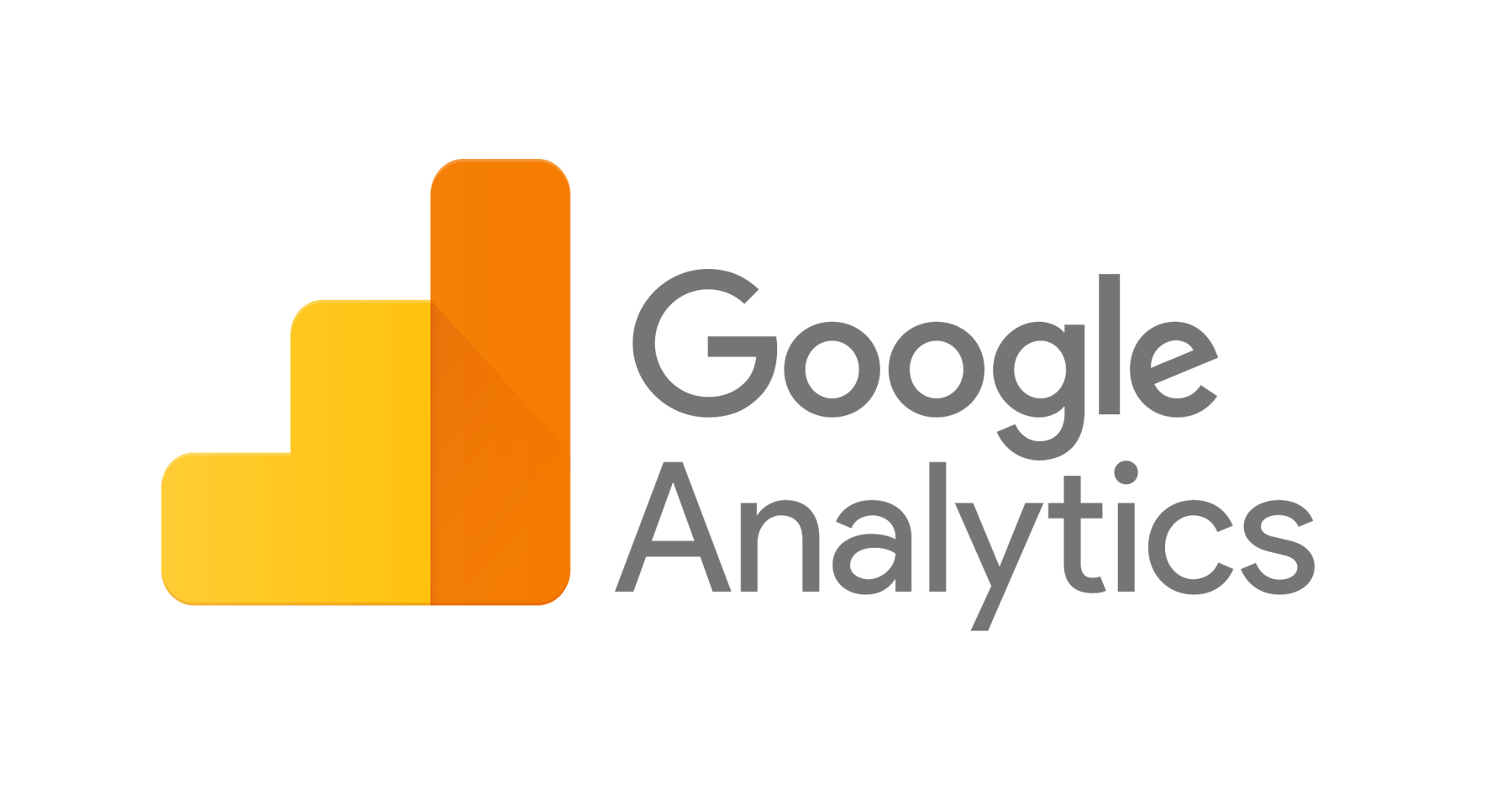 Clearly the market leader in the world of web analytics, this free analytics tool is being used by over 50% of the leading websites around the globe. According to BuiltWith, Google analytics is used in at least 30 million websites. Google Analytics is ideally suited for small businesses, who do not have the budget to invest in paid analytics.
A new version of Google Analytics is available now – Google Analytics 4 (GA4). It provides an even more streamlined experience and features. Also, it integrates with other Google platforms, e.g., you can connect GA4 to BigQuery or GSheets to enhance your analytics efforts or make automatic data export.
Best Features of Google Analytics
Analytics intelligence
Reporting tools
Data analysis and visualization
Data collection and management
Data activation
Integration with third-party tools
Pricing: Free
Good for: Website traffic analytics, website users, bounce rates, and real-time visitors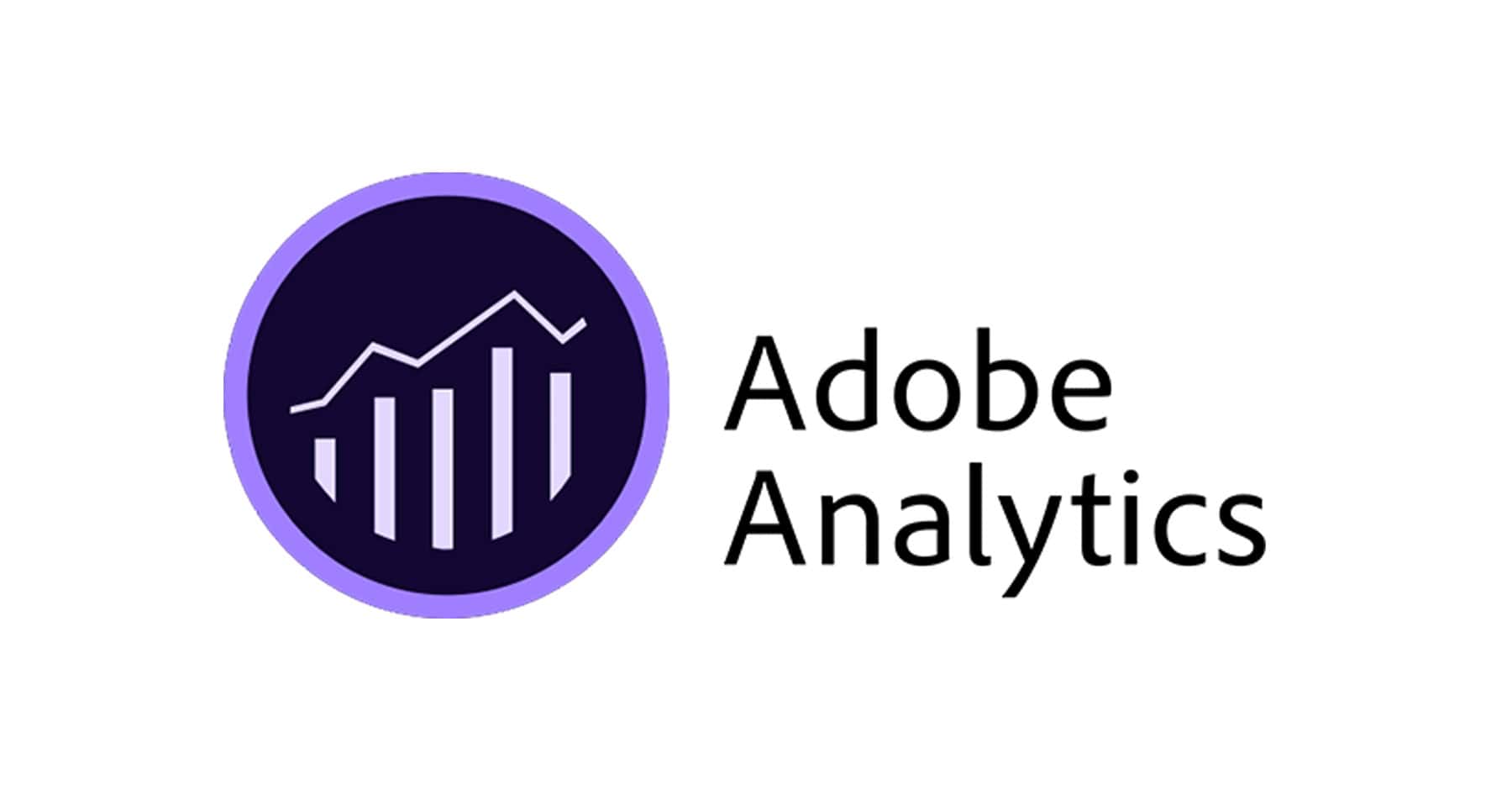 Ranked by Forrester Wave as the leader in web analytics in 2017, Adobe Analytics goes beyond website metrics and uses technologies like artificial intelligence, machine learning, and data analysis to deliver customer insights. This advanced web analysis tool is not restricted to measuring page views and visits but measures other metrics like customer path, traffic sources, and video engagement.
Best Features of Adobe Analytics
AI and machine learning
Predictive algorithms
Multichannel data collection
Ad Hoc and flow analysis
Advanced segmentation
Pricing: Available only on request
Good for: Website traffic analytics, multichannel data collection, marketing analytics, predictive analytics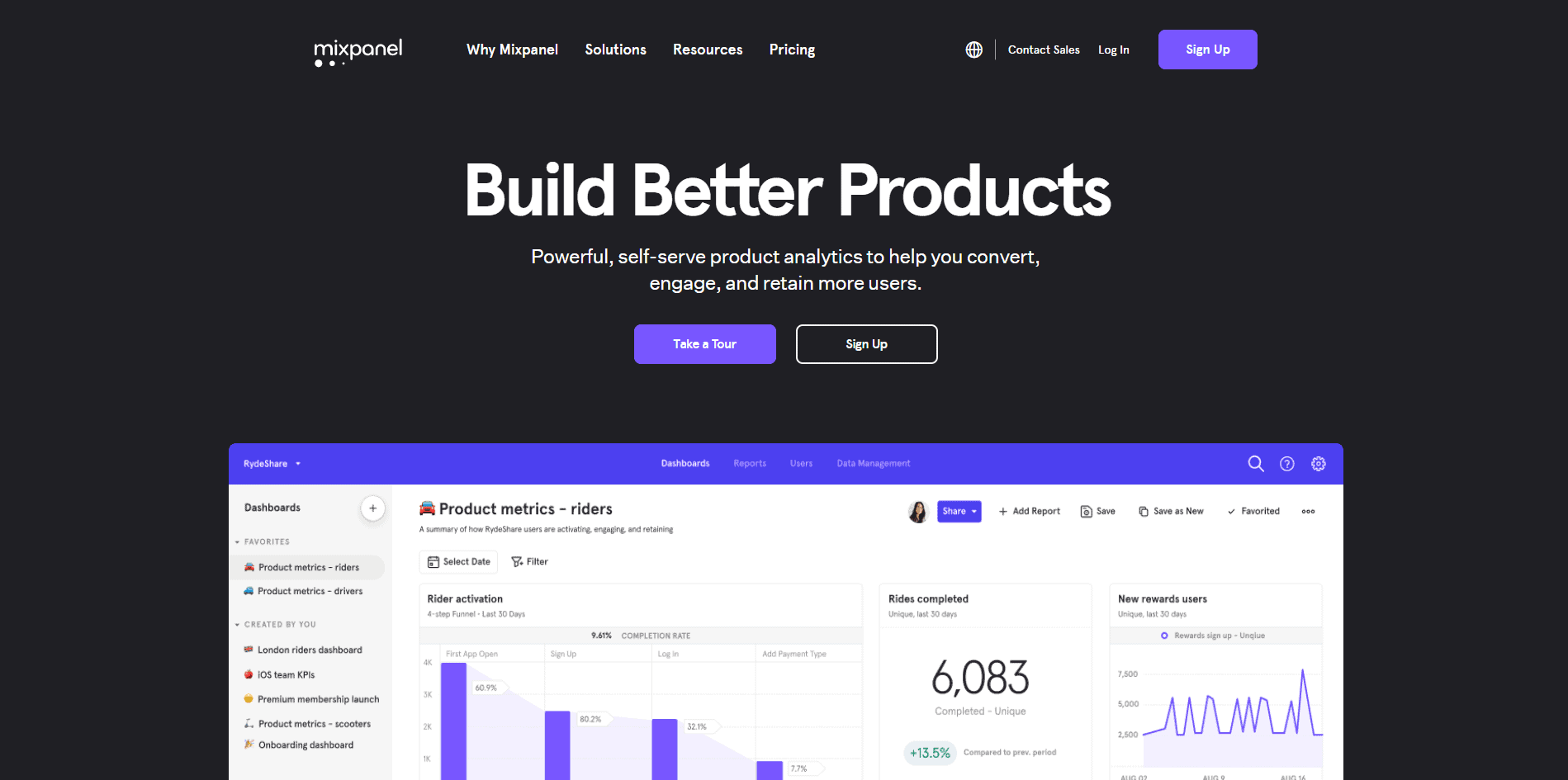 This product analytics tool enables business enterprises to build better products that can convert and engage more customers. This tool is efficient in deriving valuable data insights based on how consumers interact or engage with SaaS products and websites. This web analytics tool is used by over 6,000 business customers including DocuSign, Uber, and GoDaddy.
Best Features of Mixpanel
Interactive reports
Dashboards and alerts for monitoring key metrics
Unlimited segmentation
B2B group analytics
Data integration and management
Scalability
Pricing: Free for up to 100,000 monthly users. Paid plans start from $25 a month.
Good for: Tracking customer behavior across websites and mobile apps, product analytics, traffic analytics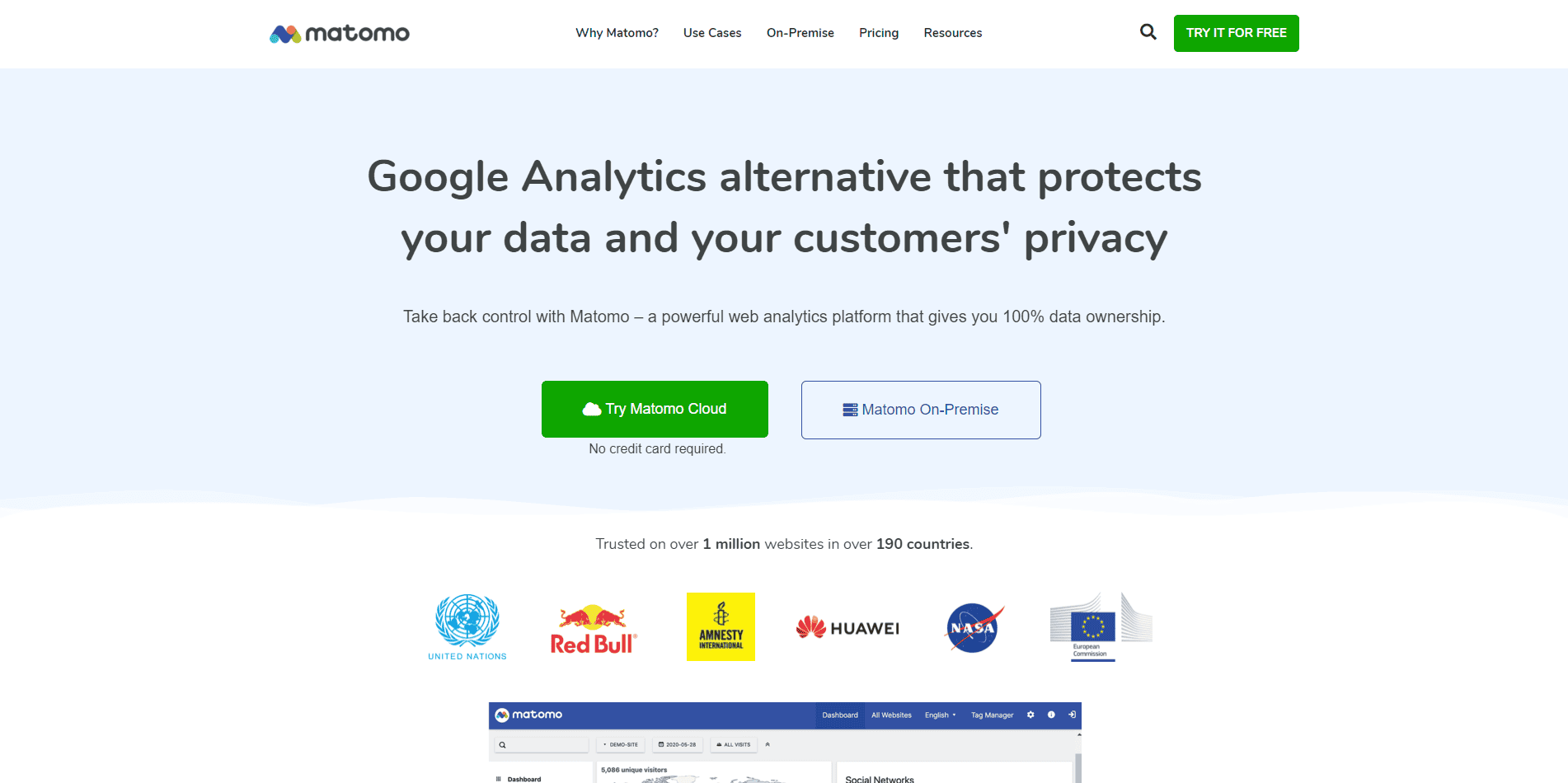 Matomo is another popular tool for web analytics used in business websites. Formerly known as Piwik, Matomo is a free analytics tool that has been trusted in over one million websites across 190 countries. Available on both self-hosted and cloud-hosted platforms, this free tool has been used by leading organizations including RedBull, Amnesty, and Huawei. With the Matomo tool, customers gain 100% ownership of their website data.
Best Features of Matomo
Visitor analytics
User behavior
Tracking on marketing channels
Multi-attribution
eCommerce behavior
Cohort analysis
Pricing: Free for self-hosted websites, while cloud hosting plans start from INR 1,690/- monthly
Good for: Website traffic, user behavior, traffic analytics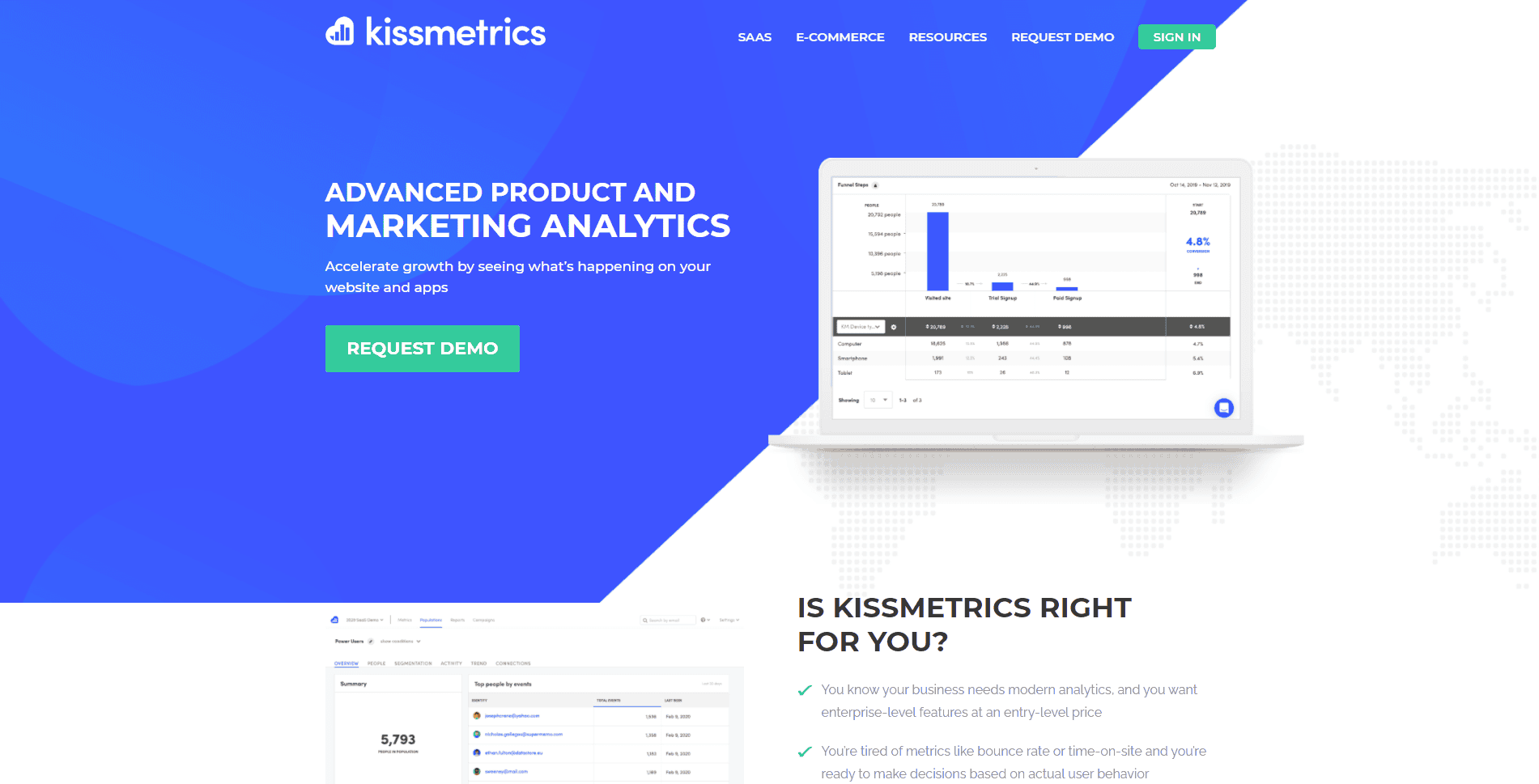 Among the most user-friendly analytics tools in the market, Kissmetrics provides a customized customer feedback form for websites. As compared to Google Analytics, Kissmetrics provides insights on the complete customer journey (across all devices) along with major drop-off customer points on your website.
Best Features of Kissmetrics
Timeline of visitor views
User-friendly visual interface
Tracking of URLs and unique events
Behavioral analytics
User path report for analyzing the user's interaction with the website
Pricing: 30-day free trial, while paid plans start from $149 for a month
Good for: Customer feedback, user behavior patterns, user conversions, tracking of user actions on the website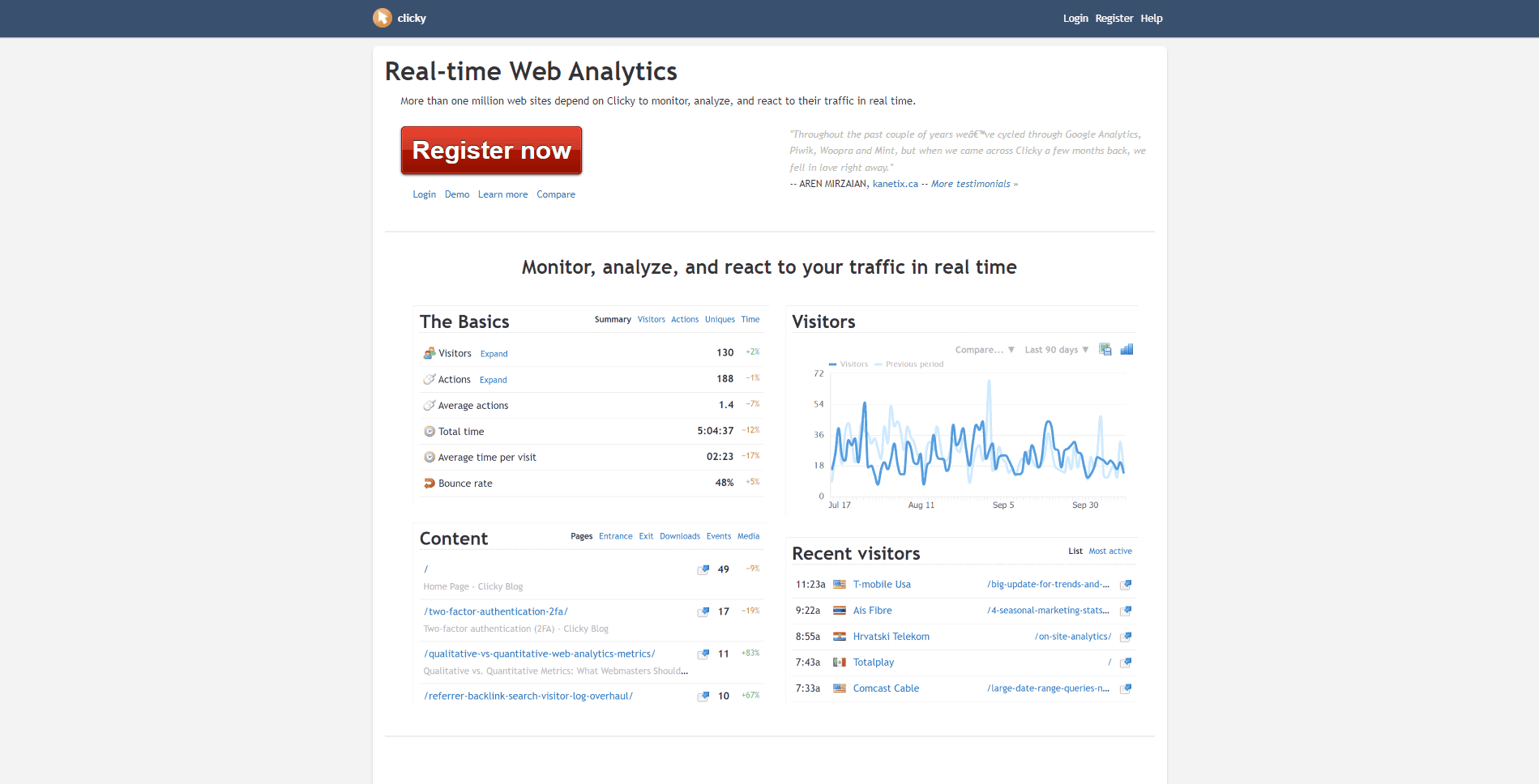 With a base of over one million websites, Clicky is an easy and user-friendly tool that is most suitable for small businesses and individual bloggers. The tool provides detailed insights about visitors along with customer profile information. Their loyal users claim that the Clicky control panel is much more intuitive than Google Analytics. The tool provides analytics-related functionalities like page views for individual visitors, heatmaps, and uptime monitoring.
Best Features of Clicky
Easy configuration
Individual user tracking and monitoring
Tracking of video analytics
Action-based user alerts
Central dashboard with default widgets
Dynamic goal setting
Pricing: 21-day free trial with paid plans starting from $9.99 for a month
Good for: Small business analytics, detailed user tracking, user-friendly interface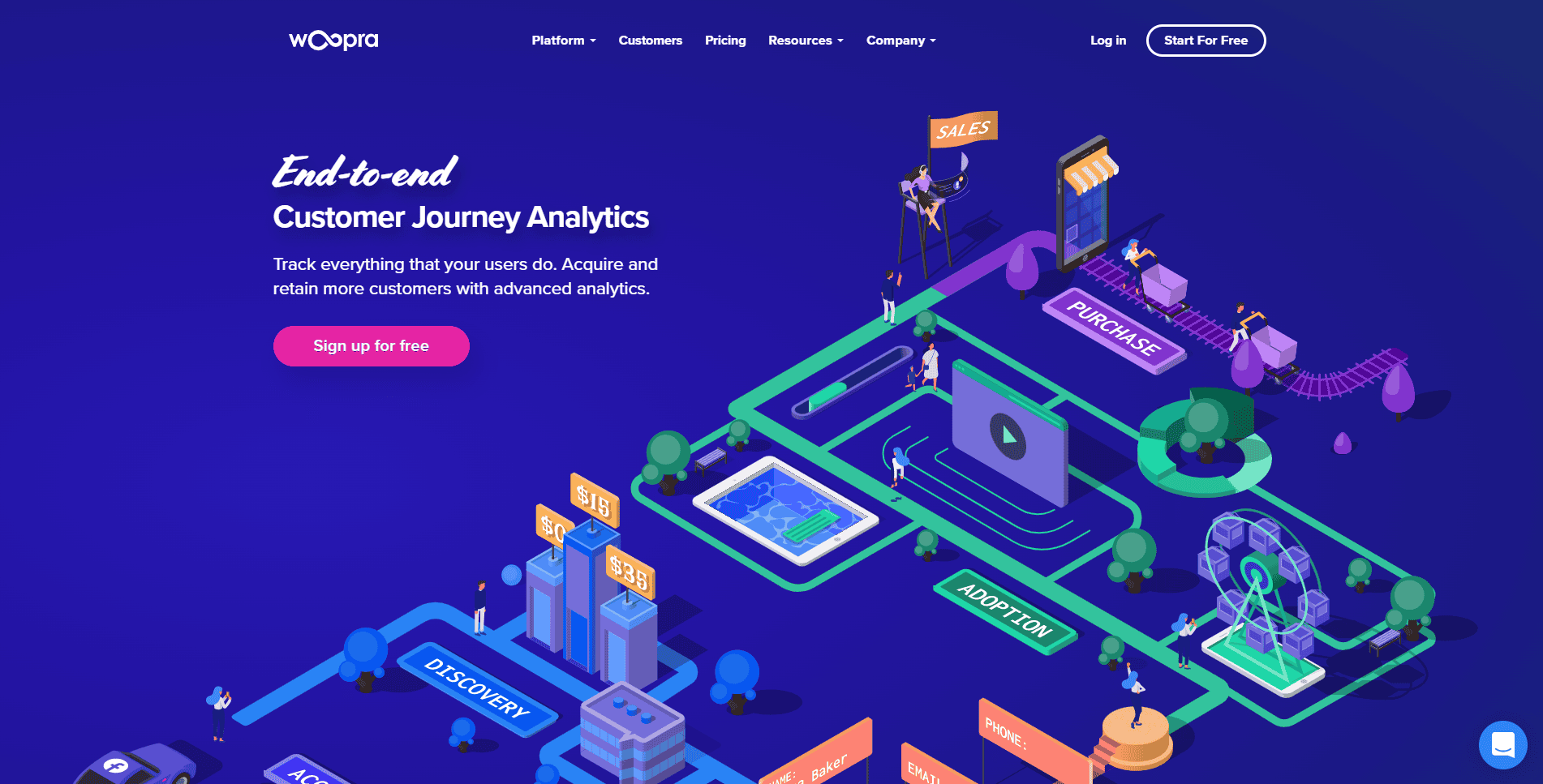 When it comes to implementing customer journey analytics, Woopra is one tool that tracks all user activities and enables business enterprises to acquire and retain more customers. This analytics platform unifies all customer data under one platform, thus providing the ability for businesses to analyze and engage with users across all touchpoints. As compared to Google Analytics, Woopra features a user-friendly interface and can track customer accounts and individual users more efficiently.
Best Features of Woopra
AppConnect for integrating data from email, CRM, and social platforms
Detailed customer profiles
Customer analytics
Automation
Optimization of multiple touchpoints
Pricing: Free use for up to one million actions (every month). Monthly paid plans start from $349 for over one million actions every month.
Good for: Businesses looking detailed customer analytics across multiple touchpoints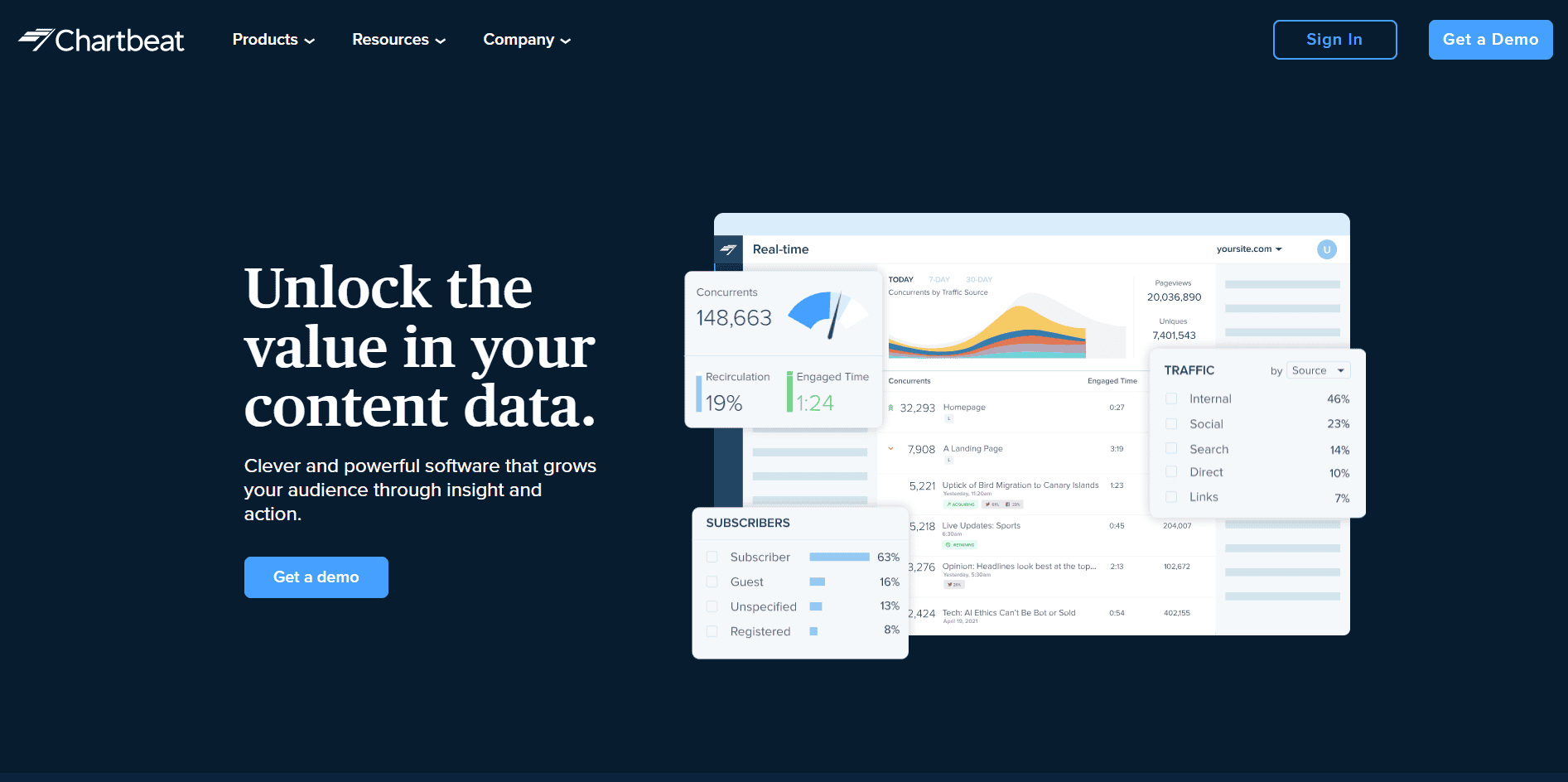 With its real-time analytics functionality, Chartbeat has been a valuable tool for content teams looking for analytics. Launched in 2009, Chartbeat has been used as a web-based analytics tool for online publishers looking to improve the quality of their online content. This tool has been trusted by content teams across leading organizations including Telegraph, Washington Post, Kompas, and Rolling Stone.
Best Features of Chartbeat
Real-time data pipelines
Real-time analytics dashboard for online publishers
The headline and image testing
Content intelligence
Reporting tools
Integration with native apps
Pricing: Determined according to the site traffic, with paid plans starting from $7,000 yearly.
Good for: Mid-to-large companies with at least 5 million page views each month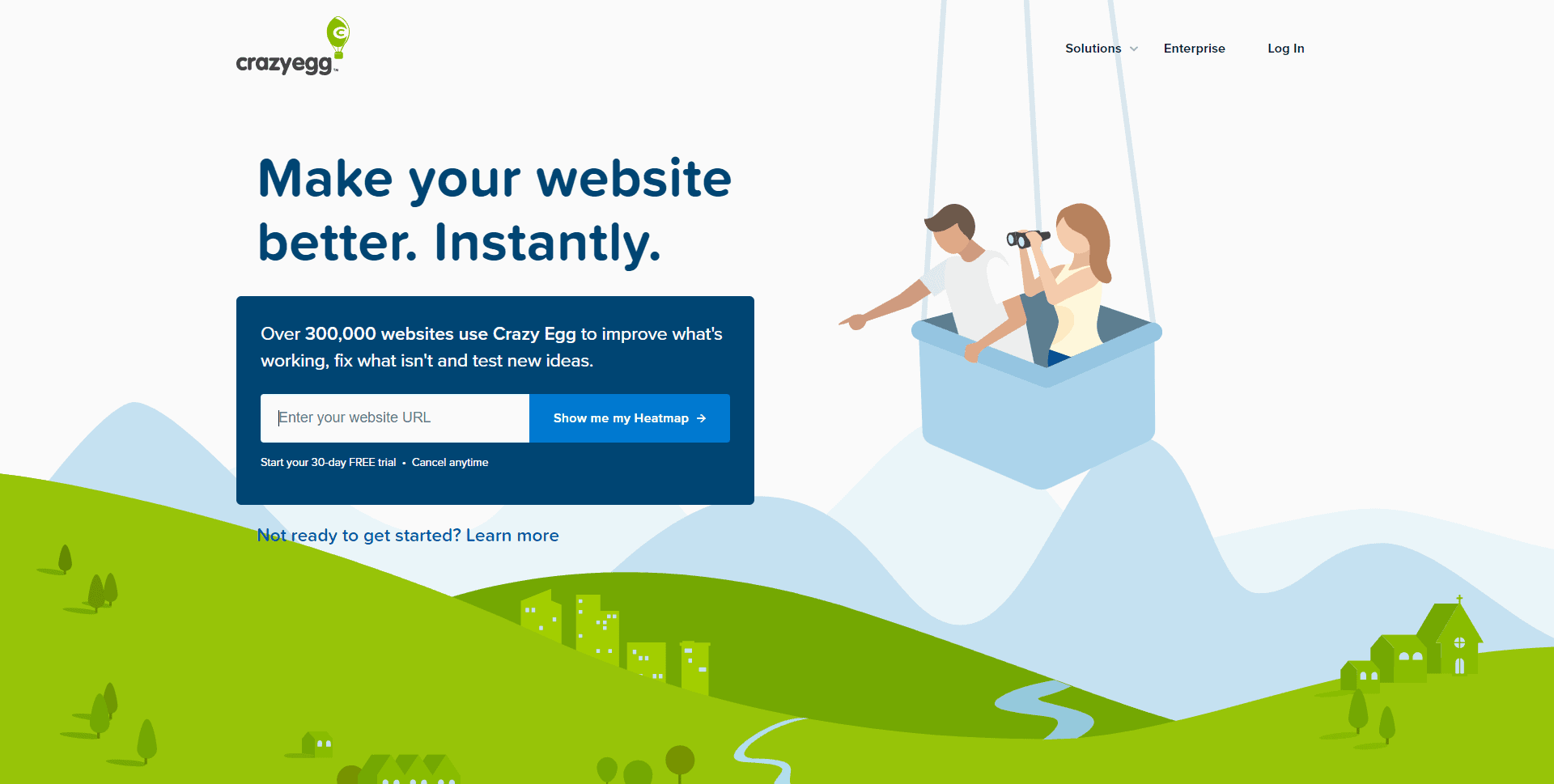 Used by over 300,000 websites around the globe, Crazy Egg is a popular web analytics tool that is used by enterprises to increase their sales and get more incoming traffic. Using video, this analytics tool creates user recordings displaying how any user interacts with the website. The tool is primarily used for website optimization that allows enterprises to track and improve their conversion rates.
Best Features of Crazy Egg
Video recording and playback of user sessions
Detailed heatmap of user activity
Tracking scroll maps and user clicks
Used as an A/B testing tool
Visual mapping functionality
Pricing: Paid plans ranging from $24 to $249 for a month – along with customized plans
Good for: Businesses looking to resolve pain points in customer conversions
Wrapping Up
In a fast-evolving customer-centric business world, web analytics has emerged as the best mode of measuring website performance and determining the best approach to engage with online customers. To achieve this objective, business enterprises are increasingly turning towards free or paid web analytics tools that are the right fit for their organization.
Google Analytics holds the dominant market share in the field of web analytics, but users now have other Google Analytics alternative tools to choose from. The correct choice of the tool is dependent on the business domain, goals, requirements, and the allocated budget available to each organization.
Through this article, we have highlighted 10 of the most popular web analytics tools that are available to business enterprises. We hope this article will enable you to make the right decision and choose the tool that is most suited for your company. Besides these 10 tools, there are many more web analytics tools like Amplitude, HubSpot, and StatCounter that are worth a mention!
We look forward to hearing from you! Do leave behind your comments and thoughts about this content piece. Which tool have we missed out on in this list? Do feel free to share information about them in the comments section below.