5 Best Privacy-Focused Google Analytics Alternatives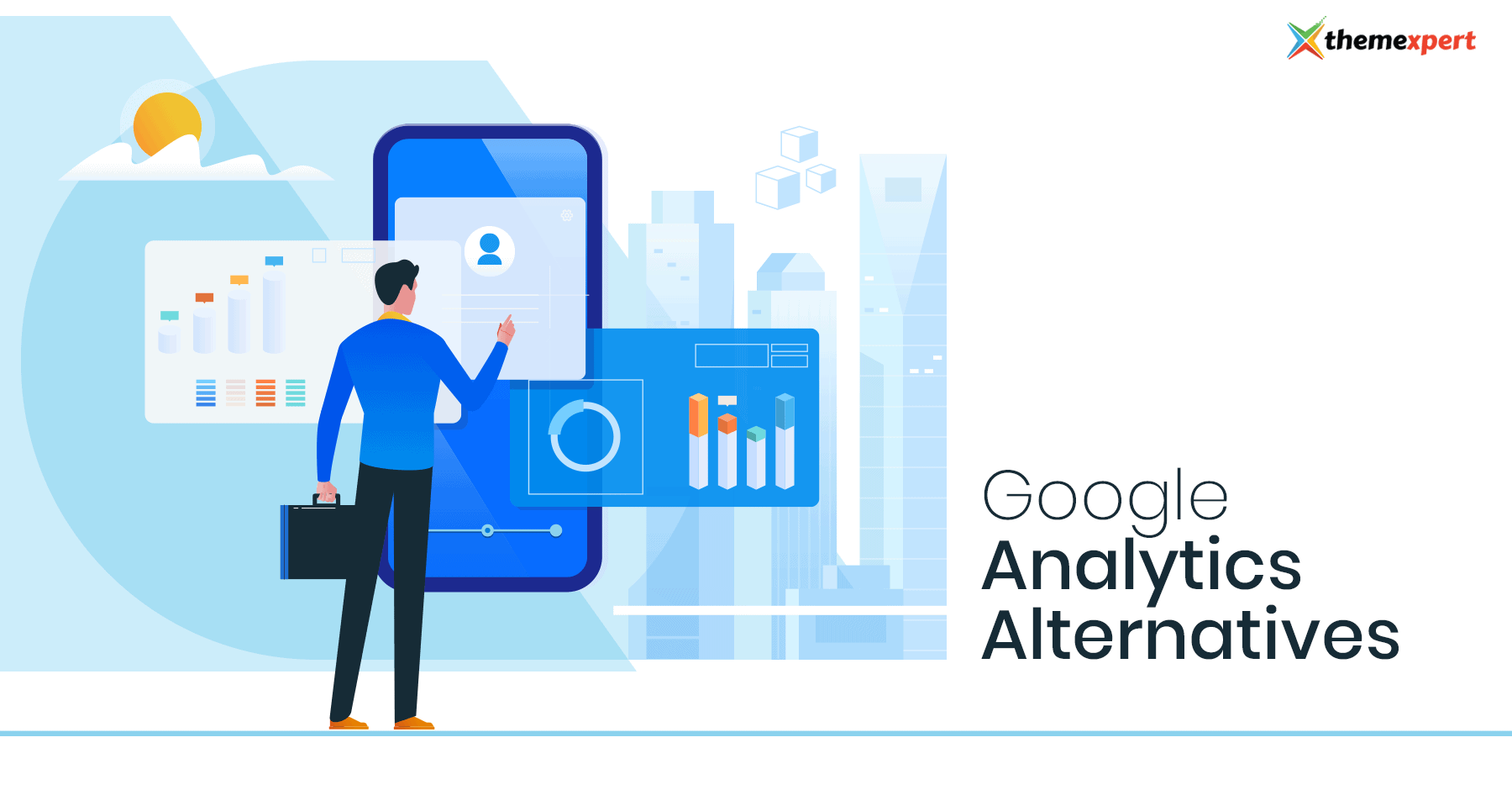 Google is a very well-known name, and its service has been used constantly every day worldwide. In addition to its well-known services like Search Engine and Gmail, its web analytic service Google Analytics is also top-rated. It is free, widely used, and dominates the market through its extensive reporting system.
But the problem is that Google has access to all your data, and you don't want to lose your privacy for a free tool, do you?
Google Analytics lacks privacy, which is why people are turning to better Google Analytics alternatives. Now, the question is, are they worth considering on Google Analytics?
In this blog, we will talk about the five best privacy-focused alternatives to Google analytics and why you should consider using them.
Let's dig in.


What is Google Analytics?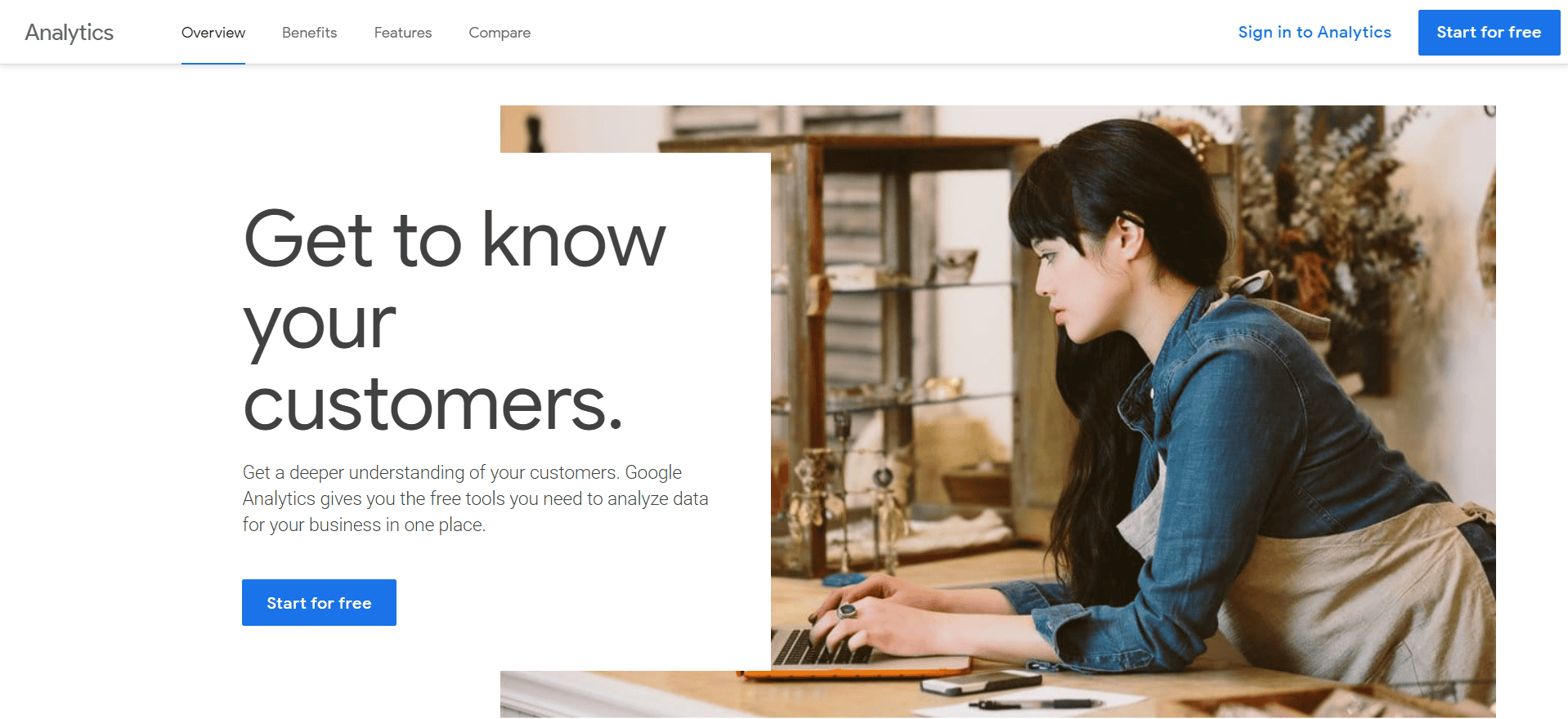 Google Analytics is a web analytics service offered by Google that tracks and reports website traffic, currently as a platform inside the Google Marketing Platform brand. It helps users identify trends and patterns in how visitors engage with their websites.
Currently, Google Analytics works as a platform inside the Google Marketing Platform brand. According to the analytics service report, Google Analytics was the most widely used web analytics service of 2019.
Including some helpful features, Google Analytics has its downsides too. Because of its privacy issues, people are now moving over alternatives to Google Analytics, and the list is quite extensive.
Why should You Consider Using Google Analytics alternatives?
So, what else does Google analytics lacks off and moving forward its user to Google analytics alternatives? You should be well aware of those issues and act accordingly while choosing your next web analytics platform.
Google is one the most prominent tech giant globally, whose revenue has increased by 12.7% in 2020, and it keeps getting higher every year.
We all know Google is best known for its incredible "FREE" products such as Google Search Engine, Gmail, Google Docs or SpreadSheets, etc. If you look at Google's total worldwide revenue, it was 146.9 billion US dollars in 2020. But, if their services are free, how do they make so much profit?
The answer is pretty simple, through you.
You might have come across a phrase, "Data is the New Currency." This very phrase is the secret to Google's money-making.
Most of Google's revenue comes from advertising by taking data from you. They use your data to show you personalized ads, making you more likely to click on them. You might think, this is not so bad. If you are getting ads, you get ads of your choice, right?
But, if you dig in deep its gets much uglier.
Just imagine your browning history, YouTube history, location history, and along with all your emails, Google has it all! Here, you might think, "Well, I am not doing anything illegal, so there is nothing to worry about."
That's one way to stay calm, but the real question is, how much of your privacy are you willing to sacrifice to use Google's "FREE" products?
Google Analytics comes from a tech giant, and this software itself is pretty powerful but also complicated.
There are plenty of YouTube tutorials, google analytics academy courses and google support to help understand the software.
As there are many resources for you to understand the ins and outs of this software, it can still be somewhat challenging for you to grasp it if you are not a tech-inclined person.
But, at the end of the day, it's your business, and it's your decision. Still, if you feel confused, just ask some simple questions yourself.
Is it worth the time you are willing to spend on this software?
Why is analytics important?
Making marketing decisions without proper analytics is outright madness, as you clearly can't depend on luck all the time.
The most significant and crucial benefit of using proper analytics in your business is identifying strengths and weaknesses.
To make things more clear, let's take a blog website as an example. You are starting but aren't sure what sort of posts your audiences like. But you still need to track those to provide the best value to your readers.
Using any analytics platform can make a huge difference as you will track and measure which post attracts more audience and traffic. With the analytics platform, you will track and observe many things such as a high or low bounce rate, traffic count, audience engagement, etc.
With all that accurate information and data, it will be easy for users they engage, convert, or retain to determine which posts perform better.
5 Best Google Analytics Alternatives
So far, we have explained what Google Analytics is, why it is important, and why you should consider using the alternatives to Google Analytics.
Now, it's time to introduce you to 5 of the best google analytics alternatives that will surely blow your mind.
So without further ado, let's jump right into it.
Woopra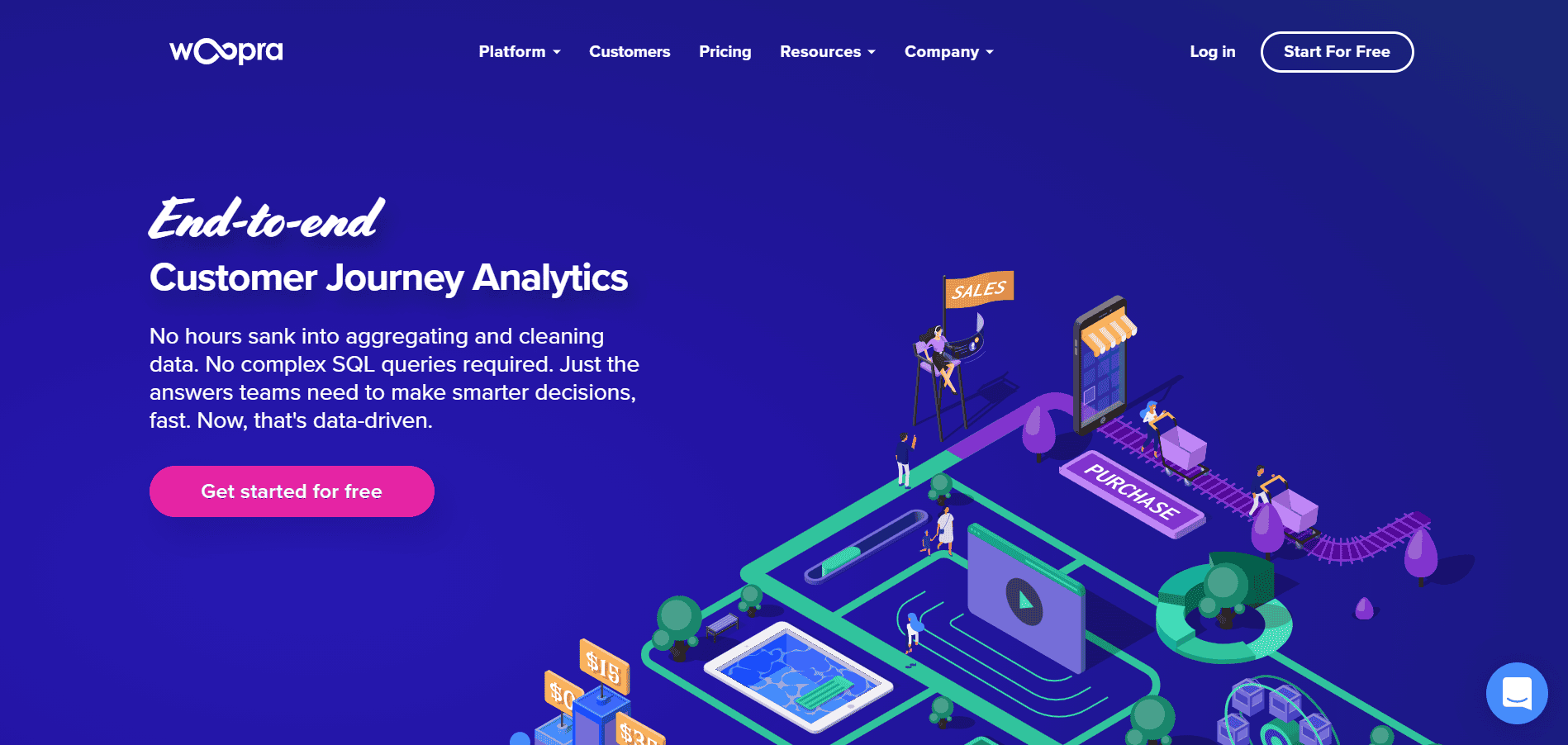 Woopra is undoubtedly the best solution for the sales service and marketing team to track and analyze customer service in real-time. Considering popularity and functionality, Woopra is said to be the best alternatives to Google alternatives so far.
Woopra tracks every single thing on your website and provides a simplified report that everyone can understand fully. The features of Woopra also helps your task more accessible as it offers bunches of information in a report format so that you can utilize it and make some decent profit from it.
Woopra Best Features
Real-time Notifications

Data From Live Chat

Customer Profiles

Scheduled Tasks

Build Customer Segments

Data From The Help Desk

Integrations

Real-time Analytics And Data

Track All Customer Activity

Track All Customer Activity

Website And Mobile App Data

Track Web And Mobile Users

Funnel Reports

Create Custom Reports

AppConnect

User Retention Reports

Data From Email

Live KPI Dashboards

Deliver Triggered Actions

Automatic Real-time Segment Update
Woopra Pricing
Core: Free and includes 30+ integrations along with core analytics and 500K actions per month.
Startup: $349 per month with a 14-day free trial. Includes 1 million actions per month along with advanced analytics and drill-down reporting.
Pro: $999 per year with a 14-day free trial. Includes 5 million actions per month with automation, data loader, and premium support.
Enterprise: On contact. Includes 50 million+ actions per month with data warehouse sync, customer objects, and dedicated support.
Matomo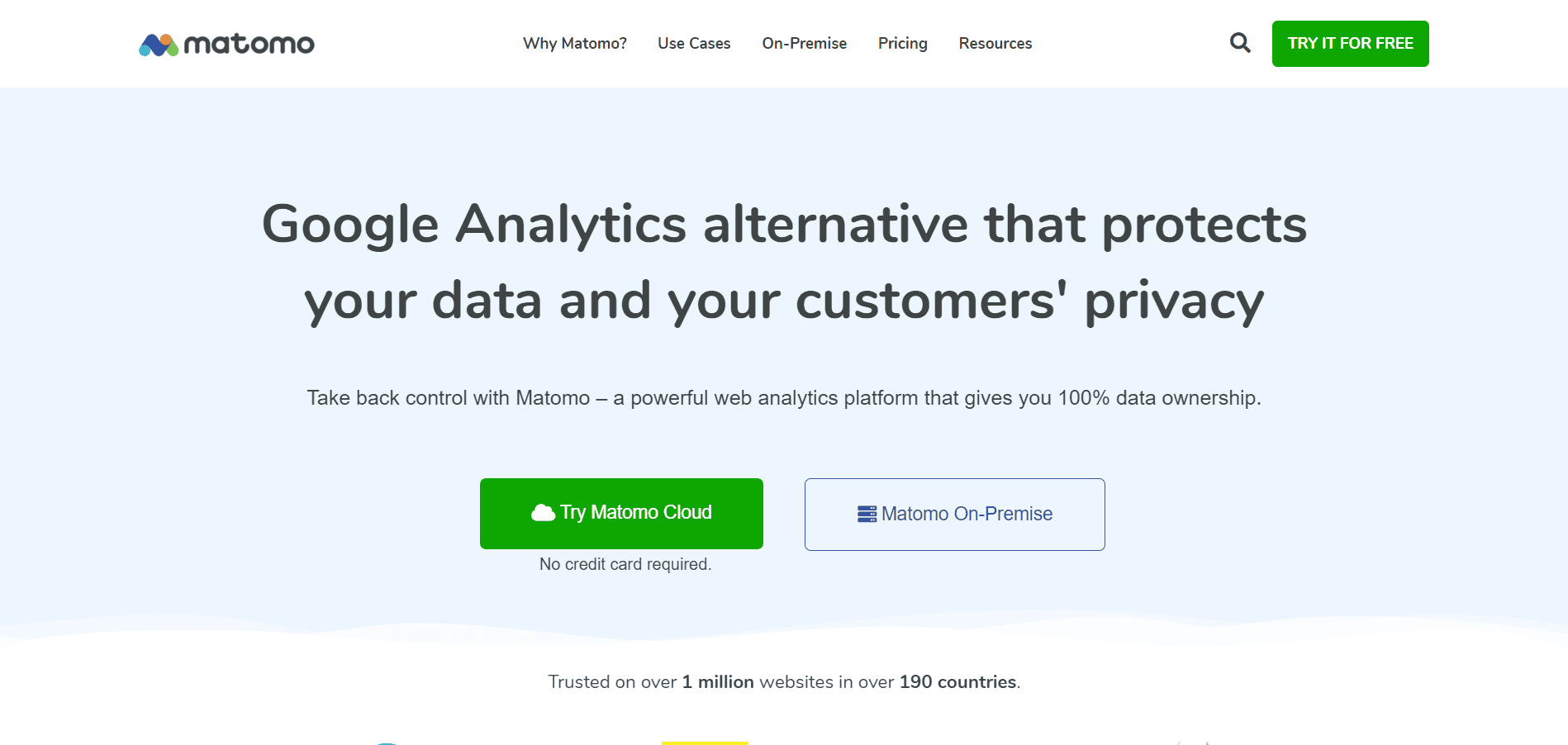 Matomo is formerly known as Piwik, an open-source, free web analytics software that runs on PHP or MySQL webserver. It is pretty popular as Google analytics alternatives for its easy-to-use and free features that help the user track online visits to multiple websites and provide sophisticated reports on those analyses.
Matomo Best Features
AB Testing

Alerts/Notifications

Behavioral Analytics

Campaign Management

Campaign Tracking

Channel Attribution

KPI Monitoring

Multiple Site Management

Conversion Tracking

Customer Profiles

Customizable Dashboard

Private Dashboards

Data Analysis Tools

Performance Metrics

Data Import/Export

Data Visualization

Time on Site Tracking

Goal Setting / Tracking

50+ Languages Available
Matomo Pricing
Matomo offers two packages, which are On-Premise and Cloud.
On-Premise is mostly free, but you have to pay for some of their features to use them.
Cloud is paid and most likely their most premium package. The price of this package depends on the monthly traffic you are expecting. For 50,000 page views, you have to pay 29 EUR or around 34.61 USD; for 100,000 page views, you need to pay 49 EUR or about 58.47 USD.
The more page views you expect, the higher cost you have to pay them. The monthly traffic count can range from 50,000 to 50 million or more which you can choose freely from their option while buying their package.
StatCounter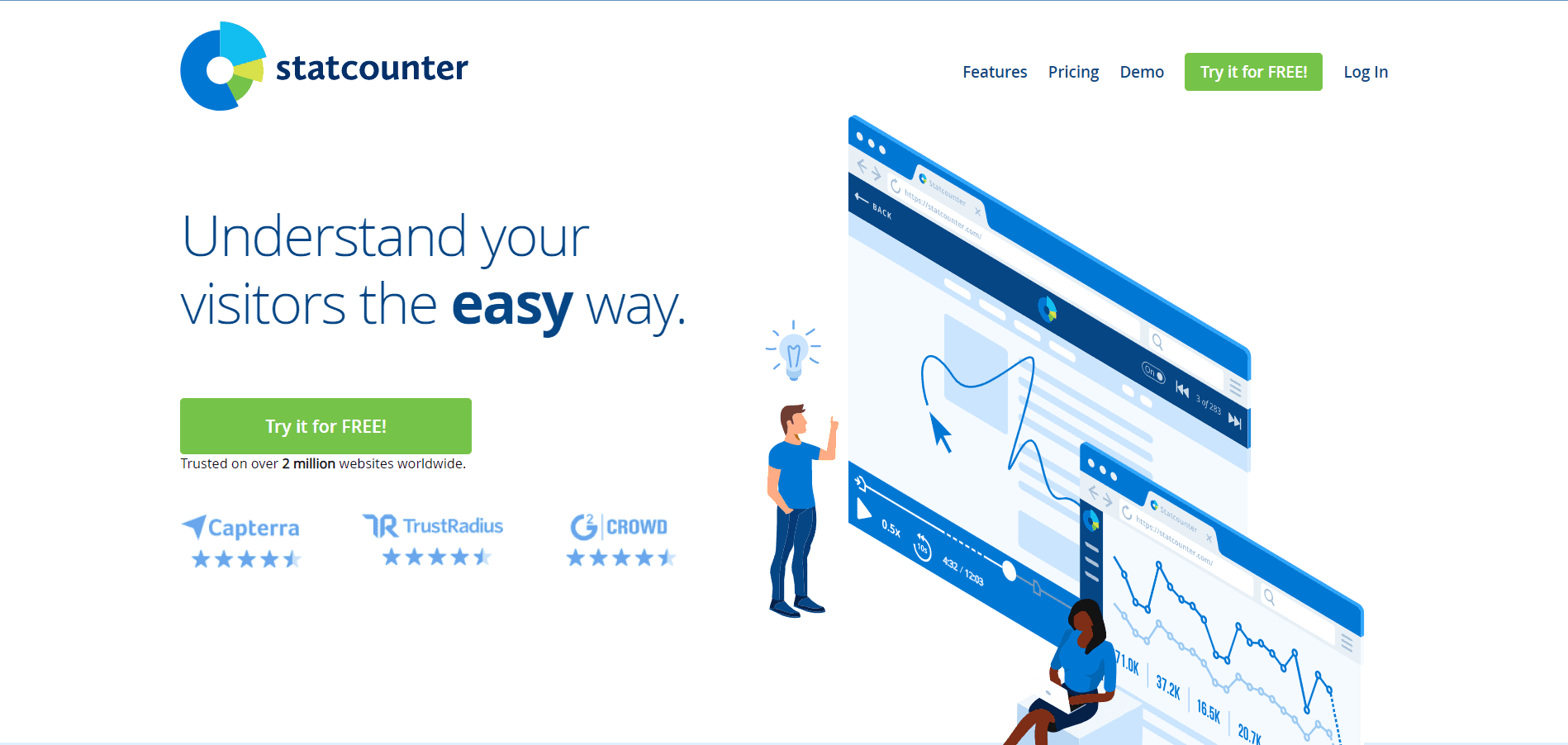 StatCounter is a web traffic website launched in 1999. It is another popular choice as in May 2019 with used by 0.9% of all websites. Analyzing your traffic trends over time, StatCounter also provides a live feed on your visitors as they land and navigate through your website.
StatCounter Best Features
Analyze Your Traffic Trends Over Time

Track Your Paid Traffic & Detect Click Fraud

Never Miss An Important Visitor

Traffic Sources

Visitor Locations

Visitor Engagement

System Stats

Popular Pages

Exit Links

Analyze Your Google Keyword Data

Add Descriptive Information About Your Visitors

Get The Complete Story In Your Inbox

Keep Your Bounce Rate In Check

Visitor Activity Feed

Visitor Paths

Magnify

Cut Through The Noise Of Your Web Traffic And View Valuable Pieces Of Information

Export Your Data For Further Analysis

Keep Track Of Your Website With A Mobile App
StatCounter Pricing
StatCounter has two packages which include a free and a paid package.
Basic: Free package.
Premium: Starts from $9 per month or $89 per year for 100,000 page views. The price varies as you increase the page views. The page views count starts from 100,000 to 100,000,000.
SE Ranking
SE Ranking is another immersive Google analytics alternative that provides all the required ingredients for successful digital marketing. It is suitable for both small businesses and medium to big size agencies.
Other than being an SEO software, SE Ranking brings lots of valuable tools for digital marketing to the table. It also offers advanced tools for keyword position tracking, research, analysis, suggestions, etc., which will definitely come in handy.
SE Ranking Best Features
Keyword Rank Checker (Google, Yahoo!, Bing)

Website Audit

On-Page Checker

Backlink Monitoring

Backlink Checker

Marketing Plan

Keyword Grouper

Keyword Suggestion Tool

SEO/PPC Competitor Research

Page Changes Monitoring

SERP Tracker

SERP Checker

Social Media Management

White Label

Lead Generator

Personal API

SEO Reporting Tools

Google Location Changer

MOZ

Raven

WebCEO

Cognitive SEO

Traffic Travis

AgencyAnalytics

Upcity

Unamo

SpyFu

Advanced Web Ranking
SE Ranking Pricing
SE Ranking offers three packages, and the prices vary upon the time you want to pay.
Essential: $18.6 per month for weekly payment, includes 60,000 keyword checks on ten websites.
Pro (Most Popular): $42.5 per month for weekly payment, includes 240,000 keyword checks on unlimited websites with three user seats.
Business: $90 per month for weekly payment, includes 600,000 keyword checks on unlimited websites with ten user seats.
Mixpanel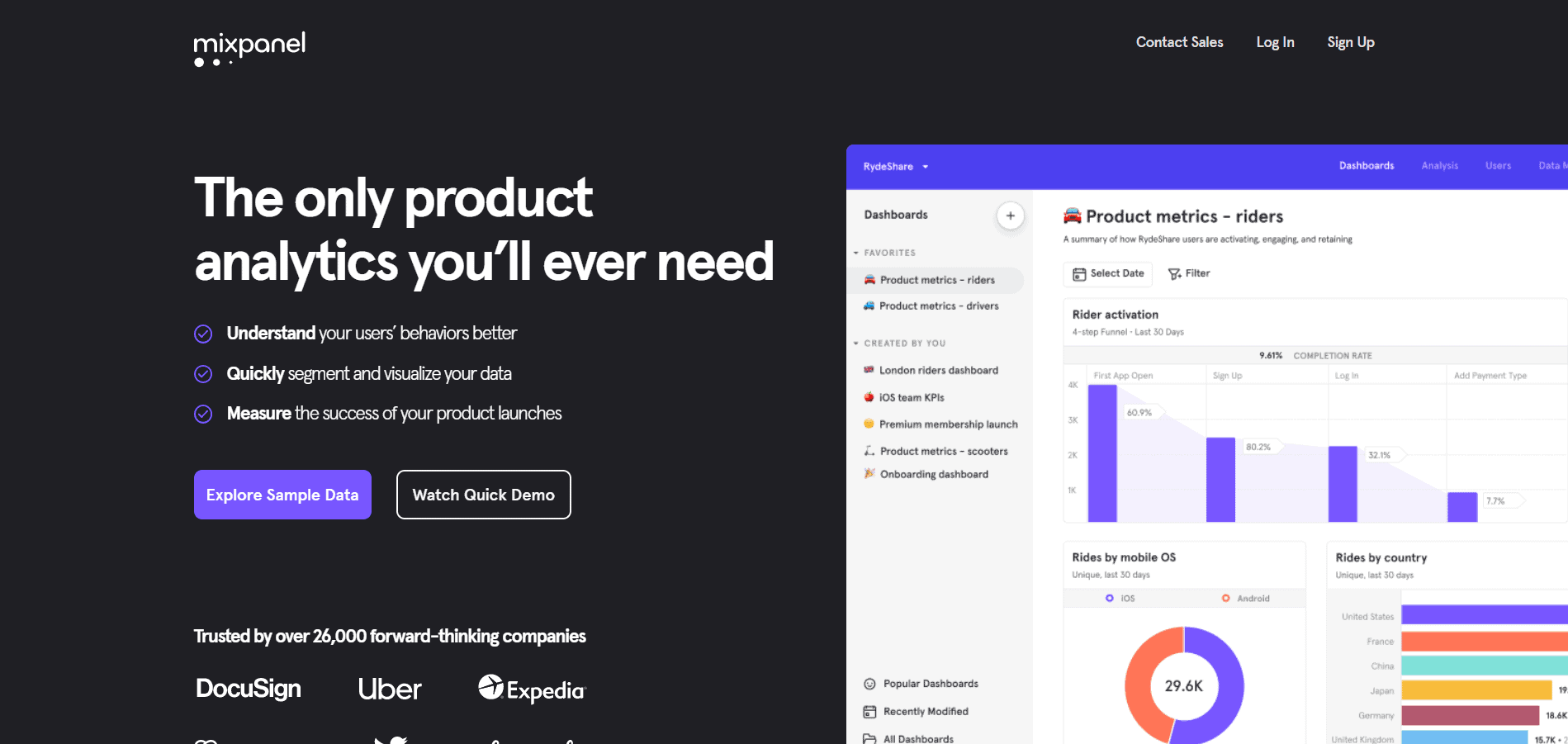 Mixpanel is software that will help you make important decisions faster with its advanced data analysis power. It helps your team know valuable information about your customers that is nearly impossible to find, including why your customers are engaging, converting, or retaining. And all of those pieces of information will be provided in real-time by Mixpanel.
Mixpanel Features
Engagement

Standard Event Tracking

Retention

Conversions

Entry and Exit Pages

Customer Event Tracking

Return

Funnels

Real-Time Reporting

Segmentation

Trending

Customer Reports and Dashboards

API / Integrations

Performance and Reliability

User Data
Mixpanel Pricing
Free: Completely free package.
Growth: Starting at $24 per month, including all free features and unlimited saved reports & cohorts.
Enterprise: On contact inclusive of all the features of the Growth package and all the best features that Mixpanel has to offer.
Conclusion
In the fast-moving age of the internet, having the best platform for analytics is essential for businesses to make tough and powerful decisions to gain more profit and customers. No matter what you are trying to build, having the best analytics platform from the list above will definitely help you beyond google analytics.
Some of them have a free trial or packages, which you can definitely consider if you don't want to spend any money or just want to try things out.
So, These were the list of best alternatives to Google. Let us know which one do you use or decide to use in the comment section below.