5+ Best Shopify Live Chat App 2022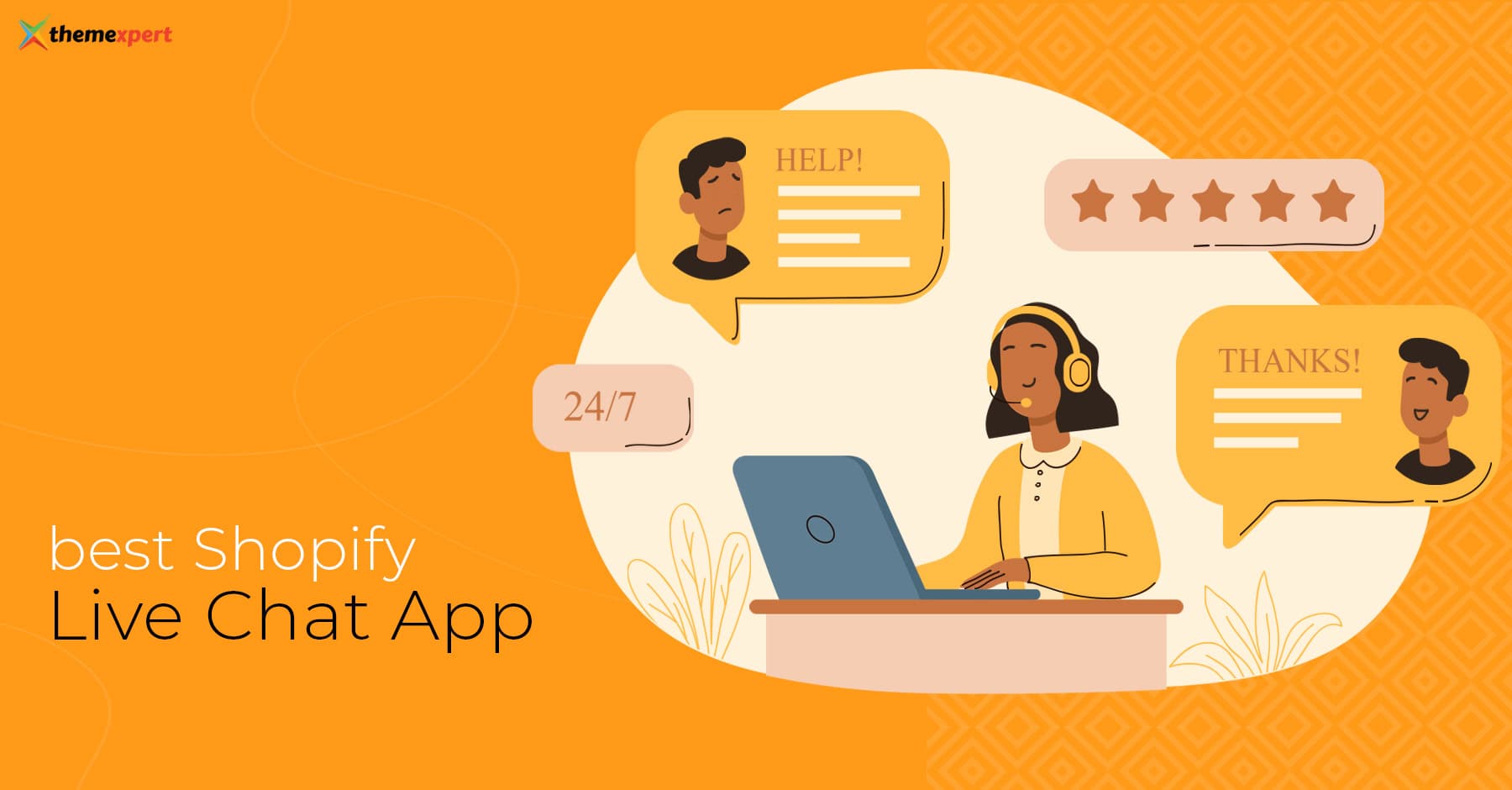 Setting up an online shop has become a cakewalk in the age of Shopify and such tools. However, many users (including me) often feel like something is missing. A certain disconnect, if you will.
Then there were issues like not being able to contact people in real-time when making a purchase. That's when live chat apps came in to fill the void, and fill it they did. Now, most of the marketplaces incorporate a Shopify live chat app (or whichever builder they use).
But thanks to the saturated market, finding the best chat app is no easy chore. Well, that's where this article comes in. I've listed some of the best chat apps for Shopify and compared their benefits to help you up to your eCommerce game!
Read also: 8 Best WordPress Chat Plugins for Live Chat Support
Does Your Shopify Store Need a Live Chat App?
Most quality chat apps will cost you, so it's only normal to ask whether it'll benefit your business. In one word — yes, it will. Here are some benefits you'd receive.
Connection and Loyalty: Firstly, providing live chat support allows you to establish a connection with potential customers. It could be through any queries about your products, support, or a follow-up on a purchase. Regardless, this connection that you create through the chat software often results in brand loyalty. According to a study from Kayako, around 52% of consumers are more likely to be loyal to a company with live chat support.
Cost-Effectiveness and Less Work: Another benefit is that having such a chat solution is far more cost-effective than doing it over the phone. The operators can do more in real-time at a lower cost — this is all a shop owner can dream of!
Expanding Your Business: According to the same research by Kayako, around 29% of users have told their friends and family about a pleasant live chat experience. That alone can show you that using a quality chat tool can allow you to grow your business faster.
As you see, the benefits of having a live chat service in your shop can make a significant difference. So, the answer to whether you need it is still a resounding yes!
Best Live Chat App for Shopify
Now that we've got the necessities and benefits of having a live chat app incorporated, it's time for the meat of the discussion.
While there were dozens of excellent services to pick from, I looked at a few essentials to boil them down to a few. First off, I took a look at the feature set, meaning the number of features and benefits the app provides.
Then came the customer service and user reviews (as well as the userbase). If a specific app didn't have a significant number of users, it was out of the list. That being said, you shouldn't have a hard time seeing why these apps are on my list.
Let's find out which app will suit you best.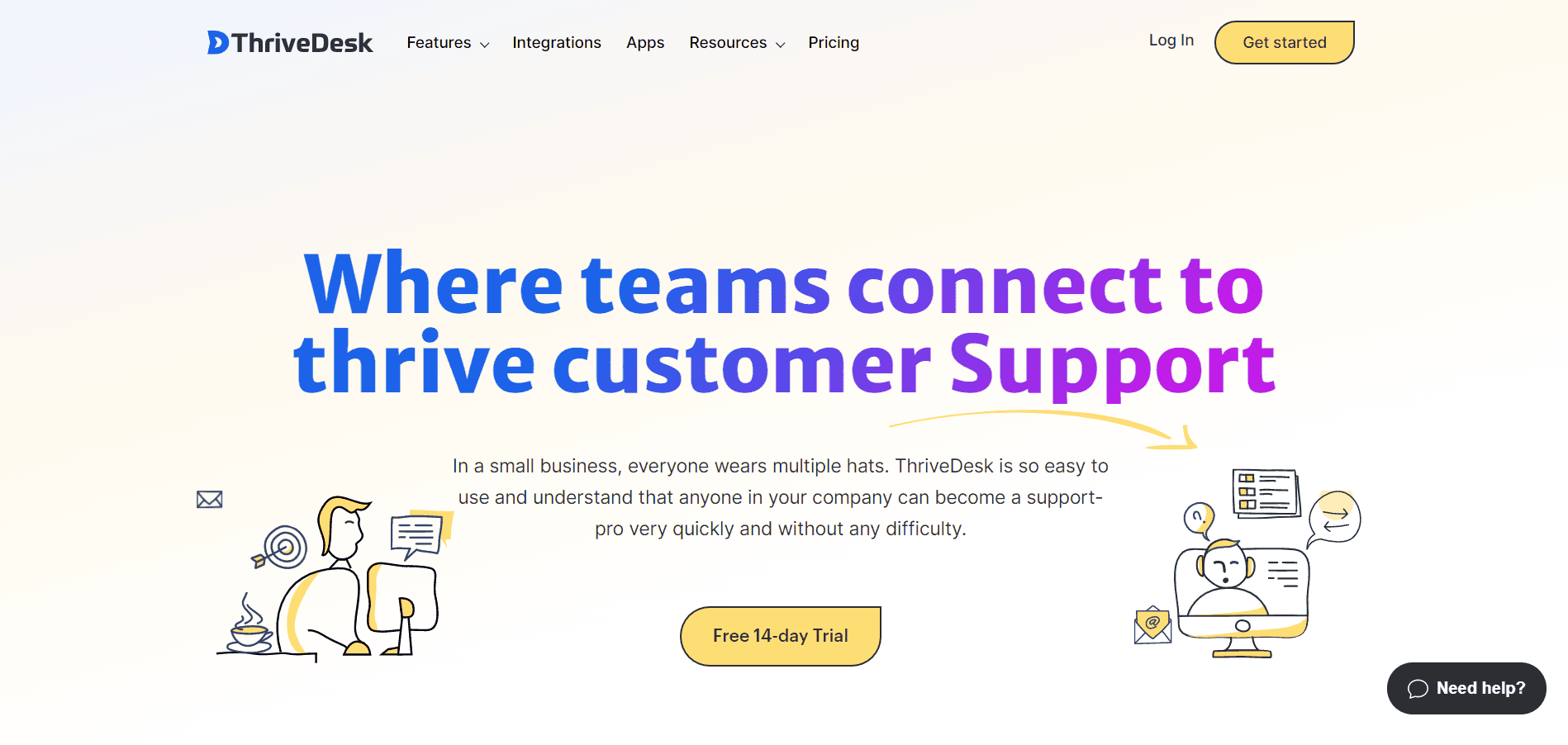 At the top of the list, we have ThriveDesk — a household name when it comes to live customer support. What sets ThriveDesk apart from the rest for me is its Shared Inbox.
You'll often realize that the live service becomes more efficient when it's done as a team, as areas of expertise matter. ThriveDesk allows the owners to create a shared inbox and have a team collaborate to offer a better experience.
Another benefit is that there's no extra installation hassle. It's well-integrated with Shopify, and setting things up is effortless.
The drawback is that it doesn't have apps for mobile chat, meaning not all mainstream OS will support it. Nevertheless, it's still possible to integrate ThriveDesk into multiple workflows and tools.
Here's a shortlist of the rest of the features of this Shopify live chat app.
Key Features
Shared inbox for real-time team collaboration, making the live chat experience smoother.
Automatic reply support to respond users ASAP.
Multiple workspaces to switch between.
ThriveDesk's OAuth API to achieve better control.
Advanced markdown and formatting support to make things more readable and expressive.
Satisfaction rating system for customers.
Conversation history support to help make the support flawless.
The ability to update customer conversations through email.
Webhooks allow for posting data to the server with ease.
Compatibility with other web services.
Pros
Efficient app integration support.
You can access all your emails through the shared inbox.
Automated replying from the knowledge base to keep things swift.
The workflow is easy to figure out for operators.
Customer Relationship Management software shows all of a customer's data in one place.
Cons
No quality mobile app support.
Pricing
ThriveDesk is apparently a customer service software that provides Shared Inbox, Live Chat, Reporting, Community, Knowledge Base, WooCommerce Integration all-inclusive at a single price.
Starter: $15/month for up to 5 users
Pro: $79/month for up to unlimited users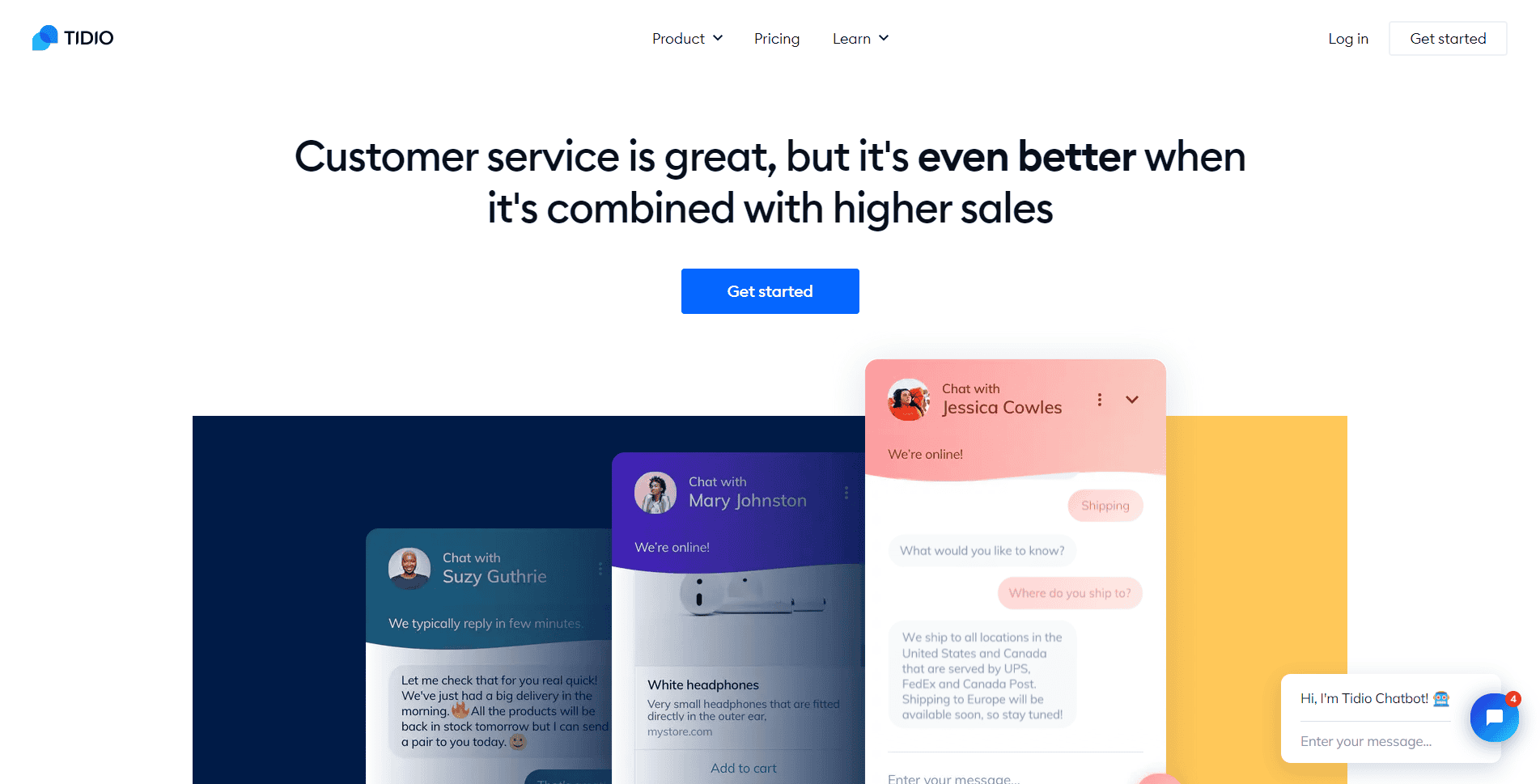 Tidio is one of the highest-rated apps in its category, and it's a solid option if you want the best live chat app for Shopify. First off, it has excellent compatibility. From website to emails to Facebook chat — you can integrate Tidio into every aspect of your business.
If you want to utilize live chat backed by chatbot marketing, this is where you get that combination. It offers elements like delays, images, quick replies, galleries, and everything else in between.
This Shopify live chat app also allows you to find a complete user overview during the chat. For example, it's possible to see the previous conversations, contact details, and overall information about a user at the click of a button.
There is a caveat, though. You cannot send broadcasts or sequences with this service, which is understandable given their focus on websites.
The fascinating property of this product is the recognition tool, however. It's easy to train the tool to figure out the users' intent and direct them to the right place!
Key Features
24/7 support with the help of chatbots.
Users can design live chat widgets however they want.
Extensive monitoring system to automate live chats and reduce the need for human effort.
Powerful AI system that can help the operators view information at the click of a button.
Intuitive, customizable, and modern user interface.
Support for multiple languages.
Prebuilt templates for the users to utilize.
Pros
Abandoned Cart Bot can reduce the overall abandonment rate.
Customizable widgets according to your brand and design language.
Powerful monitoring capabilities for better insights.
AI tools to streamline the workflow.
24/7 continued support with chatbots.
Cons
No broadcasts and sequences support.
Pricing
There are a few options for the pricing. Firstly, there's a free package with 3 operators with 500 emails a month. Chatbots goes for 39/month (3 operators), Communicator for 15/month (per operator), and Mailing for 25/month (3 operators).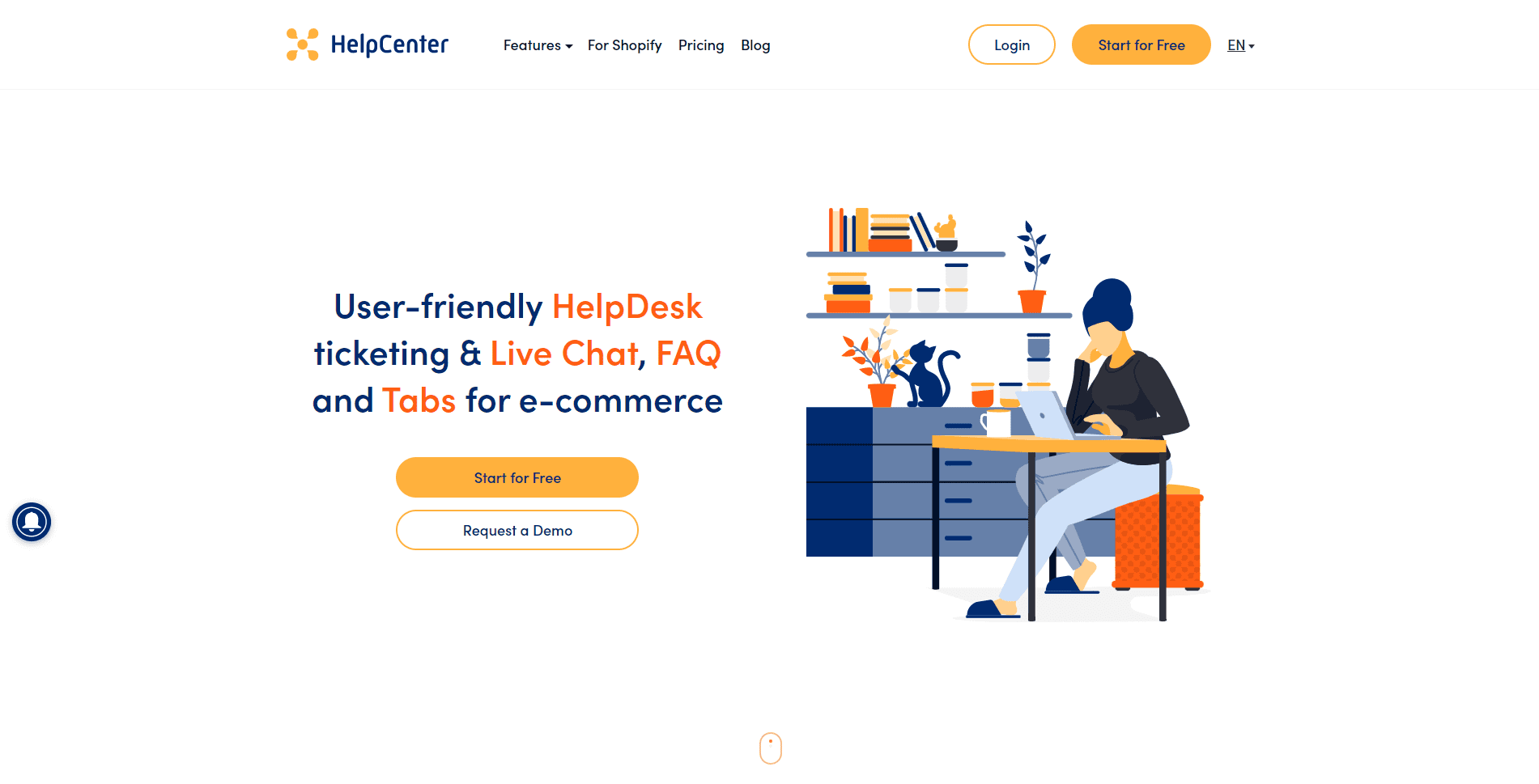 Next on the list for the best live chat app for Shopify, we have HelpCenter. This is a tool that not only tries to increase your live chat's performance but also makes it efficient.
For one, the user can have all the messages in one place, be it on the Shopify app or on Facebook messenger. This allows the support team to work faster and reach the customers quicker.
Another benefit is that HelpCenter allows you to use one account for other online marketplaces and communication channels. This, along with the excellent user interface, streamlines the workflow in a way that few services can.
Furthermore, it's more than just a Shopify customer service app. It comes with a unique FAQ builder that's easy to navigate and understand. As a result, many of the queries can receive solutions without needing human assistance.
Key Features
Support for rich media.
Internal linking right from the editor.
Advanced markdown support with quick formatting.
AI-based search system.
Dynamic FAQ builder to solve problems without human assistance.
Template editor with universal templates.
Compatibility with multiple languages.
Insights boosted by AI.
Pros
All the necessary chats in one place.
Text formatting support makes things more expressive.
Access to multiple stores and marketplaces with one account.
Template editing with real-time preview.
SEO-friendly FAQ builder.
Cons
Bug fixes can occasionally take a bit of time.
Pricing
There are three pricing options for this Shopify customer support app. For monthly subscriptions, the personal package costs $19/month for one user, the Team package costs $39/month for ten users, and Enterprise costs $199/month with unlimited users.
For yearly subscriptions, the Personal package costs $9/month, the Team package costs $29/month, and Enterprise costs $149/month.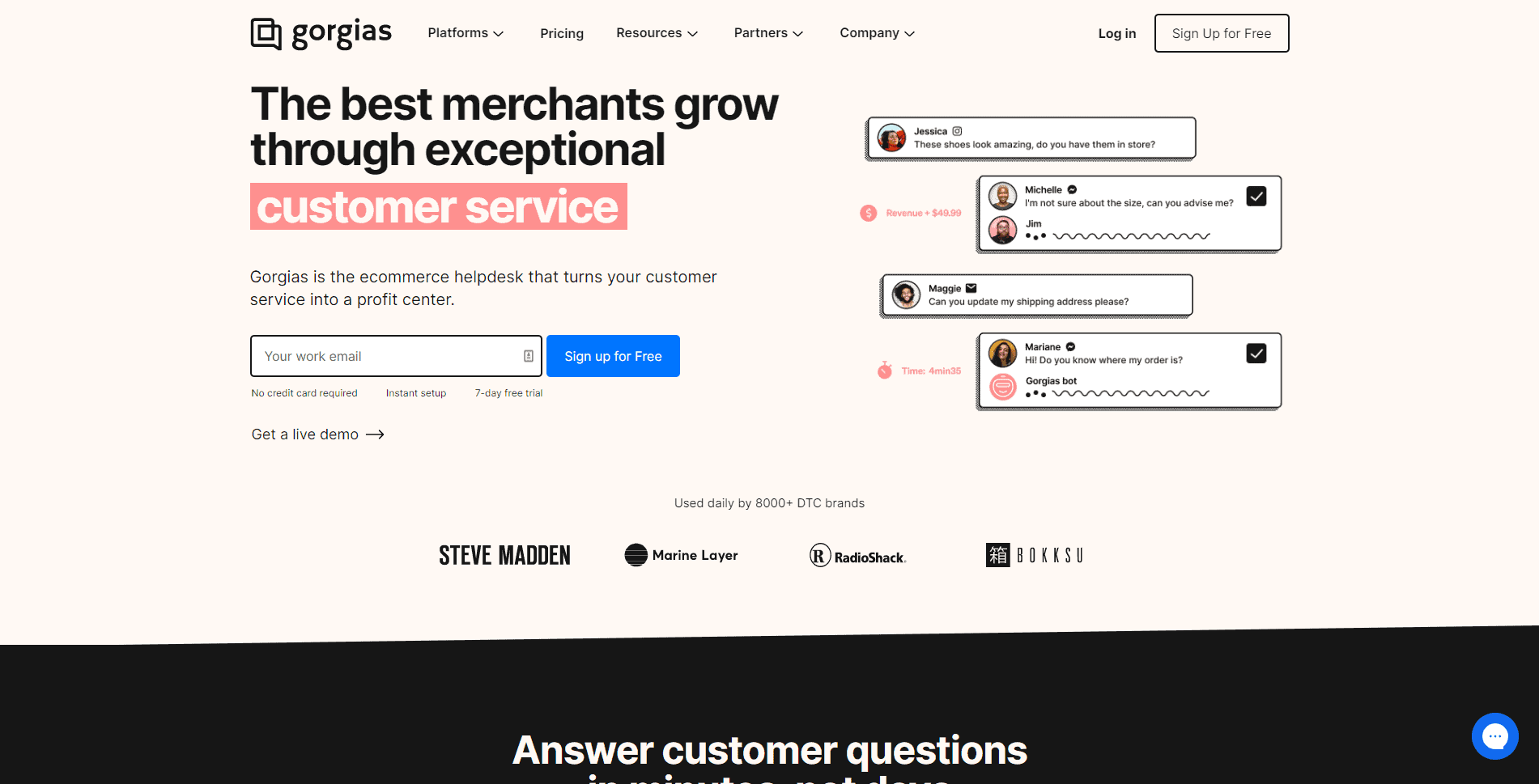 Gorgias will be undoubtedly a part of any list if you're looking for a Shopify ticketing app. Many store owners often talk about how a significant portion of their chats consists of some basic questions.
Gorgias solves that by automating that portion and answering up to 20% of the queries without any operator assistance.
Another benefit is that this Shopify live chat app allows the support desk to access a customer's details and order history without having to navigate anywhere. This works flawlessly combined with the effortless method to input the user's data from Shopify.
Furthermore, this chat support software comes with an AI system that can help determine the user's intent. And like any quality Shopify chat app, it comes with extensive statistics and analytics to keep things running smoothly.
Gorgias also allows for multi-store connectivity, meaning you could add all your stores to one account and control them with ease.
Key Features
Easy access to customers' order history.
Order updates directly through the help desk.
AI to determine customers' search intent.
Automation for typical workloads.
Ticketing system to centralize all of the communication methods.
One account with multiple store connections.
Quick and effortless live chat system.
Pros
Supports communication from multiple sources.
Prebuilt templates for quick access.
Excellent integration with Shopify and Shopify Plus.
Intent detection AI reduces clutter and smoothens things.
Controlling Shopify through the help desk is easy.
Cons
Extremely expensive with the full-fledged package costing $750.
Pricing
For monthly subscriptions, the Basic version costs $60/month (350 monthly tickets), Pro costs $300/month (2000 monthly tickets), and Advanced costs $750 a month (6000 monthly tickets).
Yearly payments can make this Shopify customer service app somewhat cheaper, and there's also a way to contact them to get a quote for enterprise solutions.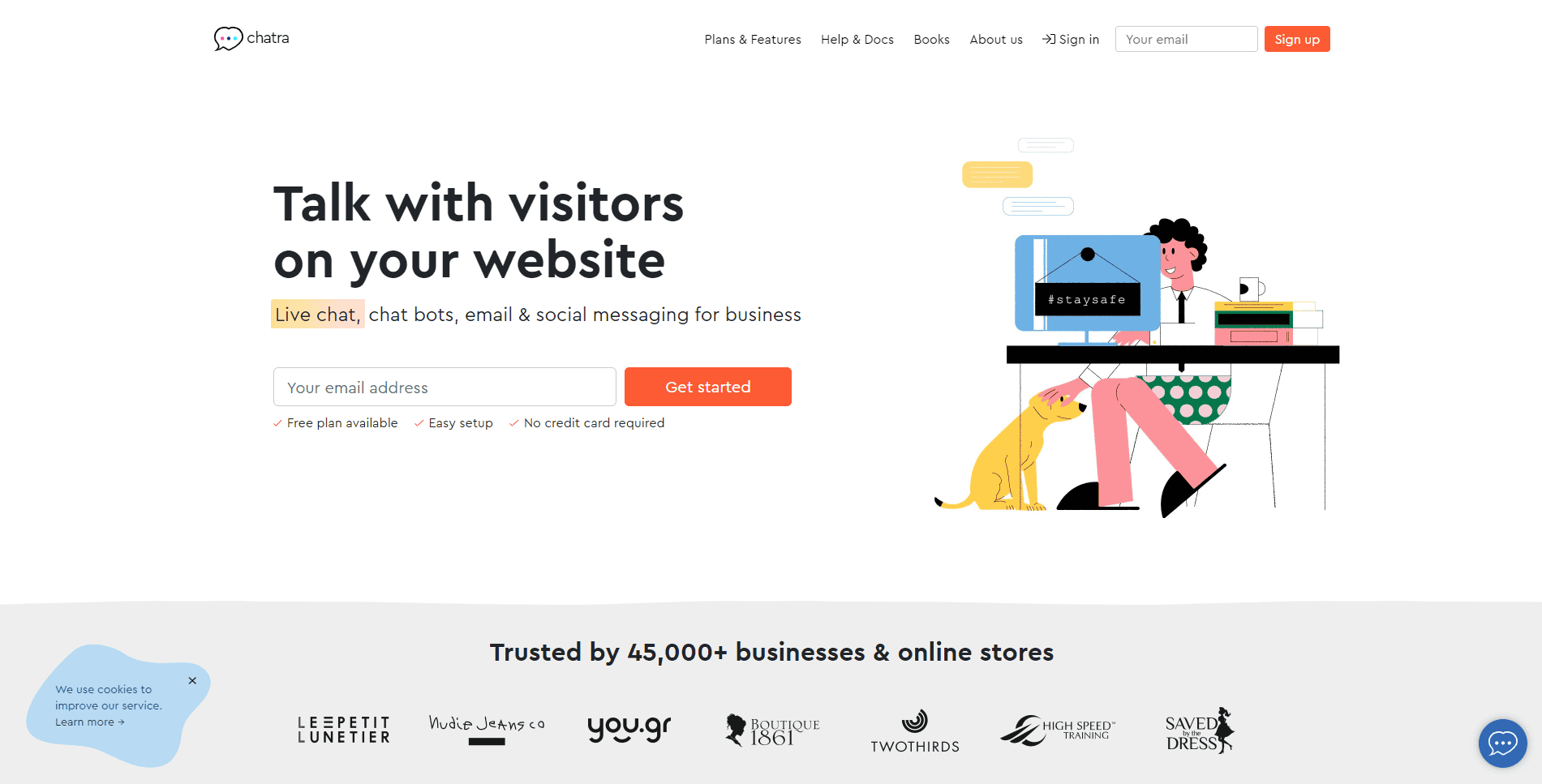 Chatra is another one of those live chat apps that can get you closer to valuable customers and increase your sales. For instance, a prevalent issue for many online stores is cart abandonment.
Chatra comes with an impressive cart saving feature that reaches out to customers stuck at the checkout section. In addition, the real-time visitor list shows you which users are online and provides their data alongside.
It also does well to save your time. The live typing insights feature allows the operator to look at what users are typing before they hit send. As a result, it takes less time to get back to them.
This Shopify live chat app also keeps conversation history, corrects typos, and comes with a remarkable contact form bot. One could even set which criteria the app should look for to approach users automatically!
Key Features
Cart saving to reduce abandonment rate and increase sales.
Access to a list of currently-online customers.
Live typing insights to cut back on time needed.
Conversation history for all customers.
Group chats to allow multiple operators to talk at once.
Support for all major operating systems.
Visitor information for operators.
Pros
Intelligent contact form bot keeps user's data even if there's a loss of connection.
Targeted chat allows operators to target certain criteria.
Integration with Slack, Zapier, and Facebook.
Modern and intuitive UI/UX.
Shows agent photos for better engagement and interaction.
Cons
Not many advanced customizations with the chat widget.
Pricing
For the payment scheme, Chatra comes with the free option, the Essential option ($19 per agent/month), and the Pro option ($29 per agent/month).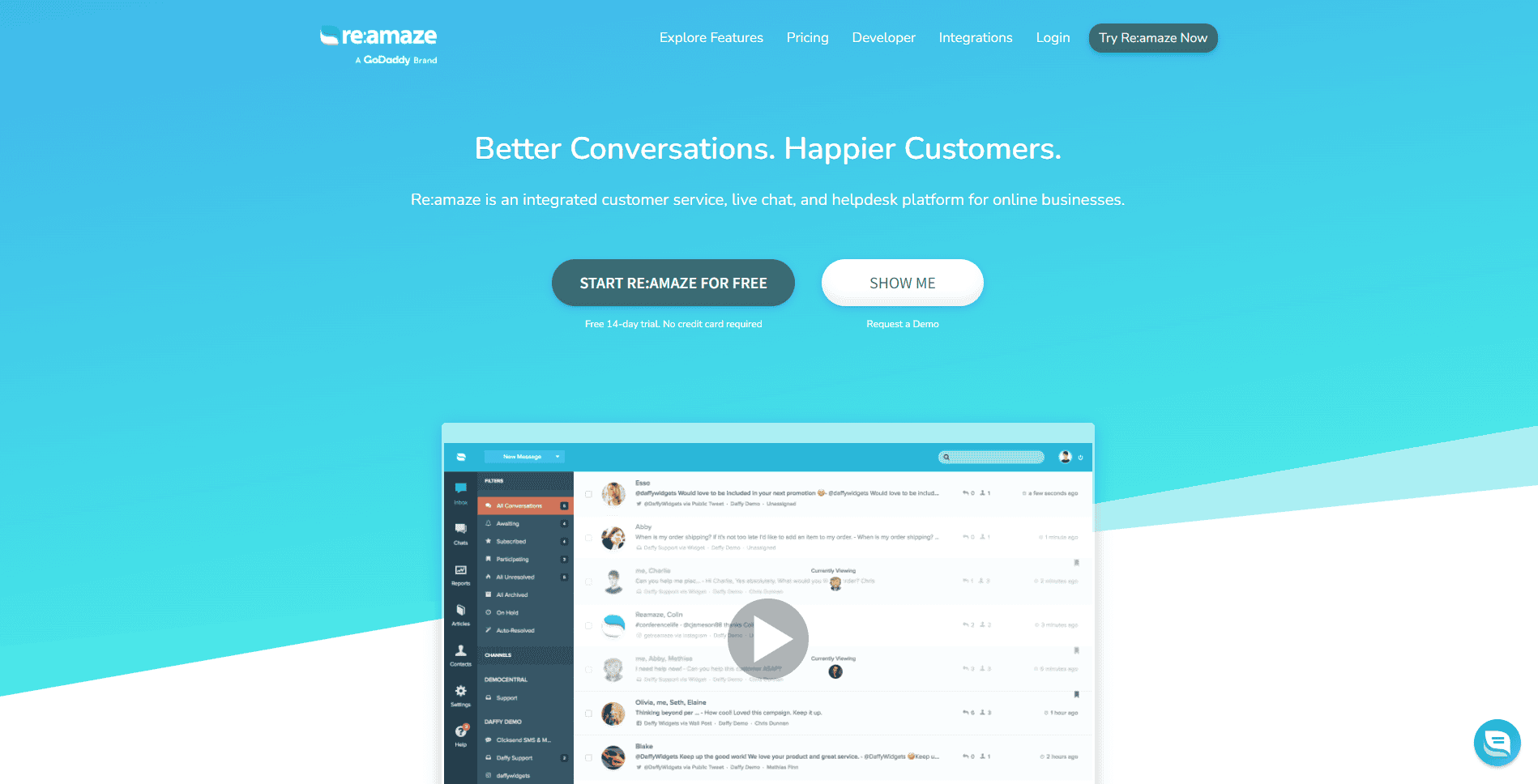 Most businesses and shops typically have a bunch of ways to communicate. Unless you have a way to integrate all in the same place, you'd be struggling to keep things together. With a mandatory last but not least, we have Re:amaze.
This live chat and helpdesk software can streamline your workflow by having everything in one place. Emails, video calls, social media, live chat, mobile chat — it supports everything. There's also a chatbot to make sure that the customers always get a reply.
This automated chat feature has another benefit — you can have typical questions (FAQs, for example) answered by a chatbot. Doing this allows you to free up your precious resources and still have the customers happy!
Not only that, but it's also possible to trigger messages based on various parameters. Be it the customer's activities, a specific time, or URL, everything is customizable.
To make sure that you know about the customer before you dive in, Re:amaze also allows for excellent data insights. This feature is also benefited by the live dashboard, which contains the customer's location, shopping data, and previous browsing activity.
Key Features
Multiple businesses in one place.
Integration with Facebook, emails, SMSs, and other services.
Powerful bots to automate responses and check order status.
Customizability with automated reach out for specific times, URLs, or activities.
Live dashboard with a customer's current activities.
Targeted messages with AI-powered bots.
Preview of customers' messages as they type.
Pros
Macros to streamline the workflow.
The operator can see what the customers are typing before they hit send.
Targeted messaging helps increase efficiency.
Reasonable pricing, especially if you're starting out.
AI bots to increase customer engagement.
Cons
It can get expensive when you have many support members.
Pricing
You've got a few options here. The first one is Basic, which goes for $29 per month (per team member) with unlimited email inboxes. The Pro version costs $49 per month (per team member), while Plus costs $69 for every team member a month.
However, if you're only starting, Re:amaze provides the Starter package for only $59 a month with unlimited team members! The catch is that it's limited to 500 responded conversations/month.
Which is the Best Live Chat App for Shopify?
Now that we're through the list, you may still be wondering which the best option is. Well, there's no definite answer to that. Each app has its benefits and drawbacks.
Moreover, there are other options in the market that you can look at if need be (for example, Zendesk online store chat).
The first thing to notice is how big your team is and how many resources you'd be utilizing. If you only have a few members, opting for a plan with a per-member subscription can be helpful.
On the other hand, large teams won't benefit from that. Another aspect is collaboration. Many shops require cooperation between the team members, while others don't.
It will help if you consider all of these variables before moving forward.
Wrapping Things Up
Choosing the right Shopify live chat app can be rather cumbersome. There are so many variables to consider, and your business model won't suit every product out there.
The six apps I've mentioned above are some of the leading ones in the market, and I'm certain that you'll find the right match in there!