Best Cloud Based Services for Small Businesses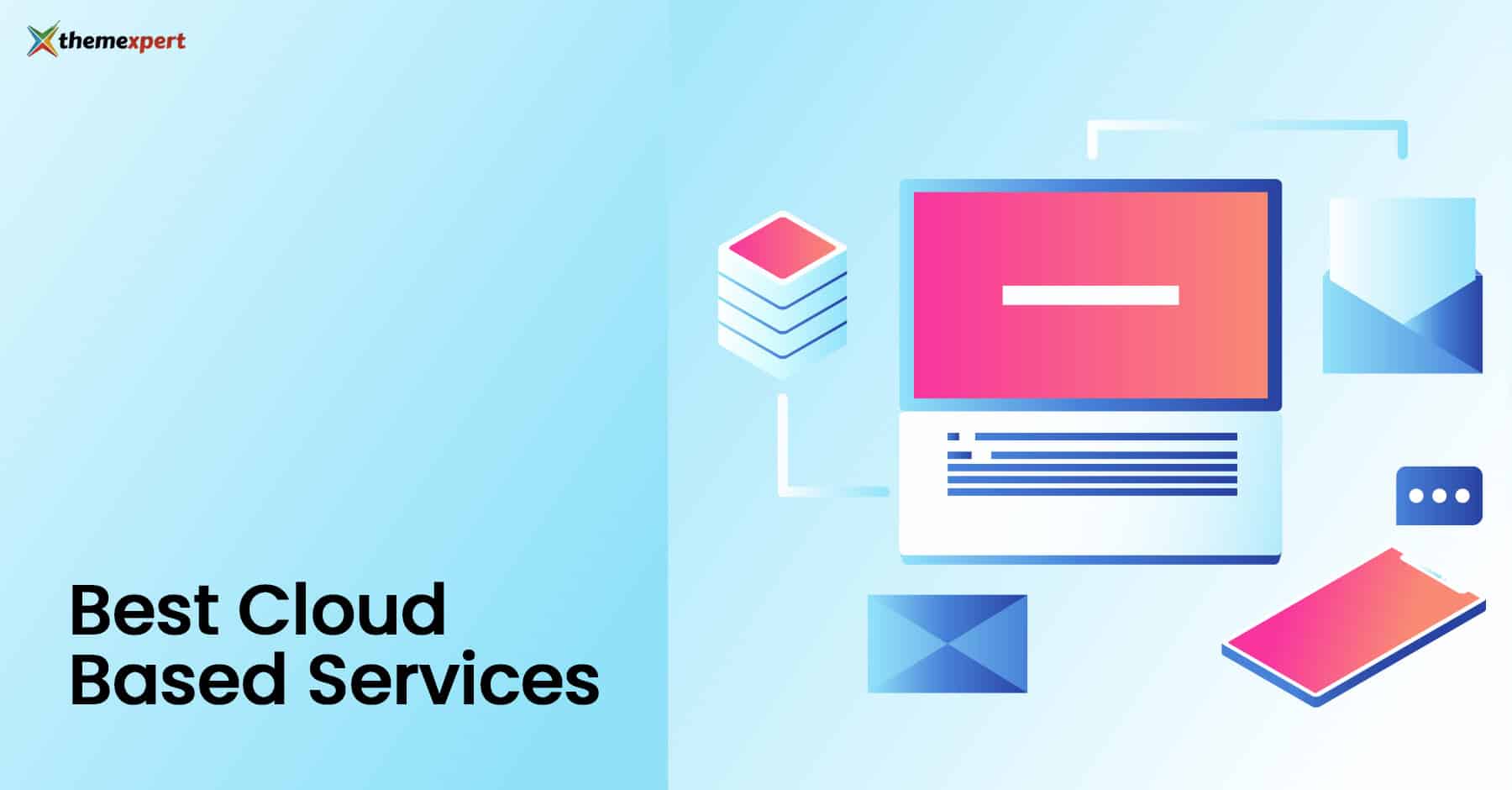 Are you tired of losing important documents, not being able to collaborate effectively with your team, and spending a fortune on storage solutions?
Gone are the days when small businesses had to rely on expensive, outdated hardware to store, share, and backup files. With cloud computing, small businesses can store their documents or process sensitive information on a secure online server, and in addition, they can benefit from the latest technological developments without worrying about expensive overheads and maintenance costs.
In this helpful guide, you'll discover the many advantages cloud computing can offer your small business. Here's our guide to the best cloud based services you can use to improve your business in 2022.
Read more: 9 Best Web Analytics Tools For Professionals
What Is Cloud Computing?
To put it simply, cloud computing allows you to use remote servers hosted elsewhere rather than your own hardware to store and process your data. As a result, you can access your data online, anytime, anywhere, and even on the go - provided you have access to an internet connection.
Yes, that does include mobile internet, too. By giving your employees access to the server, you can all collaborate on important tasks from any location using a wide variety of devices.
Types of Cloud Computing Services
Cloud computing is a rather broad term, and there are actually a few different types of cloud computing services you can use for your small business. Here are the main types:
Cloud storage: As the name suggests, cloud storage is all about storing your documents and data in a secure, cloud based server. Authorized users can access the documents, ensuring collaboration within your business. The most popular example of this is probably Google Drive.
Cloud backup: Cloud computing allows you to back up your files to avoid any potentially ruinous losses of data in the event of a technical failure, human error, or cyber attack. Apple's iCloud does an excellent job of this.
Cloud hosting: This involves a network of servers acting together to facilitate information sharing, such as application hosting, websites, and email services. The almighty Amazon Web Services (AWS) is a prominent version of this from the retail giant.
Software as a service (SaaS): SaaS is a cloud services model that allows you to access software online when you purchase a subscription. SaaS solutions include accounting software, customer relationship management (CRM) software, and data management software.
Benefits of Cloud Based Services for Small Businesses
If you own a small business, you should be taking advantage of cloud services. Here are the main benefits:
Accessibility: Cloud computing allows you and your employees to access documents and data at any time, wherever you are. In addition, with cloud solutions, you can easily grant access to new employees, which will make the onboarding process smoother.
Collaboration and consistency: If everyone has access to the same documents, this enables better collaboration within teams, which means your business's efficiency and productivity will increase. Since you'll be working on the same versions of documents (which will update automatically on the server), there won't be any issues with inconsistencies between different copies.
Scalability: As your small business grows, you'll need a data storage and processing solution that grows with you. New employees can easily be granted access to the system, and if your business continues to expand and you need more storage space or better features, you can upgrade your subscription.
Saving money: In the past, businesses had to rely on expensive hardware to store data. Building an in-house server would cost time, money, and effort, and the maintenance of this hardware would also be very expensive.
Data backup: If you're still using data storage hardware like external hard drives, you could be at risk of losing your data. By storing your data with cloud based services, you won't have to worry about misplacing important information and your documents will be backed up to ensure they remain safe.
Data security: The main concern that people have when it comes to cloud storage is data security and privacy - who can access your data in the cloud? However, cloud computing is extremely secure against cyber attacks due to strong safeguarding measures such as encryption. In fact, virtual server space can be much more secure than an in-house, physical server space.
Consistent upgrades: Cloud providers consistently update their services, allowing you to access the latest technological developments instantly. This is also much more cost-effective than maintaining and updating your own in-house server.
Best Cloud Based Services for Your Small Business in 2022
Cloud computing can be a huge benefit to your small business. Cloud services save you time and money, improve accessibility for your employees, ensure collaboration and consistency, aid scalability and, most importantly, keep your data safe and secure.
With this in mind, and in no particular order, here are the best cloud based services small businesses should be using.
1. Sage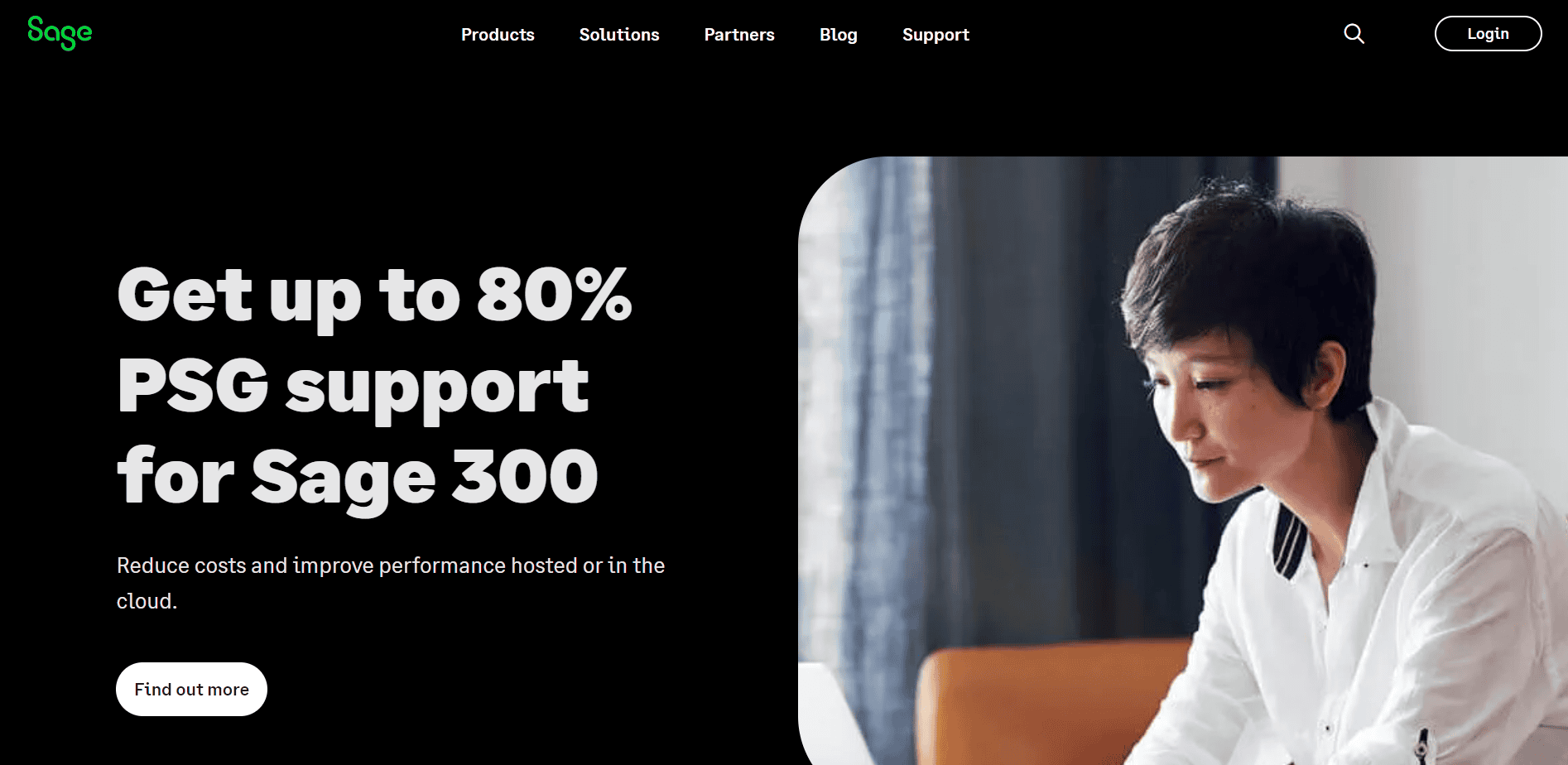 Sage's accounting services follow the SaaS model, meaning that you access these services through the Sage website once you pay for a subscription. Although, as a small business owner, you may be more hesitant to pay for subscriptions due to budget limitations, having access to accounting software can be extremely helpful.
With Sage's accounting software, small business owners can keep track of their finances, quickly prepare professional-looking invoices, look at detailed financial reports, handle payroll and calculate taxes ahead of tax deadlines. This help from Sage means you won't have to spend so much time on tedious financial administration tasks, allowing you to focus on other areas of your business.
For your peace of mind, all of your financial information is stored safely and securely when you use Sage. Users also have the option to enable two-factor authentication when using Sage products, adding an extra layer of security.
All of Sage's accounting software subscription plans are free for the first three months, giving you plenty of time to try out all of the features. After this period, you can pay £12 per month for the basic plan, £26 per month for the standard plan (most popular), and £33 per month for the 'plus' plan, including a wide array of extra features.
2. Google Drive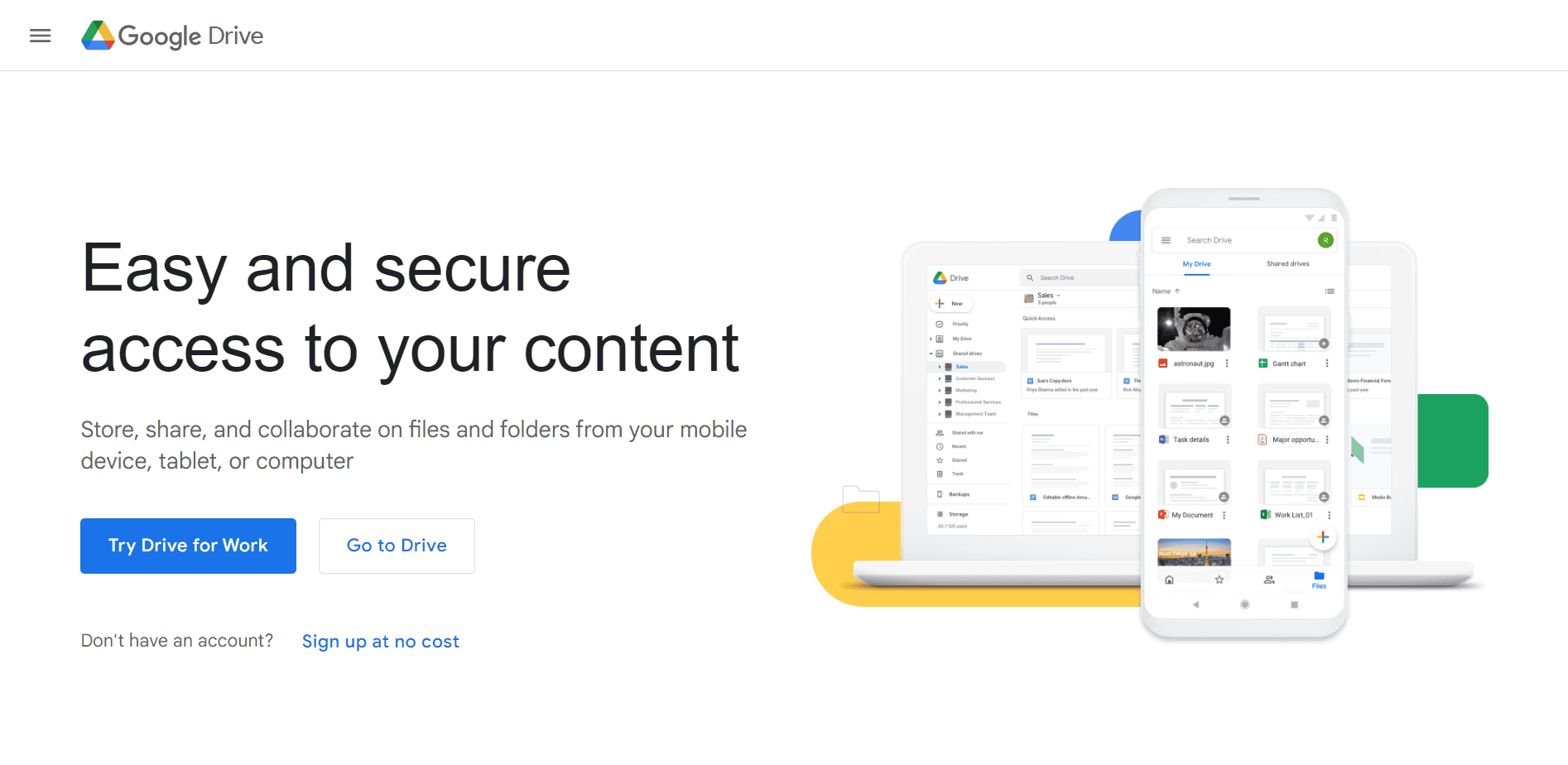 As one of the most popular cloud storage providers, Google Drive is probably already familiar to you.
This free storage solution is a must-have for any small business. If you're looking for a way to store and collaborate on a wide variety of documents and files, Google Drive is the perfect option for you. Users can upload, edit, comment on and share files with ease, making Google Drive highly accessible, collaborative, and intuitive.
In addition, Google Drive has built-in protection against spam and malware. This cloud storage provider can grant secure and encrypted access to your files, helping you to protect sensitive information.
Google Drive is also scalable for your business. The free personal plan could be enough for your needs initially, but as your business grows, you can opt for the business standard plan at $12 per month. This will give you 2TB of secure cloud storage per user and 24/7 online support.
3. Dropbox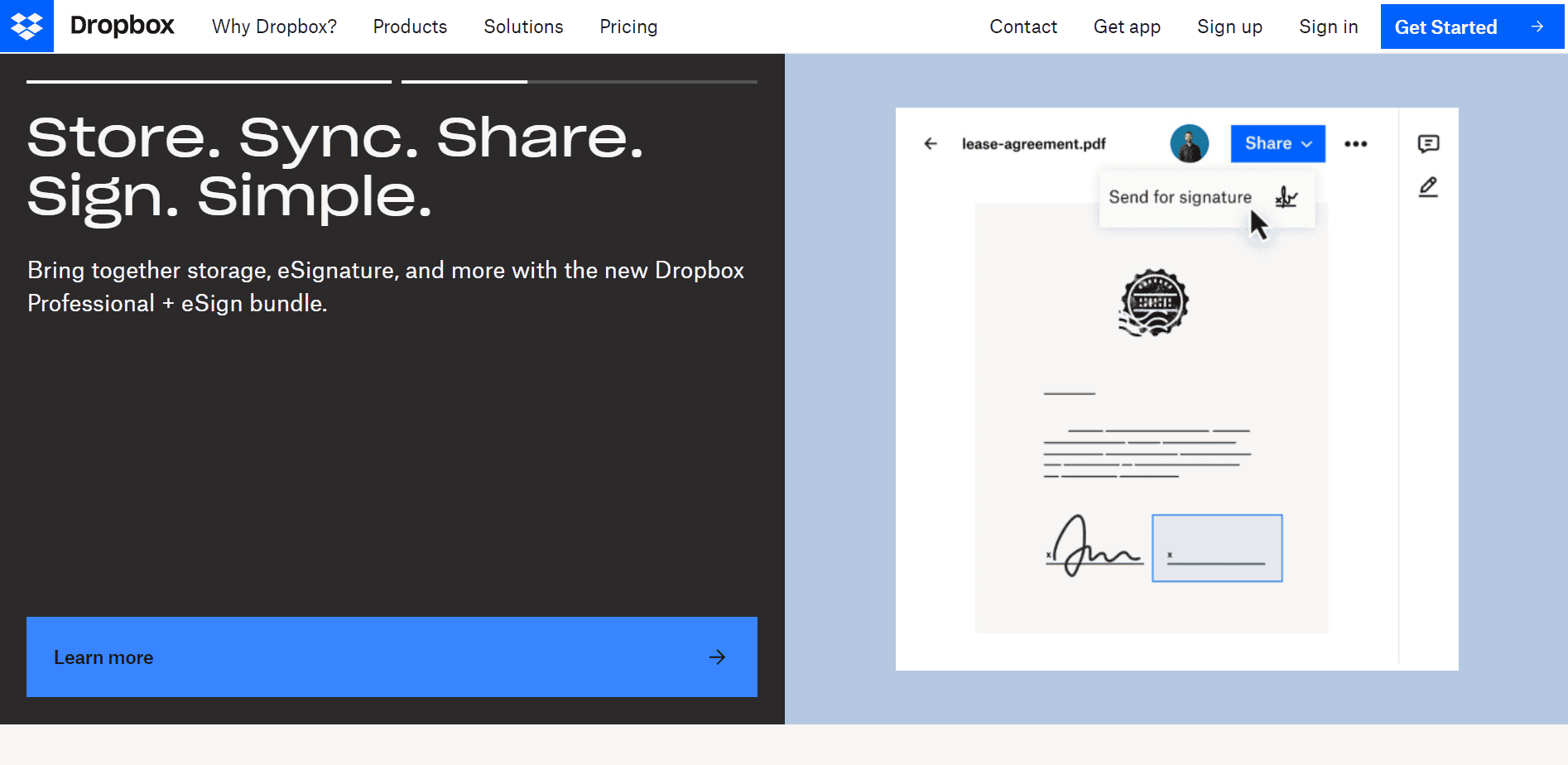 Dropbox is another highly popular cloud storage solution. In fact, this cloud service is perhaps even more optimized for accessibility and collaboration as it allows you to even share files with people who don't have a Dropbox account.
Like Google Drive, Dropbox offers a free personal plan called Dropbox Basic. With this plan, you can get 2GB of storage, file backup, and the ability to access your files from any device. By paying £7.99 per month for Dropbox Plus, you can get extra features such as file recovery, offline access, and a PIN-protected folder.
However, the best plan for your small business would be Dropbox Professional. This gives you 3,000GB of encrypted storage, live chat support, and the ability to send larger files for £16.58 per month.
4. Microsoft OneDrive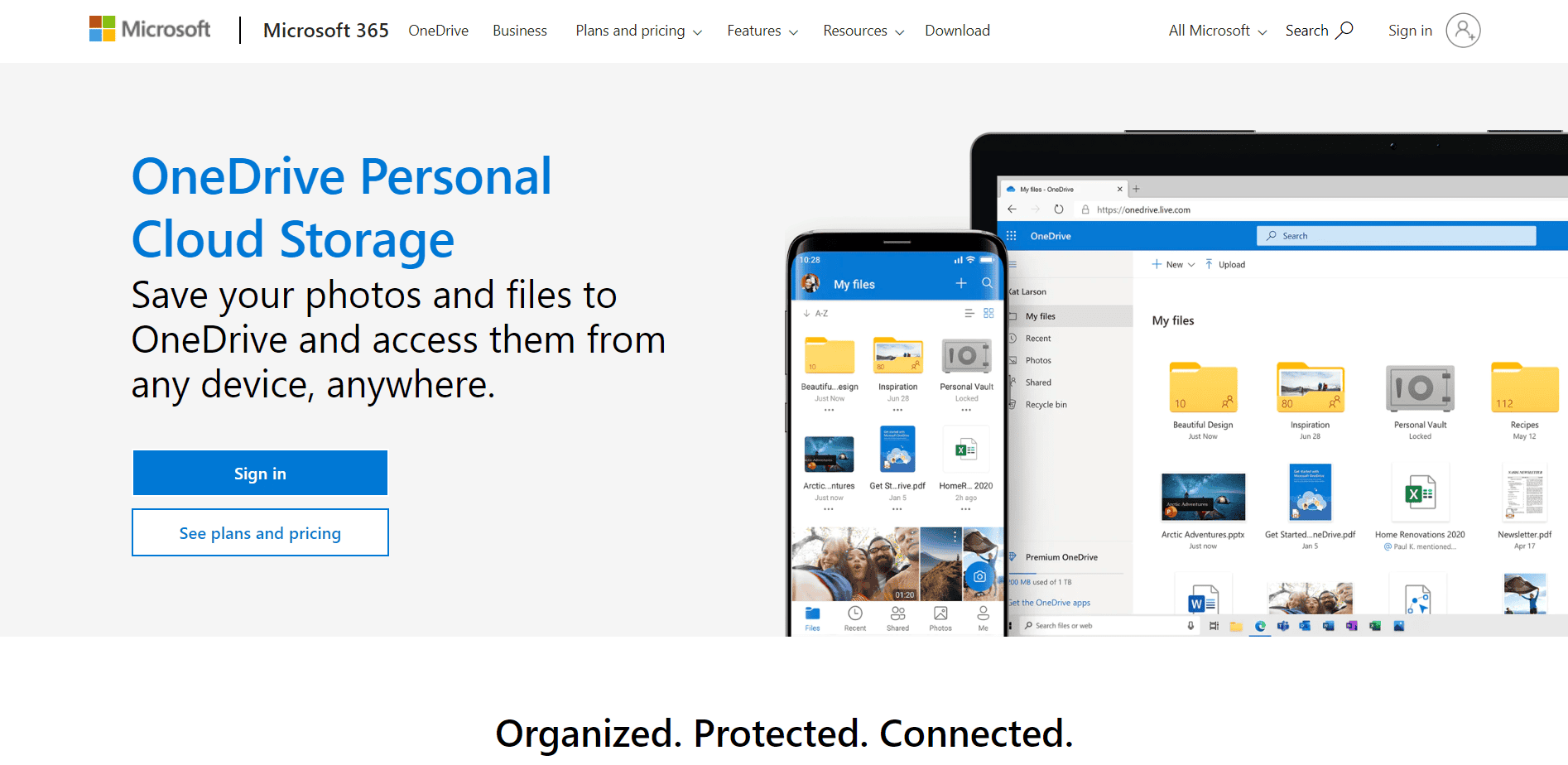 If you have a Microsoft 365 subscription, you can benefit from their Microsoft OneDrive cloud service.
With OneDrive, you can store and back up important documents, pictures, and videos, access and scan documents with your phone, collaborate with your colleagues, and restore deleted files. For extra security, this cloud service has built-in ransomware protection, and you'll also have access to the OneDrive Personal Vault for important files.
However, if you don't yet have the budget to purchase the full Microsoft 365 package, you could buy the OneDrive Standalone plan of 100GB storage for £1.99 per month. Or, if you'd like to test out this service before you commit to a purchase, you can get a free OneDrive plan with 5GB storage.
5. SpiderOak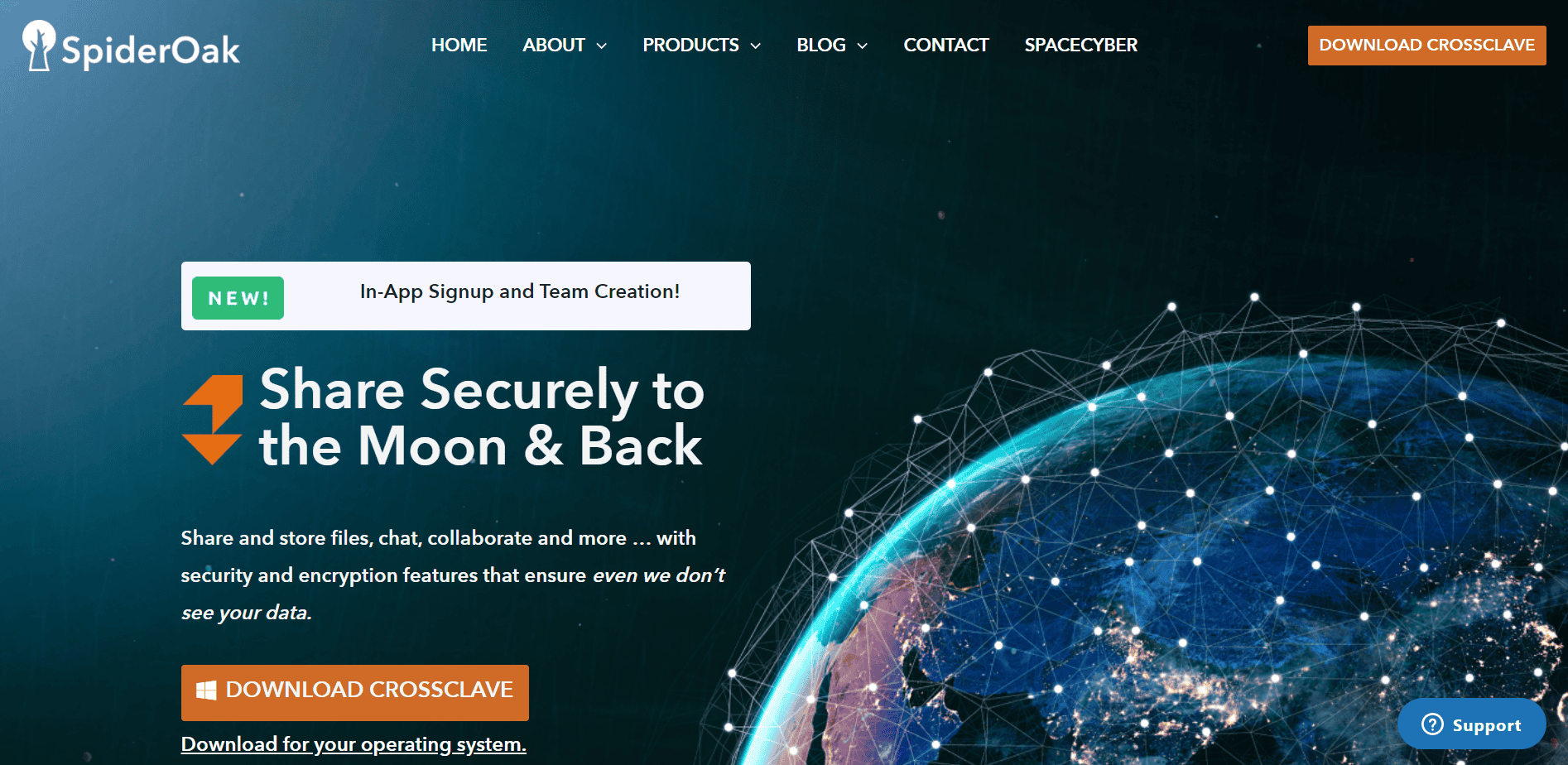 SpiderOak is possibly the best cloud storage service for businesses that handle sensitive information. This cloud service provider is known for its industry-leading security features, which is why they offer its services to both small and mid-sized businesses and government agencies.
SpiderOak's 'zero trust' and 'no knowledge' policies mean that no one is trusted with user data either inside or outside of the infrastructure. Since even the company can't see your data, it's extremely secure and protected from both cyber attacks and unintentional exposure.
With SpiderOak's CrossClave cloud service, you'll have access to the highest-quality security, file storage and sharing, data encryption, and video conferencing. You can even try this cloud service for free!
6. Amazon Web Services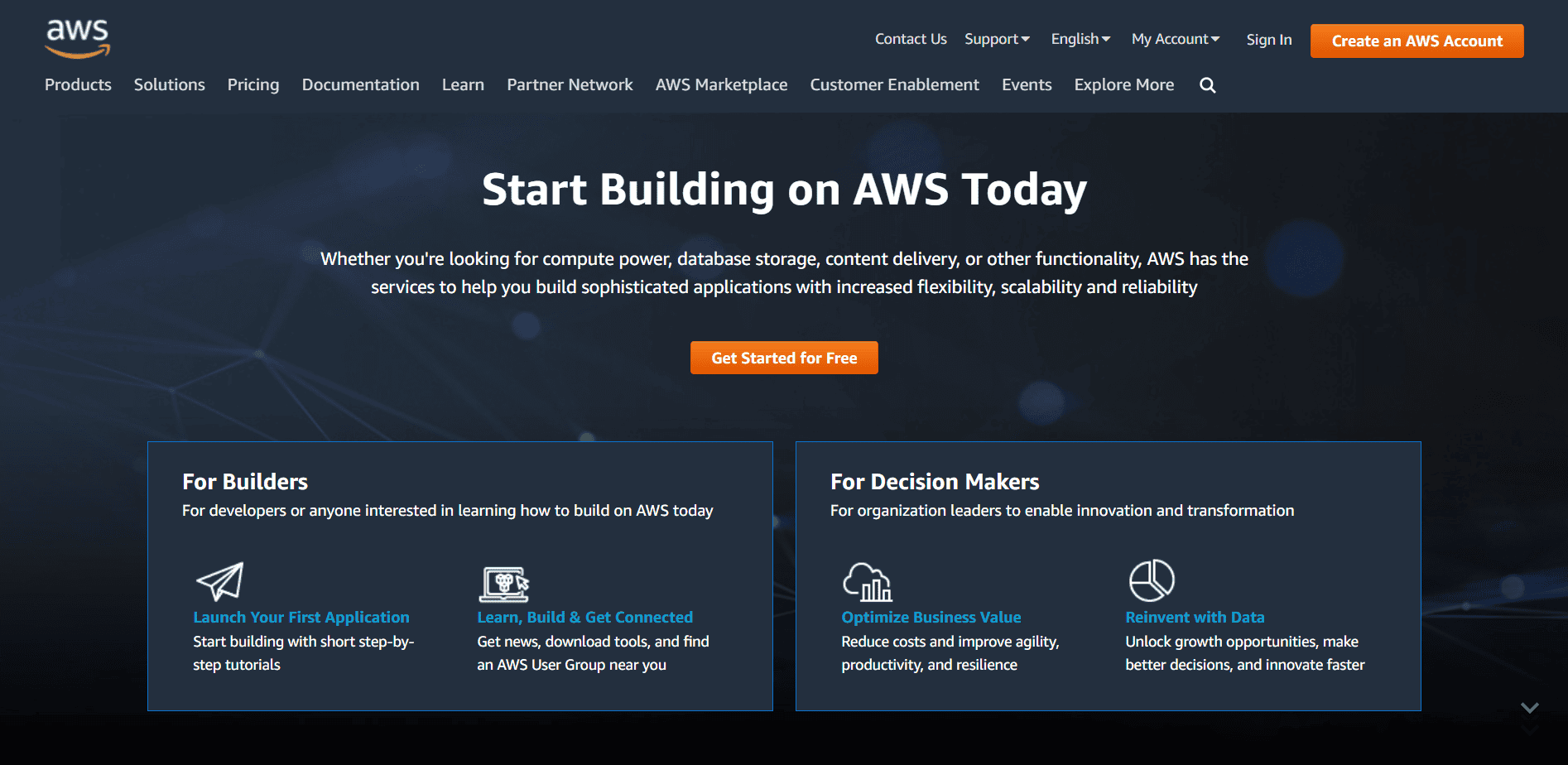 For an all-in-one service, look no further than Amazon Web Services (AWS). This comprehensive cloud computing platform offers over 200 services to its users, making both large and small businesses more efficient, agile workflow, and innovative.
These cloud services include cloud storage solutions, application hosting, machine learning services, API gateways, and many more. Due to this wide range of services, AWS can be used for any business, no matter what industry you're in.
This cloud service provider operates with a slightly different payment structure. Instead of requiring people to pay a subscription to access a set list of services, AWS uses a pay-as-you-go model, so you only pay for the services you actually use. There are also no hidden costs or cancellation fees, making this cloud service very straightforward to use.
Best Cloud Service Provider for Your Small Business
If you own a small business, cloud computing is essential for boosting your privacy and security, allowing you to collaborate effectively with your team, helping you store and back up important data, improving accessibility, and saving you money on server maintenance.
However, not all cloud service providers are created equal. To select the best cloud services and providers for your business, consider your needs and how each service would be able to fulfill them. For example, do you just need to store company data securely, or do you need SaaS solutions such as accounting software or CRM software?
Of course, you'll also need to consider your budget and the size of your company. If your business is still very small, you could choose free or basic plans, but as your business grows, you may need more storage space and more advanced features.
Overall, choosing the best cloud services for your small business can be a tricky decision, but by using the information in this helpful guide, you can get a head start on finding the perfect cloud provider.