Introducing NotiFly - The First Ever Social Proofing Extension for Joomla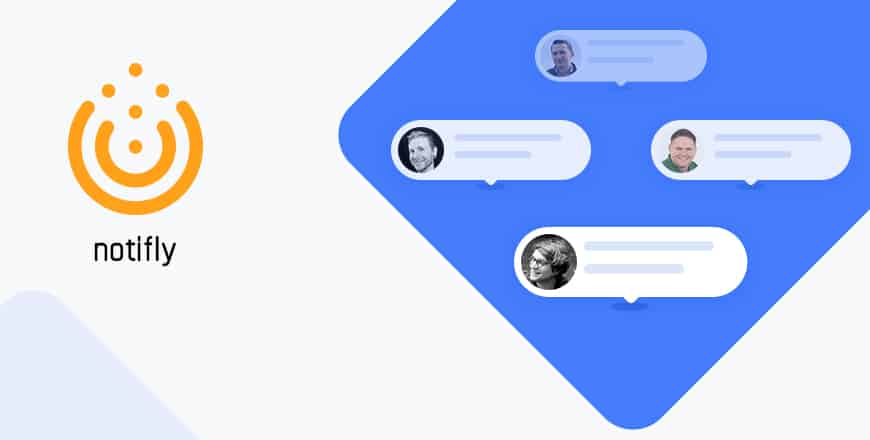 Who doesn't likes to increase the traffic of his Joomla website? Definitely everyone wants and you want it too. Social proofing can be one of the way to do this. Let me explain you.
Assume you are going out with your friend to take lunch. You hopped into a cab and stopped in a place where two restaurants are in front of you. First one is crowded with lots of people.
The second one is deserted and a little bit spooky, not a single person is present at there. At here let me ask you a question- Which one would you prefer for lunch? The crowded one or the deserted one?
So, have you decided which one would you go? Definitely, the first one filled with people.

Because you might have considered the following things first:
Comfort Feel: We always try to find comfort everywhere, and a deserted place does not give much comfort to anyone.
Trust & Bonding: When we get to a new place, the activities of other people gives us confidence and helps to engage with a bond of trust with the organization.
Confident: We often check the quality first and then gather a crowd for it. Deserted place does not enhances your confident for product quality, rather than decreasing.
Our human psychology works in that way; it does not feel all right alone. Similarly for the website, when a visitor lands on your website, the loneliness might not give him the comfort feeling that he expects.
Generally, there are several people interacting with your website someone is viewing the site, someone is purchasing your product, someone is registering himself, etc. Everyone is like kept alone in a colorful jar, where he can see everything, however, cannot feel the presence of other people.
As a result they lose interest on your site, cannot find enough courage to try your product and at last, they leave your website to visit another.
After considering your situation, we have developed NotiFly. It will show your social proof to people and will give a feeling to the viewer that he is not alone on your website. It will boost the confident level of the visitor to try your product.
Benefits of Using NotiFly
Increase traffic to your website: Increase traffic of your site by showing activities of other people.
​Social proofing that portraits your credibility: Show your credibility and make the impression on a visitor at first time with Notifly - Joomla ecommerce extension.

Boost your product sale and conversations: Show sales and other events easily with Notifly and build the trust of bond. An event of a sale, encourages a new visitor to become the customer. The more customer, the more sale you got.

Make the bond of trust with people:

​Easily create Bond of trust just by showing events and conversations.
Give people the comfort they crave for, on your website:

​Do not let people be alone at your site. Give them the comfort and build their trust by showing activities of the site.
Features

​Here goes the features of NotiFly. Check yourself and then decide.
Original Proofs

Our first priority is to provide original proof of purchase. Because we believe
Honesty is the best policy
. Therefore neither we provide fake proofs, nor we let user generate one. Only the real time proofs will be shown with NotiFly - Joomla ecommerce extension.
​
Easy to Use

We have made NotiFly very simple, so you do not require any kind of HTML, CSS or any other programming knowledge. Just download, install and a few clicks to configure then you are set.
Every settings of NotiFly has been kept minimalistic. Even a new user will be able to configure the NotiFly at first use.
Notification Loop

It might not happen that event occurs at almost every minute or hour. So there might be a question arise in your mind- What will NotiFly show, when no events occur in a long period?
Worry not, at period of no new event; NotiFly will show previous notifications followed by a small text where time will be specified.
Track Conversions in Real time

Easily track your daily conversions in real time and check the number of clicks and notification from the dashboard. Everything is
summed up as a summary
and shown with beautiful user interface in NotiFly.
​
Templates Options

​Template option allows you to customize the template for NotiFly. Template title and notification message can be modified from here. If you do not find any templates option, do not worry. Before customizing any template first you need to integrate the extension with NotiFly.
After successful integration with your site and extensions, templates will be automatically generated in Templates Option.
Edit any template of NotiFly by clicking Edit button. After editing, press on Save & Close and view your site.
Integration

​With NotiFly, you can easily integrate your favorite services. Notifly comes with Digicom, j2store, hikashop and Joomla Easydiscuss extension by default. If you need any additional integration support, you can let us know in support section.
Activate the extension by clicking enable button and configure the extension. In time of need you can also disable an extension in same way.
Events

NotiFly lists all events in one place, and you can see details of every event from here. Every event is recorded with details as it occurs in your site. In edit options, you cannot change the time or add any fake data as NotiFly only shows real data.
You can even delete or edit current events from here. In NotiFly you can edit the basics of an event or delete an event. But creation of new event is prohibited.
Customization

You can customize the design and Behavior of NotiFly from Design options. You have options like
loop notification, hide on mobile, hide on the desktop
, allow users to
close notifications, display time
and other settings at here.
​
Conclusion

NotiFly will just not give a notification from the corner of your website. We believe it will change your business with increasing traffic and sales.
Need to know something about NotiFly? Don't hesitate, just tell us directly through comments and also give your valuable feedbacks.