How to Use Facebook Lead Ad Forms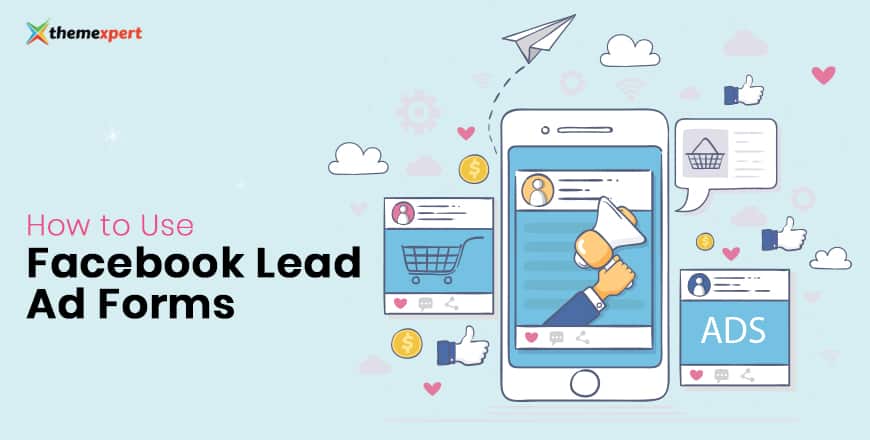 In 2019, Facebook had 1.62 billion daily users. It's no wonder Facebook marketing is still such a useful tool for marketers.

With its huge number of users, Facebook also offers marketers a tool for lead generation strategies: Facebook lead ads.

In this blog, we introduce you to lead ads and give you a quick run-down on how to create them. We also explain how to optimize Facebook lead ads and how to download leads from Facebook Ads Manager.

What are Lead Ads?
Lead ads are Facebook ads with a form attached. They offer the customer a freebie in exchange for information, like their name and email address. For example, a lead ad can offer your customers to sign up for a competition, register for a product demo, or request a free consultation.

When someone clicks on a lead ad, a form appears. Facebook pre-populates some of the forms for the user to save them time. But the forms can contain other questions about customer opinions or lifestyle.

Lead ads are one of the best lead generation strategies, but they are also great for understanding your audience better and collecting feedback. Therefore, lead ads help you reach these marketing goals:

⦁ Conduct Market research
⦁ Gather Customer feedback
⦁ Increase conversions

Now let's show you how to do it.

How to Create a Facebook Lead Ad
Step 1: Create
In Ads Manager, click Create to make a new ad. For your goal, click Lead generation and give your campaign a name. Choose your page, view Facebook's terms, and agree.

Step 2: Tailor
Here, you select your audience and budget. You can also schedule ads to an ideal time of day.
Choose from image, video, carousel or slideshow.
Upload an image and type in your headline, body copy and call to action (CTA). You can view your ad preview while you work.
Name your form, write an intro and select or craft your questions. Include your privacy policy and a thank you page at the end.
Once you click Finish, you can still review your ad before publishing. When you're ready to go live, click Confirm.
How to Download Leads from Facebook Ads Manager

​
If you're using lead ads as part of your Facebook marketing or lead generation strategies, you'll need to view your leads. You can either sync Facebook with your customer relationship manager (CRM) or you can download the leads as a .cvs file.
Here's how to download leads generated as a .cvs file:
1. At the top of your page, click More and select Publishing tools.
2. Click Lead ad forms and within the Forms library go to the Leads column. Select the Download link.
3. You'll see a screen titled Download leads where you will have two options.
If you want to download new leads since your last download, click Download new leads.
If you want to choose a specific timeframe, click Download by date range.
4. Click Download to get your .cvs file.

How to Optimize Facebook Lead Ads
Entice your Audience
If you want to get information from your customer, you're going to have to offer them something in return.
Possible offers include:
Discount code
Download
Product pre-order
Contest entry
Product sample
Event
Free consultation or chat
Product or service demo
Remember: The incentive needs to be valuable for the customer to be willing to give up their precious information.
Be Obvious
Clearly state your incentive or offer in your ad's headline. Elaborate on the offer in your body copy. This helps users understand, straight up, what they get if they give you their information. This also helps them understand the value of the transaction. Explain the offer a third time in the intro to your form.
Use Images to Your Advantage

​
The best performing ads have attractive images that are relevant to the offeror incentive. One study showed that images that show off the product or its features perform best. Whatever your lead ad is about, use images to back up your message.
Always use high-quality images and videos, rather than blurry or pixelated ones. To find out more about how to create the perfect images for your ads, read our article Beginners Guide to Learn Photo Editing Online from Home.

Use Branding
It can be easy to forget about branding when you're creating Facebook ads. But branding your Facebook lead ads and forms helps make your ads look more professional and has many benefits. It gets users to trust your ads more and therefore complete your form. It also helps raise brand awareness for users who didn't know you before.
Did you know that the longer your lead ad form, the more likely people are to ditch it? Users prefer shorter forms and are more likely to finish completing them.
Keep your forms as easy and quick to fill out as possible. You have three types of questions on a Facebook lead ad form: short answer, multiple-choice, or conditional.
Users tend to prefer multiple-choice questions, so always use these where possible, with a minimal amount of choices—never more than 4.
If you use a short answer question, double-check (and then triple-check) your work to make sure your question is easy to read and not confusing. Your user doesn't want to take too long or think too much.
Conditional questions are questions that arise based on the answer to previous questions. Again, keep these simple or multiple-choice.
Choose your Crowd
Imagine performing a comedy routine in front of an audience expecting a horror movie. That's not gonna go down well, is it?
The same principles apply to lead ads. Choose the right audience for your purposes. If your objective is to get more customers, then choose a lookalike audience to your existing customers.
If your objective is to get customers to visit your store or book appointments, you should choose people near you. If your objective is to get your ad in front of people who recently visited your blog, website or app, choose the custom audience.
Follow up Quickly
Recently, the good people at Forbes reminded us of the huge customer service failure that companies still ignore: neglecting to follow up.
Simply by following up quickly, you can increase your leads and boost your return on investment massively.
Today's customers prefer to interact with brands using instant messaging, so use Facebook Messenger to follow up with your leads. Alternatively, check out our 7 Best Customer Service Software for Any Type of Business.

Don't Forget to Test
A/B testing, also known as split testing, helps you create the best ads that get the most clicks. You should use this method to perfect your lead ads, including their images, copy and forms.
Variables to test with split testing:
images
copy
form type
form length
question type
audience type
Facebook Lead Ads Best Practice
Lead ads are a fantastic Facebook marketing tool and one of the best lead generation strategies. They allow you to get more leads, more conversions, and learn more about your audience.
When creating your lead ads, remember to offer your audience a valuable incentive for giving up their personal information. It's also best practice to split test nearly every aspect of your ad to achieve your marketing goals.
BY GEORGE GLOVER George is the CEO and Co-Founder of the digital marketing agency
Social Garden
. Social Garden specializes in data-driven lead generation and marketing automation to grow companies' revenue in different verticals in Australia.
​