7 Best Live Chat Software for Customer Support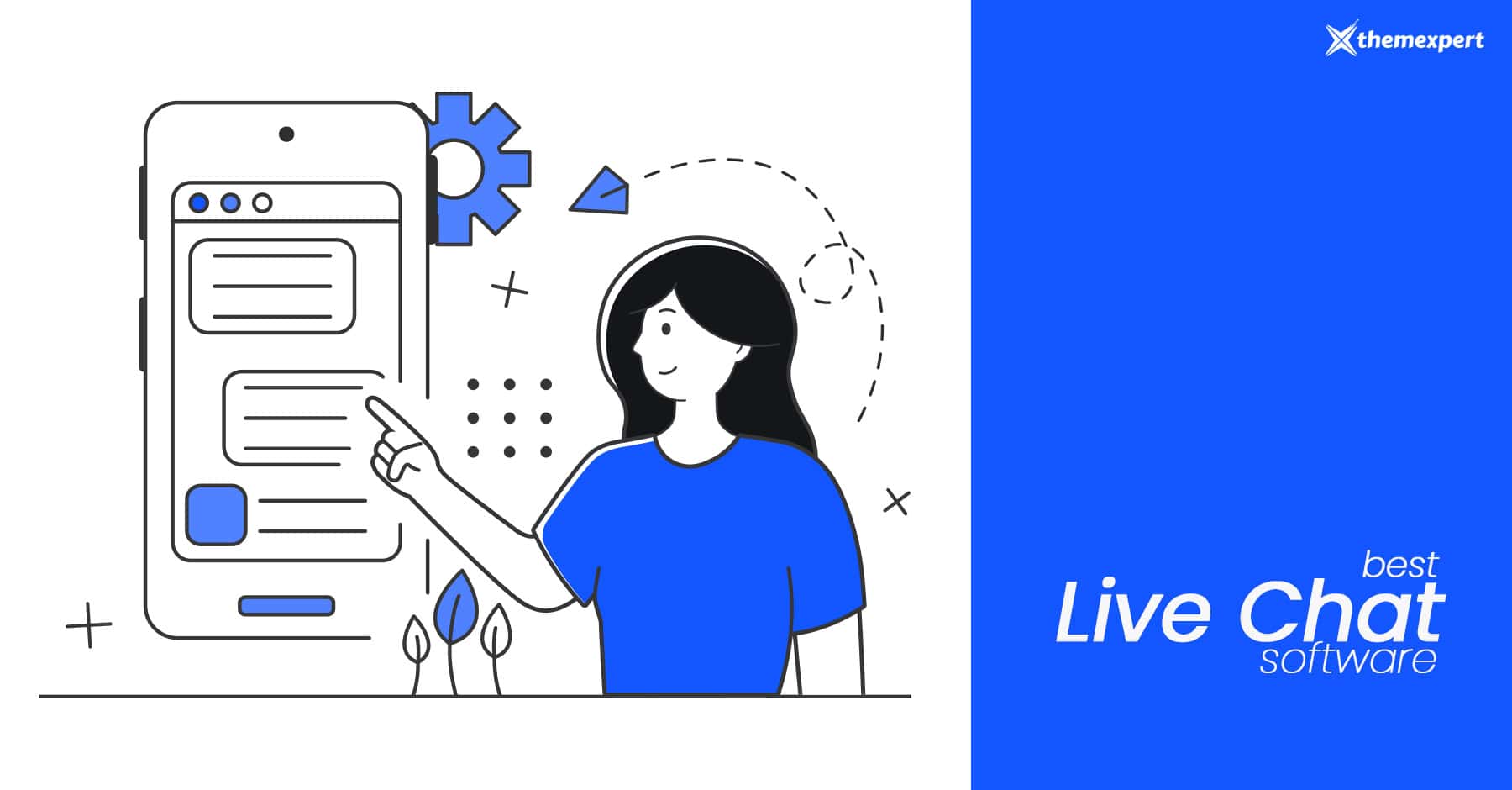 Adding live chat software to your website is always a great idea, as 48% of people reach customer service through live chat. The increasing number of live chat using companies is increasing day by day as customers often tend to feel more comfortable using it.
According to the statistics, 52% of the customers trust and feel more loyal toward the companies that offer live chat.
We have analyzed data from over 20+ different live chat solutions and made a list of the 7 best live chat software for you.
So, without further delay, let's see which live chat software is worthy of your attention.
Read more: 5+ Best Shopify Live Chat App 2022
7 Best live chat tools: at a glance
| | | | |
| --- | --- | --- | --- |
| | Free Version | Offers Trial | Starting Price |
| ThriveDesk | ✅ | ✅ | $6.67 per month per agent (Annually) |
| HubSpot Live Chat | ✅ | ❌ | $45 per month per agent (Annually) |
| Zendesk Chat | ❌ | ✅ | $49 per month per agent (Annually) |
| HelpCrunch | ❌ | ✅ | $15 per month per agent |
| LiveChat | ❌ | ✅ | $16 per month per agent (Annually) |
| Intercom | ❌ | ✅ | $79 per month per agent |
| Crisp | ✅ | ✅ | $25 per month per agent |
| Tidio Live Chat | ✅ | ✅ | $10 per month per agent |
What is live chat and how does it work?
Live chat is a form of customer service that allows customers to message directly to your customer service teams or sales teams. So that customers can solve any sort of query or issue they might be facing. A live chat platform can often be described as a direct means of communication via messaging your sales team.
A pop-up chat option on the website of business pages is really popular nowadays, as it encourages customers to communicate while reducing their effort.
Creating an instant way for your customers to get in touch with your company can be very beneficial. You see, a positive conversation with a customer can make them loyal to your company. Through a decent conversation with your customer, you will get to know their demands and the types of problems they face to get your service.
Knowing their demands and their problems can lead you in a completely different direction. These can help you make important and impactful decisions for your business that might take your business to a whole new level.
How much does live chat increase conversion?
Live chat does an excellent job at converting visitors into customers. According to CrazyEgg, 38% of customers make a confirmed purchase after a great chat session with the sales team. Just like that, a satisfied customer is 2.8 times more likely to make a purchase after a positive conversation with your customer service team.
According to the survey of Invesp, 44% of the customers stated that having a conversation with a customer service agent while making a purchase is helpful. And it is the most important feature a company or website can offer. Live chat can typically lead to a whooping conversion rate of 20% or more, which is definitely great for customer retention.
How to pick the right live chat software for your website?
Choosing the right live chat software can often be doubtful and full of uncertainties. But you will always be able to find what you are looking for if you know exactly what you want, even a needle in a haystack.
In order to make things easier for you, we have arranged a few most important features that the best live chat software must have. And also a few questions that you need to ask yourself, whose answers will lead you the way towards the best live chat software of your dream!
Do you really need a chat tool?
Getting live chat software is not a big deal. You can go to any live chat software website and get one very easily. But getting a live chat platform without any planning can be a big mistake. Live chat software might not sound that tough to handle, but in reality, even experienced agents can crumble under pressure.
Hence the question comes, "do you really need a live chat tool?".
The most important factor of live chat software is manpower. For this, you need experienced agents who will not crumble under pressure and provide a positive conversation with the customer no matter what. But in order to get experienced agents, you either have to pay more or train them hard enough.
If you have a small business or are just a startup, then paying more money to the agents goes right out of the window. You obviously have to choose the second option. So, to train your agent, you will need a lot of things. Things like training materials, sometimes even instructors for training, understandable and explained knowledge base to help them, etc. have to be in place.
After assessing all the conditions, you can buy it now if you feel like you really need a live chat tool.
How many chat agents/seats do you need?
The number of agents or seats you need is totally up for you to decide; all we can do is give some estimate or idea that might help you make that certain decision. Well, a question may arise, "How many chats can one agent handle at once?" and it can be answered two ways.
If you own a small business or just a startup, it is quite normal to be not able to afford people with prior experience. So an agent who has none or close to no chat experience can simultaneously take up to 1-2 active chats.
But if you are willing to spend some money and get some experienced people, then they will be able to handle 4-6 chats at once. But certain conditions, such as proper tools, a decent typing speed, etc., are applicable.
How many communication channels are you using?
Numbers or types of communication channels are very important for all sorts of businesses. People often tend to make mistakes by creating a lot of communication channels for their customers. But unfortunately, at the very end, it fails miserably to maintain any of those properly.
The communication channel types include live chat through social media or websites, email, Twitter DM, or any type of forums, etc. Some big companies use all those channels in order to communicate with their customers. On the other hand, some companies only use one of those.
We would personally suggest you not follow such big companies and master only one communication channel first. After completely mastering one communication channel, you can add more channels, and obviously, it will fully depend on the resources you can expose.
Do you need visitor tracking?
Visitor tracking is quite important, but it is often neglected, which is a bit mistake? It can help you improve your content and generate many leads in order to grow your business. Visitor tracking can also help you analyze the bounce rates and sometimes also might show you the pathway to reduce it.
What is your Budget?
It is very common for companies to get confused about the pricing to find the right tools. Our suggestion will be to avoid the software whose pricing seems confusing. You can always get in touch with their sales team in order to clear things out. The best decision is to go for SaaS-based live chat platforms that have clear and straightforward agent-based pricing details.
Notable features to look at any chat solution
Best live chat platform often has a lot of features, and it is rather difficult to know which will be and will not be helpful for your business. In order to make things simple for you, we have taken reviews from real users and done massive research on various popular software.
As a result, we compiled a list of some key features, advanced features, and some of the common features that will help you provide better customer service.
Easy-to-Use: Easy-to-use tools are always preferred by customers.
Value for money: Live chat tools should offer value for money.
Automated reply: Pre-populated answers can save time and help increase productivity.
Customization: Customization is important to make sure that the customer feels comfortable with the tool.
Real-time monitoring: Real-time monitoring helps businesses understand visitors' behaviors.
Contact forms: Contact forms help customers provide more detailed information.
Chatbot: Chatbots help businesses automate the support process.
Integrations: Integrate your live chat platform with other programs like CRM, CMS, help desk, knowledge base, social media, and so on.
Mobile App: Look for live chat service companies that have apps for both Android and iOS users.
7 Best live chat software and tools
After providing all the information about live chat software, it is time to introduce you to the 7 best live chat software that can increase your customer engagement.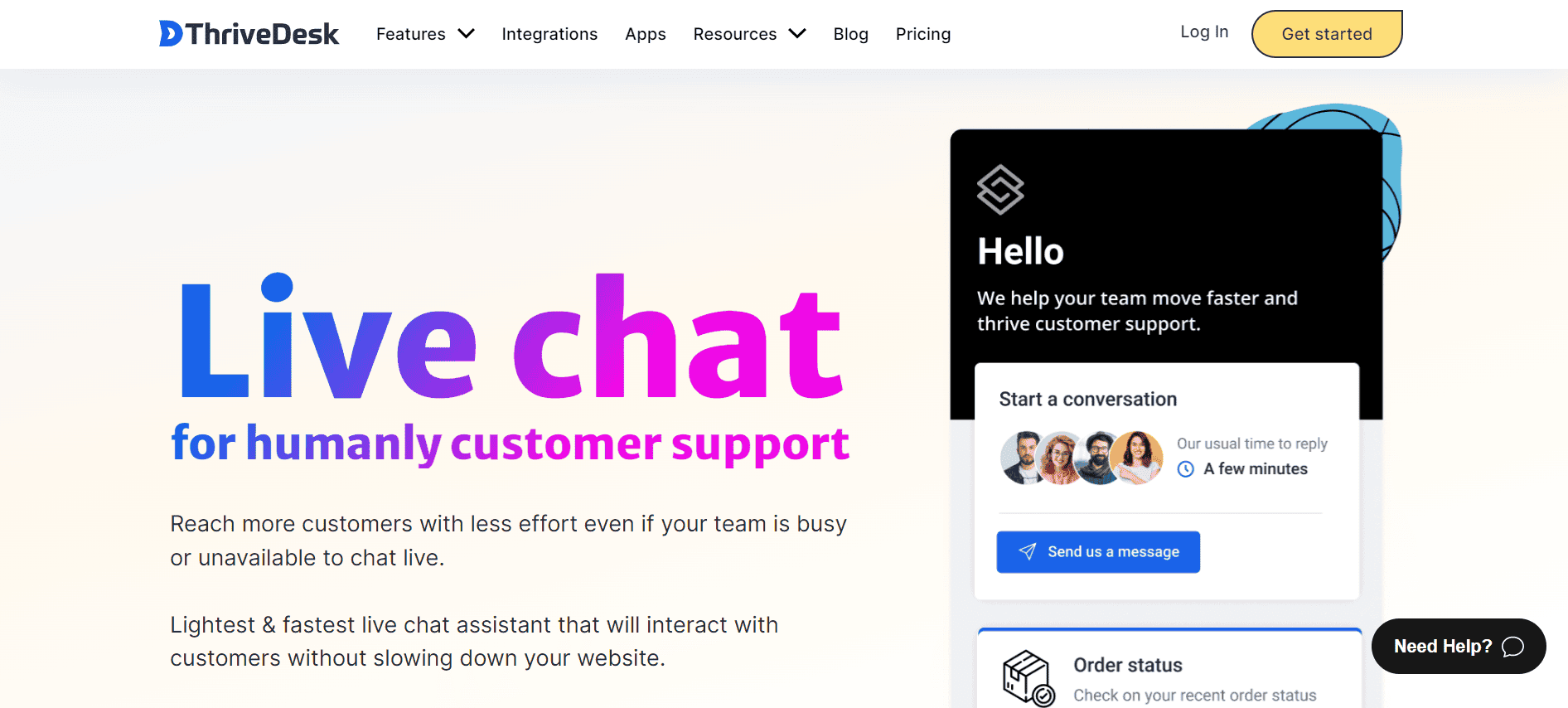 ThriveDesk is the lightest live chat assistant specially built for eCommerce websites for humanly customer support. You can reach more customers for your eCommerce with a whole bunch of built-in features, including instant reply, sharing files right from the chat widget, relevant emojis, satisfactory surveys, reports for your eCommerce sales tracking, and monitoring.
Significantly, for a WooCommerce merchant, ThriveDesk live chat is the most advanced and connected way to manage online customers. You can monitor customer total order value, complete order details, shipping and license details of an order, cancel/refund orders with a click, and manage your eCommerce seamlessly.
ThriveDesk only focuses on excellent customer experiences, and so it never shows a live chat window unless someone is available to help; therefore gives you an alternate solution, including direct customers' support requests to your ThriveDesk email queue, greeting your customers using bots, keeping the conversation going even if customers drop off live chat.
The primary purpose of the ThriveDesk assistant is to make your live chat more lively. The software allows your eCommerce customers to search for the answer in the knowledge base, start a chat or send an email, provide a contact form to submit more detailed information, and engage with customers in your community with integrated apps.
ThriveDesk's agent interface is way much optimized to ensure fast replies for maximum efficiency. Also, you can customize every aspect of communication with ThriveDesk live chat by customizing colors, choosing notification sounds, adding your company logo, welcome message, and many more things.
Best for: eCommerce websites, Woocommerce users
Features
Shared inbox for real-time team collaboration
Automatic reply support to respond to users ASAP.
Multiple workspaces to switch between.
Advanced markdown and formatting support to make things more readable and expressive.
Satisfaction rating system for customers.
Conversation history support to help make the support flawless.
The ability to update customer conversations through email.
Webhooks allow for posting data to the server with ease.
Compatibility with other web services.
Pros and Cons
Pros

Cons

Efficient app integration support.
You can access all your emails through the shared inbox.
Automated replying from the knowledge base to keep things swift.
The workflow is easy to figure out for operators.
Customer Relationship Management software shows all of a customer's data in one place.

No quality mobile app support.
Pricing
ThriveDesk is apparently a customer service software that provides Shared Inbox, Live Chat, Reporting, Community, Knowledge Base, and WooCommerce Integration all-inclusive at a single price.
Basic: $6.67 per user per month
Pro: $12 per user per month


HubSpot Live Chat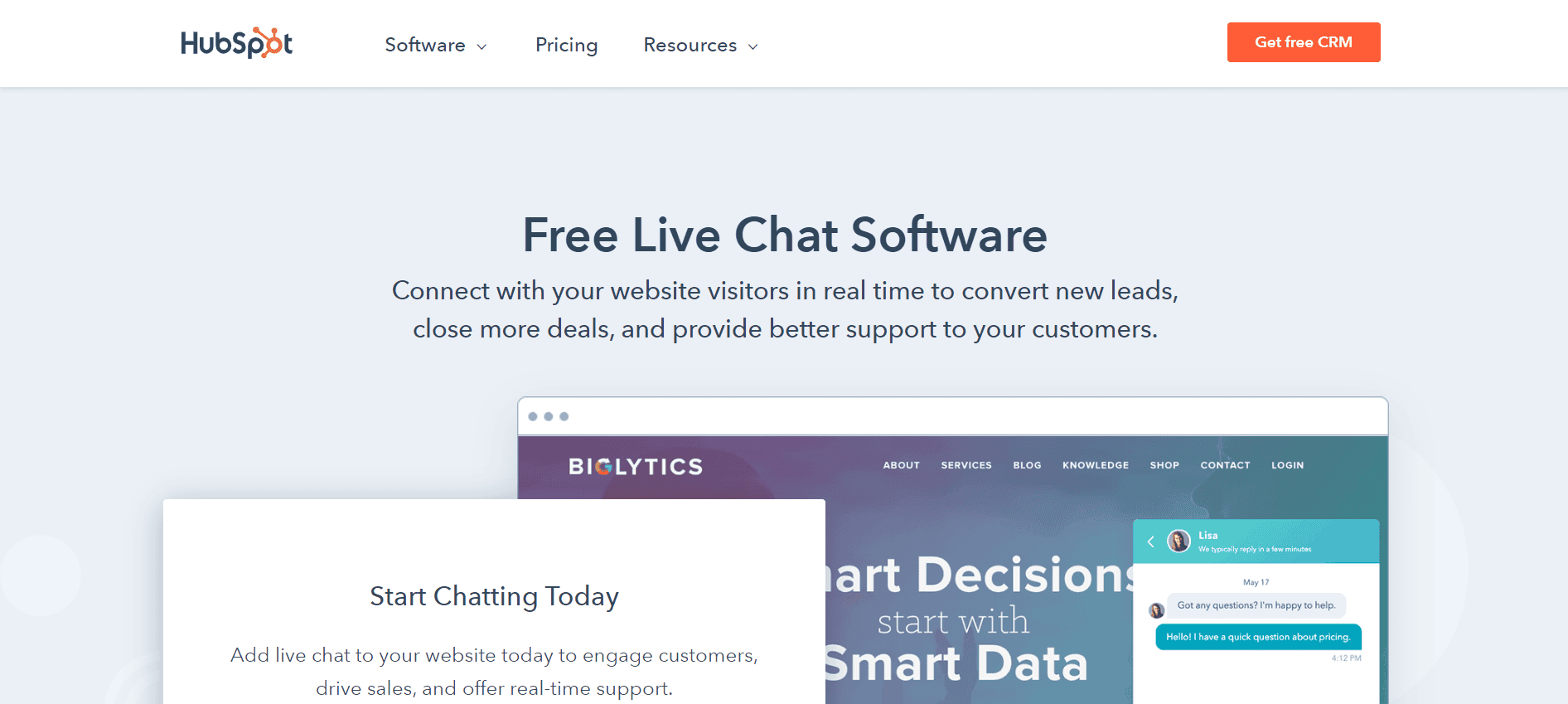 Clearly from the name, HubSpot Live Chat is another CRM (customer relationship management) software from HubSpot. This software is very user-friendly and is loaded with various useful features other than being just a regular medium for contact management.
Hubspot live chat is apparently a freeware with a built-in Chatbot Builder. But there will also be other things that Hubspot has to offer to help out. Most of those come from their premium package, So you have to pay some money to use them. You Can Easily Buy Those Packages and Integrations from Hubspot Marketing Hub.
Best for: Multi-use
Features
Unlimited and personalized conversation with chatbots
Contact & lead management
Pipeline management
Contact & company insights
Email tracking
Email templates & documents
Gmail & outlook integration
Facebook & Instagram lead ads
Forms
Contact activity
Conversation inbox
Meeting scheduling
Live chat & bots
Social media tools
Sales email automation
Sales email templates
Online form builder
Chatbot builder
Marketing analytics
Landing page builder
Pros and Cons
Pros

Cons

Seamless integration with HubSpot
Easy to use user interface
Unified inbox
HubSpot Integrations and API

Easy to miss conversations
No chat broadcasting
Pricing
Starter: $45 per month per agent, billed annually
Professional: $800 per month per agent, billed annually
Enterprise: $3200 per month per agent, billed annually
Starter CRM Suite (Recommended Bundles): $45 per month per agent, billed annually
Zendesk Chat

ZenDesk, a very well-known software from an American company, specializes mostly in customer service and sales CRM (Customer Relationship Management), including live chat. It allows you to reach out to your customers before they even ask any questions.
You can also use this tool to engage with your customers via social media platforms such as Facebook Messenger. This tool is great for businesses that want to improve their customer service though there are lots of Zendesk alternatives out there.
Best for: Analytics and service
Features
Messaging & live chat
Community forum (public and private)
Reporting & analytics
Answer bot
Cloud security, Application security, Product security
100+ integrations with 3rd party apps
Multi-brand support
Anticipate customer questions
Automate your responses with a chatbot
Offer anytime, anywhere responses with mobile chat app
Chat routing to help customers find answers faster
Multiple chat customization settings
Pros and Cons
Pros

Cons

Real time view of visitors
Simultaneously used at several websites in multiple chat windows with different settings
Easily integrated with other Zendesk products in one centralized platform
It allows creating macros, so agents can also create mother and parent tickets in Zendesk

No support for video and voice chat
The free plan has very limited features and is not much useful
Advanced reporting is limited.
Pricing
Plans for everyone
Suite Team: $49 per month per agent, billed annually
Suite Growth: $79 per month per agent, billed annually
Suite Professional: $99 per month per agent, billed annually
Plans for enterprises
Suite Enterprise: $150 per month per agent, billed annually
It gets even more powerful: $215 per month per agent, billed annually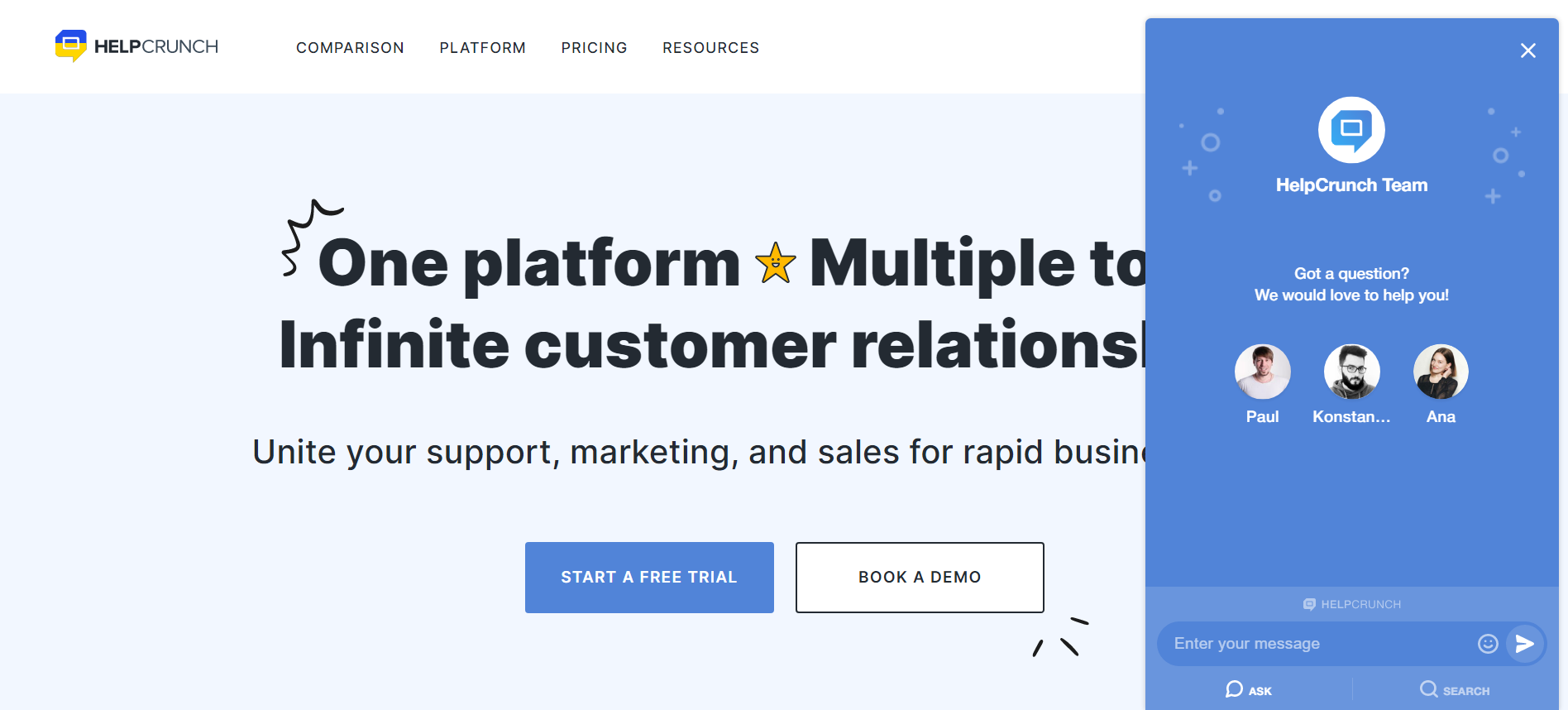 HelpCrunch is a full-house customer communication platform widely used by companies of all sizes for support, marketing, and sales. Its feature spectrum comprises everything from a no-code chatbot to email marketing functionalities, a popup builder, and a shared inbox. The HelpCrunch hallmark feature is a modern live chat.
Features
Shared inbox where everything is happening in real-time
Proactive chat messages for various customer behavior
Rule-based chatbot automation
Auto/manual messages
Pre-chat and offline forms
Knowledge base integrated into the chat widget (intuitive WYSIWYG editor and SEO settings)
Fully customizable chat widget for a complete brand look
Automated follow-up feature
Pre-written canned responses
Accurate reports feature
Ample integrations (Instagram, Telegram, Viber, Facebook Messenger, etc.)
Native iOS and Android applications, HelpCrunch SDKs
Pros and Cons
| | |
| --- | --- |
| Pros | Cons |
| Easy setup and use | No call center feature |
| Most relevant functionalities for proactive customer service | Not suitable for a company looking for a big ticketing system |
| A chatbot feature for even better customer support automation | |
| All communication flows into one place – a shared inbox | |
| Email marketing specs are included | |
| Numerous customization functionalities | |
Pricing
Basic: $15/mo/agent
Pro: $25/mo/agent
Enterprise: the price is open for discussion
A 14-day free trial is available, the prices are shown if billed monthly
LiveChat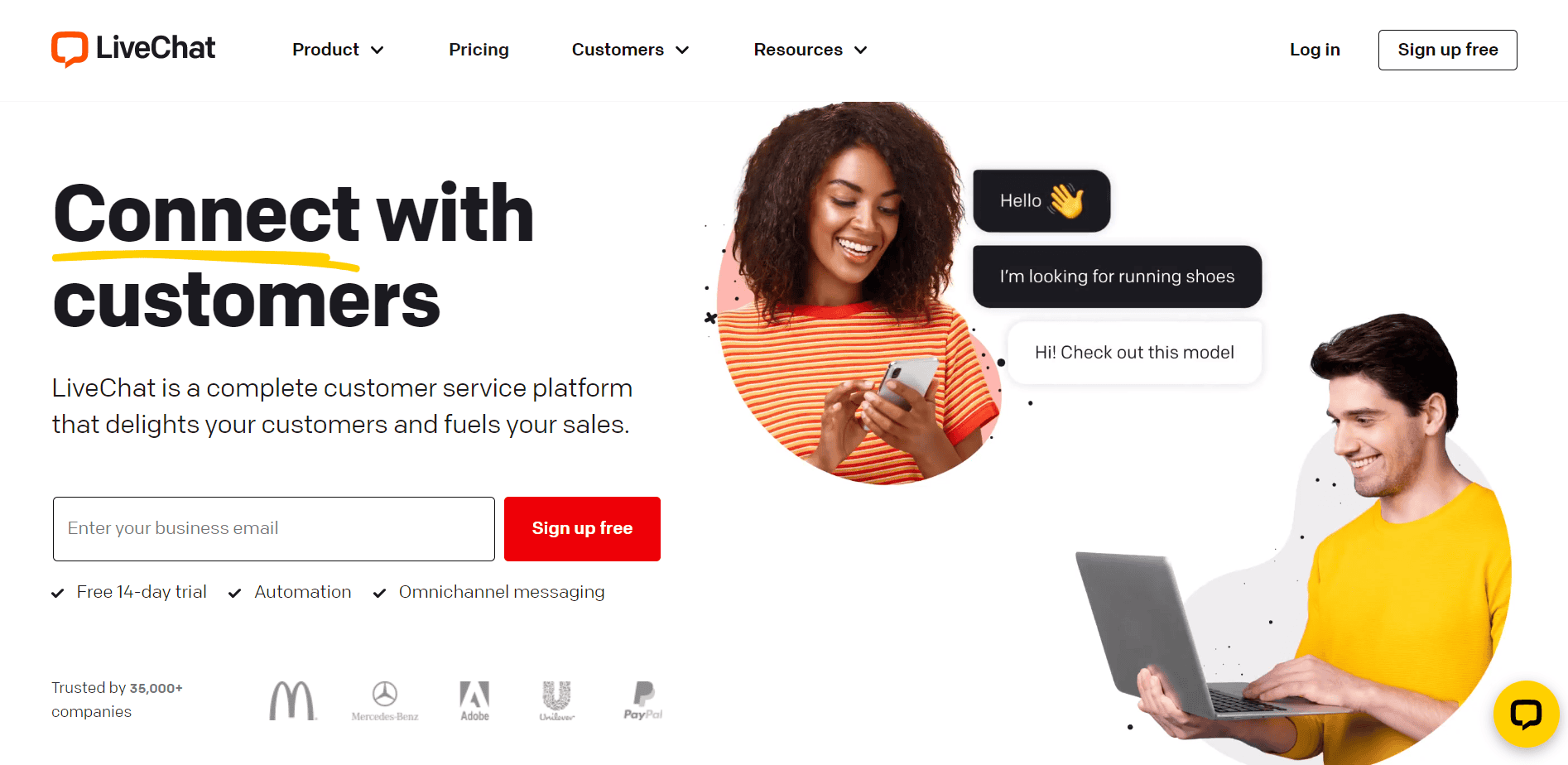 LiveChat is another popular messaging app that can be integrated into websites to instantly address sales and support questions. LiveChat has many useful features that can rapidly increase your online sales and improve customer service.
Their desktop apps for Windows and Macintosh offer a rich interface that allows them to take customer service to an even higher level. One of the top benefits of LiveChat is the integrations it offers. LiveChat also provides WordPress live chat plugin for lead generation and customer support.
Best for: Multi-website chat
Features
Targeted messages for specific visitor behavior
Chat ratings for individual operators
Branding and customization settings
In-built ticketing system
File sharing during an ongoing conversation
Proactive chat with Canned responses
Customizable branding
Integration capabilities
Website visitor tracking
Pros and Cons
Pros

Cons

Simple and easy to use interface
Strong analytics capabilities for staff prediction.
Dedicated app marketplace with lots of integration

No built-in chatbot builder.
Mobile apps have very limited functionality.
Pricing
Starter: $16 per month per agent, billed annually
Team: $33 per month per agent, billed annually
Business: $50 per month per agent, billed annually
Enterprise: You have to contact LiveChat in order to know the price
Intercom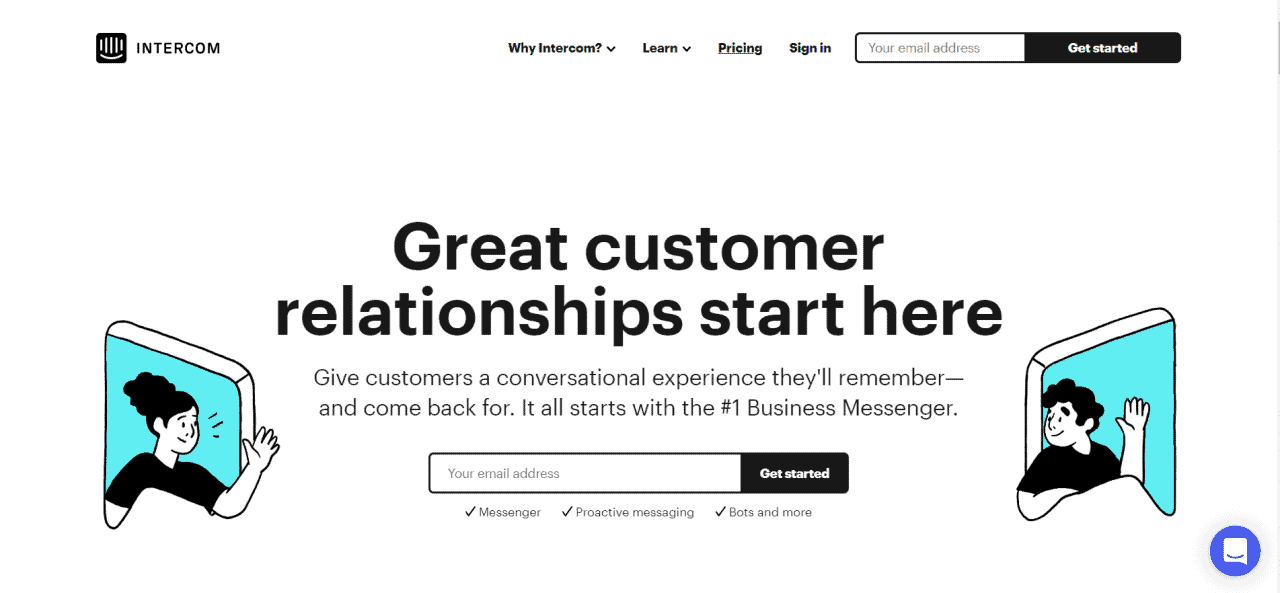 Intercom is a messaging app that allows users to communicate via text or voice over the phone. It can be used to create an interactive conversation with customers. It is a great tool for customer service and sales teams. Intercom has been one of the best live chat software in the market since 2011.
Best for: SaaS businesses
Features
Live Chat
Customization
Ticket Creation User Experience
Ticket Response User Experience
Response Automation
Attachments/Screencasts
Email to Case
Chat/Live Support
Pop-up Chat
Notifications
Targeted Emails
In-App Messaging
Knowledge Base
Team Inbox
Customer Profiles
Outbound Messages
Customer Bots
Resolution Bot
Pros and Cons
Pros

Cons

Complete conversational marketing suite for outbound messaging
250+ out-of-the-box integrations and APIs for custom integrations
Ideally suitable for SaaS businesses
In-app product tours to onboard new customer

Not ideal for small and medium businesses where pricing is a concern.
The implementation process is tedious and takes a long time
Limited native integrations.
Pricing
For very small businesses
Starter: Starts from $79 per month. It can be customized according to your need, increasing the amount of money you have to pay.
For most businesses
There are 3 packages in this section: Marketing, Customer Engagement, and Support. Their prices are not given as you have to get a demo first in order actually to buy those.
Crisp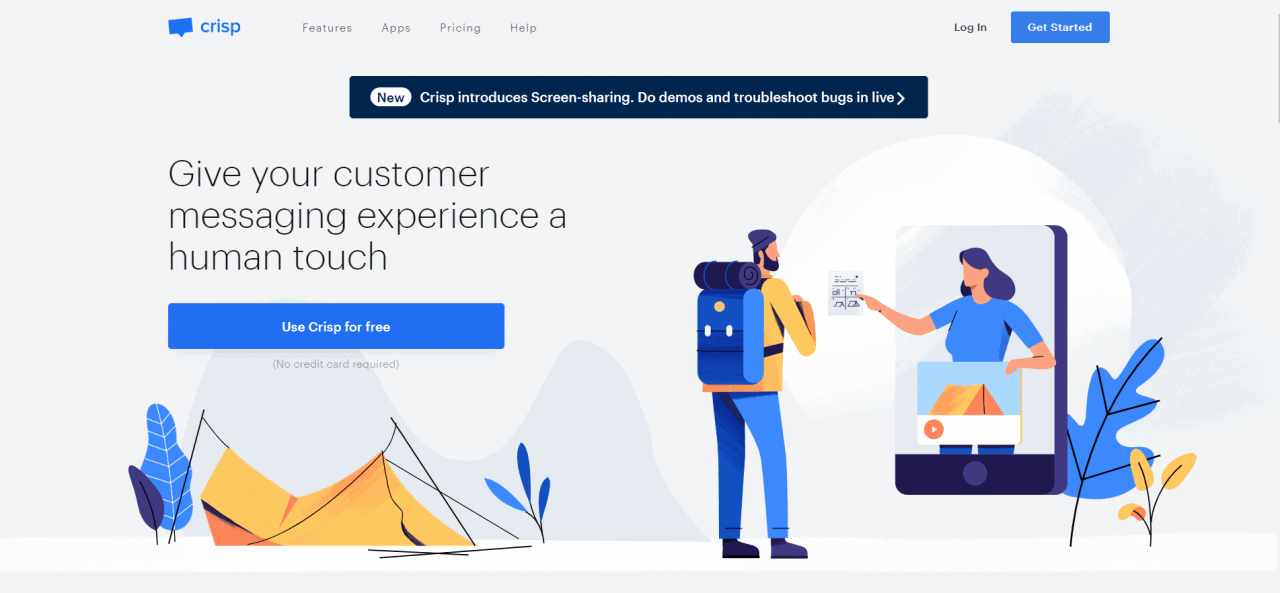 Crisp is a multi-channel customer support software that helps startups and SMB's to scale their customer relationship through a wide range of features. You can use this tool to communicate with friends and colleagues via text message, instant messenger, social media, e-mail, voice mail, or video calls, and gather sales, marketing, and support within one unique dashboard.
Best for: Startups and small businesses
Features
Extensive customization option
Language and position customization for the widget
Shared inbox for Facebook Messenger, Email, Twilio, LINE, WhatsApp, etc.
The real-time message translation feature
Video and audio call capabilities
Pros and Cons
Pros

Cons

Efficient app integration support.
You can access all your emails through the shared inbox.
Automated replying from the knowledge base to keep things swift.
The workflow is easy to figure out for operators.
Customer Relationship Management software shows all of a customer's data in one place.

No quality mobile app support.
Pricing
Basic: Free forever, includes 2 seats
Pro: $25 per month, includes 4 seats
Unlimited: $95 per month, includes unlimited seats
Tidio Live Chat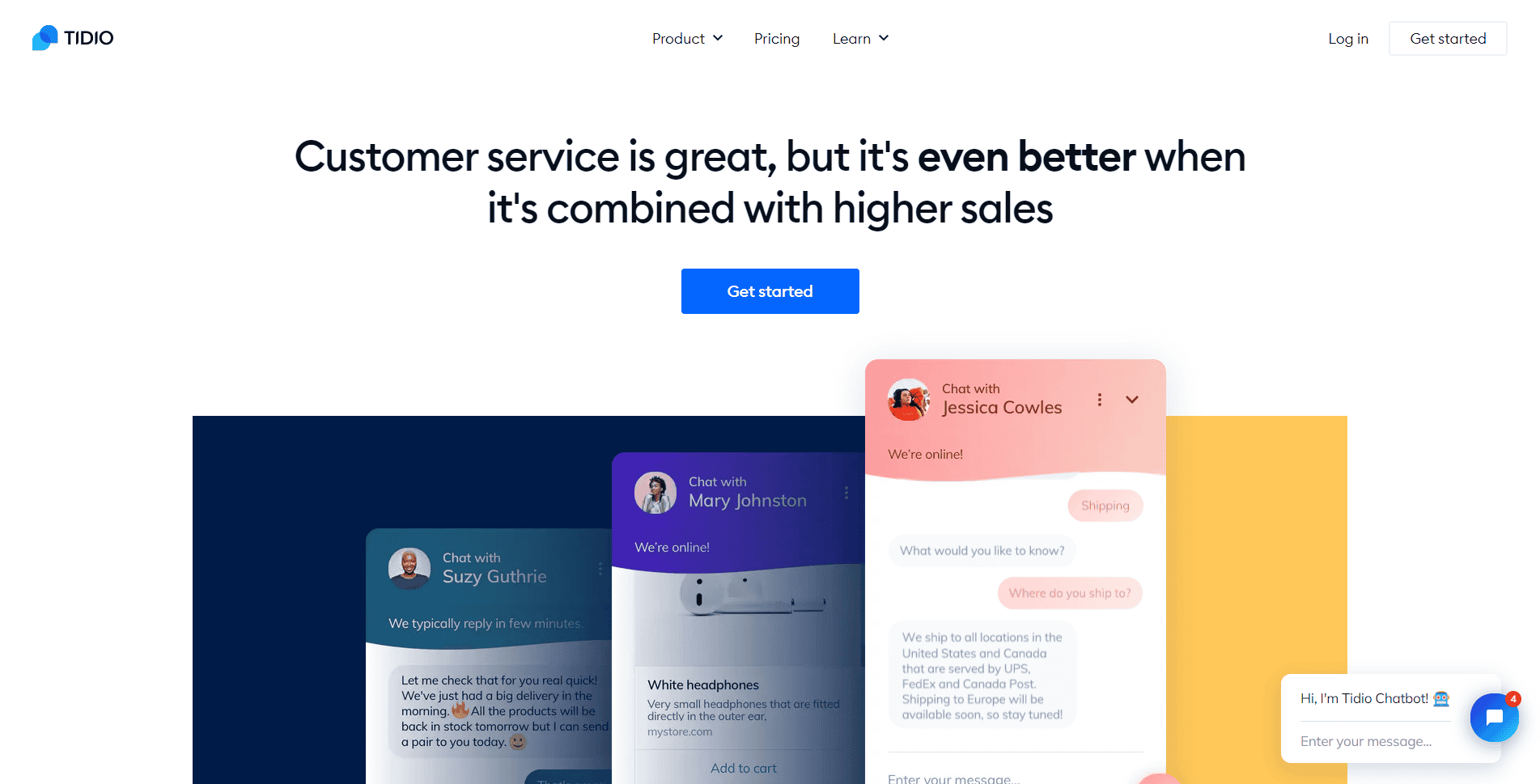 Tidio Live Chat is a well-known consumer communication tool that includes features such as live chat, messaging, and email. It allows for simple and effective online communication while also engaging your clients and visitors and automating your job so that you may expand your business.
Best for: Small and medium businesses
Features
24/7 support with the help of chatbots.
Users can design live chat widgets however they want.
Extensive monitoring system to automate live chats and reduce the need for human effort.
Powerful AI system that can help the operators view information at the click of a button.
Intuitive, customizable, and modern user interface.
Support for multiple languages.
Prebuilt templates for the users to utilize.
Pros and Cons
Pros

Cons

Abandoned Cart Bot can reduce the overall abandonment rate.
Customizable widgets according to your brand and design language.
Powerful monitoring capabilities for better insights.
AI tools to streamline the workflow.
24/7 support with chatbots.

No broadcasts and sequences support.
Pricing
Free: Free forever, consists of up to 3 operators
Chatbots: $18 per month, includes all active chatbots
Communicator: $18 per month, includes live typing and additional chat operators for $10 per seat
Mailing: $10 per month, includes mailing templates and many more
Wrapping Up
Customer service with online chat and personalized messages are very important for companies to gain customers. If you want to bring comfort to your customers, you have to use multiple communication channels. But as we have said earlier, mastering one communication first is rather important and a great move.
So, this was the list of best live chat software of 2022. Don't forget to share your valuable opinion in the comment section below. We are keen to know which live chat solution you use.