Introducing Epsilon - Best Joomla Template for SaaS Website, Web Services and App Development Companies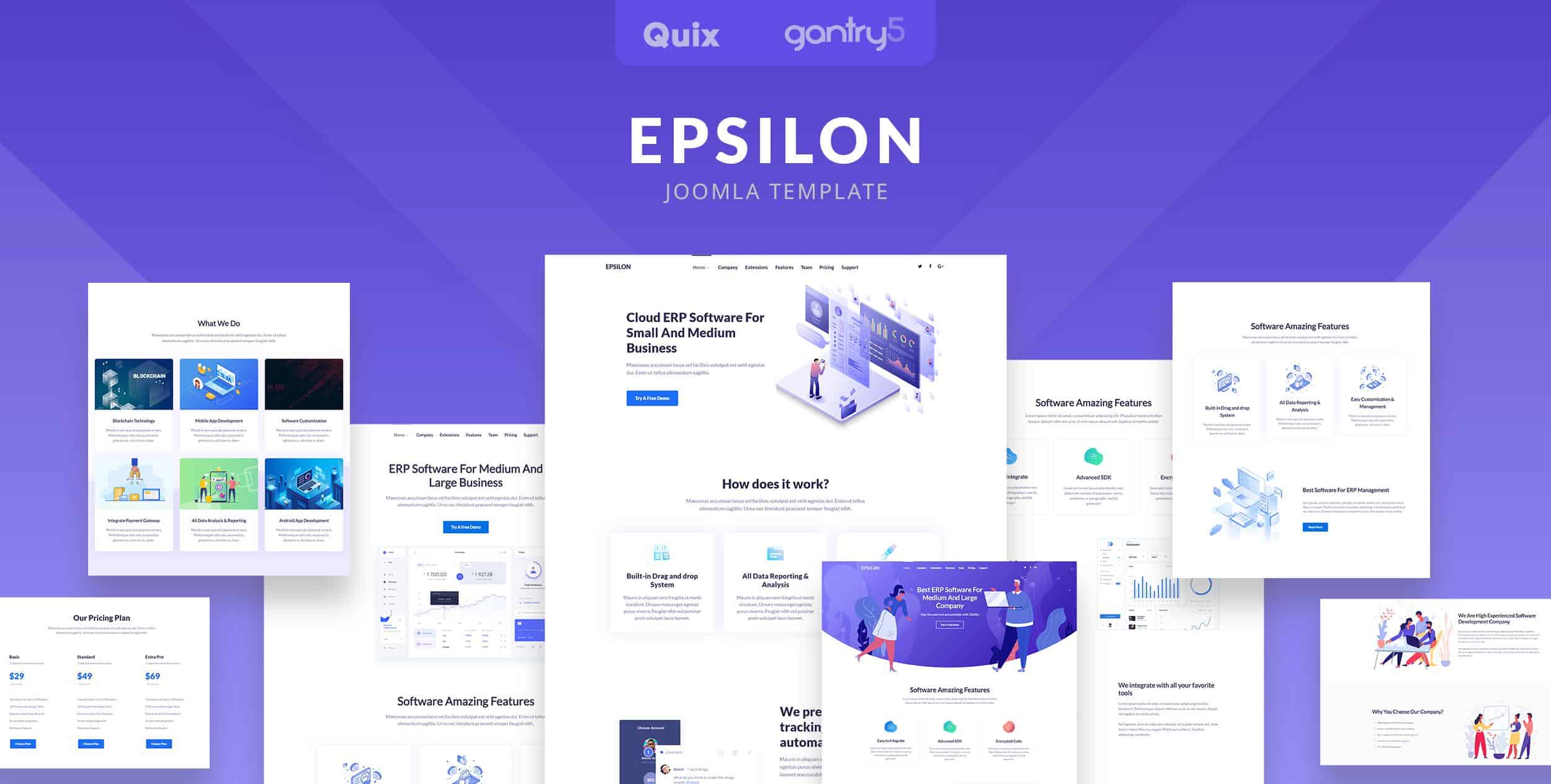 ​ If you are running a startup and very close to release your product, then you definitely need a dazzling website. To make things easier for you, we ...
​If you are running a startup and very close to release your product, then you definitely need a dazzling website. To make things easier for you, we have built Epsilon, our brand new Joomla template for SaaS, Web Services, and App Development companies.
You might think why we have built Joomla template for SaaS website because it's undeniable that software as a service (or SaaS) is growing rapidly. In fact, based on a survey conducted by BetterCloud, 73% of organizations who responded said that at least 80% of their apps would be SaaS by 2020.

​Therefore, we stepped forward to build this template. It is a responsive and highly element focusing template for Joomla that will give your business a fresh look with special attention in details.
Epsilon requires the next-generation Joomla page builder - Quix 2.5.x, the latest version of Joomla 3.x support, and the Gantry 5 framework available on your computer.
Let me show you the reasons why you should use this template and which unique features we have brought for you.
Why Use Epsilon?
What's Inside Epsilon?
Showcase your each and every feature of SaaS website and blow your customer outlook with 3 unique homepage variation. You will get a completely different content visualization with each homepage. It will also enable you to describe more about your services with videos and images in an organized way.
The Company page of our brand new Epsilon template is dedicatedly designed to showcase about your business, reasons to choose you, testimonials, and many more things. It also gives you an opportunity to describe your works and experiences with some remarkable statistics.
Suppose you own a business that covers a wide range of services. But your visitors are not well aware of your services just because you have failed to inform them with an awful representation. To relief you from this kind of failure, we have introduced our brand new Epsilon template with an eye-catching Extensions page.
The feature page of our brand new Epsilon template for SaaS business is responsible for showcasing the core features, functionalities, software settings, and these kinds of things of your business so that your visitor can get a clear idea about actually what you offer.
Who are the powerful persons for a company? Obviously, the team members. They are the architect behind the curtain. Our Epsilon Joomla template can pick potential client for you and get to the point of knowing that real people are working for your company.
twitter, dribble) of your team members.
Pricing page of our Epsilon template is adequately designed to organize your pricing plan as well as it contains a FAQ section. In the pricing plan section, you will be able to let your viewer know about your service price, and the FAQ section will allow you to set some common question with the answer.
You won't get satisfaction until you can make your user satisfy. As a business or a website owner, you must keep maintaining a good relationship with your clients to meet their expectations. Our brand new Epsilon Joomla template gives you a platform for online interaction with your clients where you can provide a nicely designed contact form with some additional information.
Bonus Extension - Joomla Instant Page
​Joomla instant page is the world's first Joomla prefetch extension that is developed by ThemeXpert. It will preload your page right before you click on it that means, all you need to do is hover your mouse over that link, and it will load your page automatically. It will do the following tasks for you.
All these features of Joomla instant page you will get as a builtin feature with our brand new Epsilon Joomla template.
Your Thoughts
​Our new Epsilon Joomla template for SaaS website is exceptionally designed to serve your demand. So, let us know whether we can meet your expectations or not and suggest us about your anticipations towards us so that we can serve you better day by day. Our comment box is open for you.