Introducing Quix 2.6.1 - with Most Awaited Elements Update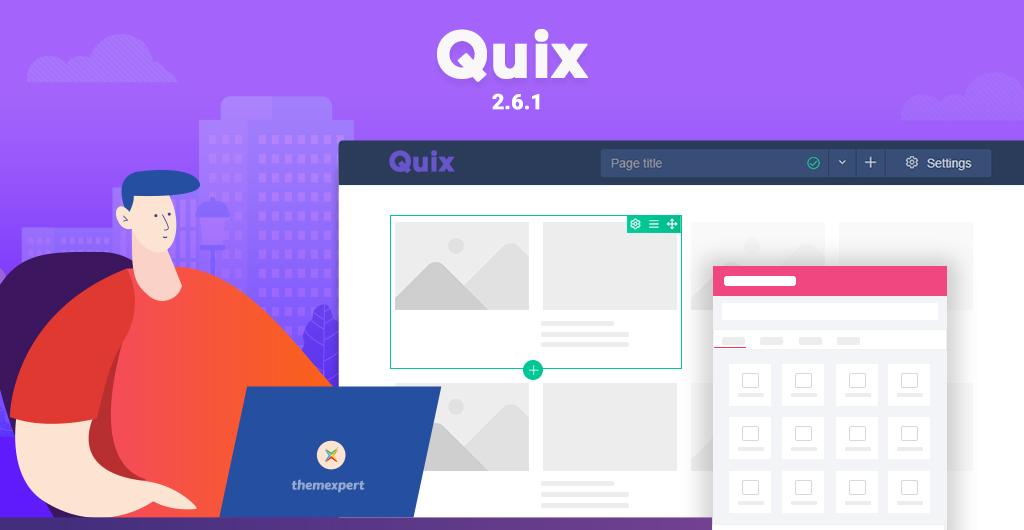 Today we are delighted to introduce Quix 2.6.1 with some important feature updates and bug fixes that will give you more comfort and pleasure while us...
Today we are delighted to introduce Quix 2.6.1 with some important feature updates and bug fixes that will give you more comfort and pleasure while using Quix. This time, we have exceptionally designed this update, especially according to our beloved users' demand.
As you know, we are trying to make Quix as an unstoppable and incomparable Joomla page builder, and by giving frequent updates, we are heading towards that goal. We want to make sure that you get the seamless performance and the latest technologies with our products. We do it by updating them on a regular basis.
After introducing Quix AMP in our last release, we got a shower of love from you. We are expecting the same reaction from you this time too. Now, let's check all the changes in detail.
An Overview of the Most Awaited Elements Update
​Gallery Element: Added responsive grid control, Filter button styles, New masonry layout, and Overlay title-caption styles.
Button Element: Added new border type.
Blurb Element: Added background color for image and icon, Added image border

​.

Testimonial Carousel: Added grid layout, Image control, Items styles, Image border, and Quotation.
Slider Pro: Added bar navigation + button icon.
Accordion Element: Added collapse option for first item.
Media Carousel Element: Added content and caption styles.
Form Element: Captcha validation improved.
Person Element: Added border, and padding for image.
Image Element: Improved media border, caption border, caption background, and icon styles.
Video Pro Element:

​Improved options settings.
​One of the significant improvements of this Quix release is the updated Gallery element. This time we have resolved several issues with Gallery element, and we have added some extremely workable features like responsive grid control, filter button style, new masonry layout, and overlay title-caption style.
We were exceptionally focused on adding responsive grid control and masonry layout so that you can optimize the use of space inside the web page by reducing any unnecessary gaps.

To test the updated Gallery element, add a Gallery from the Element List. Click on Layout from General Settings, and then enable Masonry to enjoy the updated Gallery element.
​As we are dedicated to enhancing the beauty and workability of every element of our beloved Quix, we have added a new feature with the Button element. Excited to know? Well, we have added a new border type with Button. Confused? Okay, let me clarify you.
First of all, add a button from the Element List. Go to its Style, scroll down, and click on "Border New." Now enable it and edit in a way that you want. There you will see Border Type, Border Width, Color, Border Radius, and Box Shadow. Enjoy the changes!
​As you know, the blurb element is the combination of image, heading, and text element. It's like a shortcut. If you need to use all these 3 elements in one section, you can do it easily. All you need to do is select the element and edit the way you want.
The exciting part is that, in this release, we have added background color for both images and icons. Not only background color but also we have added image border so that you can draw your user's attention in a modern way.
To use this element, follow these steps.
​

Select Add New Element from column

Elements list modal will open
From there select Blurb element
Now, check the changes and let us know whether you are satisfied or you want us to do anything else to make your work easier.
​A Testimonial is one of the tested sources to gain the credibility of the users. Let your users know what your clients think about your services. To make Testimonial Carousel more functional and user-friendly, we have added grid layout, image control, item styles, and image border.
Moreover, we have added such an exciting feature with Testimonial that was asked to add by our beloved users for a long time, and this time, we have addressed it. Exciting to know? Well, with updated Quix, you will be able to add Quotation as a testimonial speech. Isn't it amazing?
​Slider Pro is one of the hottest elements of Quix. Now, it is more mature than any other slider from different page builders. Though it is enough workable and functional, in addition, we have added bar navigation and button icon so that it can serve you better than ever before.
​In accordion, sometimes, you need to keep the first item closes. For that reason, we have updated the accordion in that way so that you can access this feature from this version of Quix. Add an Accordion from the Element list, scroll down, click on Behavior then customize it if you needed.
​Media carousel is going to serve you better as it will enable you to add content and caption style from this updated version of Quix. It was our users' demand to make the media carousel more flexible, and we just did it. You won't get satisfaction unless you let us know your feedback. So grab the updated Quix and examine all the changes.
​Form element won't give you any warning while you are customizing Captcha on your page builder. Our developer team worked their ass off to remove that warning so that you won't any dis-comfortable in the time of using Quix. We are proudly announcing that Captcha validation is improved better than before.
​Person element is also improved this time. We have added border and padding for the image so that you can represent your idea in a better way than any other else. Use the updated Person element and draw your user's attention quickly.
​Now you can customize the Image and Icon element more efficiently than before. How? Well, the Image element will give you some extra modification options so that you can design it in a contemporary style. We have improved media border, caption border, caption background, and icon styles to make you fall in love with Quix.
Updated Video Pro Element
​Video pro element is now more user-friendly than ever before. Now you will be able to handle the customization phase of the Video pro element easily. It will enable you to modify its size, width, alignment, and other settings in a smoother way.
​Besides, these updates we have resolved some of the critical and silly bugs that you guys wanted us to fix. Some of the notable bugs that we have fixed is below mentioned. You can also visit Quix Changelog to know more.
​

Issues

​

Status

​Builder not loading

​Fixed
​Admin Dashboard model warning

​​Fixed

​

​Problem with icon positioning on Video pro element

​​Fixed

​

​Problem with title, caption, outside arrow navigation, overlay animation and alignment options on Media Carousel

​​Fixed

​

​Problem with mage width max value on Image element

​

​​Fixed

​
​We are continuously trying to make Quix better than ever according to your demands. So, it is important for us to know your thinking about Quix. Our comment box and social site accounts are open for your feedback. Drop your comments, and let us make Quix unstoppable.