How Can B2C Companies Leverage Instagram for Lead Generation?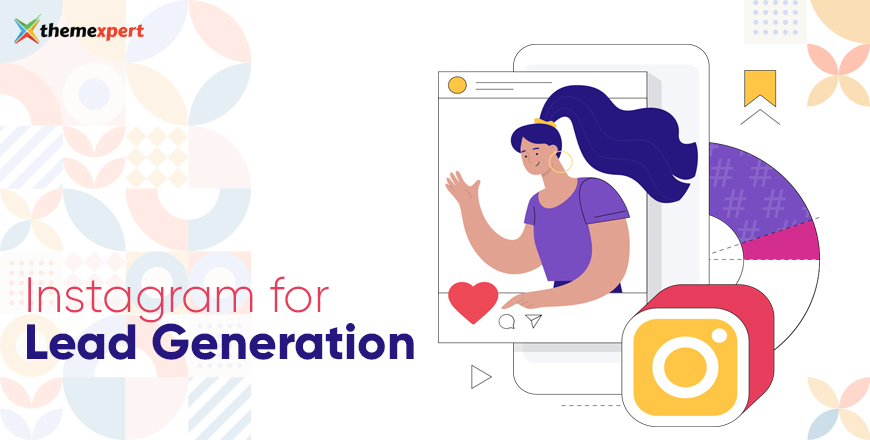 Brands are ditching traditional marketing and advertising techniques for more innovative and user-centric approaches. Social media marketing is one of...
Brands are ditching traditional marketing and advertising techniques for more innovative and user-centric approaches. Social media marketing is one of them, and it has become so prevalent that 73% of marketers use it for brand awareness, lead generation, and sales.
As social media usage continues to increase among the regular population and brands, new social media platforms are entering the market. This makes it difficult for marketers to find the right social media channels.
Facebook, being the most popular social media platform, is the natural choice for many marketers. But lately, Facebook's younger brother Instagram has gained significant popularity among marketers and using Instagram for Marketing.
So, why should B2C companies use Instagram for lead generation, and how can they do it effectively? Let's find out. 
Instagram for Marketing: What Makes it Unique? 
Instagram is the fifth-most popular social media platform after Facebook, YouTube, WhatsApp, and WeChat. Total Instagram users in 2020 stood at around one billion. Since its launch in 2013, Instagram has acquired more than 880 million users at a record growth rate of 751%. The second on the list is WeChat, demonstrating a 409% growth in the same period.
What has invited so many people to Instagram? Let's quickly walk through the main reasons.
It is user-friendly.
It allows you to gain popularity and become famous.
It is visual, and that's what people prefer.
The content on Instagram is easy to consume.
Instagram is also a unique platform from a marketing perspective. Let's look at some reasons why it has emerged as the top social media channel for marketing.
Improved Target Market Penetration
If your target market is young people who are impulsive buyers and easy to influence, Instagram is the right platform for you. Most users on Instagram are aged 18-29, with the majority of users being females. As more brands are beginning to target younger consumers who are easy to engage, Instagram has become a natural choice for marketing.
Videos are now the primary content on social media. More than 90% of marketers who invest in video marketing on social media see a positive ROI. Since Instagram is a visual-centric platform, it allows brands to leverage visual marketing using videos, GIFs, images, infographics, and even memes. Brands in the fashion, lifestyle, and SaaS industries that need to "show" their customers can benefit significantly from Instagram.
Here is where Instagram outshines every social media platform on the planet. the average Instagram engagement rate across all industries has reached 1.22%. On the other hand, the median posting frequency on Instagram is 0.62 posts per day. This means if you share a post on Instagram, it will get more likes and shares on Instagram than on Facebook or Twitter, provided that you have the same number of followers.
Top Benefits of Using Instagram for Marketing
​
Having discussed what makes Instagram different from other social platforms, let's now look at the benefits of social media marketing on Instagram.
Increasing Numbers of Users
​
Apart from the fact that Instagram has more than a billion active users and 25 million businesses, more users and companies are joining Instagram every day. With the user base expanding, the opportunities for businesses to reach new customers are only going to increase.
Effective Targeting and Retargeting Options
​
Instagram offers a wide range of targeting and retargeting options. You can reach your audience by location, demographics, interests, behaviors, and lookalike audiences. It also comes with an automated targeting feature.
Various Visual Marketing Features
​
Instagram has a lot of exciting features. Apart from sharing images and 60-second videos, you can share Stories (like Snapchat) and 30-minute Reels (like TikTok). It also has a TV feature to share videos for up to 15 minutes (mobile) and 60 minutes (web).
Increasing Followers Is Easy
​
Increasing followers on Instagram is easier compared to other social platforms. Brands readily promote their Instagram profiles on their websites and product packaging using QR codes. QR codes are an effective tool for promoting your Instagram profile. 
You can use a QR code generator to create a custom QR code, link it to your Instagram profile, and put it up on your product packaging and offline advertising materials. Users can scan the code from their smartphones and connect with you on Instagram.
Users Have Their Guards Down
​
People on social media aren't very fond of brands and promotional content. However, it isn't the case with Instagram. People readily follow the brands they love, and businesses have the opportunity to engage with their audience on a personal level. There is a reason why Nike has over 150 million Instagram followers.
You Can Leverage User-Generated Content
​
Millennials trust user-generated content 50% more than the content created by brands. UGC is a crucial aspect of the brand-building process on social media. Instagram is one of the best platforms for building up UGC. Users can tag your brand and use branded hashtags in their content, directing traffic to your brand.
Instagram comes with powerful analytics tools. It provides insights into new followers and their age, gender, and location. You can also see followers from which age group, gender, and location are interacting the most with your brand and on which days of the week.
How to Generate More Leads on Instagram?
​
Like all other social platforms, Instagram is less of a sales tool and more of an awareness and engagement tool. It may not help you drive a lot of sales, but it can enable you to generate myriad qualified leads.
Here are a few actionable ways to boost your Instagram for Lead Generation efforts. 
Get Your Profile Right 
If you're serious about how people perceive you on Instagram, be sure to have a stunning Instagram profile. The first thing users will do as soon as they come across your brand is to visit your profile to check who you are and what you do. Thus, having a clear profile bio that communicates essential information about your brand is crucial.
A good profile goes beyond an engaging bio. Have your brand's logo as your profile picture, and ensure that the logo is clear and centered. And don't forget to include your website URL in the bio. If your URL looks bulky and takes a lot of space, you can use tools like Linktree to shorten your URL.
Also, include actionable buttons in your profile so that your users can take action. Apart from Follow and Message buttons that are shown by default, you can add Email and Call buttons to encourage users to take action. Additionally, Instagram allows you to add a View Shop button and link it to your Instagram Shop.
Level-Up Your Content Game 
If you want to succeed on Instagram, you need followers. Of course, it could seem unrealistic to get millions of followers like Nike and Gucci, and you don't need that many followers. Any number above 5k is good as long as you have a decent engagement rate.
Content is king on Instagram. Businesses need to have a robust Instagram content marketing process and content strategy and posting schedule to keep the engagement levels high on their profile. You'll need to come up with unique, valuable, and engaging content ideas that delight your audience and encourage them to follow you.
Make sure to have a CTA in your posts. Instagram doesn't allow placing links in the caption, but you can use phrases like "Link in Bio" to guide users to your profile. 
Leverage Stories and Live Videos
Stories are one of the most revolutionary features of Instagram to date. It changed the way people and brands used Instagram. More than 500 million users use Stories every day. Moreover, 58% of people say they became interested in a brand after seeing their Stories, and 50% of people have visited a brand's website and made a purchase after seeing them on Stories.
Therefore, Stories is an essential Instagram marketing tool that every business should use. It also offers seamless lead generation opportunities. You can include "swipe up" links to your landing page in our stories and enable users to visit your website and make a purchase.
Live video is another underutilized content format by businesses. Going live can go a long way in engagement and support your lead generation efforts. 
Utilize Lead Generation Ads
Instagram lead generation ads can enable you to reach a broader, untapped audience and complement your organic lead generation efforts. If you want to use Instagram ads, you'll need to have an Instagram business profile and a Facebook page.
After setting them up, head to the Ads Manager, select "Lead generation" as your marketing objective. Then, define your audience, set your bid, choose the ad format, select the placement, and create the lead form. It's recommended to use Automatic Placements as the placement option.
Lastly, make your ad live and track its performance in the Ads Manager. 
Partner with Influencers
Influencer marketing is one of the most effective marketing strategies on Instagram. It involves partnering with influencers (popular Instagram personalities) to promote your products. Puma's partnership with Neymar Jr. and Kylie Jenner's partnership with Good American are some popular examples of influencer marketing.
Influencer marketing is highly effective, as almost 50% of consumers depend on influencer recommendations for buying a product. Partnering with the right influencer can help you improve brand awareness, increase website traffic, and generate more leads.
Design an Irresistible Landing Page
​
Someone clicks on your link and reaches your website. Now what? The lead generation process won't be complete until the user submits their email address. Therefore, it is essential to have a leading landing page builder that ensures that the visitor converts into a lead.
You can incorporate two elements on your landing page to increase the probability of getting a lead.
Make the page easy to navigate. When a visitor lands on the landing page, they should know what steps they need to take.
Make your page exciting and interesting. If it's dull and cumbersome, visitors will simply exit.
Hence, a lot depends on the design and responsiveness of your page. Don't forget to keep the mobile-friendliness factor in check, as almost all people Instagram on mobile. If it isn't mobile-friendly, it defeats the purpose of having a landing page for lead generation. 
Track and Measure Your Campaigns
Instagram marketing, without a doubt, takes a lot of work and strategy. And it's worth it, but you need to know how your marketing and lead generation campaigns are performing and if they can be optimized further.
Google Analytics can do the job for you. Put your Google Analytics tracking code on your landing page and all other internal pages. Google Analytics will provide insights into the following metrics:
Total landing page visits from Instagram
Total sessions
Average session time
Landing page conversion rate
Customer acquisition cost
Lifetime customer value
If many people are coming to your landing page from Instagram but not converting into a lead, it could mean that your landing page needs some work.
If you want to track the performance of your lead generation ads, check your Facebook Ads Manager account. 
Wrapping Up
With the kind of growth and popularity Instagram is witnessing, it's safe to say that Instagram has become the ultimate social media marketing platform for brands. However, building an audience on Instagram and generating leads is slightly different from traditional platforms like Facebook and Twitter. 
By following the tips discussed above, you can boost your marketing efforts on Instagram and generate qualified leads for your business.
Author Bio: Akshay Deogiri is an SEO outreach specialist at Beaconstac, enabling businesses to bridge their gap between the digital and offline worlds through custom QR codes.