How to Build a Knowledge Base: The Ultimate Guide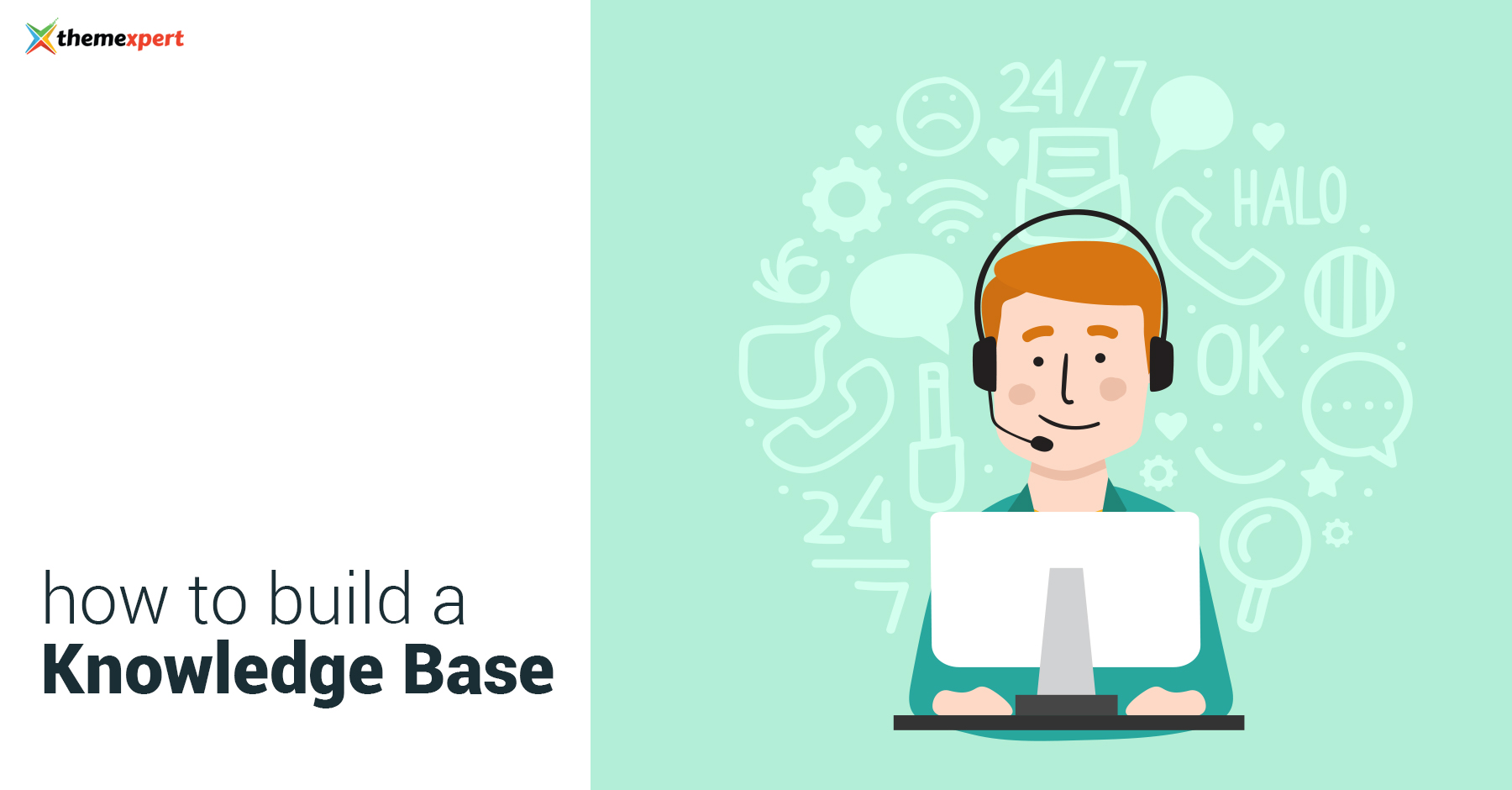 WordPress is already one of the biggest content management systems in the market, with a staggering market share of over 65%, and this number has grown over 10% in the past few years. So, does it not make sense to have a knowledge base for your website visitors?
If this reason is not enough, let me state another fact for you. "30% of top websites of the world are powered by WordPress" - W3Techs.
Creating, updating, and publishing content and pages on WordPress is extremely easy, especially when it comes to the company's resource section.
In the same way, building and updating the knowledge base on WordPress is elementary and does not take much time, but it will benefit your website visitors and build trust for your web pages.
But before we tell you the steps to build a knowledge base for your website visitors on WordPress, let us first understand what a knowledge base is and why it is essential to build one.
Read more: 5+ Best Knowledge Management Software for Customer Support
What is a knowledge base?
Knowledge base software helps you set up a virtual self-help library for website visitors containing articles, blogs, guides, videos, and other educational materials. It allows you to organize and save your content so that you and your visitors can search for a piece of information by simply typing the query on the search box.
As soon as the visitors type in the keyword, your WordPress knowledge base will display all the related content.
You can even limit the view access for internal documents that you want to save for the company's internal use. With a knowledge base, you can save, organize, and share the information not just with your customers but also with the internal team.
Why should you need a knowledge base?
Firstly, adding, organizing, editing, and publishing content on WordPress is extremely easy, and that is why it is the number one choice in the world for a content management system. But apart from this, there are numerous benefits of creating a knowledge base on WordPress.
We will list down the top three reasons why you should create a knowledge base and improve knowledge management at a scale among customers & internal teams.
Improve Search Engine Optimization:
It is one of the most important reasons for considering adding a knowledge base to your website. With the plethora of resourceful content on your knowledge base, you can interlink them internally and improve your page's SEO and domain authority. The more relevant, organized, and interlinked content you have, your SEO will improve faster.


Build Authority and Credibility:
Another advantage of having relevant and organized content like a FAQ on your website is that it starts building credibility and authority in your niche by highlighting your industry and product knowledge. And then for any information about the product and the industry, your customers would trust you and rely on your knowledge base to get the answer.


Self-help for Customers:
Did you know more than seventy-five million people prefer self-help services over contacting an agent to get their query resolved?

Here is some news for you. In this instant gratification world, most of your customers do not like waiting in line or waiting for their queries to be resolved. Instead, they prefer self-help services that could instantly resolve their query without waiting for an agent.
Now that you are aware of the benefits of adding a knowledge base in WordPress let us show you how to add a knowledge base in your WordPress.
How to create a knowledge base on WordPress?
If you are familiar with WordPress features and a dashboard, you already know there are two ways to add content on WordPress.
Using Themes
Or using Plugin
We will cover both, and then you can choose from the one that you prefer, or you can always combine them together. But before that here are a few alternatives of WordPress for creating a knowledge base
Best WordPress Knowledge base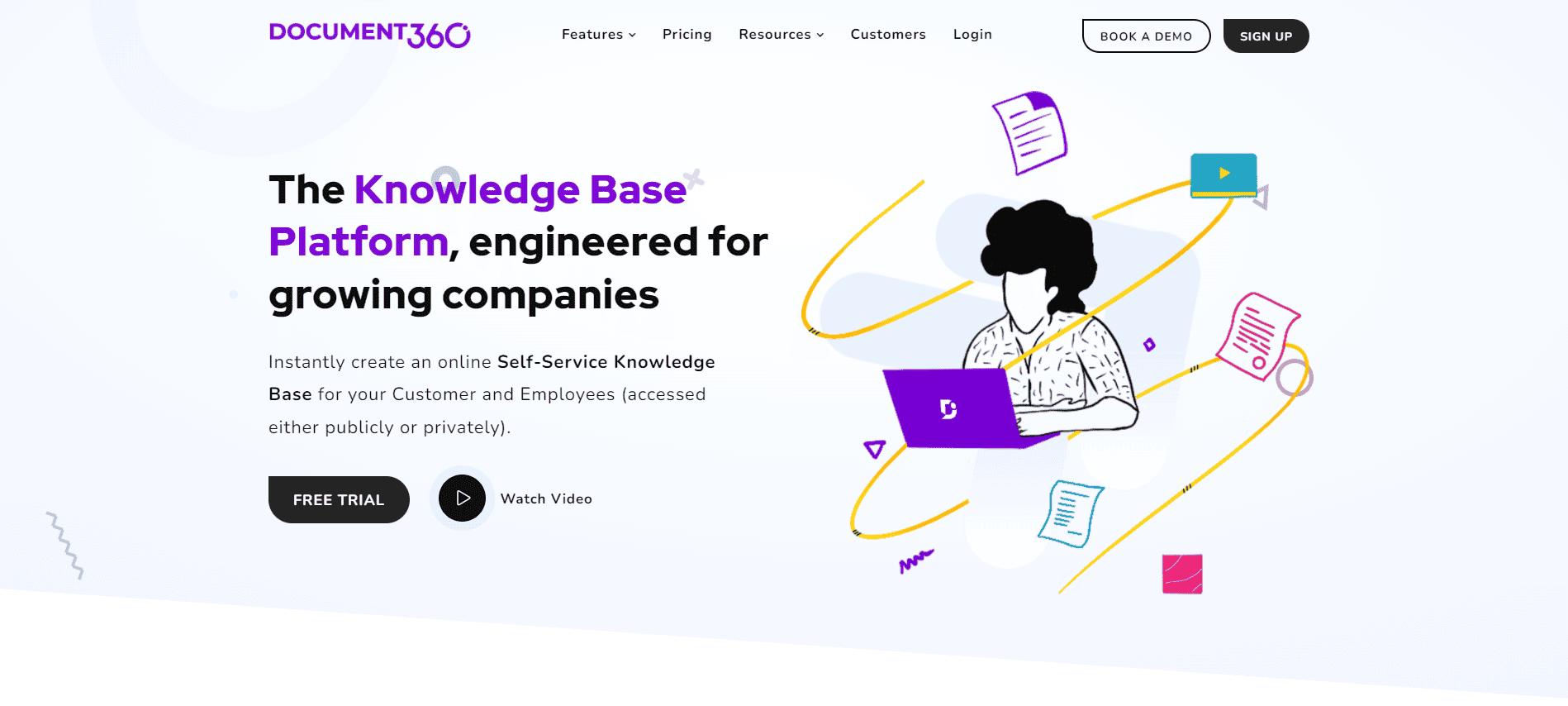 Document360 is a cloud-based knowledge base platform. Some of the functionalities it provides are markdown editor, category management, landing page customization, roles, and permissions (for internal and confidential content), versioning, backup and restore, etc.
Best features:
Backup & Restore capabilities.
Version Control.
Rich Editor.
Category Manager.
Team collaboration and approval.
Pricing:
Startup: $99 per project per month
Business: $249 per project per month
Enterprise: $499 per project per month
Enterprise Plus: On contact

Atlassian Cooperation Pic is an Australian-American software company. The makers of Jeera–Atlassian also created a knowledge base Confluence to give the team and company easy access to create, save, collaborate, and share content.
Best features:
Build a knowledge base for documentation & product requirements
Create, collaborate, and comment on pages & project plans
Share information between teams
Jira Integration
User Management and Security
Pricing:
Free: Free for 10 user
Standard: $5.50 per user
Premium: $10.50 per user
Enterprise: On contact

Wix Answers is built on the philosophy of providing the best in market content services at a fair price for small-medium size companies. It is again completely cloud-based like its competitors. It provides two different subscription plans, and the lowest plan starts from $19 per month.
Best features:
360-degree timeline view of customer complaints
Robust, self-service knowledge base
Built-in live chat functionality
AI-powered recommendations for quick responses
Intuitive, all-in-one interface
Pricing:
Self-service: $24 per agent per month
Multi-channel: $60 per agent per month
Unlimited: $80 per agent per month
Enterprise Plus: $56 per agent per month
Now, let's get into how you can create one on WordPress.
Creating a knowledge base using Themes on WordPress
You can directly use the knowledge base theme of WordPress without any customization and ensure an amazing-looking, perfectly organized knowledge base right from the start. But as it is a standalone theme, you will need to create a separate WordPress installation for powering your knowledge base. Also, you cannot customize it as per your company's branding.
All you must do is log in to your WordPress, select the knowledge base theme and add your content. And voila, your knowledge base is ready for your website visitors.
The second extension, the Plugin method, allows you to customize. Let us see how you can add a knowledge base to your WordPress using a Plugin.
Creating a knowledge base using a Plugin on WordPress
There are a plethora of Plugins choices on the internet to choose from, based on the additional features provided by the knowledge base plugin, you can choose.
Here are a few that you can consider:
It is one of the most popular premium knowledge base plugins in the market. Some of the high-end customers of the Heroic knowledge base plugin are Pagely and Crazyegg. It is a little on the pricey end because of the supplementary features it provides.
Best Features:
Create articles that look great by default
Make it easy for visitors to browse and discover
Provide answers anywhere on your website
Cost: $129/license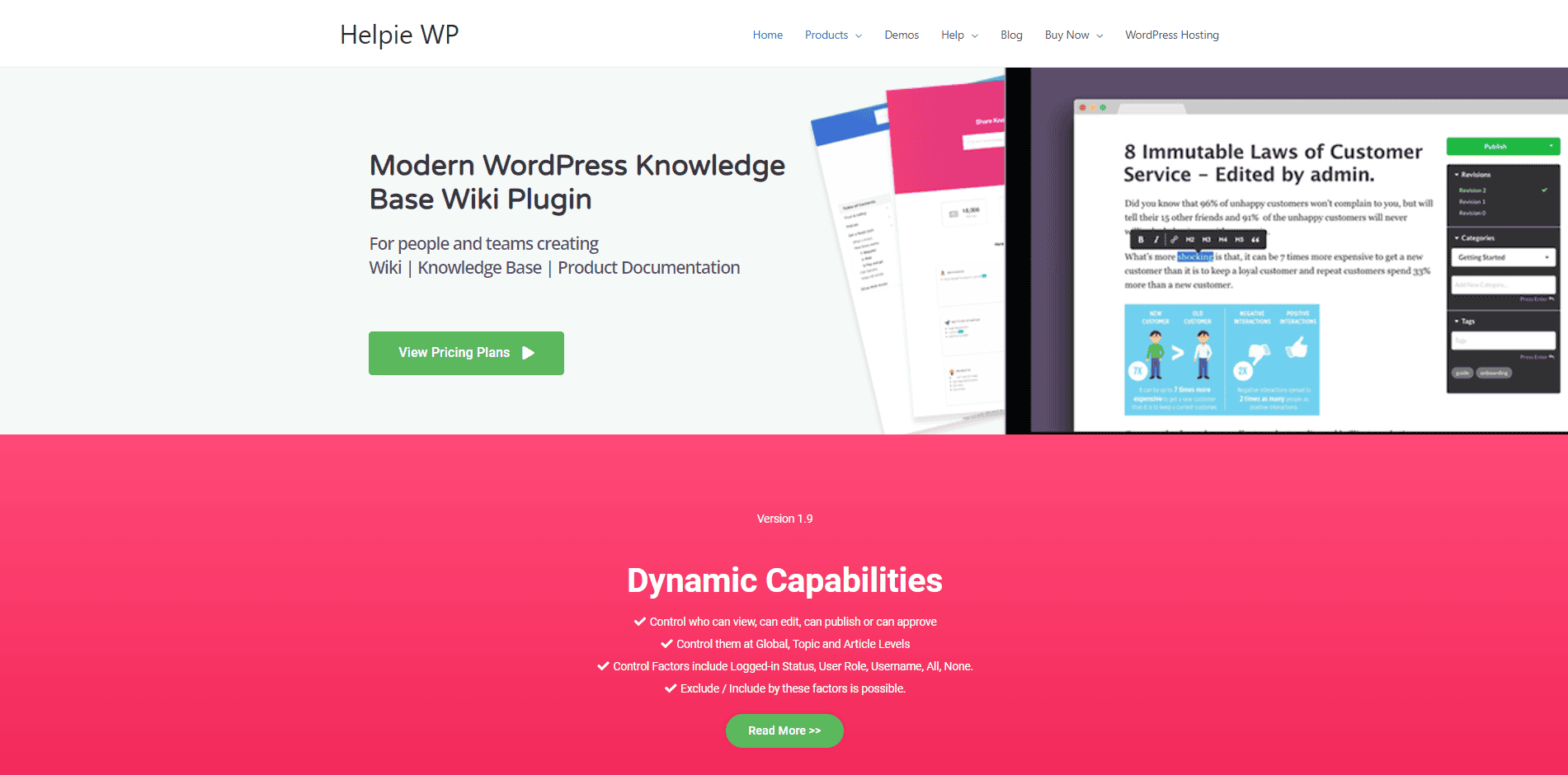 Helpie is an advanced knowledge base builder plugin at a pocket-friendly price. Using Helpie, you can create product documentation, wiki websites, and a public/private knowledge base.
Best Features:
Product Documentation for your customers
Internal Wiki for Teams or even a Knowledge Base
Alternative to wiki software like Wikispace and Mediawiki
Cost: $69 after a 7-day free trial
Now that you have some choices let us get into creating a knowledge base on WordPress. Let's move into the steps to follow.
Step 1: Log in
How can you get started without logging in to your website first?
If you do not have a website, you can create one on WordPress.
Log in to your WordPress page, you will have to visit www.domain.com/wp-admin. Enter your password and username.
As soon as you log in, you will be redirected to your domain's WordPress dashboard.
Step 2: Install the Knowledge base plugin
Remember the plugin's choices we told you about?
If you have chosen your knowledge base plugin, then it is time to install and activate your plugin.
Install the knowledge base plugin for adding knowledge base to WordPress, navigate to Plugins>Add New.
A plethora of choices will be made available to you. Search for the knowledge base plugin that you want, hover over its icon, a button with install now will be shown. Click on the install now button.
After it is installed, it is time to activate it by clicking on the Activate button. As soon as the plugin's activated, you will notice a knowledge base menu is added in your WordPress dashboard.
Add categories
Why should you add categories to your knowledge base?
Is this what you are thinking?
By adding categories, you make it easier for the web page crawler as well the website visitors to easily search for the document that they are looking for, and it is essential for organizing your articles.
All the articles will be assigned to the individual categories that you create.
For creating categories, go to the knowledge base menu and then click on categories.
Add the details as asked on the dashboard and then click on add new knowledge base category at the bottom of the page.
Category's name
Slug
Description
Keep repeating the above steps for as many categories you need to create; you can even revisit this dashboard and add more categories if the need arises.
Write your knowledge base articles
Now that you have created your knowledge base, it is time to fill it up with educational resources. Strategize your content strategy; the pillar page, supporting blogs, articles, news pieces, images, graphics, videos, etc.
After you have drafted your article, go to the WordPress website, navigate to the knowledge base menu, and click on the news article.
The knowledge base interface is like WordPress editor, so it will not be difficult for you to add your article.
After you add your article with the title, you can select the category under which you want to publish your article. And then publish it.
You can repeat this process for the remaining articles.
Additional Settings
If you want to configure the settings and themes further, just navigate to the knowledge base menu and go to settings.
Here you can configure the design of the page, comment/no comment, number of articles that show up in the knowledge base, live searches, etc.
Once you are done, just click on save settings.
Conclusion
WordPress is a powerful tool, and by topping it with the knowledge base software, you just do not streamline your customer service by enabling self-serve gratification through the knowledge base but also establish authority in your niche market.