10 Best email marketing software of 2023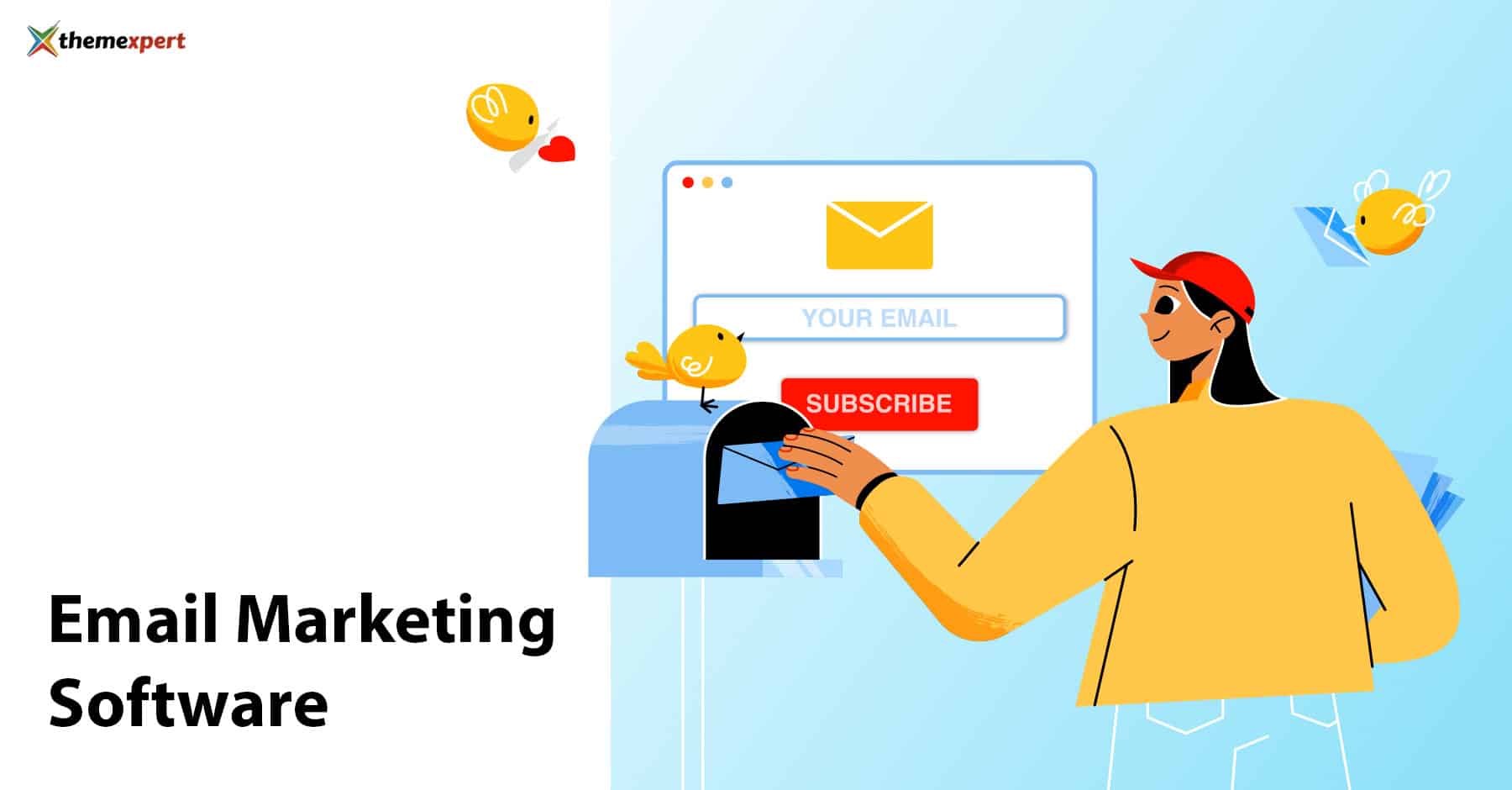 With the onset of the digital age, numerous new marketing channels have been introduced and the old methods have evolved drastically. However, one marketing trend which has remained the same more or less is email marketing. It continues to be one of the most effective marketing techniques both with B2B and B2C marketers.
One of the major challenges with email marketing is remaining consistent and drafting an email from scratch. Without spending sufficient time and energy, email marketing can fail to be productive and bring desirable results. This is where email marketing software come into play.
In this blog, we will talk about the 10 best email marketing software to manage your email marketing needs.
Read more: 10 Best Marketing Automation Software
What is Email Marketing Software?
An email marketing software is a one-stop solution for all your email marketing challenges. They can help you plan, draft, send, and monitor email campaigns regularly. Nowadays, email marketing software comes with numerous features and automation tools to streamline your emailing process.
They focus on follow-up emails to allow you to build a trustworthy and long-lasting relationship with your customers. Additionally, they also provide reporting and analytical features to measure the effectiveness of the email campaigns and proceed accordingly.
Why use Email Marketing Software?
Email marketing software can sometimes prove to be more beneficial than any regular marketing department. Some of its key benefits are:
Streamlines numerous email campaigns at once
Automates email sending
Cheaper and affordable compared to other marketing methods
Ensures high customer interaction and engagement
Offer numerous personalization options
Generated traffic to the website
Allows easy collection of feedback and surveys
Promises wider and diverse reach
Top 10 Email Marketing Software of 2022
With the advancement in technology, you can now find numerous free and paid email marketing software in the market. Here we have mentioned a list of the top 10 email marketing software of 2022. You can take a look at each of them and make an informed decision to help you and your business.
NotifyVisitors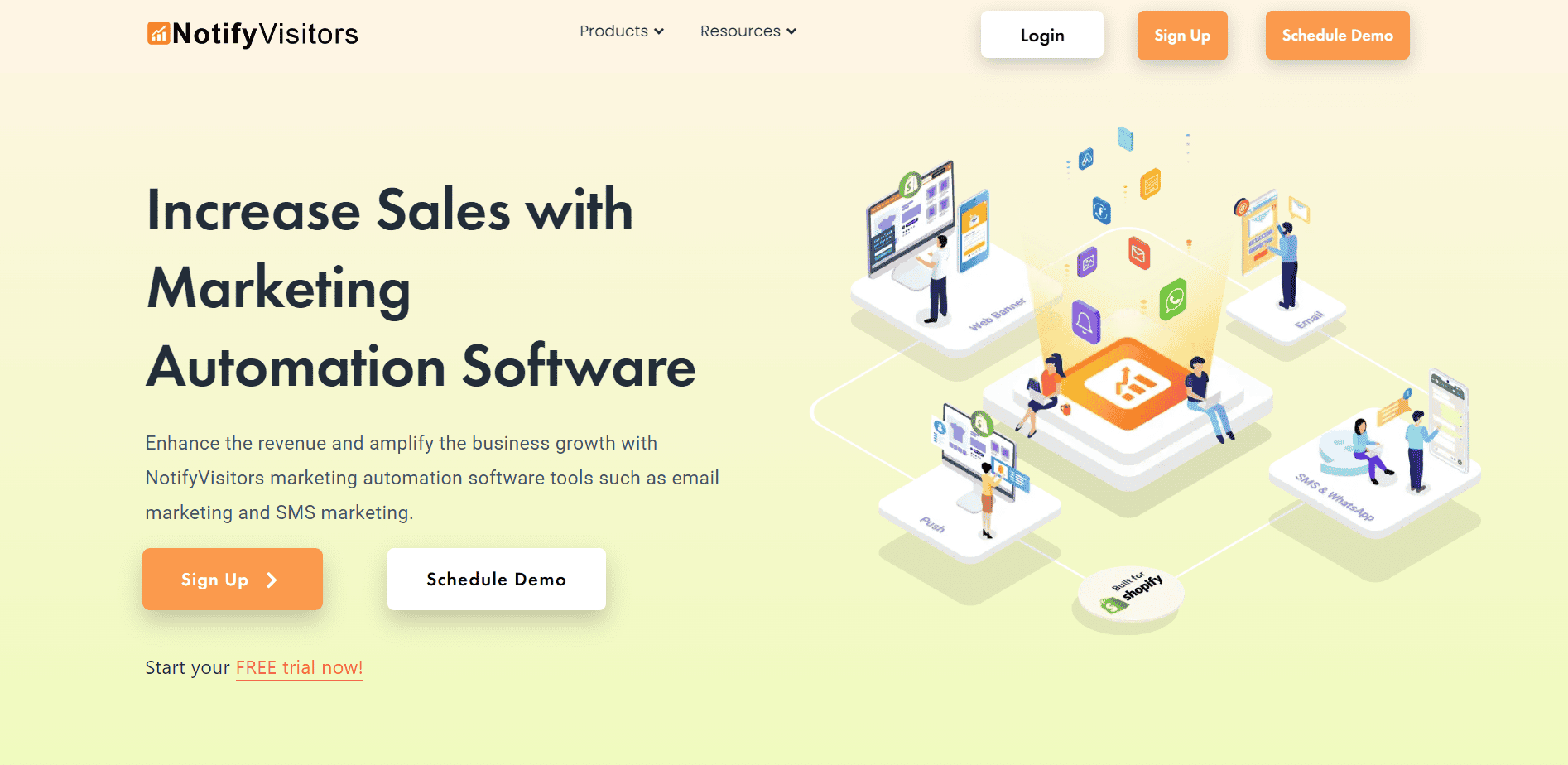 NotifyVisitors is one of the most simplest and reliable email marketing and automation software available in the market. It has more than 20,000 trusted customers including big brands like Axis Bank, HDFC Bank, UTI Mutual Fund, Aditya Birla Capital, Bajaj Capital, Edelweiss, and many more. Additionally, as an engagement and retention platform, it provides cross-device customer involvement for all kinds of business.
As an efficient email marketing software, it will allow you to create and design highly effective and engaging email campaigns within a few minutes. You do not need technical knowledge and coding skills to use any of its features. All the tools are extremely easy to use and promise great results.
NotifyVisitors is also known to be intuitive in nature. It will help you send the right emails to the right customers at an appropriate time. The drip campaigns will automatically personalize the customer journey and prompt the potential customers in the right direction.
Features
SMS list-building tools
A/B testing
Campaign booster
Campaign reports
Premade email templates
Free demo
Cross channel messaging
In-depth knowledge base
24/7 customer support
Software referral programs
Pricing
| | |
| --- | --- |
| Plan | Pricing/Month |
| Free plan | $0 |
| Startups | $98 |
| Enterprises | Contact Sales |
Mailchimp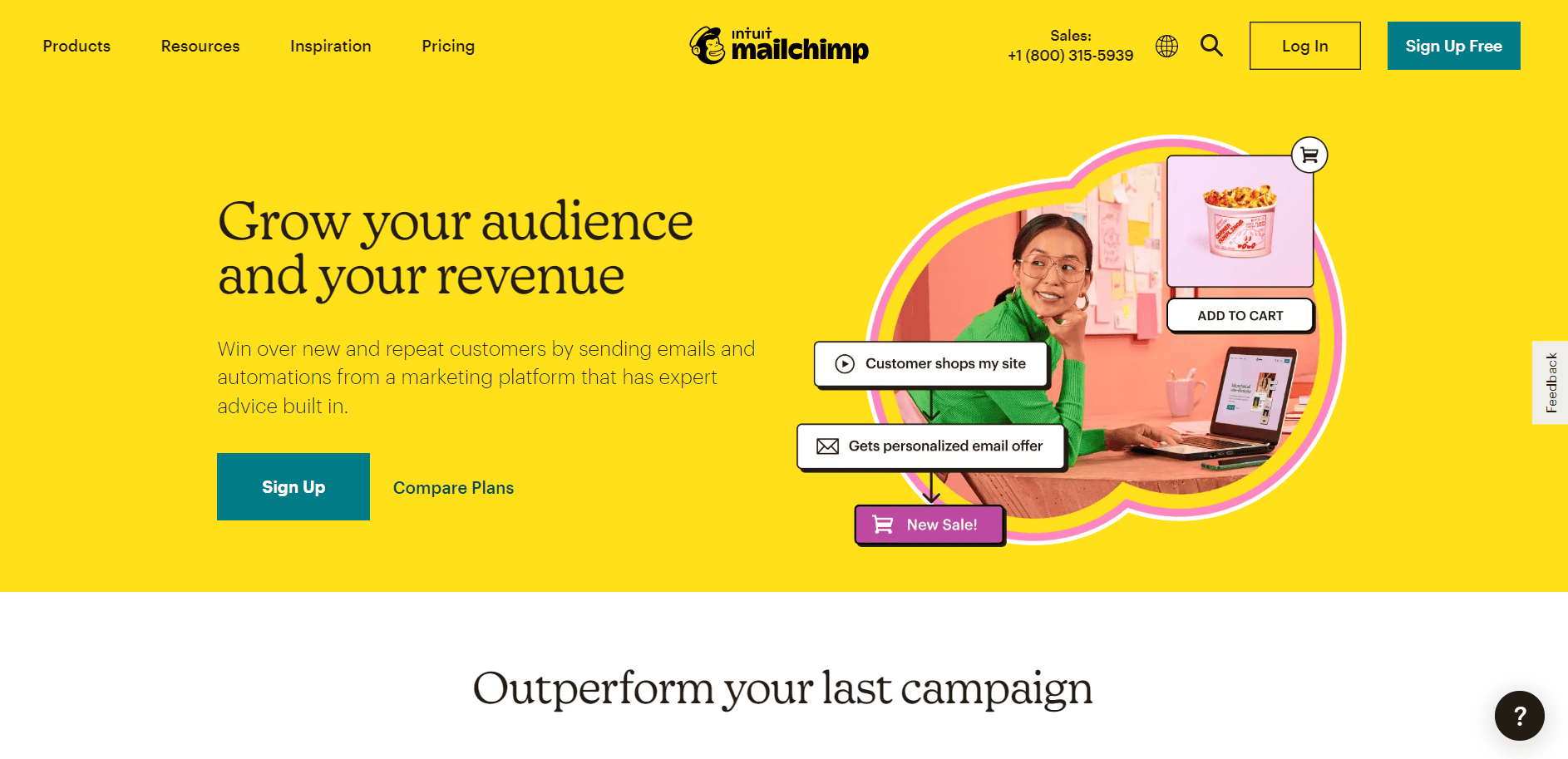 Mailchimp is one of the most popular email marketing software and has almost 14k people signing up to their platform each day. Mailchimp is extremely efficient and affordable. The free plan allows sending up to 10,000 emails to 2000 contacts in a month. If you are a small and mid-sized business owner, then Mailchimp can be a great solution for your email marketing problems.
However, if you are an affiliate marketer then Mailchimp is not recommended for you. Under its Terms of Use, Mailchimp strictly prohibits affiliate marketing. If you are caught doing affiliate marketing you might be imposed severe penalties and account cancellation. Additionally, although the free Mailchimp is very generous it does not provide email or live chat support.
Features
Behaviour-based automation
Date-based automation
Marketing calendar
Sent time optimization
List management
Reports and analysis
Bounce management
Spam and design testing
Pricing
| | |
| --- | --- |
| Plan | Pricing/Month (500 contacts) |
| Free | $0 |
| Essentials | $11 |
| Standard | $17 |
| Premium | $299 |
HubSpot Marketing Hub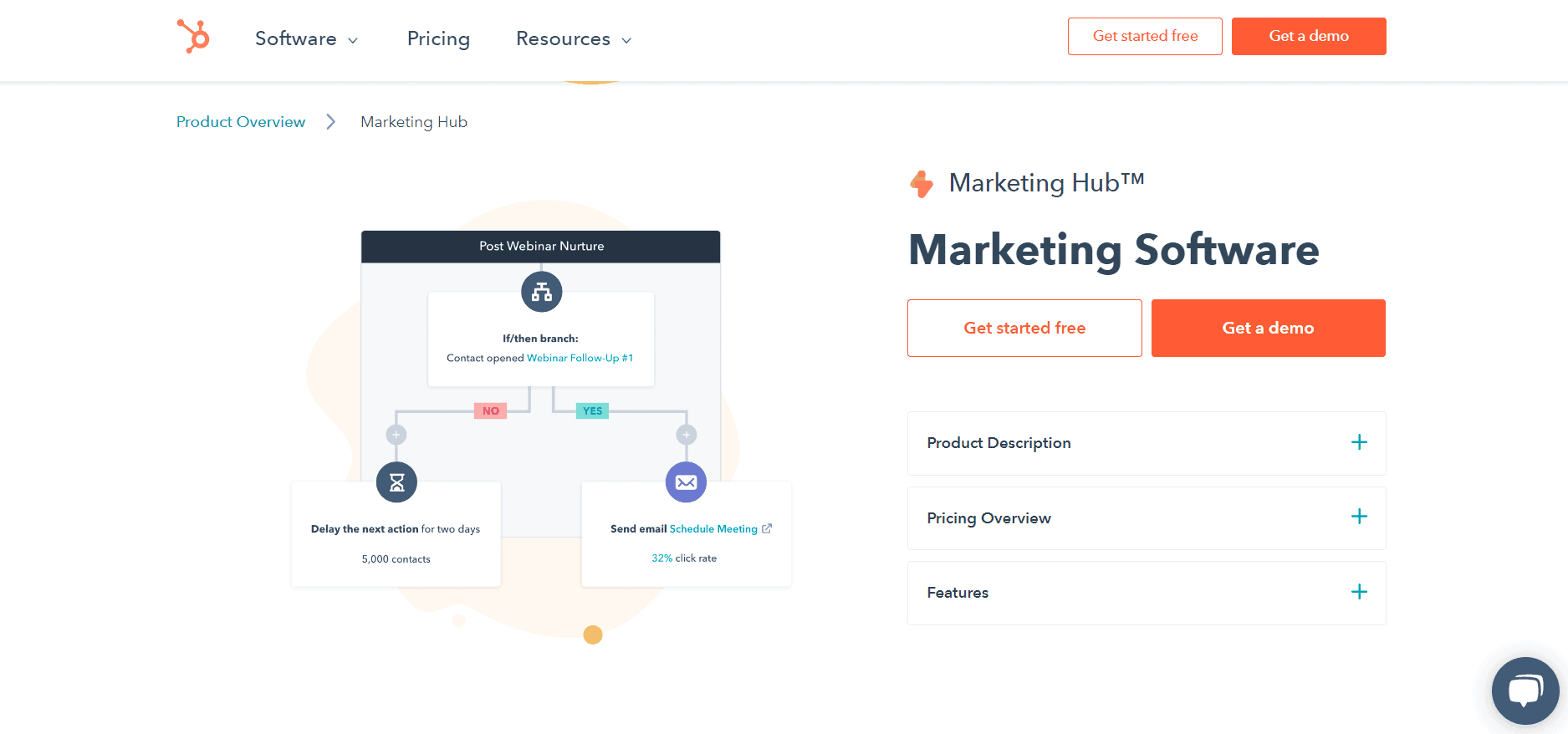 HubSpot Marketing Hub is not just an email marketing software but an all-in-one marketing solution. It comes with a wide variety of features and capabilities for content marketing, email campaigns, blogging, SEO, and much more. Additionally, HubSpot also functions as a management system allowing users to update their websites, create landing pages, optimize websites for search, and make them mobile-friendly.
HubSpot has numerous email templates which can help you create new email drafts within seconds. The drag and drop editor tool also promotes easy and quick email building. Additionally, with the help of the native integrations, you can personalize each email based on various factors and filters like age, country, device type, etc.
If you run into some technical difficulties, you can contact their customer support which is available 24/7. However, the free plan does not have customer service as good as the paid versions.
Features
Drip email campaigns
Email management
Drag and drop editor
Ad tracking and management
Social media management
Live chat
Website analytics
Third-party integrations
Pricing
| | |
| --- | --- |
| Plan | Pricing/month |
| Free | $0 |
| Starter | $45 |
| Professional | $800 |
| Enterprise | $3,200 |
Campaign Monitor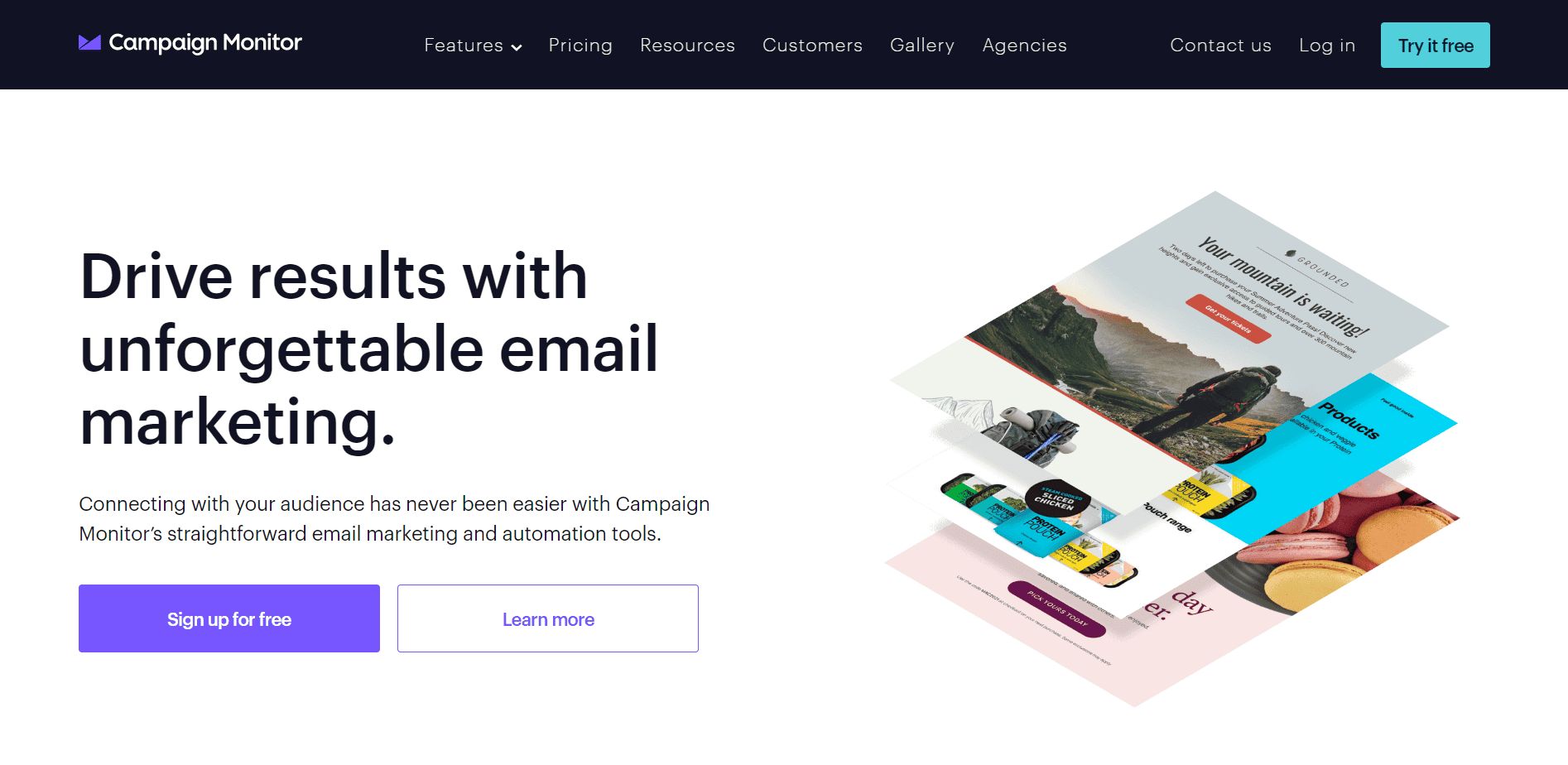 Campaign Monitor is one of the most affordable email marketing software in the market and makes it extremely easy for small businesses to connect with their audience. Their email marketing and automation tools are highly intuitive, making it easier for you to leave an ever-lasting impression on your customers.
Their customizable email templates are easy to use and can be modified with the drag-and-drop email builder. The customizing options are excellent, allowing you to personify your brand image in every email you write. The template management feature for teams allows designers to lock certain sections of the template to allow other team members to update and modify it as and when needed.
Another feature of Campaign Monitor which is highly trending nowadays is its SMS and email combining feature. You can combine SMS and email as a new way to connect with your audiences. This will not only let you build a stronger relationship with customers but also maximize ROI.
Features
A/B testing
Dynamic content
WYSIWYG email editor
Reporting & Analytics
Pre-send testing
Facebook subscribe
Custom fields
Inbox preview
List segmentation
Pricing
| | |
| --- | --- |
| Plan | Pricing/month |
| Basic | $9 |
| Unlimited | $29 |
| Premier | $149 |
Drip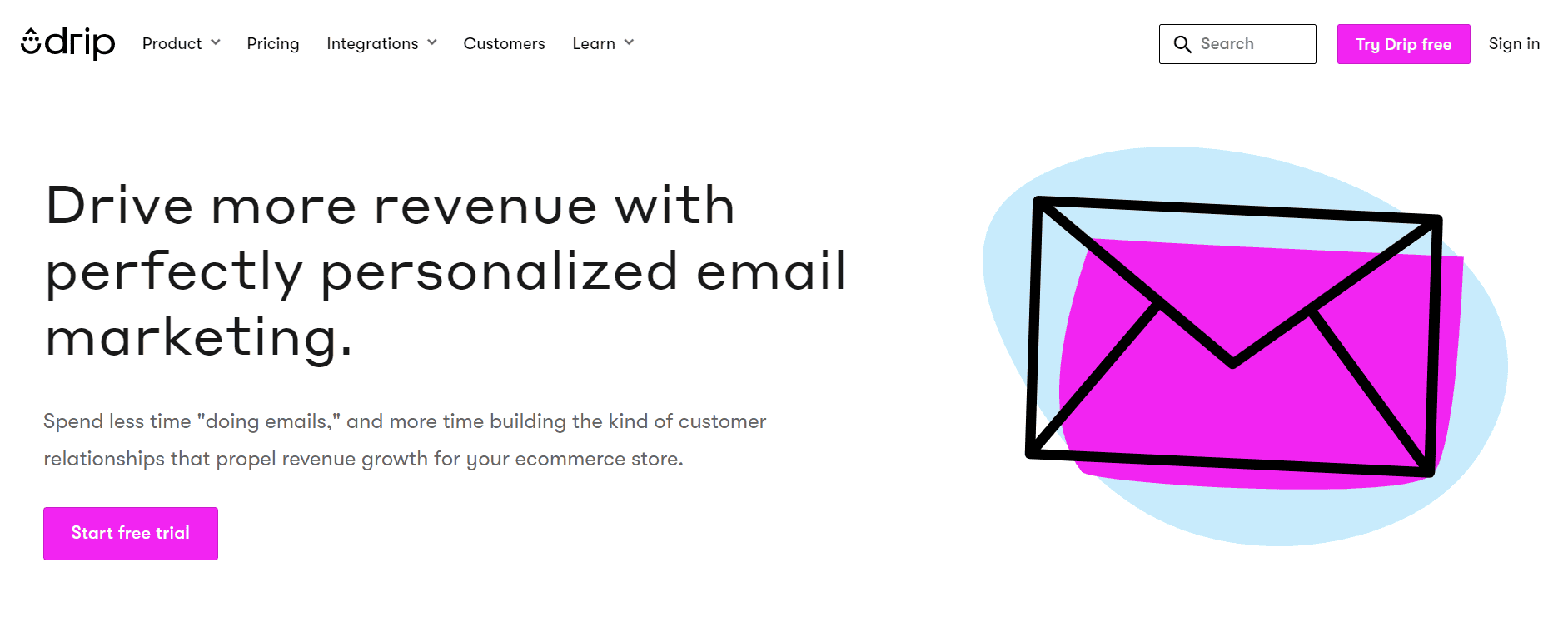 Drip is a powerful email marketing software that has been built keeping in mind e-commerce businesses. As a result, it offers some of the best email marketing tools along with various other automation features and insights. As a new marketer or small business owner, you can benefit greatly from its affordable pricing and exhaustive list of features.
The workflows in Drip have been reviewed to be highly intuitive and easily customizable. With the add and drag feature, you can add any action wherever you want. There is an additional feature of 'if statement' which automatically sends feedback emails to customers who have been tagged as subscribers. If they are not tagged as subscribers, drip will send them an email with coupon codes for products and a free subscription.
On the positive side, drip easily integrates with many marketing tools like Magneto, WooCommerce, Shopify, Privy, 3dcard, 1ShoppingCart, etc. Additionally, it is extremely user-friendly and specializes in e-commerce CRM.
Pricing
| | |
| --- | --- |
| No. of Contacts | Pricing/Month |
| 2,000 | $39 |
| 4,000 | $69 |
| 5,000 | $89 |
| 10,000 | $154 |
| 20,000 | $289 |
| 70,000 | $899 |
| 100,000 | $1,199 |
| +200,000 | Contact Sales |
Features
Reporting and analytics
Split-testing
Pre-made templates
Trigger action email creation
Lead score generation
Multichannel marketing
Zoho Campaigns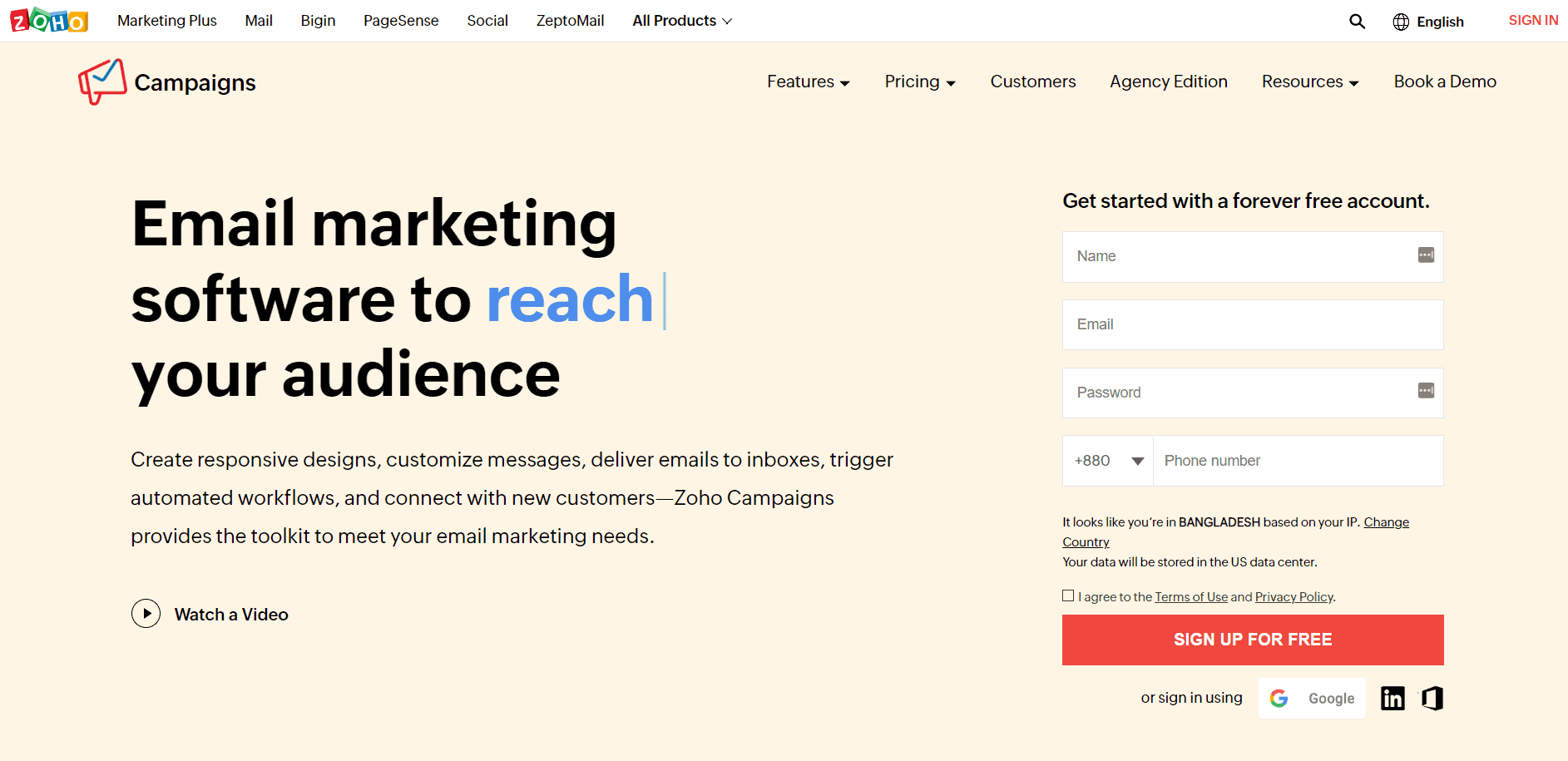 Zoho Campaigns is a cloud-based email marketing software built keeping in mind small businesses. It offers a great set of features with great customer support and quick response time. The learning curve is minimal and even the advanced features come with excellent functionality.
As a Zoho Campaigns user, you can either create a new email or use their numerous pre-defined customizable templates. With it you can also maintain a segregated emailing list for sending, automating, and analyzing emails. Additionally, the Zoho campaign permits you to share your email campaigns on social media platforms.
Another liked feature of Zoho Campaigns is autoresponder which triggers automated emails based on customer actions like subscribing, directly deleting an email without reading, list signing up, etc.
Features
Subscriber management
A/B testing
Pre-designed testing
Drag and drop editor
Email workflows
Autoresponders
Merge tags
Reporting and analytics
Third-party integrations
Pricing
| | | |
| --- | --- | --- |
| No. of Contacts | Standard Plan Pricing/Month | Professional Plan Pricing/Month |
| 2,500 | $10 | $29 |
| 9,000 | $25 | $75 |
| 12,000 | $29 | $89 |
| 20,000 | $37 | $123 |
| 35,000 | $47 | $178 |
| 50,000 | $58 | $230 |
| 65,000 | $68 | $282 |
| 85,000 | $82 | $351 |
Vertical Response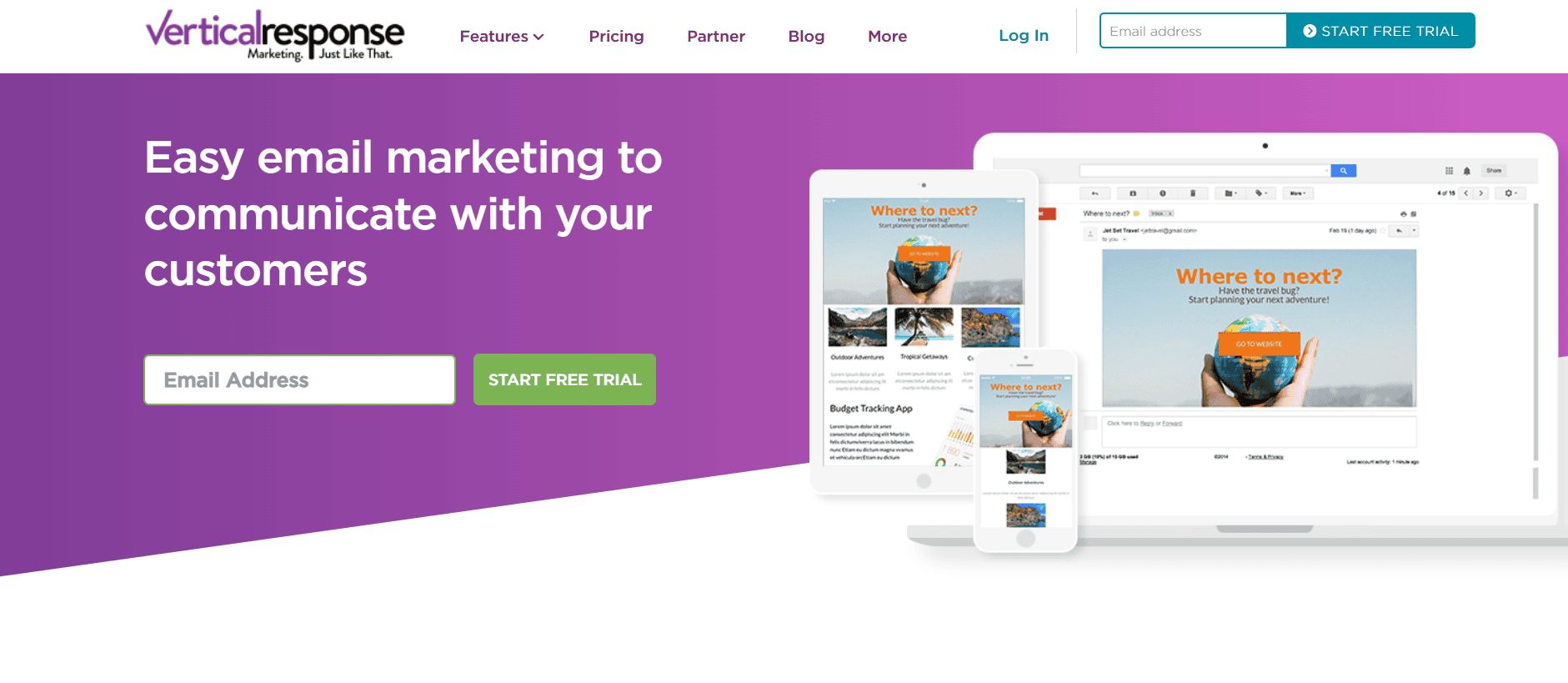 Since its creation in 2001, Vertical Response has empowered more than 1.4 million businesses of all sizes. With its affordable pricing, Vertical Response is no different from the numerous other email marketing software available in the market. You need not have any coding knowledge and design experience to draft aesthetically appealing and engaging emails.
Some of the key features of Vertical Response are an email editor, contact list management system, automated emails, HTML editor, and pre-made email templates. For most businesses, these key features are enough. However, if you want to kick it up a notch you can opt for their Pro plan.
It is extremely easy to set up and get started with Vertical Response. You can begin by visiting their official site and entering your email address into the free trial section. You would then be instantly redirected to the sign-up page from where you can proceed by entering your credentials.
Features
Easy to use editor
Automated follow-up emails
Autoresponders and email series
Landing page builder
A/B testing
Survey and feedback
Advanced reporting
Pricing
| | |
| --- | --- |
| Plan | Pricing/month |
| Basic | $11 |
| Pro | $16 |
Sendinblue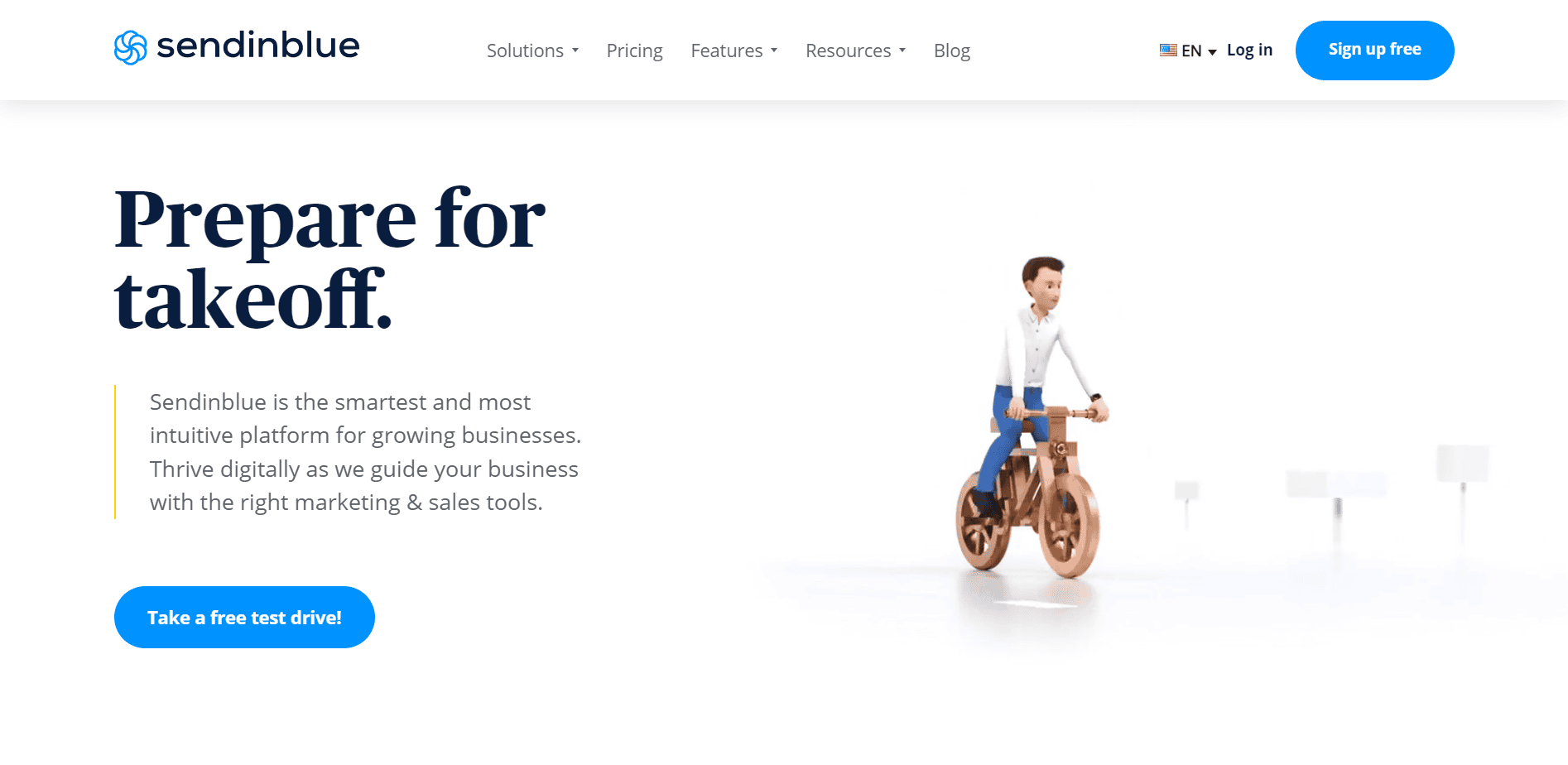 Sendinblue is an all-in-one email marketing platform that will take care of all emailing marketing needs of your business. Some of the key features of Sendinblue which are also the reasons for its popularity are email marketing campaigns and broadcasts, transactional email and SMS, social media marketing, and email marketing automation.
The user interface of Sendinblue is extremely user-friendly and simplistic. You can access all features from the dashboard with a click of a few buttons. The drag and drop editor is highly intuitive and has numerous ready-made blocks for excessively used content. If you want, you can also import email templates in HTML format and editor them as and when needed.
However, to make things easier for you, the email marketing software also offers a pre-made template library divided into numerous categories. The categories are self-explanatory and allow you to choose a template quickly Similarly, there is a different section for contact management as well where you can easily create segmented lists, edit contact, add newsletters, etc.
Features
A/B testing
Pre-made templates
Contact management
SMS marketing
Live chat
Transactional email
CRM
Segmentation
Facebook Ads
Pricing
| | |
| --- | --- |
| Plan | Pricing/Month |
| Free | $0 |
| Lite | $25 |
| Premium | $65 |
| Enterprise | Contact sales |
ActiveCampaign
ActiveCampaign is a Chicago bases email marketing software offering great email marketing automation. The automation tools are highly flexible and functional allowing you to implement them any way you want. Apart from the excellent automation features, the email workflow and client management features of the software are also commendable.
Apart from email marketing, if you need software that also performs multi-channel marketing then ActiveCampaign is an appropriate choice for you. It has a plethora of other features like setting up landing pages, adding chatbots, displaying Facebook Ads, etc. to expand your marketing reach and scope.
However, Active Campaign is not recommended if you are looking for a beginner-friendly tool and do not have sufficient technical knowledge. Some automation can be difficult to set up, monitor, and optimize.
Features
Automated email campaigns
Email newsletters templates
Landing page creation
Autoresponders
Conditional content block
Follow-up emails
On-site chat and conversations
Third-party integrations
Geotracking
Audience segmentation
Link actions
Pricing
| | |
| --- | --- |
| Plan | Pricing/Month |
| Lite | $29 |
| Plus | $49 |
| Professional | $149 |
| Enterprise | Contact sales |
SendPulse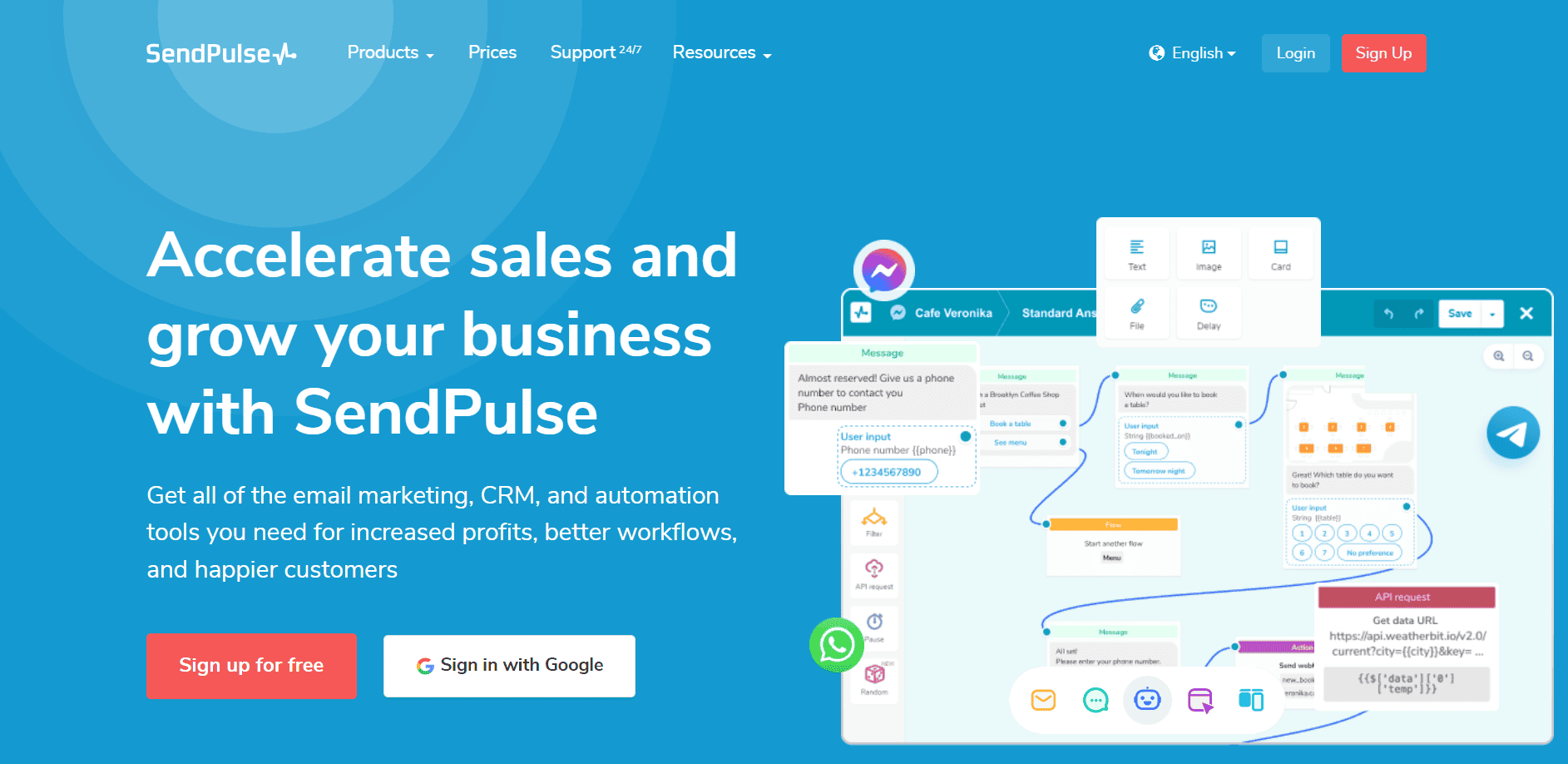 SendPulse is an email marketing software that is suitable for both beginners and experienced marketers and business owners. SendPulse advertises itself as more than an email marketing software and rightly so. It has a variety of other marketing automation features which can bring great engagement results with your customers.
The software has a convenient email editor which allows you to quickly and easily create professional-looking emails. You can also use the pre-made template instead of creating new emails from scratch. Additionally, with automation 360 you can easily set up automated email send-outs along with web push notifications.
Further the reporting and analytical will allow you to measure the success of your email marketing. Depending on the results you can take further relevant actions in order to cater to your customers more successfully. You can combine other functional features like email personalization, smart form fill-in, etc. to make your audience feel that you understand their needs.
Features
Drag and drop editor
Transactional emails
Campaign analytics
Email verifier
Live chatbots
Contact management
Subscription forms
Pricing
| | | |
| --- | --- | --- |
| Plan | Pricing/Month (Billed monthly) | Pricing/Month (Billed annually) |
| Free | $0 | $0 |
| Standard | $8 | $6.40 |
| Pro | $9.60 | $7.68 |
| Enterprise | $13.44 | $10.75 |
Conclusion
There is numerous email marketing software available out there and the best email marketing service is going to be unique to you. Make a decision after considering all the aspects of your business, make an informed decision. What might work for others may not work for you.
We hope our review of some of the best email marketing software will be helpful for you and help you with your decision.