Top 7 Best Video Conferencing Software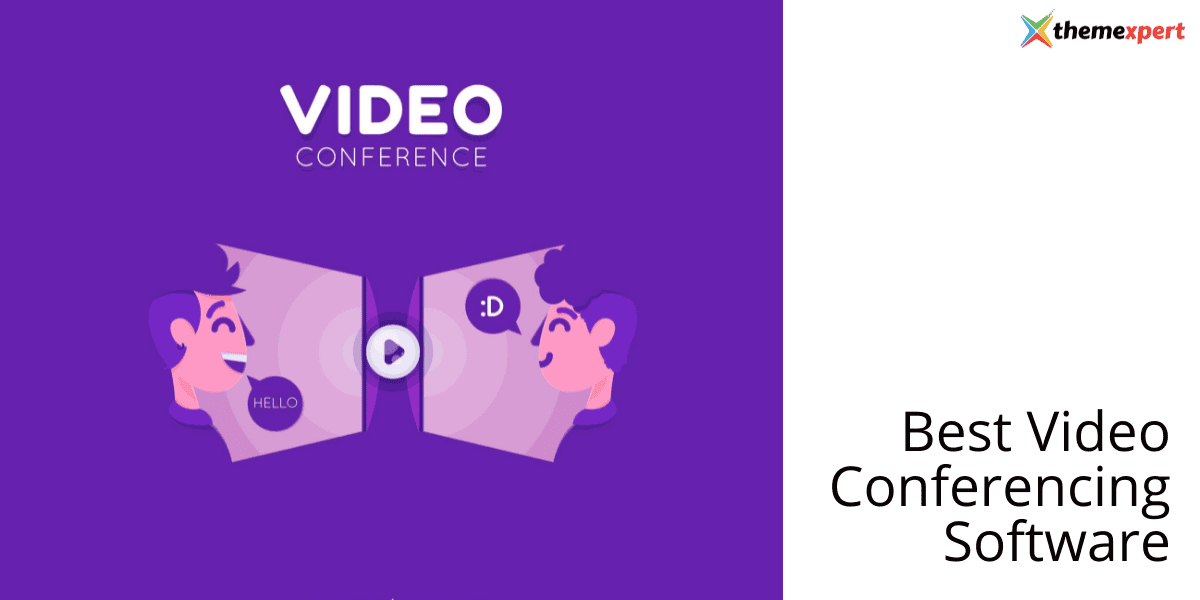 There was a time when running a business from elsewhere where employees are scattered across the globe, all working from different cities considered a work of fiction.
How would they even communicate? How would they go about having team conferences? How would they get anything done?
These are just some of the questions that may have been raised. The video conferencing tool has dragged this fantastical business model from the realms of fiction into the realms of reality.
In this article, we will be looking into some of the best video conferencing software on the market right now. We'll go through their features, pros and cons, best use cases, and pricing.
So without further adieu, let's dive right in!
Read more: 8 Best Presentation Software Tools in 2023
What is a video conferencing software, and why is it used?
Video conferencing software or apps are designed around the whole concept of connectivity and communication no matter where you are. They have been around for a while but having emerged from the recent pandemic the whole world came to realize the sheer brilliance and need for these tools.
People used them to connect to their loved ones across the globe, schools, colleges and universities were able to schedule classes for their students no matter where they were around the world and businesses used it heavily to maintain their work efficiency and clear lines of communication among their employees.
The conferencing tool has revolutionized our concepts of a virtual workplace, team communication and work efficiency.
Best video conferencing tools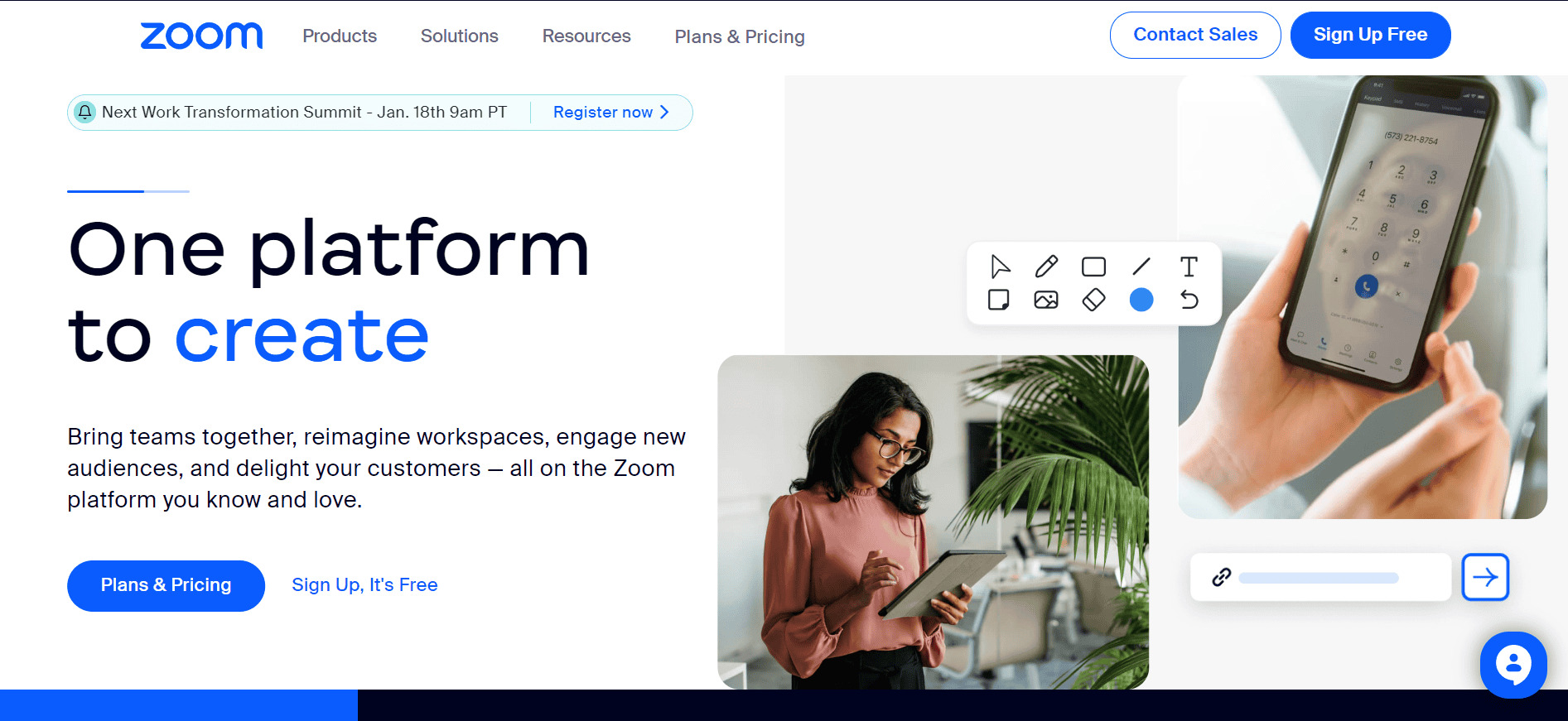 Zoom is currently one of the most popular cloud-based video and audio meeting services on the market. It is a highly versatile tool that allows businesses to operate remotely from anywhere. Even if the employees are spread across the globe, they can maintain seamless and clear communication through zoom. Zoom provides a wide range of features that are intended to supplement the conferencing-related needs of a business.
Best Features
HD video and audio support along with a wide range of call options
Screen sharing, simultaneous screen sharing and Co-annotations
Clean UI and group message interface
Breakout rooms, polls, quizzes etc
Can host up to 200 people in a single session
Fun background templates and background blurring also available
Meeting recording available
Best use case
Zoom is extremely versatile with an extensive feature list hence it can serve the conferencing needs of all sizes of business.
| | |
| --- | --- |
| Pros | Cons |
| Can support large audiences | Way too many packages and subscription models |
| Facebook streaming | HD video is selective |
| Scalable for different sized businesses | |
| Ease of use | |
Pricing
Zoom offers multiple pricing tiers for multipurpose use. Please visit their site for more update.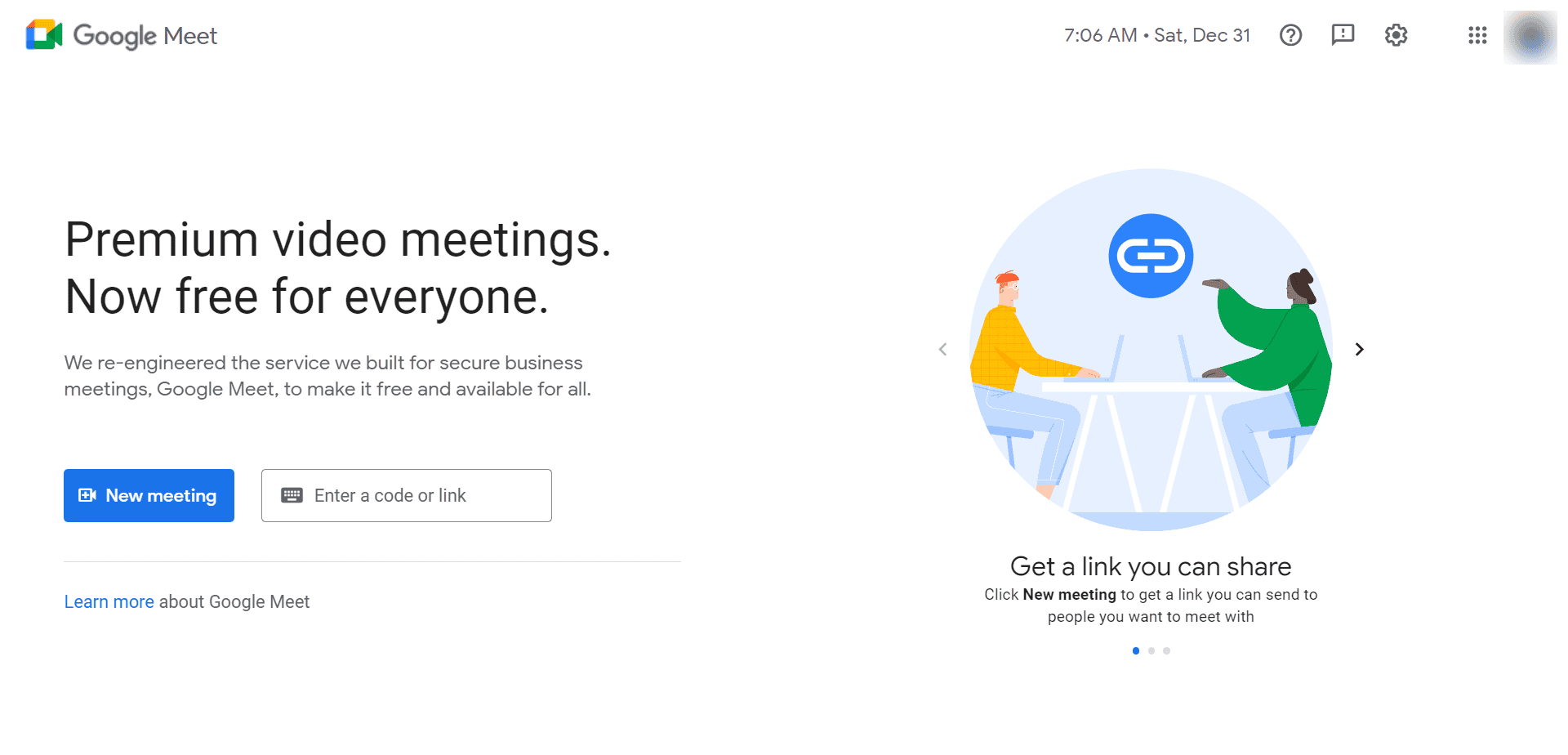 Google meet is right up there with zoom in terms of use when it comes to meeting tools. It is a video conferencing tool offered by Google as part of its G suite series. It has all the standard features that are expected of a premium level meeting tool that is free for all google users.
Best Features
High quality video and audio available for meeting and conferences
Active background noise filtering to ensure clear audio
Interesting and fun background filters
Screen sharing, break out rooms, polls are all available
Meetings can be scheduled on Google calendar
Can host up to 100 participants per meeting
Best use case
Similar to Zoom, Google meet is completely scalable for businesses of all sizes. Starting from enterprise level businesses to start ups, everyone can use Google meet and enjoy most of its features.


| | |
| --- | --- |
| Pros | Cons |
| Google calendar and Google jamboard accessibility | Screen recording not allowed |
| Easy and intuitive UI | Only accessible through a gmail account |
| Free | |
Pricing
Google meet is completely free for anyone who has a gmail account. Google meet is however inaccessible to people without a gmail account.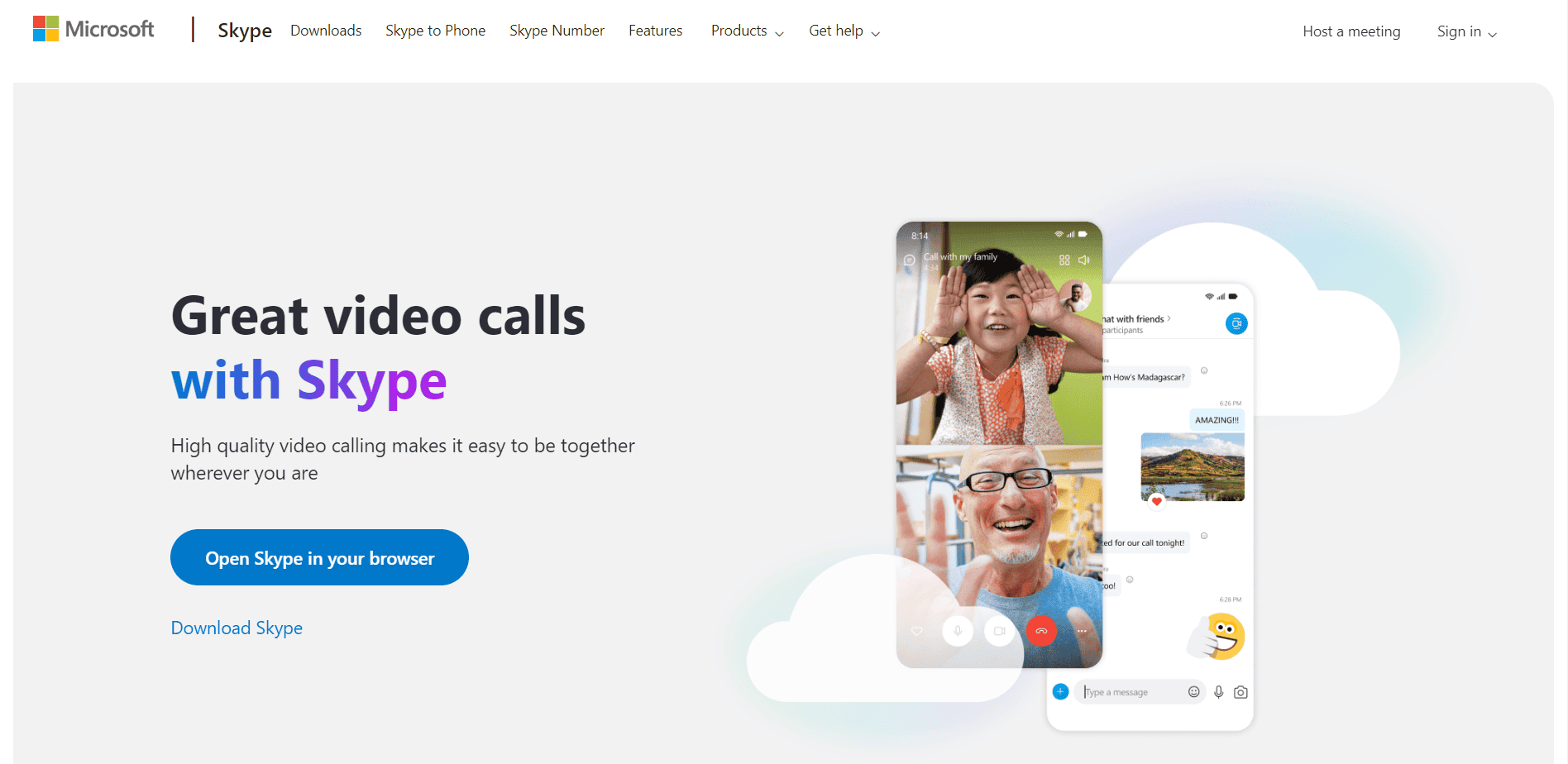 Skype is perhaps the most well known video chatting and VoIP software out of all the conferencing tools currently available on the market with well over 1.95 billion users globally as of 2022. It is hard to find a person that hasn't heard of Skype. Even with a dip in popularity in recent years with the rise of Zoom and Google Meet it is still used quite frequently around the globe.
Best Features
HD video calling quality
Separate viewing features for hosts and participants (Gallery view, presentation view, compact view etc)
Meetings can host up to 100 participants
Best use case
Skype is perfect for a small team consisting of 20-25 members.


| | |
| --- | --- |
| Pros | Cons |
| Accessible from many platforms | No Zoom in feature available during video meeting |
| Secure | Lacking some collaboration features such as jamboard, breakout sessions etc |
| Easy to use | |
| Instant messaging, calling, and video chatting | |
Pricing
Skype is free for all to use. It has no premium version so if you have a small team you can enjoy all of its meeting features for no cost.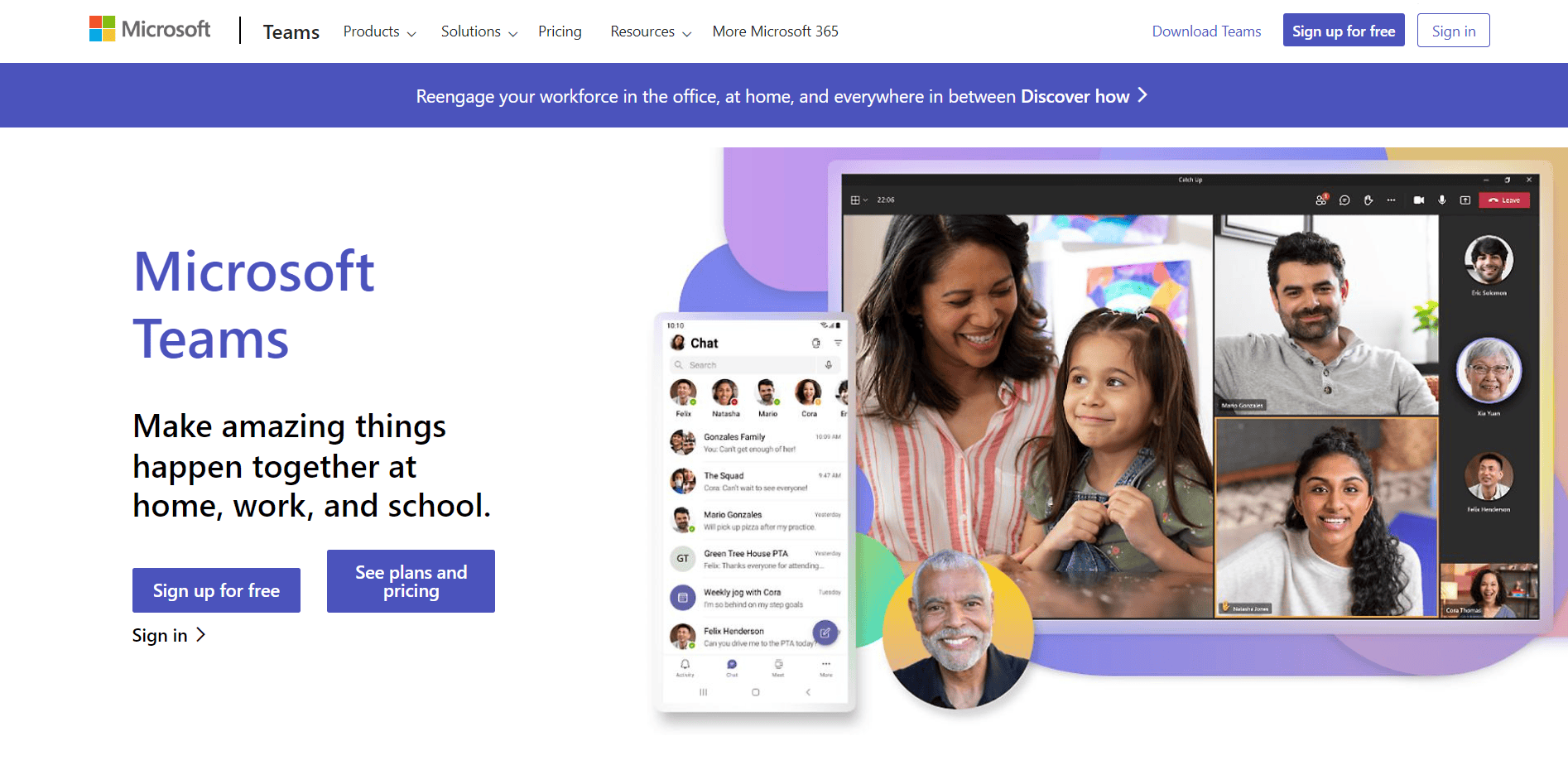 Microsoft teams is a cloud-based team collaboration software that doubles as an excellent conferencing tool. It is part of Microsoft 365 and office 365 suite of applications. Microsoft teams are primarily used for business messaging, calling, video conferencing and file sharing.
Best Features
In meeting powerpoint presentation capabilities with features such as slide transitions and embedded videos
Online video calling
Video conferencing
Screen sharing
Public Switched Telephone Network (PSTN) a feature that allows you to join a meeting over a phone call if internet isn't available
Up to 250 participants can join a single meeting
Best use case
Microsoft teams can be used by businesses of all sizes. It provides near limitless functionalities and has a free version hence every one starting from startups to enterprises can use it as their collaboration tool.


| | |
| --- | --- |
| Pros | Cons |
| Easy implementation | Group meeting functions less intuitive |
| Free version available | Increased security risks |
| Seamless file search, back up, sharing and collaboration. | |
Pricing
| | |
| --- | --- |
| Microsoft teams free | $0 |
| Microsoft teams essential | $2/user per month |
| Microsoft 365 business basic | $3/user per month |
| Microsoft 365 business standard | $10/user per month |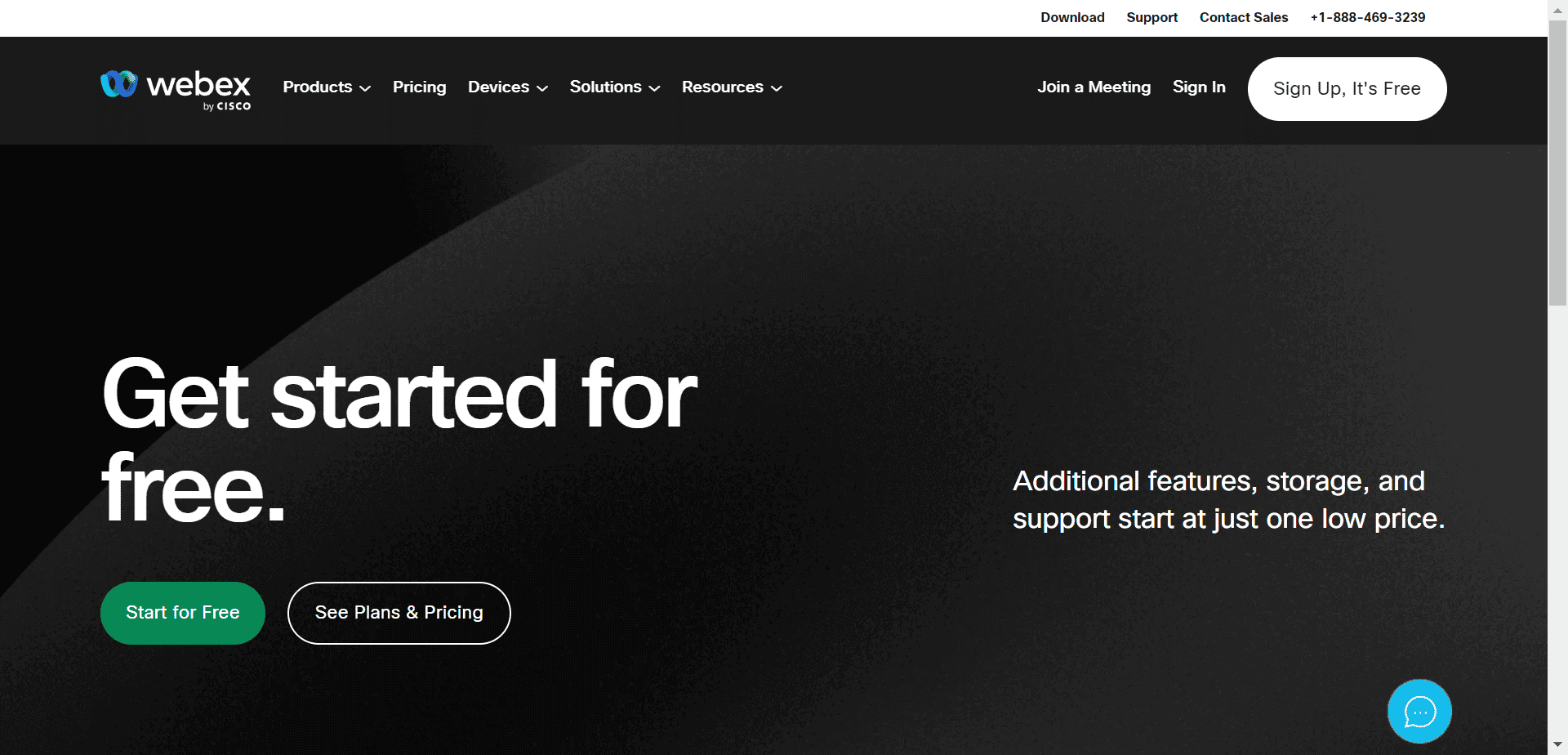 Cisco WebEx is one of the most conferencing tools on the market when it comes to ease of use. If you are new to using meeting tools for your business then WebEx should be your starting point. With its few clicks approach you can start meetings, switch presenters, screen share or even use the whiteboard instantly.
Best Features
High quality video and audio conferencing
AI powered language translation, closed captioning and transcription
Features such as polling, whiteboard etc
Background active noise cancellation
Third party recording tools
top notch encryption and security
Up to 200 participant can join a meeting
Best use case
WebEx can be used by small to mid businesses because it has a free version available but to use its full capabilities a paid version is recommended hence it is more suited to enterprise level businesses.


| | |
| --- | --- |
| Pros | Cons |
| High quality audio and video | Confusing UI |
| Extremely secure | Free version has limited features |
| | Audio and video loading not seamless |
Pricing
| | |
| --- | --- |
| Basic | $0 |
| Meet | $12/license/month |
| Enterprise | Custom pricing |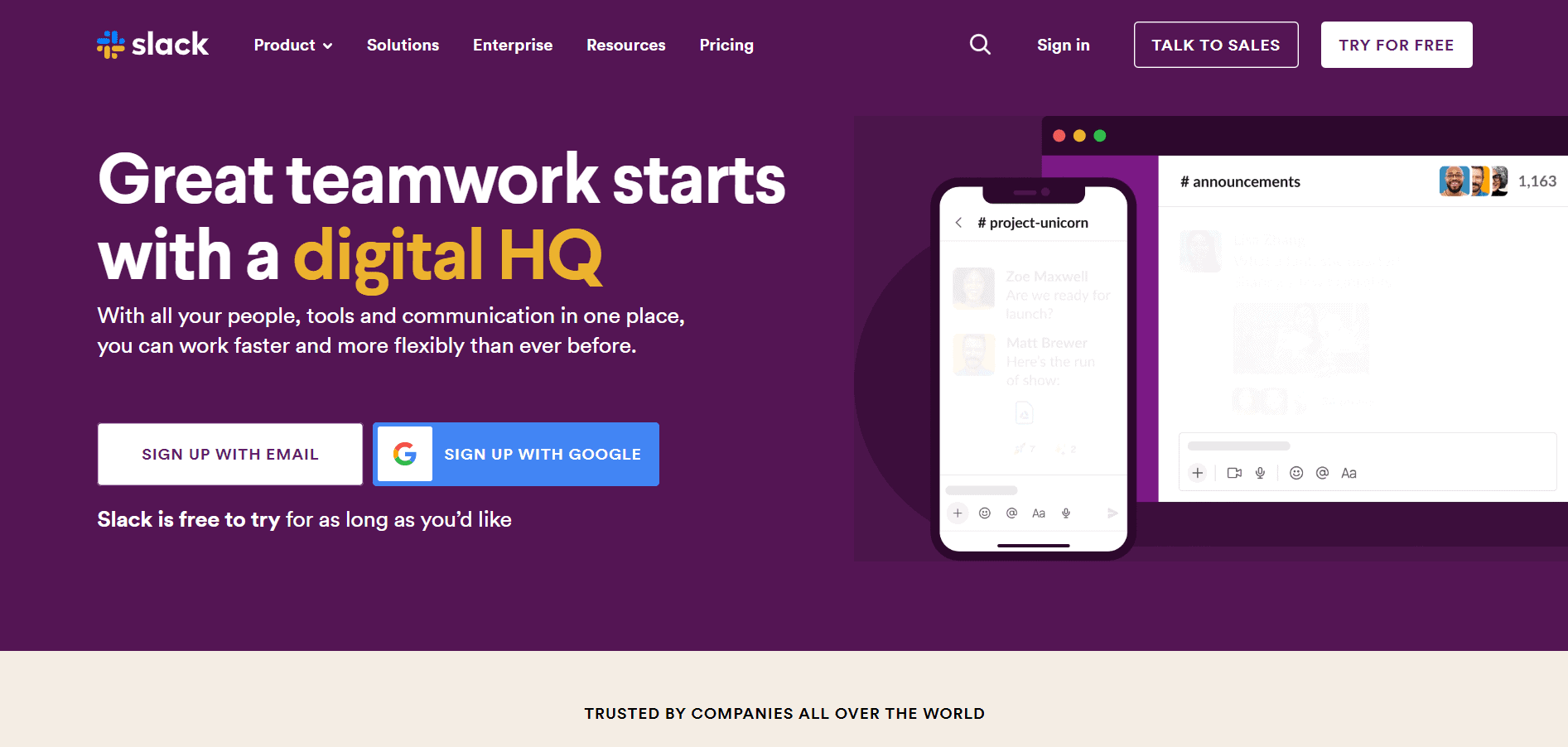 Slack is also one of the best user friendly conferencing software currently on the market. It has great connected meeting capabilities along with instant messaging and video and audio conferencing.
Slack stands out because it has integrations available for other famous conferencing tools such as Zoom, Microsoft teams, Cisco WebEx etc.
Best Features
Audio and video conferencing with instant messaging
Screen sharing
Extensive integrations available for Google drive, Office 365 etc
Up to 50 participants can be hosted in meetings
Best use case
Slack has varied usability. It provides a free plan for small businesses and start ups and its paid plans also cater to large enterprise level businesses as well.


| | |
| --- | --- |
| Pros | Cons |
| User friendly UI | Conversations only last for 14 days |
| Conversation search | Limited file storage |
| Extensive integration | |
Pricing
| | |
| --- | --- |
| Free | $0 |
| Pro | $7.25/month |
| Business+ | $12.50/month |
| Enterprise Grid | Custom pricing |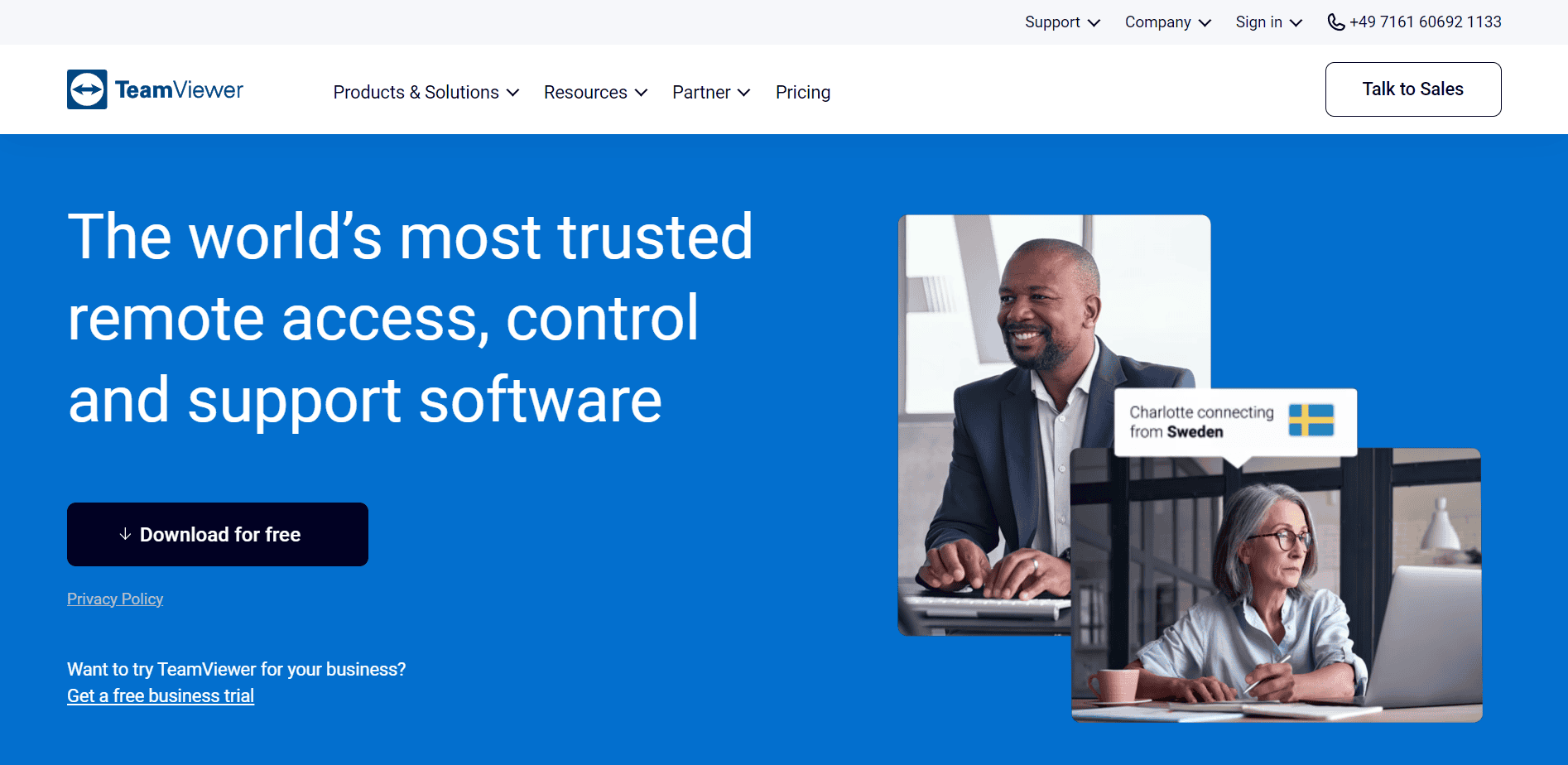 TeamViewer is unique when it comes to conferencing software. Besides having features of traditional conferencing software it provides extremely powerful remote functional capabilities. You can share your screen as well as your entire desktop access to some else in the meeting. This is a very unique feature.
Best Features
Remote desktop controlling capabilities
VPN functionalities
Screen sharing and recording
Cross platform accessibility
VOIP calling
Can host up to 300 participants per meeting
Best use case
TeamViewer is a unique software and is intended for enterprise level businesses with massive support teams only.
| | |
| --- | --- |
| Pros | Cons |
| Remote desktop control capabilities | Requires license to use for business purposes |
| Available across multiple platforms (Mac, Windows, Linus etc) | Expensive subscription fees |
| VPN functionality available | |
Pricing
| | |
| --- | --- |
| Single user | $42.90/ month, billed annually |
| Multi user | $79.90/month, billed annually |
| Business | $164.90/month, billed annually |
Conclusion
That concludes our list of 7 of the best conferencing software on the market right now. All of them are different from each other with unique selling points and features. Some provide excellent video and audio quality, others provide extensive conference aiding features such as whiteboards and screen sharing. Our top recommendation however is Google Meet.
Google Meet is an excellent platform for communication for small to medium businesses. It is a Google product hence its features are all premium and extremely well designed. The video and audio quality is excellent when it comes to video conferencing. It has features that aid collaboration such as break out rooms, polling and screen sharing. It can host up to 100 participants in a single meeting and if all that wasn't enough for you, here is the kicker…..
IT'S FREE!