8 Best Presentation Software Tools in 2023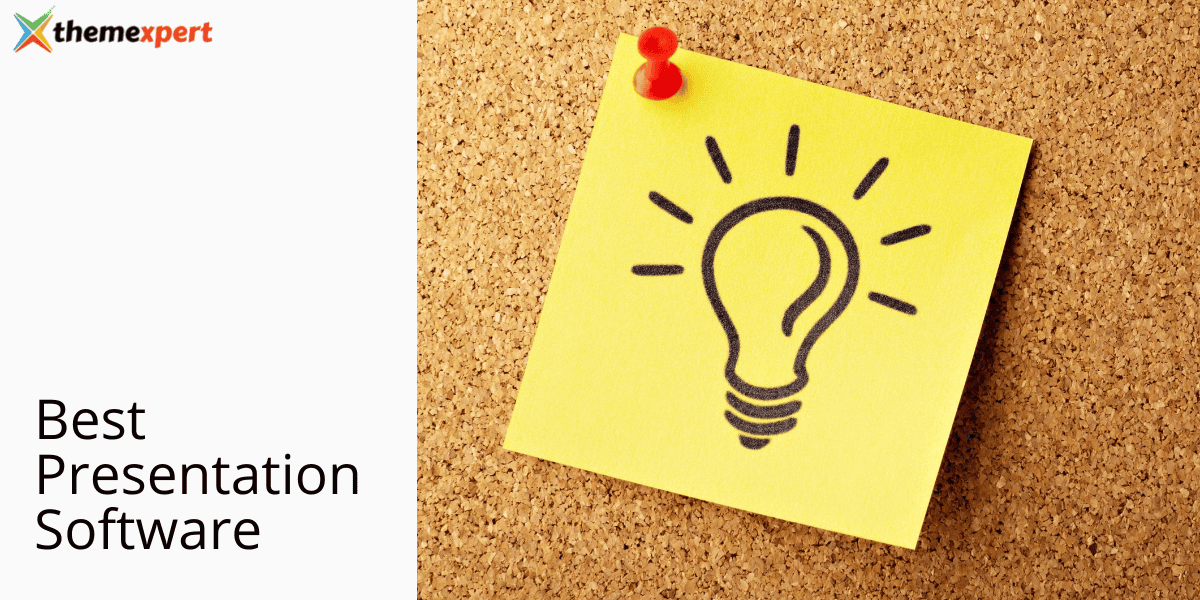 PowerPoint has been the standard in presentation software for years, but it is not the only option. Presentations that use PowerPoint have been around since the 1980s. But since then, other presentation software has emerged, particularly on mobile.
If you want to break tradition and try something new in the world of presentation software, this is the blog for you.
This article will explore the best presentation software options for you. We will explore the features of each option, the pros and cons, and the overall thoughts of the author.
Read more: Best Webinar Software Tools of 2023
What is Presentation Software?
Let's start with a basic question. What is Presentation Software, and who are the actual user?
Presentation software is a type of software that allows people to show and share their thoughts, ideas, and plans with others. They typically allow you to create and edit presentations and slideshows and share them with others.
Presentation software can be used for many different purposes, such as business presentations, school or university presentations, or presentations at a conference. The presentation software can also be used to make an electronic slide show.
Presentation software is an essential tool for any business to have. With the help of this software, presentations can be shared and uploaded in minutes. Presentation software is also easy to use and helps people to make professional-looking presentations.
What makes great presentation Software?
Slideshows or presentation software is used for almost anything, from pitch decks and product debuts to class lectures and church sermons. But the question is, how do we define what particular things make them great from a user perspective?
Pre-made templates: The best presentation software should include beautiful, professional-looking templates for quickly creating presentations.
Options for sharing and collaborating: Nowadays, more people are working from home. Whether you intend to share your webinar slides later or want to cooperate with a coworker on a presentation, sharing files and collaborating in real time should be simple.
Options for personalization and flexibility: Templates are wonderful, but the best presentation applications should allow you to personalize almost everything, allowing you the freedom to create exactly what you need.
Affordability: Creating interesting presentations is crucial, but you shouldn't have to break the bank to do so. With so many capable free tools available, the cost is a major concern.
8 Best Presentation Software Tools
Prezi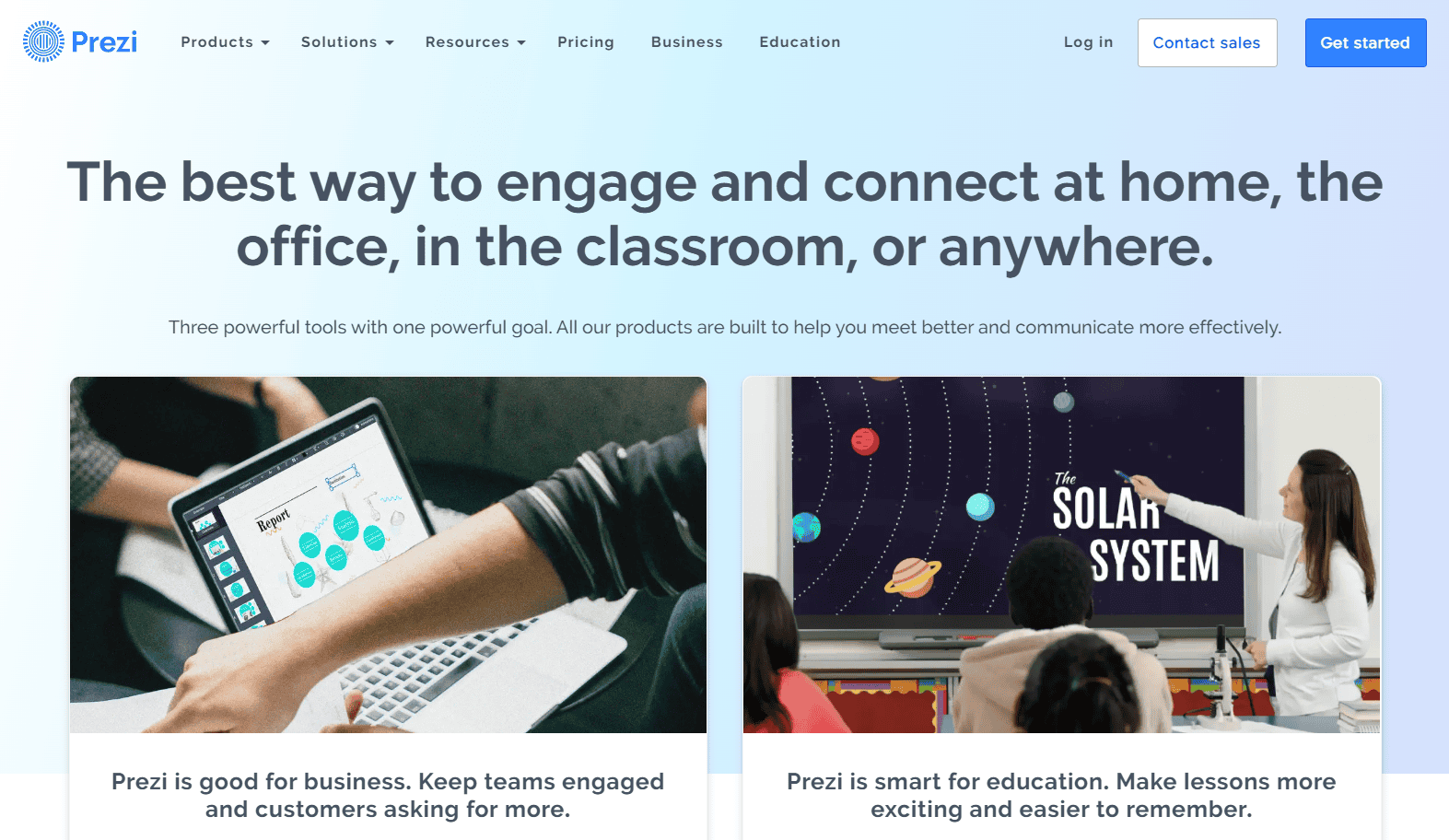 Prezi is easy to use, and one of the best presentation software comes with two other apps: Prezi Design and Prezi Video. Despite the structural freedom, you still get all the customization tools you'd expect from top presentation software, such as completely customizable templates with Prezi.
Platform:
Web, Mac, Windows, iOS, Android
Feature:
You can add multiple topics to individual slides to increase the length of the presentation.
You don't need to go back and forth to revisit the previous slide during the presentation.
Zoom Reveal feature of Prezi helps show critical details by zooming in on the subtopics.
Drag-and-drop slideshow editor.
Create informative charts and graphs using the Prezi Design tool.
Prezi media library consists of royalty-free Photos, GIFs, and Stickers.
Pros and Cons:
| | |
| --- | --- |
| Pros | Cons |
| Provides a unique perspective for creating and viewing presentations. Instead of adding slides one at a time, projects are built into sections. | Prezi's navigation can easily go overboard. If your slides and sections are not organized and easy to understand, it can be difficult to present them coherently. |
| A long list of integrations makes sharing and presenting Prezi projects easier with teams and collaborators. | Offline access is only available in paid subscriptions. |
| It is low cost. | Charts and graphs cannot be fully customized or edited for a more personalized look. |
Pricing:
| | |
| --- | --- |
| Plan | Price |
| Standard | $7/month; |
| Plus | $12/month; |
| Premium | $16/month; |
Canva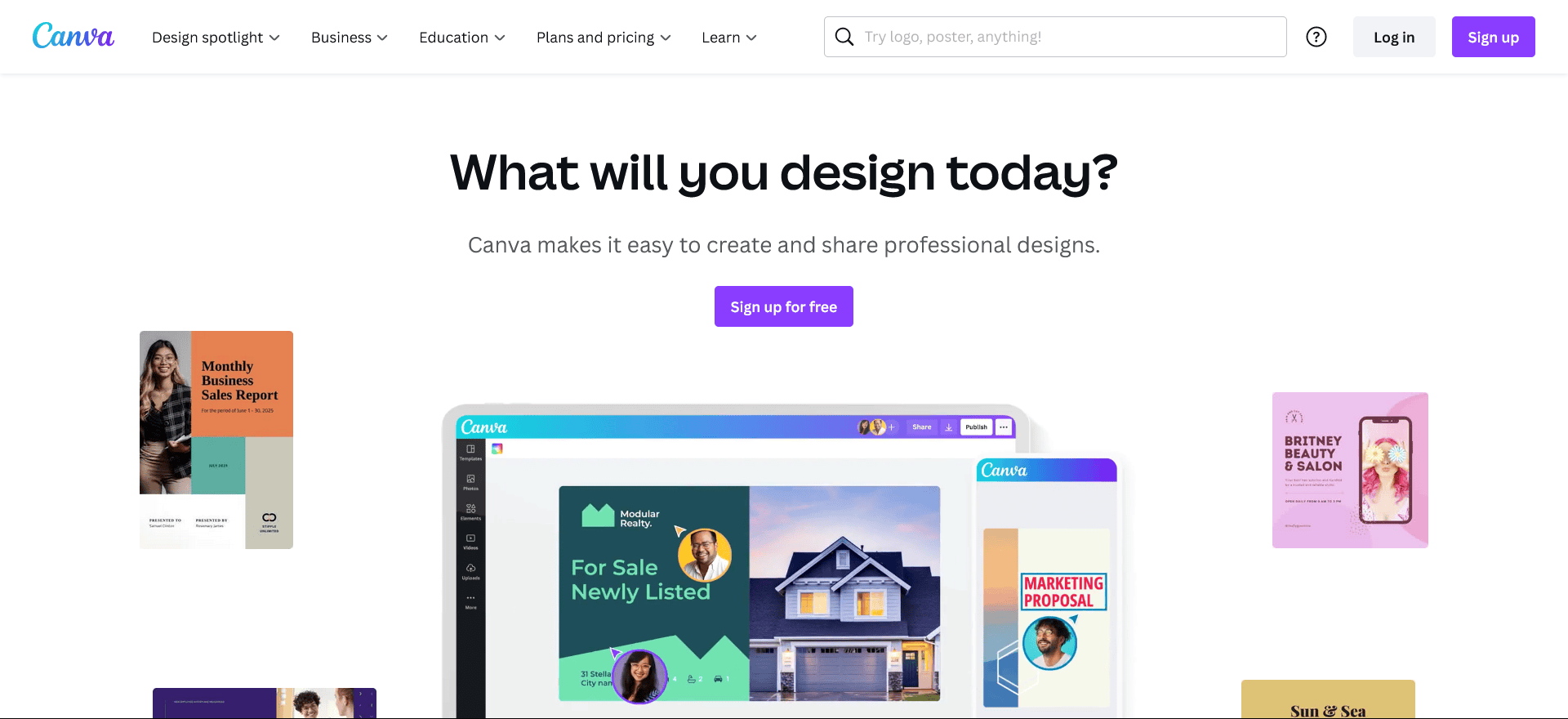 Canva is a simple, professional, yet easy-to-customize free presentation software. It is an excellent tool for those who need a designer-friendly platform and wants to get their ideas out quickly. Simply pick from a variety of stunning (mostly are free!) templates, many of which were made with niche markets like education and business in mind.
Platform:
Web, Windows, Mac, Android, iOS
Feature:
Collaboration with others or create your design team.
Create any type of content.
Drag and drop feature.
Library of over 50,000 templates.
Library of free stock photos, icons, and fonts.
Pros and Cons:
Pros

Cons

Simple to use and user-friendly.
A variety of templates.
Templates are customizable. You can also create your designs.

If you want to match the style, you must do so manually.
There is a limitation to template designs and stock photography.
Can't export to files like PowerPoint.
Pricing:
| | |
| --- | --- |
| Plan | Price |
| Free | $0; |
| Pro | $6.49/month; |
| Teams | $8.9/month; |
Zoho Show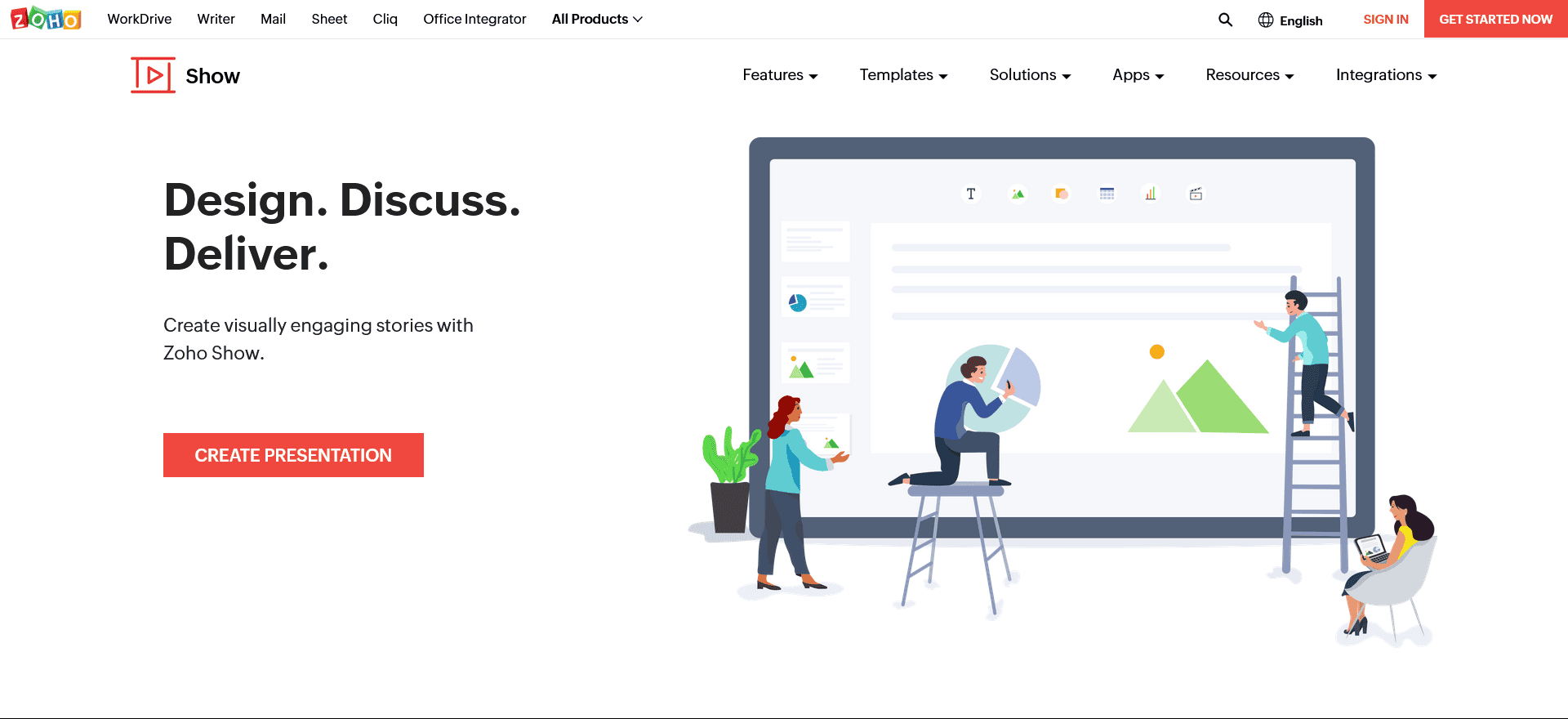 Zoho Show is a good alternative if you're searching for a simple, yet capable presentation app that's a step up from Google Slides. It's absolutely free to use, has a simple, easy-to-use editor, and comes with a number of templates.
Platform:
Web, iOS, Android, Chrome
Feature:
Create presentations offline.
Share files with ease.
View presentations offline.
Zoho Analytics integration for Show.
Theme Customization enabled.
Pros and Cons:
| | |
| --- | --- |
| Pros | Cons |
| You can share presentations created in Zoho Show. Sending remote presentations is also supported. | There's currently no option to build presentations from other devices except a computer. |
| It doesn't depend on any operating system since it is based in the cloud. | Custom branding is only available on top-pay plans. |
| Zoho Show gives customizable tools like background settings, text formatting, animations, transitions, embedding tweets, and image editing. | It needs to be deployed on a supported browser for use. |
Pricing:
| | |
| --- | --- |
| Plan | Price |
| Free | $0; |
| Standard | $5/user per month; |
| Premium | $8/user per month; |
Google Slides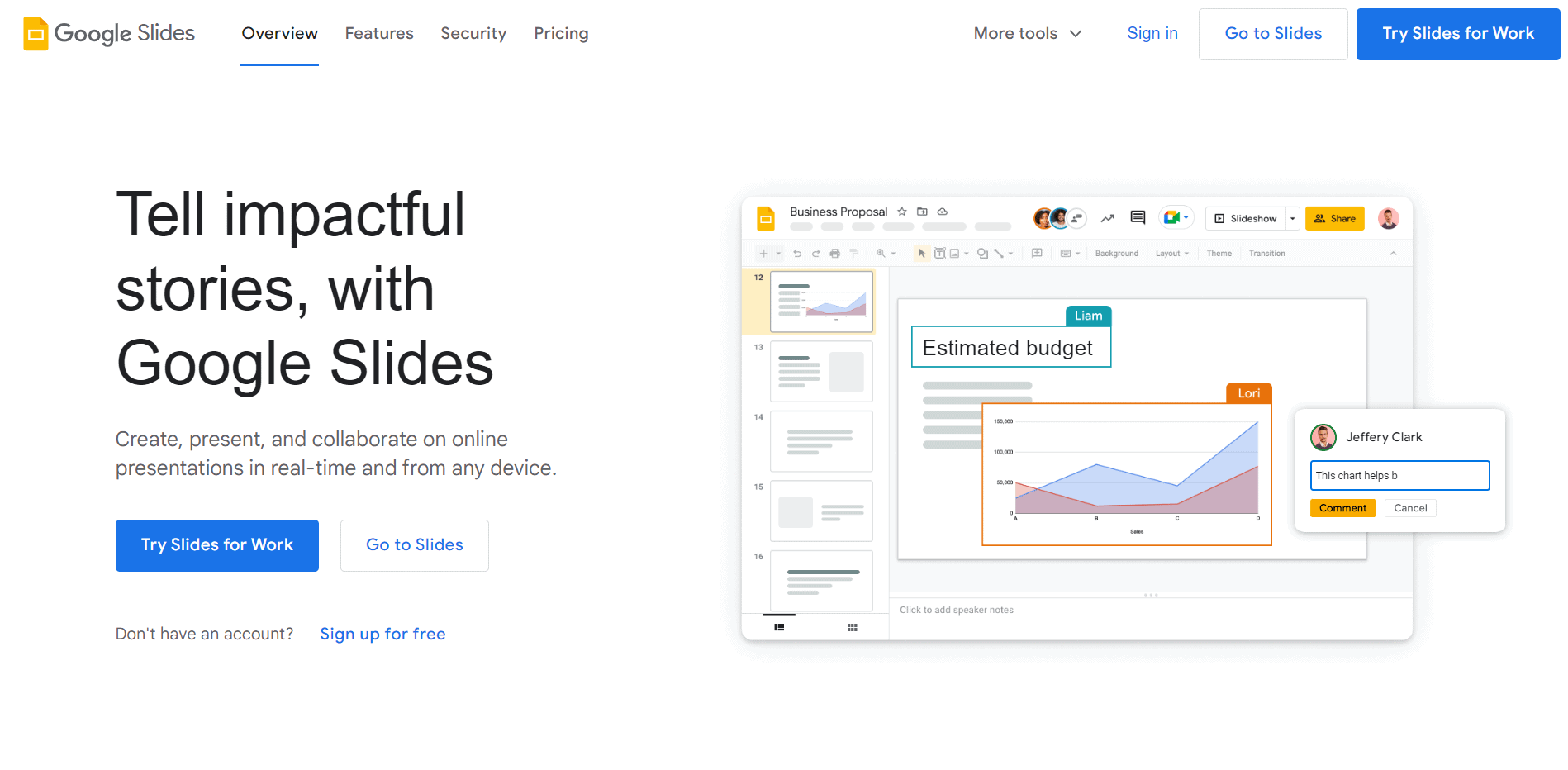 Google Slides is a powerful alternative to Microsoft PowerPoint, which is more powerful and versatile than ever. It lets you create beautiful presentations that look and feel like a natural part of your slides.
Platform:
Web, iOS, Android, Chrome
Feature:
Easy to access.
Multiple people can see and/or edit the document simultaneously.
Google Slides supports charts from Google Sheets, pictures from Google Photos, and even multimedia content from YouTube.
Automatically saves every change.
Pros and Cons:
| | |
| --- | --- |
| Pros | Cons |
| Allows Real-time Collaboration. | Comes with a very limited collection of themes for its users. |
| Flexibility to easily embed different elements. | there is a loss in formatting when importing such presentation files into Google Slides. |
| Available across all the major devices and operating systems. | Many companies restrict access to Google accounts. |
Pricing:
| | |
| --- | --- |
| Plan | Price |
| Free | $0; |
| Business Standard | $12 USD/user/month; |
Slidebean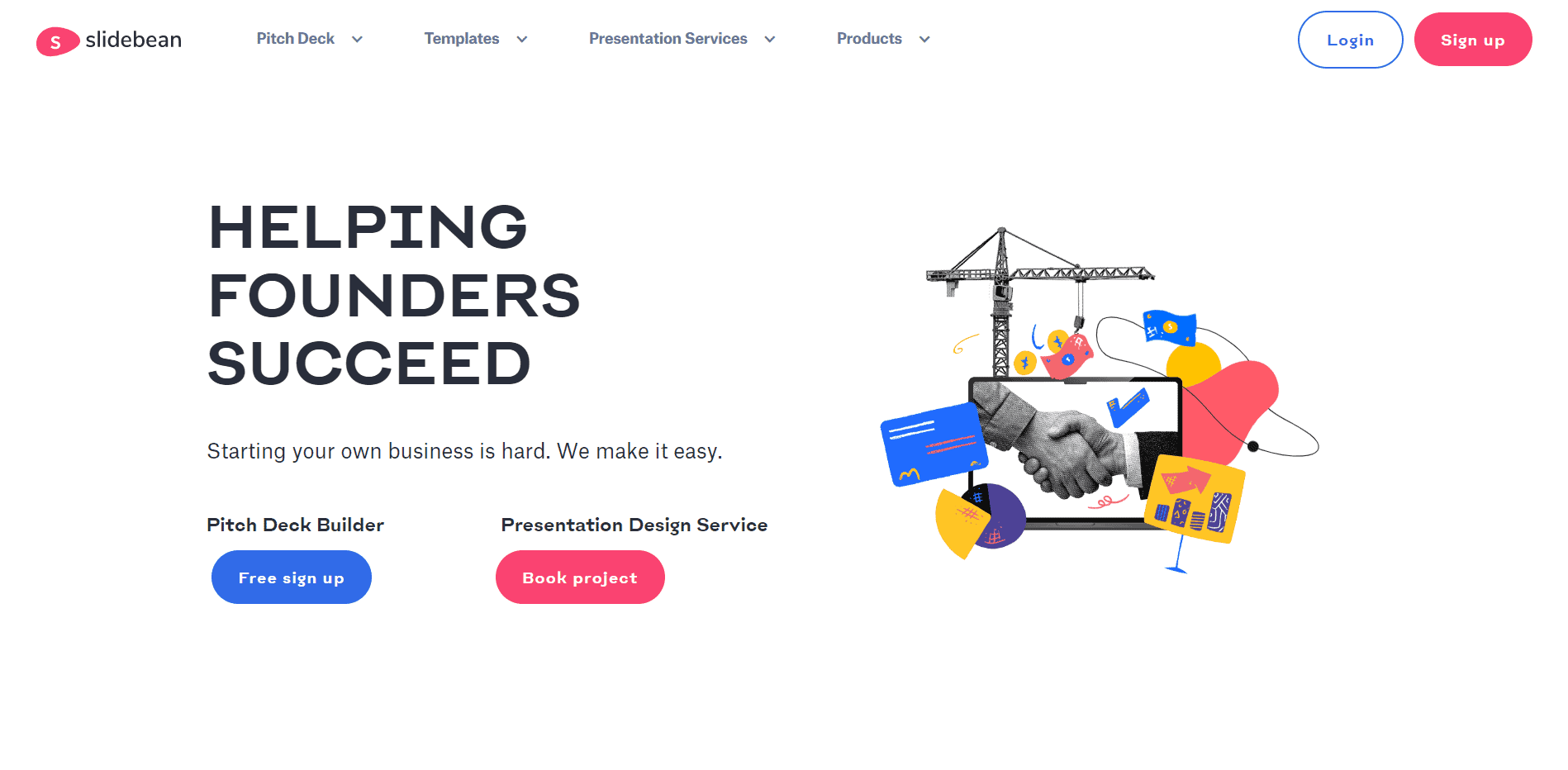 Slidebean is a user-friendly presentation software with unique layouts and adjustable content blocks. The most notable feature of this presentation software is that it employs artificial intelligence (AI) to assist you in creating the finest possible slide layouts and setups.
Platform:
Web, Windows, Mac, Android, iOS
Feature:
Template search bar.
Offline Presenting.
Screen Sharing.
Customizable Templates.
Customizable Branding.
Pros and Cons:
| | |
| --- | --- |
| Pros | Cons |
| It's very easy to use. | Fewer graphics and contents are available. |
| AI features can produce tons of diverse options. | Fewer templates are available. |
Pricing:
| | |
| --- | --- |
| Plan | Price |
| All-Access | $8/month; |
Keynote
Keynote is Apple's native presentation software and one of the first PowerPoint alternatives. The Keynote editor is accessible to anyone with an Apple ID. It is most comparable to PowerPoint and Google Slides.
Platform:
Mac, iPad, iPhone
Feature:
Add live video feeds to any slide.
Present with your team. Seamlessly.
Present over video conference.
Turn handwriting into text.
Offline collaboration
Record, edit, and play audio directly on a slide.
Pros and Cons:
| Pros | Cons |
| --- | --- |
| Intuitive interface. | Limited to the Mac. |
| Keynote files can easily be exported to PowerPoint or even QuickTime. | Steep learning curve. |
Pricing:
Beautiful.ai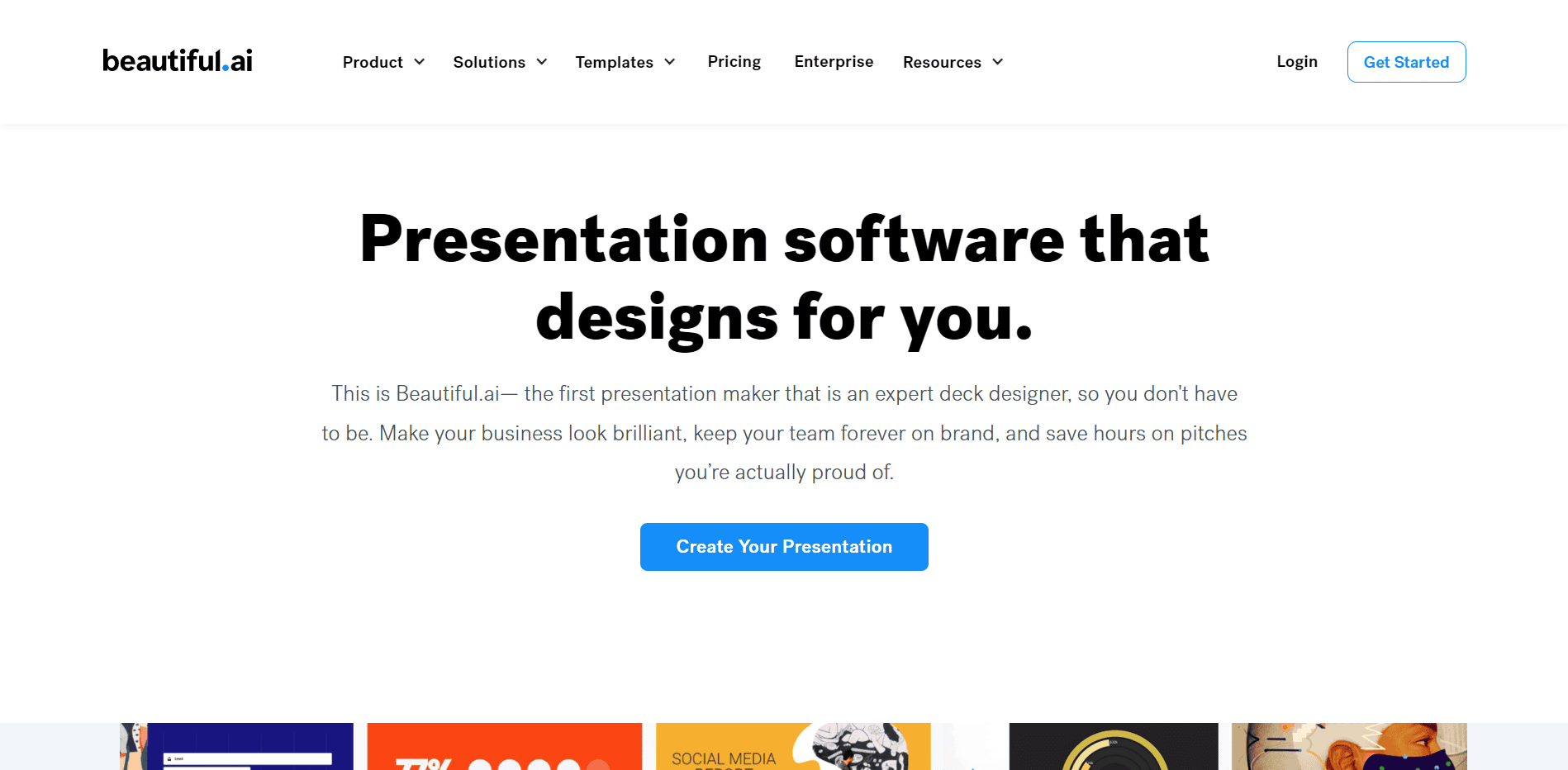 Beautiful.ai employs artificial intelligence to remove most of the pain and granular design requirements from the presentation process, allowing you to create a presentation without sacrificing professional appearance. With 10 themes, many templated slides, over 40 fully-designed templates, and 23 various color palettes to pick from.Beautiful.ai strikes the perfect blend between automation and personalization.
Platform:
Web, Windows, Mac, Android, iOS
Feature:
Searchable slide library.
Voice narration over slides.
Secure sharing and collaboration.
Customizable style themes.
Millions of stock photos and videos.
Pros and Cons:
| | |
| --- | --- |
| Pros | Cons |
| library of more than 50 "smart templates". | No, undo button. |
| Collaborative workplace. | If your internet slows, the software can slow. |
Pricing:
| | |
| --- | --- |
| Plan | Price |
| Basic | $0; |
| Pro | $12/month; |
| Team | $38/user/month; |
Powtoon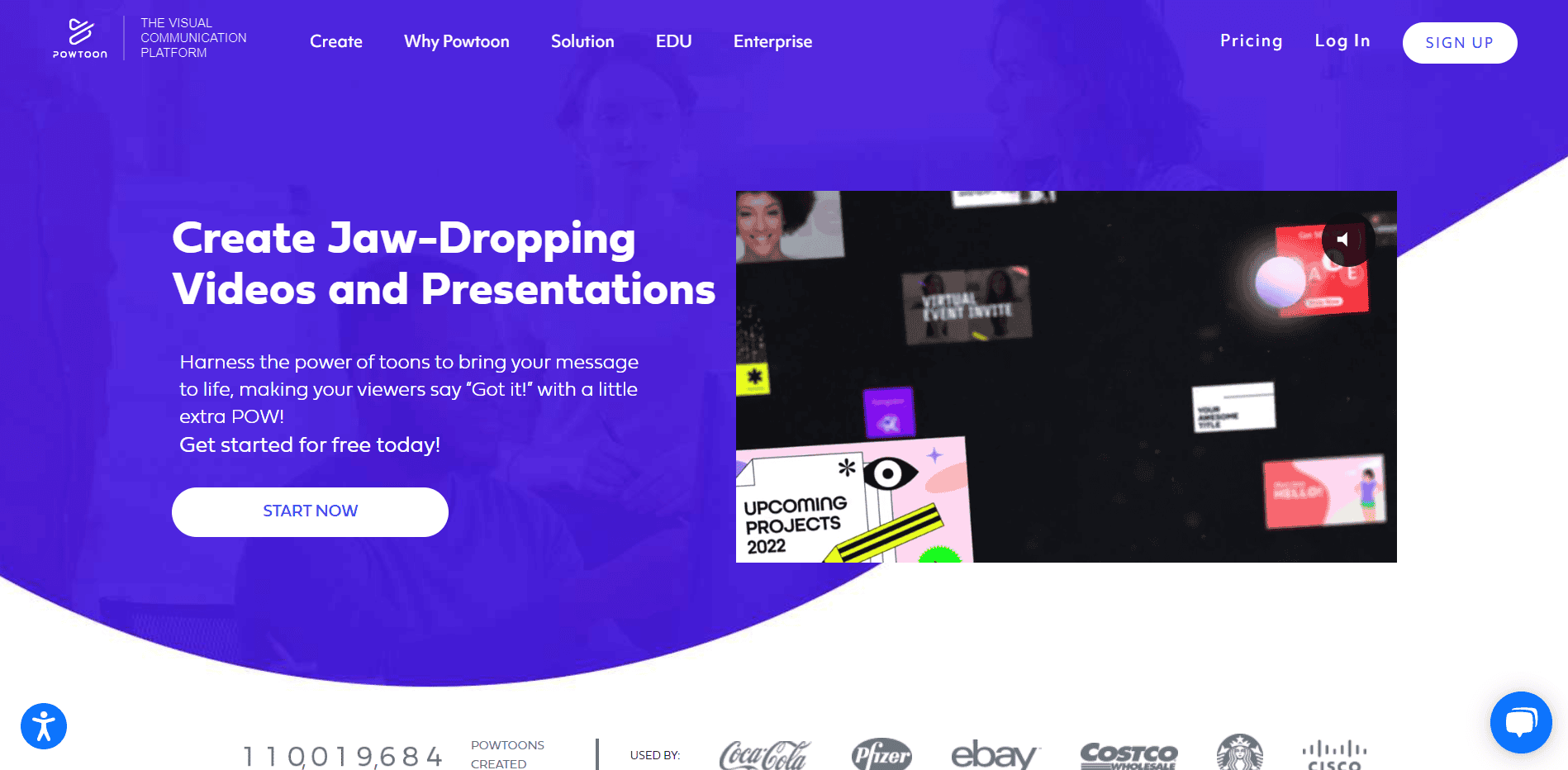 Powtoon's editor is set up to revolve around a slide deck, making it simple to produce interesting films. Editing a Powtoon is similar to editing a presentation, but you'll have a professional video when you're done.
You may modify your slides at any moment, and when you press play, a video plays over your deck, giving it the appearance of an animated instructional video. Each slide includes the animations you select and takes as much time as is required based on the slide's content.
Platform:
Web, iOS, Android
Feature:
Easily create your own free (or paid) studio-quality HD live and animated videos in minutes
Huge library of professionally-designed templates, scenes, characters, props, millions of videos, soundtracks, and text.
Upload your own media, videos, GIFs, images, and voiceovers.
Integrations include YouTube, Facebook, Facebook Ads Manager, Twitter, Wistia, Hubspot, and more.
Pros and Cons:
| | |
| --- | --- |
| Pros | Cons |
| Presentations look clean and professional. | Slow to load. |
| Orienting the editor around a slide deck. | Student access to inappropriate content. |
Pricing:
| | |
| --- | --- |
| Plan | Price |
| Pro | $19/month; |
| Pro+ | $49/month; |
| Agency | $89/month. |
Conclusion
Your budget, requirements, and the number of users define the best presentation software for you. If you want an easy-to-use presentation creator with unique capabilities that you won't find in most other applications, Prezi or Canva can be a good choice.
Which of these finest presentation software alternatives best meets your requirements? Let us know in the comment section below.