Top 10 Best OKR Software for Streamlining Your Business Objectives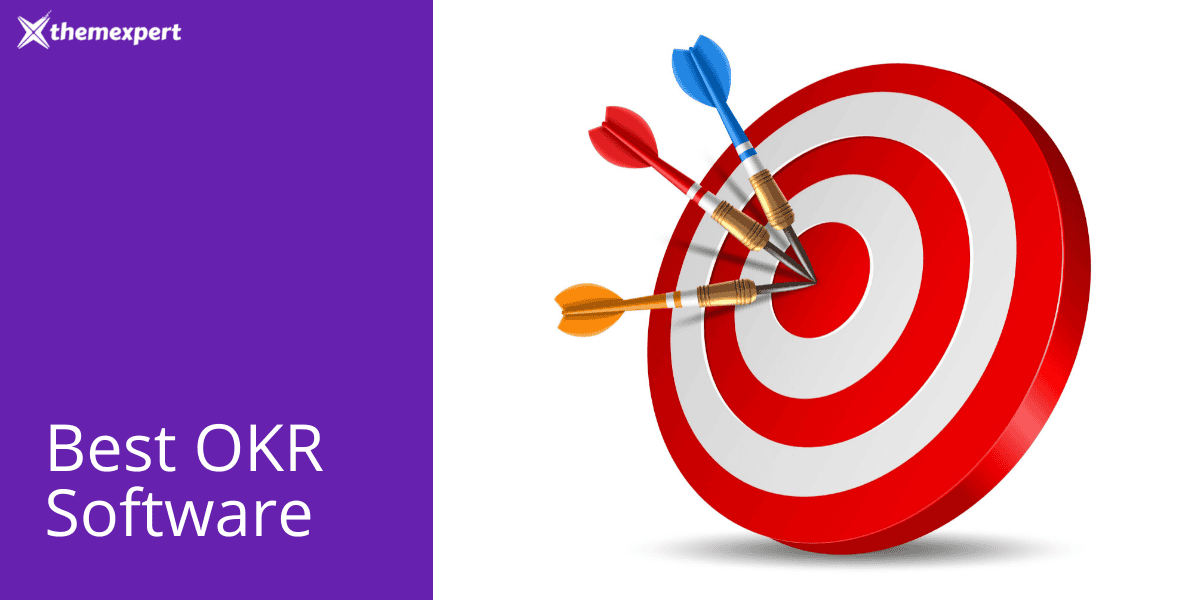 Have you ever wondered how organizations, regardless of their size, track their growth and make their employees collectively work towards a common unified goal? Calling it a herculean task would be an understatement!
Setting goals, expectations, and milestones for your organization may be a straightforward task if the vision is your own, you believe in it, you truly understand it, and can visualize it. Implementing that vision is where it gets tricky.
Yes, you understand it, can see it, and perhaps even know how to achieve it, but an organization is hardly just the dreams and efforts of a single individual. The goal can be singular, but you need your team to be on board and have the same kind of clarity that you do. It is only then that goals become achievable.
This kind of visualization and growth tracking on a large scale is no small task; hence, Objective and Key Results (OKRs) software was born. OKRs are software designed to help an organization set milestones and monitor key metrics, performance, growth and other essential factors that ultimately need to be fulfilled for desired goals to be reached.
This article will give you an in-depth look into what OKRs software is. We'll talk about why they are so beneficial. Factors to keep in mind when picking one for your business.
We'll also discuss 10 of the best OKRs software currently used, their features, advantages, disadvantages, and price points. Hopefully, by the end, you'll be an OKRs software expert! 😉
What Are OKRs?
OKRs mean Objectives and Key Results. These are vital tools that help organizations communicate their values and mission statements. It helps set milestones and guidelines for a business to hit its goals.
To gain a better understanding of OKRs lets first analyze its individual components.
Objectives: The objectives are the goals you want to achieve in your organization. They should be measurable and realistic. You can have more than one objective for each goal. For example, if you want to increase sales by 20%, then you might have two different objectives: Increase repeat sales by 5% and Increase new sales by 15%.
Key results: These are the specific actions or activities that will help you meet your objectives. It's important to note that these must be measurable as well. If you don't know how many widgets were sold last month, it's hard to say whether you met your objective.
What is OKR software? What are the benefits of using OKR software?
OKR software is a type of performance management software that helps organizations set, track and measure their Objectives and Key Results (OKRs). OKR software helps organizations align their teams, departments and overall business goals, while providing visibility into progress and results. Benefits of using an OKR software include:
Improved visibility: Objectives and Key Results (OKRs) software gives employees and their supervisors a better sense of progress and where they stand in terms of meeting their organizational objectives. This visibility into objectives and the ability to track progress over time ensures everyone is aligned and accountable.
Improved alignment: By tracking objectives and measuring key results, OKRs help keep teams on the same page and make sure everyone is working together towards a common goal. This alignment helps employees understand why their work matters and how it fits into the larger organizational vision.
Increased engagement: Setting objectives and tracking their progress helps employees feel more connected to their work and keeps them engaged with the organization. Employees are more likely to feel motivated and invested when their work has purpose and meaning.
Improved performance: With OKRs, organizations can identify weaknesses, set targets, and gauge performance so that teams can make more informed decisions. This data-driven approach can positively impact performance and provide teams with actionable.
How to choose the right OKR software?
Finding the right OKR software for your organization is important because it will ensure that your organization is able to track and measure progress toward its objectives. The right software will also provide a platform for collaboration and communication between teams and departments and ensure everyone is working towards a common goal.
Additionally, the right software will help you to identify potential areas for improvement and allow you to make changes quickly and efficiently. Finally, the right OKR software will help you to stay on track and keep your organization focused on its objectives.
Below is a breakdown of criterias that you need to consider when looking for the best OKRs software.
Organizational:
Determine Your Needs: Before you start looking for the right software, it's important to determine your needs. What do you need the software to do? What kind of features do you need? What kind of budget do you have? What is the size of your team? (Small, mid sized or enterprise level).
Research: Once you've determined your needs, it's time to start researching. Look for OKR software that meets your needs and budget. Read reviews and compare features to find the best option for your organization.
Test: Before you make a final decision, it's important to test the software. Make sure it's easy to use and that it meets your needs. Test out the features and see if it's intuitive and easy to use.
Support: Finally, make sure the software you choose has good customer support. If you run into any issues, you want to make sure you can get help quickly. Check whether the software provider offers support via phone, email, or chat.
Functional:
Data visualization: It is extremely important that the software you choose is able to visualize OKRs in different formats such as tables, graphs etc.

Customizability: The software you pick must be highly customizable to satisfy all your company's needs.
Clarity of communication: The software you choose must facilitate smoother communication between teams and individual team members.
Analytics reporting: The whole point of an OKRs software is that it helps you track growth. Analytics play a huge role in this regard.
Top 10 of the best OKR software right now
We've already learned the objectives and Key results software and its uses. We've also discussed all the benefits an organization may reap if they were to use them. Now, it's time to look at 10 of the best OKRs software currently on the market.
Betterworks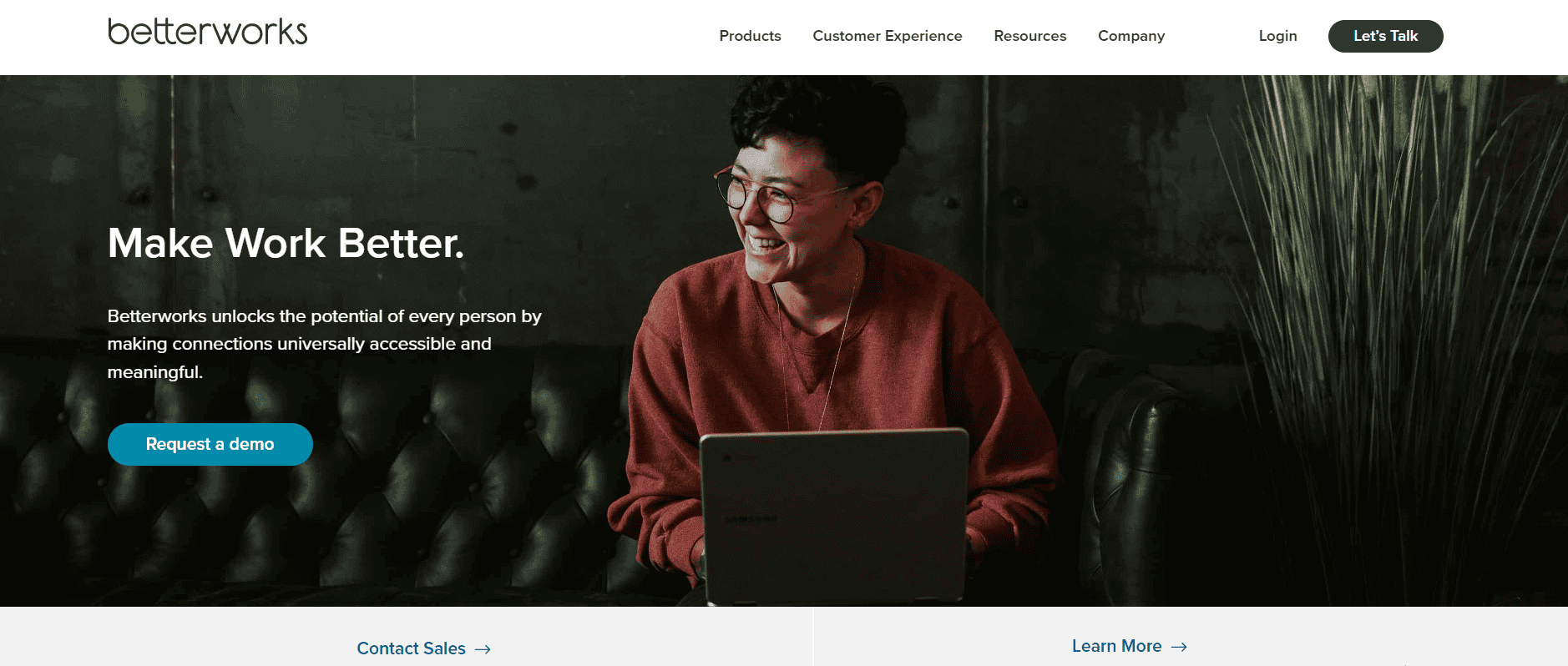 Betterworks is especially beneficial for a business with more than 250 employees that seek to utilize an OKR management system to assess employee progress and track corporate objectives. It is specifically helpful for managing OKRs, fostering transparency, and ensuring accountability.
Best for
Betterworks is versatile enough to fill the needs to any business no matter their size
Features
Configure emails to send work reminders and motivate your team to set OKRs
Track progress by mapping out quarterly developments and setting milestones
Send brief, regular surveys to gain insights on employee engagement
Employees can view manager and peer feedback quickly to scale their performance
| | |
| --- | --- |
| Pros | Cons |
| Insights feature | Not user friendly |
| Unlimited OKR coaching sessions | Requires time to learn |
| Offers a free trial | |
Pricing



Betterworks team edition

$8/user per month, billed annually

$10/user per month, billed quarterly




Engage team edition

$2/user per month, billed annually

$2.50/user per month, billed quarterly

Enterprise

Custom pricing
Perdoo

Perdoo, a German company, is an OKR tool with a simple and intuitive design. It features a roadmap for viewing company and team objectives over time, and offers integrations with popular workspace platforms like MS Teams, Slack, Jira, and Google Sheets. Additionally, it provides OKR coaching services.
Best for
Plans are modified to fit all different-sized businesses
Features:
Extensive integration capabilities (Microsoft teams, Jira etc)
Road map builder to track progress
Robust API that makes integrations easier
Weekly progress report
| | |
| --- | --- |
| Pros | Cons |
| OKR and KPI tracking under one software | Mobile app not user friendly |
| Extensive progress tracking features | |
| Slack integration | |
Pricing
Software:
Free

$0, (up to 10 users)

Pro

$6.50/user per month, billed annually(Min.10 users)

$7.50/user per month, billed quarterly(Min.10 users)

Premium

$9.50/user per month, billed annually(Min.25 users)

$10.90/user per month, billed quarterly(Min. 25 users)

Supreme

$17/user per month, billed annually(Min.25 users)

$19.50/user per month, billed quarterly(Min.25 users)
OKR Coaching:
| | |
| --- | --- |
| Small | $265/hour for 9 hours |
| Medium | $220/hour for 24 hours |
| Large | $180/hour for 48 hours |
| One hour of coaching | $300 |
15Five

15five's OKR software improves performance and employee engagement, allowing you to take action on insights from evidence-based assessments. This tool helps you identify successes and issues, so you can take action to empower employees and managers for better outcomes. It provides a modern, multi-dimensional approach to performance reviews.
Best for
Mainly recommended for smaller teams but can support bigger businesses as well
Features
Robust performance evaluation for HR managers
Highly detailed 360 approach-based performance review system
Extensive OKRs breakdown starting from company level down to individual team level
In-house OKR coaching
| | |
| --- | --- |
| Pros | Cons |
| Easy to set up and use | Limited customization options |
| provides real-time insights | Limited integrations |
| offers a free trial | Can be complex to use |
Pricing
Teams

Engage

$4/user per month, billed annually

Perform

$8/user per month, billed annually

Individuals

Focus

$8/user per month, billed annually

Enterprise

Total platform

$14/user per month, billed annually
Workboard

WorkBoard is a US-based Objectives and Key Results software platform used by large businesses to set objectives, measure goals and facilitate team communication. It is designed to provide motivation and clarity in regard to a company's objectives, with additional features such as integrations with Jira, Microsoft Teams, Azure DevOps, and Slack, as well as a meeting function to discuss OKR results. It has been running for nine years.
Best for
It is an ideal platform for companies of all sizes, from startups to large enterprises
Features
Effective team communication channels
Meeting feature
Quarterly reports based on key results
Total data transparency for its OKR based features
| | |
| --- | --- |
| Pros | Cons |
| Easy to set up and use | Limited customization options |
| Provides real-time insights | UI may be confusing to some users |
| Report generation and analytics | |
Pricing
Workboard provides custom pricing depending on their client requirements.
Gtmhub

GTMhub is a goal management software designed to help teams and organizations reach their goals faster by tracking progress and providing meaningful insights. It combines goal setting, progress tracking, and performance management into one easy-to-use platform to help teams stay on track, stay motivated, and get better results.
Best for
Can be used by SMBs and large enterprises as well
Features
Simple OKR management
Goal alignment allows everyone to keep track of how their efforts are contributing to the common mission
Custom OKR templates
On-demand training
OKR consulting
| | |
| --- | --- |
| Pros | Cons |
| Goal alignment features to keep teams working in sync | The pricing of the service can be expensive for some companies and organizations |
| Easy to use | |
| Business data analytics | |
Pricing
| | |
| --- | --- |
| Essentials | Free |
| Scale | $18/user per month |
| Enterprise | Custom pricing |
Peoplebox

Peoplebox is a revolutionary employee engagement platform that helps companies build an engaged and productive workforce. It provides a suite of tools to create a culture of recognition, feedback, and collaboration.
It leverages the latest technology to make communication and collaboration easier and more efficient. Peoplebox helps companies create a workplace where employees feel valued and motivated to do their best work.
Best for
Features
Peoplebox's automated recruitment feature simplifies the process of finding and tracking job candidates
Performance Management Tools
Time & Attendance Tracking
Employee Self-Service Portal
Task Management System
HR Insights & Analytics
| | |
| --- | --- |
| Pros | Cons |
| User-friendly interface | Can be confusing to use for first time users |
| Robust reporting features for tracking performance indicators | No free version available |
| mobile app for easy access from anywhere | |
Pricing
Professional

$8/month per person, billed monthly

$7/month per person, billed annually

Premium

$16/month per person, billed monthly

$15/month per person, billed annually

Enterprise

Custom pricing
Mooncamp

Mooncamp is the perfect platform for purpose-driven and agile teams to stay on track and reach their goals. With Mooncamp, you can easily define your OKRs and objectives, check in on progress, and keep your team aligned and focused on a common goal.
The platform is designed to increase productivity, transparency, and results for your business. Mooncamp is the all-in-one solution for your team's success.
Best for
Intended mainly for SMB use but can scale for enterprise-level businesses as well
Features
OKRs can be managed from Microsoft teams
Unlimited goals, initiative and hierarchy breakdown
Multi alignment of OKRs which means one goal can be aligned with two or more parent goals
Extensive integration available (Slack, Microsoft teams, GSuite SSO, Asana etc)
Custom templates for check-ins and reminders
Check-ins and reminders in Slack and Microsoft teams as well
| | |
| --- | --- |
| Pros | Cons |
| Easy to use | No free package available |
| Provides extensive integration | The cheapest package has limited features |
| OKRs, tasks and goals are highly customizable | |
Pricing
| | |
| --- | --- |
| Essential | $6/month per user, billed annually |
| Professional | $10/month per user, billed annually |
| Enterprise | Custom pricing |
Reflektive

Performyard is a performance management software that streamlines the feedback, review, and goal management process. The 360-degree review module of the software allows customers and other members of the extended organization to provide their input at no extra cost.
Every pricing plan comes with a dedicated customer support manager for assistance. The software also enables employees to track and monitor their individual goals and store private notes of performance that can be accessed at any time.
Best for
It's mainly intended for SMBs. It has an enterprise level pricing package but that can be customized to an SMB with slightly greater requirements as well.
Features
Having peers review each other's work
Allowing for outside opinions
Encouraging collaboration during the review process
Being able to track progress visually
Allowing for the use of custom tags
Utilizing stacked bar charts
Keeping an activity log
| | |
| --- | --- |
| Pros | Cons |
| A dedicated support manager is included in the cost | The goal management system could use some improvement |
| The user and admin interface is user-friendly | Integration with Google and other calendars is not yet available |
| The customer service team is both professional and prompt | The reporting features could be enhanced |
Pricing
| | |
| --- | --- |
| Professional | $5-10/user per month, billed annually |
| Enterprise | Custom pricing |
Lattice

Lattice is a widely respected work management system, with its main base in San Francisco, and branches in New York and London. This platform provides you with tools for increasing employee involvement, evaluating performance, assigning and monitoring tasks, setting objectives and key results, and much more.
Best for
Features
Analytical and reporting tools to measure performance
The ability to set goals, assign importance, and monitor progress
Visualization tools for goals and objectives
Compatibility with Slack, Google Apps, Microsoft Teams, Outlook, and HRIS
A mobile app
Advisory service
| | |
| --- | --- |
| Pros | Cons |
| Easy to use | Goals can be confusing sometimes |
| Helps you track against clear goals in one place | Lack of templates for growth paths and reviews |
| Weekly updates | |
Pricing
| | |
| --- | --- |
| Performance management + OKR and goals | $11/user per month |
| Engagement | $4/user per month |
| Growth | $4/user per month |
| Compensation | $6/user per month |
Weekdone

Weekdone is a tool for setting objectives and key results (OKRs), monitoring progress, organizing plans, and establishing a regular reporting system. It offers teams the structure they need to create and manage OKRs.
Best for
Starting from small startups to large enterprise-level businesses, all can use Weekdone
Features
Connect your weekly objectives to your OKRs to ensure that your weekly activities are contributing to your quarterly success
Utilize the hierarchy view to observe the connection between your OKRs and the company's overall goals
Take advantage of the different views available, such as the bird's-eye overview and the single OKR view, to best suit your needs
| | |
| --- | --- |
| Pros | Cons |
| Integrations with Asana, Jira, Google Tasks and Slack | Does not have project management capabilities such as comprehensive plans and Gantt diagrams |
| The ability to customize measurement units (type/value) for Key Results | |
| A template for weekly reports that can be tailored to suit your business's values | |
Pricing
| | |
| --- | --- |
| Free | $0 |
| Custom | Custom pricing |
Conclusion
OKR software can enable individuals to set goals and priorities and connect them with their organizational work. This can help them identify any gaps and how to improve upon them to achieve better outcomes.
There are a variety of OKR software solutions available, each with its features and varying price points. Therefore, choosing the best fit for the individual's requirements and budget is essential.