Infinito
Responsive Business Joomla Template
A Responsive Template for Joomla that gives your business a fresh look with its travels light, focusing on essential design elements and paying special attention to detail. Built with the Quix Pagebuilder.
---
Select Your Pre-Built, 'Page Templates' or 'Blocks' That Will Work For Your Website like MAGIC!
Infinito - Joomla business template comes with our premium page builder Quix, it's powerful enough that you can create ANY type of page that you can imagine, yet simple enough that you can just plugin YOUR content into any of our pre-built layouts! 
When you buy Infinito template, you'll GET 16+ pre-built page layouts and 35+ blocks for FREE!  
That way you can up and run a live website within a few minutes from now! 
---
Page Templates

Of Your Choice
---
Do you have a strict deadline or want to live your business website faster than your competitor? If so, then you'll LOVE our 'Page Templates'.
They were created for people like you who want to up and running website very fast! Inside of your Infinito Joomla business template you will GET fine tuned, high converting landing page templates that are ready to be used in just 2-3 mouse clicks.
Are you looking for unique layouts but have no time to waste? If so, 'Building Blocks' of Infinito Joomla agency template will be your best companion.
Take benefit from our beautiful blocks and make unique layout by gluing altogether. It's like building a website with LEGO, and the sky is the only limit.
---
Your business should fit into one of these pre-made layouts, but even if it doesn't, you can customize and create design to match ANYTHING you're trying to accomplish. 
Create Any Type Of Website You Can Dram Of!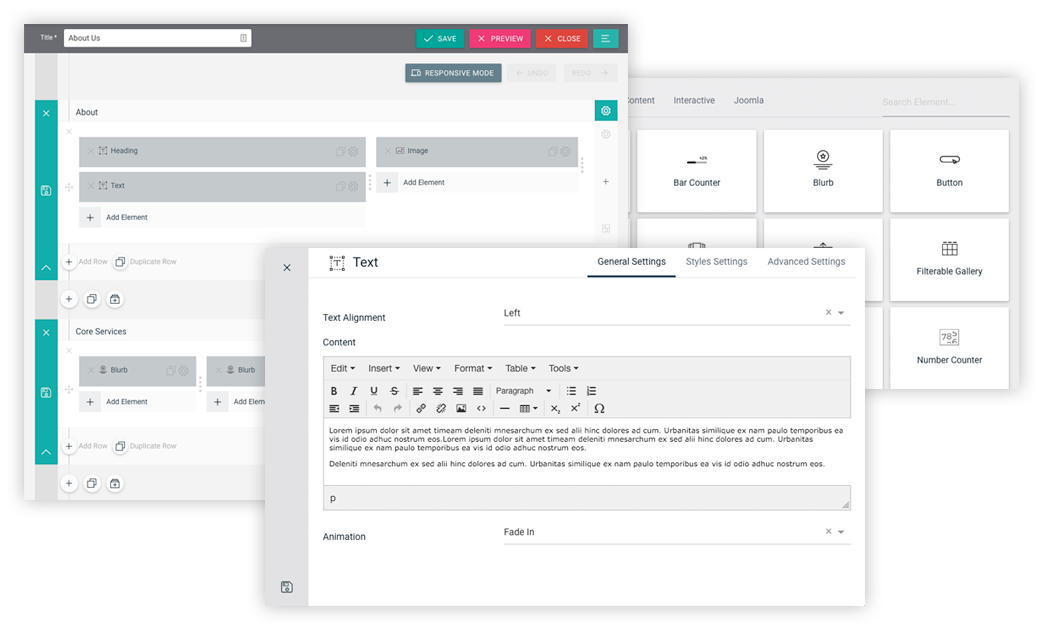 With our page builder, if you can imagine it… then you can build it inside of Quix!
---
---
Design YOUR Website Without Writing Any Code. Drag, Drop and Done...NO additional help required.
After you've picked what type of layout you want to create, then you just have to go to each page, and drag and drop your images, headlines, videos or any element you want from our 50+ elements collection.
Unlike our competitors, you aren't stuck with a page you don't like. You can move elements around and move them to your library for later use, so your page looks EXACTLY how you want.
Watch Quix Page Builder In Action: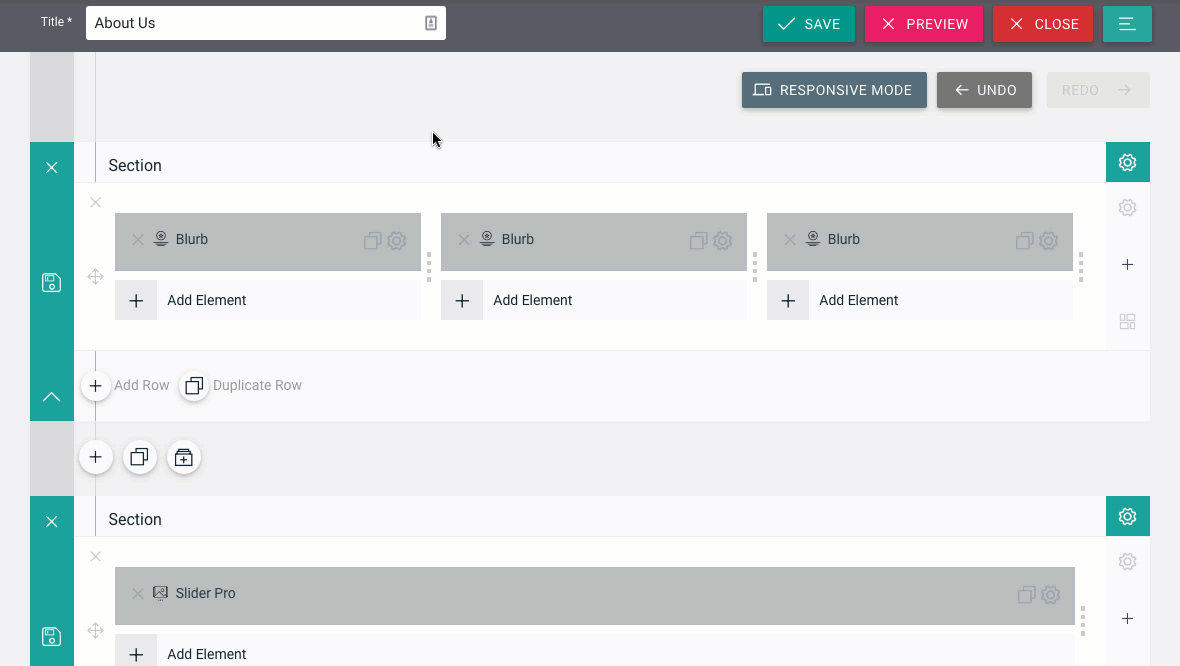 Plus, you can also add dozens of different types of elements to any page.
Look How Simple It Is To Create Responsive Page: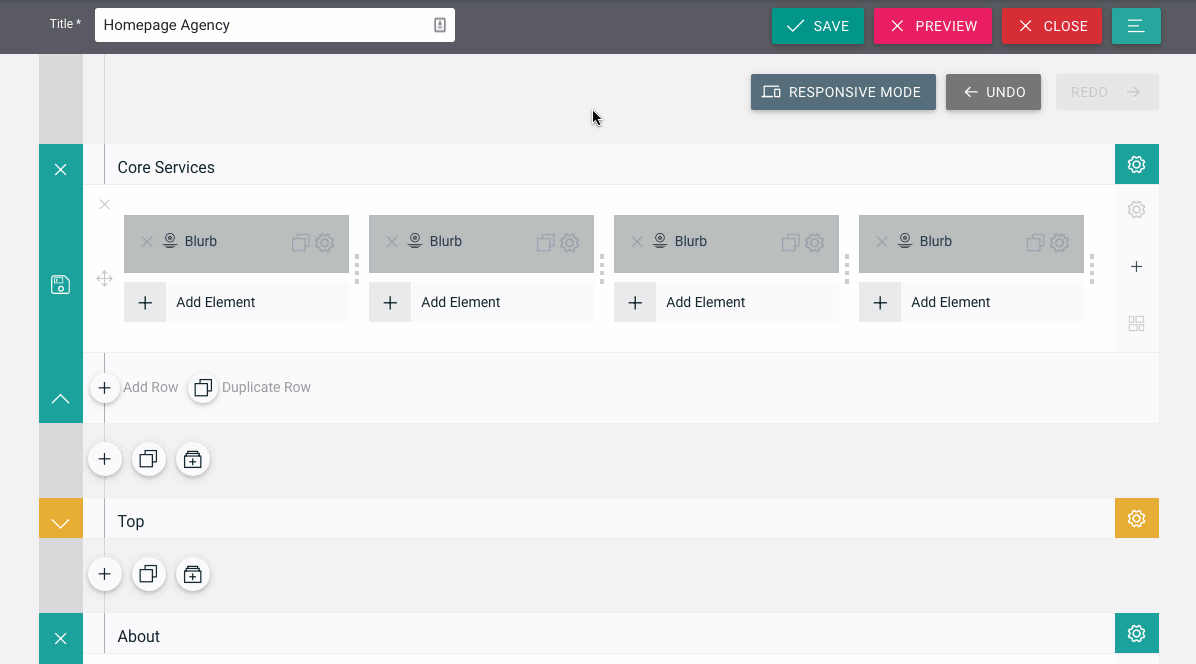 And don't worry, each of your pages is INSTANTLY mobile responsive the second you create it! Plus, you have full control of your page responsiveness through Quix responsive controls.
---
---
Be a PRO

 and cut the amount of frustration and suffering of building website and maintaining it properly...
---
Some example websites built with Infinito
---
Probably The Best Multipurpose Joomla Templates...Even Got Better With New Update Responsive Design
Like all ThemeXpert templates, Infinito Joomla business template is completely responsive, mobile-friendly and optimized. Whether your visitors view your website on a desktop, laptop, tablets, or a smartphone, your website will always look great.
Full Width & Box Layout
The full-width layout displays the contents centered, but with a background throughout.
Whereas, with Boxed Layout, you can use a custom background to the body with pattern and all the contents will be centered with the background flowing around it. Right-To-Left Language Support
Infinito comes with RTL support out-of-the box allows you to built website with language like Arabic, Hebrew, Urdu and more...
9 Color Presets
Everyone has different tests and individuals color preferences. Infinito comes with 9 different color presets and still you are not limited with it. From Thememagic panel, you can select any color according to your choice.
Everything you need to create a beautiful website powered by the Quix Builder Page Builder
Build beautiful pages for your business website with Quix's advanced drag & drop interface. Fully Responsive
Finance is 100% responsive, which means it will look great on any devices and screen size Elegant Design
Crafted with care and tailored for extreme performance. Finance look beautiful inside-out. eCommerce Ready
Finance has been built to work wonderfully with DigiCom, J2Store out of the box.

Built-In Animation
Movement attracts attention. With Quix, you can add animation to any element.

Parallax Background
It's never been easier to add a parallax effect to any section or row in website.. Perpetual Updates
Rest assured, we are always here to fix bugs and your website works great with new Joomla version. Sensible Support
Having trouble? Need any help? Our dedicated support team is here to answer your call.
Showcase your service many different ways
Service is the most important and unique part of every business and with Infinito you can showcase your service and offering in different and unique way.
Your portfolio is your asset, present it beautifully
Infinito comes with different portfolio elements and settings that allow you to easily showcase your work in differents styles. Testimonial and Clients
Social proof is very important for any business and this is why Infinito template comes equipped with additional ready to use testimonials and clients elements.
Typography At It's Best
Select from 600+ Google fonts and apply them to your body, headline, menu and buttons. Everytime Google release a new font, click a button and you are up-to-date. You can preview the font before applying it to your website. Mega Menu The Easiest Way
Building a mega-menu could be harder and we made it much easier for you. With mouse drag & drop you can build a complex menu layout in minutes.
Awesome Support
We are a nimble team of designers and developers who are always ready for your support.  No need for Customer Care people, because everyone is responsible for customer support here. Don't Take Our Word For It
At iJoomla.com, we've been looking a responsive template that looks great, easy to configure, uses bootstrap and is super light! We found all this in the expose framework. We are utterly impressed with this template, the code, the CSS, the backend settings and more and we will be using it on over 15 iJoomla sites on iJoomla.com. This framework makes our lives so much easier, we love it! The developer has been great to work with, very responsive and open for feedback. Highly recommended!

Mefav Knafo
CEO, iJoomla
I have used virtually every Joomla! template framework available and I find Expose to be the best in the industry. The attractive and easy to use backend administration is what drew me in, but the incredibly clean and easy to modify code base is what sealed the deal. Ever since I first started using Expose I have spent most of my free time contributing ideas and code back into the framework. Expose will dramatically speed up your development time and give you options you never had before… and there is a LOT more coming!

Jonathan Shroyer
Owner, Design Innovations
I started with Joomla in 2007 and spent way too much time on templates, design and layout. I have tried a variety of 'easy' and 'quality' templates and template builders over the years and always felt I had just wasted my money. Since discovering Themexpert, smooth and stylish templates, 100% responsive, and fast and easy to customize, are now a breeze. My clients are happy and I'm impressed. The support is great, any issues are resolved in a timely manner.

Camille Scott
Founder, CSBN
I did a lot of research before selecting a template provider, looking hard at all the usual suspects and finally chose ThemeXpert. I've been with them for a couple of months now and I'm very happy with my decision. The Expose Framework is fantastic and the templates are great. Lots of other very well done extensions, as well, such as Xpert Slider, Xpert Tabs, Xpert Tweets, etc. Having access to multiple templates and the Quickstart setup to replicate the Live Demo sites has been invaluable when trying to figure something out – it's great to have examples. Then there's the Support. These guys are really amazing how quickly and thoroughly they respond to questions on the forum and resolve support tickets. I've also been impressed with how quickly new templates and updates are released, as well as site improvements like the updates tracker

Jim Sparkman
Founder, afxMedia LLC
This is the first template I have purchased from Themexpert and I will definitely purchase from them again. Being unfamiliar with their template engine I had a few issues but the support was quick, efficient and friendly. Lovely template, great service!

Janey Cramer
Owner, Muse Web
I have looked and tried many other joomla themes that came with good extensions along with customizing capabilities. I was just gong to hire someone to get the look I wanted, but I found StreamX theme by Themexpert. I found it exactly what I needed with just the right extesnions that work how they said and the module positions are perfect. I was hooked! There support is far superiour than any other. I opened a ticket on Sunday early morning expecting a response in Monday but Parvez replied to my ticket on his vacation day and made sure my issue was fixed. When comes to Joomla themes there is no one else I will work with.

Guy Stubbe
C.E.O, FMO Monthly Join ThemeXpert Club Today!
$99/ Year
Unrivaled pricing with access to the complete ThemeXpert suite. That means every current templates, extensions, update and feature.
Access To All Template - Existing and upcoming templates.
Unlimited Domain - Use template as many domain you want.
Copyright Removal - Remove our credit and add your own.
Access to all of our Joomla extensions
Priority Support - Get ahead of our support queue.
Get access to our private FB community. 
And more... Get Started With Infinito Today!
$58/ One Time
Infinito is our best selling Joomla templates of all time and with every purchase, you will get:
Quickstart Package - Setup your website just like our demo.
Quix Page Builder - You will get Quix PRO for free.
Copyright Removal - Remove our credit and add your own.
All Necessary Extensions that are used in this template.
Premier Support - Our experts are always at your support.
Get access to our private FB community. 
7 Days money back guarantee,
And more...