Introducing Elevate: Attract Premium Clients at a Fraction of the Cost
Attract clients, build trust, and showcase your consulting brilliance with our team-focused landing page. Introduce your experts, boost your agency's credibility, and connect with clients looking for top-notch consulting services.
Browse the Elevate Collection
Exclusively Crafted for Business Consulting Agencies
Want your consultancy firm's website to shine? Elevate is a Joomla template meticulously tailored for business consulting agencies. Make a lasting impression and showcase your expertise.
Engaging Content Presentation with a Professional Design.
Highlight Your Consulting Services
Distinct Homepage Layouts
Elevate offers two unique homepage layouts, one in a light theme and the other in a dark theme. These dual layouts amplify your online presence, enabling you to select the style that best aligns with your agency's identity and captivates your audience.
Maximize your online presence with two distinct homepage layouts.
Diversify your content presentation for each homepage.
About Us: Build Trust and Credibility
The "About Us" page is the canvas where you paint your consultancy firm's distinctive narrative and establish trust with your audience. Elevate's template presents a visually appealing layout that showcases your journey, introduces your exceptional team, and authentically conveys your mission.
Visually appealing layout.
Spotlight on your brand's history, team, and mission.
Dedicated sections for case studies and data-driven credibility.
Services: Showcase Your Consulting Expertise
The Services page in Elevate simplifies the process of showcasing your consulting offerings. With well-structured sections and captivating visuals, you can help potential clients grasp the outstanding value of your services effortlessly.
Clear and organized sections with engaging visuals.
Effectively communicates the value of your consulting services.
Addresses the challenge of conveying your expertise compellingly.
Pricing: Simplify Service Package Selection
Pricing can often be intricate for consulting agencies. Elevate's template includes a Pricing page that empowers you to present your service packages in an intuitive, easy-to-understand format.
Intuitive and user-friendly pricing presentation.
Streamlines the decision-making process for potential clients.
Strategically placed CTA buttons facilitate service package selection.
Case Studies: Showcase Success Stories
In the world of consulting, success stories speak volumes. Elevate's Case Studies page is purpose-built to display your agency's accomplishments and demonstrate the value you provide to clients.
Dedicated to showcasing your most noteworthy achievements.
Highlights the impact your consultancy has had on clients.
Enables potential clients to see your expertise in action.
Team: Showcase Your Team to Your Customers
Introduce the accomplished professionals who drive your consultancy agency's success. Allow your customers to explore the profiles of your dedicated team members, to witness how each brings unique skills and experiences to deliver exceptional consulting services.
Highlight the expertise and qualifications of your consulting team.
Establish trust and credibility by showcasing your talented professionals.
Demonstrate the knowledge and qualifications of your consultants.
Help clients connect with the specific experts working on their projects.
Promote transparency in your agency by introducing your team members.
Blog: Establish Thought Leadership
Sharing valuable insights through a blog positions your consulting agency as a thought leader in the industry. Elevate's blog page layout prioritizes readability, encouraging your audience to engage with your informative content.
Designed for readability.
Fosters interaction with informative content.
Remedies the common issue of websites lacking engaging and reader-friendly blog layouts.
Contact Us: Foster Client Engagement
The "Contact Us" page ensures that your website visitors can effortlessly reach out to your consulting agency. Elevate offers a user-friendly contact form with sections for essential information, promoting client engagement.
User-friendly contact form.
Streamlines the process of getting in touch.
Addresses the challenge of clients searching for effective means to reach you.
Everything A Joomla Template Should Be
Modern Design
Experience sleek aesthetics and captivating functionality with our contemporary design.
Fully Customizable
Everything is easily customizable using drag and drop Quix page builder without writing a single line of code
SEO Friendly
Comes with Quix built-in SEO analyzer. You don't need to worry about your website optimization at all.
Responsive Layout
Fully mobile friendly and can adapt automatically to mobile, tablet, desktop. There's no need to make a separate layout or content.
Live Copy & Paste
Copy and paste any element, just like copying and pasting text, while retaining the same style. You can even duplicate elements with just a single click.
Fast & Dedicated Support
We have dedicated team members who are ready to help with any kind of issue. Feel free to contact us.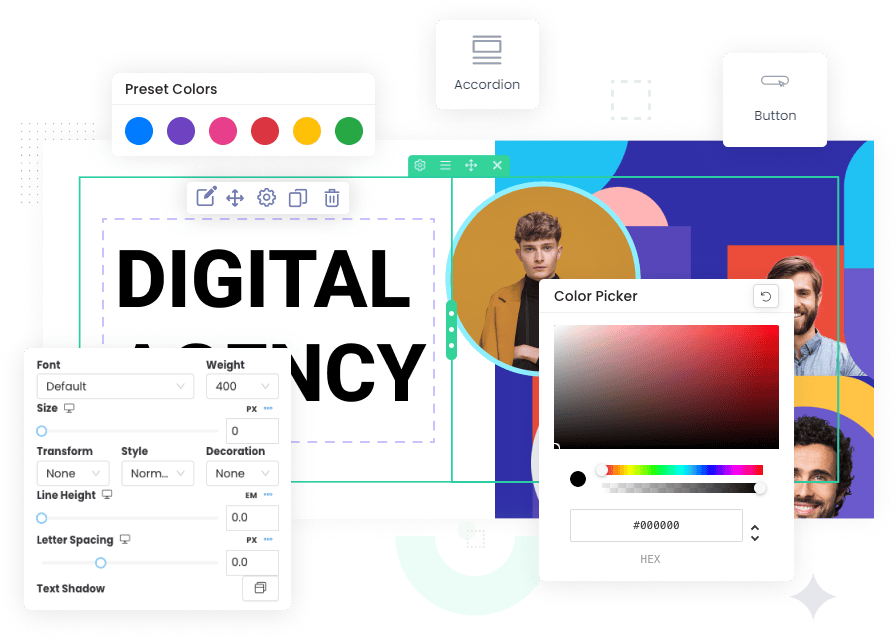 Drag & Drop Website Building
Using Quix's drag & drop system, you can do anything without writing or customizing code.
Customize Anything & Everything
Valley work seamlessly with Quix ensuring customization each and every part of your website.
Analyze SEO Score Instantly
Optimize your website for SEO using Quix's built-in SEO analyzer.
Built Using Helix Ultimate Joomla Framework
Elevate built with the most potential latest Joomla version Helix Ultimate Framework to gives you maximum performance with speed. We are a nimble team of designers and developers who are always ready for your support. No need for Customer Care people, because everyone is responsible for customer support here.
Start creating a beautiful and modern website using Quix page builder
No coding is required! just drag & drop. Modern and Powerful with lots of features