#SaveNapal - We are donating 10% from our every sale to the earthquake relief in Nepal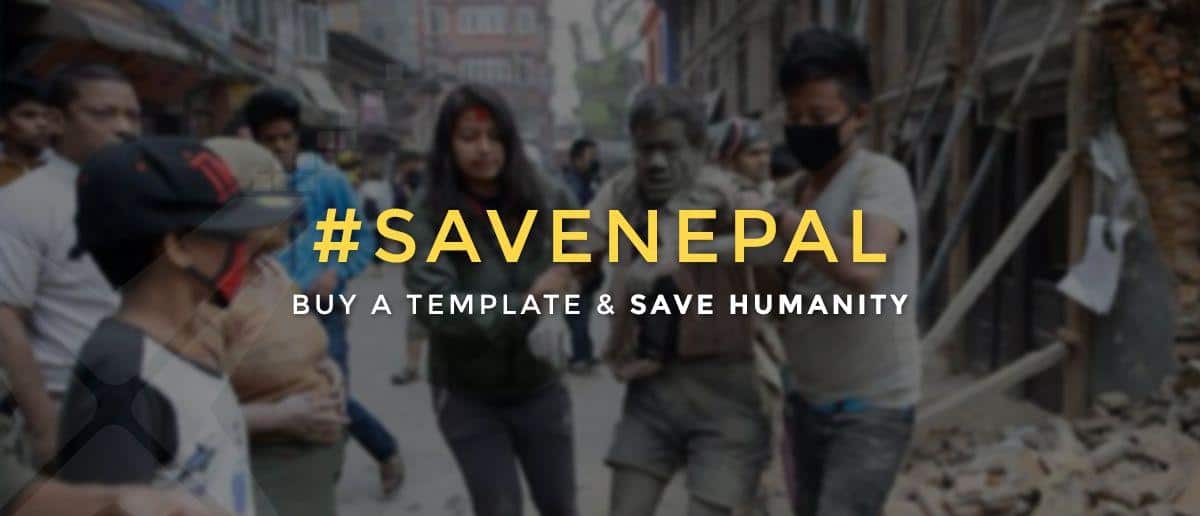 The countries of southern Asia are on active earthquake zone. Countries in this region are hunted by natural disaster every year. Last Sunday a devastating earthquake hit Nepal lasted barely a minute with 7.8-magnitude quake.
Official said 3,326 people are now known to have died and half of the people become homeless after the massive tremor on 25 April, 2015. More than 6,500 people have been injured, according to the National Emergency Operation Centre.
People of Kathmandu had to spring up the homes and set up home outside on the road. The total city has turned into tent city after the disaster hit on. Have a look at the video of BBC reporting.
 The intensity of disaster was acute and repeatedly hit Nepal 3 days in a row. Accordion to the spokesman for aid agency World Vision about 1000 people is completely buried by rock falls.
The UN children's agency says nearly one million children in Nepal urgently need humanitarian assistance as they were particularly vulnerable. UN also added sudden rain after has worsened the condition, that lead to a shortage of vaccines against diseases including diarrhoea and measles.
The people of Nepal in running out of water and food, and frequent power cuts are adding extra hassle in their medical and some other emergency rescue activities.
In this circumstances, many countries and organisation come forward to provide aid in disaster. Have your eyes on the add figures.
USAid has provided disaster response team and initial $1m
China initially proved his rescue team there.
India has come forward with several aircraft, carrying medical supplies and a mobile hospital, and a 40-strong disaster response team.
Norway: $3.9m (£2.5m) in humanitarian assistance
Pledges from Germany, Spain, France, Israel and the EU
The intended help is not enough to rehabilitate and rescue the people from the recent disaster. So, we want to help them from ThemeXpert income. We know our nimble contribution will not enough for the victims as well. But we believe little drop of water make a mighty ocean. Hope, you guys want help us, right?
To add your contribution to our charity, we have designed a contribution plan at ThemeXpert HQ. We decided to donate 10% income of every template and club membership sales. This means the temple is sold, the more amount of donation will be increased. Currently, we have 55 template in the collection, all are available for the single purchase and club membership simultaneously. Have a look at donation distribution.
Basic Membership: The regular price is $69 /6 months, 10% donation amount will be: $6.9
Standard Membership: The regular price is $99 /12 months, 10% donation amount will be $9.9
Pro Membership: The regular price is $249 / Lifetime, 10% donation amount will be $24.9
Note: 10% the donation figure also will be applied to a single template, based on its individual pricing.
Conclusion
We have just come out with a nimble endeavor to help helpless people. If you have a further way to help them, just let us know in the comment below. We appreciate you idea. If have already members of ThemeXpert family, please share this post using hashtag #SaveNapal to save the humanity. 
Note: Most of the sources collected from BBC