Introducing Valley - Best Joomla Travel Agency Template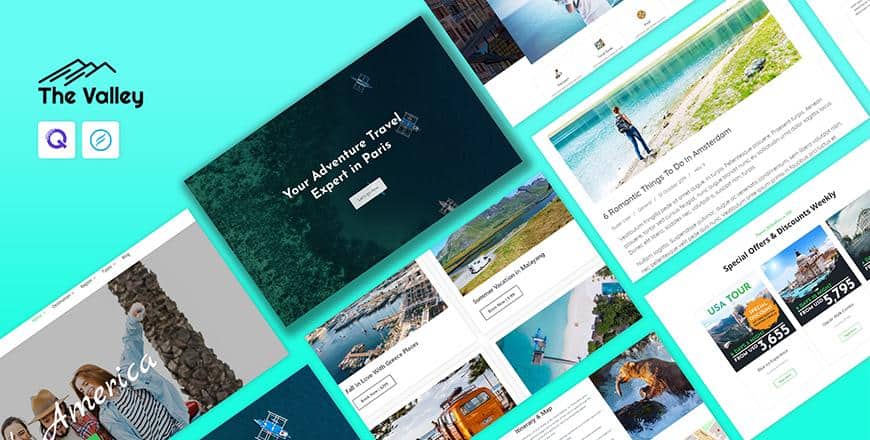 ​ Today we are delighted to introduce Valley our brand new best Joomla travel agency template . Its modern design and smooth animation style...
​Today we are delighted to introduce Valley our brand new best Joomla travel agency template. Its modern design and smooth animation style will give you another level of experience to use it. Each section of this template is exceptionally and dedicatedly designed to meet the demands who want to build a Joomla website for their travel agency.
Valley is a full-fledged and robust Joomla travel agency template . It is the perfect Joomla template for any travel agency, tour operator, resort rental, transports & car booking, and all sorts of relevant reservation businesses. It is a responsive and highly element focusing Joomla travel agency template that will give your business a fresh look with special attention in details.
Valley is our first ever template that is built with the Helix ultimate framework and we used Quix page builder like every time. It requires Joomla 3.5.x support and it is compatible with Joomla 4.
Now it's time to unfold the reasons why you should buy this template and what we are offering inside Valley.
Why Use Valley?
What's Inside Valley?
Present every service of your travel agency and grab your user attention with 2 completely different designed homepage variations. Each inch of two different homepages is designed with proper planning so that you can showcase your services with distinct content visualization. Let's find out what we are offering in 2 homepages.
Summer holiday homepage has a totally different layout than the travel agency homepage. Besides, popular destination, gallery, and adventure package, it also contains special offer and discount section. It will allow you to show your user whether or not you have any special offer and discount.
Destination inner page will let you show your visitor about your destination package and plan. You can feature some of your best destination plans here. Your featured package should contain image, title, and package price. Every plan has a details page. Moreover, It has a testimonial section under the discount banner. Destination page has 2 subpages like the Homepage. They are the;
On the Adventures subpage, you will get an opportunity to convince your visitor to buy your package by showing some high-resolution video of the tourist's spots. There is also a testimonial section; you can add there what your previous traveler said about your company and their experiences.
​Let your visitors know about the tourist spots on the Region page. Convince them by showing every detail of those places with high-resolution images. It will also enable you to add a discount banner so that you can offer your user if you intend to provide a discount for the travelers. It consists of 3 subpages.
​Traveling is not only to visit the place but also enjoy a lot there by having a different kind of activities like driving, rafting, skiing, and much more. The types page is responsible for showcasing what kind of activities you are offering if they choose your package. Like the Region page, it also has three subpages.
Choose The Package" section. You can also add testimonials here.
​You can publish relevant legal articles, news, announcements, or any other legal stuff on the blog page. The blog helps you to target & reach potential clients with diverse content. The use of peerless typography and unique style of content presentation will give your user a precious test of reading.
Valley gives you a platform for online interaction with your clients where you can provide a nicely designed contact form with some additional information. The contact page allows your user to place their queries. It has a contact us section that will allow your user to inform you if they have any business idea or feedback. It allows you to set a Google map so that your user can easily find you.
Nicely designed contact us form using Quix form builder.
Navigate your clients with the clean designed Google map frame.
Provide additional information in the address bar for your potential client.
Valley Key Features
​

2 Homepage

4 Dedicated Inner-page with Multiple Sub-pages
Destination Management
Region Management
Adventure Type Management
Full-Featured Blog
Typography Control
Mobile Responsive
Easy Customizable
Drag and Drop Development
Dedicated Support
​

Helix Framework

Speed Optimized
Quick-start Package included
Joomla Page Builder - Quix
Cross-Browser Compatibility
Dynamic Navigation Menu
SEO Optimized
Social Icon
Google Font Support
Constant Update
Your Feedback
Valley is undoubtedly a wonderful Joomla travel booking template. Anyone who wants to build a complete travel booking solution, they must try our brand new Valley Joomla template. Let us know your thoughts on our new Joomla template. Our comment box is open for you.