Quix 2.0 RC Is Here - Joomla Visual Builder Got Huge New Features and Improvements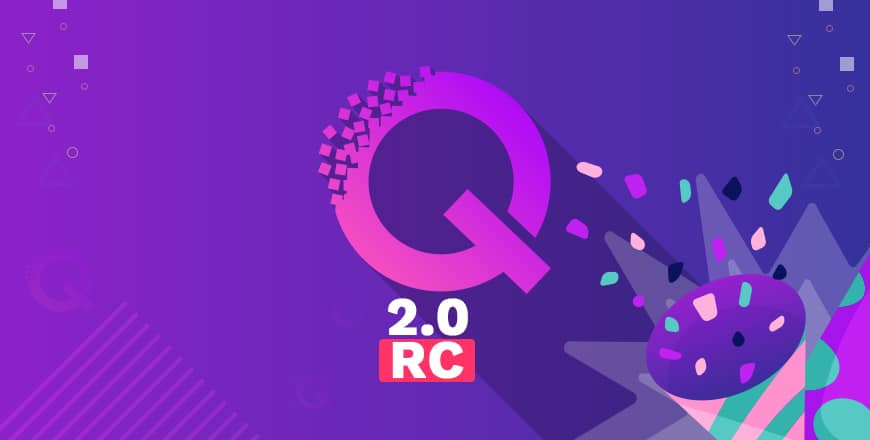 Day to day we are improving Quix page builder, making it better. Better in structure and performance. Now we are ready to launch our Release Candidate of QUIX.
It is far much better than the first version of Quix Joomla page builder, as we brought some significant changes. Not only the outlook is changed, but also the inner section is much improvised and sorted.
During Alpha and Beta release, a few issues appeared which are now solved. Our experienced developers are working day & night to improve it more and take it to the next level to reduce your workload, and the result of your hard work for building a site seem flawless.
Without delaying further, let's check out the improvements.
Everything starts with an installations process. We took our time to give you a good installer and tried to make the first impression look good. We have enhanced the installer of Quix. It is now easier and more reliable than ever.
We have given rollback support to Quix installer so that after installing new version if your site breaks or you face any kind of trouble, you will be able to rollback to the previous version. Nothing will be lost, and you will not face any kinds of trouble.
The installation process is kept simple so you can easily install Quix. Everything needed to set up will be done automatically. You just chill for a moment while Quix installs. We have added a requirement checklist, if it matches with your system the installation process will move further.

If your system doesn't matches the minimum requirement consider altering the system settings. Still, if you find any trouble, just let us know. Our support team will be right next to you in a minute.
[New] Icon Picker and SVG Editor
Scalable Vector Graphics (SVG) is an XML based vector image format for two-dimensional graphics with support for interactivity and animation. SVG images are composed of fixed set of shapes.
The main benefit of SVG is, you can make it smaller or bigger any size you want and you can add any color you want. In one sentence you can customize the SVG as you want which is only just a dream for general images.
With the new version of Quix, you will be able to upload any images and SVG images to the media manager. But if you like you can also use SVG icons which comes by default with Quix.
We want our client to have the best of Quix page builder. So we added the SVG icons with the new Quix to make it look more flawless. In this version, we are providing you 1000+ awesome SVG icons which are located locally in media manager, and we are going to increase that number as we release an update.
You can upload your own svg files update it on the fly. Whenever you select an SVG file you will see 2 new additional controls right after the media picker. You can resize the SVG and give it to any color you want. Isn't it awesome ?
[New] Copy/Paste Section, Row & Element
Copy-paste are the two most older keywords on the internet. The copy command creates a duplicate of the original text/image and stores in a temporary storage tool called clipboard. Later the data in the clipboard is inserted in the position where the paste command is issued.
Earlier in the previous version of Quix, there was cloning option. It was great, but it would create a little bit trouble if the page length is very long. You had to drag the item entire way to the very end.
To reduce your trouble, we've upgraded the copy-paste techniques. Now you can command copy-paste your elements, row, and even section.
When you want to copy a section, just click on the copy icon of that item and after finding a suitable place, click the paste icon. There is no more trouble of dragging all the way down. You can create the duplication of them and reuse. But if you like to drag and make clone, don't worry we have kept this option for you.
[Improved] Drag & Drop Interface
Quix is the ultimate Joomla drag and drop page builder. It was built that way. But now, to make the drag and drop option more smooth and clear, we have brought a slight change. We've upgraded it a bit.
Now while dragging a column or row or even a section, an icon will appear, and once you drop the icon in the destination, content will be moved. You don't have to get confused if your content is big enough to move. Just click the drag icon situated in the mini-toolbox and drop it wherever you want.
Huge Core Improvements Makes Quix More Fast
Quix was made fast. But in our everyday routine, fast is turning a boring word. Nowadays, everyone loves supersonic speed. The circling of buffering has turned annoying for everyone. Now everyone loves the instant result.
So, we made some core improvements and made Quix super fast. Now all the changes you bring to your site will appear without any delay & buffering. Now the changes will appear instantly. Don't believe us? In the stable release, you'll get the proof.
[New] Page Settings
Page setting or document setting is the parameters defined by the users that help to determine how the page will appear. To be specific, you can control some basic and useful settings of an entire page.
To find the page settings element all you have to do is, click the 'settings' written button situated in the toolbar. Inside the page settings, you'll find some additional settings like status, language, color preset, CSS, etc to set the basics of a page.
[New] Link Quix Page to Menu From Visual Builder
Linking a page is not tough anymore in Joomla page builder. Now you can add a new page to your menu bar with more flexibility and trouble-free.
Right after creating a page and saving it, you can set it to your menu bar of the site. In the center of the top toolbar, you'll find the setting options. Click it, and it will offer you four more options. From there select 'Link Page To Menu'. A popup box will appear with some more additional settings. Just set the name and position and other thing and click the 'save' button. And you're done here.
[New] Customizable Section/Row Height & Flex
Quix comes with some default settings. Like section height, background, padding, etc. But now, you can change most of the default settings. One of them is the height of the section.
You do not need to calculate margin-padding for your section anymore, as you can directly customize it. Just go to the section setting and customize according to your will.
You have two options, - fit to screen and custom height.
Fit to screen will automatically detect the size of your screen. With one click on it, section height will be adapted perfectly according to your display size.
And if you need to customize the section height in our own way, just select custom height. In this option, you get to increase the value of section height by the slider. You might have gotten used by pixels, so we haven't forgotten it. As you modify section height with the slider, you will be able to see its pixel value as well.
After modifying the section height, you can set the alignment of column position directly to top bottom or center as you wish. You do not need to set it by pixels; you will be able to set it with just one click.
You can also increase of decrease custom height for row and column also.
As you increase or decrease the height, it will be instantly updating in real time. You don't have to go for a preview button. It's up to you now, how you want to change the height of the section and give a new, different look.
One of your very important features is "Disable Mode". You can disable any section, any column, any element at any time you want. You might be thinking "what is the necessity?"
Consider you are developing a section on you live site, and you are just in between completing it. Would you like to show the incomplete section to your viewer? Definitely not.
With the help of disabled mode, you will be able to hide the incomplete section until its completed.
You can also disable any section or element, device wise. Disabled section or element will not be visible for the selected device until you enable it. A disabled unit will not be able to customize until you enable it. So make sure you enable it before editing.
[New] Custom CSS For Every Element (PRO)
With all the ready-made options, we've also kept an option for custom CSS. Now, why is that? In case, if you want to include any different options other than ours, you can do it.
Custom CSS allows you to add raw code in any field you want and it won't conflict with other elements. You can your own style to it give your site a new look. Every developer has their own taste, so you can decorate your site with your own taste.
Before You Download

- DO NOT install Quix 2.0 on your existing Quix 1.0 website. There are still few issues need to iron out. Only install on fresh website.

- DO NOT use it on production site. We are very much confident that Quix 2.0 will work right off the bat but it's always good to habituate yourself with the new visual builder on local installation.

- Take a backup first. It's always best practice to take a backup before you update any software major version.

​You will see a new Quix Installer on our download page. We recommend to use that for installing Quix.
Also create Auth Key if you haven't, from your
dashboard that is required to install Quix.
Conclusion
It's never-ending for Quix page builder as we are improving it every day and in every possible way making it the best free Joomla page builder. With the final stable release, we'll unleash all the hidden tracks and solve the unsolved mysteries cause 'the good one comes at the end'.
Stay connected and let us know how you wish to see this Joomla, page builder. We always look forward to your suggestions and advice.