After 6 months of hard work and 1463 commits, we are incredibly happy to release Quix 1.0 today. We are little behind the schedule but it's totally worth it. Adding stable tag to any project isn't so easy and require a lot of work and test. It was a tremendous undertaking to get Quix on this point and we are beyond excited to have finally made it.
Quix has some game-changing features including Collection re-use your section in another page, Embeddable load page builder everywhere, eg: Joomla Article, Module, EasyBlog, DigiCom, Virtuemart and more. 21 Elements from text to filterable gallery, Portability export and import your page settings. Let's dig in!
Perfect Layout Builder
Quix is incredible powerful drag & drop page builder for Joomla. With its predefined resizable column structure you can create simple to complex page layout in minutes. We didn't stop there, you can add new column on the fly and resize it to achieve more complex layout structure.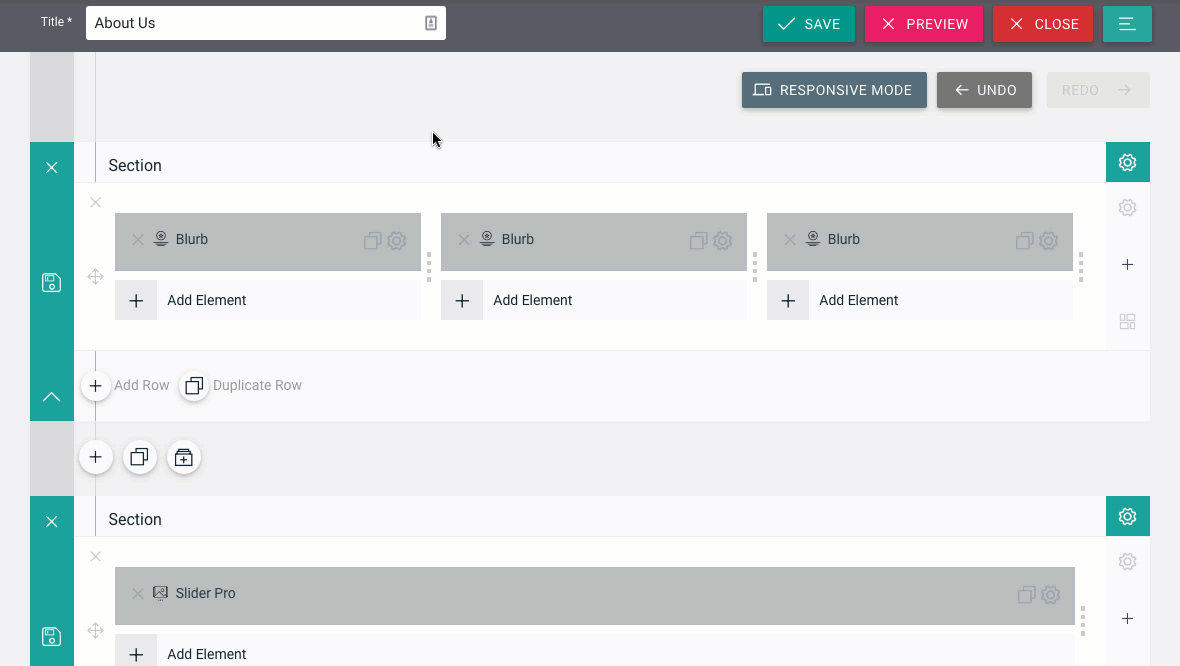 The idea behind Quix layout builder is simple, 'If you can think it, you can build it'.
Responsive Controls
With Quix responsive controls you can visually design your website for every screen size. Other page builders use the display:none method to hide something from displaying for mobile users. If you set an element's visibility to "off," Quix will never load that element--which means mobile pages will be significantly smaller and lighter.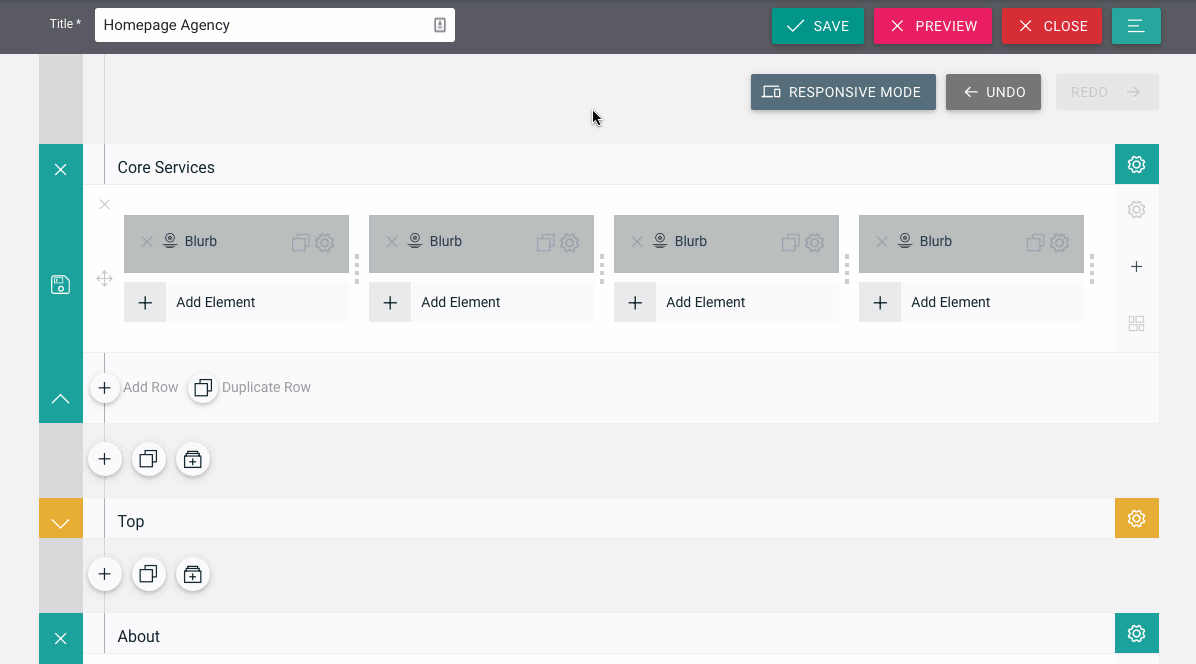 21 Elements and More Coming...
Quix has not 21 full feature elements and more down the road. You can build a full featured website with 21 elements. Every elements crafted with tons of settings and style.
You can load your favourite Joomla module with 'Joomla Module' element without leaving the builder. Isn't it beautiful?
Save Anything to Collection
Wanted to re-use your section or style into another page? You can add anything to your collection and use it another page. This is very useful when you have some section common in every page. You can use your collection inside any component and module.
Imagine you need to add testimonial in your blog, save testimonial section from any of your page to collection and load it. Just like this :)
[quix id='1' name='Testimonials']
Embeddable
Forget boring pre-defined component layout. Quix can work inside any Joomla component as long as it has Editor in it. This is incredibly useful feature that give life to your boring article or blog post. No need to depend on template developer to ship good template for Viruemart, K2 or DigiCom. Just use Quix inside your favorite component and build layout yourself. You can create unique layout for each of your product or use same layout using collection feature.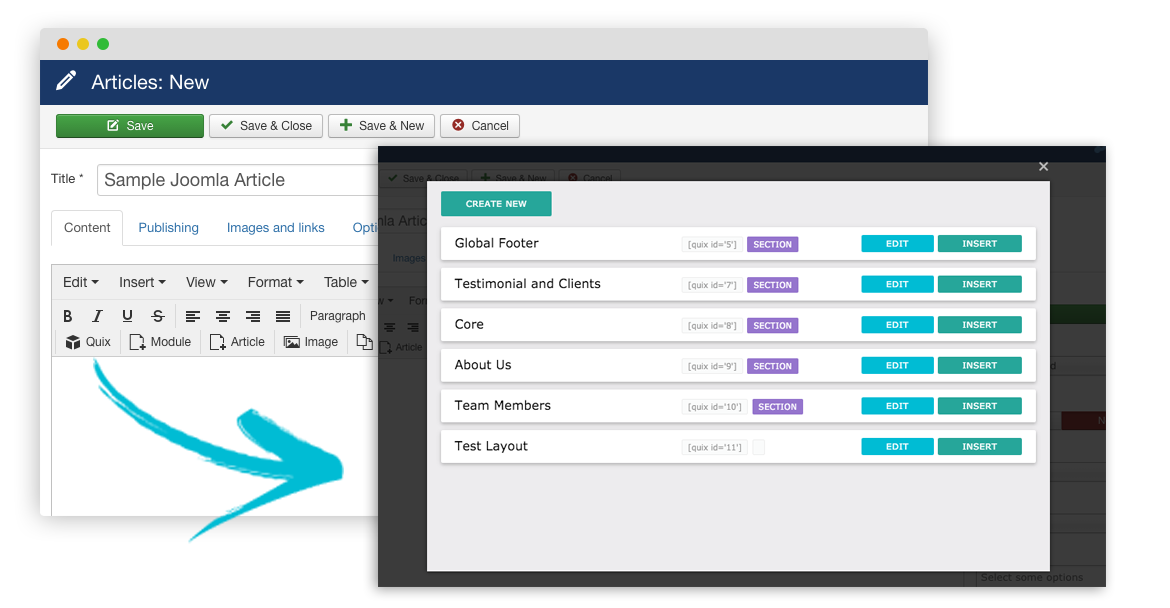 Quix inside Module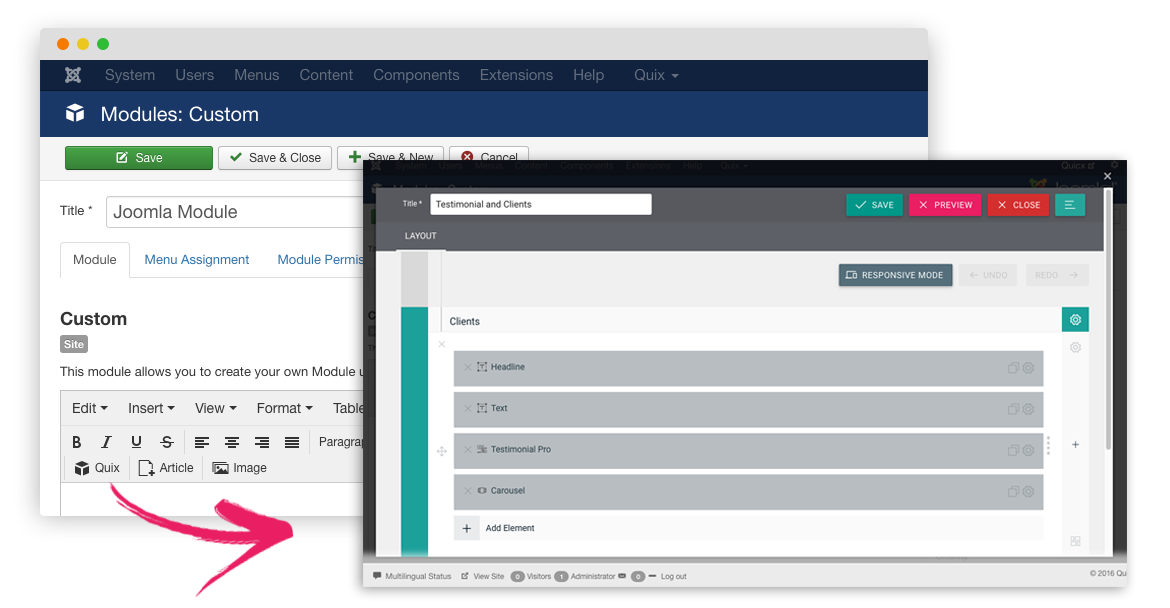 Portability
Quix includes a custom portability system that makes it easier to export and import Quix page, collections.
Template developers can export their pages into their theme and Quix will add them to collection automatically. You can load any pre-set layout in single click.
Brand New Templates
To celebrate the 1.0 release, we released 1 new template and updated 2 most popular templates for Quix. We have another new template down the road and will available last week of this month.
Say hello to Infinito, our brand new template for Quix, also Nefarion and Lawxpert. Infinito is business focused, clean and versatile template comes with lots of homepage and pages.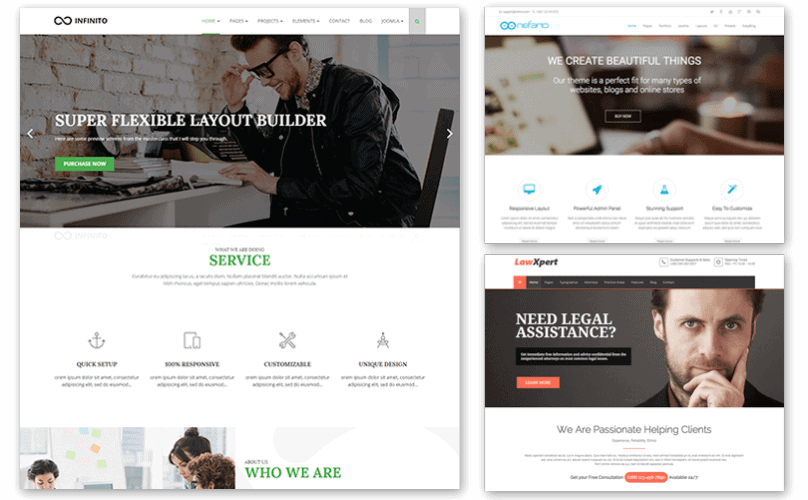 What about old purchase of Nefario and Lawxpert?
If you purchased Nefario or Lawxpert after January 2016 you will get a free copy of Quix Pro. You can download Nefario and Lawxpert new version immediately but you have to contact us for Quix Pro license. Just email us : support @ themexpert.com with your order Id and we'll arrange a Quix Pro license for you.
Purchased before January? We have big 50% discount for you. Just contact us with your order ID and we'll arrange that for you.
Auto Update
We made update simple in Quix. Just put your themexpert username and API key and your are done. You can directly update from Joomla! Admin panel. Generate your API key from our members dashboard.
Licensing
Quix is a standalone product and comes with its own licensing system. If you buy a template that built with Quix page builder you will get Quix free when you checkout. Just make sure you added Quix to your cart while checkout.
If you are a club member, you have to buy Quix separately. All template quicstart package comes with Quix pro. If you decided to use template only, you can still use Quix free and you will get all the elements bundled with the template. You can't just use the pro features.
Template developer need to buy extended license for each template they build. You can't re-distribute Quix with your commercial or free template without an extended license.
Whats Next?
We are happy and proud to share this 1.0 release with you. As always, the journey continues, but now it's time to celebrate. We are excited to see what you will be building with the new Quix.
If you need help, join the Quix user group and start engaging with all the fellow Quix users and developers in the community.
Get a whopping 20% discount!
To celebrate the release of Quix 1.0, we are offering big 20% discount off all new Quix pro and agency license. This discount is also applicable to Infinito, Nefario and LawXpert template.
This is the limited time offer and valid till 21th April.
QUIX20
Download Quix Pagebuilder Free
'