Introducing Language School: A Brand New Joomla Template for Language Institutes, Schools, and Coaching Centers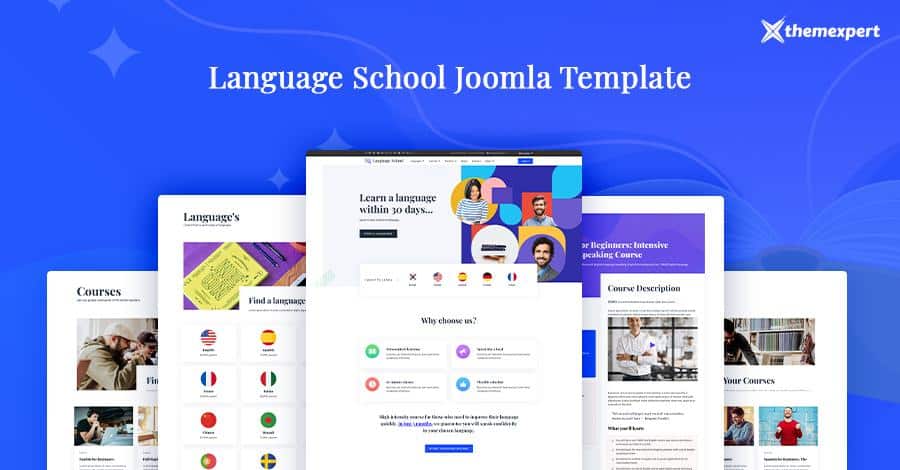 A statistic shows that there are 1.5 billion English-language learners worldwide, and these numbers are increasing rapidly. Apart from English, there ...
A statistic shows that there are 1.5 billion English-language learners worldwide, and these numbers are increasing rapidly. Apart from English, there are also a significant number of people who want to learn German, Mandarin, or any other language as their second language.
You can easily understand the urge of the learning second language for migration and globalization from this stat. So, it is badly needed to have an online language teaching institute to teach these massive numbers of people.
To meet that urge, today, we are going to release a brand new Language School Joomla template for creating any type of language institutions website.
Our brand new Language School template is built with the Helix ultimate framework, and we used Quix page builder like every time. It requires Joomla 3.5.x support, and it is compatible with Joomla 4.
Let's check out all the features of this template.
Why You Will Use Language School?
What's Inside Language School?
The homepage is modernly designed, and everything is organized in a way that everyone will find the required information very quickly. Every inch of this page has been designed professionally.
It is a default homepage. It starts with a hero section followed by several content areas such as "Why choose us", "Find your course", testimonial, "Meet our teachers", and a few more blocks.
Language Page
The language page has two options. All language and single language.
The course page is consists of two inner pages. One is All courses, and another one is Single course.
The teacher page is like the course and language page. It will offer you All teachers and Single teacher page.

About Page
The About page talks about the business's mission, vision, achievements, team, specialties, etc. Also, there is a subscription form so that your visitors can subscribe themselves if they like the course plan.
This page will allow you to set testimonial here. The modern design of this section is too adorable to catch users' attention in no time.
The contact page will allow you to set a map here so that your visitors can easily find your physical existence. Show your contact information like email, phone number, location address using this contact page.
There is a smart-looking FAQ section to set the answer to the most asked question. Also, there is a "Send message" section for getting messages from users.
The blog is important for any website, especially for a language school website. In a school or institute, there is a lot of news and promotions to announce to the students. A dedicated blog can manage these announcements smartly.
You can make endless blog posts here. There is a "Latest articles" section to catch the most recent posts. Also, there is a search option for searching the blog which anyone to read.
Key Features of Language School
1 Homepage and 9 Inner pages

Multilingual

Mega Menu

Helix Framework
Joomla Page Builder - Quix
Expert Campus Support

Easy Customizable
Cross-Browser Compatibility

Drag and Drop Development
Quick-start Package included
Google Font Support

Typography Control
Mobile Responsive
We provide fast and expert support for all of our products and in Language School's case, there would be no exception. We update all our products regularly. So, you will also get all the updates and supports for this template in the coming days.
Stay tuned, and let us know your feedback & suggestions through the comment box below.