Introducing Form Element: Now Build Custom Form With Visual Page Builder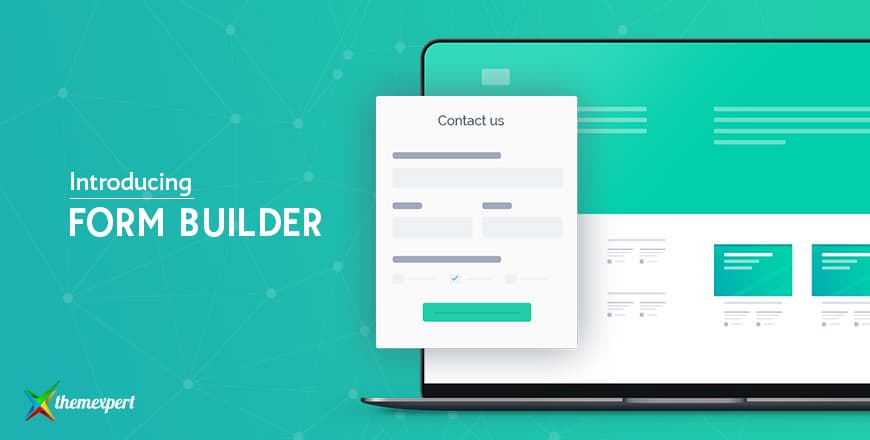 Have you ever thought of a form builder inside a page builder? Did you ever think of getting a complete pro form builder with high-quality designing o...
Have you ever thought of a form builder inside a page builder? Did you ever think of getting a complete pro form builder with high-quality designing options without installing any external plugin or extension?
Well, we have.
For the first time, Quix has embedded Form Element that will allow you to create beautiful, astonishing and eye-catching forms using your very own Quix, that too WITHOUT installing any sort of extension.
To be more specific, for the first time, there is a real form builder inside a page builder.
This idea is developed by ThemeXpert and the team made a very useful element. The form element is very own of its kind. There are a lot of page builders available. But none of them carries this kind of element in it. The team designed form element with all the necessary features in it. You can design every bit of it using the settings option.
Let's dive a bit deeper. Shall we?
Form Element
We all are familiar with different types of forms. A form is an information collecting system where numerous empty fields are provided with labels for users to provide information for a certain reason. It can be a survey, registration form, login form etc.
And then the collected information's are stored in the database for later use. Most of us use contact forms to collect intellectual data of users, customers etc for newsletter purpose.

Creating a form was never an easy work. Back in the days, coders had to struggle with it. They would get tangled if they had to create more than one forms that too in different styles. But thanks to ThemeXpert as they solved the puzzle.

The team built Quix page builder with astonishing elements and features. Among them, form element is designed with a simple look but dashing working system. You can easily create thousands of dynamic forms with a few clicks. All you need you to do is select the element, bring the changes, set a field destination and save it. That's all.
Necessity of Form Element
A form is a necessary element for any website and everyone needs it. And it plays a vital role in the contact form. You can hardly find a site without a contact form.
Nowadays, forms are used for different purposes. You can use it for newsletter information, survey purpose, registration fill-ups, online shopping cart etc. Forms are used in many ways.
To create a form via raw code is tough. You have to write the tags, placeholders, add proper padding, attach CSS for styling and much more. But not now. Now you can create any type of form with the help of Quix form element and it would take only a few minutes.
Features
Quix form element is created with all the necessary features. You'll find all the options in it to create any kind of form. These features are listed below:
Acts just as a Form Builder
The number of field addition is unlimited. One can add fields as much as he needs.
Supports 11 field types
Smart Grid control
Message customization options
After form submit hook
Maximum control over styling form options
Multi-select field type support
Email response customize support
Loading A Form Inside The Joomla Article
One thing I love about Quix is, "it can flexibly adjust with Joomla article". If you have a few previously created articles in Joomla and if you want to display a form in those articles then what will you do? You can go for either copy-paste option or create a new form inside the article editing field.
But what if I say you don't have to do either of these… Cause now you can insert any kind of Quix form with just a few simple steps. All you need to do is, create the form and save the template. Now go into your Joomla article and from there insert the saved form template. Click on the "save" button and preview the page. You'll find the form in your article just where you inserted.
Why would you choose Quix for Forms?
You might think, "There are so many plugins out there in the market already. Then why did we included it in Quix? Was it necessary?"
To tell you the truth, until now there is no Joomla page builder that has dynamic form builder in it. But this discovery was made by ThemeXpert team. And this form element is designed to give you the best form building experience. Besides, creating a dynamic form requires a big size extension. This extension would not only take a large portion of your site but also hamper other elements, extensions, and settings.
Well, now you are free from all the troubles of external form builder. Quix has the most possible feature you need with best UI-UX. It's not HTML/CSS based. It has been made by ReactJS to give the users the best experience of building real-time pages as we care about your experience of page building, reliability, controlling and more of UI/UX.
Some Lucrative Form Designs
With Quix, you can design the forms in any way you want. You can add as much as the field you need. Allow me to show some demos.
Contact Form using bold background colors
Create form adjusting the column size
Create any kind of order form
Adjust column width in accordance to background
Design creative forms for any event
Add social network buttons underneath
In the end, all I can say is, do not make yourself confused with just any buzzy form extensions of the market. With Quix's form element, you can create any type of form with all the options of editing including placeholder, help note, designing box shadows, animations etc. What else do you need?

Well, Quix is full of surprises and it's every element is designed with elegant features. Try Quix today and share your experience with us.