9 Best Joomla eCommerce Templates For eCommerce Websites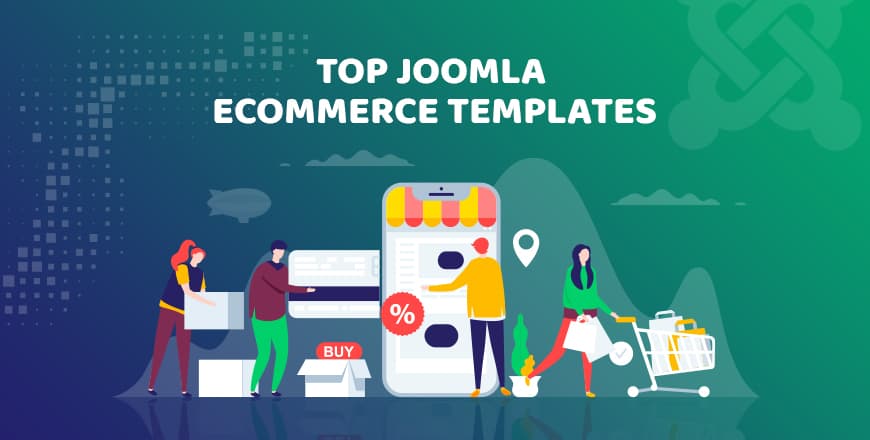 In this modern age, everyone likes to shop online without any hassle and physical involvement. Anyone can build an online Joomla eCommerce site by usi...
In this modern age, everyone likes to shop online without any hassle and physical involvement. Anyone can build an online Joomla eCommerce site by using templates.
There are a lot of Joomla eCommerce templates available in the Joomla templates market. But choosing the best one is a very tough task. There are several marketplaces like ThemeForest, template monster, mojo marketplace, etc are available in these places you can find good templates. But it will cost you valuable time and money.
In this post, we have amalgamated the top nine Joomla eCommerce templates in one place. You do not need to go anywhere else.
So, why wait let's check out these templates.
A fully minimalistic Joomla eCommerce template for Joomla that is suitable for any fashion, electric and eCommerce powered shop. If you are wondering to build an online shop and searching for a template that will cover all your needs, then choose ShopX.
It's obvious that you will want to decorate your products nicely and smooth checkout experience. ShopX has both features, and the great news is you will be able to build your website within the shortest time.
Smart Checkout & Dashboard
You might get dazzled with attracting images of a theme, but if your client does not find a smooth checkout system, they will immediately abandon your site no matter what great product you have. ShopX Joomla eCommerce template comes with smart checkout & Dashboard so that your consumer can complete their shopping with ease from your site.
With shopx, your client can add any product of any quantity, and it also lets the user to add discount coupons. You consumer will not face any kind of complexity as the whole information regarding shopping is shown on the dashboard. It's all possible due to meaningful design methodology of ShopX.
Latest eCommerce extension integration comes with Shopx eCommerce Joomla template. J2Store and Hikashop both extension is integrated with Shopx. It's your choice which ecommerce extension you want to use.
You can add, remove or modify any product effortlessly with both J2store and hikashop. Add product variants, style it and publish it on your site. All types of popular payment processors work with these eCommerce extensions so, you do not need to take extra tensions regarding payments.
Easy Customizability with Endless Possibilities
You can customize your site very easily with shopx, and you can even make it look alike demo just by yourself as it comes with Quix Joomla page builder. You do not need to be a coding guru to use this page builder as it comes with lucid UI and options. Quix is so easy to use that even your grandma can build a website with it.
Shopx has the full support of quix, it is not necessary to build a website exactly like the demo. You can customize and build the way you want, only sky's the limit as quix provides you endless possibilities with Shopx. You will never feel the need of anything else to build eCommerce site while using Shopx template.
Drag & Drop Development with Responsive layouts
Everything you develop in quix is entirely drag & drop compatible and device responsive. You can set different style, animation, and functionality for different devices according to your need. Everything you develop by dragging elements, you do not need to go through any complex processes.
Update & Support
ThemeXpert team is very much concerned with customers and products; therefore they update all of their products on a regular basis. With each new update, you get bug fixes and new features.
If you ever get into any trouble with the template you can check the enriched documentation or knock for support at chat and forum. At there expert engineer is waiting to troubleshoot your problem. Take help from support whenever about any problem you face after all customer satisfaction is the motive of ThemeXpert.
Extreme typography control
Smooth checkout & dashboard
Niche specific responsive designs
Advanced mega menu
j2Store & Hikashop ready
RTL supported
Create digital storefront within no time with Digistore Joomla eCommerce template. Digistore is created with very much effort and dedication to helping you create best eCommerce site.
Digistore comes within detailed product pages, which is beautifully designed without compromising the performance. You will not have to do extra work for designing your pages. As a result, you will save your time, money and do well in your business.
Digistore comes with the most powerful and popular framework T3, which lets you do blogging freely. T3 frameworks every functionality is very easy, and you can control your website without any complexity. You can customize everything, even set custom typography with 1000+ google fonts with the T3 framework.
Give the professional blogging experience to your user with the t3 framework and Digistore. You can create multiple types of post and also share them too. All of this facilities without any 3rd party extensions.
Smooth Checkout & Dashboard
The checkout process in digistore is based on multipart. Its very fast and secure, anyone can easily check out their desired products with any payment processors from here. The entire check out process is pretty straightforward and very easy to use.
The dashboard give a complete overview of everything to a customer. Your user can also apply for coupon and discount codes if he has any. A user can add or remove any product any time he want from the dashboard.
Highlight & design product with best Page builder
Digistore comes with the best Joomla eCommerce plugin Digicom. You can easily highlight or create a showcase of your own products using Digicom. By default, digistore includes several elegant designed pages to help you create professional business and eCommerce website in the shortest time.
Shows sales statistics with digicom
Fluent checkout process
Responsive design
Easy showcase creation
Only digital goods can be sold, no option to sell physical goods.
JA Shoe Store is a Joomla eCommerce template which can be used to set up multiple types of shops. Shoes, Clothes, toys, Groceries, electric items or even furnitures, you can develop shop for anything within the shortest time.
One Template Multiple Sites
By the name of this template, you may think that you can only build a website for shoes only. Actually, the name doesn't define the type of stores, this Joomla eCommerce template in a way that you can also build ultimate cloths, sport, fashion and any kind of eCommerce websites. Its design and flexible layout easily adapt any types of design to set up different types of eCommerce sites.
This template comes with full VirtueMart support. Virtuemart support most popular payment processors, so you will be able to take payment from any person and anywhere. This Joomla eCommerce extension is fully free, so you do not have to invest more money to develop your website.
Fully Responsive with RTL Support
Every inch of ja shoe store is mobile responsive with outstanding appearance. It matches every responsive layout like laptop, desktop, mobile, and tablet. No matter what is the size of your device, your site with ja shoe store template will always look great on any device.
It might happen, you want to make your site multilingual, and therefore you need RTL support. If the template comes with RTL support only then, you can use special languages like Arabic, Persian, etc. JA shoe store template comes with RTL support, so there is no more barrier to build a website in RTL format.
T3 is one of the best and very popular Joomla template frameworks. Ja shoe store is built with the T3 framework in its core. This powerful template framework gives you lots of customizations that give you full control of your site. Normal templates give you only some basic functionalities and customizations, but this template offers you to customize the way you like.
You can keep everything as the demo, or you can develop the site the way you want, it's up to you. Besides, there are lots of Joomla default pages available, which are fully supported with this template. It offers different styles to customize those pages.
​

Fully Responsive.

Excellent for Shoe stores.

RTL and cross browser support.
No Hikashop support
You cannot buy this single template, you must buy full membership package.
StoreFront Clothing
Give your users responsive store experience across any sized devices. Storefront clothing provides you tabbed product showcase merged with VirtueMart that makes your selling easier than ever. This template is developed and updated regularly by popular Joomla template company GAVICKPRO.
Sell Your Products Online
Storefront template comes with many built-in features and functionalities to give you the ultimate eCommerce site experience. It is the best choice for estore owners as storefront attracts users and maximizes your sales. Its responsive design allows your customers to have full access to your site from a desktop, tablet, phone or any other devices.
This template is built to give your site speed and flexibility that your clients demand. Every line of code is written with experienced developers; therefore there will be no pain at all while you develop your site.
Elegant Template Design with estore Browsing Features
It is a pleasure to look at clean and stunning designs of storefront Joomla template. The CSS3 based animations catch the eyesight of your viewers instantly when they step into your site. Make showcase of your products easily and create attraction for your consumers as News show pro and Tabs extension come with it.
You can organize each product by its category so that your users can find specific product easily. This will also help users to find related products, and you will be able to earn more.
VirtueMart and Hikashop Support
Virtuemart and Hikashop both are very popular Joomla cart extensions. These extensions help you to manage your inventory smartly without any kind of fuss. There are advanced customization options, so customize and make it your way.
These eCommerce extensions help you to take any kind of payments, no matter where your consumer is living. You have to set up these extensions once; then everything will be automatically managed within storefront.
Remarkable estore-browsing features
Slideshows and Parallax Scrolling
Hikashop & Virtuemart support
Mobile responsive
Good for clothing store, but not for all niche.
Mobile Menu UI is not great.
Holax is one of the popular multipurpose eCommerce template developed by bdthemes. This template comes with six elegant homepage demos to set your eCommerce site quickly. You can set up your Joomla store within a minute by importing demo of Holax.
After you import demo you like, everything will be exactly the same as the demo. All you have to do is customize and make the necessary changes that are needed.
Fully Responsive Hand Crafted Design
Each and every layout of holax is fully responsive. Your website build with holax will easily adapt any sized display device. Responsiveness can be customized for every device, you can do this from template settings.
There is competition everywhere; therefore holax is crafted with the sweetness of mind. You site build with holax will be definitely different than others, and your business will grow quickly. Any type of eCommerce sites can be developed with this template only you have to use your imagination to make it happen.
To attract clients, you can use different color variations with the template. Each color will give a unique look to your website. Choose the color that suits best on your website.
Unlimited Customizations & Settings
There are unlimited numbers of customizations and settings comes with Holax. If you do not like a section, you can customize it in a new way all the tools are right in front of you, just use it. Apply a setting that again changes it until you find the one you have been looking for.
Every line of code of Holax is coded with experienced programmers. Therefore it is fast and very easy to maintain. Holax is built with HTML 5, PHP 7, CSS3, etc and it fully maintains the Joomla API based class and functions.
Regular Updates & Dedicated Support
Everyday existing technology gets old and new technology is introduced. For this reason, developers of holax, always try to update the template with the latest features. The more the update one template receives, the more stronger and faster it becomes.
If you ever fell in trouble, there is rich documentation to help you. Else you can always knock for support through live chat or forum. There is always a person is ready to provide you support for your problem.
High Performance with Template Security
Holax is developed with WARP framework in its core, so it is very powerful. This lightweight, modular front end framework lets you customize your website entirely without hampering the speed of your site. There are huge settings options available on the control panel of the template; you can customize and get it in your way.
Template security is one of the very important issues; therefore very strong security is provided with this template. There are several protection schemes is provided with this template which is very safe. And you do not have to worry about payments and shopping system as everything will be handled automatically with Hikashop.
​

Professional designs.

Blazing performance.

Template security.
No page builder support.
Not Updated regularly.
MegaDeal II
MegaDeal II is a multipurpose eCommerce Joomla template by developed Joomshaper. This Joomla eCommerce template comes with clean coding and flat design so that you do not need to worry about coding and designs. With this template, you can develop any kind of tech product store or online shops.
MegaDeal II is completely device responsive, and no matter which device your users may use, your site will always look same to every device. This template helps your site develop with amazing look and functionality so that everyone feels comfortable while shopping from your site.
MegaDeal II eCommerce Joomla template allows you to turn your Joomla site into a full-featured eCommerce system with Virtuemart 3 support. Creating an online shop & catalog was never so easy. Virtuemart 3 offers you easy configuration and allows you to handle multiple categories & products.
You can set up multiple payment options with VirtueMart 3; therefore you can take payments from anyone. Virtuemart 3 also supports a wide range of shipping along with payments. Managing your shop will be very much easier with Megadeal II and VirtueMart.
Modern Designs with Ease of Usability
Megadeal II is designed very carefully with expert designers, in order to look good on every device. Every design is niche specific and will definitely attract the eyesight of your visitors.
Within a few clicks, you can setup Megadeal II fully on your site. Quickstart package of this template built in a way to make you develop faster.
Helix 3 with SP Page Builder
Megadeal lI Joomla eCommerce template is built with SP Page builder and Helix 3 framework in the core. Helix is a very user-friendly, customizable and easy to integrate solution for your Joomla website. It provides you with many options and functionalities to take the full control of your Joomla website.
Sp page builder is one of the very popular page builder extension for Joomla. It allows you to customize your Joomla store within a few clicks. You can develop anything with the help of this drag & drop Joomla page builder and you would not require to write a single line of code.
You get SP Page builder pro along with megadeal II to develop your online eCommerce shop. There are over 41+ premium elements are included in SP page builder. It doesn't matter whether the layout is simple or complex, if you can imagine, you can build anything with these elements.
Virtuemart 3 support
Easy to install & use
Responsive design
No support for hikashop or other ecommerce extensions except virtuemart
You must buy Sp page builder pro to use this template
The corner shop is a Joomla eCommerce template that comes with four default template styles and built by YOUJOOMLA. This Joomla template is fully Hikashop integrated and perfectly suits any type of Joomla shop needs. All of the layouts of the layouts of this template is very flexible and effective.
Within a single mouse click, you can switch from boxed width layout to full layout. For showing the color elegance, developers have included color parameter; therefore, you will be able to choose any color for your website.
Built - in Mega Menu with SEO Features
For maximizing the menu space Corner shop, Joomla eCommerce template provides you built in mega menu. This mega menu extends the functionality of the default Joomla menu and gives you additional menu options. Customize the way you like and keep everything in an organized way.
SEO helps you to boost your sites traffic and rank up your website. With corner shop, you can easily increase the ranking of your website with the help of custom rich snippets. These settings of corner shop will generate structured microdata code snippets which will boost your search engines ranking.
Responsive Web Design with Custom Shortcodes
Each and every layout of corner shop is fully responsive and renders magnificently according to your device. Computer, laptop, tablet, and smartphone nothing is a barrier for corner shop. If you want you can easily hide any sections for a specific device, you can do it with corner shop.
To boost up your workflow, use shortcodes. You can create custom pages very fast by using short codes of media, tabs, icons, notifications or images effects. Short codes are very easy to generate and use, you can find it under the content editor.
There are several extensions integrated with corner shop to give you the ultimate Joomla eCommerce site experience. By default, there is YJ module engine, YJ shop products, and K2. For handling your store, Hikashop is integrated.
Hikashop is a complete eCommerce solution extension. You can organize single to multiple products very easily with this powerful extension. It manages everything automatically and generates statistics. Create your site and sell internationally with hikashop.
​

Hikashop supported.

Built in mega menu.

Elegant designs.
JD Shop is a fully responsive Joomla eCommerce template developed by JoomDev. You can set up a versatile minimalistic online store within shortest time with JD shop template.
Developing is now matter of minutes as Quix page builder is integrated with JD shop. Quix's frontend builder enables you to develop the site within shortest time by dragging & dropping elements only. You do not need any programming knowledge or coding experience, developing wish is enough to use quix.
You can use the demo with quix to build your site instantly, or you can also build your site sections by section. If you can imagine it, quix makes it possible to develop it. You can customize every section of your site in the way you want with JD shop.
Developing will be a lot of easier and time saving with jdshop. It's not just any page builder it's more than that.
Cross Browser Compatibility with Typography Control
JD Shop comes with cross-browser compatibility, so your online store will be accessible from any browser. It runs smoothly on Chrome, Mozilla, even Safari, a browser isn't a barrier anymore. Build web store fast, easily and let everyone shop from your e-store.
Jd shop gives full typography control of your site, you can set custom typography for every place. Set typography with customizable colors, height, width and 1000+ google fonts. Your blog readers will get the full pleasure they want while reading.
Fully Responsive with Increased Conversion Rate
Every inch of JD shop comes with responsiveness; your website will look same on every device of your consumer. No matter what is the resolution, it will always be perfect to look. There will be no difficulty while clients buy a product from your estore.
You can run your shop without any difficulties, and everything will be managed automatically after you setup everything your way. This template comes with a built-in countdown feature that allows you to run sales and increase the conversion rate.
​

Cross browser compatibility.

Device responsive.

Quix page builder support.
No zoom hover effect.
Template loading speed is not so good.
JSN Ferado 2 is one of the popular Joomla eCommerce template developed by Joomlashine. This template comes with two famous eCommerce extensions, redshop, and Virtuemart. Every homepage of this template is designed especially for a clothing store, and you can even set up your own type of e-commerce store with this template.
Two eCommerce Extension Support
JSN ferado 2 provides you two popular eCommerce extension - Virtuemart & redShop support. Use the one that suits you best.
This template has a fully optimized front-end display for VirtueMart eCommerce extension. You can create a showcase of your products or highlight a specific product using jsn ferado 2. If you ever want to run special discount, you can easily do it with this template. It will help you to earn more profit without any trouble.
The checkout process is very much smoother in both redShop and Virtuemart pages. You will be able to take payments from any country as almost every type of payment processor is supported with it.
Powerful JSN Sun Framework
JSN Ferado 2 is built with jsn sunframework in the core. It has so many options and functionalities which will allow you to take total control of your site. It allows you to import and export all your template settings within one single click, so you will be able to set up multiple shops within no time easily.
This framework also provides you for leveling up your sites SEO performance with microdata support. You can create a mega menu with simple drag and drop. There is also 800+ google fonts along with 670+ FontAwesome Icons are packed with this framework, so there will be absolutely no difficulties to develop your ecommerce site.
Unlimited Customization with Typography Control
Your eCommerce store, you are the one who customizes everything from your store. You can keep everything like the demo with one click or customize it section by section. Customization is very much easy with Quix page builder that you will find it like playing games. From effect to font everything can be customized, customize everything the way you want.
Give the ultimate blogging experience with typography control in every text sections. Customize texts with changing height, width, color, spacing and 1000+ google fonts.
Pros
​

Two eCommerce extension support.

Typography Control.

Many customization options.
No Support for hikashop Joomla eCommerce extension.
No support for popular framework like T3, helix or gantry.
No updated regularly