Introducing Quix 2.5 with Copy Style, Copy/Paste, Context Menu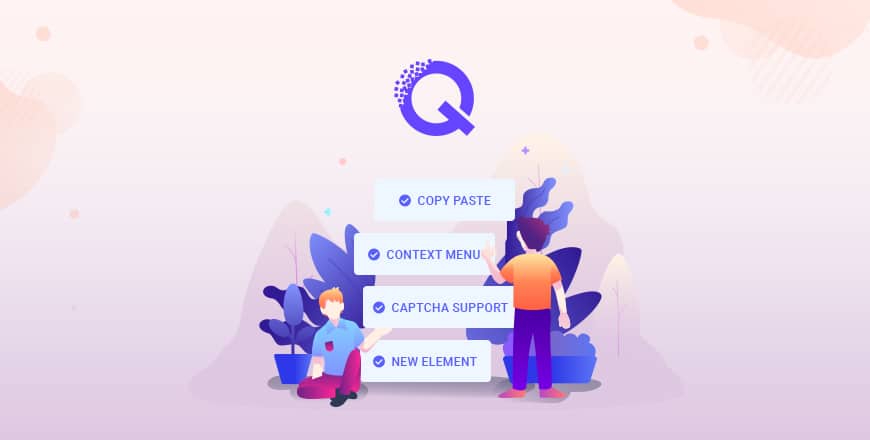 It's summer now and the sun is heating like crazy. To beat this heat we are here with some cool features and functionalities for Quix Joomla page buil...
It's summer now and the sun is heating like crazy. To beat this heat we are here with some cool features and functionalities for Quix Joomla page builder. It might not blow icy breeze to your body but will definitely improve your workflow and ease your developing process.
In this version of Quix we have a very big change log including improvements, bug fixes and new features - style copy/pasting, context menu, open street map, etc. We worked very hard to bring these changes after all your satisfaction is our priority.
Now you can get your work done in a more faster pace. With these new features your valuable time will be saved. Let's check in details.
Introducing Copy Style
You might get frustrated while you recreate the same style over and over again. Wouldn't it be great if you could have a simple way to take style from one element and then apply it to another? Therefore we are introducing a new way to instantly recreate the same style on the same element. You will be amazed how this style copy pasting feature will speed up your flow of working.
Take any style from any element and paste it anywhere in the same element of your page. You will have same style instantly. It will save your precious time and monotonous workload.
Previously we have introduced copy pasting feature, which helps you to copy paste pretty much everything. But it wouldn't allow to copy style of one element to another one. We find out the dire need of this style copy pasting and we developed it for your easier development.
We have worked hard on perfecting this style copy paste feature, because we believe it will become very much essential for everyone. It doesn't matter which landing page or website you are building with Quix, using style copy paste will substantially speed up your development process.
Not Only Copy Style - Copy/Paste Element as Well
Everyone likes to work in an easier way and therefore we bring new features. The days of scrolling and dragging is old school. Now you can copy paste anything want. We have not only included style copy pasting but also row, section and element as well.
It is now easier than ever, just copy whatever you want with copy command from the context menu and paste it wherever you want. Move your layout in a seamless and flexible manner with copy paste option.
reCaptcha & Math Captcha Support in Form Element
Form element was created so that you can easily collect data from your users. You may take data for registration, contact or any other queries but if any spammer might put unwanted data using automated programs. Therefore it is necessary to use captcha so that no automated program can fill up your forms automatically.
Captcha will make sure your forms are fulfilled with humans and not bots or programs. We have added recaptcha with Quix and you can easily use it. Just enable captcha plugin from your plugin settings and set it as default from your global config.
Here we have two types of captcha for you - simple math reCaptcha and Invisible reCaptcha.
Simple Math reCaptcha: This captcha comes with simple math's like, '5+6=?'. Anyone can solve these types of math and put the answer in the captcha box.
Invisible reCaptcha: This captcha comes with a tick box and sometimes it might even come with different images. Be sure to click on the right images and pass the captcha test.
Context Menu -

A Cleaner UI for a Faster Workflow
From this version of Quix, we are introducing context menu or you can say 'right click'. We transferred our options panel in a context menu which appears when you right click on a page/section/column/element.
When you right click on sections, row or elements, it will show these options:
Settings(Row, Section)
Add (Row)
Edit (element)
Duplicate
Copy
Save
Copy Style (element)
Paste Style (element)
Save to Library (element)
Magical Resizer(Row)
Disable
Enable
Delete
With this new context menu you do not need to go to the corner of the element or section to make your needed changes. Just right click on anywhere and make the changes you need.​
New Open Street Map Element
With Quix 2.5 we are introducing the 'Open Street Map element. With this element you will have full control over your map and you will be able to customize the way you want. Let's check the features of this new element-
Set your preferred location by putting the latitude and longitude.
You can set the height of the map.
Four different views for map element, including - standard, cycle map, transport map, and humanitarian map.
Zoom on map over mouse scroll or use +/- icon.
In future, we will be adding some more features to this element so that you can get more efficiency from this element.
New Element Overriding for Visual Builder
If you are a developer, you may find that an element might need some additional functionalities. In Quix you can easily add those with element overriding. This feature was already available for the classic builder and now we bring it for visual builder.
To override an element, first you have to copy that element from Quix folder to templates elements folder. The path is '/templates/template_NAME_/quix/frontend/elements' and you might need to create it. Then bring your required changes to the element. Remember the overridden element will only work for that specific template.
The drag and drop feature is now more improved, you will feel it when you try it. Drag anything you like within Quix and we give the assurity of smoothness. Dragging and dropping is now more smooth and faster.
Improved License Validation Process
We have updated the license validation process using JavaScript. Previously users were facing problems while validating the license as their server or firewall was blocking the request. Now we have improved this whole process so that you can validate your license fluently without any sort of trouble.
Hope these new features and functionalities will ease your development process. Next time we are gonna release something more fascinating, stay tuned with us. Don't forget to let us know your thoughts in the comment box below.