8 Best GoDaddy Alternatives Hosting Service of 2023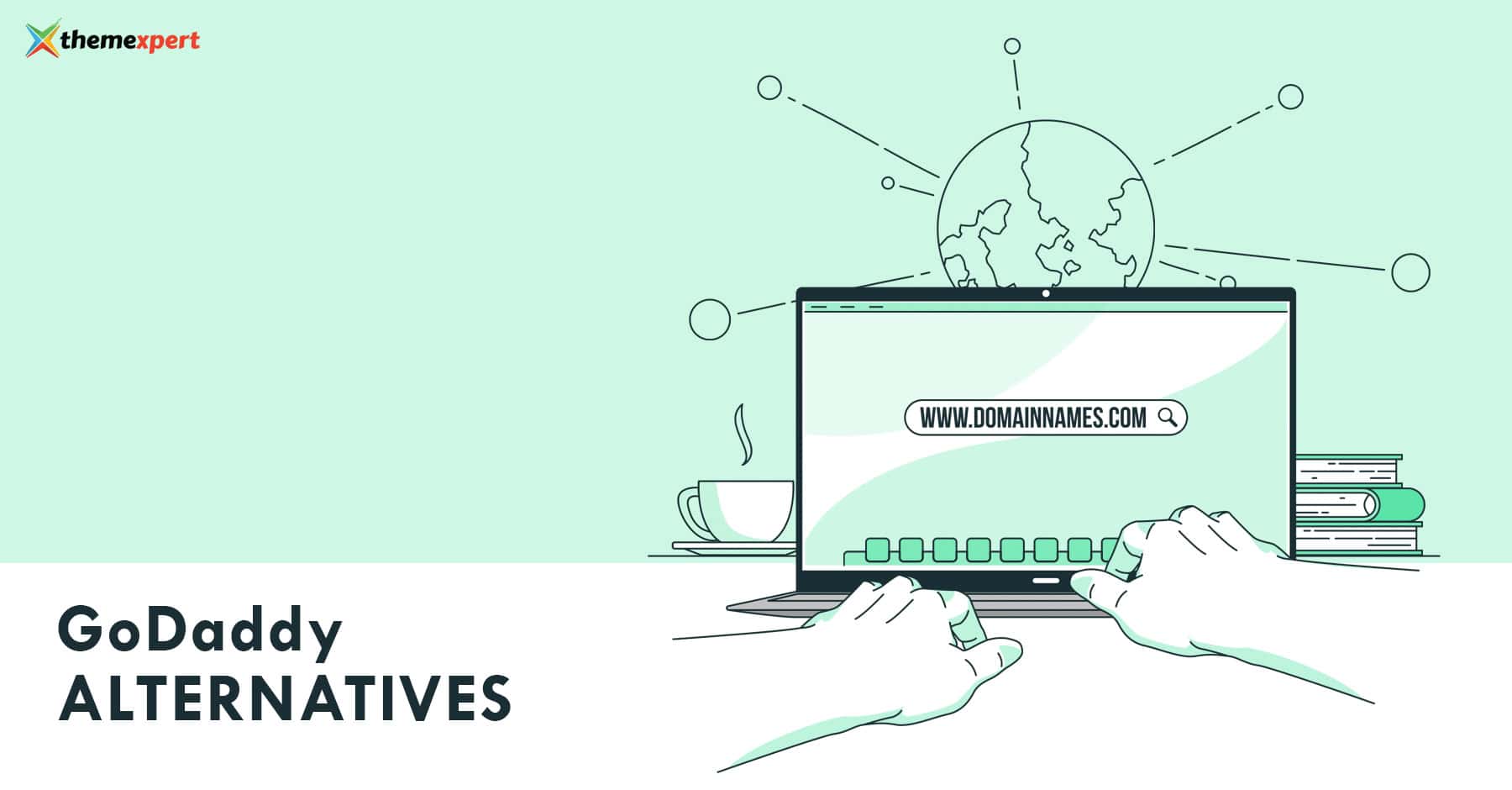 Looking for the best GoDaddy alternatives?
GoDaddy is one of the biggest hosting companies that host around 44.18 million websites including services like domain name registration, hosting, website builder, SSL certificate, emails, and more.
However, there are many GoDaddy alternatives that can offer you better features at lower costs and with excellent service where GoDaddy lacks terribly.
In this blog, we have compiled all of the necessary information about the top 5 best GoDaddy competitors and discussed why they are worth choosing.
Let's see who is on the list.
Read also: 5 Best Privacy-Focused Google Analytics Alternatives
Best GoDaddy Alternatives: At a Glance
Tool

Best Features

Pricing

Bluehost

Affordable price
has an easy domain management system
Offers all the most popular domains

You can start from just $2.75 per month!

Siteground

best for business websites
High service customer support
Easy interface
Faster hosting

Prices range from $72 to $216 per month.

domain.com

an easy-to-use domain management system
Lower pricing
Expert customer support service
Faster domain search

Wide range of prices — from $2.99 to $249.99!
WPMU DEV

Dedicated performance
Choice of 8 data centers
Automated backup
Dedicated CDN
Free SSL certificates

Prices range from $12 to $800 per month.

HostGator

Significantly lower pricing
Bloggers- and startups-friendly
Exceptional client service

Extremely cheap — starting from only $5 to a maximum of $50 for the best VPS plan.

NameCheap

Simple interface
Pleasant prices
Old and reliable

Shared plan for beginners for $2.88 per month, the most expensive one — for $8.88

Hostinger

Shared web hosting
Cloud hosting
WordPress hosting
cPanel hosting
VPS hosting
Minecraft hosting
CyberPanel VPS hosting

Wide range of prices — from $2.99 to $6.99!

HubSpot CMS

Connected to their all-in-one CRM software
Built-in security features
Scaling pricing model for small businesses and enterprise

Free CMS tools available
Starter plan starts at $23 / month
Who is GoDaddy?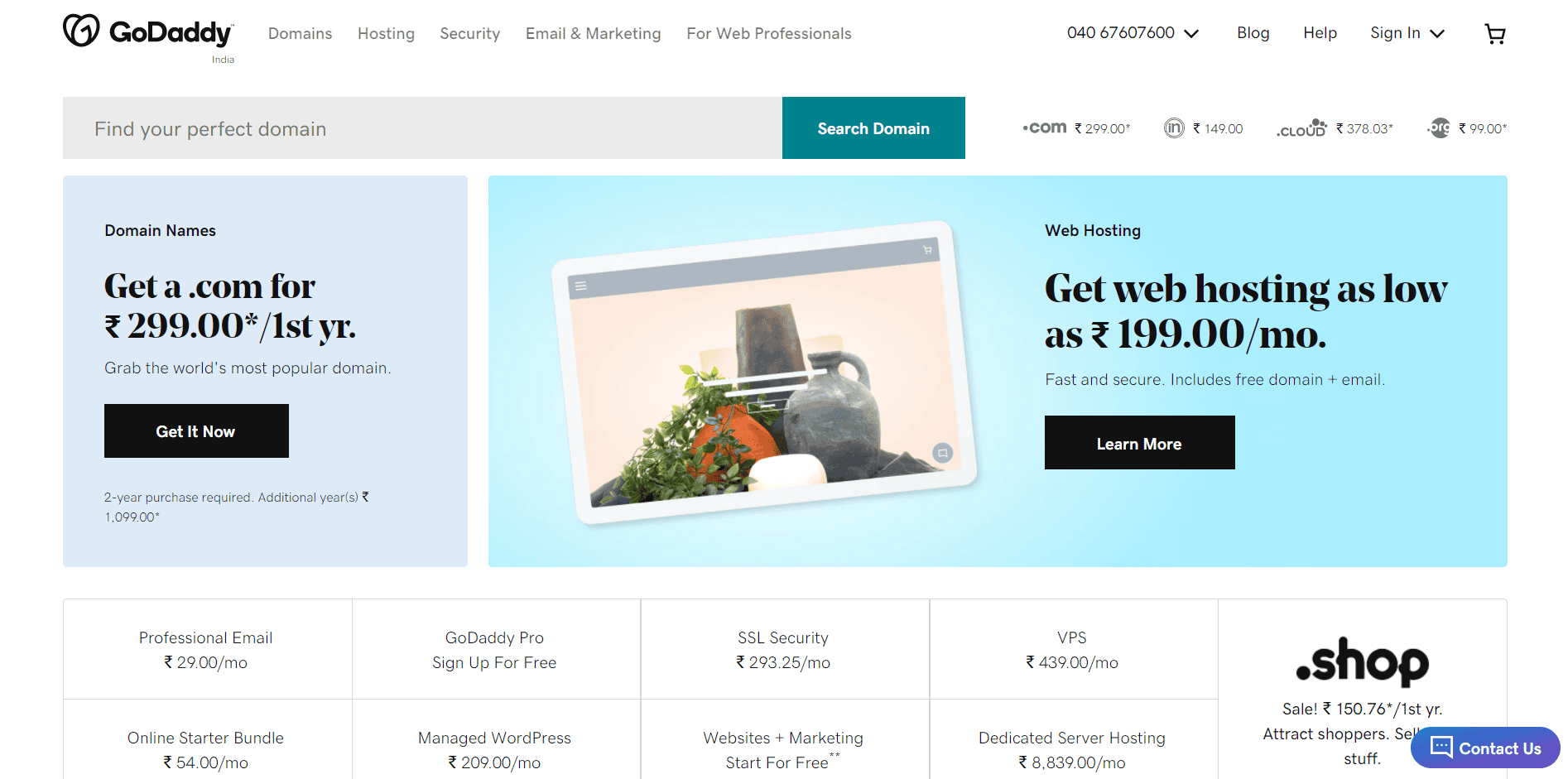 Godaddy is the largest web hosting company in the world based on the number of hosted websites. GoDaddy makes it simple for small businesses to take advantage of a massive cloud platform that may be quite beneficial. Has 19 million clients all around the world and a domain name portfolio of 78 million domain names.
Known for being a prominent domain name registrar, GoDaddy offers several different shared hosting options to suit your specific needs. The occurrence of several tariffs on godaddy.com is unusual for a service provider situated in the United States. Having a product available in several different languages is rare for American corporations.
Why Look for GoDaddy Alternatives?
GoDaddy offers a wide range of services including domain name registration, hosting, website builder, SSL certificate, emails, and more. However, untold numbers of individuals have expressed dissatisfaction with the company's methods, which include suspending accounts within days of domain registration and seizing domains in return for money.
Here are some of the other notable reasons to look for GoDaddy alternatives.
Budget: GoDaddy is affordable, but there are cheaper options too.
Customer support: There customer support simply sucks, other providers might suit you better.
Performance: GoDaddy boasts excellent loading times, though there are faster and more reliable options.
High-end choices: If you need more than basic hosting there are plenty of other options, GoDaddy may not be sufficient.
Best GoDaddy Alternatives
Listed below are some of the best GoDaddy competitors and hosting services to consider. They are all excellent resources in their own right.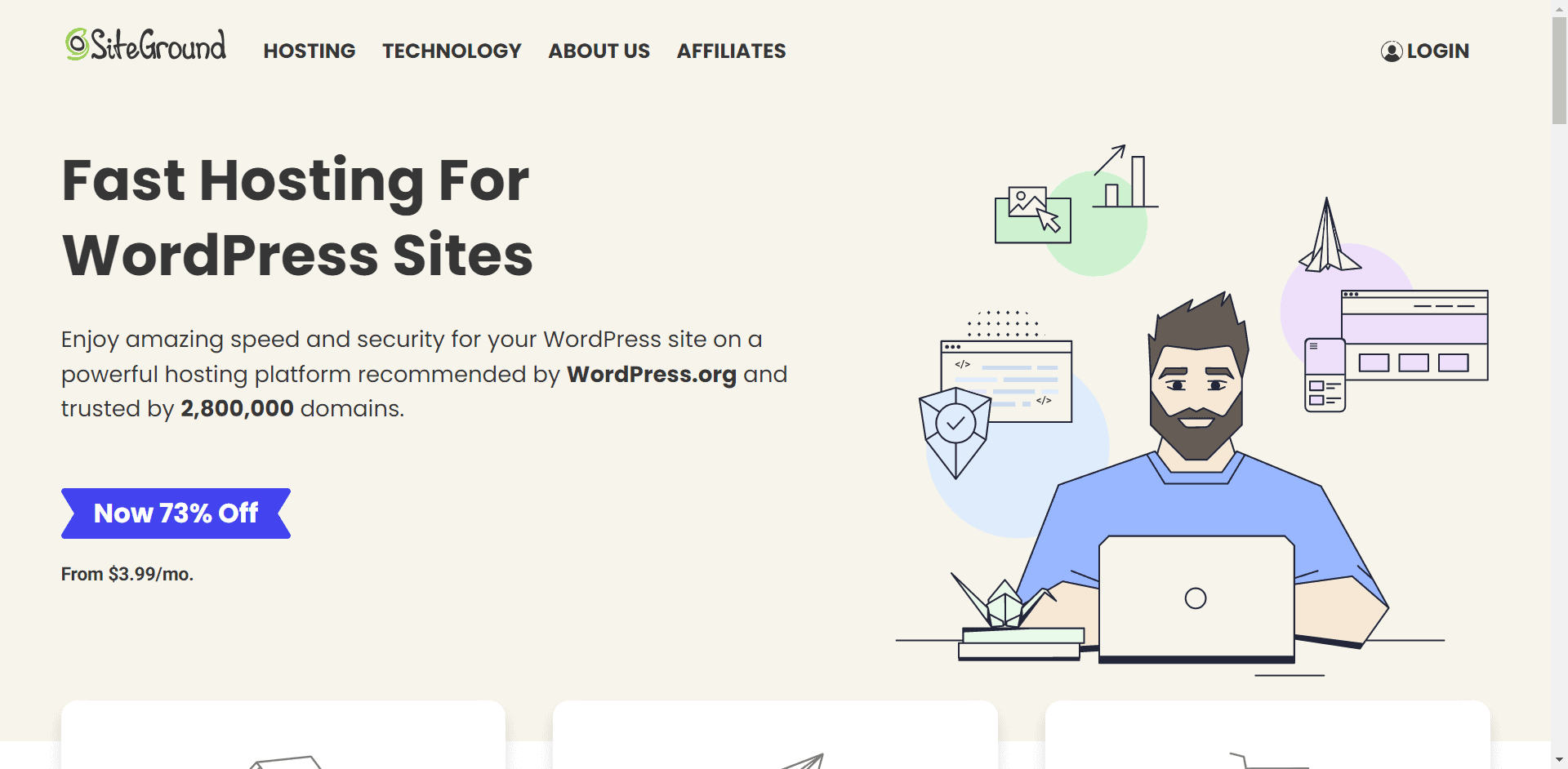 SiteGround offers a variety of hosting plans, including WordPress and WooCommerce. SiteGround's managed WordPress hosting is ideal for WordPress beginners. In all plans, you get a free CloudFare CDN license and HTTPS. These characteristics will be discussed later in this text.
Best for: Customer Support
Benefits that Siteground Offers
Domains for 1 year
SSL Certificate
Automatic daily backups
CDN service (Content delivery network)
Professional email addresses with your domain name
Managed WordPress and support
Automated website migrations
Pricing of Siteground
StartUp: $3.99/month
GrowBig: $6.69/month
GoGeek: $10.69/month
Advantages over GoDaddy
Faster website hosting
Better for businesses and eCommerce websites
Easier user interface and website management tools
Much better and quicker customer support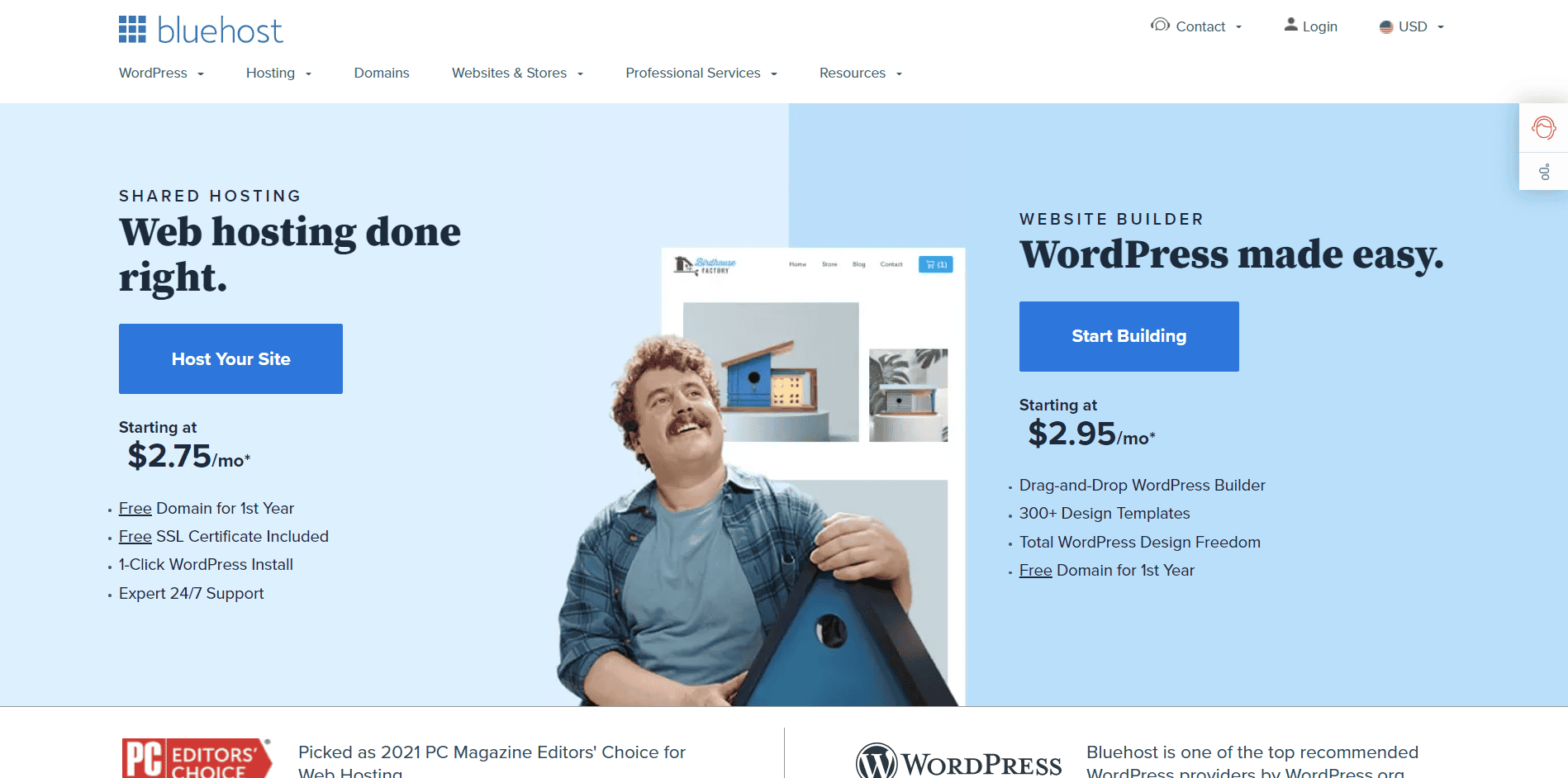 Bluehost is a competent provider over Godaddy and has established a solid reputation for more than two decades in the web hosting industry. If you are looking for an alternative to GoDaddy website hosting, then Bluehost is our #1 recommendation.
They have highly optimized hosting plans for WordPress and WooCommerce-specific solutions. Not to mention, Bluehost is an officially recommended WordPress hosting provider.
Best for: Ease of use with shared hosting
Benefits that Bluehost Offers
Free SSL certificates
Free one-year domain registration
Email included
Automatic WordPress updates
Scalable plans with hassle-free upgrades
Malware detection tools
24/7 expert support
Pricing of Bluehost
Basic: $5.95/month
Plus: $7.95/month
Choice Plus: $8.95/month
Pro: $19.95/month
Advantages over GoDaddy
Free domain name registration
Free SSL certificate
Free business email address
Faster support with reliable hosting
Recommended by WordPress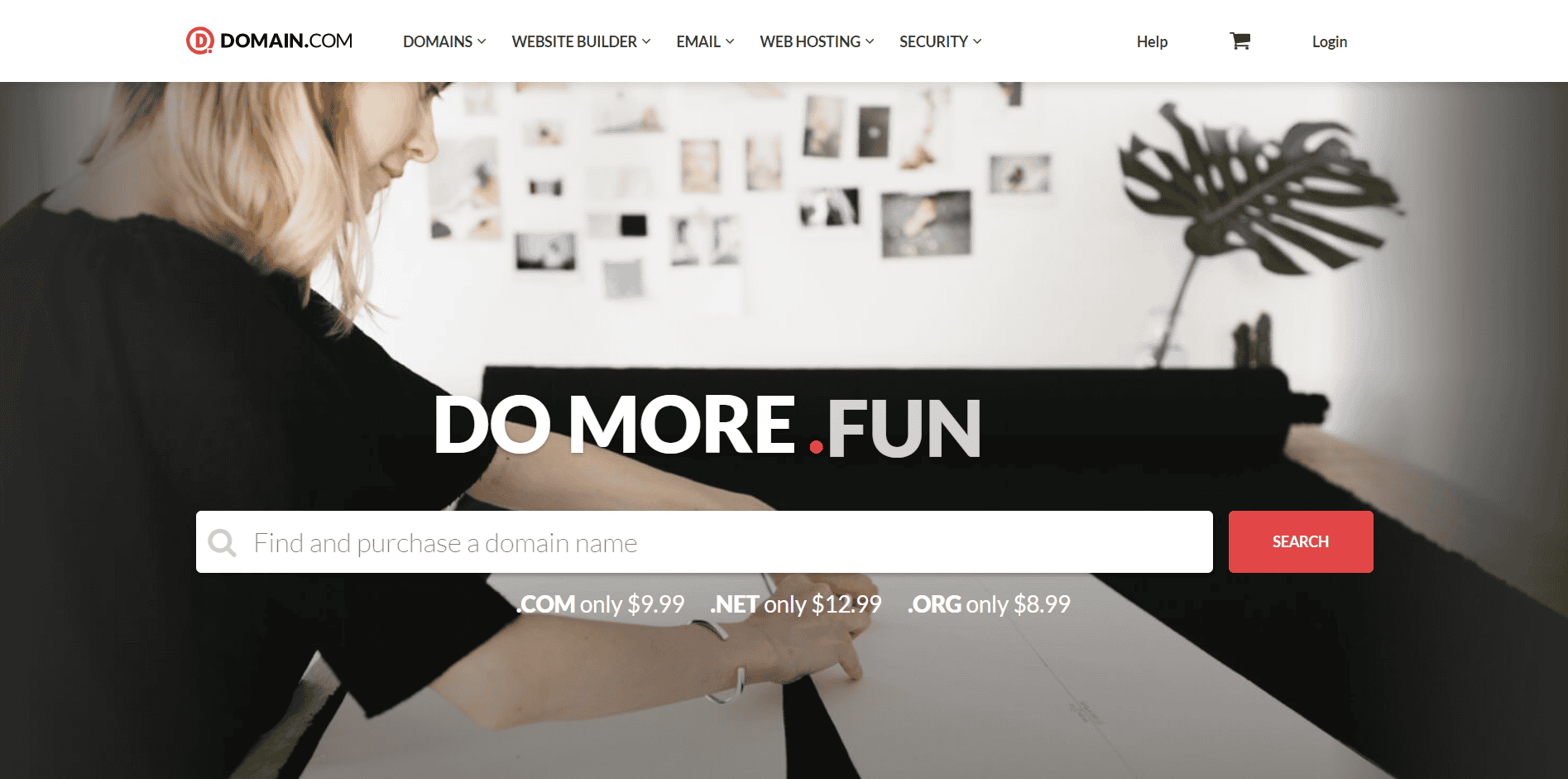 Domain.com is another best GoDaddy alternative that comes from Google. Include features like shared hosting, domain registration (which includes free URL forwarding and email forwarding), VPS hosting (which includes web design, SSL certificates, and Internet marketing services), a website builder, and WordPress hosting Domain.com gives you everything to up and run your websites. There are also several complimentary services available with these web hosting packages.
Best for: Google's domain name service for small businesses and entrepreneurs
Benefits that Domain.com Offers
Unlimited disk space
Scalable bandwidth
24/7 support
SSL certificates
The ability to create subdomains
Pricing of Domain.com
Basic: $3.75/month
Deluxe: $6.75/month
Ultra: $16.75/month
Advantages over GoDaddy
Easier domain management
Competitive domain registration and renewal prices
Faster domain search with better suggestions
Point your domain to any hosting provider
Easily transfer your domain name to any other company
Cheaper SSL certificate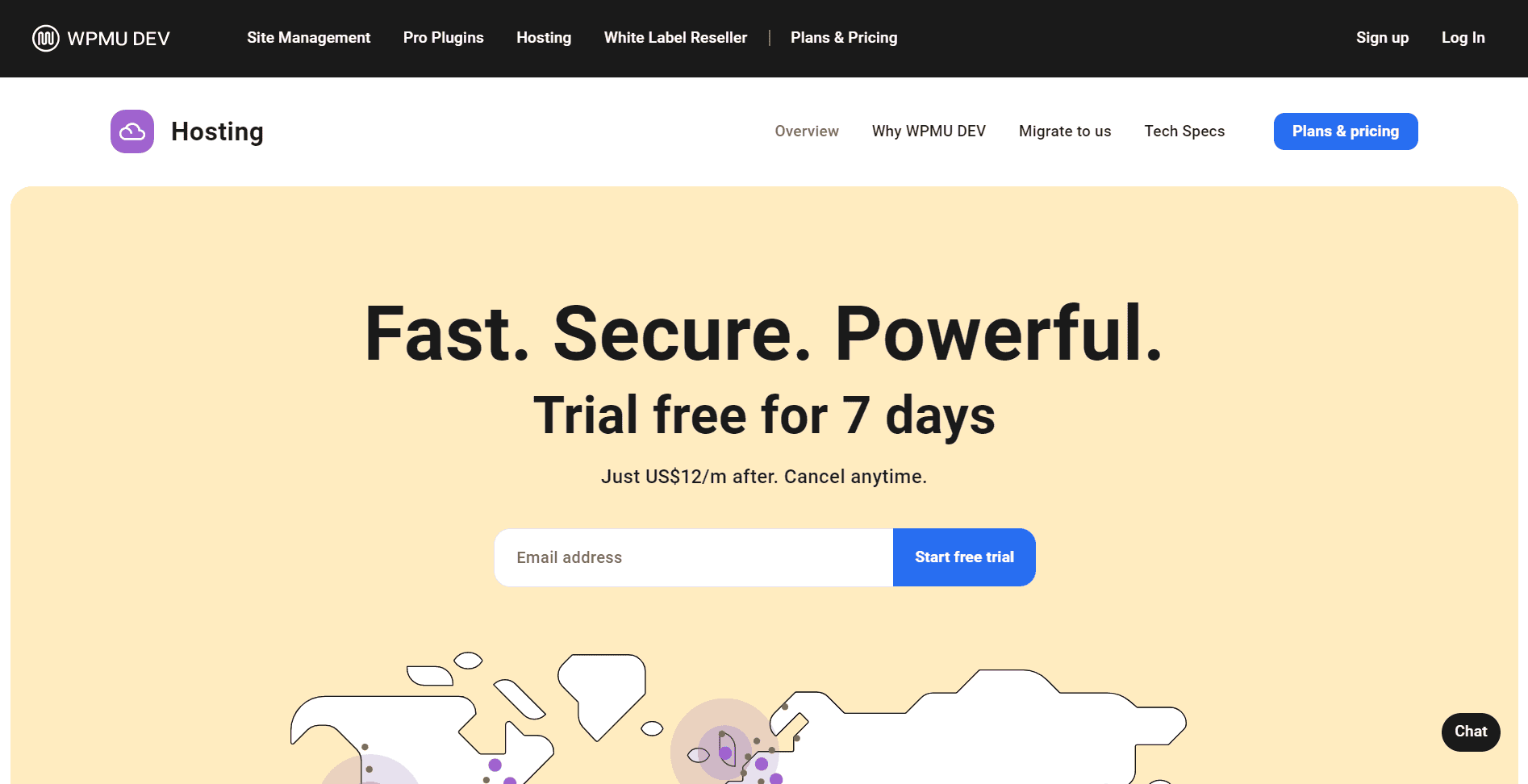 WPMU DEV is a very popular name among WordPress businesses for their plugins over the years, and also offers hosting services as well. With tons of tools and functionalities including dedicated performance, robust security, automated backup, flexible storage, free email account, domain and DNS management, WPMU DEV is an all-in-one hosting platform that helps you easily manage your WordPress websites.
Best for: Managed WordPress Hosting
Benefits that WPMU DEV Offers
Dedicated performance
Choice of 8 data centers
Automated backup
Dedicated CDN
Free SSL certificates
Pricing of WPMU DEV
Light: From US$12 /month
Essential: From US$120 /month
Premium: From US$800 /month
Advantages over GoDaddy
Built-in automated migration tools
Excellent customer support
Free SSL certificates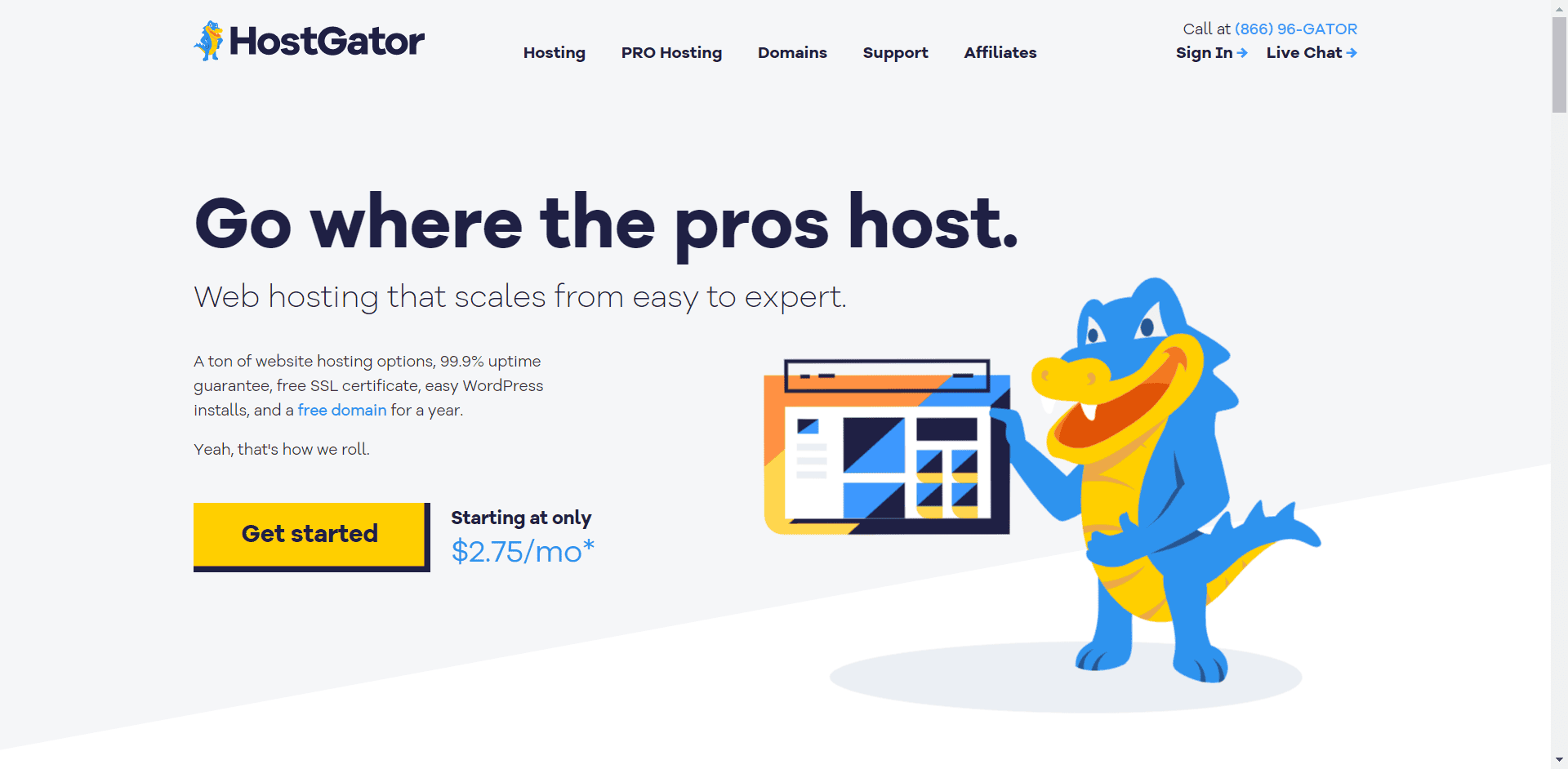 HostGator is yet another widely known, reliable, cheapest, and one of the best hosting services. Features like resource-rich plans, powerful performance, and ease of use are the exact reasons that have landed this provider among the best cheapest GoDaddy alternatives you can count on for a small budget.
Best for: Low budget small businesses
Benefits that HostGator Offers
Comparatively cheap
Annual shared web hosting plans come with a free domain name.
Offers all types of web hosting services including Shared Hosting, VPS Hosting, and Managed WordPress Hosting.
24/7 support
SSL certificates
Pricing of HostGator
Hatchling Plan: $10.95/month or $3.95/month when billed annually
Baby Plan: $11.95/month or $5.00/month when billed annually
Business Plan: $16.95/month or $7.25/month when billed annually.
Advantages over GoDaddy
Cheaper website hosting
Suitable for starting a blog or starter site
Excellent customer support
1-click WordPress website setup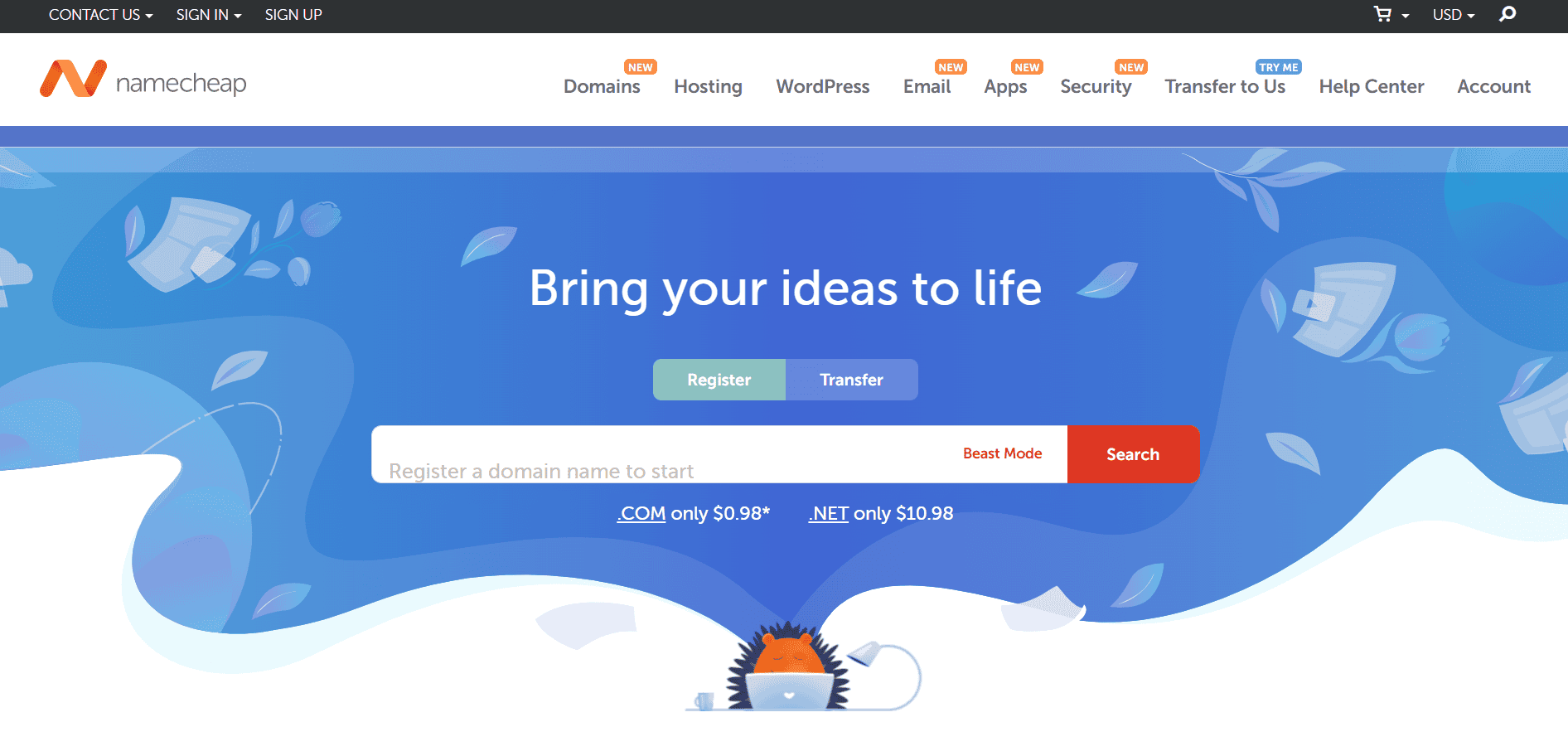 NameCheap is another less expensive and easier to use GoDaddy alternative. The best part is Namecheap sells some .com domain names for just $8.88 and the cheapest domain name at just $0.88 for the first year.
Its budget-friendly shared hosting options start at $2.88 per month with enough disk space for a small website or several websites, ranging from 20 GB to 50 GB. Also provides managed WordPress hosting, VPS hosting, and dedicated server hosting with no cost domain transfer facility.
Best for: Cheap domain name.
Benefits that NameCheap Offers
Built-in website builder
Unmetered bandwidth
Free SSL certificates and CDN
Domain name included (with a limited choice of top-level domains)
Pricing of NameCheap
Stellar: $1.58/month when billed annually
Stellar Plus: $2.68/month when billed annually
Stellar Business: $4.80/month when billed annually
Advantages over GoDaddy
One of the most popular domain registrars on the Internet.
Namecheap is the best alternative to GoDaddy.
All domains from Namecheap.com come with free WHOIS domain privacy.
Other domain name registrars including GoDaddy charge extra for this.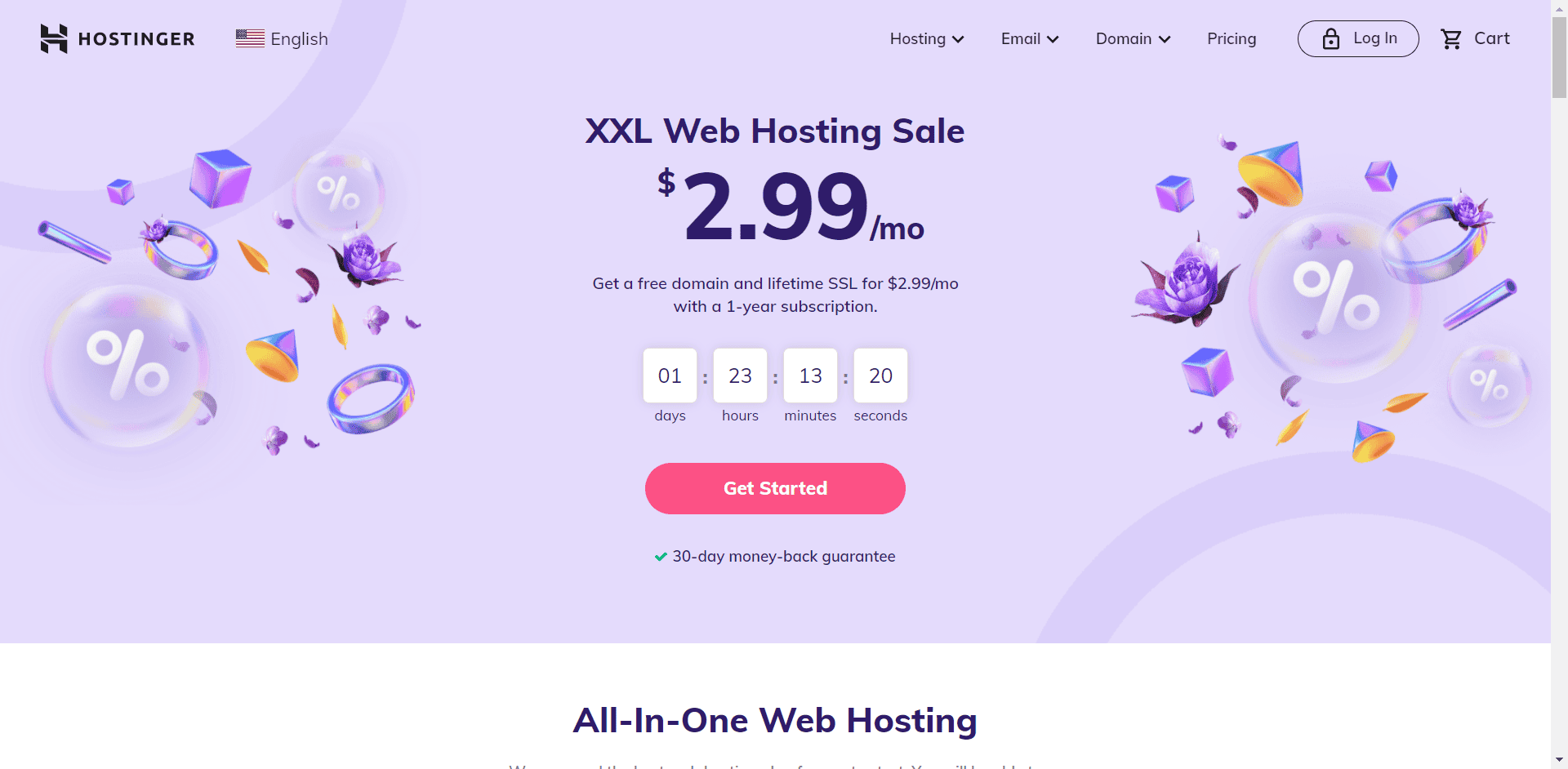 Hostinger is yet another GoDaddy alternative that has made a name for itself by offering the cheapest web hosting plans. They are best for their custom-built control panel called hPanel. It is hosted, organized, and designed differently to offer a better user experience.
The site offers virtual, VPS, cloud, and gaming hosting but no dedicated servers are available. You may also get a domain name and an SSL certificate with 24/7 technical support.
Best for: Budget-friendly and beginner-Friendly Control Panel
Benefits that Hostinger Offers
Shared web hosting
Cloud hosting
WordPress hosting
cPanel hosting
VPS hosting
Minecraft hosting
CyberPanel VPS hosting
Pricing of Hostinger
Single shared hosting: $2.99/month if billed annually
Premium shared hosting: $5.99/month if billed annually
Business shared hosting: $6.99/month if billed annually
Advantages over GoDaddy
Beginner-Friendly Control Panel
Extremely cheap and highly performance-oriented
Hostinger has developed its own native management panel called hPanel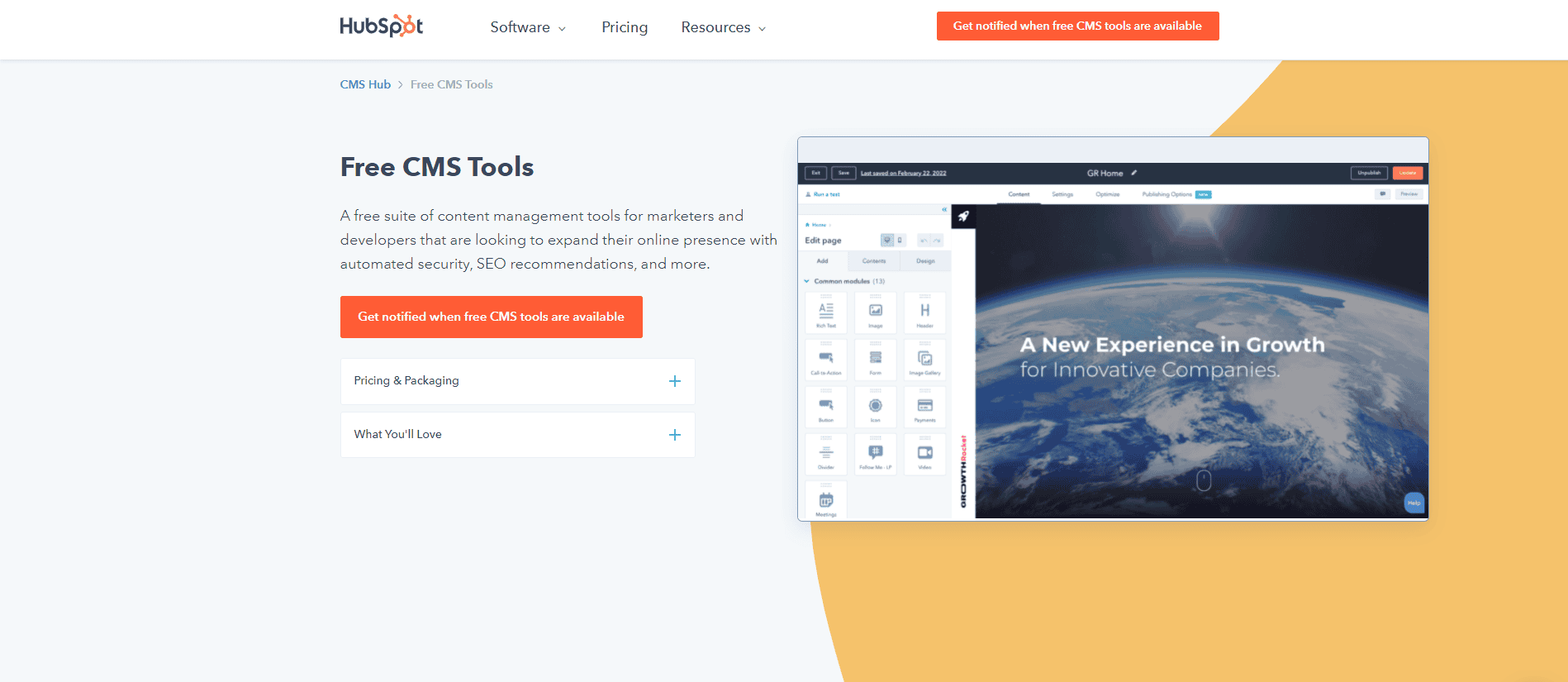 HubSpot is the perfect tool for a growing company looking for an all-in-one solution for their business. HubSpot starts with their Free CMS tools and allows you to upgrade your tools as your business grows. The free suite provides tons of features like their drag-and-drop website builder, web hosting, and free website templates.
Users can also link their CMS to HubSpot's CRM platform, where you can track web traffic and connect your marketing, sales, and customer service teams to help personalize the customer experience.
Best for: Growing businesses and all-in-one solutions
Benefits that HubSpot Offers
Drag-and-drop website builder
Web hosting
Theme and template marketplace
Free malware scanning and threat detection tools
Free SSL certificates
Sync with the HubSpot CRM
Pricing of HubSpot
Free: Free CMS
Starter: $23/month
Professional: $360/month
Enterprise: $1,200/month
Advantages over GoDaddy
Scalable pricing model
Free SSL certificate
Free security tools
Built-in CDN
All-in-one tools
Wrapping Up
The fact is that none of these GoDaddy alternatives are either better or worse than the others. They all have a lot in common, as well as certain distinguishing qualities that distinguish them from one another.
To choose which GoDaddy option is the greatest fit for your demands and budget, you must first evaluate your current situation. Then you'll be able to compare the attributes of the many services available.