7 Best Free Online Design Tools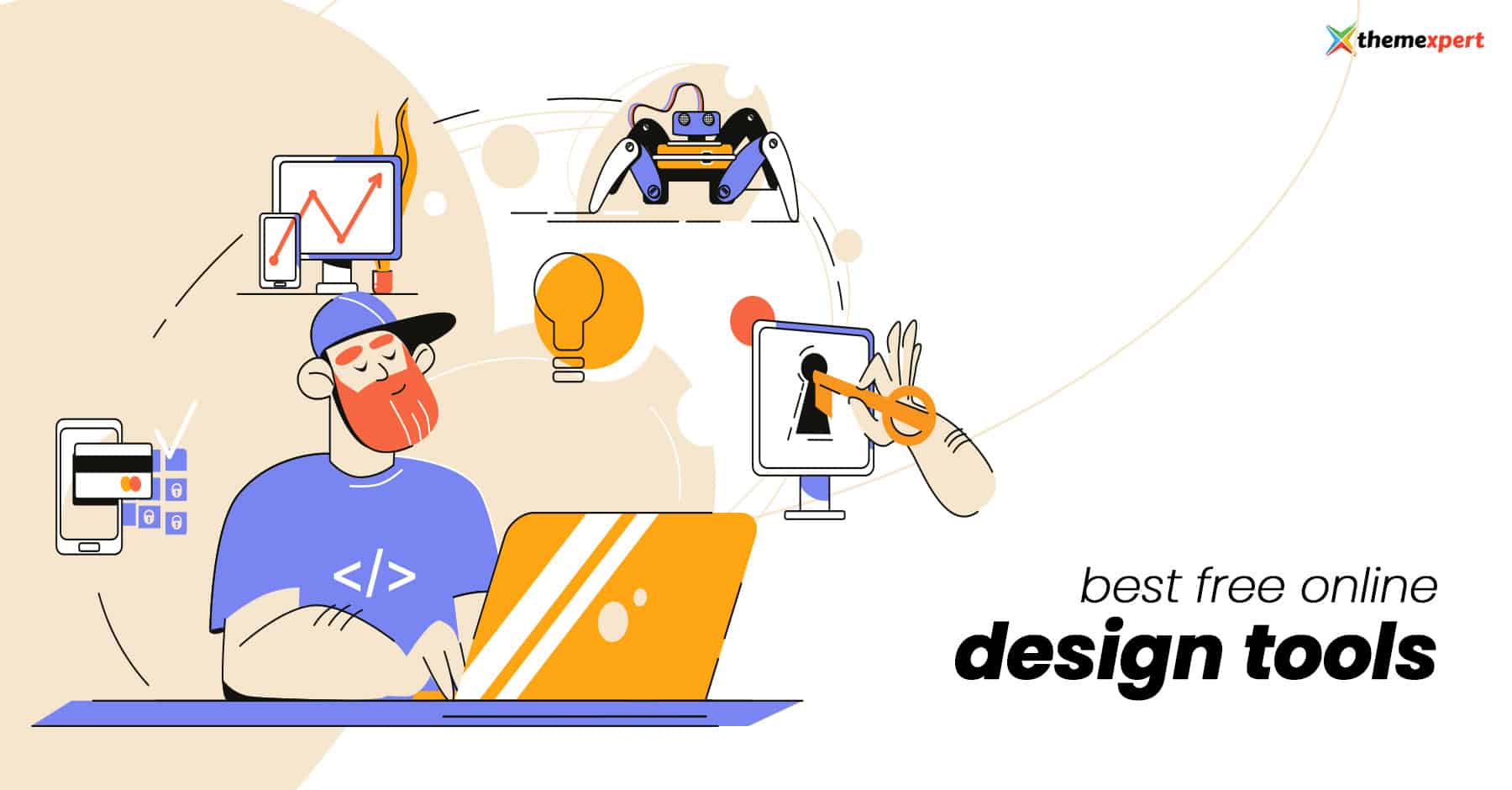 The process of designing an online website is getting easier day by day with the vast array of online design tools available.
If you are a professional designer, you would certainly know that the wrong tool can negatively affect your productivity.
Hence, to save you from this conundrum, we have bought the top 7 best free online design tools for you.
Read more: 6 Best Free Infographic Maker to Create Awesome Infographic
What are Online Design Tools?
In the simplest terms, design tools are computer software and programs that can be used to create new designs. They can also be understood as the digital version of traditional stationery items like paintbrushes, ink pens, calligraphy pens, rulers, compasses, etc.
These tools can be used to produce a variety of designs like painting, sketching, drawing, 3D modeling, perspective drawing, graphic design, and much more.
Why Should You Use Online Design Tools?
With the advancement in digital technology, all aspects of your lives have moved online. Successful eCommerce businesses running online are constantly looking for ways to climb a step higher from their numerous competitors in the markets. This is where online design tools come in handy.
All you have to do is create beautiful designs using multiple free design tools available online and then use them for marketing purposes. You can design a range of marketing materials like pamphlets, flyers, brochures, online websites, portfolios, etc.
Top 7 Free Online Design Tool
Canva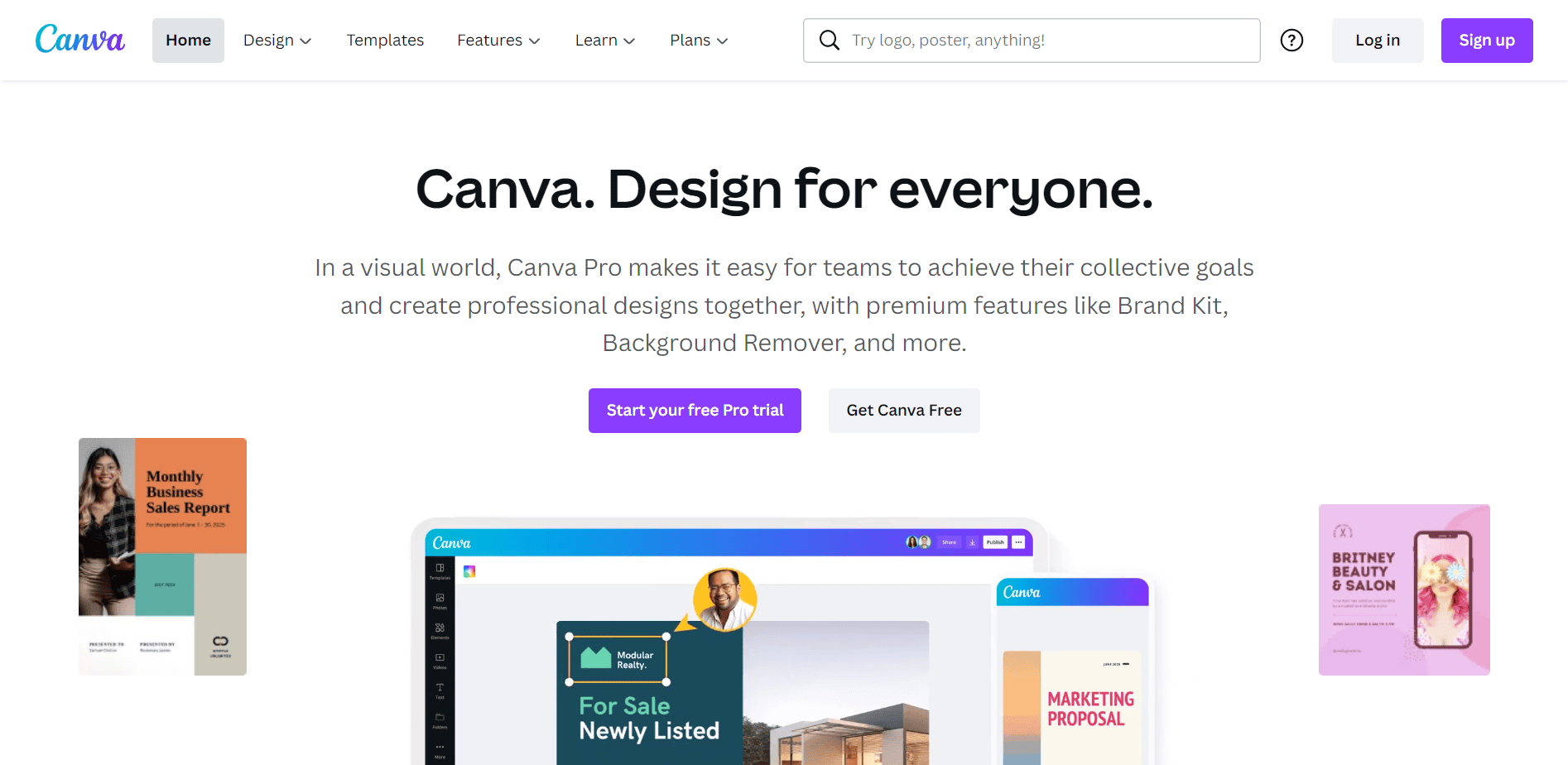 Canva is one of the most popular graphic designing software online and infographic makers that offers a plethora of design tools. If you are an experienced graphic designer or not, Canva is a complete online design tool for everyone. The easy-to-navigate dashboard will offer you various templates and categories like videos, Instagram stories, Instagram posts, Facebook posts, business cards, brochures, etc.
Additionally, if you run into some problems while creating your online designs, all you have to do is click on the 'help' button in the bottom right corner of the screen. You can then choose the nature of your problem and get quick assistance.
Key Features
Drag and drop editor - Do you like something from the side panel library and want to incorporate it into your design? All you have to do is drag it to your working canvas and make it part of your design in seconds. You can then double-click on the dragged object to transform its size and alignment.
Animation - You can use the animation feature if you want to breathe some life into your still objects and fonts. It offers various effects like fade, stomp, pop, tectonic, rise, tumble, etc.
Content planner - With the content planner, you can manage and schedule all your designs in one place. Trust us, and managing deadlines has never been this easier.
User Interface
All the features of Canva are very intuitive and easy to use. It will only take you seconds to figure out any tool. Its user-friendly interface allows you to start your design from scratch and complete it in a minimum of 15-20 minutes.
Best For
Canva is best for small and midsize business owners. It will save you from the hassle of investing in expensive graphic design software. As online marketers or entrepreneurs also, you can use canvas to create quick, simple, and trendy designs.
Piktochart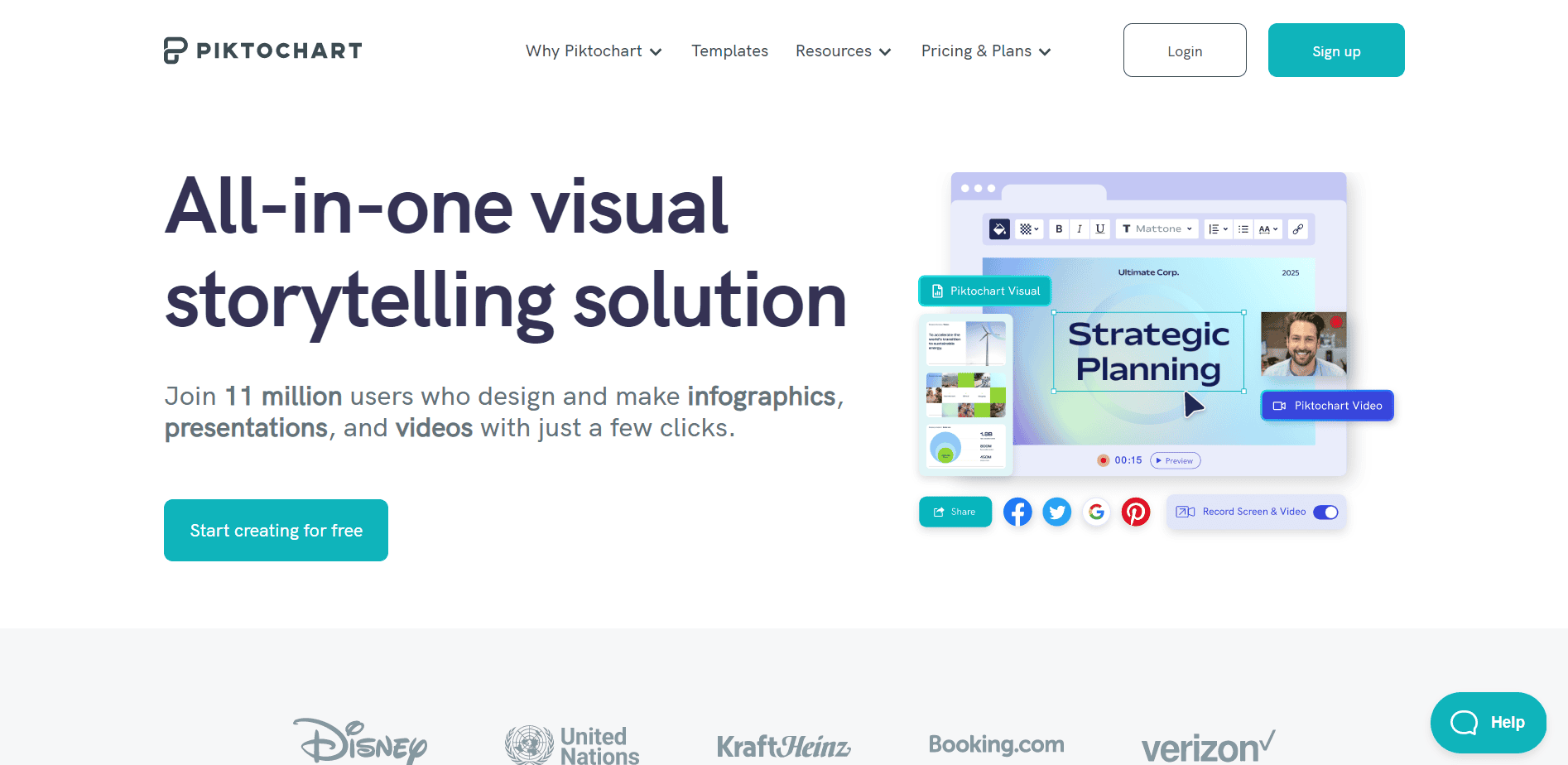 If you want to tell beautiful visual stories and design compelling online content like infographics, brochures, reports, and social media posts, then Piktochart is a one-stop solution. It is a trusted online design tool of some of the top global companies like Disney, Accenture, United Nations, Booking.com, etc.
Piktochart, with its advanced features and HTML publishing capabilities, allows you to convert content-heavy material to a beautiful visual story. Additionally, its free access to thousands of pre-made templates won't require you to start a design from scratch each time.
The video library is also filled with a vast range of copyright-free digital content. Although it is free, you can unlock some additional features at moderate prices per month.
Key Features
Insightful reports - With just a few clicks you can convert your boring reports into something visually fun and creative. It also has various free report templates on various topics like sales reports, annual reports, development reports, etc.
Presentation mode - If you have created stunning presentations using Piktochart, you can also present them directly from the platform. You won't be required to download the presentation as a PowerPoint or pdf file to present later. All you have to do is click on the 'present now' button and get started.
Tutorials and guides - If you have some problems while using Piktochart, it has got you covered. It offers various free tutorials, guides, and resources to understand the tools and features in-depth.
User Interface
It will only take a few hours to teach yourself how to use all the functionalities of the graphic design software. It is pretty simple to use and create amazing designs with.
Best For
If you are a professional who regularly wishes to create heavy, text-free, visually pleasing designs then Piktochart is the best choice for you. You can also benefit from its free storage feature.
PlaceIt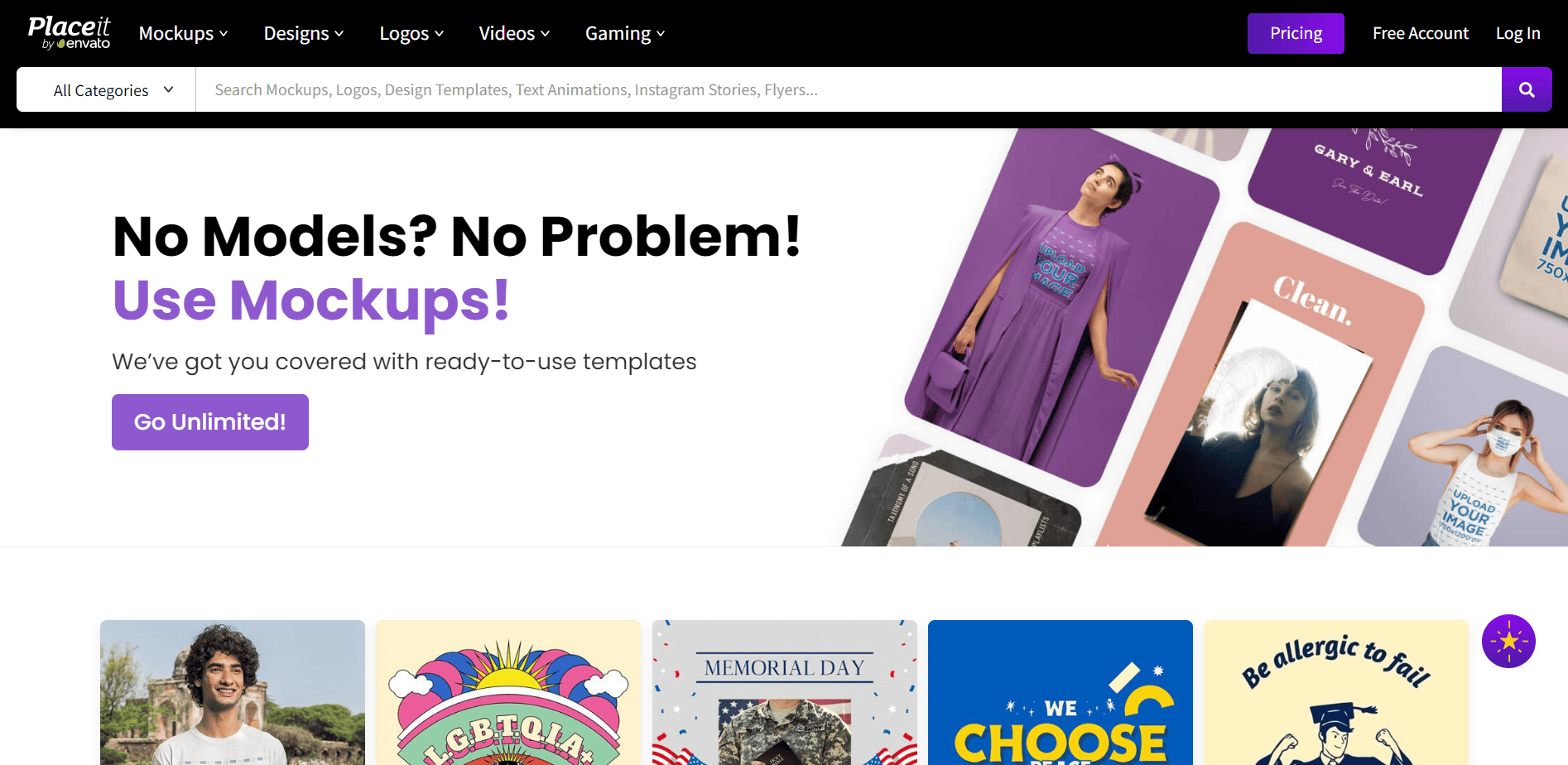 PlaceIt is a cloud-based online design tool and online logo maker established by Envato in 2012. It allows designers to design a range of materials like videos, logos, infographics, social media posts, and even mockups. You do not necessarily need to download the software for accessing it, you can simply use it through your web browser.
Additionally, it offers more than 87,000 free templates to get you started on your design within seconds. You can make further changes to the template to design it according to your requirements. The various advanced and intuitive tools available can help you with that.
Key Features
Mockups - PlaceIt offers more than 34,900 mockups for you to play with. Each mockup is completely different from each others, offering a lot of diversity and versatility. New mockups are also pretty easy to create with a click of a few buttons.
Apparel design - You can also do apparel designing with PlaceIt using its apparel templates for hoodies, dresses, leggings, beanies, backpacks, tote bags, and much more.
Gaming - PlaceIt has a different panel dedicated to designing gaming-related content like animated logos, gaming merchandise, thumbnails, twitch templates, etc.
Video to Gif converter - Gifs are nowadays trending on social media platforms. Hence PlaceIt also offers a video to Gif convert to highlight your video content. You can also custom select the dimensions of the Gif.
Online video cropper - All the designing software offer tools for cropping an image but not video. PlaceIt has got you covered here also, it offers a tool to trim and crop your videos. You can choose the dimensions of the cropped/trimmed video.
User Interface
The user interface of Placeit is pretty simple. The Dashboard looks crisp, modern, and attractive. You will not be required to switch between multiple panels while making your design constantly. You can also use the search panel to find something by typing in a specific keyword.
Best For
PlaceIt is suitable for both professional and non-professional graphic designers. The simplicity of the online software is remarkable and will get you started in seconds.
Pablo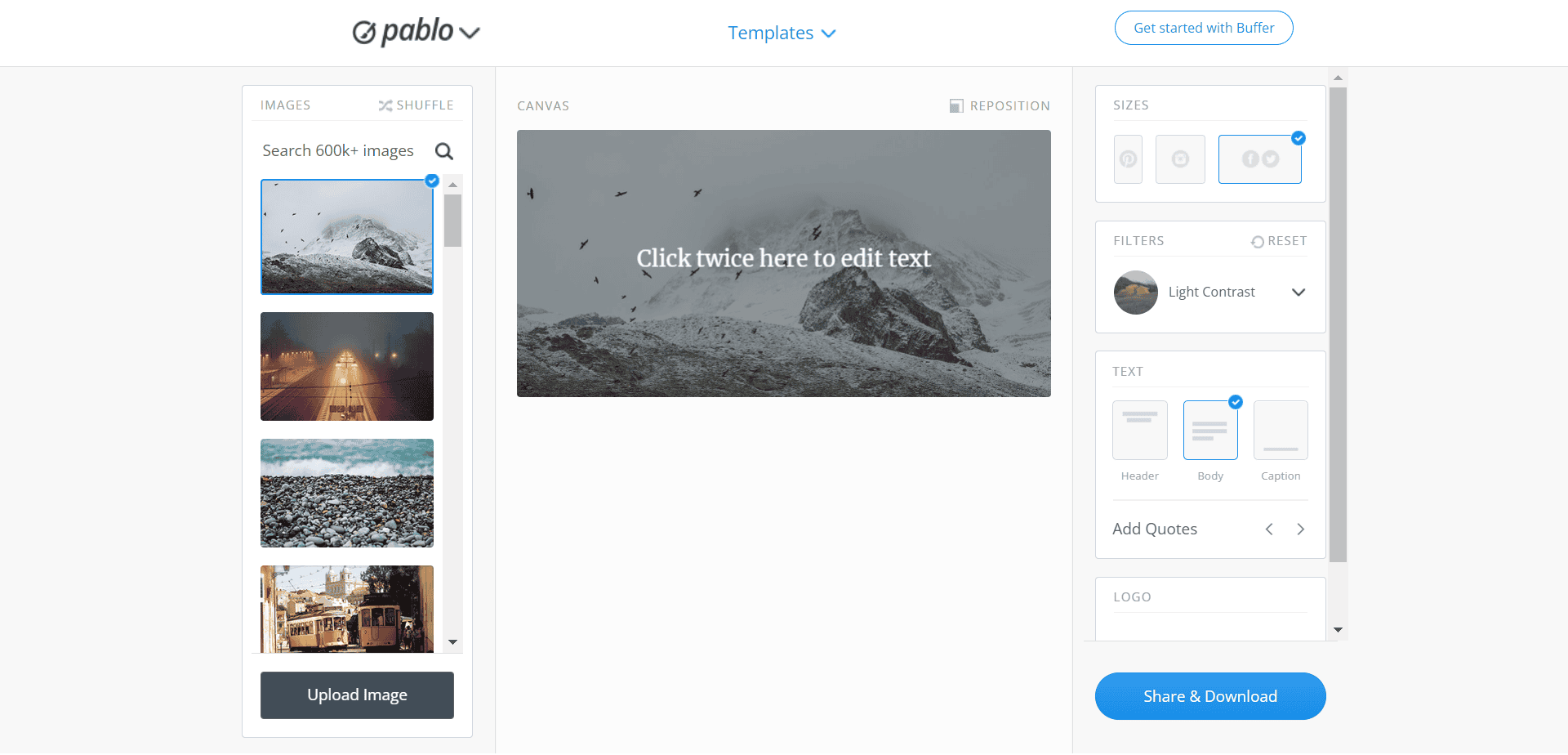 If you are looking for a reliable design tool specifically for increasing your social media engagement, then Pablo is an appropriate choice for you. It will allow you to create engaging designs without any technical knowledge.
Its user-friendly interface allows seamless design creation and has simple and quick social media sharing. The library's various built-in templates and hundreds of stock photos will kickstart your designs.
Key Features
Filters - Not many graphic designing tools offer filters, but Pablo offers many photo filters along with image enhancement tools. The filters will give your designs and images a new look and easily integrate with social media platforms.
Text editing - The text editing tools in Pablo are very smooth and allow you to edit your images with just a few clicks. You won't have to waste your time finding the correct tool in the toolbox to edit your text or image. You can simply change the font by hovering over the text.
Custom brushes - You can also use custom brushes to give your designs and images a unique and new look. You can also use the custom brushes to make edits in the pre-built templates.
User Interface
The user interface of Pablo is very easy and intuitive. The toolbox is easy to understand and will allow you to work on your designs hassle-free.
Best For
It is free to use, hence, a great option for new businesses and startups. It is also a great option for those who do not have any prior technical editing knowledge.
Dribbble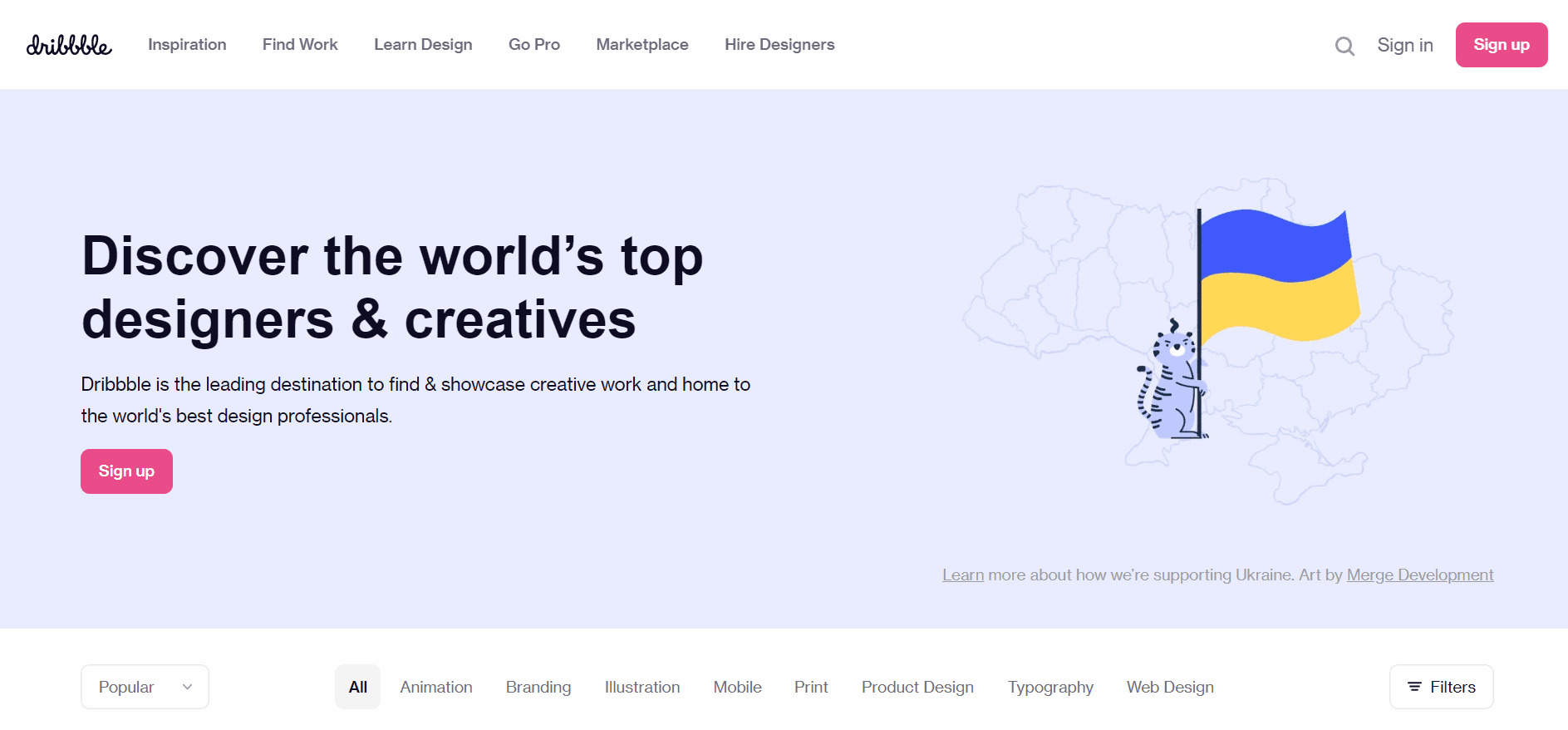 Dribble is different from the other online designing tools as it allows you to create and share your designs with some of the leading design professionals in the world. It also offers you a great opportunity to take some design courses to learn from experienced designers and master the skills and tools of online designing.
You can take the course at your own scheduled time to let it fit seamlessly into your busy schedule. Moreover, you can use Dribble's unique designs, illustrations, infographics, icons, and much more to create outstanding designs.
Key Features
Templates - You can find thousands of free and paid templates with Dribble. All these templates are very professional and filtered through various categories like business cards, email, resume, social media, logos, flyers, presentations, brochures, etc.
3D - If you want to create 3D designs and are struggling a little, you can browse through various 3D models at dribbble. You can simply download it and use it for your next project. The models include a wide range of objects like animals, cars, trees, textures, etc.
Themes - Dribble also offers various website themes, from static HTML to bootstrap. All the themes are customer engaging and available at a nominal price.
User Interface
The user interface of dribble is pretty easy to use. The moment you open the website, all the categories and tabs are clearly segmented and mentioned. You will be able to navigate your way quickly and easily.
Best For
Dribble is best for people who want to share their designs with professionals in the field. Their feedback will help you go a long way in improving your designs. It is also great for those who want to learn through professional courses along with creating their own designs.
SketchUp
SketchUp is an online free 3D design software launched in 2000. It has been ranked as one of the best CAD software on Mac because of its powerful 2D and 3D modeling tools. On the right side of the dashboard, you will find the toolbar with all the basic and advanced tools.
Whereas on the left side are the drawing and navigational tools. You can also manipulate your designs any way you want using certain tools and features.
Key Features
Mobile application - You can use the SketchUp mobile application to view your 3D models on your mobile. This way you can work even while traveling.
Cloud storage - SketchUp understands that every design you have created is a piece of art, hence, it gives you 10 GB of Trimble connect cloud storage. The storage space can be shared with your teams for collaborative work.
Interoperability - You can import multiple file types like SKP, JPG, PNG etc. You can also export files in various types.
User Interface
SketchUp is not a very easy 3D design software to use. It can take you some time to understand its functionalities. You can refer to numerous online guides and tutorials available online to get the hang of it.
Best For
Whether you are a professional, enthusiast, or a company, SketchUp is an appropriate 3D modeling software for you. Almost the basic features can be unlocked with the free plan.
However, if you want some advanced features and storage options, then you can opt for its subscription plans. Some of its primary users are generally film stage designers, construction engineers, interior designers, and architects.
Snappa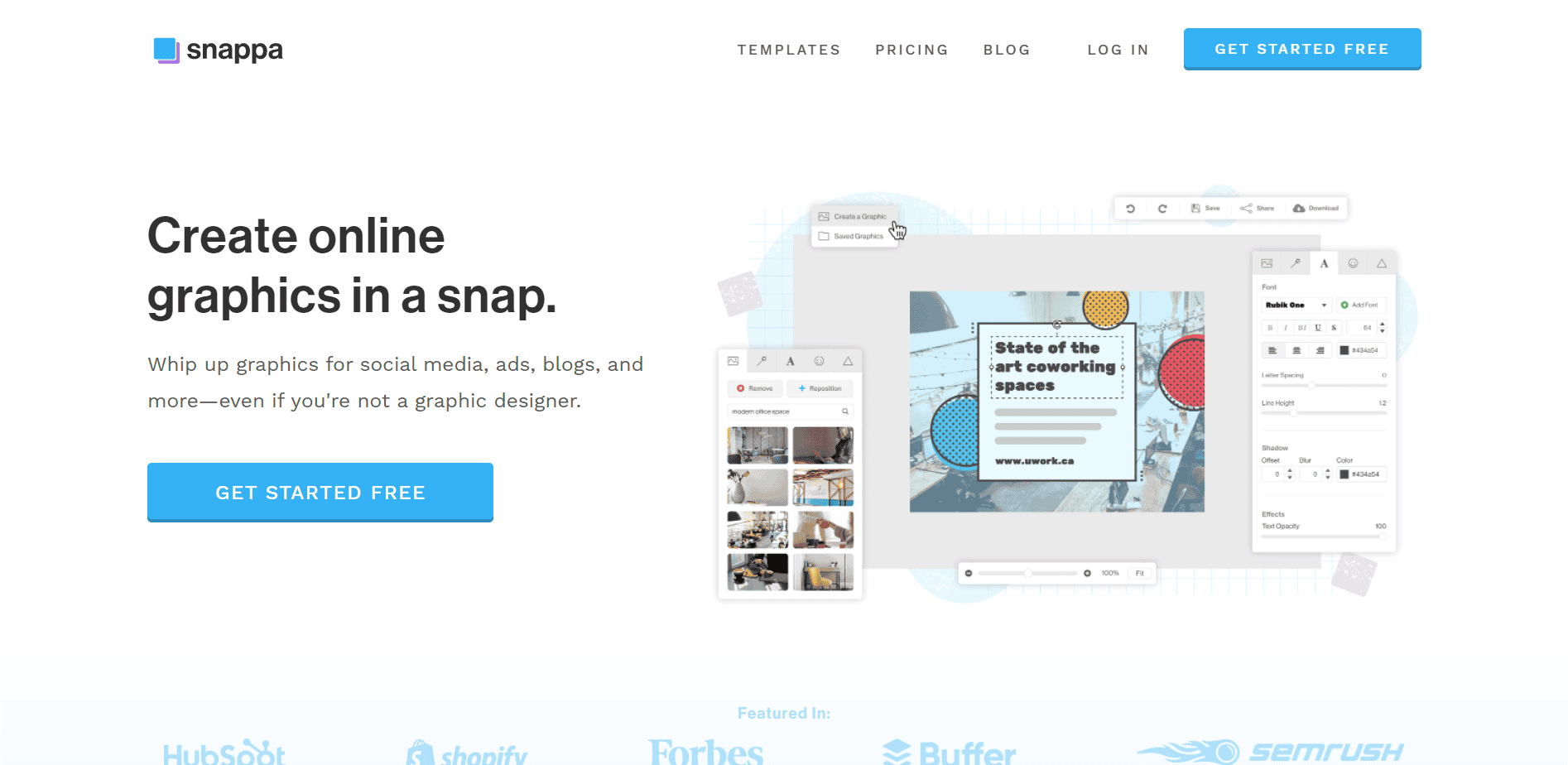 If you want to create visually appealing graphics for your social media and blog, Snappa, a cloud-based graphic designing tool, is a good choice. The predefined templates can aid you in creating inspiring designs. In case you do face some difficulties while using Snappa, you can rely on their tutorials and guides to resolve your issues. Like other online graphic design tools, it also offers team collaboration and sharing options.
Key Features
Image cropper - You can use the image cropper feature to resize and crop your images. The stock photos available in the library can also be cropped and resized according to requirements.
Background removal - Not many designing tools offer background removal. Snappa is one such software that provides this extremely useful feature. With a few clicks, remove or change the background of an image or selfie.
Image flipper - You can flip your images and videos using the image flipper option. You can also switch icons vertically and horizontally easily.
User Interface
As it has been designed keeping in mind beginners, the interface is extremely easy and user-friendly. The moment you open the app, you will know how to navigate your way around multiple tools and features.
Best For
Snappa has been made primarily for non-professionals and beginners. The intuitive and simple, user-friendly interface will allow you to take your designs to new heights and unleash your creativity to the fullest.
Conclusion
We have handpicked some of the best free online design tools. All these tools offer amazing features at an affordable price point. They are ideal for both beginners and experts to cater to any design needs.
However, we recommend you do some more research before you decide on a design tool. Each design tool online is different from the others, with a plethora of different features. We wish you luck in finding the best out of the lot.