Introducing Event Layout Pack for Quix Page Builder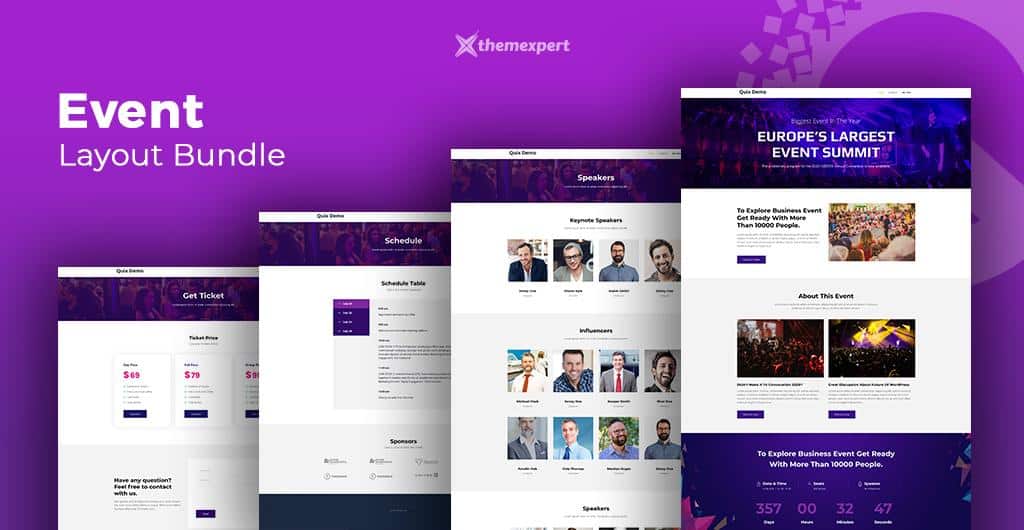 Today I am so excited to release a brand new Event layout bundle for Quix . This layout bundle is smartly designed to assist you in hosting any k...
Today I am so excited to release a brand new Event layout bundle for Quix. This layout bundle is smartly designed to assist you in hosting any kind of event successfully.

You will have everything from "showing the speakers list to ticket price" all in this single bundle. So, if you're thinking of organizing any event, then nothing can stop you. Insert this layout with your Quix page builder and show every information about the event.
This event layout bundle comes with 4 ready pages. Let's check them all.
Event Layout Bundle Features
Event layout bundle has a lot of exciting features to offer you. You can manage an entire event using event layout, no matter its a big or small event. You can show each and every detail of your event using this layout.
Let's check some of the most notable features of the Event layout bundle.
Event Layout Bundle Pages
There are 4 ready pages inside this Event layout bundle. All of these pages are modernly designed to create the best impression on the visitors. The page inside the Event layout bundle are:
​

Homepage

Schedule Page
Ticket Page
Speaker Page
Homepage
The homepage of the Event layout bundle starts with a cleanly designed hero section followed by about this event, count down, event schedule, sponsor list, speaker description, and other contents. You can show;
​Event details
Speaker descriptions
Sponsors list
Event schedule and much more information.
​The best part of this layout is the tab panel. You can add multiple numbers of events detail using this tab panel. It will also allow you to show the sponsor information above the footer section. You can add event;
​Time
Short description
Place
Sponsor details
​This layout will show your event ticket price. It will allow to create categories of ticket prices. Show different prices for different tickets. This layout will allow you to show;
​Ticket price
Service list included with the price
Contact form.
​Speaker layout is all about showing your speaker information to your audiences. Speaker with a high profile can attract audiences like a magnet. You can add speakers;
​Name
Designation
You can also separate speakers into different categories.
How to Access Event Layout Bundle?
All of the Quix Pro users will be able to access, explore, and import any layout bundle. You just need to follow the below procedure;
​Step 01: Go to your Quix page builder and click "Add Template"
Step 02: Click on "Pages"
Step 03: Choose your best one & click "Insert"
​You are all set to use the layout. All these layouts are extremely flexible. You can edit each and every corner of these layouts.
What are you waiting for?
Grab the super cool Quix and kick start your business right now.
Grab this nicely designed event layout bundle and modify each and every portion of it. It is extremely flexible and eye-catchy. We hope this will increase your website outlook and help to host any kind of event. Let us know your feedback through the comment box below. Your feedback is always appreciated.