9 Best Time Tracking Software of 2023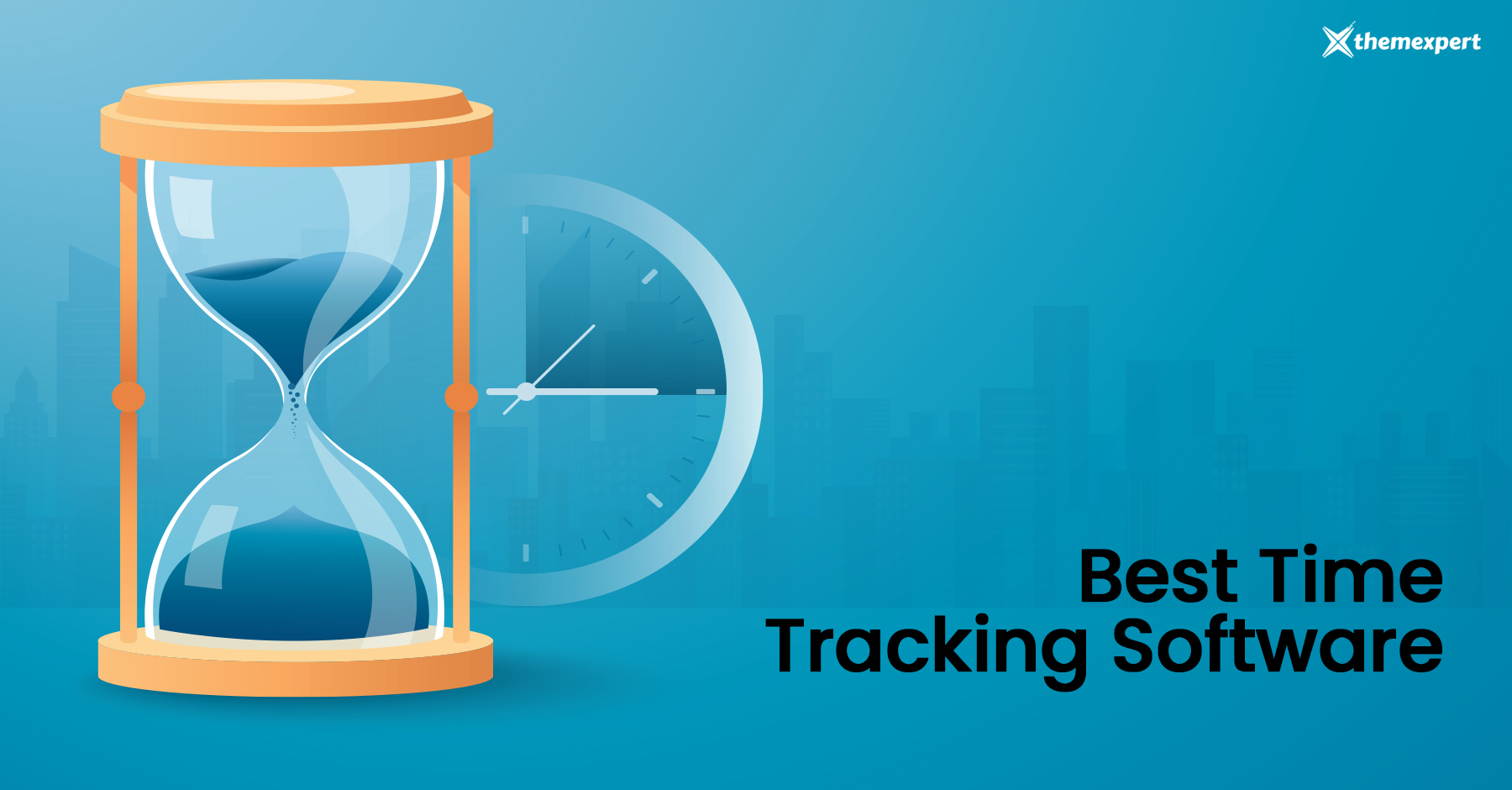 If you are a startup like us, you would know how hard it is to deliver projects on time. Here, diligently tracking the time spent on each project, client, and task throughout the day is always crucial to ensuring efficiency and productivity.
Manually tracking time is simply a waste of time. Rather, using a robust time-tracking app can be a good solution. We've analyzed 20+ time tracking solutions and rounded up the 7 best time-tracking software so you can monitor your team's progress and boost productivity.
Let's see the list then.
Best Time Tracking Software: Quick Comparison
Software

Best For

Type of Tracking

Features

Platform

Free Trial

Price

Beebole

Small- and medium-sized organizations
Project time tracking and attendance tracking
Customizable reporting, easy time tracking, mobile app, approval workflow, multiple languages & currencies, data encryption & security, and live support
Windows, Mac, Android, iOS
Yes
$6.99 per user per month

Harvest

Freelancers, Small organizations

Time tracking, reporting, and invoicing

Expense Tracking Sheet, Utilization and Project Profitability, Integrations

Windows, Mac, Android, iOS, Chrome

Yes

Free Plan Available

Clockify

Freelancers, Small and midsize organizations

Time tracking

Detailed reports, Scheduling

Windows, Mac, Android, iOS, Chrome

Yes

Starting from $4.99

RescueTime

Freelancers, Students, Small organizations

Automatic time tracking and time management

Focus sessions, Smart Goals, Backups

Windows, Mac, Android, iOS, Web Browsers

Yes

Free Plan Available

Apploye
Remote teams, Freelancers, Small to Large Organizations
Real-time Tracking with ScreenShots, Project tracking, and Invoicing
Time tracking with
Screenshots,
Apps & Urls tracking,
Detailed Timesheet, Exporting data
Windows, macOS, Android, Linax, Chrome Extension
Yes
Starting from $2

TimeCamp

Freelancers, Small and midsize organizations

Time tracking

Track profitability, Comments, and feedback

Windows, Mac, Android, iOS, Web Browsers

Yes

Free Plan Available

Time Doctor

Small and midsize organizations

Time tracking and employee monitoring

Project management & budgeting, Distraction alerts

Windows, Mac, Android, iOS, Web browsers

Yes

Starting from $7

Toggl Track

Freelancers, small organizations

Time tracking and project planning

One-click timers, Background tracking

Windows, Mac, Android, iOS, Web Browsers

Yes

Free Plan Available

TimeSheets.com

Freelancers, Non-profit organizations

Time tracking

Detailed audit trails, Report exporting

Windows, Mac, Android, iOS, Chrome, Safari

Yes

Free Plan Available
What is Time Tracking Software?
Time tracking software is an online tool that is used by managers to record the working hours of their employees, especially hourly employees. It can be a great hassle to calculate wages manually while considering other elements like lunch breaks, time off, extra working hours, non-billable hours, scheduling, etc.
Additionally, there can be errors in manual time tracking. Time tracking software won't only promise you accuracy but also save you from time theft. Advanced time tracking software also provides visibility of screen time and computer work.
Time tracking software and apps can further be broken down into different types:
Timekeeping software - allows you to manually enter your hours by filling a timesheet. It also comes with a timer to record times and then logs them into the timesheet.
Timesheet software - This is also an alternative to paper timesheets. Separate sections can be made like billable hours, non-billable hours, extra working hours, etc. to record time and wage more accurately.
Time recording software - This allows you to accurately record time spent doing various activities. All you have to do is start the time tracker when you start working and stop it once you finish.
Time clock software - Time clock software is similar to the traditional method of biometric punching. The clock in and clock out feature records the attendance of each employee. It is also beneficial to track the punctuality of employees as they punch in and punch out are accurately recorded.
Automatic time tracker - Fully automated time trackers use artificial intelligence to track the time of each employee. The moment an employee logs into the system/computer, it will automatically start recording the time and feed it into the timesheet.
What makes a great time tracking app?
Time management is the key to boosting productivity, personally and professionally. With a time tracking app, you can manage your time more accurately by understanding how much time you spend doing certain activities.
When it comes to office spaces, time tracking apps are beneficial for both employees and employers. Employees can know how much time they spend on each of their activities and make changes relevantly if required. This also allows employers to take ownership of their employees' work, see how they perform and whenever they excel at work reward them with corporate gifts and awards.
Some more benefits of a time tracking app are
Tracking productivity of employees
Bill clients accurately for the work done
Improved management of project/work schedule
Tracks time across various devices at once
Creating efficient workflows
Fostering a trustworthy client relationship
Generating real-time interactive and analytical reports
9 Best Time Tracking Software of 2022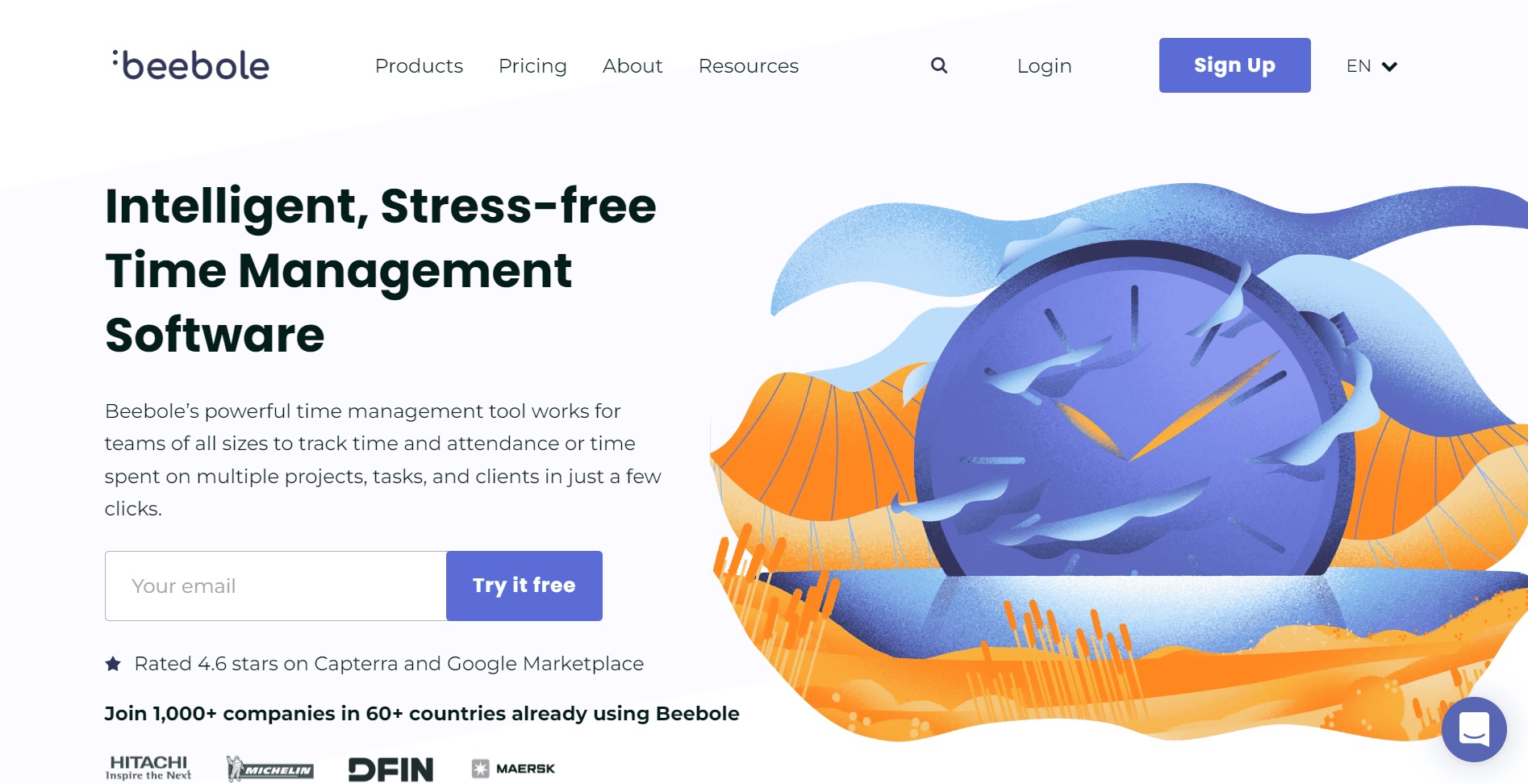 Used by companies worldwide, Beebole's project time trackingsoftware is easy to use and perfect for customized reporting and analysis. With Beebole, you can easily manage your team's time, breaks, and billable hours, delving into time spent on clients, projects, and tasks. Beebole allows you to set up the exact roles and permissions that work for you and your organization, helping you manage data access, approval workflows, and team structure.
You can take your account to the next level by using Beebole for project planning. Simply configure rates and costs for team members, clients, projects, and tasks, and from there you can set budgets to help you keep track of key metrics like project profitability, non-billable and billable hours, and so much more.
All of this can be easily analyzed with Beebole's custom reporting feature, as well as the KPI dashboard functionality. All of this is made even easier with Beebole's add-on for Microsoft Excel and add-in for Google Sheets.
Features
Unmatched reporting: With Beebole, you can customize and configure your reporting settings to fit your exact needs.
Mobile & desktop app: Whether you're working on the go or prefer to log hours from your desktop, Beebole has you covered.
International options: Beebole is available in 11 languages & multiple currencies.
Customer service you can count on: Live customer service (real people!) during both North American and European business hours
Pricing
| | |
| --- | --- |
| Plan | Pricing |
| Project time tracking | 6.99 per user per month |
Best for
Beebole's project time tracking tool is ideal for small- and medium-sized organizations who want full control over their reporting.
Harvest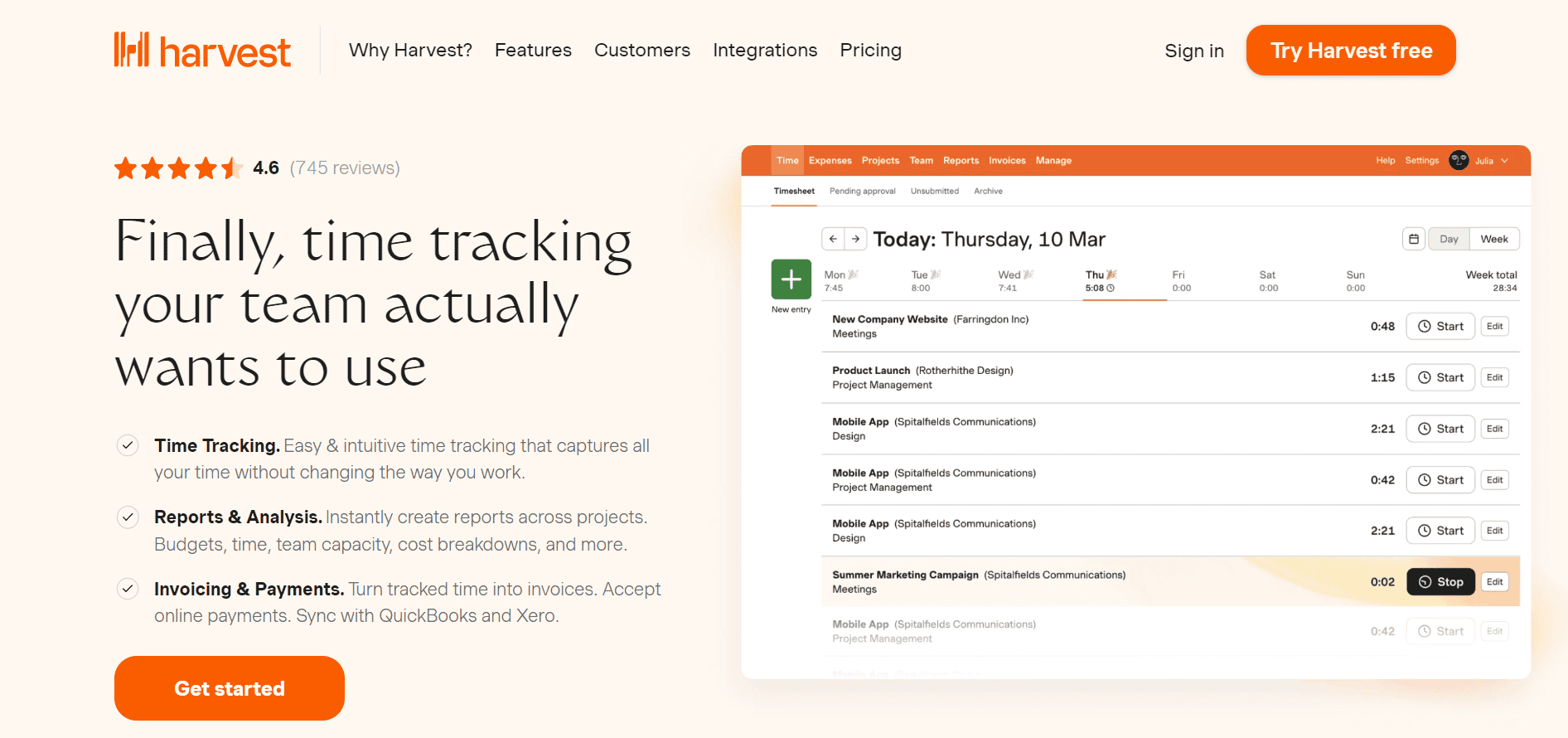 Best known for its intuitive and easy user interface, Harvest is one of the most used time tracking software by freelancers, and small and mid sizes organizations. Harvest widget and extension are compatible across all platforms like Mac, Windows, Mobile Apps, Google Chrome, etc. Another major advantage of Harvest is its integration feature with Google Calendar for easier referencing while filling timesheets.
Features
Expense Tracking Sheet - Along with timesheets, Harvest also offers expense tracking sheets to record all expenses like billing, travel costs, food expenses, etc. You can also attach receipts to the sheet for convenience.
Utilization and Project Profitability - This feature is the highlight of this software as it helps you track hours invested in a project in tandem with the goals achieved during those hours. You can then generate an in-depth analytical report and calculate the profitability of that particular project.
Integrations - Some of the most useful integrations Harvest offers are FreshDesk, Asana, Basecamp, Jira, Zendesk, Trello, Google Calendar, etc.
Pricing
Plan

Pricing/Month

Details

Free

$0

1 Seat

2 Projects

Pro

$12

Unlimited Seats

Unlimited Projects
Best for
It is an excellent time tracking software for freelancers and small organizations due to its great features and affordable pricing. Additionally, it is very easy to use and will allow hassle-free time tracking. It has been rightly selected as the PCMag's Editor's Choice for freelancers and small businesses.
Clockify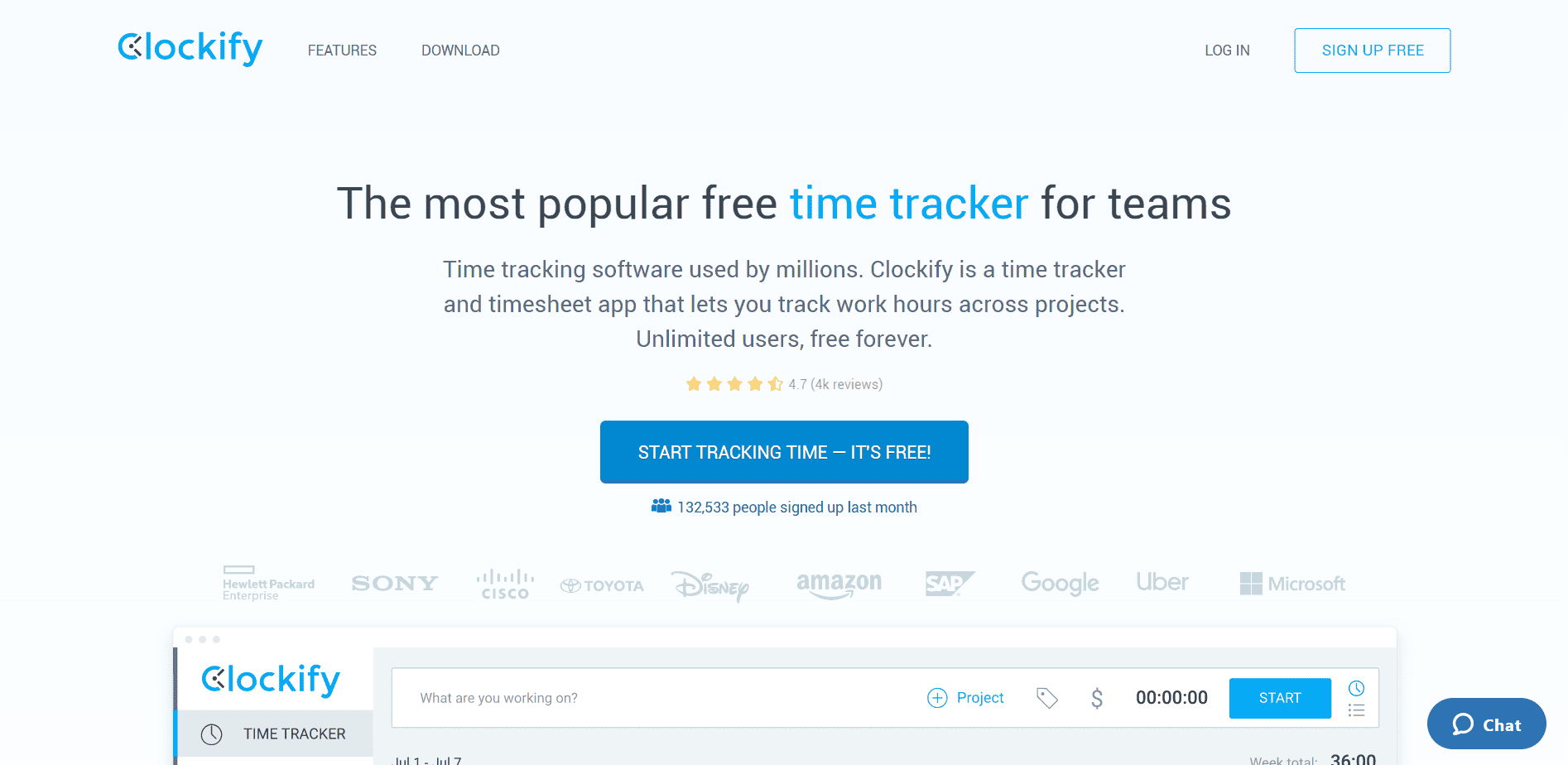 Clockify is a free time tracking software and also offers four paid versions for upgrades. The upgrade plans are also affordable and offer a great solution for time tracking through its interactive features like visual time tracking, tagging work locations, creating expense reports, etc.
As clockify is a cloud-based software it can be accessed from anywhere, allowing you to work even on the go. However, the free plan does not come with advanced features like scheduling, GPS tracking, labor cost & profit calculation, etc.
Features
Detailed Reports - Clockify allows you to generate weekly analytical and detailed reports to see who is working on that and when was a particular task finished. Through these reports, you can easily review your employee's time and productivity. You can also export the data from the sheet with one simple click.
Scheduling - You can use the scheduling feature to plan projects keeping all the factors in mind like goals/objectives, funding, worksite, expenses, deadlines, etc. The scheduling suggestions on the basis of previous records allow you to visualize your team's capacity. You can also add milestones in the schedule to keep the project on time and finish as planned.
Holidays and Time Off - You can track each member's time off requests and holidays through the timesheet. You can also add the time off policies in the sheet to track hours and wages accurately.
Pricing
| | | |
| --- | --- | --- |
| Plan | Pricing/Month (Billed Monthly) | Pricing/Month (Billed Annually) |
| Basic | $4.99 | $3.99 |
| Standard | $6.99 | $5.49 |
| Pro | $9.99 | $7.99 |
| Enterprise | $14.99 | $11.99 |
Best for
Clockify is best suited for freelancers, and small and mid-sized businesses as its offers a free version along with affordable upgrade plans. Free trials are also available for you to try the software before making a final decision.
RescueTime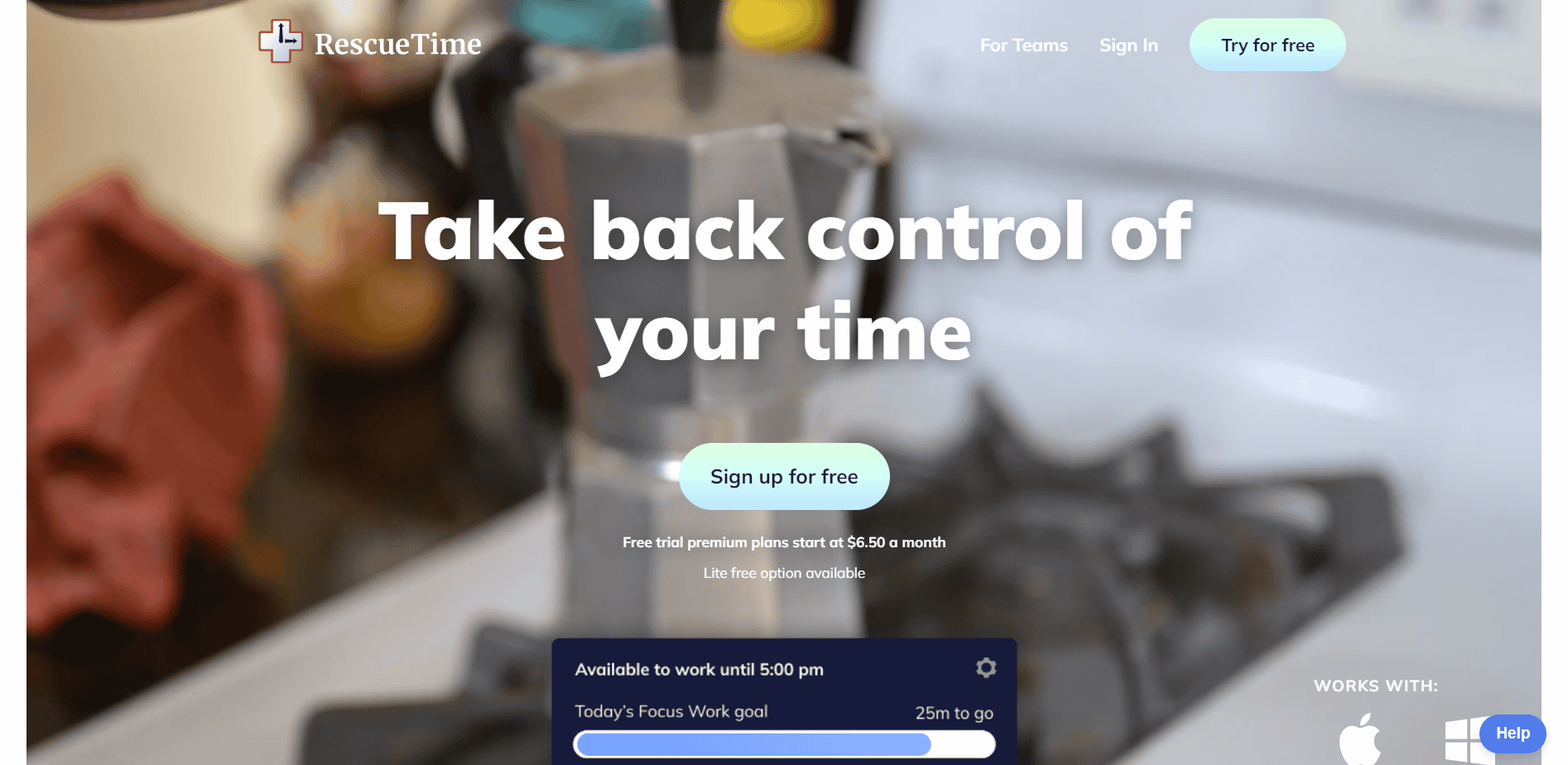 Rescue Time is a reliable time tracking software that will not allow you to track and log your working hours but also let your focus by helping you find a personal and unique working style. It is used by some of the top companies globally like The Guardian, Harvard Business Review, The New York Times, The Wall Street Journal, Wired, Fast Company, etc. However, the mobile app for Rescue Time is not as functional as the desktop app.
Features
Focus Session - When you really need to focus and need to meet an urgent deadline, you can begin a focus session. Once you enable this, the software will block distractions and will allow you to do uninterrupted work. It will also guide you with an alert if you are trying to do multiple things at once.
Smart Goals - This feature is a great way to allow you to focus and track your productivity at work. You can set specific goals you want to achieve and you will be sent regular updates till the goal has been achieved. Additionally, it will also record your activity time to discover you productive you are on specific days and hours.
Backups - Losing your data and important documents due to some technical problems is the worst nightmare of any business or enterprise. Keeping this in mind, Rescue Time offers solid recovery plans. Taking offsite backup options are also available.
Pricing
| | |
| --- | --- |
| Plan | Pricing |
| Rescue Time Lite | $0 |
| Rescue Time Premium | $9 |
Best for
Rescue Time is best suited for freelancers and small-sized businesses due to its affordable pricing. It is also relevant for students who are struggling to manage their studies and work hours.
Apploye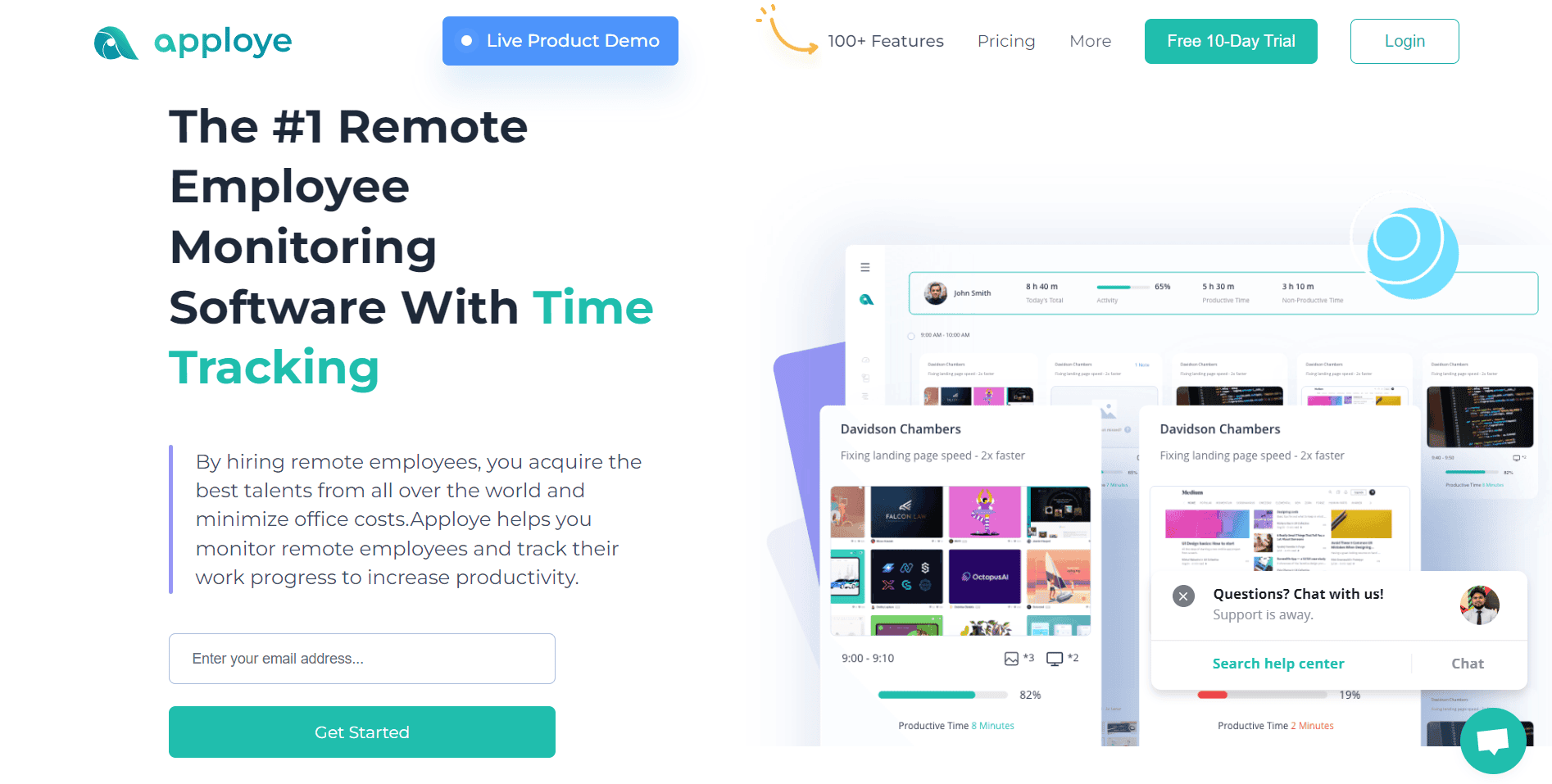 Apploye is a great time tracking & remote employee monitoring software with a user-friendly dashboard and easily accessible interface. Employers love to use this software because it gives remote tracking features where they can check websites, apps, and screenshots of employees. Managers of remote teams will be able to check detailed timesheets, track the location of mobile employees with GPS track and check invoices by analyzing working hours.
It helps to boost productivity and efficiency of the organization by 2X times. Employers and managers can see the ranking of employees according to working hours & activity percentage. This software operates offline and is synchronized with the timesheet anytime the user connects to the Internet.
Features
Remote Tracking Screenshot- Apploye provides a screenshot feature with multiple monitors. Here, the employer can set the needed number of screenshots (1/2/3) for each 10-minute interval. Both employers and workers can access screenshots. The employee may delete screenshots if required but must provide an explanation. The remote track also includes website and app tracking.

Detailed Timesheet- This software allows users to obtain a comprehensive timesheet of their working hours. Apploye provides timesheets on a daily, weekly, biweekly, and monthly basis. Even workers may add their own custom timesheets but it has to be approved by employers.

Exporting Data- Now exporting data is super easy with Apploye. This time tracking software provides not just timesheets but also allows users to export reports for other activities.
Pricing
| | | |
| --- | --- | --- |
| Plan | Pricing/Month (Billed Monthly) | Pricing/Month (Billed Annually) |
| Solo | $4 | $2 |
| Standard | $5 | $2.5 |
| Premium | $6 | $3 |
| Elite | $6 | $3.5 |
Best for
Apploye is best for all remote teams. Freelancers, small organizations, and large organizations use this software because of its intuitive features and user-friendly layout. Each and every customer loves the feature set of Apploye with such a little price tag. Apploye's customers always receive top-notch customer service.
TimeCamp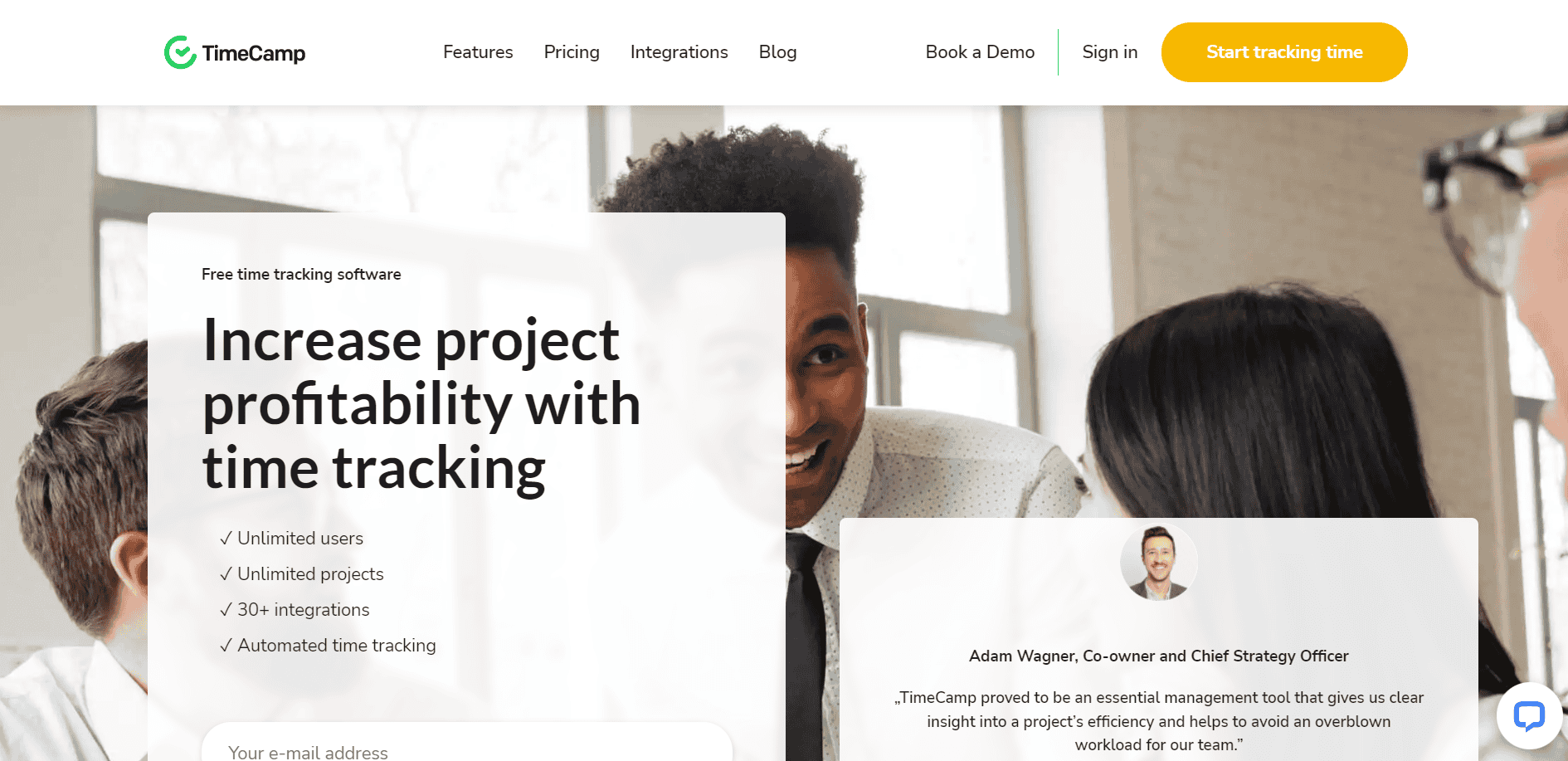 TimeCamp is a time tracking software that has been designed keeping in mind the user's convenience through features like time entry notes, visual time tracking, analytical reports, etc. The tracking app is available for free but you can access additional advanced features through their upgrade plans. The free plan accommodates 5 users. A free trial of the upgrade versions is available to allow you to make an informed decision.
Features
Track Profitability - TimeCamp allows you to track your time along with checking if the project is still within the budget With this feature budgeting, billing, and scheduling will become increasingly easy and flexible.
Comments and Feedback - If you see some error or a wrong entry in the timesheet, you can simply leave a comment on the employee's timesheet. The employee will be sent a notification and he/she can fix the error as soon as possible.
Pricing
| | | |
| --- | --- | --- |
| Plan | Pricing/Month (Billed Monthly) | Pricing/Month (Billed Annually) |
| Free | $0 | $0 |
| Basic | $7 | $6.3 |
| Pro | $10 | $9 |
| Enterprise | Contact Support | Contact Support |
Best for
It is appropriate for freelancers, small, and mid-sized enterprises, and businesses. However, its numerous integration options can be useful for large-sized enterprises also. Its largest customer base is small businesses, around 40%.
Time Doctor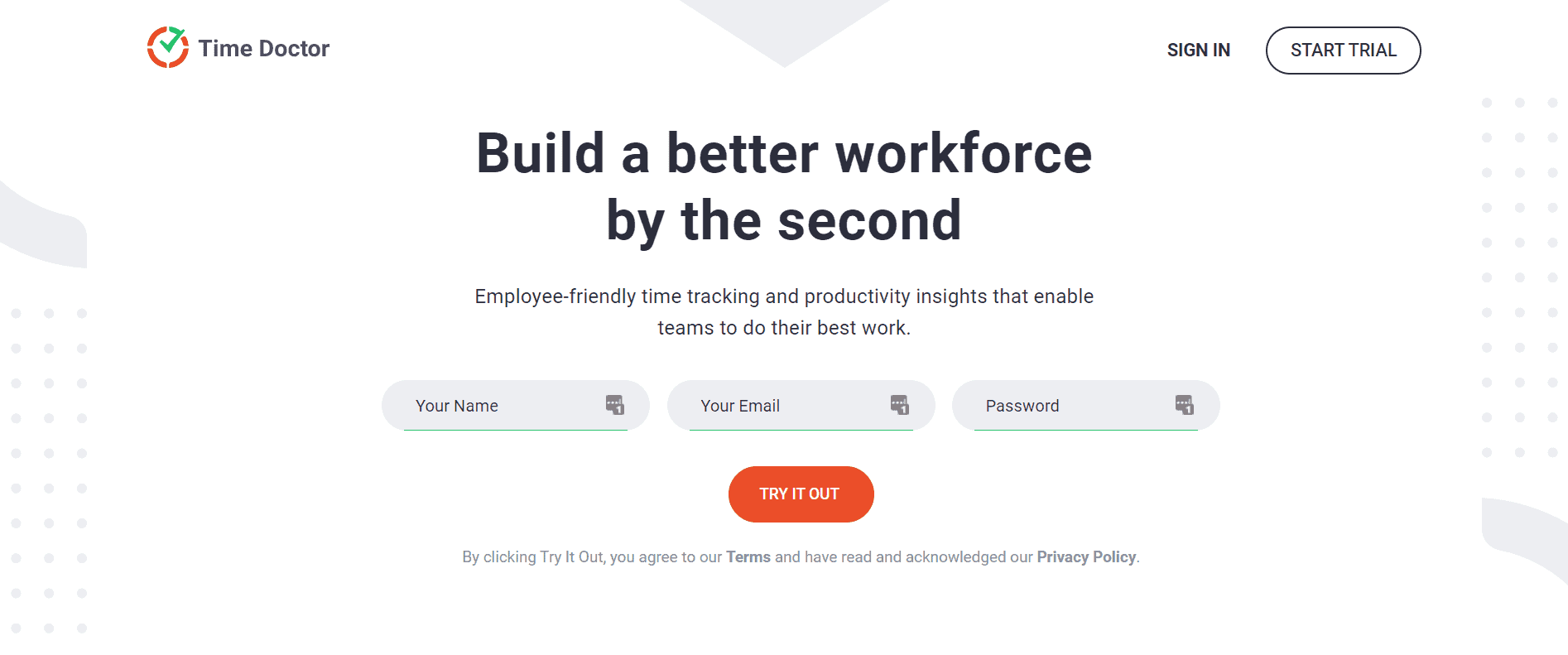 Time Doctor is a highly efficient time tracking app as it not only tracks the time of each employee but collective hours spent completing a project or task. This helps send clients a detailed report and follow an accurate hourly payment schedule. It can also provide employees with reports and insights on their productivity.
The numerous integration options provided by Time Doctor are also extremely helpful. For effective team collaboration Time Doctor is undoubtedly the best solution you can count on.
Features
Project Management & Budgeting - Time Doctor allows you to focus by alleging all the elements of your project in one spot. As an admin, you can take care of assignments, expenditures, funding, deadlines, working hours, and salary simultaneously from one place.
Distraction Alerts - To help you stay focused on the tasks at hand, the app will send you an alert the moment you go off track. Its detects screen time on Facebook, YouTube, Instagram, non-work-related websites, etc.
Pricing
| | | |
| --- | --- | --- |
| Plan | Pricing/Month (Billed Monthly) | Pricing/Year/User |
| Basic | $7 | $70 |
| Standard | $10 | $100 |
| Premium | $20 | $200 |
Best for
It is best suited for mid and large-sized enterprises/businesses. The desktop application is a little tricky to use and can be difficult for a freelancer to operate it without support.
Toggl Track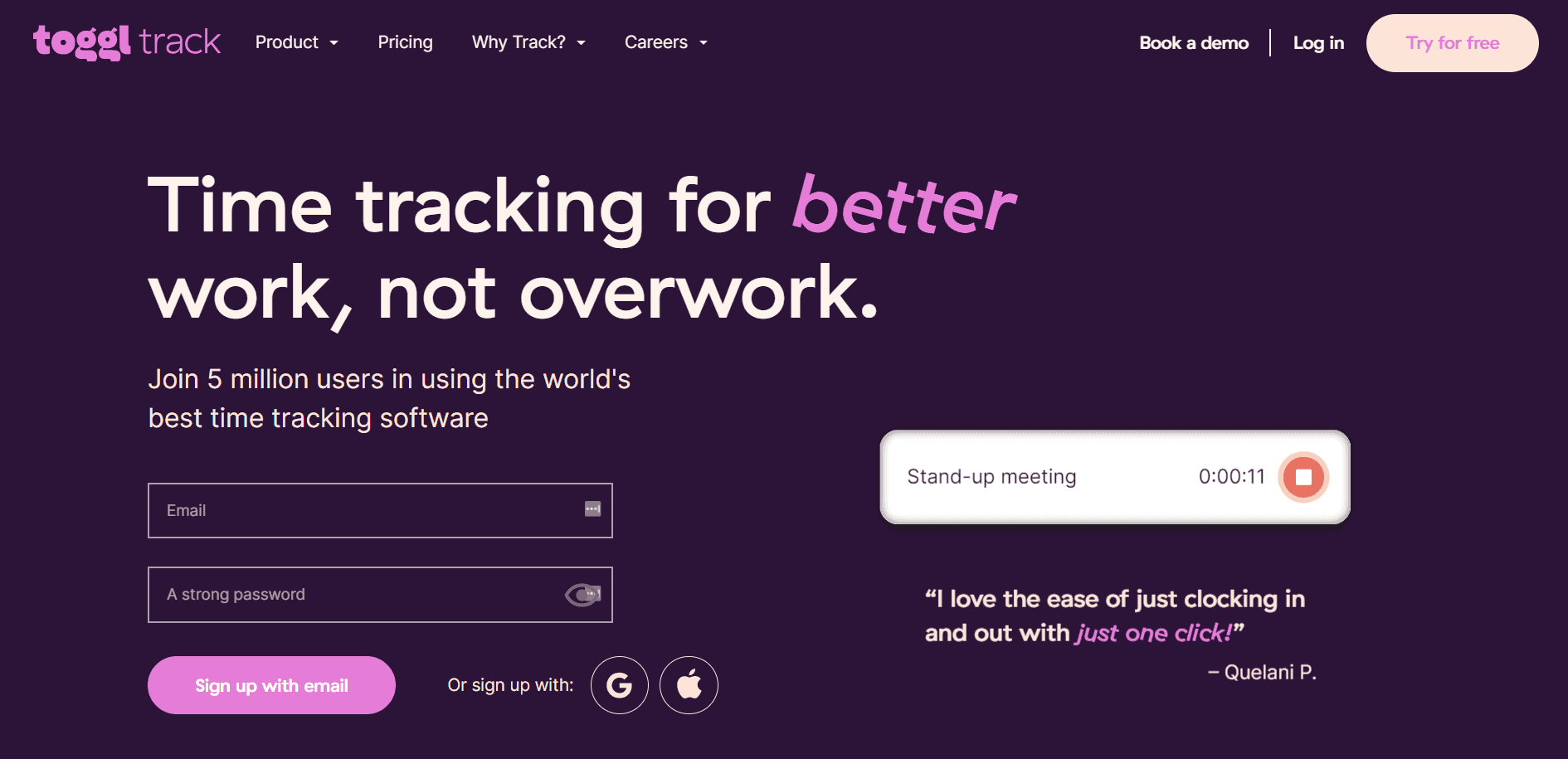 Toggle Track formerly known as Track has been awarded the Editors Choice Time Tracking Software for freelancers and small-sized businesses. As a freelancer, you can use this app to track your billable hours easily. Students can also use it to improve and manage their productive hours. The free plan can allow 5 users. For adding more users, upgrade versions can be used.
Features
One Click Timers - With this feature you can track time across all the platforms simultaneously like browsers, mobile phones, and desktop apps. All the entries from the platform will sync automatically in the timesheet.
Background Tracking - With background tracking all the applications and websites used while working will be tracked. The results will be automatically entered into the timesheets.
Pricing
| | | |
| --- | --- | --- |
| Plan | Pricing/Month (Billed Monthly) | Pricing/Month (Billed Annually) |
| Free | $0 | $0 |
| Starter | $10 | $9 |
| Premium | $20 | $18 |
| Enterprise | Contact Support | Contact Support |
Best for
It is best suited for freelancers and small-sized businesses. Free versions are available to help users make an informed choice.
Timesheets.com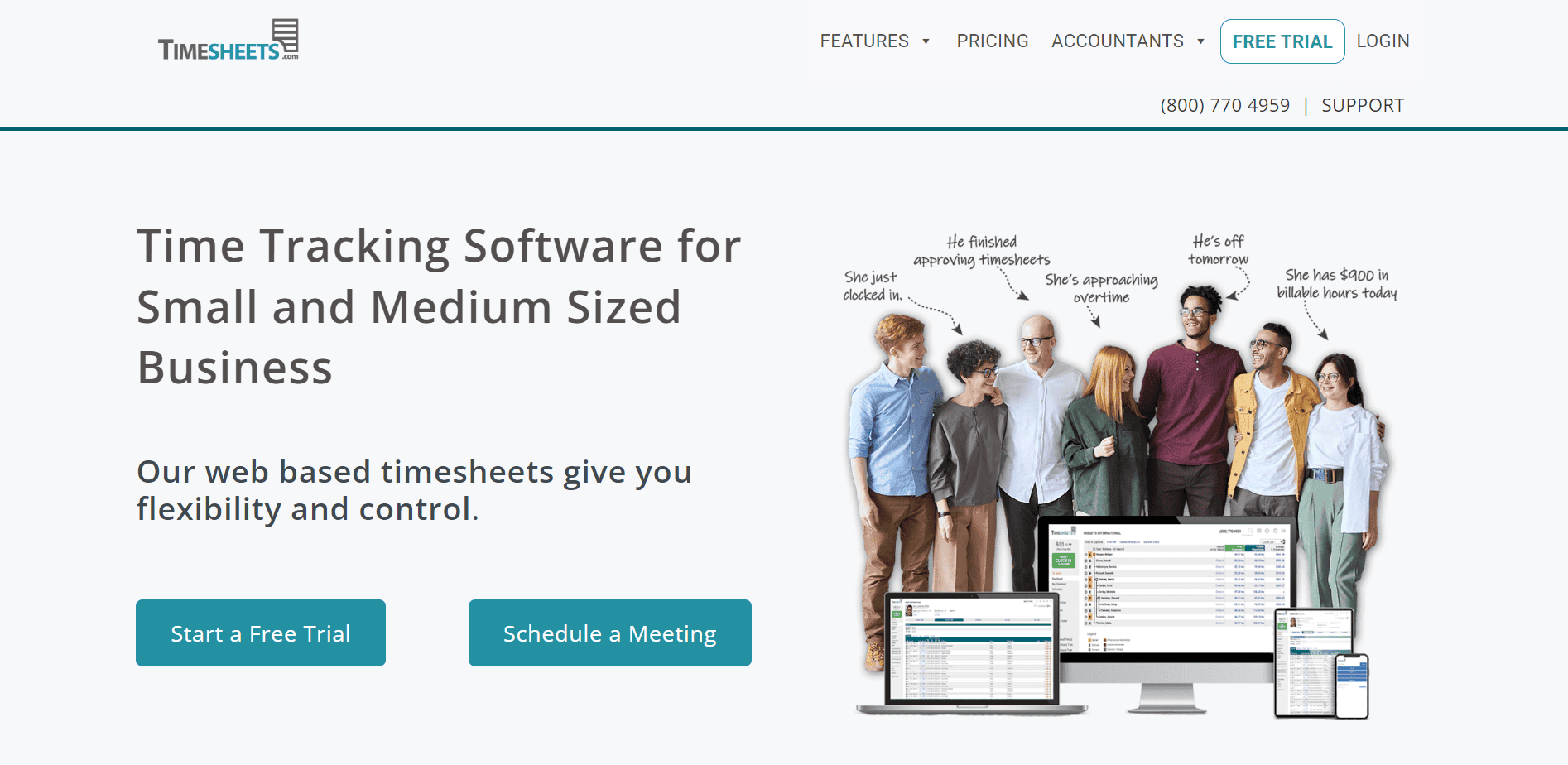 Timesheets.com is a cloud-based time tracking software that allows employee time tracking and management from anywhere. It also marks attendance to allow you to keep track of your employees productivity. It automatically detects calculation mistakes, and timesheet errors and sends alerts to fix them. With timesheets.com you can also restrict access of employees project to project basis.
Features
Detailed Audit Trails - It can be difficult to keep track of all the expenses and the constant changes. However, with the detailed audit trails feature, you can track every change easily without having to do everything manually.
Report Exporting - Timesheets.com does not only generate detailed and analytical reports but also allows you to export them in any other format you want like spreadsheets, pdf, text, etc.
Pricing
| | |
| --- | --- |
| Plan | Pricing |
| Freelancer | $0 |
| Standard | $4.50 |
| Nonprofit | $3.60 |
Best for
Timesheets.com is best suited for freelancers and non-profit organizations. No extra setup fees and base fees have to be paid. Nonprofit organizations can also avail some extra features and benefit from its great customer support team.
Conclusion
Now that you know about the benefits of a time tracking software, choose one from the list of the best time tracking software and get started. To learn more about them, you can visit their official websites and do some research.
A good time tracking software will not only streamline the workflows for you and your employees but also boost productivity. We advise you to begin using the software through a trial plan. This will allow you to make an informed and check if the functionalities of the software cater to the need of your organization or not. Happy time tracking!