Introducing Startup - Best Business Portfolio Template for Startup Company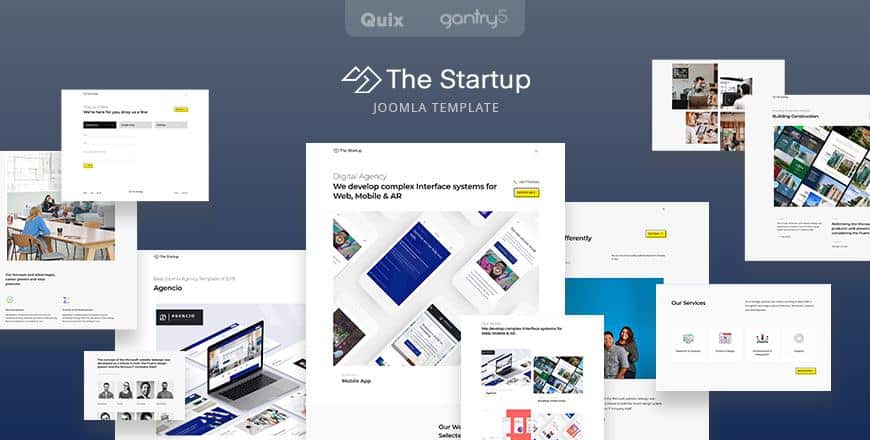 Today we are incredibly thrilled to introduce our brand new business portfolio template called Startup. Its multi-layered parallax effects will g...
Today we are incredibly thrilled to introduce our brand new business portfolio template called Startup. Its multi-layered parallax effects will give your website a modern and dynamic look. It will fit perfectly for your business, agency, and portfolio website with its clean minimal style and animation effect.
Our monthly release Startup template is specifically designed to ensure the speed of your website. It won't compromise with the speed in any situation. Moreover, it is exceptionally handled to load fast with a slow internet connection. This is the best fully responsive Joomla business portfolio template we've ever created.
Startup requires the next-generation Joomla page builder - Quix 2.5.x, the latest version of Joomla 3.x support, and the Gantry 5 framework available on your computer.
Let's unfold our new Startup template's unique features, elements, and compatibility.
Why Use Startup Template?

​
Startup is a creative, modern, and professional business portfolio website template. If you are a team of experts, who are looking to expand their reach, you should create a striking online presence with our Startup template, and make a difference.
Here's the feature list that our startup template exceptionally designed to accomplish your crave.
What's Inside Startup?
Startup is a clean, and elegant Joomla Portfolio template entirely belongs to startup, businesses, and organizations. A wide range of new features with next-generation Gantry 5 framework, will impress your site visitors at a Glance. It will allow you to apply your preferred style with the exceptional drag and drop Joomla page builder Quix.
Our new Startup template consists of one homepage and five inner pages. Let's explore them;
The default homepage layout is dedicated to assisting all those people who have a startup plan and are desperately looking for a platform to implement their idea. The homepage starts with an animated heading followed by several content areas such as featured project, project display, our services, blogs, and a few more blocks.
The work page allows you to display all your projects in an eye-catching, decorated way. You can show as many projects as you can on this page. Furthermore, each project has a details page that means you can add every point of your project with images on that details page.
The story page begins with a counter element. It informs your visitor about your number of employees and works of experience. You can add your success story, customer feedback, and other stories here. It also enables you to introduce your team here.
The service page starts with a featured service name, short description, and image. Afterward, it contains a service list with service name and description. You can showcase your all services here in a synchronized way. It's committed to advertising your service to your visitors with a stunning view.
Career page is exceptionally designed to announce circular news of your startup. You need to collect suitable people for your organization as you want to form a team. We care about your thinking, and we design the career page from that responsibility.
The contact page allows your user to place their queries. It has a contact us section that will allow your user to inform you if they have any business idea or feedback. It allows you to set a Google map so that your user can easily find you.
1 Homepage with 5 Inner Pages
Typography Control
Mobile Responsive
Easy Customizable
Drag and Drop Development
Smooth Animation
Constant Update
Dedicated Support
Gantry 5 Framework
Speed Optimized

​



Quick-start Package included
Full-Featured Blog
Smooth Accordion
Quix Joomla Page Builder
Quix Particles
Built-in Pages
Cross-Browser Compatibility
Dynamic Navigation Menu
SEO Optimized
Gantry 5 Framework
Joomla 3.x Support
Quix 2.5.x Support
Firefox
Safari
Chrome
Opera
Edge
Quix 2.5.5 Is Here with Some Improved Feature & Bug Fixes
Hey there! Last time we released Quix 2.5.4 with our hype creator Agencio - the best agency template 2019. This time, we followed the same strategy. We are very proud to announce that, we have released Joomla page builder - Quix 2.5.5 with our brand new Startup template. We are expecting the same appreciation from you guys.
Quix 2.5.5 is released with some improved feature that was asked to improve from our beloved users. Our developer team really worked hard this time to make you smile in using updated Quix.
We know there is still some sector where Quix should be more improved. Let us know where Quix should be further improved to meet your demand. We will make sure your satisfaction in our next updates.
So stay tuned to get the update and now let me show you the improvements that we have brought for you with Joomla page builder - Quix 2.5.5.
There was an option to copy and paste any section in our previous version of Quix. However, the problem was, you couldn't paste that wherever you want rather than it was pasted in the last section automatically.
This problem has now disappeared. Our updated Quix will allow you to copy any section you want and paste that section wherever you need it. You don't have to worry about this issue of copy-paste.
After finishing your design, if your user does not like it, you will be able to redecorate the design. You don't need to restart the design, but to reorganize the design. That means that our updated Quix will save your time while at the same time cutting off your redundant work.
Apart from the issue of copy-paste, we have improved some more features according to your demands. This time we've solved the issue with Quix performance and Quix image optimization.
We've also fixed the issue with Blurb Element, Video Carousel, Accordion Element, Video Element, and so on. These all the changes are dedicated to enhancing your user experience. Let's check the Changelog for more information.
The startup template is all about a business portfolio template to help startup people. Let us know how much of your desire it fulfills. We would also like to know your expectation from us. So, drop your thoughts below the comment box.