Artisteer - Why You Should Not Use Joomla Template Created with Artisteer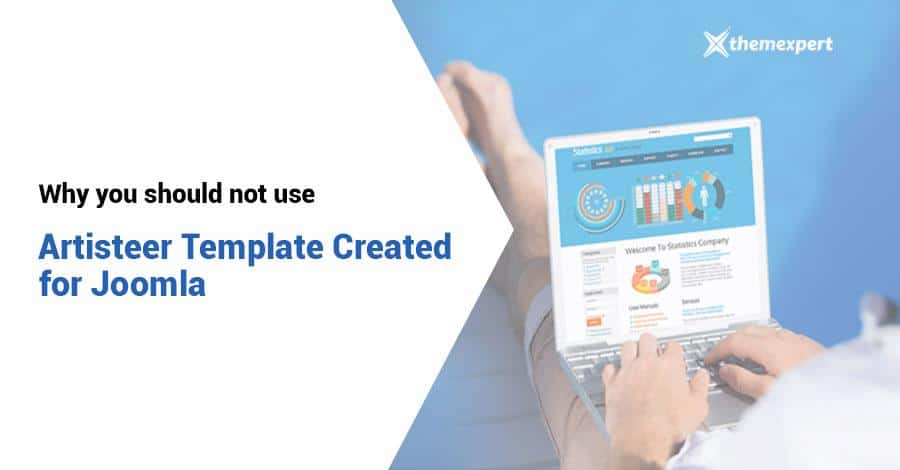 Let me tell you a story first. Once upon a time, there was a king named "Y." His kingdom was adorned with swellings. People used to praise his w...
Let me tell you a story first.
Once upon a time, there was a king named "Y." His kingdom was adorned with swellings. People used to praise his wise decision and pray for a long reign. He provided all the necessary stuffs for his beloved tenants on a regular basis. People were grateful to their king and paying taxes regularly.
But things were changed all on a sudden. The king, being frustrated, stopped providing all the facilities to his people. As a result, people started to leave his empire. As there was no valid reason to support such a king.
The same things have happened with Artisteer and its users. Earlier it was used to consider one of the best template builders for its limitless features and updates. But nowadays, people have started to avoid Artisteer as it has failed to follow the recent and contemporary trend. It is neither giving any update nor new features.
So, why you will choose Artisteer?
Then, what's the solution?
Where will you get your targeted Joomla template?
Don't worry, as ThemeXpert has brought a huge collection of smart designed and fully functional Joomla templates for you. Moreover, you can grab a very easy to use Joomla page builder - Quix. It offers you both free and premium versions. You can easily create your Joomla template and website using Quix.
In case you are a WordPress user, you also have something interesting from us. ThemesGrove provides the hype creator WPOnepager and WidgetKit for the WordPress website.
Now, let me show further reasons to leave Artisteer.
What is Artisteer?
Artisteer is a theme builder software that can export themes for WordPress, Joomla, Drupal as well as HTML templates (for programs like Dreamweaver) and Web Development templates for ASP.NET and CodeCharge.
According to the Artisteer, using Artisteer, you can be a web designing expert, editing and slicing graphics, coding XHTML, and CSS, and you can create CMS templates and WordPress themes - all in minutes and without Photoshop, Dreamweaver, or technical skills.
Main Reasons to Avoid Artisteer
​You can not control which browser your user will use as well as you can not decide which version of that browser your user will use. Therefore, your website must run seamlessly on every browser and every version to make sure a better user experience.
Artisteer lacks when it comes to compatibility with an earlier version of Internet Explorer. According to a study, Internet Explorer has 13.5 percent of the total market. So, you can't ignore a huge amount of users if you are serious in your business.
​As a techie guy, you already know that, without a responsive design, you will fail to draw your users' attention as well as you won't be able to convert them to your potential customers. A website without visitors and customers like a website that nobody wants.
Artisteer is responsive only in version 4 and not in earlier versions. If you are a previous user of Artisteer, either you need to update your version or stop using Artisteer. So, I can't convince myself to suggest you for using the Artisteer template builder.
All the themes and templates that are created by Artisteer aren't enough SEO compatible. It is a common issue with Artisteer. A lot of discussions have taken place for this particular issue. However, Artisteer still didn't come forward to break this issue.
Without making your website enough SEO friendly, you can't expect a good conversion rate that ultimately leads to you a lost project. If Google can't recognize your website or you can't manage your website in a way that Google can crawl you, then there is no meaning to build a website. Who wants to own a visitor less website? No one, right! Then, no reason to use Artisteer.
​Artisteer has stopped updating their products for a long time, which means you won't get any update from Artisteer. Without update your software, you won't be able to keep up with the era. Moreover, Artisteer didn't launch any new service for a long time.
Therefore, it is an easy decision to give up Artisteer and looking for something new and updated. If you want to cope with the pace of the contemporary design and website, you must choose a modern and updated template or theme that can be handy for creating your eye-catchy and fully functional website.
It generates unnecessary codes while you are building templates or themes using Artisteer. It will generate extra CSS code, additional .JS code and PHP code, as well. Ultimately you will be presented with a chunk of total messy code. That definitely won't create your pleasure moment.
Anyway, you can't spend all day trying to fix a program that's supposed to work, so you should not pick a thing that is incapable of meeting your demand.
Artisteer builds simple, professional themes - and it does it very well. If you're looking for something wildly different, then this might not do what you're looking for.
Overall, I don't find a single valid reason to continue with Artisteer. If you find any strong logic to choose Artisteer, let us know through the comment box below. You are also requested to share your experience of using this theme builder software with us. The comment box is open for you.