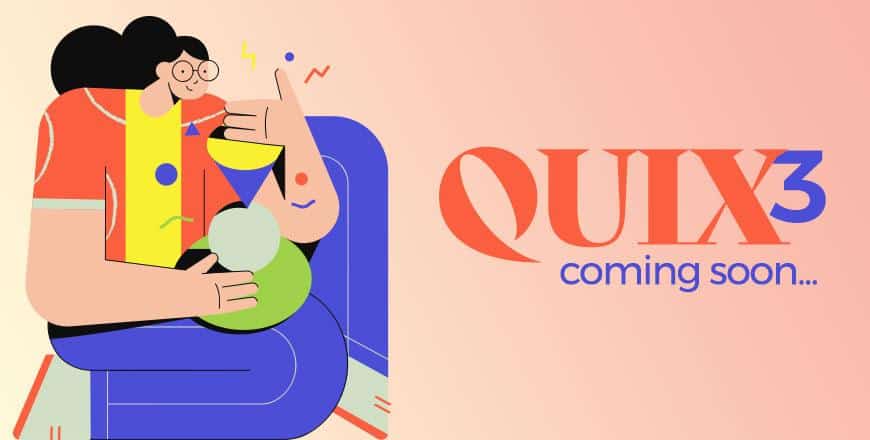 Quix 3 is on its way to amaze you once again. In each release of Quix, we always think of something new with more advanced features and we have maintained this for the last three years with user satisfaction.
Over the years of experience, we have applied all the things we have learned to make Quix even better. Lucky you, this time, we're introducing five new features for the first time ever in Joomla.
Our main focus for Quix 3 is the all-new visual builder, dark mode in Joomla page builder, Quix as an editor, custom layout builder, and the bonus part the revolutionary Joomla file manager; far more rich media manager than the default Joomla file manager.
​Let's know a little more details.
Visual Builder
We gave a whole new look to the revolutionary visual builder of Quix 3. This time we introduced the sidebar with the existing modal interface. It is not only a so-called user interface but also an intersection builder between the clients and Quix itself.
We have flourished Quix as a modal based drag and drop visual page builders from the very beginning. But to keep pace with the era, you have to think differently. The new Quix 3 visual builder is the result of that thinking. It will blow your mind as well as your thought perspective for sure.
Dark Mode
We are going to introduce the first-ever dark mode in Joomla page builder. The advance feature will give your website building process a whole new level of experience. Quix 3 ensures a standard look even in the dark mode with comfort; therefore, no discomfort issues at all. Isn't it exciting?
We recreate Joomla editor in the all-new version and bring out Quix as an editor for the first time in Joomla. The vast options of Quix give you full freedom over article writing. Now you can create a spanking article with Quix editor, design it with all the elements Quix offers, and gives it a whole new level of creativity.
Now you are free to design any custom layout with the upcoming Quix 3 custom layout building feature. From the header to the footer, design any layout or a page, move any section from the sidebar to the bottom you want. Implementing your own designing style instantly is more realistic than ever before with the Quix page builder.
The part of our gift: Quix all-new file manager. The default Joomla file manager sucks! Indeed it is the worst feature Joomla itself offers. You can't search, copy, move, order the file even can't go back or find any file with comfort as the existing folder tree is garbage.
Quix all-new file manager is a blessing that gives you full control over your media file and folder. You can do everything the default Joomla doesn't offer. Besides, you can order your file in ascending or descending, see the last modified media, view your media either grid/list, upload multiple files at a time with optimization, apply permission over the file, and many more outstanding features.
The best part is, all these fantastic features are entirely free. We have a plan to bring the file manager as an extension for Joomla shortly. Till then, try the new file manager and be amazed.
Wrapping Up
Excited? Why not! The most significant update of Quix is on its way. I think the all-new Quix 3 will force you to fall in love with Joomla again and change the way of thinking about Quix page builders. Wait for the release then.