10 Best Social Media Listening Tools of 2023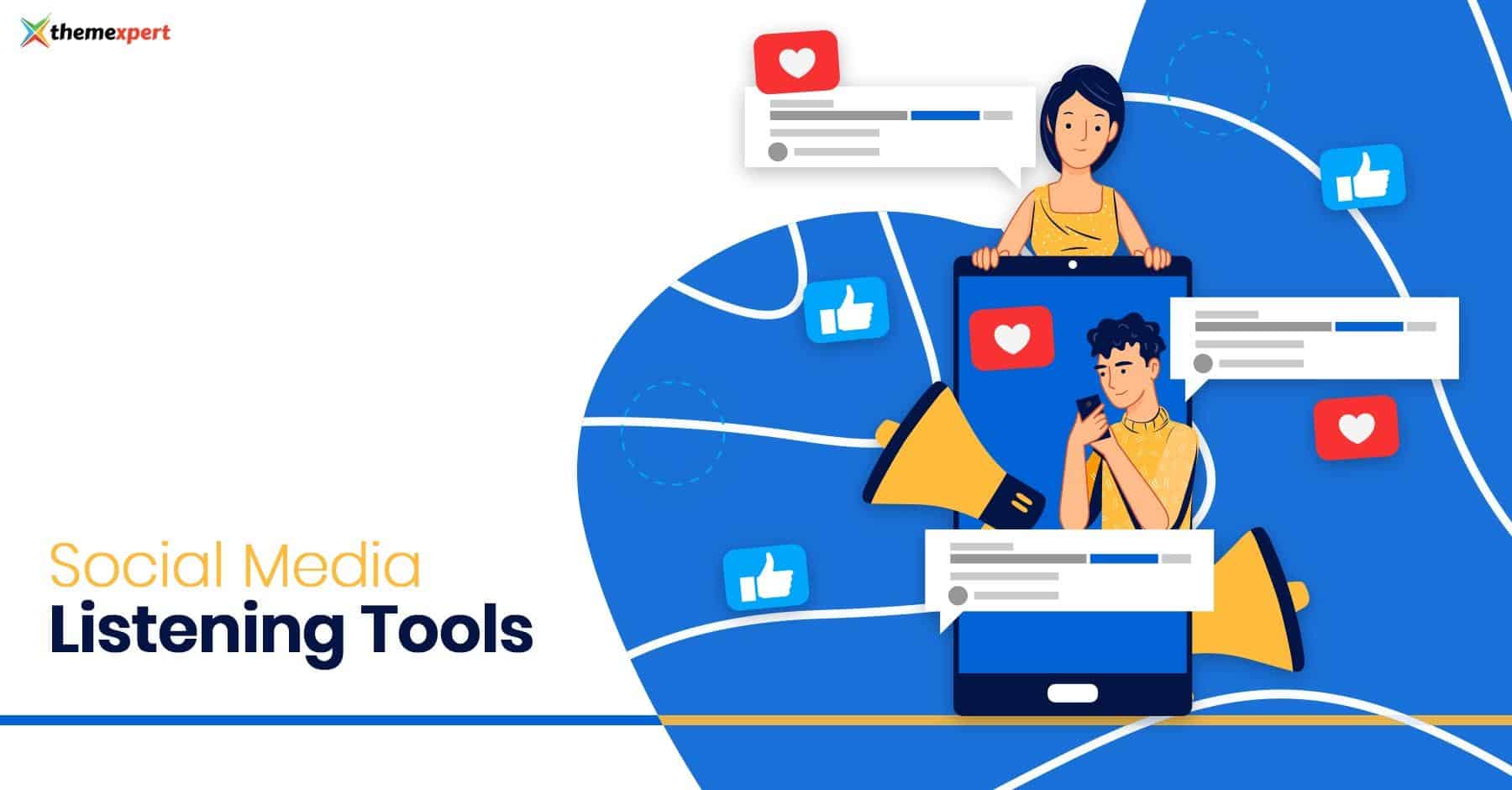 The business organization requires a lot of resources to carry out business, among which social listening is a viable and practical resource. Having a proper social media listening tool makes it easier to detect keywords and learn about the audience and what they want.
Social media tools provide many features, and it is up to the users to take benefits for business. Social media listening helps you get to know your customers better and build organizational strategies accordingly.
Best Social Media Listening Tools of 2022
Tool

Best Features

Pricing

Hootsuite

Content scheduling, planning with social media streams and features for customer interaction, multiple account platforms.

Professional:$49/month

Team : $129/month.

Business: $739/month

Sprout Social

Analytics reporting, social media monitoring, social media scheduling with listening features.




Standard $89 p/u/m ,

Professional $149 p/u/m,

Advanced $249 p/u/m (all billed annually)

Buffer

Social media analytics, customer engagement, planning, and scheduling feature.





$0-$5 per user/social channel

Falcon.io

Social media management, audience management, Advertisement and Benchmarking, Tracking performance, and Social listening feature

$108 per seat per month

Awario

Social listening with report generation, analytics feature with social selling options,

Starter:$24/month,

Pro:$74/month,

Enterprise:$249/month.(all billed annually)

Mention

Social listening with alerting, monitoring, listening, and publishing features




Free: Euro 0,

Solo: Euro 29,

Pro: Euro 99,

Pro Plus: Euro 199,

Keyhole




Influencer tracking and profile tracking with analysis report, hashtag tracking, and social publishing.

Basic:$49/month,

Plus:$99/month,

Professional:$199/month

Buzzsumo

Content discovery and research, finding influencers, and monitoring of social media.

Free:$0,

Pro:$99/month,

Plus:$179/month,

Large:$299/month

Brand24

Automated sentiment analysis, customer engagement, reports with metrics, hashtag tracking.

Plus:$49/month,

Premium:$99/month,

Business:$149/month,

Max:$249/month,(all billed annually)

Agorapulse

Social media monitoring, inbox, reporting, publishing features.

Pro:$79/month

Premium:$159/month

(Both billed annually)
What is Social Listening?
Social listening refers to knowing whether positive or negative conversations occur in social media or online platforms regarding the company or business products with services. The gathering of customer data helps in analysis and strategy building for improving marketing models and other metrics for the business.
Social listening is essential as customers trust the guides on social media regarding any product and take actions accordingly. They trust the reviews and recommendations of the influencers rather than the advertisements.
How can a Social Listening Strategy Help Your Business?
The social listening strategy enables business owners to know what the people think about the brand. You can analyze their thoughts, feedback, and reaction to the products you create or manufacture from the industry. This reporting can include the new strategy for meeting business goals.
Businesses can research other competitor brands, analyze the reactions they receive, and finally make changes in their strategies. Social listening software helps save the cost and time of a business organization. With social listening tools, you can use workforce analytics and time tracking tools like timeTracko.
Some other ways in which social listening strategy helps your business are:
You can analyze qualitative and quantitative metrics that build your social media strategy with social listening platforms.
Business brand reputation is protected when you cover the customer service issues via social media listening.
The honest feedback from customers helps businesses improve the quality of products and provide better customer care services.
It is easier to understand the psychology of product users, like why they are not satisfied with the product, what they are expecting.
The social listening tool allows the benchmarking of your brand, focusing on the volume of conversations about the brand in social media.
Social listening software helps in identifying the influences who can promote your business.
What are Social Listening Tools?
Social listening tools, in simple terms, refer to the software and tools that make the process of social listening easy for business holders. The devices track media in which there are mentions about your product or brand with the help of keywords.
Online mood detection is easier with these tools. You can engage with the customers better after sentiment analysis and change the business strategies to modify the product as per the needs of customers with product intelligence.
Top Social Listening Tools
With the variety of social media listening tools available in the market, finding the best social listening tools is essential. Such software works perfectly and helps in meeting business goals. Some top social listening tools are :
1. Sprout Social
Sprout Social is a tool designed for handling social media with analytics features. It is an intelligence tool that fits any business for managing conversations in social media. With social listening, it helps in customer relationship management.
Best Features of Sprout Social
Sprout Social has an inbox that helps communicate and engage with monitoring.
This app makes it easy to plan and post content with a team for the social content online.
The analytics feature helps you analyze the social data, derive conclusions, and improve decisions.
Social media conversation tracking is possible so that it helps businesses make good marketing strategies.
The brand advocates can extend the social reach and promote products.
Pricing of Sprout Social
Standard: $89 per user per month.
Professionals: $149 per user per month.
Advanced: $249 per user per month. ( All three billed annually)
Sprout Social is Best For
Analytics Reporting includes generating reports from all social media accounts in your system. It keeps users updated on the total followers, content posts, and interactions.
Posting content is more accessible with the scheduling feature to schedule posts in different media.
Monitoring or listening is possible by using keywords that resemble your brand or company product.
2. Buffer
Buffer application helps maintain the different social media accounts from one platform. Users can get further insights and data with social content and posts from the buffer application, making it easier to handle social media and is a free social listening tool.
Best Features of Buffer
Users can measure their activity in different social media and analyze the statistics developed.
The planning of campaigns is possible by scheduling the content posting time, which makes the work systematic.
Buffer uses hotkeys and labels to help you quickly reply to the customers' queries.
Analyzing the data of your usage, total likes, comments, and engagement allows you to track your own pace of work and make improvements.
Pricing of Buffer
The publishing tool is free of cost with a $0/social channel.
The basic version includes analytics and engagement tools at a $5/social channel.
Buffer is Best For
The time selection for scheduling posts on social media is a good feature.
The social media analytics feature allows users to track their growth and build new strategies.
Providing faster replies to the customers helps in improving the business.
3. Hootsuite
Hootsuite is a free social listening tool available for use. The application monitors conversations and detects the matching keywords to reach mentions and hashtags of your company or the services and products.
Best Features of Hootsuite
Hootsuite is device-friendly, and the application comes in the dark mode that is best suited for your eyes.
Users can create posts, edit them, make changes to drafts, and schedule the time to put content online and manage their content.
The Hootsuite application improves the quality of customer service by improving the conversations with your customers.
This app helps you to evaluate the conversations, keywords, and hashtags relating to your product or business in social media streams.
Pricing of Hootsuite
The professional version costs $49 per month.
For teams, it takes $129 per month.
The business version takes $739 per month.
Hootsuite is Best for
Viewing social streams from different social media accounts is possible via Hootsuite.
It is easier to manage the social media content and schedule content.
You can respond to the visitors' queries and answer them by sending messages from the same inbox for better interaction.
4. Falcon.io
Falcon.io is a platform for monitoring social media, managing them, and analyzing customers' data. With the falcon.io application, the users benefit by exploring digital marketing and customer engagement features from one place.
Best Features of Falcon.io
The listening feature of Falcon.io, powered by Brandwatch, tracks across 100 million sources on the internet. It helps to detect the latest conversations and ideas about your brand or keyword.
Social Media Management is one of the features provided by Falcon.io, which helps you stay updated on different social media activities, and you can save a lot of time by content management.
Audience management helps you manage your customers, and one card is enough to handle all customer data, and you can target the audience.
It is easier to manage customer engagement as you can look after the messages in a single inbox. This feature allows you to work in teams properly.
Strategic services help track your performance, from which you can make strategies to advertise via advertising features for benchmarking.
Pricing of Falcon.io
The cost of application usage is $108 per seat per month.
Falcon.io is Best For
The social listening feature is real-time, and you can receive alerts.
You can easily manage your audience and reply from a single platform.
5. Awario
Awario app is a social media monitoring app, and it helps in social listening by monitoring competitors. You can track how people are conversing with your brand name and give influencers chances to promote your product.
Best Features of Awario
The monitoring feature tracks the web on the keywords you set in real-time. Social listening is easy with this app.
Analytics feature helps the users analyze how rapidly their brand name mentioning happens online.
Social selling includes features for generating leads and an option that leads to sales opportunities. The app asks for posts with complaints about your competitors.
Boolean search allows you to manually enter the places you wish to track, like Facebook, Instagram, or Twitter.
White label reporting is from the inner data regarding social listening and vice sharing with influencers.
Set negative keywords to avoid unnecessary discussions, and you can assign priority to the conversations.
The teamwork is easier with the management of folders, and the app is device friendly as you can access the account from your pc or mobile.
Pricing of Awario
The starter pack costs $24/month.
The pro version costs $74/month.
The enterprise version costs $249/month.
Awario is Best For
Tracking features help find how audiences talk about your brand, product, or services.
It is essential to keep a good reputation of the brand online.
The reporting from the internal data makes it easier to build strategies for business development.
6. Agorapulse
Agorapulse app helps to publish posts and schedule time for posting them. It is also a social listening tool that will help you find the recent trends of a particular product and mentions of your brand name or services.
Best Features of Agorapulse
It is easier to manage the messages from different social media accounts from one spot.
Users can plan and schedule the posts with content for social media.
The social media listening feature allows you to gain insights into your competitor and how you can advertise your brand product.
You can create reports via the app after analyzing the social media work.
Pricing of Agorapulse
Pro Version: $79/month
Premium Version:$159/month(Both billed annually)
Agorapulse is Best For
It helps manage the messages from different media handles.
Social listening can build an accurate plan of action after getting feedback from customers via tracking.
The reports make it easier to find how the present advertising trend works.
7. Mention
Mention is a multilingual monitoring app that helps you guard your company's online conversations and content. The notifications and alerts are real-time, available in 42 languages.
Best Features of Mention
The alert feature helps you set keywords, and after detection via boolean search, the searches are available as documentation.
The app keeps you updated on any number of mentions of the keyword you set and provides reports online.
For improving the strategy of work, you can listen and analyze the social media data with reports and look at posts from other competitor brands.
It is easier to build your presence on social media with the help of the Mention app.
Pricing of Mention
The free version costs zero Euro.
The Solo version costs Euro 29.
The Pro version costs Euro 99.
The Pro Plus version costs Euro 199.
Mention is Best For
Social Listening with social data and analysis via reports generated.
Setting keywords for brand name and services detection helps you know the mentions.
Improved brand promotion and social presence do not allow you to miss a mention of the keyword you set.
8. Keyhole
Keyhole application is best for the marketers who wish to know about their influence and work on different social handles online. It helps users in influencer tracking and analyzing the data from social media.
Best Features of Keyhole
The reporting feature helps generate reports that include your performance with social media.
With an influencer tracking feature, collaboration with an influencer for product promotion is feasible.
The profile and competitor analysis allow comparing the clients and accounts and your competitors' statements from the same screen.
Hashtag tracking is easy in multiple social networks, and you can improve your team's work via campaigns.
Social publishing allows managing the content as posts on social networking sites and organizing them properly.
Pricing of Keyhole
The basic version costs $49 per month.
Plus version costs $99 per month.
The professional version costs $199 per month.
Keyhole is Best For
Sharing your improvement at work with the reports generated from Keyhole.
Influencer tracking and analytics help find the best influencer to uplift your brand name.
Hashtag tracking and social publishing features make it easy to know the mention of your company as hashtags and publishing posts in time.
9. Buzzsumo
Marketers use the Buzzsumo app to curate content and analyze social media, and it is excellent for finding ways to optimize your content.
Best Features of Buzzsumo
The keyword tool helps generate keywords to improve the quality of your content and find titles best for your website or social media post.
It scans millions of content and helps you find the most popular content.
Finding influencers for your business is easier with this application as it helps compare the most shared and retweeted apps on social networks.
Buzzsumo monitors mentions and updates online, and you get an idea of the latest trends. It tracks your competitors and helps in listing events.
Pricing of Buzzsumo
The basic version is free.
The Pro version costs $99/month.
Plus version costs $179/month.
The large version costs $299/month.
Buzzsumo is Best For
Buzzsumo chrome extension improves the content performance.
The keyword tool is great for social listening.
It is easy to find influencers via the Buzzsumo app.
10. Brand24
Brand24 is a tool to track the mentions of your business, products, or services online, also termed as a media monitoring tool. The companies use this application to analyze the customers' social reactions by monitoring the online conversations.
Best Features of Brand24
This app helps build an excellent reputation for your business via automatic sentiment analysis and notification for negative mentions.
You are in touch with the customers via tracking and can take instant actions to answer queries.
The automated reports are in pdf or excel format, and you can track KPIs and engagements.
Hashtag tracking provides access to different hashtags, and you can find influencers for your business.
Pricing of Brand24
The plus version costs $49/month.
The premium version costs $99/month.
The business version costs $149/month.
Max version costs $249/month(all billed annually)
Brand24 is Best For
The instant notification on negative mention detection lets you take action, and the sentiment analysis feature is handy.
Hashtag tracking enables users to access necessary hashtag metrics.
The reports make strategy building easy with essential metrics.
Wrapping Up
Among the various social media channels, Facebook, Twitter, and Instagram require competitive analysis to improve your marketing strategy. The company reaches heights with other social media strategies and proper social listening tools.
Social media posts are essential to advertise the products on different networking sites. It is always good to use social media monitoring tools to keep an account of your work and make further improvements.