Introducing Quix Pro Beta - Form Builder, 30 New Elements, Unsplash Integration & Much More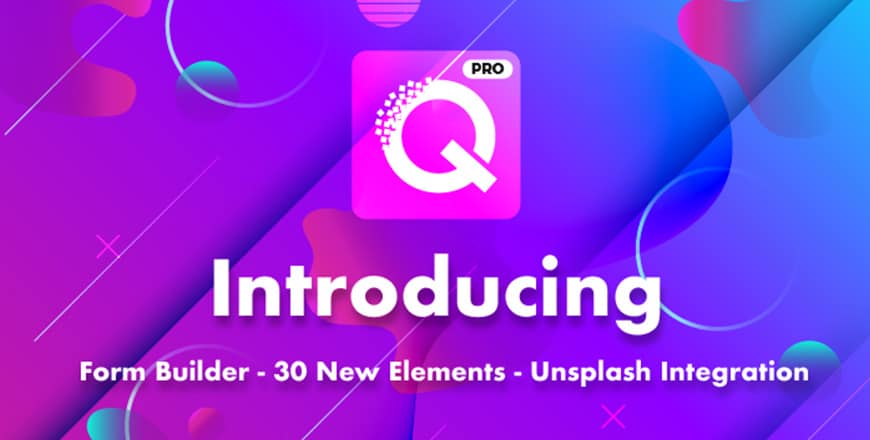 No one can resist a blasting news. Especially when it is about the best Joomla page builder Quix . It's been one and half month since Quix 2.0 h...
No one can resist a blasting news. Especially when it is about the best Joomla page builder Quix.
It's been one and half month since Quix 2.0 has been released. We are now back again as we promised. And this time we have brought Quix 2.1.0 beta version with 12 brand new pro elements and 18 new free elements.
It's not a myth. Now you'll get some more new mind-blowing elements with exotic features in Quix 2.1.0. You'll surely fall in love with each of these elements as they are bound with an advanced level of customization options.
To smoothen your workflow, we also brought unsplash integration in file manager so that you don't have to exit editor to search image.
What are you waiting for? Let's check out the details...
Unsplash Integration in Media Manager
Images Play a very important role in both development and client attraction. In development, it would be better if we could get everything in front of our hand and our focus would not be hampered due to this.
When you develop a site, some section might required images; therefore you begin searching for the image and leave the editor. To solve this problem, we have come with Unsplash integration with Quix Pro.
Now you will be able to insert your images into the specific area directly from the builder, you need not go anywhere else for images. Just go to Unsplash tab from media manager and insert your required images without any kind of trouble.
Everything in Quix is easily customizable, and you can easily style any section the way you want. Besides all of this, we have also kept a place for custom CSS. You will be able to bring any kind of change to your section according to your own terms.
Your custom CSS of one element will have no effect on any other elements, so you have to do custom code for every element separately. Use custom CSS element and do more with the help of Quix Joomla page builder.
12 Powerful Professional Elements
​Currently we have arrived with 12 pro elements. Lets discover the element details.
Countdown is considered as #1 sales trick to boost your conversions and sales. It creates the scarcity & urgency that forces people to buy products. Quix's countdown element allows you to create stunning countdown section with simple drag & drop.
By default, there are two views come with countdown element - Block & Inline. Choose the one that goes with your design. There are lots of ways to customize the countdown element; you can add a background image, gradient color or even background overlay with it.
There is no limitation to style your countdown box. If you can imagine it, you can build it with quix.
Form Builder
Previously if you wanted to build a form in Joomla, you would have needed third-party extensions. But now we have brought form builder element for you. With this element, you will be able to build any kind of form within minutes.
It comes with eleven types of fields with entirely customizable properties. You can customize the form element and take data from your users in the way you want. All the collected data will be sent to you over email, and you can add multiple emails if you want.
Make your website more interactive with interactive boxes build with call to action element. Combine text, image, button and start seeking the attention of your visitors and encourage them to interact and take action. After creating a section with the call to action element, bring it to life with elegant effects and interactions.
You can set background images, background overlay, gradient or any other special animation effect to call to action element with quix. This extra effect would cost you lots of custom coding, but now this can be done instantly with the help of quix.
Media contents always attract the eyesight of the visitors at the first watch. Media carousel is the element that takes your image and videos to the next level. You can show multiple media with spectacular effect by this element.
Media carousel is highly customizable and fully device responsive. You can fully alter the height width, spaces according to your need. If you want you can also customize according to specific devices with Quix.
Organize your image and contents without taking much space with the tab element of Quix. You can showcase your product or give any other information smartly with the help of this element, and it takes only a little space.
Every element of Quix is fully customizable and tab element too. You can set individual properties for both image and contents. Then style it like a pro with Quix Joomla page builder.
Images help to describe stories much better than text and slider do it more efficiently. Quix allows you to create a slider element in the shortest time with lots of style and effects. For using this element, you do not need to know any programming language as quix lets you do everything easily.
You can make your slider with heading, button, image, and text and finalize it with outstanding style and effects. Every slide you create with slider pro element will be responsive. You can customize the slider for each type of device manually. Its very easy to create any type of image, video and post slide with slider pro element of quix.
Headline provides the summary of an entire post and helps your visitor to get the idea of whole details in an instance. This influence rate will be increased at a better rate with the animated headline. It is very easy to create an animated headline and use, all you have to do is drag element and customize a little.
Animated headline comes with two default styles - Highlighted and Rotating. With highlighted style, you get nine magnificent animated shapes to highlight your headline.
Flip box is a mesmerizing effect which shows the flipping of the box when it is hovered. Flip box can make your content look more interesting and improve the user experience. This animation effect attracts more viewers as it appears like a magic trick.
In this new flip box effect, you'll get all the basic effects including flip, slide, push, zoom in, zoom out and fade. This animation works smoothly with no hiccups at all.
Gallery
The Gallery element lets you add image galleries into your website page. It comes with more styles and control.
It has Lightbox option that lets you style your gallery in 3 different ways - slide, fade and scale. If you wish you can set other properties like spacing, gap, width, height, border, shadow, etc as you needed.
It's never-ending for Quix. Quix, the most best page builder is getting strong day by day as it is embedding new elements. One of them is counter. The counter element will allow you to set the increasing numbers you want to use for any kind of purpose like - number of subscription, followers, site viewers, etc.
Counter is a demanding element as it shows the counting number in ascending order. You can use the counter element anywhere you want. You can put the number, duration, colors, and style it up with a ravishing background. The styling options let you control every design attribute of the number itself and the title below it.
Joomla Articles
Give your blog readers more comfort with Joomla Articles element. You can easily showcase your categorized or any uncategorized articles by using this element. In one article element, you can show as much of the articles you want.
You can order the articles by title, popular, ordering, or by the latest one. You can even set the Order direction by yourself. There are four default layouts come with Joomla Articles.
These layouts are list, group, deck, and column. Each has its own style whole look of your element will be changed with layouts. Choose the one that fits with your site, and there are lots of other settings available to be customized. Imagine it and give an exact look you dream with Quix.
Now, testimonial carousel element is included in Quix allowing you to add beautiful testimonials with fully customizable options. Testimonials can significantly increase the trust of your site visitor as it provides as a great social proof from your clients that your product & service is liked by many.
This element allows you to add the content of the testimonials of many people in one slideshow along with the name of the person who wrote it, profile image, job title controlling every aspect of the design. You can design each and every part of it. Just give it a try.
For everyone one we have brought 18 new free elements. These elements will help users to build more outstanding sections. These elements are - Accordion, alert, blurb, button, column, divider, google-map, icon element, heading, image, Joomla-module, person, HTML, social-icon, spacer, testimonial, text and video.
Mix your imagination with this elements and build your dream site.
We were always trying and we will continue trying to give you something better. This is the beta release of Quix 2.1.0 and soon we will release pro version. Lots of new functionality and elements still on the way. Don't hesitate to let us know your problem and feelings, just write down below on comment box. Till then stay tuned.