Quix 1.8.2 Arrived With Element Improvements & Bug Fixs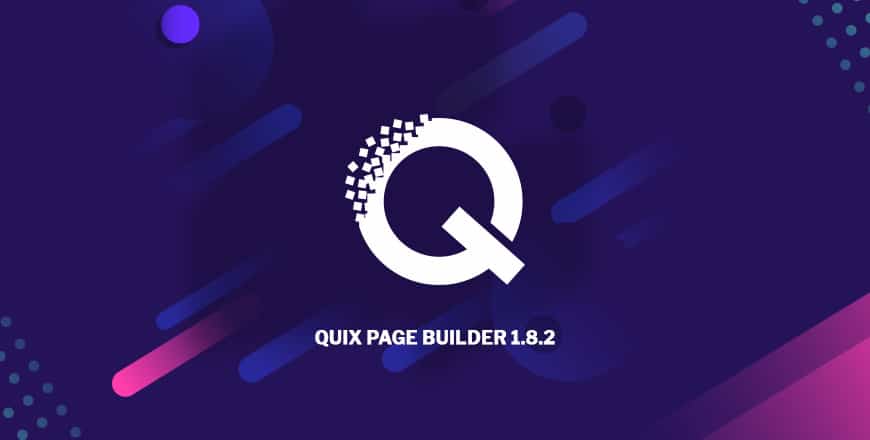 Hello Quix Lovers! Happy New Year 2k18. Hope you have already made your plan for this year and started to accomplish accordingly. On the eve of this n...
Hello Quix Lovers!
Happy New Year 2k18. Hope you have already made your plan for this year and started to accomplish accordingly. On the eve of this new year, we can't wait to share an announcement, guess what it is about?
Yeah! It's about your favorite pagebuilder Quix. We had been working the last couple of weeks for its improvement and were planning to give you a more stable version as a new year gift.
Finally, we did it, and the revolutionary pagebuilder Quix has been reached its next level (v1.8.2) with a bunch of bug fixes including huge improvements in functionality.
Quix had an SSL error in its File Manager, and now you will no longer have to face it in the current version. Else, the previous responsive issue in Joomla Article, Smart Tab, and Text element has been fixed.
Plus, Pricing Table margin-padding issue, Color Picker issue and more issues have been fixed in this version of Quix. Besides, you will find improvements in Slider and Gallery elements.
What's New in Quix v1.8.2?
We are always obsessed with improving our existing products to give them the latest technological touch. The intuitive pagebuilder Quix always remain special for us, and we work every single day for its betterment as you can clearly notice.
In every one of its updates, we definitely craft it with some cool features to make you guys happy. Apparently, no exception has happened this time too.
Let's quickly explore Quix v1.8.2
Slider Margin Padding & Color Option
You can now adjust your slider item with your prefer amount margin and padding plus each slider item header color can also be defined with this newly added option.
Gallery Element Box-Shadow & Background Option

​
Quix Gallery element has now box-shadow option to be applied to its every item. You can also change each of the gallery item backgrounds with any solid color you like.
Adjustment in Pricing Table Feature Box

​
Previously, there is a tiny problem in Pricing Table padding adjustments in the Featured box. Quix v1.8.2 has come with that fix too, and now you will no longer face this issue.
Read this before Update:
→ Take a complete backup of your website first.
→ Update Quix.
We aim to make Quix consisting all the features and functionalities, required to build a website is possibly the easiest way and less period. In case you face any issue, let our support team know, and we promise- your problem would be solved asap.
Also, feel free to share any of your thoughts and suggestion about this update in below comment section.