Quix Beta2 Has Arrived - Joomla! NOW has a "True Responsive" Page Builder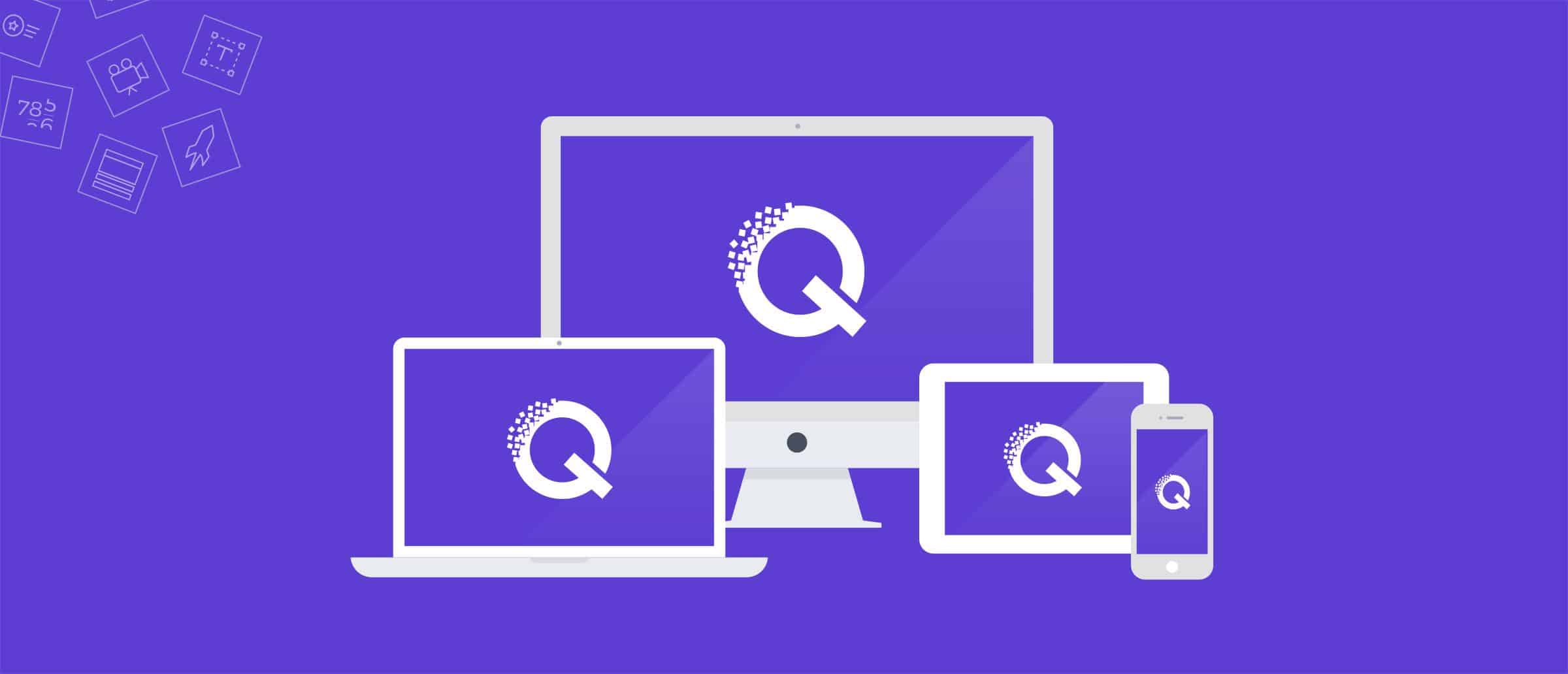 Quix Beta2 features Joomla's first True Responsive Page Builder technology. Quix exceeds the traditional responsive dropdown/checkbox settings, with an intuitive real time drag & drop interface. We are really proud for the responsive feature in Quix.
Not only the responsive feature, we've added 4 new elements and fix all bugs that we got after beta 1 release.
Responsive Mode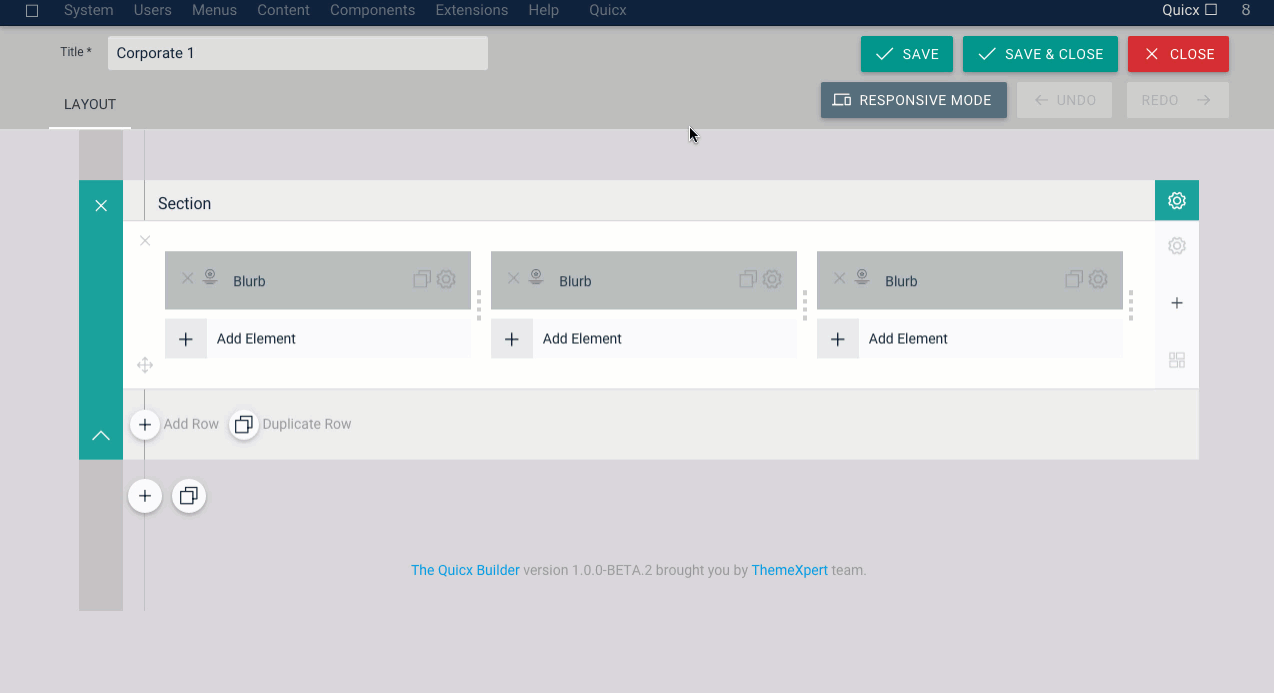 You can see a Responsive Mode button beside Undo/Redo button. By enabling responsive mode you can adjust column grid for different devices. Responsive mode is completely isolated and we removed all control icons from the builder, so you can adjust the layout for different devices without any distraction. Click on the device tab and drag the column size as you want.
Visibility Mode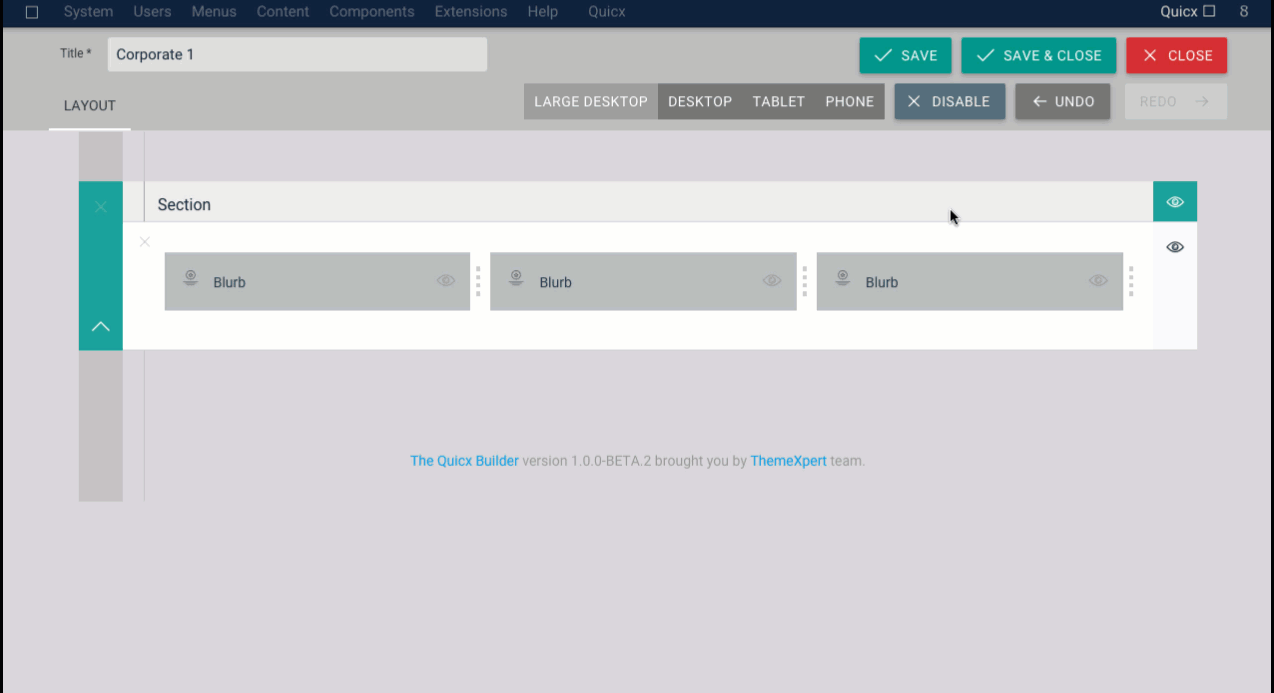 You can control section, row and elements visibility for different devices. That means, you can hide something on Tablet/Mobile or you can show something exclusively on Mobile. When you enable Responsive mode you will see a 'eye' icon for visibility settings and its only available when Responsive mode turn on.
Responsive Renderer
When it comes to visibility settings for different devices, every page builder use display:none; method to hide something. There is a big problem with this approach. When someone browse your website from mobile it actually load every pice of content and this method hide some part from displaying. It doesn't give any performance boost for mobile devices.
Quix handle this visibility option in different manner and thanks to our renderer engine. If you set visibility off for something(eg:section,row,element), Quix will never load it that device. It gives a huge performance boost for your website.
Blurb Element
You can now display your services, features or offering with our shiny new Blurb element. It comes with a handful amount of settings allow you to display content with image or icon with different alignment.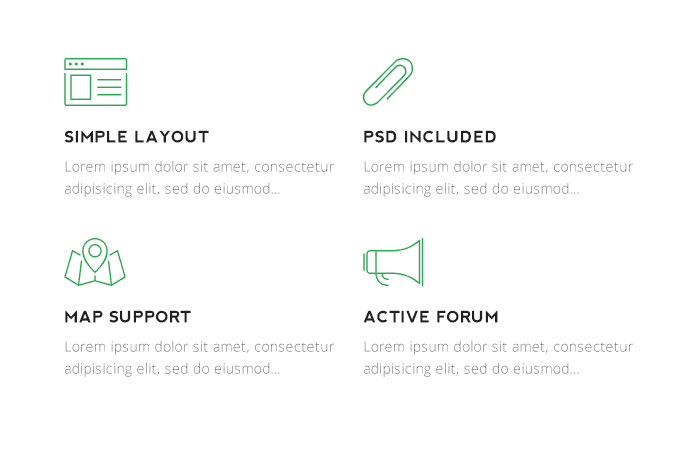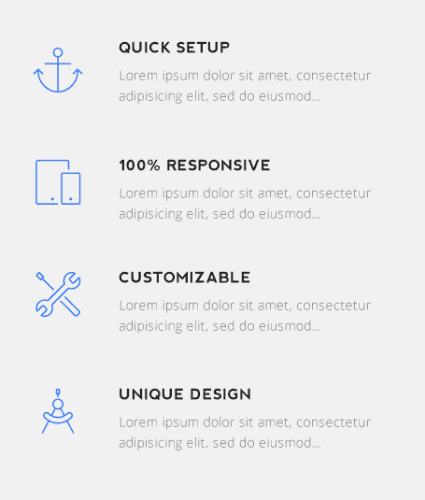 Accordion, Video and Icon Element
These 3 elements also coming with this release and we have now 9 elements in total. Every elements in Quix has lots of settings and we are continuously updating every elements.
Improvements and Bug Fixed
We reduced our main js file by 20% that means the builder is now more lightweight and faster. We are continuously investing our time to speed improvements and hoping to increase it 200% by next release.
We have also squashed all bugs reported after beta 1 release and improved the element settings pane style.
What Next ?
We reached our Beta 2 milestone in time and we are working really hard to meet our next milestone. This is the last beta version according to our plan and we are heading towards a more stable RC1 release next week. Have a look at our roadmap for clear understanding: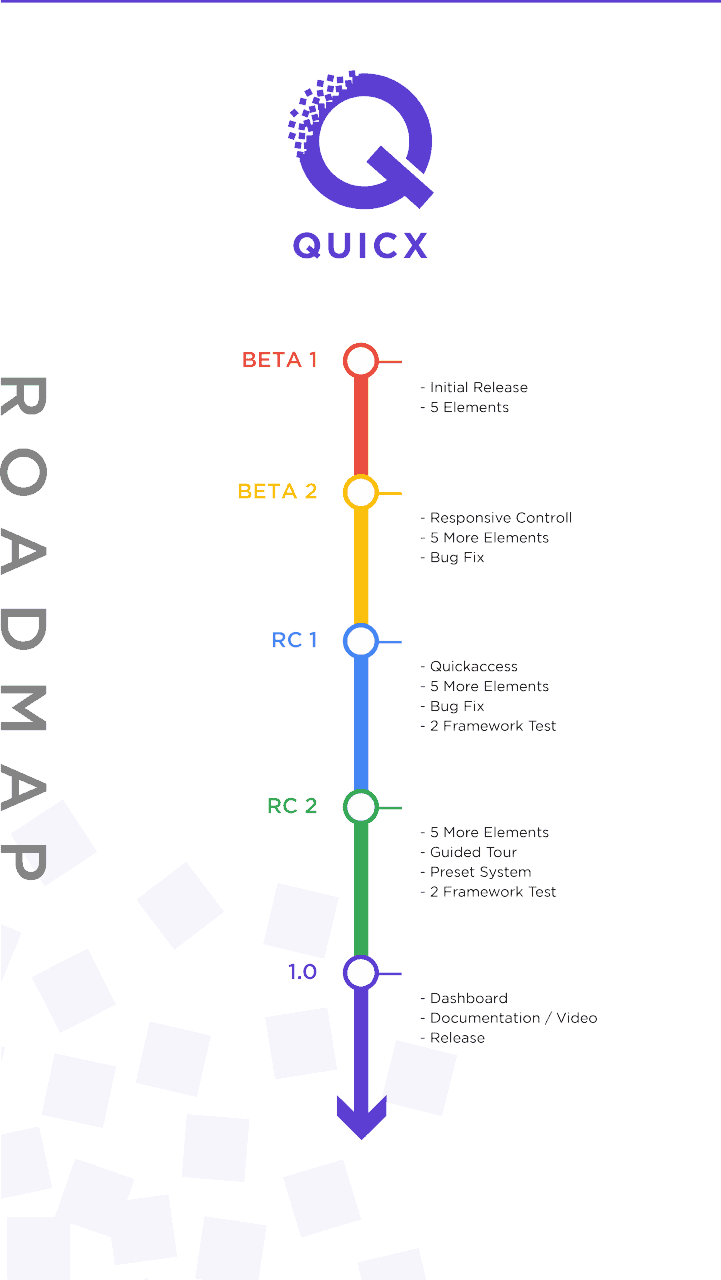 Please DO NOT use any beta software in your production or live site. Beta software are meant to be used in staging or testing site.
Our 40% discount offer will expire next week when we release RC1 version so grab Quix Premium copy before it gone!