How to Create New Language Override from Joomla Admin

Language always matters for a website, Joomla provides all specific pros and cons to run a website in any supported languages. According to Joomla community portal, 57 language pack is available in the Joomla extension directory at the time of writing. So, it can be said, Joomla is running almost in 57 languages.
Creating multilingual sites have become a lot easier with the new core integration of supporting more languages. In some case, you may need to choose a pack for your native languages. But only installing a language pack or using Joomla core languages may not give you satisfactory translated string.
Suppose you have installed a language pack for your native language or you have chosen an extension, it may produce some translation that may not appropriate for you. So, in this circumstance, you want to override the language string that doesn't suit your motto.
The overriding language string is comprised of few steps, you do not need to head over to the server to modify your language files. You can change the language text right from inside the Joomla Admin.
Step 01
Select the language string, that you want to override. Login to the Joomla admin panel, head to the Extensions > Language Manager > Overrides. Click on New button, search for selected word. Make sure you have selected Value for Search from the dropdown field.
You can see in the image below i have selected and searched for "Written by" string.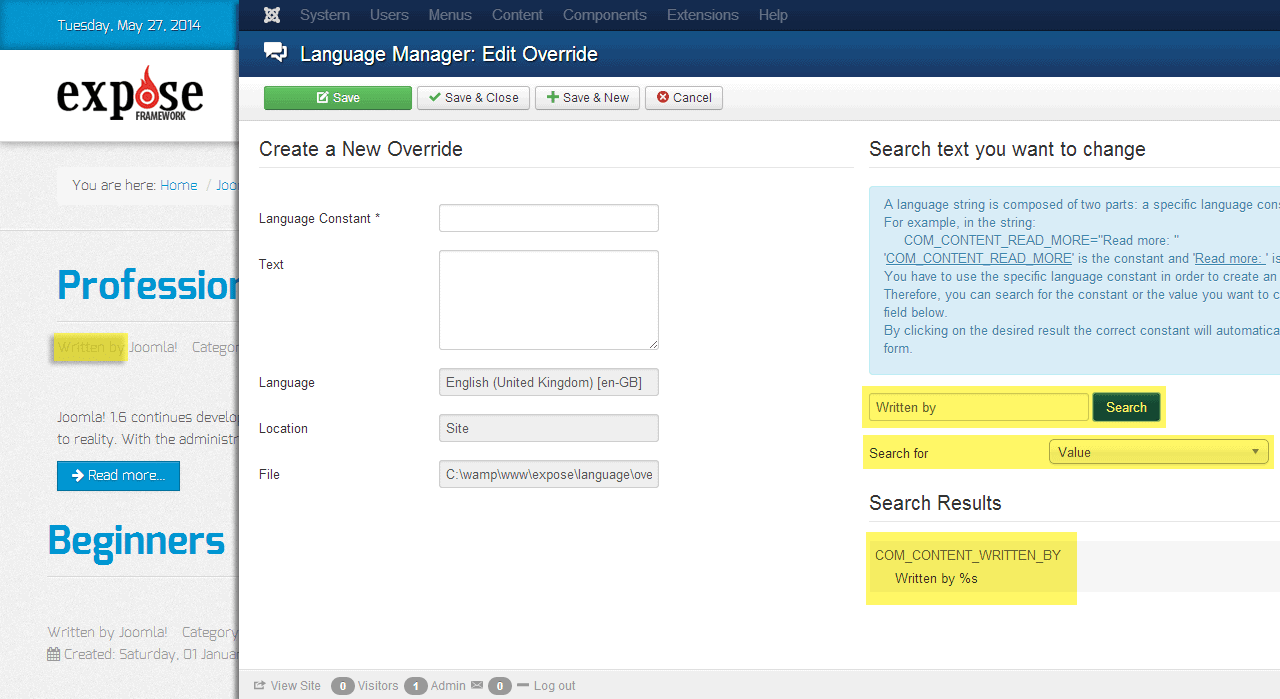 Step 02
Search Results can be appeared in maximum number, click on the relevant search result connected with your desired text. After clicking, you will notice, clicked element will be appearing on the override panel with its constant and text.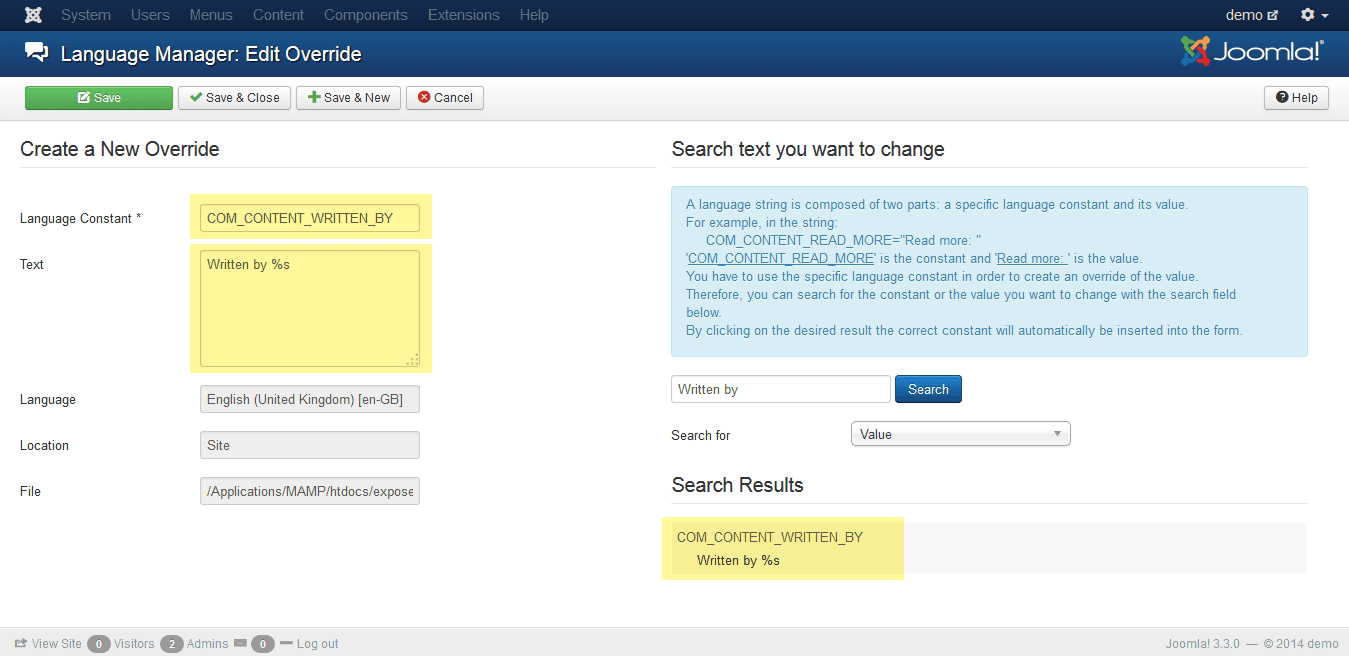 Step 03
Replace the text with your desired string from Text field. And press the save button.
In the image below. You can see, we have replaced the Written by with Published by text.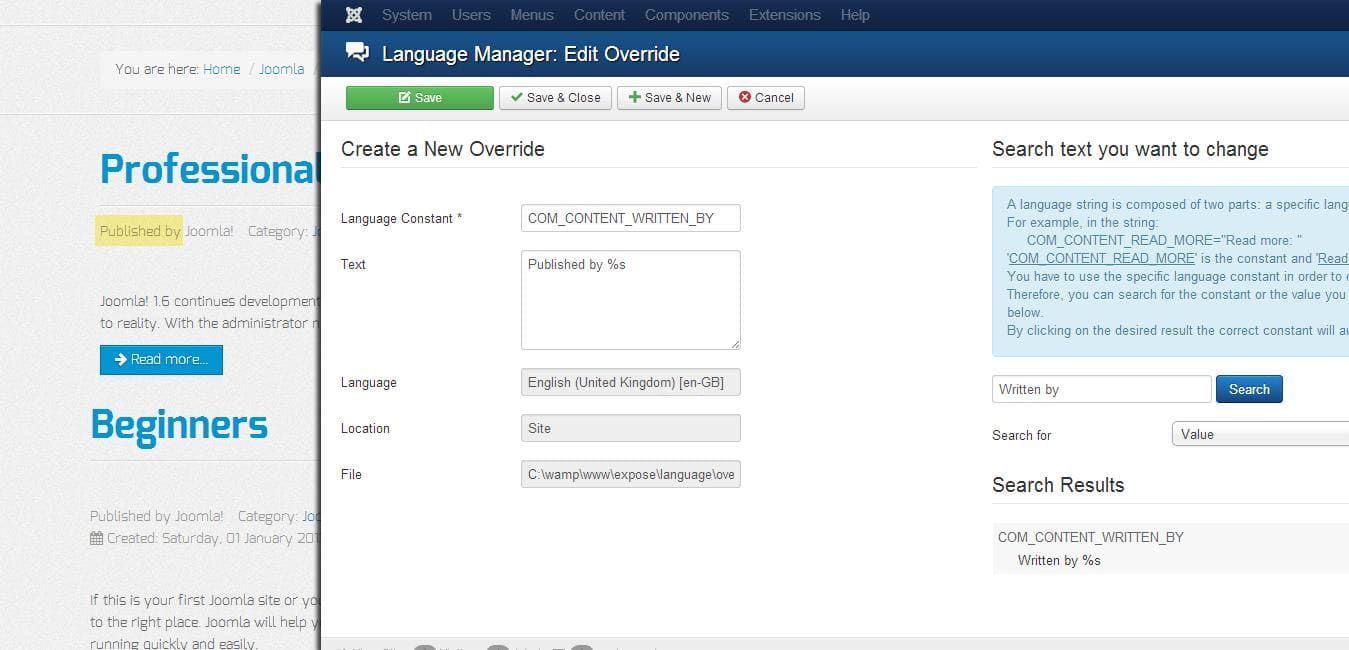 Conclusion :
One thing, you should have been covered. If you want to revert back to your default language changes, simply delete created language changes from Language Overrides section
How do override languages in your turn ?